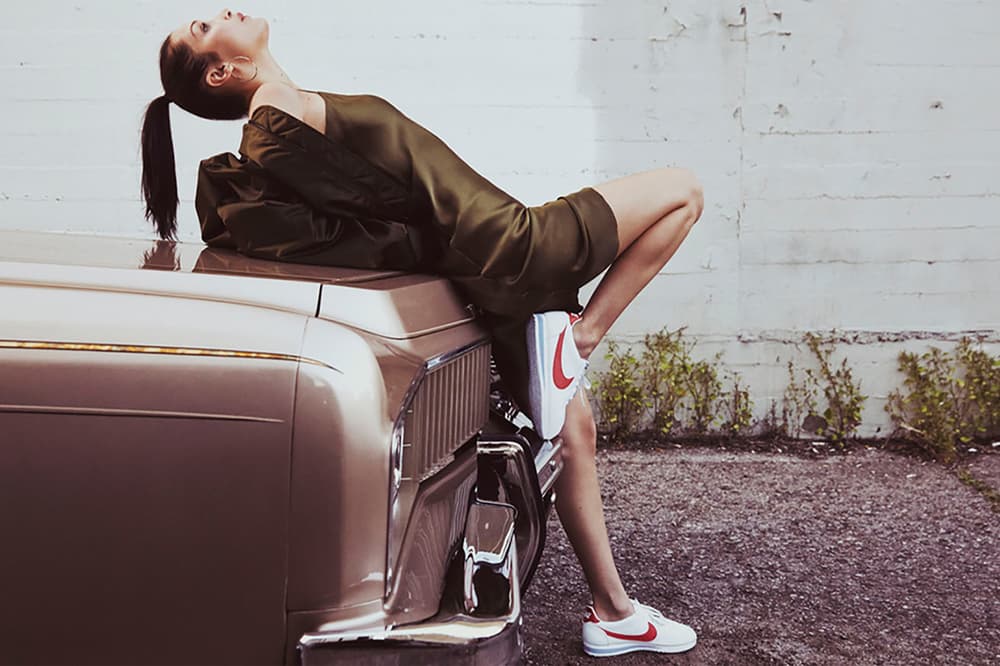 Fashion
Here's Why the Rise of Appropriation in Streetwear and Fashion Is a Real Issue
Controversy has been stronger than ever in 2017.
Here's Why the Rise of Appropriation in Streetwear and Fashion Is a Real Issue
Controversy has been stronger than ever in 2017.
Early last month, media giant Complex published another episode of "Sneaker Shopping," featuring fashion model Bella Hadid. The series, which centers around artists and athletes shopping at top tier sneaker boutiques and discussing their love for athletic footwear, showed Hadid and Complex's Joe La Puma amble around KITH's Soho flagship location. What many expected to be a cool take on sneakers from a woman's perspective ended up being far from the truth. Instead, the nearly 8-minute clip showed her lack of understanding of the sneaker culture, which was cringe-worthy to say the least. Her commentary and gestures riled up the Internet, proceeding many viewers to create memes poking fun and calling her out.
Unfortunately, this is one of the few instances in our culture where an influencer/celebrity "forces" themselves into a realm they have little to no knowledge about in hopes of crossing over to a new audience. In a world where social media is amplifying the consumer experience, influencers are bound to get roasted if they are seen promoting a brand that doesn't necessarily align with their core audience. The style and cultural lingo get adopted at the same time, causing some to be confused and others to be completely mesmerized by this "new" trend. This is all a flattened form of cultural appropriation – wearing a product and making it their own but failing to have any real appreciation for the streets to really understand that it boils down to a blend of music, street artists and the local people that represent a global culture.
The Kardashians often find themselves under this spotlight. Over the years, the world has watched the reality TV family dabble in various style departments, with some experiments ending up in public scrutiny. Last year, the sisters were seen sporting what MTV UK called "boxer braids" and proceeded to name them as the originators of the hair style. This is a pretty bold assessment considering that the cornrow hairstyle is a goldmine belonging to the black community. Other celebrities, like Bella Thorne and Miley Cyrus, who's worn her hair in dreadlocks on more than one occasion, have also come under fire repeatedly for their offensive hair choices.
The Jenner sisters followed suit earlier this year, launching a line of T-shirts with classic portrait images of the late Tupac Shakur and Notorious B.I.G. Biggie's mother, Voletta Wallace, spoke out in disgust. "The disrespect of these girls to not even reach out to me or anyone connected to the estate baffles me," wrote Voletta. "I have no idea why they feel they can exploit the deaths of 2pac and my son Christopher to sell a T-shirt. This is disrespectful, disgusting, and exploitation at its worst!!!" What followed was a series of unfortunate events for the Jenner sisters; both Kylie and Kendall were sued by the photographer who shot Tupac's image and the merchandise was shortly pulled after receiving major backlash.
The lack of education around the origins of streetwear and urban culture are apparent here. One wonders why celebrities and influencers continue to force themselves into a space that isn't the best fit for their brand. Is it for the likes and the retweets? Part of me thinks they're in it for the "cool" factor, since the exclusivity and originality that comes with this subculture is something mainstream fashion craves in today's age. "Anyone can buy in, with or without having the knowledge behind it," says LA blogger Evelynn Escobar-Thomas. "It's so easy to buy in for "likes" or "clout" or whatever you want to call it. Back in the day when you saw someone in Supreme or BAPE or whatever you knew there was a degree of research behind what they were wearing."
As a creative or influencer, a common goal is to set yourself apart from the competition; so it comes to no surprise that we're seeing an influx of people making their way into the streetwear industry. Everyone wants dibs. High-end fashion brands like Gucci and Louis Vuitton have already begun to sprinkle a bit of this aesthetic onto their ready-to-wear collections. Soon, we'll see more collaborations and possibly acquisitions between fashion brands in hopes of bridging that gap — though this could lead to the death or beginning of a new chapter for streetwear, depending on your perspective. Streetwear enthusiast Olivia Gonzalez states, "People that are hopping on brands that have been around for years, that someone like me has been into since forever is really corny. You can get likes without having to all of a sudden like what everyone else likes. This ties into the whole resell business too — why are you making it harder for people who genuinely want to buy things, just to make a quick buck?!"
So what does this mean for women who have put in endless hours to make their mark in a male-dominated field? "Women need to start disrupting shit," says Leah McSweeney, founder of streetwear clothing line Married To The Mob. "I think women are getting over this trend of inauthenticity. The value of authenticity is going back up because of instances like this and we're heading to a place where what's real has more importance." Closing in on 40 years since the beginning of streetwear, we're seeing many women take this industry by the horns and define it using our femininity and edge. From Melody Ehsani creating designs for Reebok to Samantha & Val at Fruition, it's not just a boy's club anymore but there's still work to be done. We need platforms to educate, inform and inspire generations of women in streetwear, to continue pushing the narrative forward. Panels, conferences, networking events, documentaries, and genuine support from the industry is what is also needed to continue making our mark. Creating and nurturing a community of women like us is crucial, being that we tend to get narrowed down to our physical appearance and just that.
Social media has become a magnifying glass in our society; consumers are seen picking people apart when something deemed spurious or outrageous is done. Though most of these cases, like Marc Jacobs' SS17 dreadlock interpretation, have undergone major public scrutiny, I believe it's pushing everyone's awareness to new levels. Brands are beginning to listen to their audience, because after all, we are what drives business. Taking the time to educate yourself on trends and culture is extremely important if you're a brand or anyone looking to tap into streetwear. This is a culture filled with millions of consumers who take these products and its origins very seriously. Whether they're dissecting the new adidas ULTRABOOST 4.0 down to the midsole or creating different methods of protective hairstyling (i.e braiding techniques), it gets a bit disrespectful when people from a higher status come in and pretend as if they own the space.
Now more than ever, we have the opportunity to create our own realities. Sometimes, it takes poorly written concepts to inspire originality and to continue to push that narrative. Being your authentic self, being true to your style is the new trend and it's here to stay.