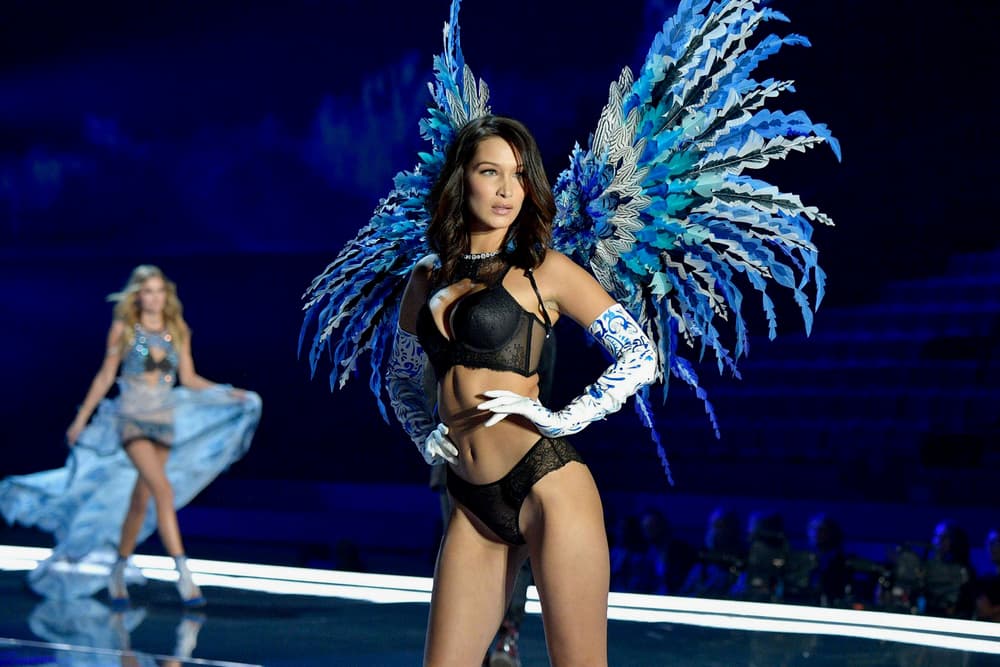 Fashion
Why Are All the Victoria's Secret Fashion Show Models So Skinny?
The Angels are held to an inhumane standard.
Why Are All the Victoria's Secret Fashion Show Models So Skinny?
The Angels are held to an inhumane standard.
The Victoria's Secret Fashion Show exists as we know it today because of the Internet. The showcase began as an effort for the brand to promote its newest line of lingerie and sleepwear for the general public to behold. Its 1999 show, held at New York City's Plaza Hotel, was not its first but it marked an important moment in its history. Supermodels like Tyra Banks and Heidi Klum graced the runway, garnering over two million web cast views for the short show. It was then that the exclusive clique known as the Victoria's Secret Angels was truly born.
At the time, the show represented the peak of beauty, maintaining a mostly white cast of bombshell models. Almost two decades later, this paradigm remains true. After much criticism, the brand has made minute changes to increase the diversity of its cast, but has yet to hone in on one of its glaring features — all of the models share almost the same body type. The Angels are each trained through rigorous diet and exercise to fit a certain physique. The show doesn't encourage its cast to look like the healthiest version of themselves, but instead requires them to conform to a standard of beauty that is unrealistic even for the models themselves.
In Shanghai this year, the group of 55 models that walked the VS runway was painstakingly homogenous. All of the women were over 5'9, long-limbed and lean with a bubbly smile to match the festive costumes. The curves that some of them previously had were whittled down to a waist that doesn't exceed 24-inches. This imagery is damaging in the most subtle ways to girls and women who don't get to see themselves represented in media and fashion.
The Victoria's Secret Angels' diet and workout plan is so rigorous that it has become the fascination of publications for years. Participating models begin preparing for the show months ahead, drastically changing their lifestyles in an effort to meet the standards of the show's producers.
Sometimes, the pressure to conform is unsurmountable. In 2012, Adriana Lima revealed that she had been on a nine-day liquid diet in order to shed baby weight in time for the show. She was placed this regimen by Dr. Charles Passler, who refers to himself as the "emergency guy." His role is to help models reduce size quickly when the Angel bootcamp and food plan is not enough. Health professionals lashed out about this dangerous regimen, but Passler insisted her caloric intake was normal despite it all being in liquid form.
Five-time Angel Erin Heatherton shared that amidst her 2013 battle with depression, the brand pressured her to lose weight despite her sickness: "I realized I couldn't go out into the world — parading my body and myself in front of all these women who look up to me — and tell them that this is easy and simple and everyone can do this" she tells TIME. Heatherton willed herself to meet the requirements for the show, but did not return because of her harsh treatment.
It seems like Victoria's Secret has stalled when the World Wide Web has expanded in content, diversity and perspective.
When asked about the physical preparation of the models, longtime creative director of the show Sophia Neophitou-Apostolou tells British Vogue: "It's really like being an Olympian — they have to be in peak condition. It's not about being thin or anything like that — it's about being ready to perform and be the best you can be in that moment."
This comment fails to speak to the requirements placed on the models to keep their body fat and overall weight at a certain number in order for them to be allowed to walk. Rumors have swirled about models being pulled at the last minute for not meeting a standard before walking. Some liken the process to that of an athlete preparing for a competition, but this comparison couldn't be more incongruous. The optics are held at such a high standard that these models are generously paid to chase and maintain the almost-impossible.
It seems like Victoria's Secret has stalled when the World Wide Web has expanded in content, diversity and perspective. Many of its contemporaries have embraced the variety of shapes that women of the world come in. Brands like Naja, MARIEYAT and Lonely highlight a very real facet of society that the media seems almost afraid of — the raw, untouched female form.
In a quiet act of resistance, body-positivity activist and model Ashley Graham posted a picture of her in a set of wings from Addition Elle, an inclusive lingerie brand that celebrates bodies of all kinds. The post stirred critical responses for the lack of body diversity in this year's VS show.
According to Racked and Variety, the viewing of the show has been suffering a three-year decline. Despite the huge budget for buzzy performers and jewel-encrusted underwear, the show struggles to compete with other popular programa. Perhaps it is time for a new direction for the show — one that extends into the real world where everyone's fantasy does not look the same, one in which people can see themselves in.
As the millennials and Generation Zers grow in size and in spending power, those stuck in the ways of the past will be left there. Pioneers like Les Girls Les Boys will replace the old standard of what it means to be an angelic beauty.
Share this article