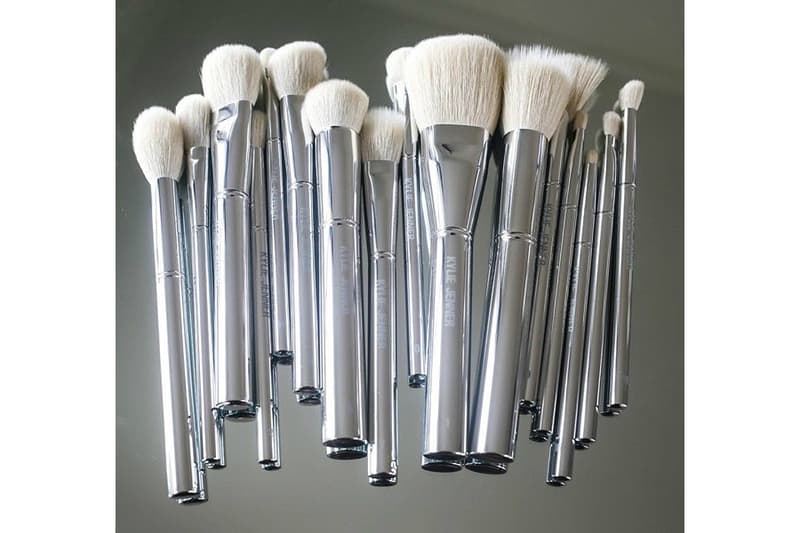 Why Is Kylie Cosmetics' "Silver Series" Brush Set Almost $400 USD?
Jenner tries to explain.
Last week, Kylie Jenner revealed the third part of her "Silver Series" drop — a range of luxury makeup brushes for the face and eyes. Unlike the series' lipsticks and concealers, which retail for $17 USD each, the brush set has a whopping price tag of $360 USD. Her fans were taken aback by the high price because of Kylie's novice status in the makeup industry.
In an effort to defend herself, Jenner compared her brushes to that of MAC and Kevyn Aucoin's — two well-reviewed beauty veterans. This response further incensed fans, after she confirmed that this was the lowest price she could arrive for the 16-piece set. Take a look at her fans' opinions below and let us know your thoughts in the comments.
Kylie… gurl…. these things better be made of authentic silver at those prices. You could have sold SO many more brushes if you cut those prices in half.

— Jen Luv (@JenLuvsReviews) December 8, 2017
Gurl you got those numbers WRONG you're dreaming if you think regular people will buy these.. you put so much work into this but your work will be wasted cos they won't sell

— Claire ??? (@ClaireN96) December 8, 2017
I have developed for you guys the most amazing luxury brushes ever. I am very excited! Real brushes don't compare to synthetic brushes. Different performance/quality/everything. I am 100% down to do an entire synthetic line in the future which will ultimately be cheaper.

— Kylie Jenner (@KylieJenner) December 10, 2017
I always fight for the lowest price on all my products. Here are some other real brush lines for reference pic.twitter.com/mOxwmFJJcM

— Kylie Jenner (@KylieJenner) December 10, 2017
But i hear you guys, love you guys and truly just want the best.

— Kylie Jenner (@KylieJenner) December 10, 2017
---
Share this article