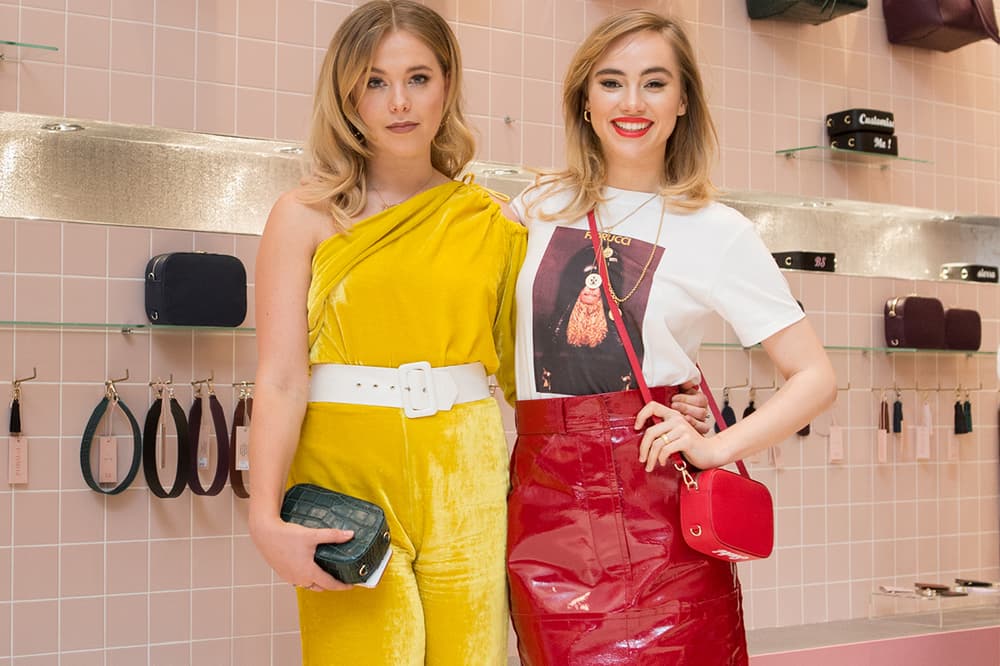 Fashion
Pop & Suki Take Us on a Tour of Their New London Store
We speak to the duo about their new space in Selfridges.
Pop & Suki Take Us on a Tour of Their New London Store
We speak to the duo about their new space in Selfridges.
You might be familiar with Pop & Suki. Perhaps you've seen Suki Waterhouse fronting campaigns for the likes of Burberry, or starring in The Divergent Series: Insurgent or maybe you caught Poppy Jamie hosting a TEDx conference. You may have even spotted their millennial pink collaboration with AWAY, but the talented twosome have also been running their own successful accessories label for the last year.
Their collection of practical and personalized bags have been all over Instagram and draped over the shoulder of every it-girl you could name, and for good reason too – they're fashionable, functional and most importantly, affordable. We met the refreshingly down-to-earth duo as they unveiled their new store, within the accessories hall of London's iconic department store, Selfridges. In-between their hectic schedules, we managed to sit down together for a chat about juggling multiple careers, what it's really like running a business with your best friend and of course, bags – read on for more.
Why did you guys decide to focus your line around bags and accessories?
Poppy: We are possibly two of the most disorganized girls you will ever meet in the entire world, so we really wanted to create products that were going to help our lives, something that would be practical and versatile enough for all different situations.
Suki: I don't ever buy any really expensive bags because I always end up trashing them and we move around a lot. We wanted to create something gorgeous and robust that would last you a long time and also has so many ways you can change it up. There are different straps, you can even make it a fanny pack. I think it does fit the most amount of stuff you can get in it, in a small space.
Personalization is such a core part of your brand – why did you guys decide to offer this service?
Poppy: I think it's so special when you get something with your name on it, because you actually feel like it was made for you. I think the idea that we could make everybody feel special was a thing that we didn't even know we could technically do at first.
Suki: I think personalization was just coming around at that point. It seems to have become a much bigger thing and I think people are becoming more individual and we're stepping away from just seeing high fashion campaigns with one kind of girl, one kind of body type.
Poppy: I think that was kind of our dream with personalization – how do we allow someone to be creative with us and make your bag yours?
You're BBF's as well as business partners – is working together ever challenging?
Poppy: I think we're on the same wavelength.
Suki: And if something's not a good idea, then the other one will come around to that.
Poppy: It's great having that dynamic because I think it's wonderful to have a team and a company together – you always have a sounding board. You can discuss things and evolve your ideas. I'll have an idea and Suki will make it better.
Suki: I think there's an unspoken thing between us where we can sense each other's energies. So it's like one person is sometimes stronger than the other one, or one has a lot more going on in their life or whatever it is. When you know what's going on you can prop the other person up when they need it.
You both travel a lot – how do you manage to balance that and your careers alongside this brand?
Suki: LA is our base, we have our office there.
Poppy: We have a pastel pink office and we have the most amazing team. It is really girl power, it's amazing in there. What is really incredible is technology, it allows you to talk to each other, it doesn't matter what timezone you're on.
Suki: Me and Pops are in LA quite a lot but we can keep in touch when we're not.
Do you have any favourite pieces of your own from the line?
Poppy: I'm obsessed with the new mock croc, but I'm also obsessed with the red camera bag.
Suki: I'd usually go for one slightly bigger than this [one that I have now] and then the paperclip chain.
Why did you choose Selfridges as your London home?
Poppy: This is our favourite department store in the world. It's a dream being here.
Suki: This was the pinnacle place I would go as a child. I remember Christmas shopping here with my mom.
Poppy: It's like a theme park.
Suki: It really is, it's got literally everything. It's a bit like a second home, you never have to leave.
Poppy: My favourite thing to do when I was at university in London was come to Selfridges and get a Pinkberry. So now we're here it's kind of an amazing moment. To go from my Pinkberry days to having a store here is kind of unbelievable. From frozen yogurt to a store!
What do you guys have coming up for 2018, since it's very nearly here?
Suki: We've got lots of new products. I don't think we're going to open any more stores, we have enough places – we'll just stay here in Selfridges and in Nordstrom in LA for the time being.
Poppy: We've got some really fun collaborations coming up next year too. We're very excited about the new products. There's going to be even more functional ones, even more fun ones and even more colorways.
Share this article