1 of 2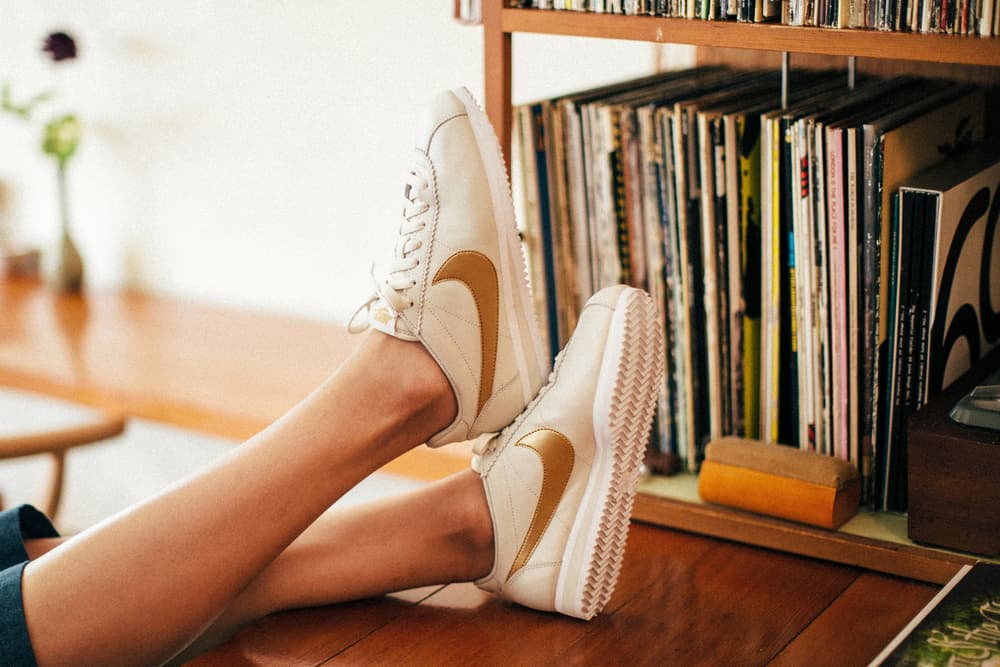 2 of 2
Footwear
Meet the Female Creative Powerhouse Behind Nike's Cortez Campaign
The Program is bringing a female gaze to your favorite sneakers.
Meet the Female Creative Powerhouse Behind Nike's Cortez Campaign
The Program is bringing a female gaze to your favorite sneakers.
There's no doubt about it, 2017 has been a big year for women's sneakers. From Nike unveiling its Force is Female campaign to other brands releasing more inclusive styles of women's footwear, the female sneaker industry has grown massively and it shows no signs of slowing down. But what about the people who drive this growth? Behind the scenes, alongside designers and innovators are the marketers and strategists who painstakingly research and develop where those sneakers sit in the marketplace and produce the creative content that compels you to add them to your rotation.
We caught up with two women who do this very thing – Liz Miller and Ashey Norquist work at The Program, a Portland-based agency that's responsible for the Summer 2017 relaunch of the Cortez, as well as other notable projects. As sneaker lovers who have grown up with Nike in their own backyard, these ladies live and breathe the brand, which makes them the perfect fit for telling consumers its authentic story.
We spoke to the duo about their work on the Cortez campaign and why they think female sneaker industry is booming now more than ever – read on for more.
Could you talk us through each of your roles and what they entail?
Liz: As the strategist on our Nike team, I create concepts and work collaboratively with our designers to bring brand initiatives to life through Nike's digital platforms. A lot of my job entails story ideation and critically thinking through the consumer journey, whether it's creating a new identity for the Nike Air VaporMax or figuring out how a high heat shoe will launch and live in the marketplace.
Ashley: She takes care of the why, and I take care of the what. I'm the brand designer for Nike – the title is very structured but I actually do a lot of things. I art direct photos, I do a lot of design strategy with Liz – we work as a group to push forward a bunch of different types of ideas, like, how is Nike going to present itself for the next six months. The title brand designer seems very small, but it's lots of different things going on at one time.
Liz: We work very much as a group. We're immersed in the culture of Nike so we're involved in everything.
Do you think being immersed in the culture of Nike is a result of also being a Portland-based company?
Liz: Yeah, definitely. I've been in Portland my whole life. Ashley has had family that worked at Nike her whole life. Being in this city, Nike is definitely a big part of it. Portland is a really fast-growing city and we have some really large footwear companies here. So growing up in that atmosphere with Nike basically in your backyard really helps you get to know the brand and how it's changed and developed.
The renaissance of Nike's Cortez was one of the big sneaker focuses of the year that you worked on. Can you talk us through what you did for the campaign, and where the concept came from?
Ashley: The Cortez turned 45 this summer. That's a huge milestone for any shoe brand still developing a shoe. It has a huge history within multiple cultures but Nike really wanted to bring it into the present. They wanted to acknowledge the past but allow their consumers to create their own legacy with the shoe. Especially for women – it's always been a masculine shoe. For a long time a lot of female consumers have really liked that slim silhouette so we really wanted to push the idea that this could be a feminine shoe without being too girly. We wanted to embrace that relationship between women's fashion and the Cortez by allowing ourselves to look within women's fashion and sneaker culture to see where we can fit this shoe and make it "her" shoe of the summer.

What we came up with was art direction that was a contemporary style mashed with a rebellious nature, giving it an iconic look for today's female.It's not vintage-inspired, it's more like creating a new classic look. We took all of the big concepts and distilled them down into a photoshoot that featured the Cortez metallic pack, which was 4 different colours of shoes and we shot in 6 or 7 different locations to get some variety and tried to capture that essence of youth culture but also create a new future for this shoe.

"In the last decade women have been straying further from the gender stereotypes that we've had for so long."
This thread of sneakers seems to run through all facets of your lives, from work to your hobbies. Liz, can you tells us more about your passion for sneaker customization?
Liz: I started collecting sneakers when I was a sophomore in high school. I have been drawing ever since I could pick up a pencil, so everyone knew that those were two passions that I had in life. When I was in college one of my friends asked me if I could replicate her back tattoo on a pair of all-white Dunks and at that time, I never really thought about merging my passions together – for some reason I'd never thought of a shoe as a potential canvas. I grabbed some coloured sharpies, because that's all I had at the time and it turned out pretty cool. From there it developed and people started to see my work online, they would contact me and ask for a pair themselves and it grew from there. 
As women, you likely know what other females want from their sneakers. Is it challenging putting forward ideas for campaigns that stray from what other people believe is 'traditionally' feminine?
Ashley: I think working at The Program, one of the great things is that everyone's extremely open-minded and understands that we all have a lot of knowledge of this industry. Specifically on the female aspect, I don't think we've come across that that much backlash. The Nike team here is all women, which is pretty badass, so we're working as a group of women who understand women's style and women's culture. Some of what we do see is that some of the members of our team don't have the same connection with the brand as much so it can be even broader. I don't think its a gender thing, I think its a culture thing. 
"Women are coming into time when they're realizing you don't have to look like a girl all the time. You can push the boundaries of what femininity is and what fashion is."
How do you try to constantly innovate and push boundaries and create something that hasn't been done before?
Liz: I think a lot of it has to do with research. For instance, right now, we're trying to do a lot with 3D imaging because we don't see that so often in the marketplace and since Ashley and I are both Nike consumers, we know what we would want to see form the brand and we know what they've done before. We did a campaign with the VaporMax where we used a 16-rig camera to get a really cool boomerang-style shot that we've never seen a brand do before. It was really challenging and came out really freaking cool and we're so glad we did it. It's really just trying to figure out strategy-wise and conceptually how to do something that's never been done before.
We've obviously seen a huge shift in the women sneaker industry over the past couple of years. How have you guys seen it progress, and why do you think these changes have come about?
Liz: I think a lot if it actually started from the fashion industry. In the last decade women have been straying further from the gender stereotypes that we've had for so long. If you look at fashion right now, it's all about baggy pants, oversized hoodies, all this stuff that was never really feminine before.
Ashley: I think Nike have done a great job of looking at that critically. The Force is Female campaign comes to mind, where they had super badass women wearing a normally masculine shoe. They didn't push to make it feminine, they didn't really make it girly by adding sparkles or pink. They told these women wear the shoes the way you would wear them. They looked powerful and awesome and I think that campaign was really successful because of that. Women are coming into time when they're realizing you don't have to look like a girl all the time. You can push the boundaries of what femininity is and what fashion is.
The Jordan brand is doing a great job as well, with its recent collaborations. Releasing a shoe in partnership with a female creative [Aleali May], that's a first. It's exciting to hear her talk about her Shoe of The Year at ComplexCon alongside three guys and it's awesome to hear her perspective as a woman within sneaker culture.
Share this article