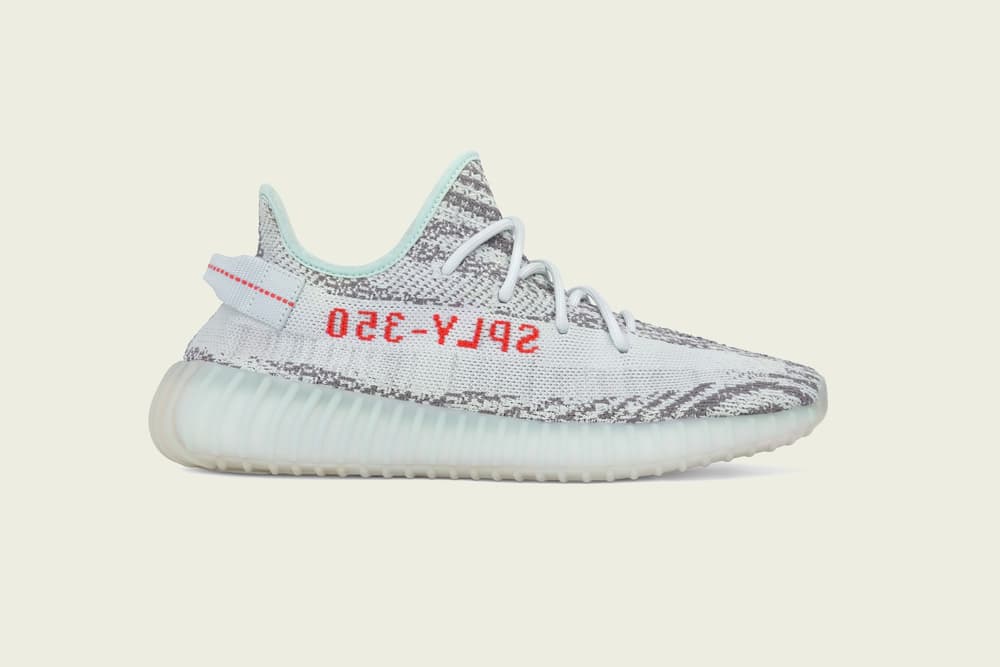 Here's the Official Store List for the YEEZY BOOST 350 V2 "Blue Tint"
Releasing this week.
The wintery colorway of the YEEZY BOOST 350 V2 is coming to a store near you. "Blue Tint" is the third colorway of the silhouette to release this fall, following "Semi Frozen Yellow" and "Beluga 2.0." On this pair is a pastel blue upper striped with "Moonrock" gray threads. A fire red "SPLY 350" completes its frosty form.
On December 16, the stockists below will stock the "Blue Tint" sneaker for a retail price of $220 USD. Reservations can also be made on adidas' Confirmed app. Find your store below and let us know what your favorite 2017 YEEZY release is.
Australia
USG
Myer Centre Promenade
Adelaide
Laced
35 Adelaide St
Brisbane
adidas Originals Chadstone
1341 Dandenong Rd
Melbourne
adidas Originals Emporium Melbourne
287 Lonsdale Street
Melbourne
Footlocker
329 Bourke St
Melbourne
Incu Mens
274 Flinders Lane
Melbourne
JD Sports
Melbourne Central, 105 La Trobe St
Melbourne
Sneakerboy
265 Little Bourke Street
Melbourne
Up There
Level 1/15 McKillop Street
Melbourne
Highs & Lows
1/672 Beaufort Street
Mt Lawley
Cabinet Noir
14/872-884 Hay Street
Perth
Highs & Lows
74-76 King Street
Perth
adidas Originals Chatswood
1 Anderson St
Sydney
adidas Originals Westfield Sydney City
Westfield Sydney, 188 Pitt Street
Sydney
Foot Locker
580 George St
Sydney
Incu
19-20/500 George St
Sydney
Sneakerboy
3 Tempernace Lane
Sydney
Subtype
3 Palings Lane (Ivy)
220 Yonge St.
Toronto
Champs
300 Borough Drive Sp #203
Toronto
Champs
3401 Dufferin Street
Toronto
Champs
340 YONGE STREET SOUTH
Toronto
China
Lane Crawford
LEVEL 1-3, 2 Jinchengfang Street, Xicheng District, Beijing
Beijing
EXI.T
1F, Parkview Green Fangcaodi
Beijing
Foss Gallery
LG1-26Parkview Green Fangcaodi
Beijing
Juice Beijing
Unit S8-15, Tower 8, No.19 Sanlitum Road
Beijing
Soulgoods
1-12,Tongying Centre, Sunlitun
Beijing
Juice Chengdu
Unit2222, L2, Taikoo Li, #8 Shamao Street, Jinjiang District
Chengdu
Lane Crawford
4th Floor IFS Hong Xin Road
Chengdu
Xsneaker
No.163 Zhong Shan Road Xia Cheng District, Hangzhou
Hangzhou
Lane Crawford
#99 Middle Huai Hai Road
Shangai
DOE
#168 Hubin Rd
Shanghai
Juice Shanghai
832 Julu Road
Shanghai
Unik
#128 Huayuan Rd
Shanghai
Aegis
#1 Taojiang Road
Shanghai
DOE
88 Tongren Road
Shanghai
Glossy
1F, Xintiandi, #123, Xingye Rd
Shanghai
J01
#158-2, Xinle Rd
Shanghai
Unik
#128 Huayuan Rd
Shanghai
Foss Gallery
845 Julu Road
Shanghai
Unik
1F, #6 Chaoyang Rd
Shenyang
WH101
#33 Taibei Rd
Wuhan
WH101
#77 Dongting Road
Wuhan
Colombia
adidas Originals Store Calle 82
Calle 82 # 13-26
Bogota
adidas Store Calle 122
Calle 122 # 15a-55
Bogota
adidas Originals Store El Tesoro
Carrera 25 a, 1a- Sur 45
Medellín
Cyprus
First Boutique
Iakovou Tompazi 1
Limassol
Paris
Hong Kong
D-MOP/ J-01
No.56-58 Wellington Street
Hong Kong
EXI.T Hysan One
1 Hysan Avenue
Hong Kong
EXI.T Silevercord
Shop LG31, Silvercord
Hong Kong
Juice
9-11 Cleveland Street
Hong Kong
Lane Crawford
3 Canton Road, Tsim Sha Tsui, Kowloon
Hong Kong
Hungary
Icons by Bizanc
Petofi Sandor Utca 20
Budapest
Iceland
Húrra
Hverfisgata 50
Reykjavik
India
adidas Originals Brigade Road
MUNICIPAL-215 (OLD-3), BRIGADE CIVIL STATION
Bangalore
adidas Originals Promenade Mall
DLF Promenade Mall
Delhi
adidas Originals Linking Road
LINKING ROAD-2, SANTACRUZ (WEST)
Mumbai
Indonesia
adidas Originals Store Pacific Place
2nd Floor, Jl. Jend. Sudirman No.52-53, RT.5/RW.3, Senayan, Kby. Baru, Kota Jakarta Selatan, Daerah Khusus Ibukota Jakarta
Jakarta
Goods Dept
3rd floor #321, Jl. Metro Pondok Indah , Jakarta Selatan
Jakarta
Our Daily Dose
3rd Floor Unit 3 – 26 & 3 – 28, Jalan Asia Afrika No. 19, Gelora, Tanah Abang, Gelora
Jakarta
Ireland
Brown Thomas
88 – 95 Grafton Street
Dublin
JD
43-44 Mary Street
Dublin
Size ?
26 Wiklow Street
Dublin
Israel
adidas Originals Dizengoff Center
Dizengoff street 50, Dizengoff center, Tel Aviv
Tel Aviv
adidas Originals Gindi Fashion Mall
HaHashmonaim St 100, Tel Aviv
Tel Aviv
Not for Sale
Merkaz Ba´alei Melaha St 3, Tel Aviv
Tel Aviv
Sneaker Box
Ben Yehuda St 225, Tel Aviv
Tel Aviv
Story Sarona
Derech Menachem Begin 132, Tel Aviv
Tel Aviv
Malaysia
adidas Originals Suria KLCC
Lot No. 313B & 315 , Level 3,
Kuala Lampur
Crossover
Jalan PJS 11/15
Kuala Lampur
JD Sports
alan Bukit Bintang, Bukit Bintang,
Kuala Lampur
Sole What
Lingkaran Syed Putra
Kuala Lampur
New Zealand
adidas Britomart
60 Galway St
Auckland
Area 51
34 Osborne Street
Auckland
Loaded Newmarket
206 Broadway
Auckland
Norway
Stress
Grensen 19
Oslo
YME Studios
Karl Johans Gate 39
Oslo
Panama
adidas Originals Store Multiplaza
Vía Israel – Centro Comercial Multiplaza
Panama
Lust Panama
Avenida A Edif. Dos Casas Planta Baja. Casco Viejo
Panama
Peru
adidas Originals Jockey Plaza
Av. Javier Prado Este 4200, Surco
Lima
Philippines
adidas Originals Uptown Mall
Uptown Mall, 36 Street corner 9th Avenue
Manila
Commonwealth
SM Aura Premier, Fort Bonifacio
Manila
Sole Academy
Bonifacio High Street
Manila
Singapore
adidas Originals Singapore
9 Scotts Road
Singapore
Limited Edt Chamber
10 Bayfront Ave
Singapore
Taiwan
Invincible South
No.291, Renyi St.
Kaohsiung
Invincible Central
1, Meicun Rd.
Taichung
Invincible East
4, Zhongxiao E. Rd.
Taipei
Juice Taipei
Dunhua S Rd
Taipei
Thailand
adidas Originals Bangkok Siam Center
Siam Center,979 Rama 1 Rd, Pathum Wan
Bangkok
Carnival
1 Pathum Wan
Bangkok
Turkey
290 sqm
Şair Nedim Caddesi No: 20 D Akaretler, Istanbul
Istanbul
adidas Originals Beyoglu
Katip Mustafa Çelebi Mahallesi, İstiklal Cd. No:59, 34433 Beyoğlu/Istanbul
Istanbul
adidas Originals Istinye Park
Pınar Mahallesi, Katar Cd, 34460 İstanbul/Sarıyer/Istanbul
Istanbul
adidas Originals Teşvikiye
Harbiye Mahallesi, Teşvikiye Cd. No:17, 34367 Şişli/Istanbul
Istanbul
Beymen -Zorlu
Zorlu AVM Levazım Mah. Koru Sk. No:2 Zincirlikuyu
Istanbul
Shopigo
Ahmet Fetgari Sok. No:62, Teşvikiye Mah 34367 Şişli / İstanbul
Istanbul
Wunder
Caferaga Mah., Moda Bostanı Sk. 26C D:1, 34710 Kadıköy/Istanbul
Istanbul
Ukraine
adidas originals TSUM
Khreshchatyk St., 38
Kiev
United Arab Emirates
adidas Originals Al Wasl
Boxpark
Dubai
adidas Originals Dubai Mall
The Dubai Mall
Dubai
adidas Originals Mall Of Emirates
Mall Of Emirates
Dubai
adidas Originals Mirdiff City
Mirdiff City Centre
Dubai
Amongst Few
Palm Strip, Jumeirah Beach Road
Dubai
Boutique 1
G-8, Fashion Dome
Dubai
Concepts
39 Al Safa Street
Dubai
LEVEL
The Dubai Mall
Dubai
Sneaker Paris
Sunset Mall
Dubai
The Good Life
Unit G-64, Alserkal Avenue
Dubai
United Kingdom
Hanon
51 The Green, City Centre
Abderdeen
Harvey Nichols
31-32 Wharfside Street
Birmingham
Size?
1-2 Lower Temple Street
Birmingham
Consortium
14 Albert Road
Bournemouth
Endclothing
196 Ingram Street
Glasgow
HIP
84-86 Vicar Ln
Leeds
wellgosh
34 High Street
Leicester
Size?
59 Bold Street
Liverpool
adidas Originals London Flagship (Fouberts Pl.)
15 Fouberts Place
London
adidas Originals London Flagship (Hanbury St.)
Hanbury Street 15
London
Browns
24-27 SOUTH MOLTON STREET
LONDON
Foot Locker
283 Oxford Street
London
Footpatrol Ltd
80 Berwick Street
London
Harrods
87-135 Brompton Road
London
Harvey Nichols (London)
109-125 Knightsbridge
London
JD Sports
201-203 Oxford Street
London
Matches
87 Marylebone High St
LONDON
Net a Porter
1 The Village Offices
London
Offspring (Selfridges)
400 Oxford St, Marylebone
London
Offspring London
104 Commercial Street,
LONDON
Oki-Ni
Pure Player
London
Pam pam
129 bethnal green road
London
Size?
37A Neal Street Covent Garden
London
Sneakersnstuff
107-108 Shoreditch High Street
London
Harvey Nichols
21 New Cathedral St
Manchester
Hervia
40 Spring Gardens
Manchester
Size?
37 Market Street
Manchester
Triads Ltd
54-56 Albert Road
Middlesbrough
Endclothing
133 – 137 Grainger Street,
Newcastle
Philip Browne
3 Guildhall Hill
Norwich
18 montrose
58 Bridlesmith Gate
Nottingham
United States
adidas Santa Anita
400 S. Baldwin Ave Suite #155-U
Arcadia
adidas Lenox Square
3393 Peachtree Street NE Space 4017
Atlanta
adidas Originals Aventura Mall
19575 Biscayne Blvd. Suite 1031
Aventura
adidas Fulton Street
1 Hoyt Street
Brooklyn
adidas Kings Plaza
5100 Kings Plaza #104
Brooklyn
adidas Cherry Hill
2000 Route 38 Suite 1640
Cherry Hill
adidas Originals Chicago Flagship
1532 N Milwaukee
Chicago
adidas Water Tower Place
845 N. Michigan Ave. Suite 409
Chicago
adidas Originals South Coast Plaza
3333 Bear Street #347
Costa Mesa
adidas Culver City
6000 Sepulveda Blvd #C8
Culver City
adidas Menlo Park
55 Parsonage Road
Edison
adidas Queens Center
90-15 Queens Blvd. Suite 2061
Elmhurst
adidas Freehold
3710 US 9 C123
Freehold
adidas Roosevelt Field
630 Old Country Space #1112
Garden City
adidas Glendale
2123 Glendale Galleria
Glendale
adidas Houston Galleria
Houston Galleria IV 5135 W Alabama Space 5350
Houston
adidas Walt Whitman Road
160 Walt Whitman Road Space #1002
Huntington Station
adidas Irvine Spectrum Center
644 Spectrum Center Drive
Irvine
adidas Newport Center
30 Mall Drive West Space #A49B
Jersey City
adidas Las Vegas
3791 S. Las Vegas Blvd.
Las Vegas
adidas Originals Abbot Kinney
1349 Abbot Kinney Boulevard
Los Angeles
adidas Originals Melrose
8009 Melrose Ave
Los Angeles
adidas Topanga
6600 Topanga Canyon Road #2042
Los Angeles
adidas Los Cerritos
431 Los Cerritos Center
Los Cerritos
adidas Tysons Corner
8070 Tyson´s Corner Center
McLean
adidas Dadeland
7535 N Kendall Dr Space #1630A
Miami
adidas 5th Ave.
565 5th Ave
New York
adidas Broadway
Sports Performance Store 610 Broadway
New York
adidas Originals Spring Street
115 Spring Street
New York
adidas Florida Mall
8001 S Orange Blossom Trail Space 160
Orlando
adidas Garden State Plaza
1 Garden State Plaza Space 1206
Paramus
adidas San Francisco Center
845 Market Street Suite 121 & 211
San Francisco
adidas Originals Santa Monica
1231Third St. Promenade moving to 1337 Third Street Promenade
Santa Monica
adidas Del Amo
21540 Hawthorne Blvd. #421
Torrance
adidas Willowbrook
1400 Willowbrook Mall Space #1465
Wayne
adidas Palisades Center Drive
2450 Palisades Center Drive
West Nyack
adidas Cross County
6010 Mall Walk Space 8080
Yonkers
Vietnam
adidas Originals Bitexco
2 Hai Trieu, Ben Nghe, Quan 1
Ho Chi Minh City