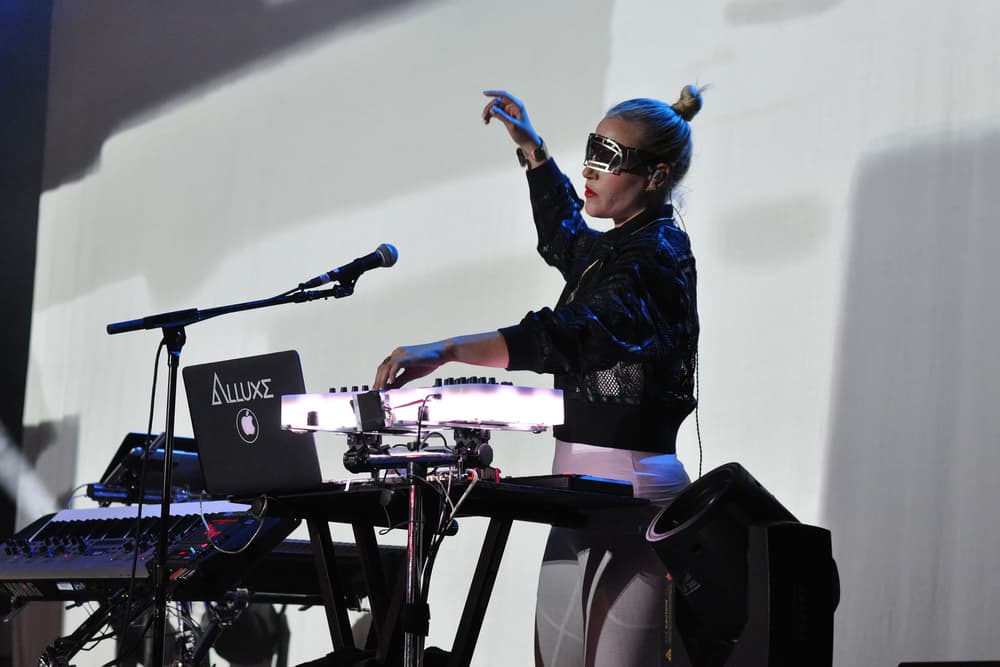 Culture
Meet Laura Alluxe Escudé, Live Show Controllerist and Programmer for Kanye West, The Weeknd & More
This badass is also an accomplished music producer, DJ, violinist, entrepreneur and Ableton Live wizard.
Meet Laura Alluxe Escudé, Live Show Controllerist and Programmer for Kanye West, The Weeknd & More
This badass is also an accomplished music producer, DJ, violinist, entrepreneur and Ableton Live wizard.
Indio, California. April 17, 2011.
A sold-out crowd waits in anticipation at the Coachella Stage; the closing night of this festival is always an event to remember but for whatever reason, this one feels extra special. A dramatic, frantic violin rings out across Empire Polo Field as an electric blue light eerily bathes the space and one by one, a troupe of ballet dancers flood the stage. They scurry around, their movements mirroring the sounds of the violin, which sings the unmistakeable chord progression of the Watch the Throne banger "H•A•M." It was the opening to one of the greatest hip-hop performances ever, one that holds a special place in Laura Escudé's heart. "Of all the shows I've done with Kanye, that has to be a personal favorite," she shares over the phone from her home in Los Angeles. "It was one of the most iconic festival shows of all time, and to hear my violin and arrangements at the beginning of that was incredible."
While it was her string arrangements that so perfectly set the stage for the now-iconic performance, Laura is much more than an accomplished violinist: she is a DJ, a music producer and an artist who releases music under the name Alluxe – today she's one of the most sought after controllerists in the world of live music. Live show programming is a highly-technical, and oftentimes an overlooked (at least by the general public), element of a live concert experience.
As a controller, Laura is in charge of editing all the music that is heard but isn't being played by a band, as well as managing vocal effects live, in real time, for all the shows. She has worked on every Kanye West tour since 2009 including this year's Saint Pablo tour, as well as tours for The Weeknd, Bon Iver, Iggy Azalea, Childish Gambino, Charli XCX and Drake among others.  Not only is she widely regarded as one of the best in the world at this job but she's one of the only women in this male-dominated field.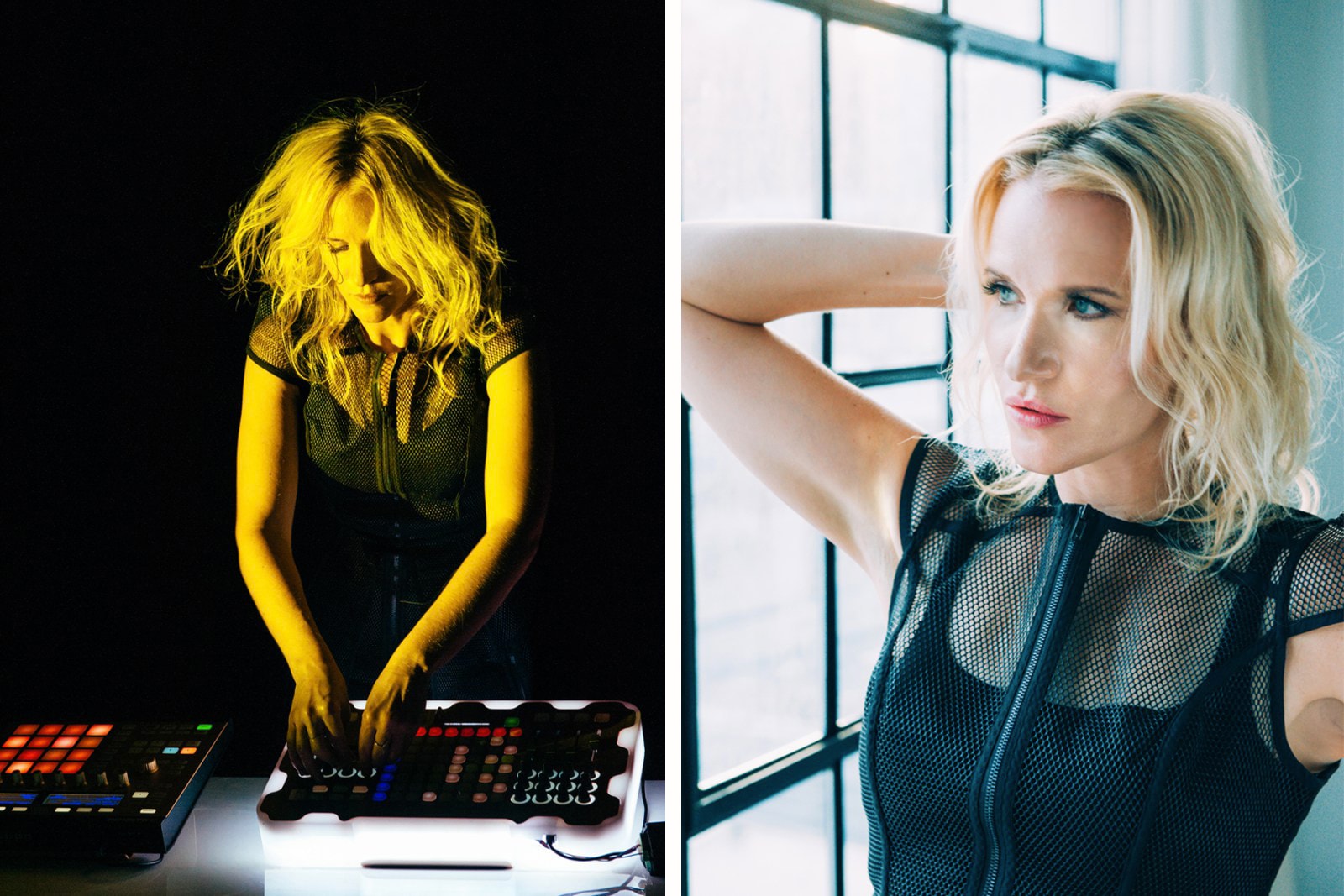 "I really didn't even think of it like that when I started," says Laura. "It was just something I was interested in and wanted to do." In fact, she says she wasn't even always technically-inclined or that into computers and software growing up. She was into sports and the violin: "That was my thing throughout high school." She credits a summer away at Interlochen Arts Camp, a prestigious music camp in Michigan for which she had won a scholarship to attend, with sparking a deeper passion for music: "I remember going to the campus radio station and hearing hip hop, and groups like Pharcyde. All day long I was around people from all walks of life, from all over the world; it really just broadened my horizons to be in that environment for a couple of months."
After high school she attended Florida State University in Tallahasse, a place that would have a lasting impact on her as a person and artist. "It was around this time that I discovered electronic music," Laura remembers. "I couldn't even really tell the difference between the different genres — house, dubstep, drum and bass or techno — but I was going to raves and learning about this new world and figuring out the different styles." At the same time, she happened to cross paths with people who were working in the studio of P-Funk mastermind George Clinton. She started hanging out there and it would be, incredibly, the place she would first experiment with music production: "I guess you could say that it worked out," she laughs.
The programming is very technical, which is one side of me but then to dip into the performance and creative sphere as well—it's so great to be able to wear both hats.
The phenomenon of things "working out" is a common thread in Laura's career, which is peppered with instances of serendipity combined with hard work, determination and a never-ending desire to learn. Even her work as a controllerist materialized in a classic case of preparation meets opportunity: after university, she had moved to Los Angeles to work as a technical services representative for M Audio, a music hardware and software company. She credits the time spent assisting disgruntled customers troubleshoot their issues with helping firm up her technical skills, and also introducing her to an (at the time) emerging software called Ableton Live.
M Audio was distributing Ableton, so customers would often call with questions related to the software and Laura took it upon herself to learn as much as she could about it. At M Audio she also did artist relations, which involved dealing with artists having technical issues. "That's when I first came across artists looking for creative solutions for their shows," Laura shared. "That's when I first started helping artists design and program their live shows. I didn't even realize it was a thing at that time; it really happened by accident."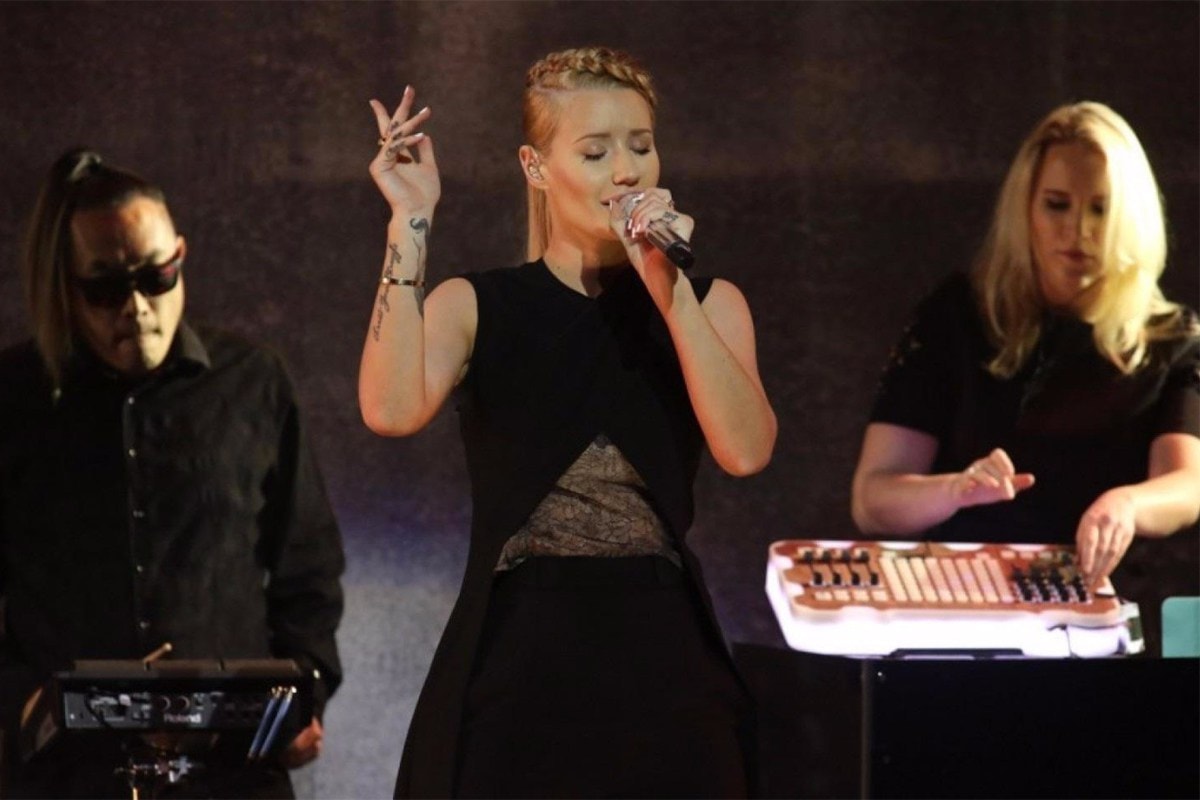 Today Ableton Live is one of the most popular digital audio workstations or DAWs in the world. It is used by music producers and DJs around the world for live performances as well as a tool for composing, recording, arranging, mixing and mastering music. Laura was one of the word's first certified Ableton Live Trainers and while she enjoys designing and helping artist's live shows come to life through programming, she's an artist herself and a performer at heart: "I get the most enjoyment and satisfaction out of performing live."
She released an EP, Contrast, in October, toured it across Europe and will soon do the same stateside with an east coast tour in early 2017. Sometimes her passions for performing and programming come together: Last year she had the opportunity to not only program Miguel's tour but also to perform as the opening act. Those are the times that Laura/Alluxe feels most alive: "The programming is very technical, which is one side of me," she says, "but then to dip into the performance and creative sphere as well—it's so great to be able to wear both hats." In order to work on her own art and still fulfill the responsibilities she has to clients, Laura started her own business called Electronic Creatives, which is essentially a team of others just like her — show designers and music programmers — who can design and implement the solutions required for high-profile stage shows.
"It's so easy to be influenced by all the other people out there that are doing cool things. I've learned as I've gotten older that yes, I might do something different than someone else and that's totally okay."
Forming Electronic Creatives happened again, somewhat by accident, sometime in late 2011 or early 2012 when Laura was working with Kanye, but had gotten a call from The Weeknd's production team about some work. "I really wanted to do it, but I was so busy with Kanye," Laura remembers, "so I was thinking how great it would be if I could clone myself in order to fulfill all the commitments. I had the idea to bring someone on and still oversee it so that the clients were still getting my level and brand of service, and there would be some consistency."
Laura still often helps design the shows and attends many rehearsals, before handing the reigns over to one of her team members for the actual performances or shows. Giving up that control is something that felt foreign at first, but she's come to accept that being able to rely on others for support only creates more opportunities to learn and grow. "I think I have a knack for figuring out what strengths people have, and how they are personality-wise as well, " she says. "My team are all interesting, motivated individuals with their own talents but who are on board with my message and my work ethic."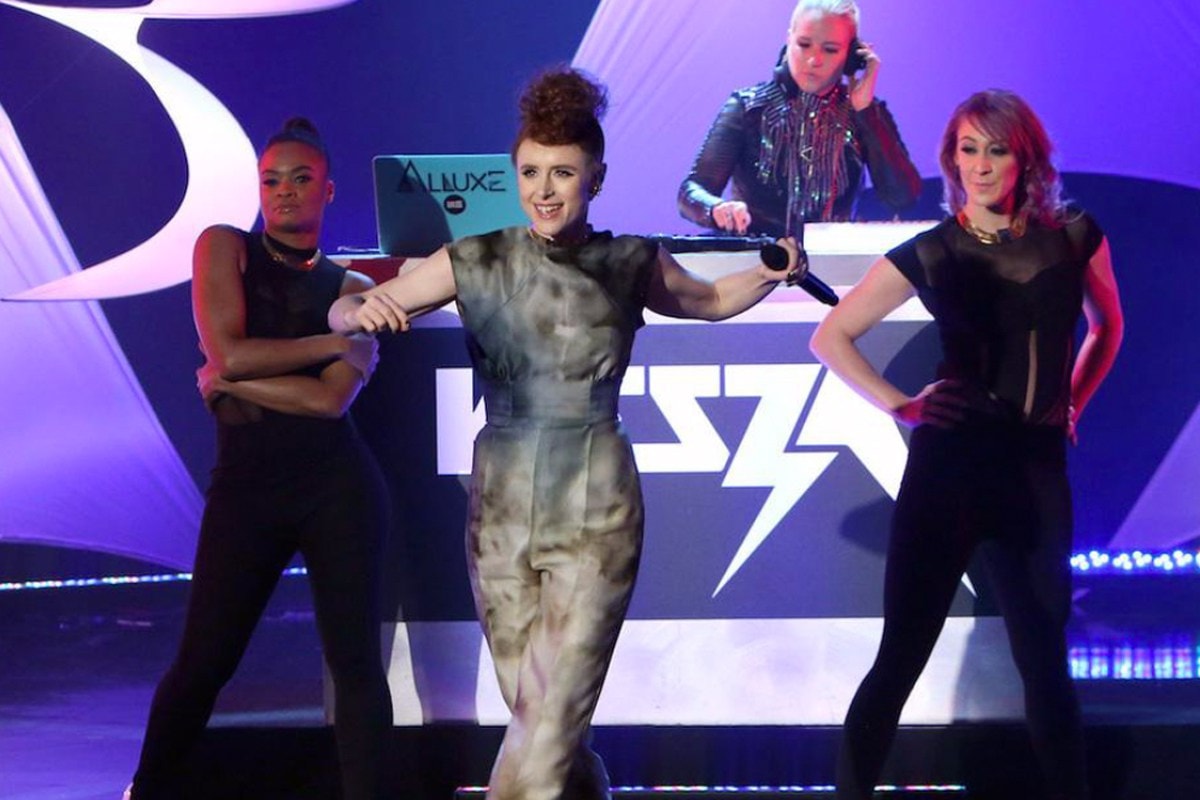 When she's not recording, producing or touring her own material, or helping the world's biggest music stars design their live shows, Laura likes to keep things pretty low-key. She's a devoted practitioner of yoga, and always makes sure to find a studio wherever she is on the road so she can work up a sweat and clear her head. While she loves getting dressed up in experimental and wild getups for the stage, her personal style is also pretty mellow: she favors athleisure and sportswear-influenced looks, counts labels like Y-3, adidas and McQueen among her favorites, and is never afraid to ask "Does it come in black?" She enjoys going to the spa on a day off, and still makes time to go to plenty of shows when she has a free evening, which usually isn't hard when all your friends work in the industry.
It might be tempting to look at a strong woman like Laura, with her laid-back attitude and glowing CV, and wonder how to emulate her seemingly effortless cool factor and smashing success, but she's the first person to warn against paying too much attention to what everyone else is doing. "It sounds cliche," she says when asked about the one piece of advice she can offer, "but just be yourself. I feel like in this day and age, with social media and all that, it's so easy to be influenced by all the other people out there that are doing cool things. But if you don't have your own voice, your own personal style and your own way, then it's much harder to get traction. I've learned more and more as I've gotten older that yes, I might do something different than someone else and that's totally okay! People can sense when you're being authentic, and same goes for when you're not."
And while she's comfortable being seen as a trailblazer for women all over the world looking to get into music production or programming, Laura says she's hardly the only one: "I'm constantly surprised because women are popping up everywhere who are badasses that I didn't know about and that didn't know about me. I think it's just that a light hasn't been shined on them, but people are starting to figure it out." Alluxe, you are a badass, and you certainly have our attention.
Share this article