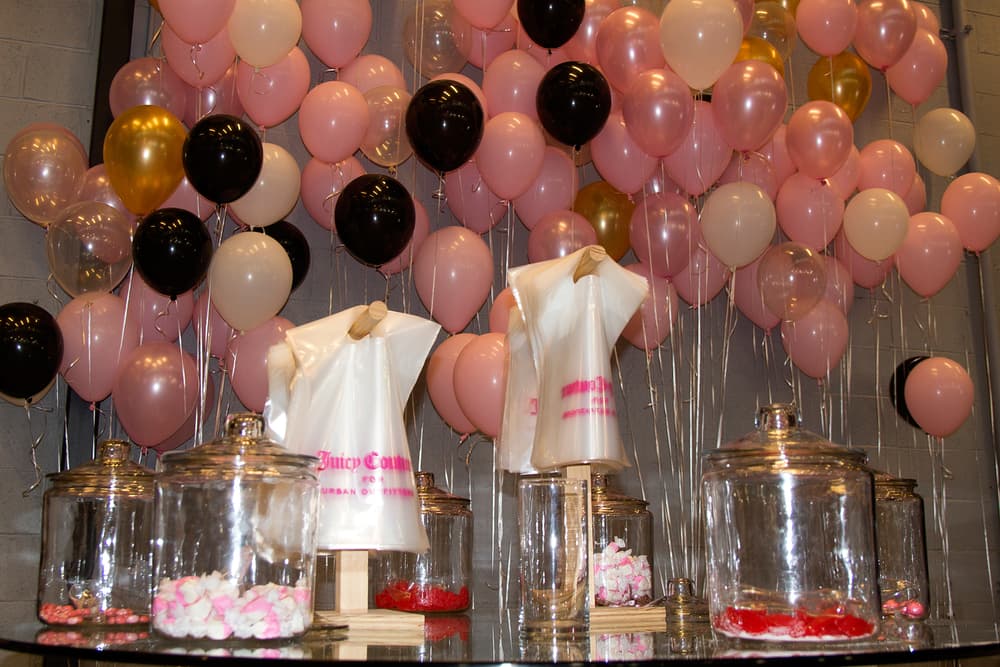 1 of 7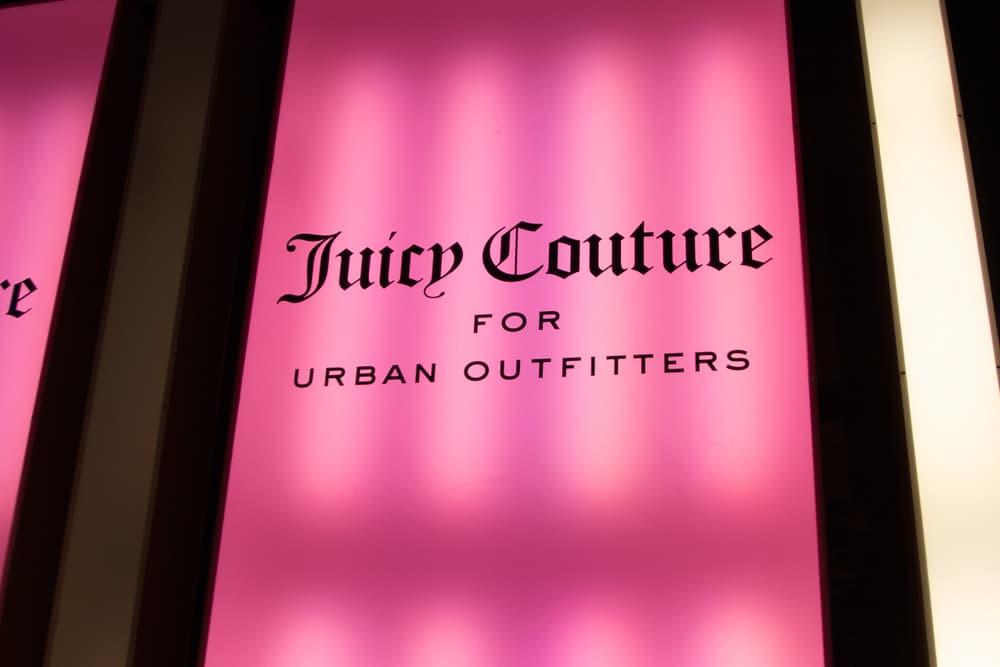 2 of 7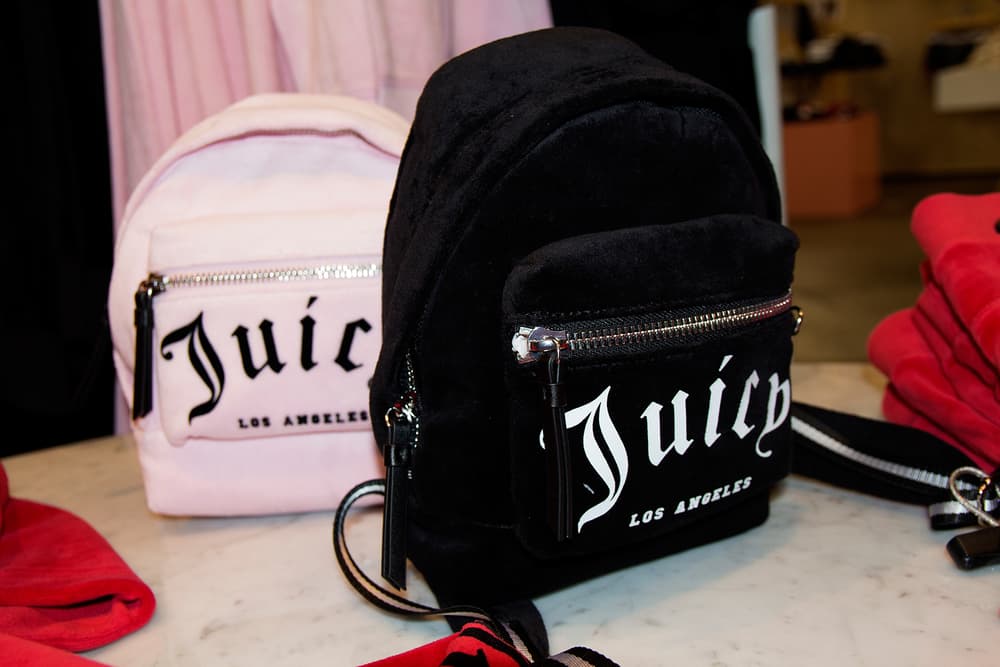 3 of 7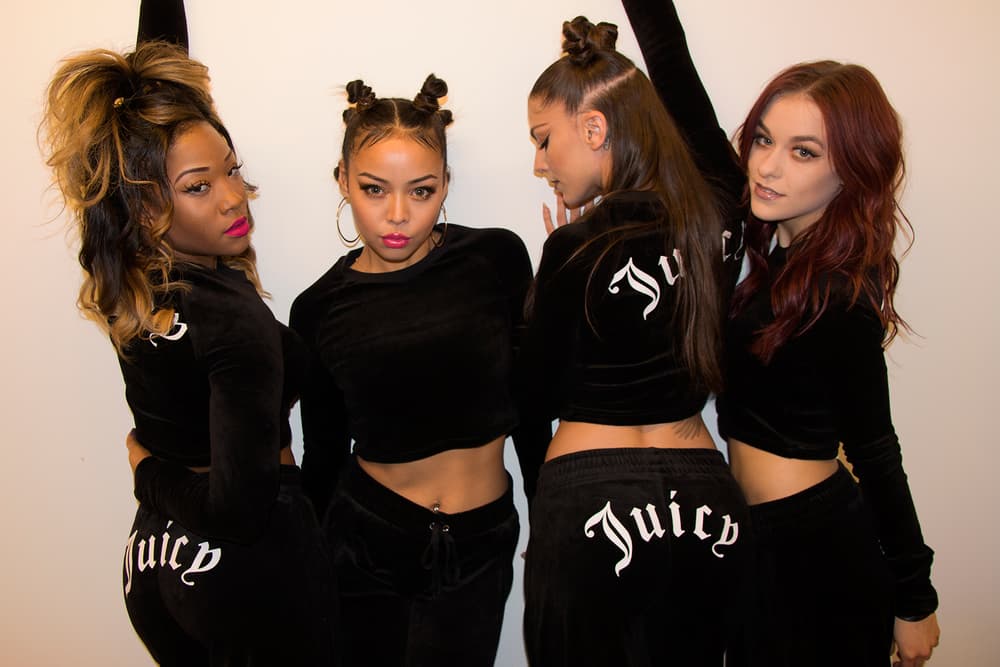 4 of 7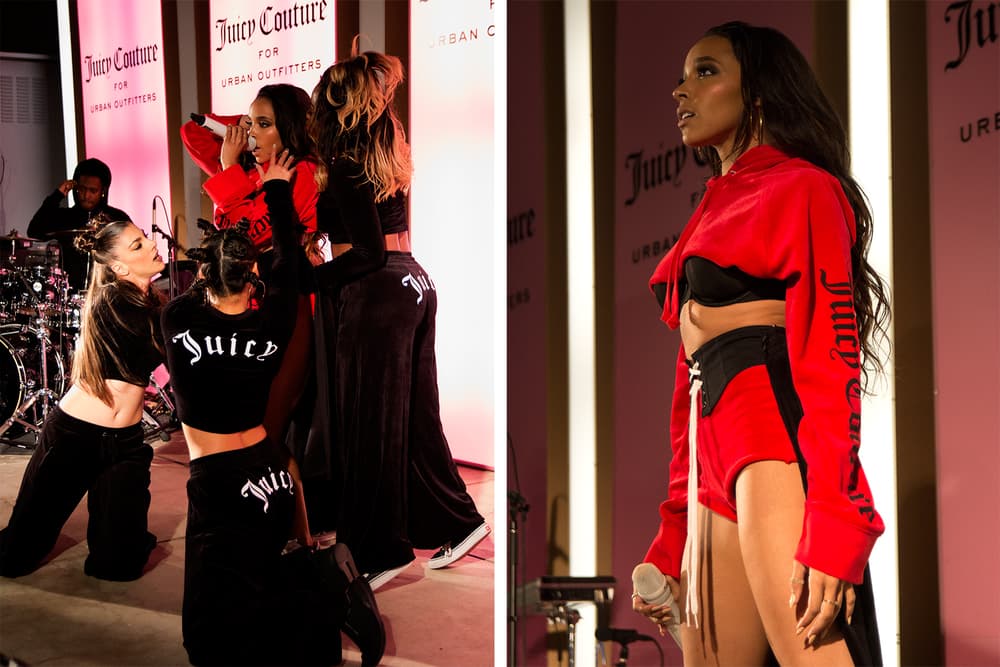 5 of 7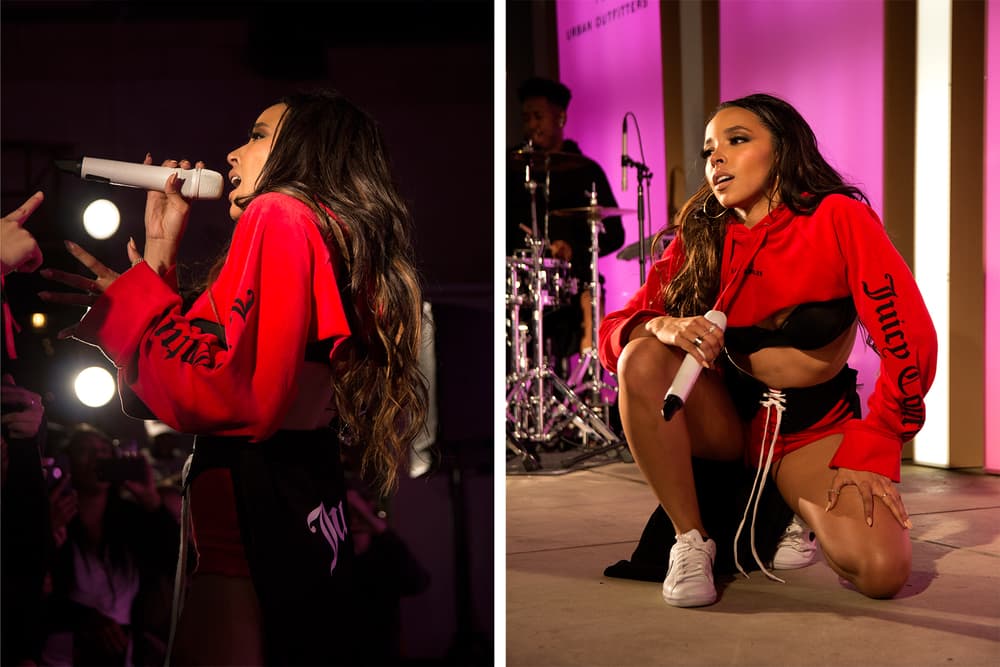 6 of 7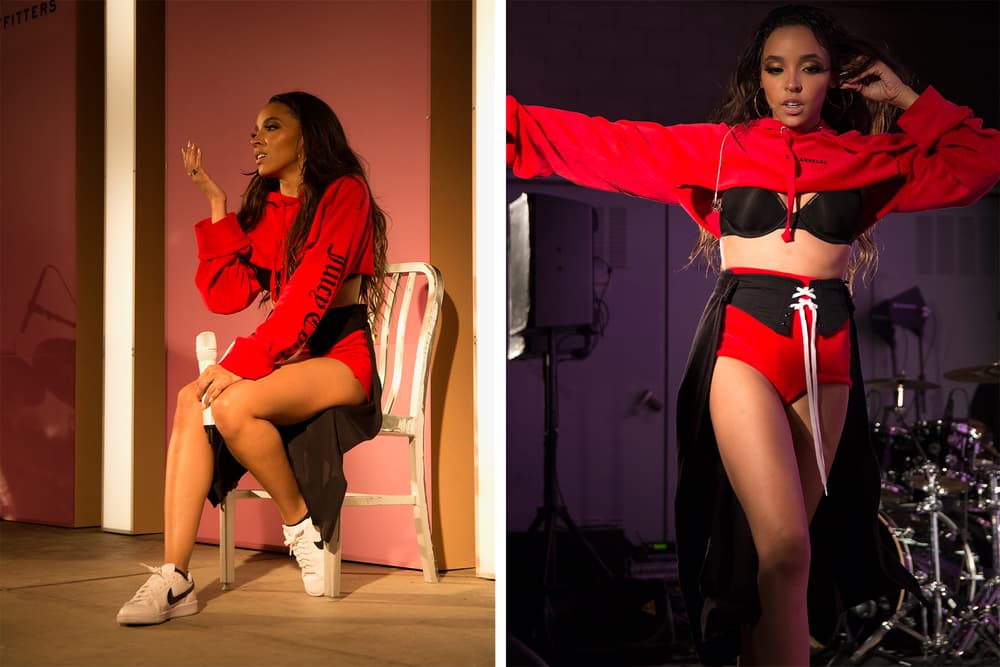 7 of 7
Fashion
Here's What Went Down at the Juicy Couture x Urban Outfitters Launch Event with Tinashe
Time to revisit that velour tracksuit, ladies.
Here's What Went Down at the Juicy Couture x Urban Outfitters Launch Event with Tinashe
Time to revisit that velour tracksuit, ladies.
Over the weekend, in celebration of the launch of their collaborative capsule collection, Juicy Couture and Urban Outfitters hosted a pop up shop experience in Los Angeles that allowed customers to not only shop the full fourteen-piece assortment, but also receive complementary embroidery. To cap off the night's festivities, Tinashe who is the face of Juicy Couture x UO's campaign performed an intimate set on the themed stage outside of Urban Outfitters' Space 15 Twenty.
Donning a cropped iteration of a red, logo scripted hoodie available from the collection, matching red shorts, and a custom, black tracksuit bottom/corset hybrid, alongside her dancers who were also wearing full Juicy Couture x UO fits, the performance fittingly inspirited the campaign's nostalgia driven comeback. As intended, the dial was turned back and the authentic union between fashion and music was on full display through the coupling of Tinashe and her group's wardrobe choice, and the lively, choreographed performance of Tinashe's equally vivacious pop tunes, which boast distinct production elements reminiscent of early to mid 2000 hip hop.
Before her set, HYPBAE caught up with Tinashe for her personal thoughts and memories of Juicy Couture, and a quick check-in on the status of Joyride. Outtakes from both Saturday's festivities and Tinashe's interview have been provided in the gallery above and text below.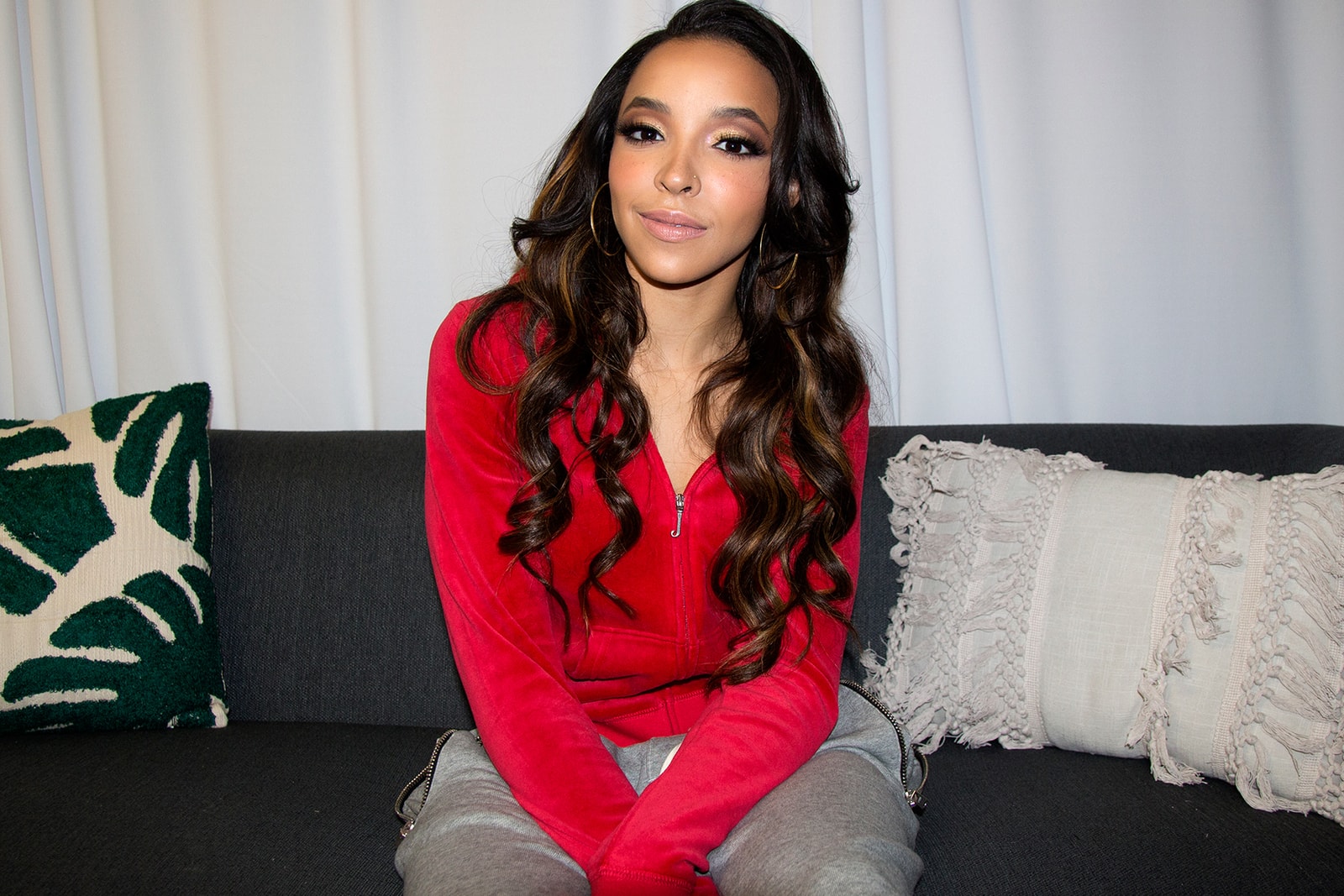 The brand "Tinashe" is quite straight-cut in the sense that when you hear "Tinashe," whether it is in the context of music, visuals or production, you know that you will be receiving a clean product. This sentiment also extends to your sense of style. Previously, you have aligned yourself with high fashion's elite such as Alexander Wang, Moschino, Chromat etc. When Juicy Couture, a brand that has not been in the spotlight for some time approached you to be the face of their revival launch, what prompted you to say yes?
Nostalgia. I definitely was a fan of Juicy Couture growing up, and remembered it fondly. For me, being a part of this comeback was exciting. Culturally, everything once branded as "old," is now being re-casted as new again and I love it — it's fun!
What did Juicy Couture mean to teenage Tinashe, and what does it mean now, years later from either a culture and/or style standpoint?
When I was younger, it was a staple and iconic brand. So many people were wearing Juicy Couture. However, I didn't own Juicy Couture myself. My friends had all of the Juicy, and I was the one rocking the "knockoff brand" version, so I was always a bit jealous. It's funny how it has come full circle now and I am able to front a campaign for Juicy Couture.
Do you have a favorite piece from the collection?
I am a sweatpants, sweatshirt kind of girl, so I love the hoodies and all the tracksuits. I am very into it. Also the oversized one-pieces are really fun as well.
You are a gifted creative, who takes the time to learn different crafts (pro tools, Final Cut Pro etc.) in order to produce personal, uniquely strong work. Would you be open to a fashion collaboration with a designer and/or brand down the road?
Absolutely. I believe that fashion is a great way to express yourself. It is especially another great outlet for creative people to express whatever it is that we are trying to get across to others. I would love to continue to grow in fashion, and continue to surprise people.
What would a Juicy Couture x Tinashe collaboration look like?
I am attracted to pieces that feel baggy so bottoms would definitely be integrated with a baggy, cargo feel.
Culturally, everything once branded as "old," is now being re-casted as new again and I love it.
As a female, and a true on-stage performer who is dancing and singing, the dilemma of sexy vs cozy must be a daily conversation, or perhaps an internal dilemma. How do you strike that balance between seductive, yet still feeling comfortable, or do you feel as if you "sacrifice" feeling comfortable in order to up the "sexy" factor?
There is always a balance, and personally, I enjoy it. I love living in that gray area between being feminine; girly, sexy and then also still remaining true to my relaxed, tomboy, not being too ultra-feminine side. I play in that middle ground. Sometimes I'm giving glam: the full hair and makeup but at the same time my outfit would be toned down.
In an ideal world, what look would you go for everyday – sexy or cozy?
I would definitely go with cozy. I feel as if you can exude sex, even more so in comfy clothes.
We are big fans of your creative output (visuals, Nightride cover, lyrics, production etc.), how involved are you with your creative management?
I am involved in everything. I find it so important to be involved because that is what people see and takeaway from me as an artist. I do believe that fans and critics alike can see through when different aspects of a musician are manufactured. From day one, I have remained hands on in all my creative work as a means to stay true to myself and build my authentic brand.
Where do you go to for inspiration?
I go outdoors. I visit nature for inspiration. I like to find a quiet space, somewhere I can see the sky and reflect. I also receive a lot of inspiration from traveling – venturing off to new places and meeting my fans. I really feel the most truly inspired when I am outdoors somewhere or on a rainy day.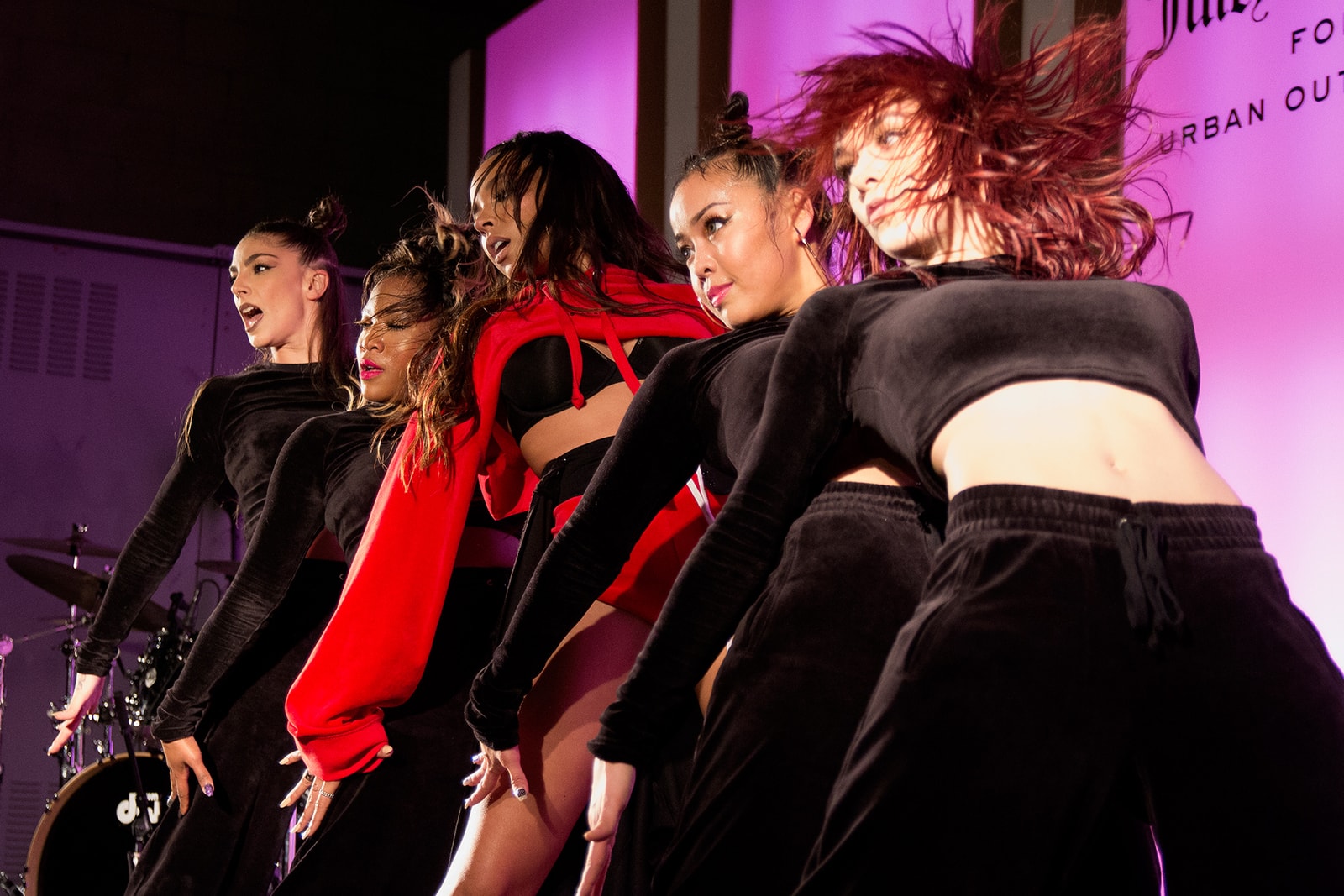 Can you please share the backstory of "C'est La Vie" off Nightride?
I recorded the track in my bedroom, where I do a lot of my favorite songs. I feel very comfortable in my home studio, so that is where I can tap into some of my more personal songs for sure. I love the vibe on that song – it is very laidback and in a way positive, yet melancholy at the same time. As far as the subject matter for "C'est La Vie" it is about letting go of old habits and freeing yourself.
Are there any updates on Joyride?
It's coming, it's coming!
Is there, and if so, what is the connection between Nightride and Joyride?
Nightride is a side of me that I wanted to portray and introduce. It is necessarily all of me, however it is an important side of my artistry – the R&B, darker side. In the past, people have been confused on categorizing my work: "Is she this or is she that?" I truly feel as if I embody both, the "dark" and more upbeat pop. It made sense to split the project into two, with the intent of making it easier for others to digest and recognize the vibey side vs the more energetic side. They are both two sides of the same coin or two ends of the same spectrum.
Will we ever get the studio version of "On a Wave" (Drake ft. Tinashe)?
[laughs] I doubt it. Ask Drake!
Photographer

Aidan Cullen/Hypebae
Editor

Zarah Cheng
---
Share this article