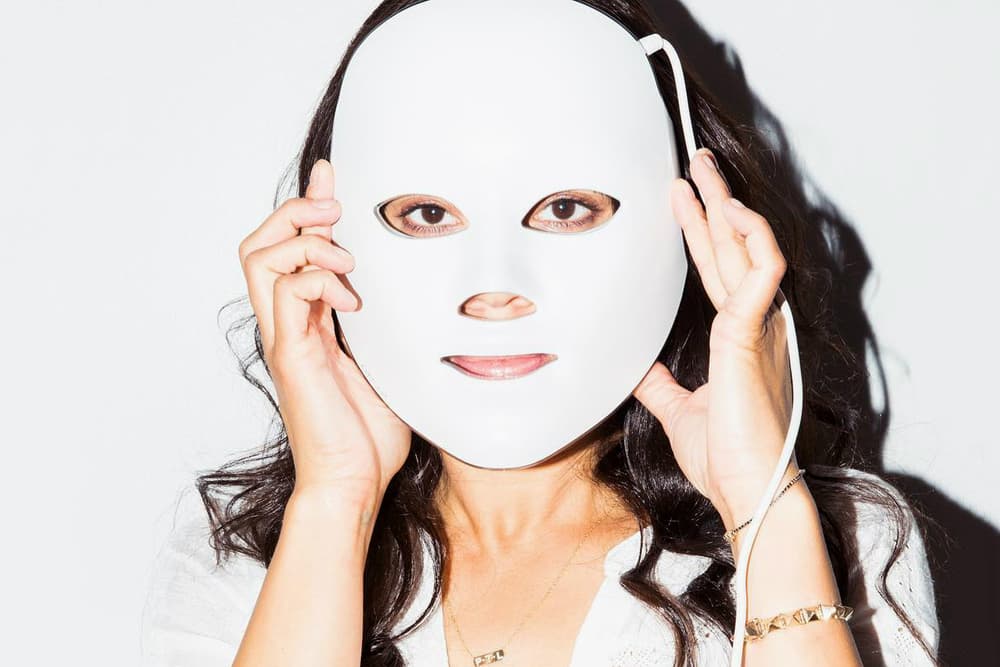 Beauty
These LED Face Masks Are All Over Instagram, But Should You Actually Try Them?
Yup, they're pretty lit – literally.
These LED Face Masks Are All Over Instagram, But Should You Actually Try Them?
Yup, they're pretty lit – literally.
You've more than likely seen some crazy celebrity skincare trends up and down your Instagram feed – we're looking at you and your "vampire facial," Kim Kardashian. And while most of the treatments are far beyond the average person's budget, like Mila Kunis' $7K ruby and diamond facial, some treatments like LED face masks are crazy-looking but can be pretty affordable.
You may have seen posts from the likes of Kourtney Kardashian Chrissy Teigen wearing said LED face masks on social media – all of which were from celebrity esthetician Shani Darden who can be accredited for the LED light therapy craze. We talked to Shani about the Deesse at-home LED mask that she uses and sells on her website, as well as tried out LED masks from Neutrogena, Project E and La Fontaine.
Keep reading to find out how each mask works so that even if your bank account doesn't look a celebrity's bank account, at least your skin can glow the same way.
Deesse Premium LED Mask, ($1,800 USD)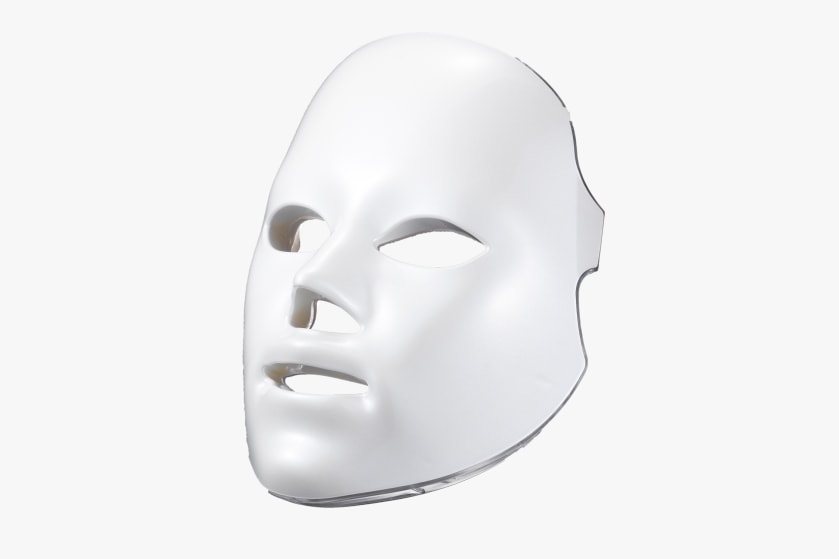 LA-based facialist Shani Darden is a favorite among celebrities like Kourtney Kardashian, Jessica Alba, Chrissy Teigen and Rosie Huntington-Whitely, just to name a few. Darden started to gain a cult following after she started her eponymous skincare line in 2013 with the creation of her "Resurface" Retinol Reform, a gentler but just as effective form of retinol that doesn't require a prescription. With her proven ability to treat a wide range of skin care issues by incorporating the use of LED light, she not only has become invaluable to her famous clients, but can also be thanked for the LED mask craze.
So, if you're going to pay $1,800 USD for an extension to your beauty regimen, you should probably be purchasing from the woman that has given much of Hollywood a glowing complexion. Darden recommends using the Deesse mask once daily for 20 minutes and suggests "incorporating the mask as a regular, additional part of your skin routine to help enhance results."
As for the different functions of the mask, according to the facialist, the Deesse mask specifically has three modes that each perform a different function: the red light reduces fine lines and wrinkles, the blue light kills bacteria that causes acne, and the pink accelerates healing. For best results, Shani recommends using the mask after you cleanse your skin, "if you have a hydrating serum or a moisturizer that you want to penetrate deeper into your skin, you can use it before the mask [However], make sure it's suited for your skin type so it won't clog your pores or cause breakouts." Otherwise, she recommends using your products after the mask.
Neutrogena Light Therapy Acne Mask, ($34.99 USD)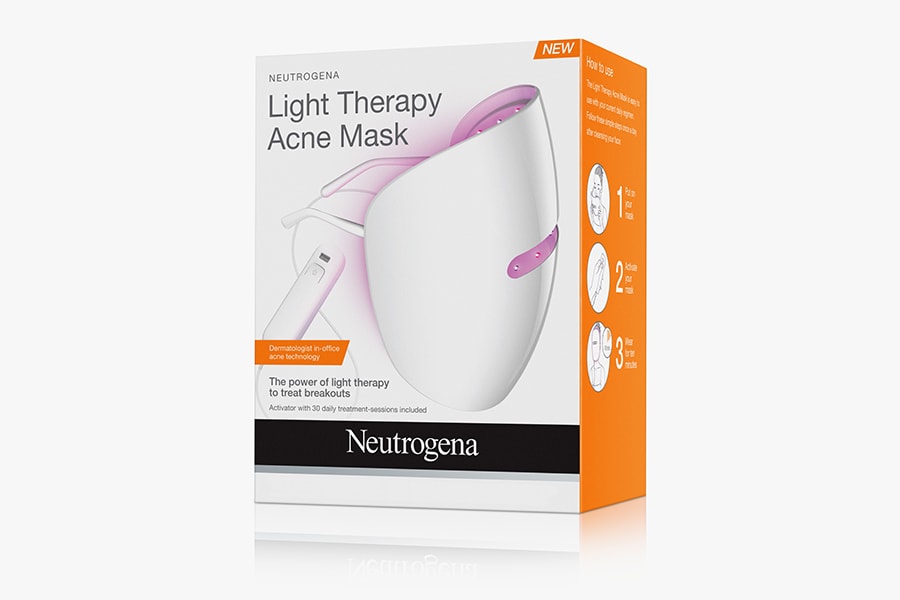 Neutrogena is nothing short of a household name when it comes to skincare, so it is no surprise that the beauty giant arrived early to the LED mask game. And in true Neutrogena fashion, the brand made its version affordable and accessible to the masses. The Neutrogena Light Therapy Acne Mask is to be used daily for 10 minute sessions, so it is an easy addition to your daily skincare routine. With this specific mask, you receive an activator that contains 30 daily treatments (so when you use up your 30 sessions you will have to purchase a new activator for $14.99 USD).
Unlike the other masks we reviewed, the Neutrogena mask has one setting and energy level, the inside of the mask is lined with 12 blue lights and nine red lights that are lit at the same time during one session. With the combination of the lights, the blue targets acne causing bacteria and the red reduces acne inflammation.
The design of this mask doesn't include a nose or mouth hole like the others, but leaves enough space for easy ventilation. A major design perk? This was the only mask tested that included a version of "sunglasses" on the inside of the mask, and let it be known that our eyes were very grateful. Additionally, this is the only mask that does not need to be plugged in to the wall during use making it easy to move around during your session – you can be productive and take care of your skin at the same time – a win, win.
The results? After using the mask for four days in a row there was absolutely no sign of blemishes on skin that can be prone to mild acne. So, this mask is perfectly priced and an amazing option for anyone who wants to treat and prevent mild or moderate acne, and who doesn't mind adding an additional 10 minutes to their beauty regimen.
Project E LED Photon Therapy Mask, ($110 USD)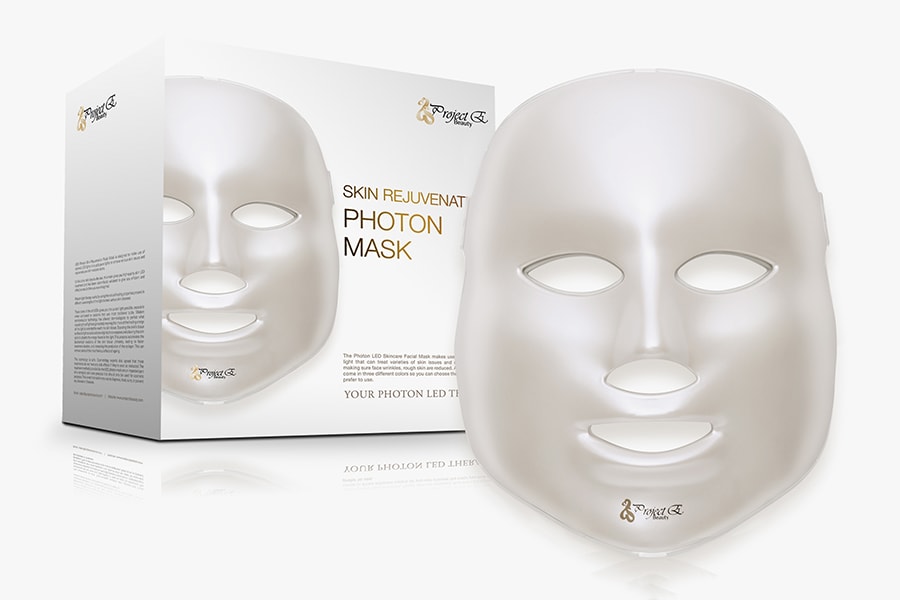 Project E is a Hong Kong-based beauty product and device wonderland. The site offers an unbelievable array of products and devices ranging from breast enhancing treatments to lasers that promote hair growth and best of all? All products are quite affordable, which is why the Project E mask may be the best deal of the group considering it's price and 3-way function. The mask plugs into the wall for unlimited use, and is lined with 160 high powered LED lights with 5 different energy levels that you can choose from. The mask has a timer where you can adjust the timing of your session in intervals of 5 minutes with the maximum time being 60 minutes, although the recommended daily use is a maximum of 20 minutes.
The mask has three different functions: blue, green and red. The blue light is suitable for sensitive and oily skin and helps to treat and prevent acne by reducing acne-causing bacteria. The green light helps to improve dull skin to improve your complexion as well as stimulates mental relaxation. The red light, which is the strongest of the three, stimulates fiber cells that aid in the production of collagen, ultimately reducing wrinkles and making skin elastic and smooth. The area around the eyes and forehead really benefit from red light sessions.
The Project E mask has a large white acrylic front with openings for the eyes, nose and mouth and has a strap to adjust around your head. The mask connects to the remote which must be plugged into the wall for use. The mask is slightly heavier than the Neutrogena mask but can be used easily when sitting down and taking a few minutes out of your day to relax.
The results? After using the green light for three days at energy level five for 20 minutes each time, a dull complexion quickly turned into a bright and even glow. What we found to be the best perk of the Project E mask is that you can divide up the recommended daily use of 20 minutes into different sessions in order to cater to all of your skin issues. For example, have a pimple and a dull complexion? Use the green light for 10 minutes followed by the blue light for 10 minutes. We definitely foresee ourselves including the Project E mask in our daily beauty routines for a long time coming.
La Fontaine Glitz LED Therapy Anti-Aging Mask, (Now $250 USD, originally $500 USD)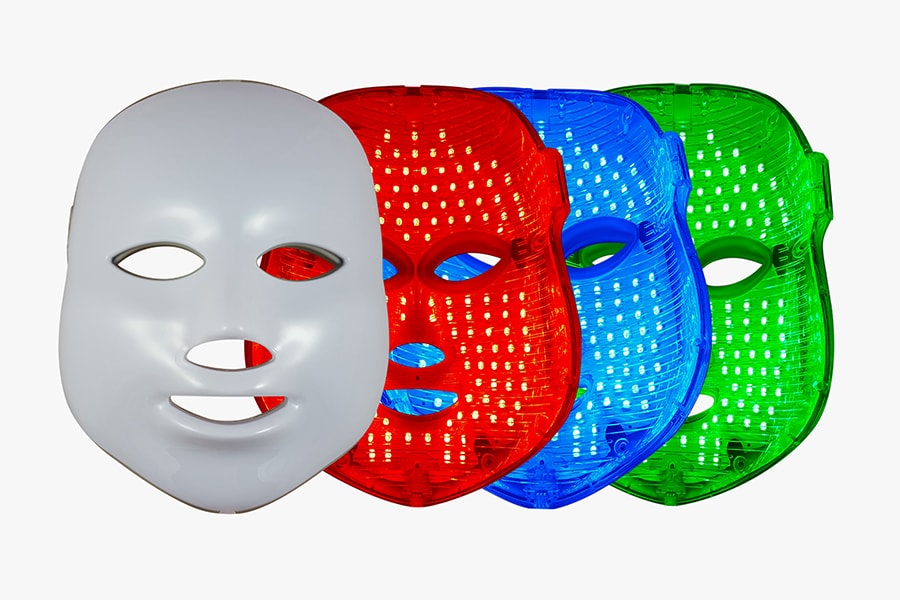 La Fontaine Cosmetics is a beauty e-tailer that specializes in two things: glam and skincare. The brand was first established when founder Jocelyn "Joshie" Duane wanted to create the perfect woman-made microneedle dermaroller. Shortly after expanding into LED therapy, the Glitz mask has become one of La Fontaine's most popular items. According to Joshie, that is because since LED therapy has to be used consistently over a period of time in order to see results, "having a device that you can use at home and buy once off is much more affordable than [going] into the spa every few weeks. It also means that you can use the mask more frequently and thus, potentially gain better results."
The Glitz mask is quite similar in design and function to the Project E mask, but provides slightly stronger LED wavelengths for a more intense treatment that ultimately provides faster, more visible results.
Like Project E, there are three different functions: red, blue and green and all can be controlled using the remote featuring energy levels one to five and a timer ranging from five minutes to an hour. La Fontaine recommends using the Glitz mask daily for a maximum of 30 minutes. As mentioned with the Project E mask, the Glitz mask has a red light to stimulate production of collagen leading to reduction of fine lines, wrinkles, scars, large pores and hyper pigmentation. A green light to improve overall skin tone and protects skin from premature discolorations. Different from what has been mentioned thus far, Joshie explains that the blue light in the Glitz mask is used to reduce inflammation and boost skin recovery time.
When asked if she suggests coupling the use of the mask with any other products to receive best results, Joshie recommends adding La Fontaine's  Transcendence Vitamin C and Hyaluronic Acid Serum to your routine in conjunction with the mask (or on it's own). Basically, If you are looking to target wrinkles, minimize pores and improve overall tone and texture for your skin, the Glitz mask by La Fontaine is a perfect, luxurious addition to add to your at home skincare routine. When using the red light for four consecutive days for 30 minutes per day, we noticed a significant reduction to oversized pores.
What we found to be most consistent when testing all three masks is that the best results came from first cleansing the skin, using a detoxifying mask (like a clay or charcoal) then using the LED mask and at the end of the light session applying a serum or moisturizer. We would recommend adding the use of any of these masks to enhance your beauty game, complexion and to make for a really great selfie for Instagram.
Share this article