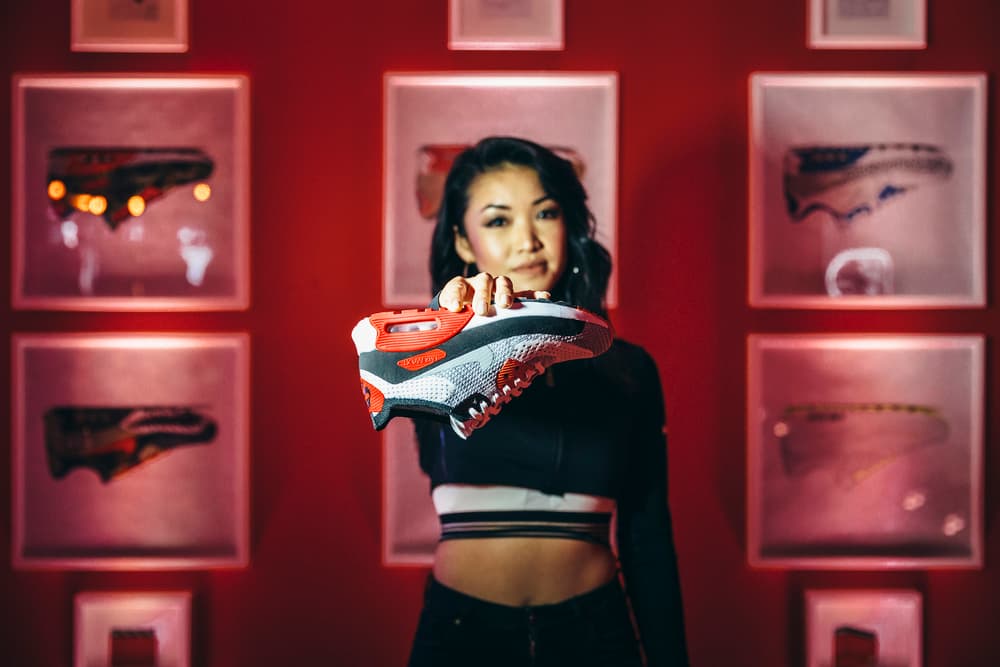 Footwear
How Anna Bediones Made Her Love for Sneakers and Sports Part of Her Career
From admiring Sporty Spice to working with Nike.
How Anna Bediones Made Her Love for Sneakers and Sports Part of Her Career
From admiring Sporty Spice to working with Nike.
Like many of us, Anna Bediones keeps a collection of childhood photos inside a shoebox, tucked inside the closet at her downtown Toronto studio apartment. They are the types of images from our youth that many of us store in similar fashion, in shoeboxes under beds or tucked in a closet: Anna blowing out candles on a birthday cake; Anna with her parents at a backyard family party. There's one in particular that she wants to share; it's Anna with her brother on a family trip to Cleveland in 1998. She's dressed in a crop top, track pants and a backwards ball cap. On her feet are a pair of kids' Air Maxes.
It's the 30th anniversary of the iconic shoe and Nike celebrated with a series of SNEAKEASY pop-ups in four cities across North America. The Toronto event was curated by famed music video master Director X; because the shoe itself was born from innovation and imagination, Director X and Nike selected five local creators and tasked them with bringing to life 30 years of Air Max silhouettes. Anna was one of the lucky few hand-picked for the job, and although the creative-consultant-by-day has built a strong online following for her love of sneakers, sports and her command of "athleisure" clothing looks, she's been prepping for a job like this long before Instagram was around—and she has the photos to prove it.
"My parents liked to dress me in unisex clothing and sneakers," says Anna, an avid basketball player since her youth. She remembers looking to Sporty Spice, Aaliyah, TLC, Destiny's Child and Fresh Prince for style inspiration as a child, mostly because it felt familiar: "[In terms of style inspiration] I tend to gravitate towards people who I already feel are similar to me." Those early influences did more than just impact her style, however, and little Anna knew that when it came to a career path, she wanted to do something related to her loves of sports and sneakers. Before the rise of social media had created countless jobs for digital creators that simply didn't exist before Twitter, Instagram and Facebook were around, Anna "only knew the more conventional routes," and always thought she would end up working in design and for a brand, if she got lucky.
It wasn't that long ago that women were not the priority for sportswear companies that they are today; in fact Nike didn't even produce a female-targeted catalogue until 2004. The increased focus can be traced back to the simple fact that people are exercising more; increased demand has meant (a) more funding for research and development, which has in turn meant better fabrics thanks to technological advancements; and (b) an increased "fashion" component in the world of sports and activewear. Even when Anna got her first paying gig writing and blogging about sneakers—for Complex back in 2013—it was a different world: see Anna's very first piece for Complex: 20 Female Sneakerheads Speak on the Sneakers They Wish Were Made For Women. Once she was getting paid to do something she enjoyed, and started meeting "cool and inspiring" people in the industry, Anna started to see that there was more than just the conventional routes to a creative career in the sneaker industry.
I know we complain that a lot of things don't come in our sizes—and it's true, they don't—but we don't give enough credit to how much HAS changed.
In a way, Anna may have started her career at just the perfect time. Not only did the digital revolution mean more opportunities for enthusiasts and creators like herself to turn their interests into careers, but the sneaker industry as a whole has gone through some drastic, positive changes in the last four years since Anna wrote that Complex post. "I know we complain that a lot of things don't come in our sizes—and it's true, they don't—but we don't give enough credit to how much HAS changed. There is more women's-exclusive product that isn't just following the 'shrink it and pink it' treatment," she points out, referring to the old marketing mantra for making products geared towards women. She also notes the Nike Flyknit LunarEpic 2 as an example of how women are now not only included in the sneaker conversation, but actually driving it: "It was modelled after a female foot and then scaled into men's sizing—that's also huge, because not only are they simply making sneakers in smaller sizes, but they're actually taking design input from female voices to a variety of sportswear and performance categories."
The impact of women on the world economy is no secret, with some studies estimating that women drive upwards of 70-80% of consumer purchases, whether through their own buying power or their influence. Because sports and sneakers are a traditionally male space, brands are investing big dollars in marketing to females, and spending a lot of time and resources in ensuring they get it right. Anna's advice to sportswear companies looking to properly engage with and represent their female audience is straight-forward: "Listen to the people you want to speak to. Pay attention to quality and the time. Try to be current but don't focus on being trendy. Do research on the people you want to align with and don't just pick the ones with the most followers."
1 of 2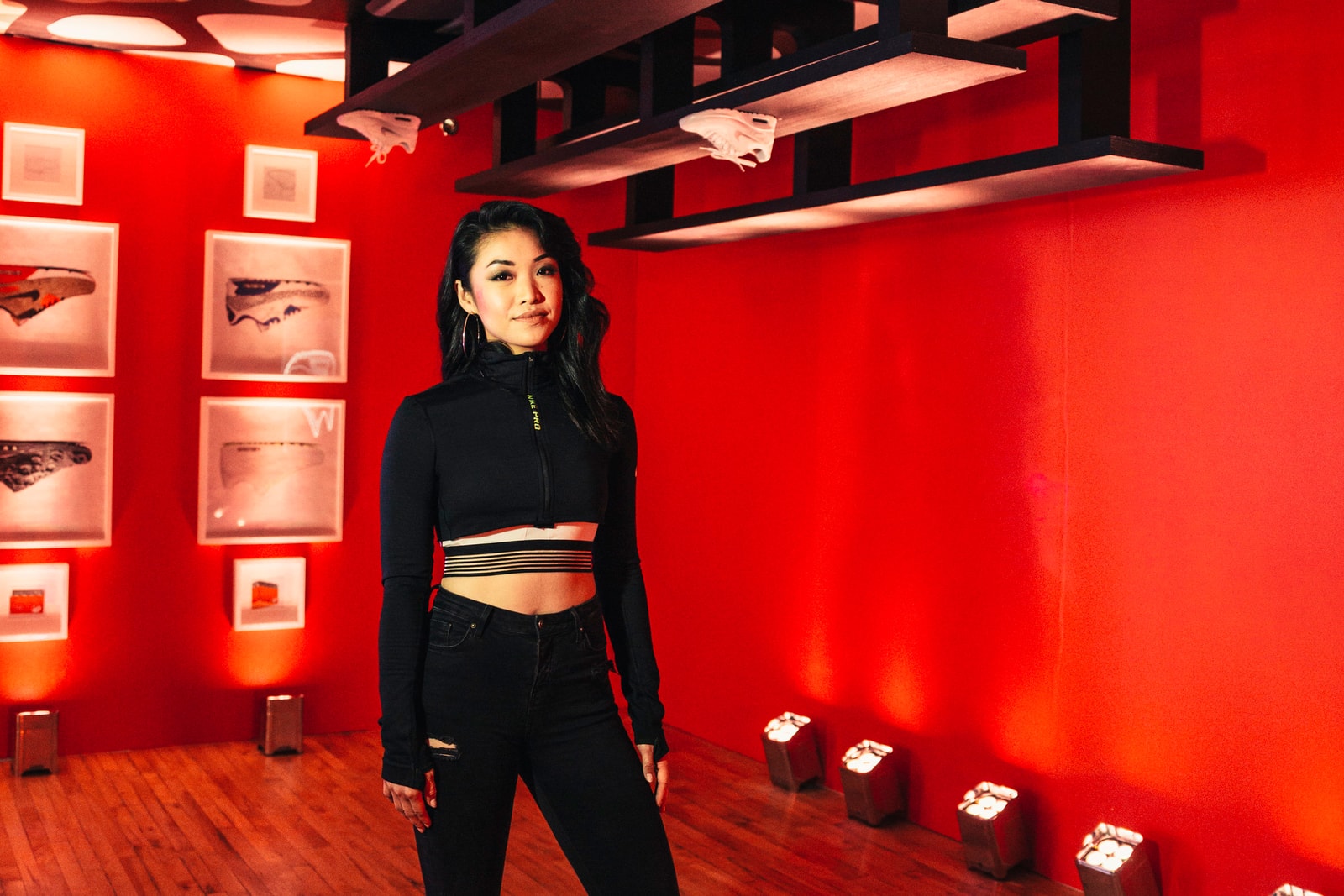 2 of 2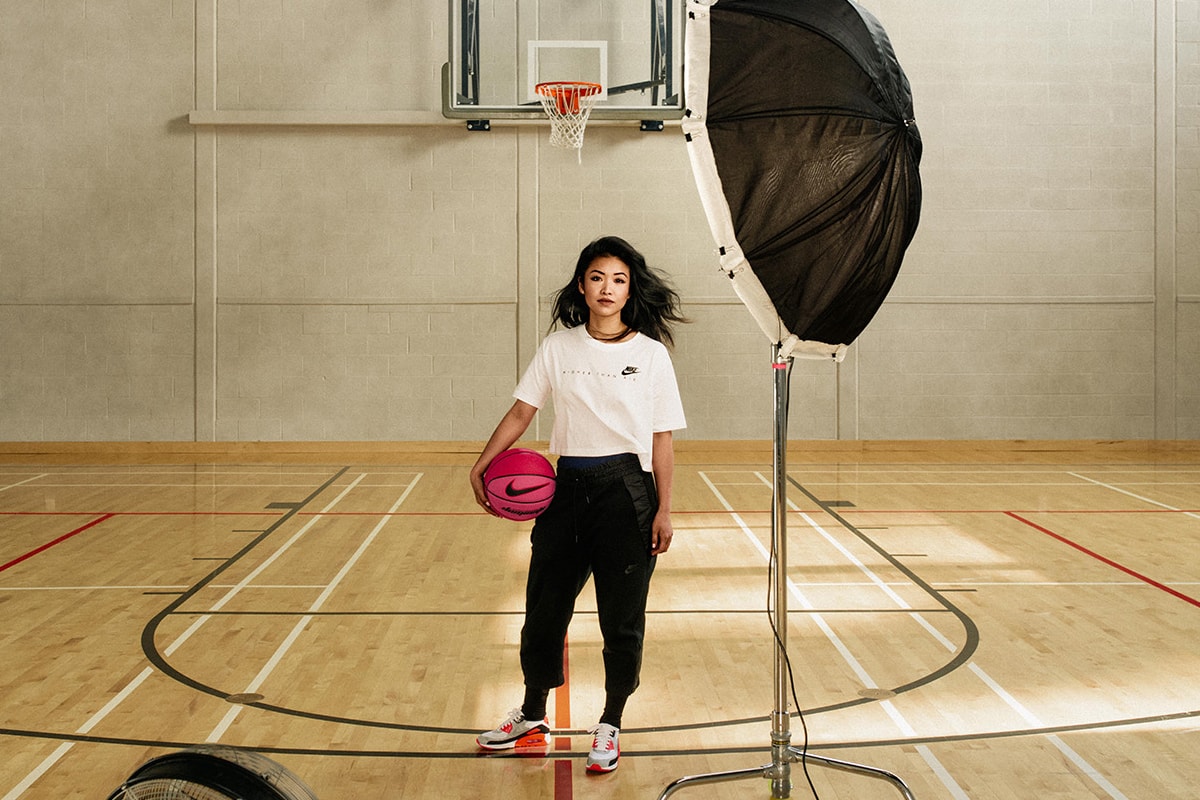 For the Toronto SNEAKEASY Anna designed an installation paying homage to the Air Max 90, a silhouette that represents the era that has mostly closely influenced her style. She cites the AM90 as a sneaker that both innovates—by introducing a brand new color, the bold and iconic "Infrared"—and at the same time manages to be one of the most universally accepted and loved designs: "Look how many cool colorways exist in the AM90: there is something for everyone." She also feels an affinity to the shoe because she sees a lot of herself in this interpretation: "It's a little bit all over the place, a little bit mismatched, but always finds its way and makes sense to itself."
Her installation featured a ceiling mural made to look like an athletic track constructed from swatches from the more iconic colorways of the AM90. The entire installation was built upside down on the ceiling—including bleachers and stadium-esque lighting—to pay homage to the fact the AM90 turned the world of running "upside down" in Anna's opinion. She describes the design process of her art piece as an emotional roller coaster: "I was excited to present my ideas, be brave and confident about my work, and then I avoided it for a bit as I got more anxious. Obviously in the end, I forced myself to revisit my thoughts and finalize my idea it because I had to submit it for production. I never really take the time to exercise my creativity for this exact reason. I always get freaked out and overwhelmed and then cancel it. This time, I couldn't."
Listen to the people you want to speak to. Pay attention to quality and the time. Try to be current but don't focus on being trendy.
I realized through our conversation that Anna means it when she says sneakers are a huge part of who she is. They helped her to learn style and fashion as a kid who took what her parents dressed her in and built on it with her own influences; they helped open her eyes to a career path beyond what she thought she knew; they helped her form meaningful friendships with people she might not have otherwise met. It's been almost 20 years since Anna wore those Air Maxes on her family vacation in Cleveland, but sneakers are still with her, except this time they're more than just an outfit choice. They encourage her to push her own boundaries, step out of her comfort zone and become an even more confident and creative version of herself. Much like the Air Max, Anna is evolving and sneakers are a part of who she has been, who she is and who she is becoming.
Photographer

Nike Toronto
Share this article