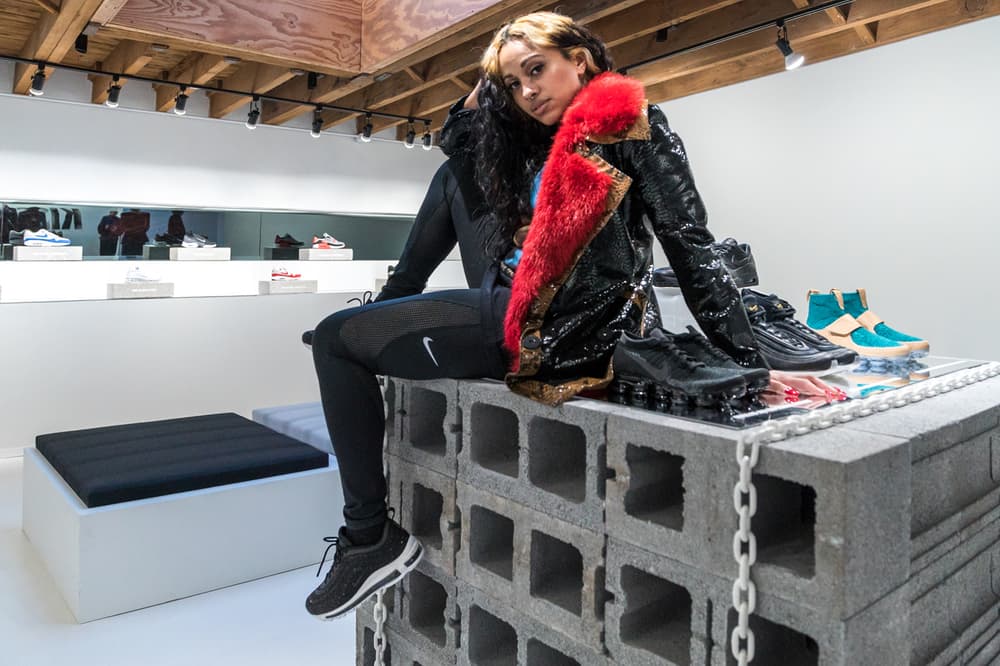 Footwear
From Rebel to "RevolutionAir": Venus X Talks Style and Designing Her Own Nike Air Max Sneaker
"We really need to be experimental because we're being oppressed in every possible."
From Rebel to "RevolutionAir": Venus X Talks Style and Designing Her Own Nike Air Max Sneaker
"We really need to be experimental because we're being oppressed in every possible."
You may know Venus X as a DJ, but at her core she's a creator. She's partly responsible for creating GHE20G0TH1K, and what started as a party a little less than a decade ago has turned into a true platform for a community of expressionists in music, fashion and beyond. Though it has since evolved — it's gaining legs as a record label and manifested into her Planet X boutique — who she is has always been a constant: a self-proclaimed rebel whose style is just as staunch as her political voice.
Now the rebel is a RevolutionAir, selected by Nike to conceptualize the future of the Air Max in honor of Air Max Day 2017. Venus X's design is one of a dozen presented by creators from around the world, which fans will be able to vote to choose one to be released in 2018. Hers is more than a shoe: it's a call to awareness in the troubling climate in which we now live in.
Read our own conversation with Venus X about her design, style and GHE20G0TH1K below. Then cast your vote at Nike starting March 18.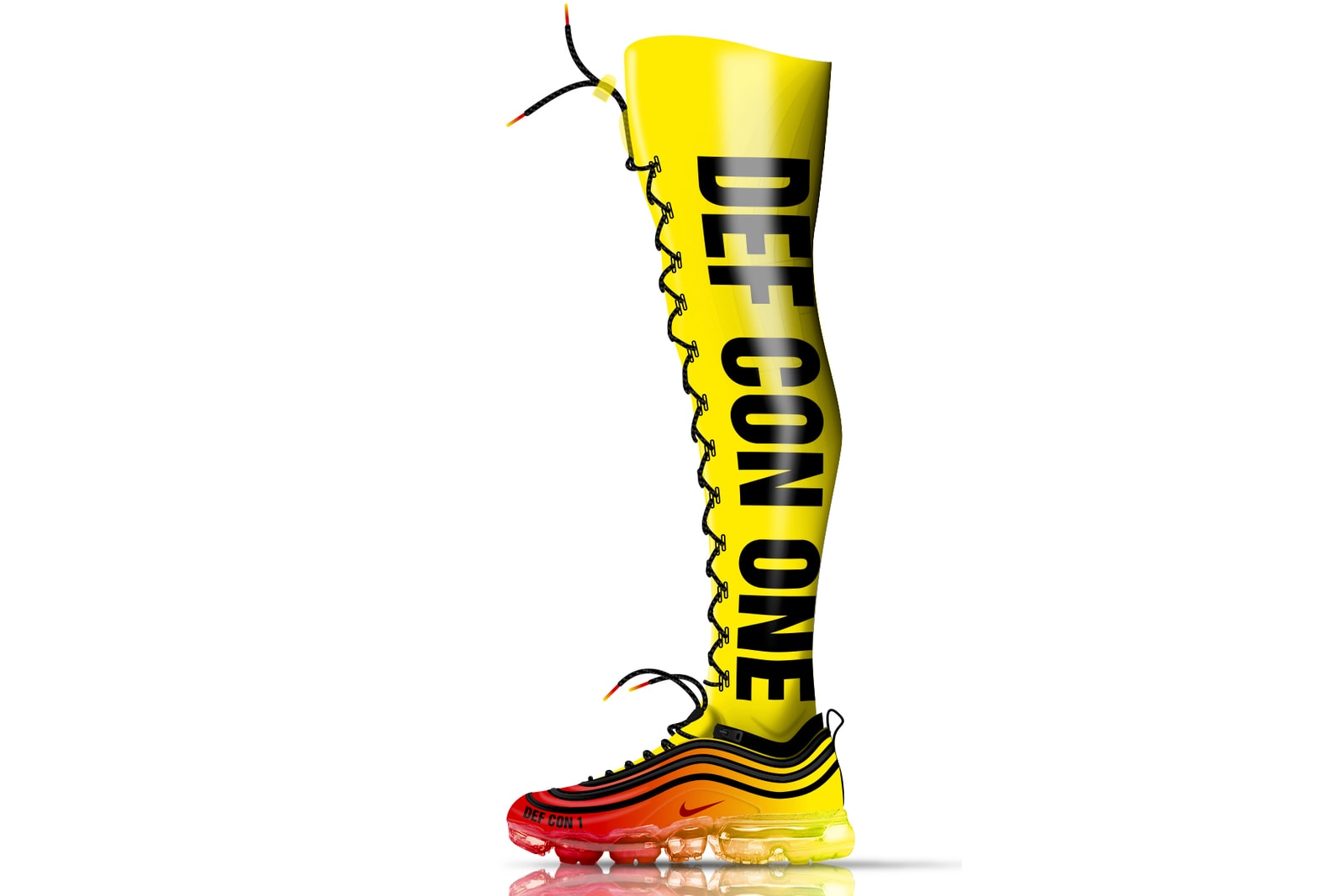 Why did you chose the Air Max 97 as your canvas?
That was the first Air Max I remember loving and wanting as a kid. I was about 10 or 11 when it came out. I didn't really know much about sneakers before then. When I saw the Silver Bullets, I wanted them so bad. I had to use it because for me it's a trigger — so much nostalgia.
You've said that you like to question the conventional. How did you take that approach with your design?
Most people, they think of Nike and obviously think of athletes. But they don't really think about DJs, about the cultural stadium or cultural playing field, and that's where I am. In my world people can excel very quickly, even if they don't necessarily meet the physical requirements of a traditional athlete because of charisma, talent, fashion.
There's a reason why we're employed. Because of the culture, the lifestyle is so much more than how you use your body. It's also what you wear and listen to. That's why I used the new VaporMax sole with the 97 body. I wanted to make something that, for me I think is the coolest Air Max — but cool only goes so far when you have to run to the train. So how do I get away with being who I am and what I'm known for, which is the music I play and fashion? How do I convey the same person to the middle American who only cares about how comfortable the sneaker is and if they can run in it? That's why it has the zipper too, so you can unzip the vinyl sock.
Talk to me about the "DEF CON ONE" design itself.
DEFCON 1 is a chart, a defensive readiness condition — the condition of the country at any given time. There are five levels: blue, green, yellow, red and white. Blue is the coolest and as it moves up the scale to one, it's nuclear war. The end of the world. Right now, we're at the end of yellow, fading into red.
It's about freedom, it's about sexuality, being experimental — these things that are more crucial then ever.
Your shoe is a political statement.
It's a political statement and also a thermometer. You can tell because of this chart where we are, but no one ever tells you what color we're in. The news doesn't say, "Here's your DEFCON 1 meter." This is me assessing where we're at, at the end of yellow, and when we get to the end of red, it's going to be over. I don't think I have to explain why or how things got that way, but for me it's hard to think about the world if you don't think about all the shit that's going on right now. For my sneaker, because of my background and how I DJ and have designed my lane, it's important for me to always remain connected to reality.
How would you style it?
Probably with just an oversized T-shirt and little booty shorts to DJ because that's what I'd be wearing it for more than anything. And then I think the most obvious way is to just wear all black, like with a bodysuit so you kind of just look like a Power Ranger but more fashionable.
You can wear it with just a T-shirt if you're a girl and you just want to wear it to a party. Or if you're a guy who's experimental with fashion. But you can also unzip it if you don't need the sock. It's meant to fit a lot of different needs, from the cool sneaker collector to the fashion girl to the person who might actually run in it.
So speaking of your style, it's very distinctive so what are your go-tos?
A custom leather red jacket Hood By Air made for me a couple years ago, so I wear that one a lot. I wouldn't be anyone in the fashion world if weren't for Hood By Air. I was there from the beginning of the brand and the stage of it doing runway shoes. GHE20G0TH1K was part of reviving it from streetwear mode. So definitely Hood By Air.
My Norma Kamali techno hoodie from the '90s — it's amazing. There are a couple of other brands I love like COMME des GARÇONS, the plaids specifically. I'm really into plaids. And lots of vinyl — I mix vinyl with everything. And orange, I've been wearing orange a ton. This brand called Kamikaze has been making me a lot of custom orange stuff. They're new and we carry them in the store.
1 of 2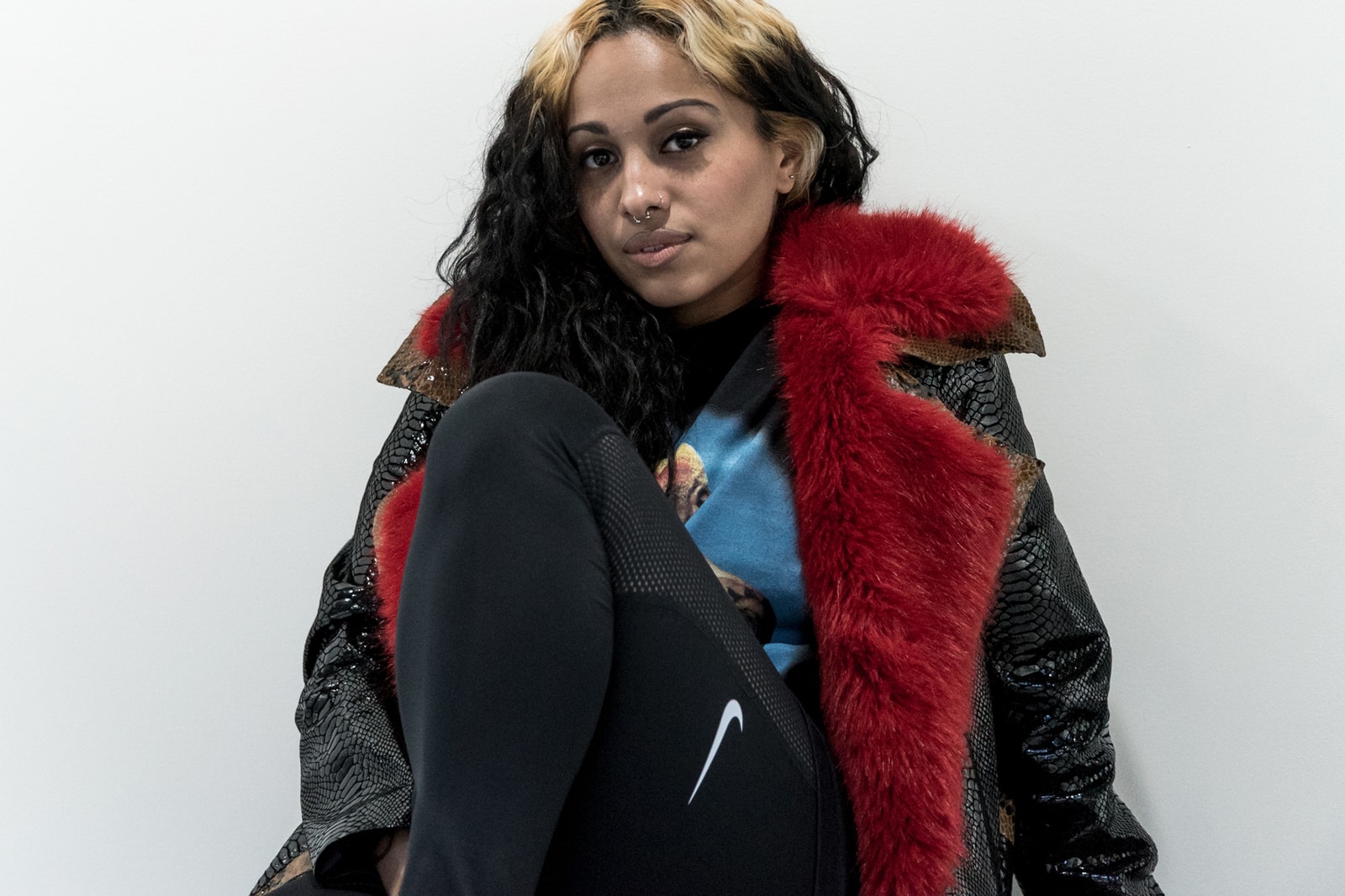 2 of 2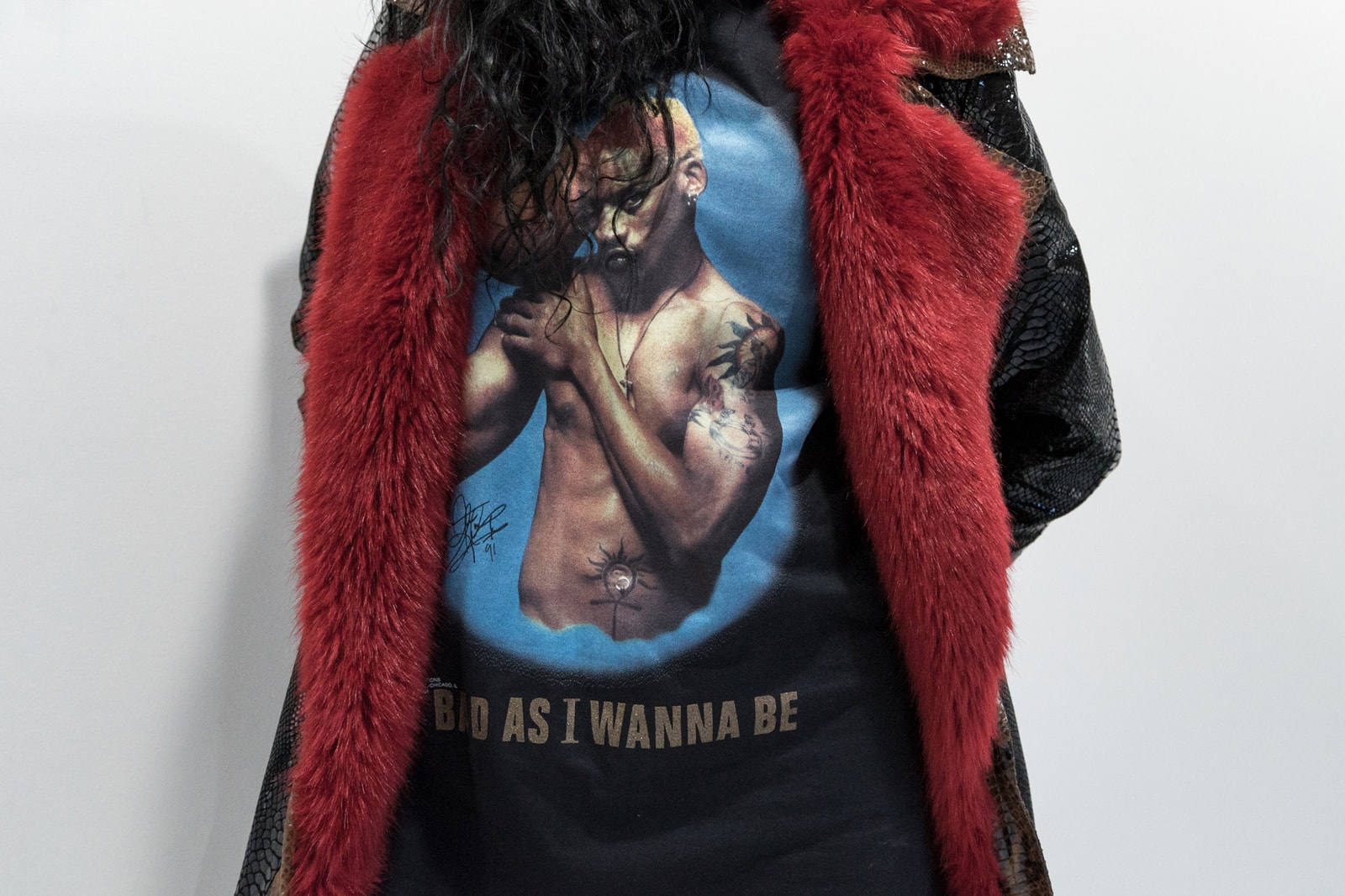 How is the store going?
We've continued to do it past the pop-up stage because it's doing so well. There aren't a lot of stores that cater to new brands, mix a little bit of vintage and have a lifestyle approach. It's meant to be more of a Japanese approach, very cult-oriented. A lot about ideas and stimulation, patterns and textiles in conjunction with new brands, skate brands, streetwear brands and collector's stuff — whether it be a super limited BAPE pouch or CDG plaid blazer from Japan that no one's ever seen before. There's not much diversity in the fashion consumerism experience and the store is meant to blur that line between thrift stores and new stores or designer stores and stores that carry their own brands.
You also created GHE20G0TH1K to fill a void in music and nightlife. Did you ever think it was going to take off the way it did?
No, I definitely didn't. I'm glad that it did, and I was able to become a DJ because that wasn't my career. I certainly didn't know it was going to become so trendy. I didn't think the ideas were ever going to become this mainstream. Most of the ideas we engage with have already been mainstream. We're just remixing them. It's not like people haven't worn cool outfits or focus on certain types of sounds, but we're taking a little bit of this culture, a little bit of that culture, a little bit of this style — we're mixing it all together. And we're saying everyone can do it. You don't have to just be into fashion, you don't have to be gay or listening to our music. There's so many different ways to engage with GHE20G0TH1K now whether you're buying Hood By Air or coming to see me perform at a Dior party. And that's what we never thought would be so universal.
What does GHE20G0TH1K mean to you now personally now that it's become trendy?
It's still not mainstream but a lot of the ideas and styles are. A record label now is what it's becoming, the store — the more tangible real products of it. We're seeing now that we have cultivated a community, what does it have to offer? What does the music sound like? How do we influence the main stage of the music or fashion world by giving more platforms to the people that we're working with? That includes putting new brands in our store but also finding graphic designers who have that special style. It's more now about the products of that cultivation versus just the party. We're trying to find ways — like with Nike — to work with bigger brands, to get access to more people so that they can also engage with those artists, products and messages that we're putting out. It's about freedom, it's about sexuality, being experimental — these things that are more crucial then ever. Now we live in a time when, politically, we really need to be experimental because we're being oppressed in every possible.
Photographer

Keith Estiler/Hypebae
---
Share this article