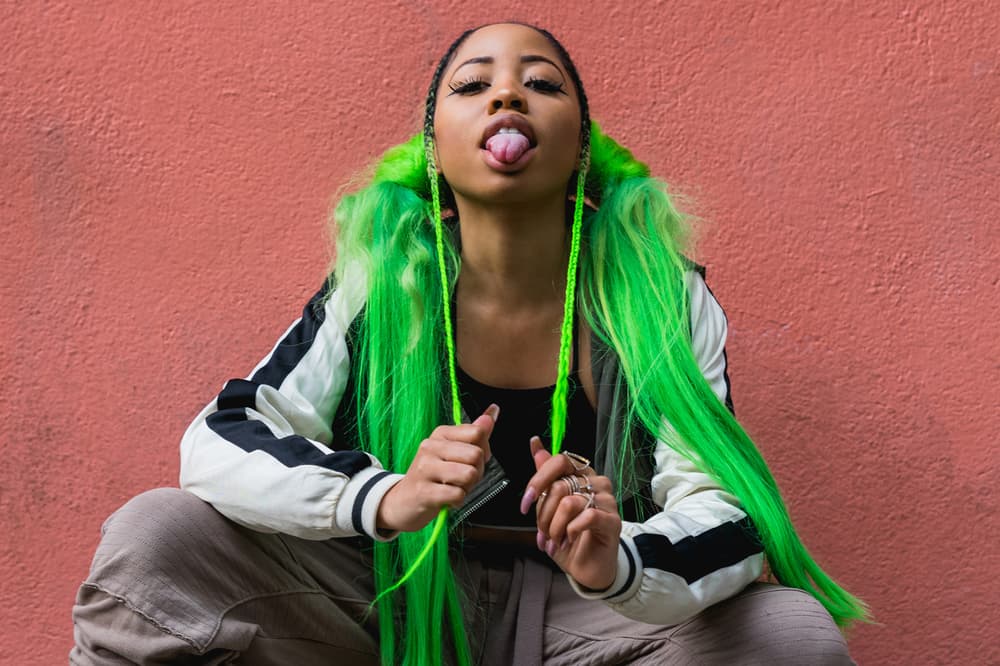 Music
Premiere: Liana Bank$' "People Like Me" Is a Certified Summer Jam
Featuring "The Boy Wonder" Ayo Jay.
Premiere: Liana Bank$' "People Like Me" Is a Certified Summer Jam
Featuring "The Boy Wonder" Ayo Jay.
Liana Bank$ marches and writes to the beat of her own drum. The Queens-born singer-songwriter has quickly gained the attention of the music industry with her buzzy Insubordinate mixtape and long list of heavyweight collaborators including Lily Allen and PnB Rock. Whether its her signature neon green locks or her saccharine voice, her appeal and talent is undeniable.
Ahead of her second project Apt. 210, we got to learn more about the R&B songbird who sings from a place of reality. On her "People Like Me" single, Bank$ warns us about people like her "who don't know a thing about love." Atop a steel-drum laced track featuring Ayo Jay, she sends a clear warning to the hearts she may break.
Learn more about the songstress and click play on "People Like Me" below.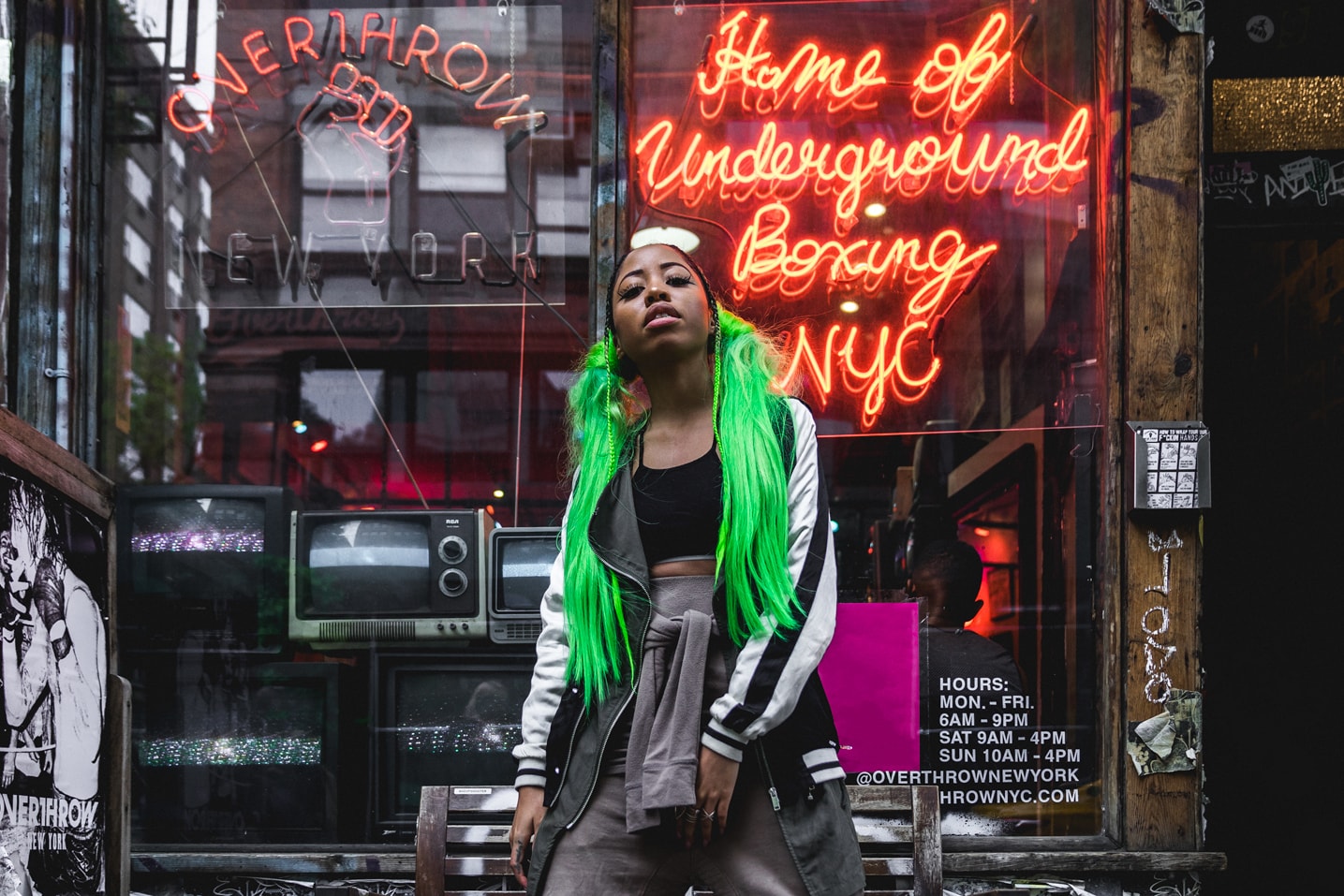 Your music has been described as trap, R&B and everything in between. How would you describe your sound?
The rebel in me wants to say "Fuck labels, I'm my own genre," but if I absolutely had to sum my sound up, I'd probably call it "Platanos." That's because…I mean, have you ever had them? They're just so damn good. They touch my soul.
What's your songwriting process like? Where do you pull your inspiration?
My process is honestly pretty bizarre. As a kid, I loved being high up, so I would climb the school across the street from my house and write on the roof. Throughout high school, I found comfort in writing in the bathtub. I'd take all the couch pillows and throw them in the tub. Then, I'd grab a few candles and snacks, turn the lights down and drift off.
I had a beach writing phase too. I'd sneak in at night mostly (I love being around water!). I'm told I have to be a civilized human being now so the studio is my writing home for the most part. The studio and the subway. There's so much inspiration on the train!
How are you balancing being a songwriter and an artist?
Surprisingly well, actually. I think all the years of doing both are finally starting to pay off. It's a bit draining, jumping from one creative process to the next: pouring yourself into your artistry and still finding the juice to contribute to and honor another person's artistry. It's really more about the mindset, scheduling and organization at that point which is a learning process for me as a person who prefers to live in the moment. But I'm working on it!
"My first rule with my artistry is "honesty".
How will your Apt. 210 EP be different than Insubordinate? What's changed since?
Apt. 210 is a super personal project. There are a few things that I told myself I would never speak about in my music that I'll be addressing on this E.P. It's nerve wrecking, but I found it to be immensely healing. My first rule with my artistry is "honesty." I felt I wasn't being completely honest with myself and my supporters, so I'll be taking that dive this time around.
What would be a dream collaboration?
I have this CRAZY song on the project that I NEED Chance The Rapper on. Like, it would literally be perfect with a Chance verse. If you know him, tell him I got that work! I'll babysit Kensli in exchange. This is a serious inquiry.
What is your favorite song that you've written (for yourself and for someone else)?
For me, it's a song on the upcoming project so I can't release all the details yet. But it's very raw and vulnerable. I'm working on something special for the visual too.
For someone else, it would have to be writing "Selfish" with PnB Rock. It was my first gold record, and will hopefully go platinum very soon!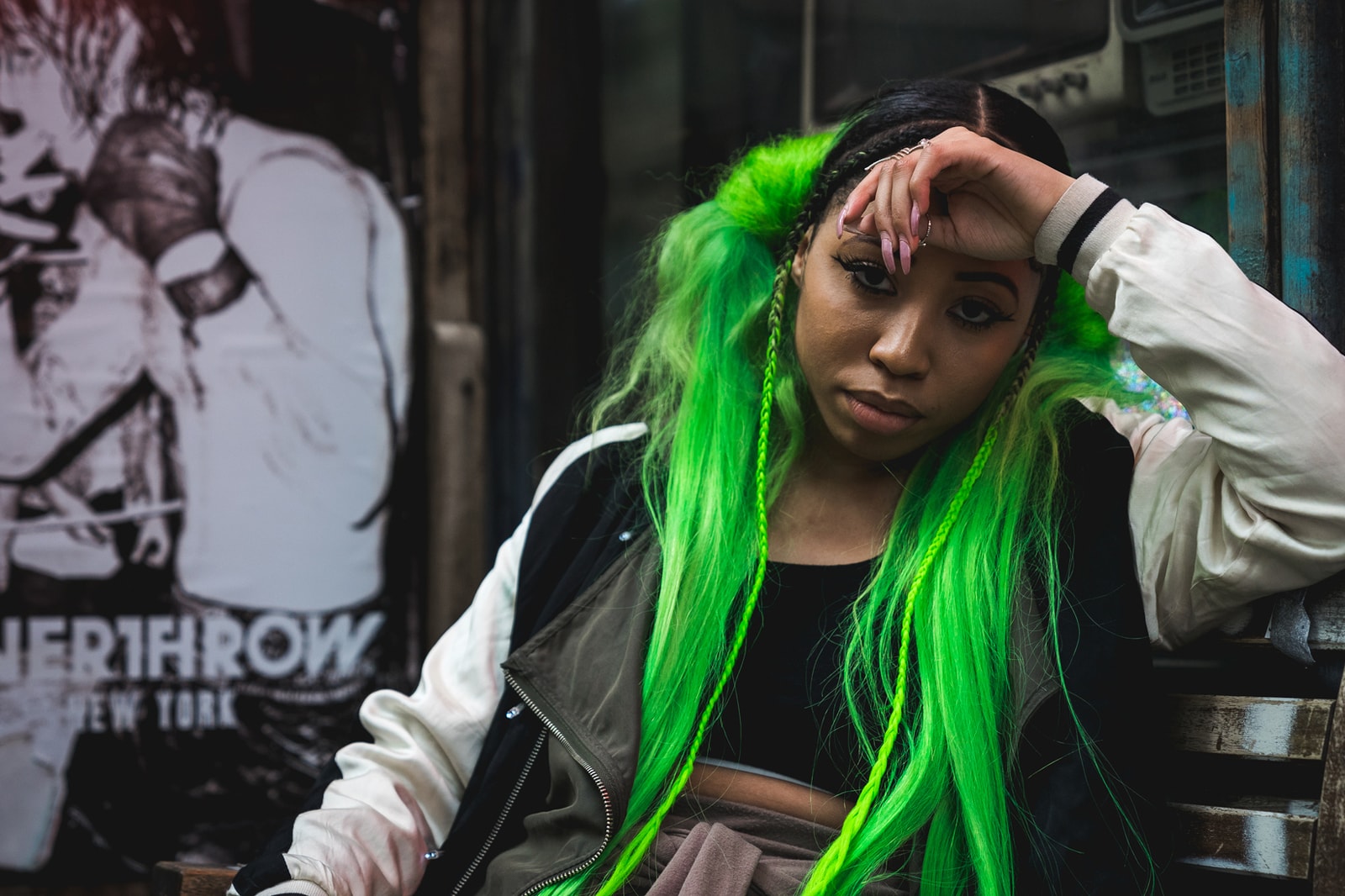 Tell us about your style.
I like to mix high fashion with streetwear. My style is much like my personality: a chill, street conscious, NYC dollar pizza lover, green juice, champagne and truffle lobster indulger (insert favorite "Bad & Boujee" quote).
I love rich, structured blazers, but will throw them on with an oversized worn T-shirt. I'll put on a pair of Louboutins but wear them with my Nike socks and a baseball cap. I will throw on a kimono and pair it with adidas. I love to accessorize and I'm big on interesting shades and rings. Also I can't go anywhere without my "No FuQs" chain. It's an essential for me!
We've read that you like to customize your clothing. How do you approach it and what's your process like?
Yes! Customization is vital when shopping on a budget. I hate walking down the street and seeing someone in the same exact outfit as me. I kind of die a little internally. I buy cool pendants brooches, pins, patches, tassels to set myself apart. My glue gun is my bestie. I recently customized an LED bomber jacket for merchandise. It came out sick!
Your neon green hair is a show-stopper. What do you love about this color and style? Any tips on hair maintenance for the girl on the go?.
I love this color because it's electric. It glows in the dark and everything. I'm basically a human highlighter, and who doesn't love highlighters?
I'm always on the go and bleaching and coloring requires a ton of maintenance. Maintenance that I personally don't have the attention span or time to keep up. One thing I do make sure to do is condition however! Dry hair is never the wave. I also cut my hair often. Split ends are a big "no no." I just braided my hair in attempt to stop putting so much heat on it. Give your hair rests ladies!
Photographer

Eddie Lee/Hypebae