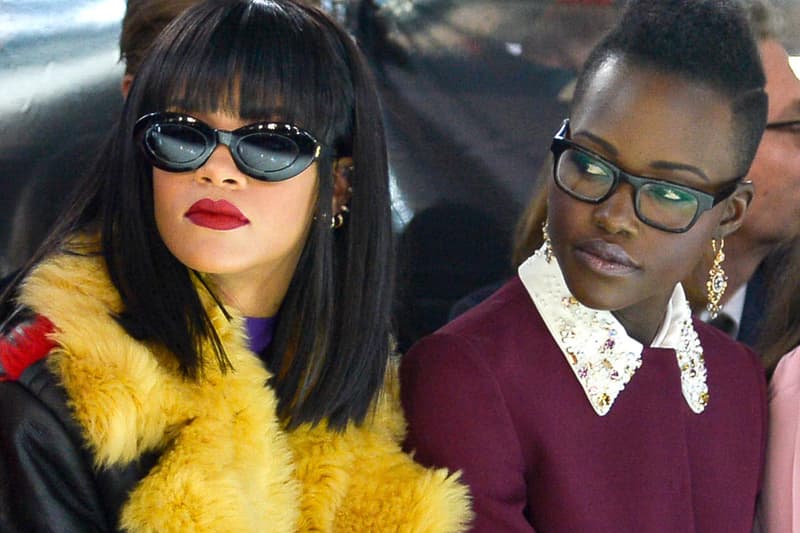 Culture
Rihanna and Lupita Nyong'o's New Movie Is Already the Best We've Never Seen
It's really happening.
Rihanna and Lupita Nyong'o's New Movie Is Already the Best We've Never Seen
It's really happening.
Rihanna and Lupita Nyong'o are set to costar in a new movie directed by Ava DuVernay — and we all have Twitter to thank.
It all started when someone tweeted a photo of the pair sitting front row at Miu Miu's 2014 fall/winter show with the caption: "Rihanna looks like she scams rich white men and Lupita is the computer smart best friend that helps plan the scans." Lupita retweeted adding that she was down, as did Rih. Twitter users then took it upon themselves to find a director and writer for the movie, calling upon Ava DuVernay and Insecure's Issa Rae, and both agreed.
Now Entertainment Weekly reports that this is actually happening, as Netflix won "a very aggressive bidding war" for the project, which sources say is expected to go into production in 2018. Is it too soon to already call this our favorite movie of ever?
Get your popcorn ready, and stay tuned for any future developments.
Rihanna looks like she scams rich white men and lupita is the computer smart best friend that helps plan the scans https://t.co/PhWs1xd3nj

— WHOOPHERASSKOURTNI (@1800SADGAL) April 18, 2017
I'm down if you are @rihanna https://t.co/vwHBWeCbFZ

— Lupita Nyong'o (@Lupita_Nyongo) April 21, 2017
I'm in Pit'z https://t.co/Kz0o3lBEmL

— Rihanna (@rihanna) April 23, 2017
@MikelleStreet @rihanna Lights set. Camera's up. Ready to call action for these #queens. ? pic.twitter.com/NVgqpFeTnu

— Ava DuVernay (@ava) April 24, 2017
@dvrrxll @rihanna pic.twitter.com/XG2WMribGJ

— Issa Rae (@IssaRae) April 23, 2017
Image Credit

Pascal Le Segretain/Getty Images
---
Share this article