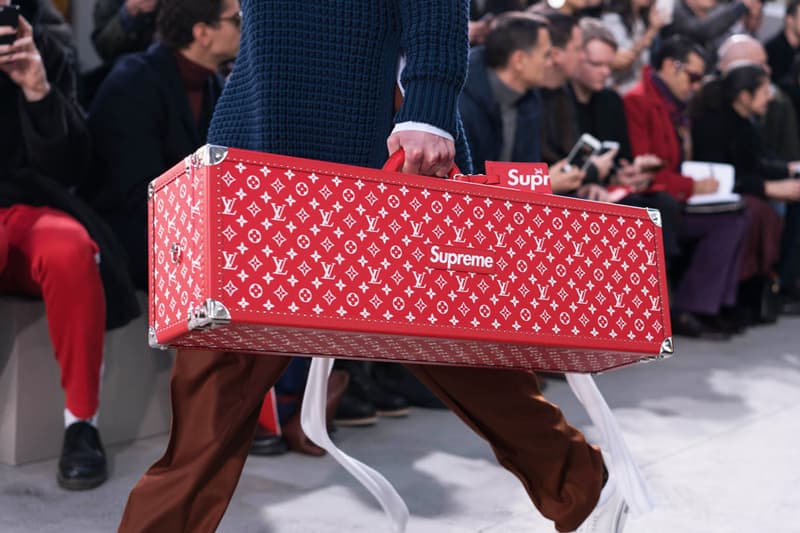 Fashion
Welp, That Supreme x Louis Vuitton NYC Pop-Up Won't Be Happening After All
Manhattan's Community Board No. 2 "strongly" denied it.
Welp, That Supreme x Louis Vuitton NYC Pop-Up Won't Be Happening After All
Manhattan's Community Board No. 2 "strongly" denied it.
Word on the street was the Supreme x Louis Vuitton would finally release their collection at pop-ups this summer, including one at New York City's 25 Bond St. A notice posted in the neighborhood announced that a public hearing would be held regarding "street activities," or more specifically the "Louis Vuitton/Supreme Product Launch." Fashionista reports that that pop-up won't be opening after all because the 32 members of Manhattan's Community Board No. 2 voted unanimously against it, as per their May 18 meeting notes, "Therefore Be It Resolved that CB2 Manhattan STRONGLY recommends DENIAL of the Louis Vuitton/Supreme (Product) Launch, Bond St. between Lafayette St. and Bowery to be held from 6/29/17 – 7/2/17."
According to Fashionista, the Community Board objected because Supreme failed to present a plan to manage the 1,000-plus customers expected to attend and had not yet notified business in the area that would be affected by the massive crowd. The board also expressed concerns over customers lining up and sleeping on the sidewalk days in advance of the pop-up, public urination since Supreme didn't present a plan for where customers would use the bathroom while waiting, and failure to "articulate how this product launch will benefit the community in any way."
In addition, the board noted Supreme "also has a history of violating New York City permit requirements for at least four unauthorized events in city parks" — remember that box logo incident? Now, Supreme and others applicants for line-forming product launches have to present a comprehensive plan to the board to avoid "unnecessary disturbances that have been plaguing our community for the past several years."
Stay tuned for future updates on whether the doors on a Supreme x Louis Vuitton pop-up will ever open.
Photographer

Arby Li/Hypebeast
---
Share this article