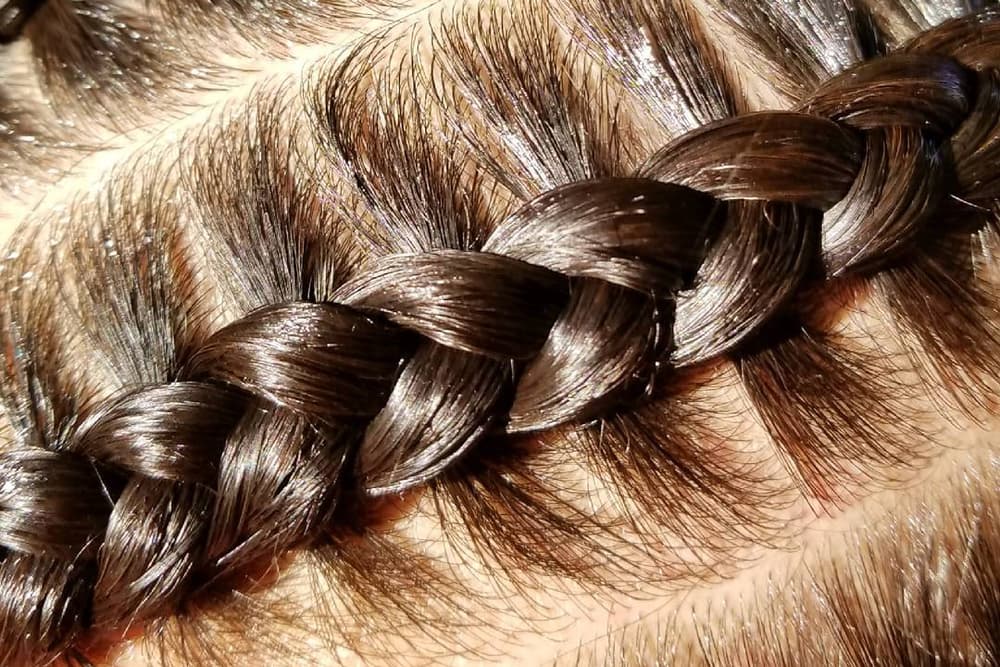 Beauty
Here's Everything You Need to Know Before You Cash out on Braids This Summer
Peep these posh plaits.
Here's Everything You Need to Know Before You Cash out on Braids This Summer
Peep these posh plaits.
Summertime is, and will forever be, linked to a fresh set of braids. Who wants to babysit flat-ironed tresses while the temperature continues to rise? No ma'am. It's sweat-proof, swim-friendly braids for the win.
There's a lot of misinformation floating around about braided styles. Depending on where you're from, styles go by different names and there's a lot of overlap in braiding terminology. Adding to the mix that mainstream beauty likes to "rebrand" Black hairstyles and you've got a recipe for confusion (they're cornrows not "boxer braids). Before you invest in a braided do' this summer, here's a quick rundown on the core techniques and how to care for each style.
Cornrows
What They Are: Cornrows are rows of braids created by gradually adding small sections of hair. Cornrows have a rich African history and were used to denote anything from relationship status to social ranking. During American slavery, cornrows were a way of illustrating maps and messages among the enslaved. The trend of braiding using jewelry or colorful elements is nothing new, either. Self-expression in the form of cornrows goes way, way back.Goddess and Ghana braids also fall into this category. The difference being, these styles slowly add more weaving hair into the braid to create a graduated jumbo braid. Ghana braids are also known by their curved parting at the hairline.
What You'll Need: Cornrows are one of the most cost effective forms of braids. Braiding hair like Kanekalon and even silkier options like Yaki/Yaky are cheap and you'll require fewer packs compared to box braid styles. How much hair you'll need depends on how much hair you have, and the desired size and length of your braids.
How Long They Last: A well done set of cornrows will last about a month, longer for smaller braids, less for chunkier styles.
How to Keep Them Looking Fresh: Make sure your braider uses a heavy pomade or edge control product for a neat result, then use the same product for touch-ups or taming any wayward sections.
Box Braids
What They Are: Box braids (named after the square-shaped parts) are single braids with added hair starting from the base. The ends can be curled, burnt, dipped in hot water, or left free. Also called Poetic Justice braids (referring to Janet Jackson's style in the '90s film), these are the most time-consuming, taking eight hours or more to complete.
What You'll Need: Patience and about eight packs of the braiding hair of your choice. The first few days can be uncomfortable due to tightness, so have some Advil on deck.
How Long They Last: Box braids are the longest-lasting braid style and can last for months with proper care.
How to Keep Them Looking Fresh:
Once they start to loosen, you can ask your braider to re-braid the perimeter of your hair only to extend your wear for a few more weeks. As with other braided styles, when you wash use shampoo on your scalp only and conditioner on the braids. Use cold water only — hot water can cause the braids to warp or constrict.
Crochet Braids
What They Are: Crochet braids involve interlocking pre-made braids or twists into cornrows or single braids created from the wearer's natural hair. Crochet braids are a popular alternative to box braids and with good reason. You can get full on Solange realness in a fraction of the time and with less stress on your natural hair.
What You'll Need: For a full head of crochet braids or twists, you'll need at least six packs of hair. Don't forget the latch hook to loop in the extensions. (They're only a couple bucks, so buy two. You'll undoubtedly misplace it at some point.)
Faux locs can be also created with this technique, as well as many curly and straight styles. The crochet technique — which is nothing at all like crocheting — is an incredible timesaver and if you can braid your own hair, you can easily do these on yourself.
How Long They Last: If you can master washing your hair with crochet braids they can last up to eight weeks or more, depending on how fast your hair grows. Shampoo your scalp only, avoiding the braids or twists. If you absolutely have to cleanse the extensions, use a lightweight conditioner or baby shampoo.
How to Keep Them Looking Fresh: Since the style depends on a foundation of braids done with your natural hair, there's little you can do once those braids start to loosen as your hair grows. If for some reason the extensions themselves start to look funky, you can easily remove them and latch in a few new pre-made braids.
YouTube has a ton of information to offer on braid styles, product recommendations, and tips on maintenance. Chances are you can find a talented braider in your area with the help of Instagram or online hair forums. There's no reason you can't have a summer style that's very Alicia Keys "Fallin" meets Jada Pinkett-Smith in Set It Off mixed with Brandy circa… any point in time, really.
Break out the door knocker earrings, pick up a new baby hair toothbrush 'cause it's that time of year.
Editor

Esiwahomi Ozemebhoya
Share this article