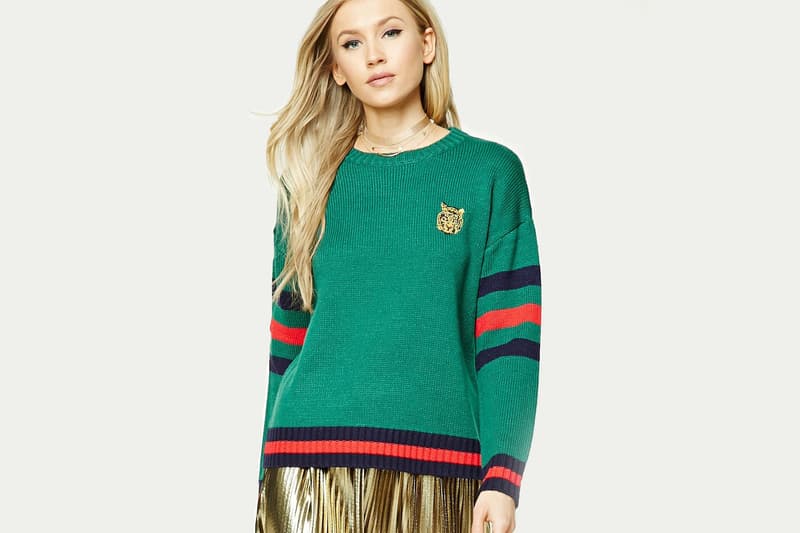 Fashion
Stripe Showdown: Forever 21 Is Suing Gucci in a Surprising Turn of Events
The fast-fashion retailer and Italian house are going head-to-head.
Stripe Showdown: Forever 21 Is Suing Gucci in a Surprising Turn of Events
The fast-fashion retailer and Italian house are going head-to-head.
Forever 21 has seen its fair share of copyright infringement lawsuits, but the fast-fashion retailer is striking back against Gucci in a turn of events. Forever 21 filed a lawsuit this week seeking protection against a trademark litigation against Gucci, after Gucci sent three different cease-and-desist letters demanding Forever 21 stop selling items with "any and all use of" green-red-green and blue-red-blue stripes as early as December 2016. While Gucci has had federal trademark protection for those stripe combinations since 1988, Forever 21 asserts in its legal complaint that "Gucci should not be allowed to claim that Gucci, alone, has a monopoly on all blue-red-blue and green-red-green striped clothing and accessory items."
"Many clothing and accessory items adorned with decorative stripes colored blue-red-blue or green-red-green are sold by countless third parties … The colors red, blue, and green, and stripe designs, are among the most favorite, popular and widely used colors and design features on clothing…Consumers are not likely to be confused into believing the Striped Products sold in Forever 21's stores by Forever 21 are manufactured by, sponsored by, authorized by, or otherwise associated or affiliated with Gucci."
Gucci has called out at least five different Forever 21 pieces bearing resemblance to its own designs, including a striped sweater, bomber jackets and a choker necklace. "Forever 21's reputation for being accused of profiting from the trademarks and copyrights of others, including Gucci, is well established," the brand told The Fashion Law in response to the suit.
Forever 21 has yet to make a public statement — but stay tuned to see what happens in this showdown of stripes.
Share this article