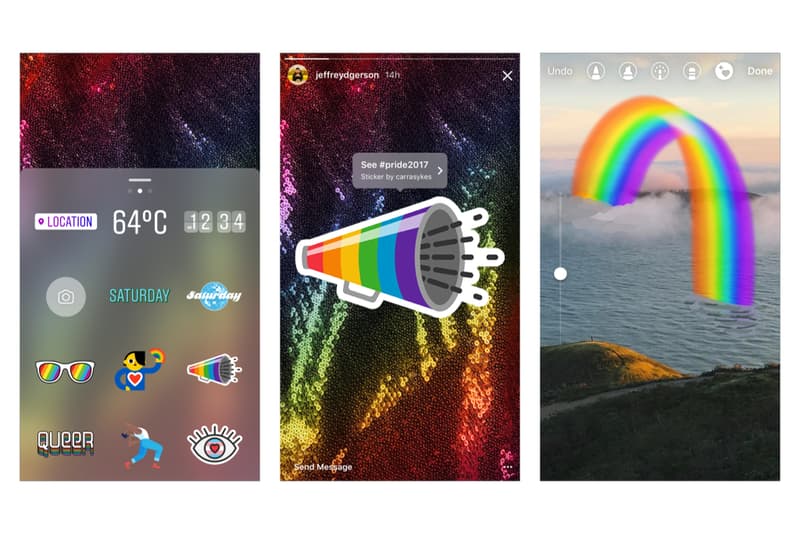 Culture
You Can Now Add Pride Stickers to Your Instagram Stories
And they're all designed by LGBTQ artists.
You Can Now Add Pride Stickers to Your Instagram Stories
And they're all designed by LGBTQ artists.
As Pride month officially kicks off globally today, brands like Urban Outfitters and Nike have ensured you can showcase your support by picking up items from the "UO Pride" collection, or sporting some kicks from the "Be True" pack. But as we all know,  if it isn't on the 'gram – did it ever really happen?
Well, now you can demonstrate your Pride in the form of a new set of stickers that Instagram is launching on its stories platform for the duration of this month. Some of the stickers available include rainbow-lens sunglasses, a rainbow megaphone, an illustrative rendition of the word "queer" and an eye with an iris that reflects the trans flag – an attempt to highlight the significance of transgender visibility. Even better, each of these graphic stickers were actually created for Instagram by LGBTQ artists.
There's also a fun rainbow brush tool available to use throughout June – just go to your pen tool in Instagram stories, tap on the heart icon and voila! You've caught yourself a rainbow to both add some flair to your story and share your support for the LGBTQ community at the same time.
Source
Image Credit

Hey Rooney/Instagram
---
Share this article