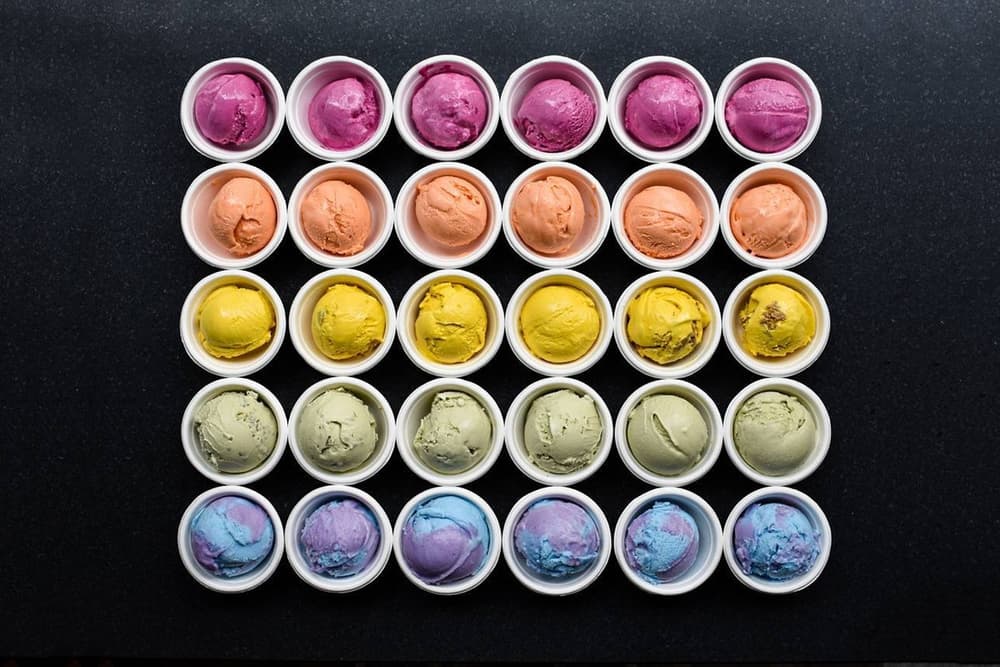 Culture
Here Are the 10 Most Instagrammable New York Sweet Shops to Indulge In
Including creations from the world's top ranked pastry chef.
Here Are the 10 Most Instagrammable New York Sweet Shops to Indulge In
Including creations from the world's top ranked pastry chef.
Summertime in New York once upon a time meant posting up your boombox on a stoop, jumping into the spitting geyser that was an opened fire hydrant, and running to the Mr. Softee ice cream truck for a cool refreshing cone. These days, when the heat hits, the desserts and sweets to cool yourself off are still highly sought after but seemingly always with a caveat — they have to have an Instagrammable aesthetic. Shops in NYC have and always will be extremely in-tune with their communities and customers — it's one of the most beautiful aspects of the city — and know this fact better than most, so they've stepped up the game for 2017. While some of the shops on this list have been around for a while and some are relative newcomers, all of them offer not only the most IG-friendly sweets in the five boroughs but also have the flavors and taste to back it up.
Dominique Ansel Bakery
The World's #1 Pastry Chef is most known for his croissant and donut hybrid known globally as the Cronut. However, Dominique Ansel and his staff perfected the DKA (Dominique's Kouign Amann) — a flaky, croissant-like pastry with a crunchy crust — way before the Cronut blew up. In addition, his creations like the Cookie Shot, Frozen S'more and new Kiwi Sorbet Bars, which look like kiwi Klondikes, have fans waiting eagerly all the time to get a taste.
189 Spring St.
New York, NY 10012
What to get: DKA and Frozen S'more
Price range: $5-$7 USD
Average wait: 20-30 minutes
Soft Swerve
Soft Swerve cleverly plays on the soft serve ice cream it serves up and has created a strong brand for itself over the last year. If it's any indication at all, the lines inside and outside of the Lower East Side shop show just how popular its treats have become. With Asian flavors like ube, coconut, matcha and black sesame and cone options in black or red, it's easy to see why people take to Instagram to show off these delectable treats.
85B Allen St.
New York, NY 10002
What to get: Ube Purple Yam soft serve on a Black Chocolate cone with mochi and condensed milk.
Price range: $6-$10 USD
Average wait: 20-30 minutes
New Territories
New Territories opened up last year and wanted to infuse Hong Kong's dessert style with New York flavors. The small Lower East Shop has done just that with its bubble waffles and ice cream combinations and outlandish milkshakes. Essential sweets found in HK desserts like condensed milk and Pocky are perfectly paired with sprinkles and Fruity Pebbles crumbs for an all-out dessert.
190 Orchard St.
New York, NY 10002
What to get: Unicorn Parade milkshake and Prince Edward
Price range: $5-$12 USD
Average wait: 10 minutes
Ice & Vice
Ice & Vice calls themselves an experimental ice cream shop but what they really are is a bunch of fearless flavor connoisseurs. Consistently pushing our taste buds and the colors and stackability of their ice creams, the humble shop is a small storefront with large Instagramability and even larger flavor profiles. They were one of the first to team up with The Konery for ice cream cones with unique flavors and Underwest Donuts for collaborative ice cream sandwiches.
221 E. Broadway
New York, NY 10002
What to get: Taste the Rainbow
Price range: $5-$15 USD
Average wait: 5-10 minutes
Taiyaki NYC
Taiyaki serves up familiar soft serve flavors like matcha, strawberry, vanilla and chocolate in fish-shaped soft waffle cones like its namesake suggests. The Chinatown establishment always comes correct during each major holiday with special editions. Not only are the menu combinations good looking and delicious, you can also create your own red bean or custard filled fish dessert. If you're in the mood for a drink, grab a bright green tea with a taiyaki in it.
119 Baxter St.
New York, NY 10013
What to get: Straight Outta Japan
Price range: $7+ USD
Average wait: 10 minutes
Milk and Cream Cereal Bar
Milk and Cream combines two of the most important meals of the day; breakfast and dessert. The resulting creation is a portable version for those who reminisce of eating a bowl, or two, of cereal on the couch every Saturday morning while watching cartoons. Crushed cereal and toppings give the rich ice cream an additional layer of flavor perfect for a hot summer day.
159 Mott St.
New York, NY 10013
What to get: Chocolate Cocoa Crunch
Price range: $6-$9 USD
Average wait: 5 minutes
Emack and Bolio's
Emack and Bolio's isn't an original New York City establishment — they actually started in Boston — but they have some of the best ice cream within the five boroughs and definitely the craziest cones. Generously covering its waffle cones is a layer of melted marshmallows which are embedded with your favorite cereals and treats including Oreos, Fruit Loops, Fruity Pebbles and Rice Krispies.
1564 1st Ave.
New York, NY 10028
What to get: Rice Krispies cone with Cosmic Crunch ice cream
Price range: $5-$11 USD
Average wait: 5 minutes
Coffee Factory
While Coffee Factory is more of a cafe, this hidden oasis in Queens actually has one of the best summer desserts in all of NYC. The Green Tea Ice Flakes –
or bingsu in Korean — has a plethora of Asian flavors ready to cool you down on even the hottest of days. It features a bed of shaved matcha ice, mochi, red beans, condensed milk and a traditional taiyaki dessert. There's more than enough for two so bring a date.
718 Barton Ave.
Flushing, NY 11354
What to get: Green Tea Ice Flakes
Price range: $12+ USD
Average wait: 5 minutes
Max and Mina's
Tucked away as a local neighborhood go-to, Max and Mina's is an old school ice cream shop in Queens that caters to your inner kid with bright and colorful scoops that are both sweet and savory. Flavors like Cotton Candy Swirl and Chocolate Cookie Mess complement Merlot, Pizza and Popcorn. Whether you want a traditional flavor or are feeling adventurous, the folks here have you covered.
7126 Main St.
Flushing, NY 11367
What to get: Chocolate Cookie Mess
Price range: $7+ USD
Average wait: 5 minutes
-321° Ice Cream Shop
If you haven't experienced the liquid nitrogen ice cream craze yet, -321° is the spot in NYC to do it at. With its extremely cold temperature, the use of liquid nitrogen on cheese balls creates the Dragon's Breathe treat which creates smoke mimicking that of a dragon when you put it into your mouth. For the ice cream, the texture will differ from what you're used to with soft serve and regular machine churned ice cream as it has almost a shaved ice feeling to it. Check out the lavish creations here on the hottest of summer days to cool down.
288 Grand St.
Brooklyn, NY 11211
What to get: Dragon's Breathe and Matcha ice cream
Price range: $8+ USD
Average wait: 10 minutes
Honorable Mention: Queens Comfort
Queens Comfort is one of the best brunch spots in the five boroughs but don't let that fool you, these guys can make some mean desserts in addition to banging out savory staples. Cooking up various special flavors for the holidays, the donuts here sometimes contain a mini donut hole on top which adds to the fun and photo appeal. In addition, cakes and other homemade goods are constantly being changed and refreshed so you'll always have a new experience. This may be a sleeper dessert location but it's definitely a well-known brunch spot. Come early, and be prepared to flex your creative muscles with word-play games while waiting in line.
40-09 30th Ave.
Astoria, NY 11103
What to get: Brunch and donuts
Price range: $8+ USD
Average wait: 30+ minutes
Writer

Matt Peng
Image Credit

Ice & Vice
---
Share this article