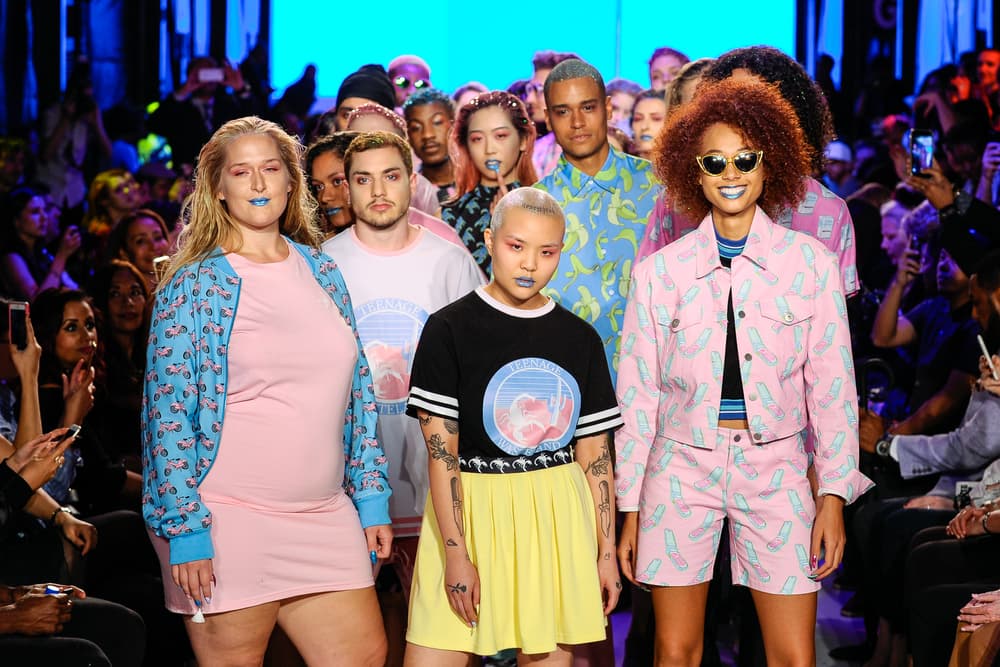 Fashion
Hayley Elsaesser Is the Canadian Designer Bringing Fun and Diversity to the Runway
"I want to put on the runway what I believe in."
Hayley Elsaesser Is the Canadian Designer Bringing Fun and Diversity to the Runway
"I want to put on the runway what I believe in."
One look at her and it's clear that Hayley Elsaesser isn't afraid to stand out from the pack: at a time when minimalist style is all the rage, Hayley's hair is two-toned pink and blue, and she's usually dressed in pieces from her eponymous label which is known for its unabashed use of colour and eccentric all-over prints.  In fact, she's gone against the grain in almost every way possible since launching her line in 2013—from how she makes her samples to how she casts her runway shows—and her unique approach is working. Her celebrity fans range from Miley Cyrus to Katy Perry to Kat Von D to Joe Jonas, and brands like Hasbro, Taco Bell and most recently Nike have all come knocking to collaborate with Canadian fashion's latest sensation.
Wet met Hayley at her Toronto flagship store located in the heart of the Queen Street West shopping district, just a day before her Toronto Fashion Week show. The models who walked in her show this season included Mei Pang, a bald, tattooed 5'4" stunner who admitted that she still wears a wig every time she's around her conservative Asian mother;  Adria Taylor, a registered nurse at Toronto's Sick Kids hospital; body-positive model Jody Heakes; and Rachel Romu, a former Canadian track athlete who shared that she is just happy to be alive, let alone modeling, after being diagnosed with Ehlers Danlos Syndrome, a rare connective tissue disorder that requires her to walk with the help of a cane.
Toronto is in the midst of an affordable housing crisis, and it's a problem that affects small businesses like yourself. How did you overcome some of those challenges and open your own store?
This space was hard to find; we had to talk to the owner and really had to negotiate in a big way to get (the rent price) to something that was realistic for me. We did that by doing a longer lease. I remember talking to the guy across the street and he said that the prices start off at some astronomical number, like almost double what I'm paying now. So we had to negotiate that and show them we were going to be long-term tenants. It was really difficult to be honest but it's been really great since then.
It's nice to have a home base because I do a lot of online orders, so it's nice to have a place to stock everything and to have an office. In this day and age, retail brick-and-mortar is totally changing but for someone like me it worked because it's so different to everything else here; it's kind of like a destination store.
Online sales are obviously a giant part of the fashion industry these days, but what are the biggest advantages for you in having a storefront?
Well first of all, I'm Canadian so it's important for me to have a home here. Even though I started the brand in Australia, this is where I feel like the brand is from. It's nice to get to talk to people one-on-one. You get people coming in who don't know how to wear these items but they're open to it, and you can control the face-to-face conversation with customers. I think it's important to have a true reflection of the brand here in Toronto; that means a lot to me.
1 of 2
2 of 2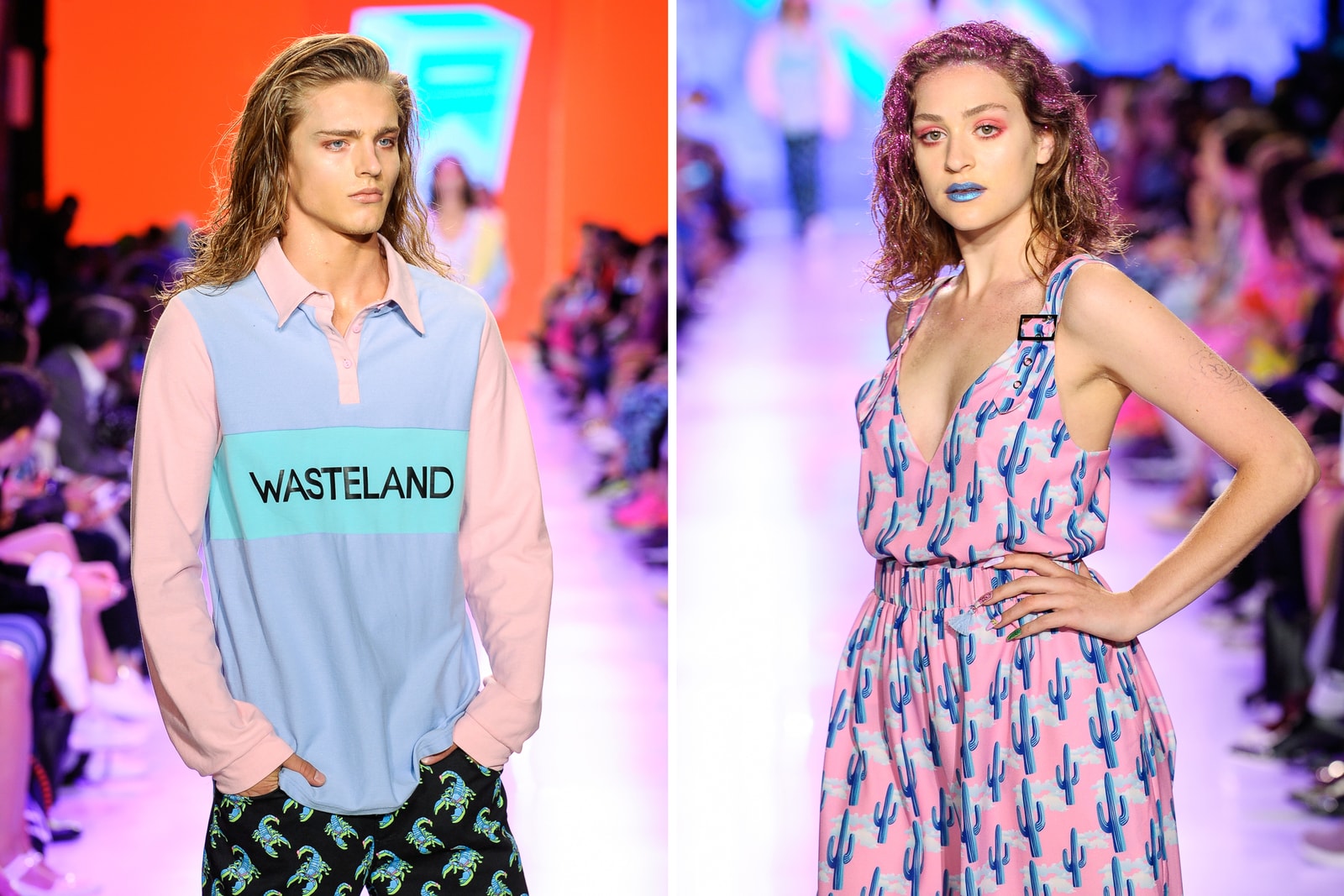 You mention Australia; what are some of the biggest differences between the fashion scene there and here in Canada or North America?
Australia is very different to Canada specifically because the climate is SO different. It's this kind of weather in the wintertime there. It's nice all the time; everyone loves to wear more colour and print and go a bit crazier in their fashion, which is obviously a place where I really thrived because I loved that. Because that's where I studied at university, I really think it helped influence my aesthetic—being immersed in that tropical place.
How did you go from being a fashion school student to getting your namesake brand off the ground?
I was chosen a national graduate showcase to show at L'Oreal Fashion Week; I was one of 10 designers that showed. The amazing thing about the Australian fashion industry is that they are all really supportive of local talent. I got such an amazing response from that, I decided if I was going to do a brand it was now or never. It just really took off—on social media especially—and Australia just loves these bright colours so it was embraced in a huge way really quickly, which was awesome. But I missed my family and I feel like North America has many more opportunities of growth; Australia is amazing but its so isolated at times so if I wanted to be challenged and grow to the place I really wanted to be, I felt I should come back here and solidify my name.
Was it scary coming back to Canada after experience such success in Australia, and also developing a style that was an aesthetic match to both the climate and the lifestyle down there?
Oh yes. I did Toronto Fashion Week maybe a month after I got back and knew they were either going to love it or think it was horrible. It's not the aesthetic here at all. I was ready for either outcome; you have to be ready to try. It's my voice; I can't do anything else. Luckily it was taken well. I remember watching some TV show or some news coverage and people were like "Who is this girl? Where did she come from?" because I literally came out of nowhere. I had already showed at two fashion weeks so I had the experience and the confidence to show my aesthetic in a big way. I was able to put my best foot forward, and I was very grateful for that.
1 of 3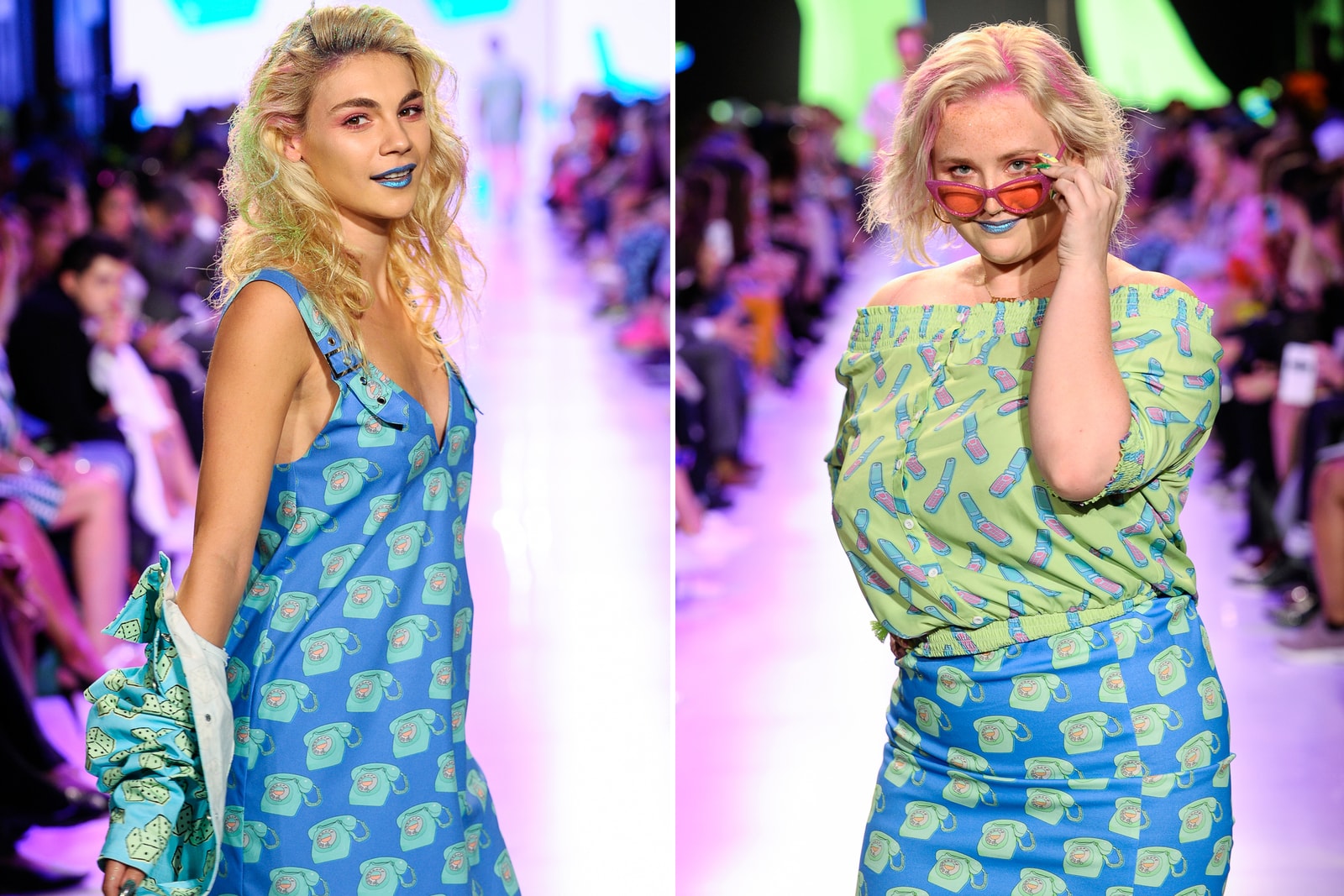 2 of 3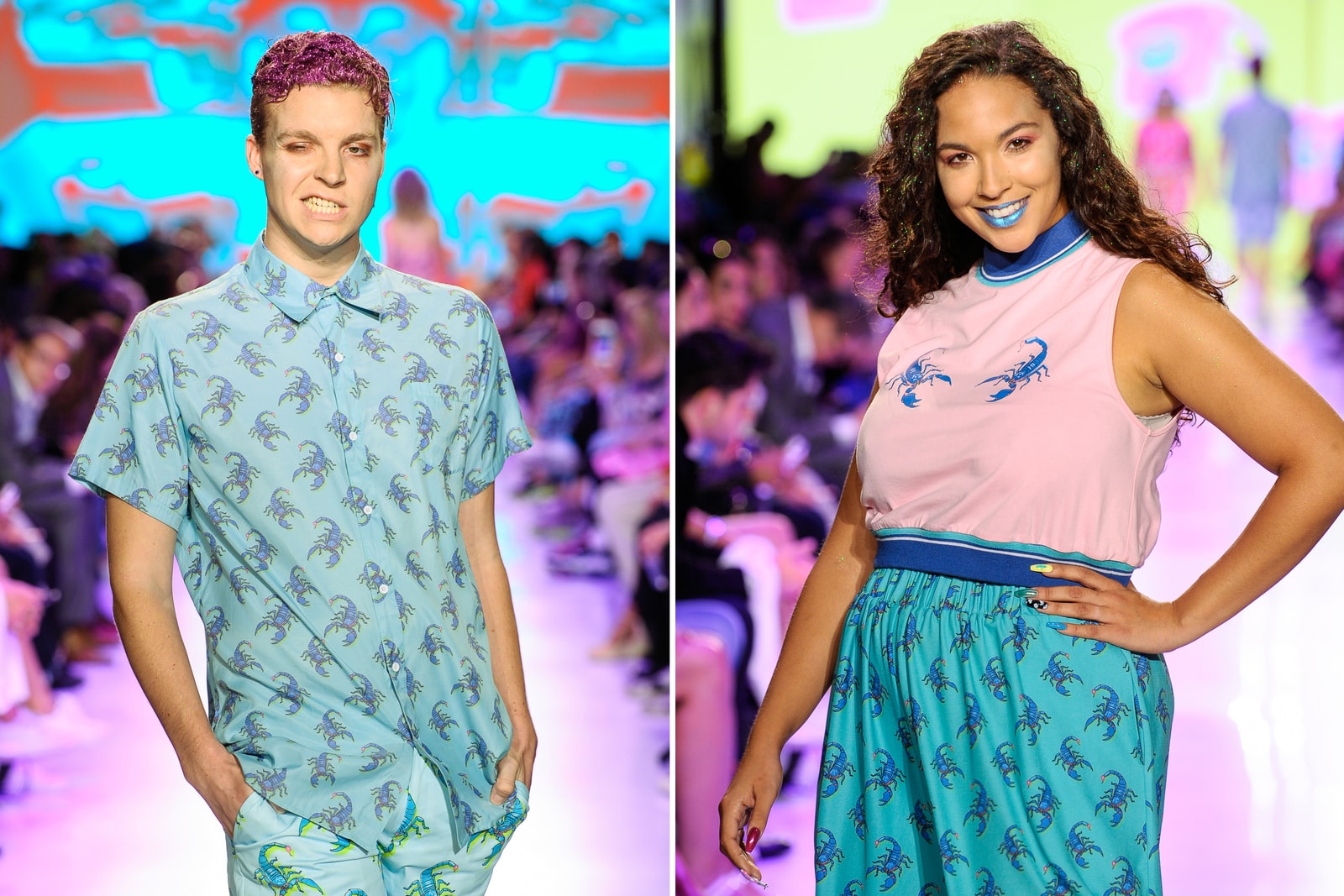 3 of 3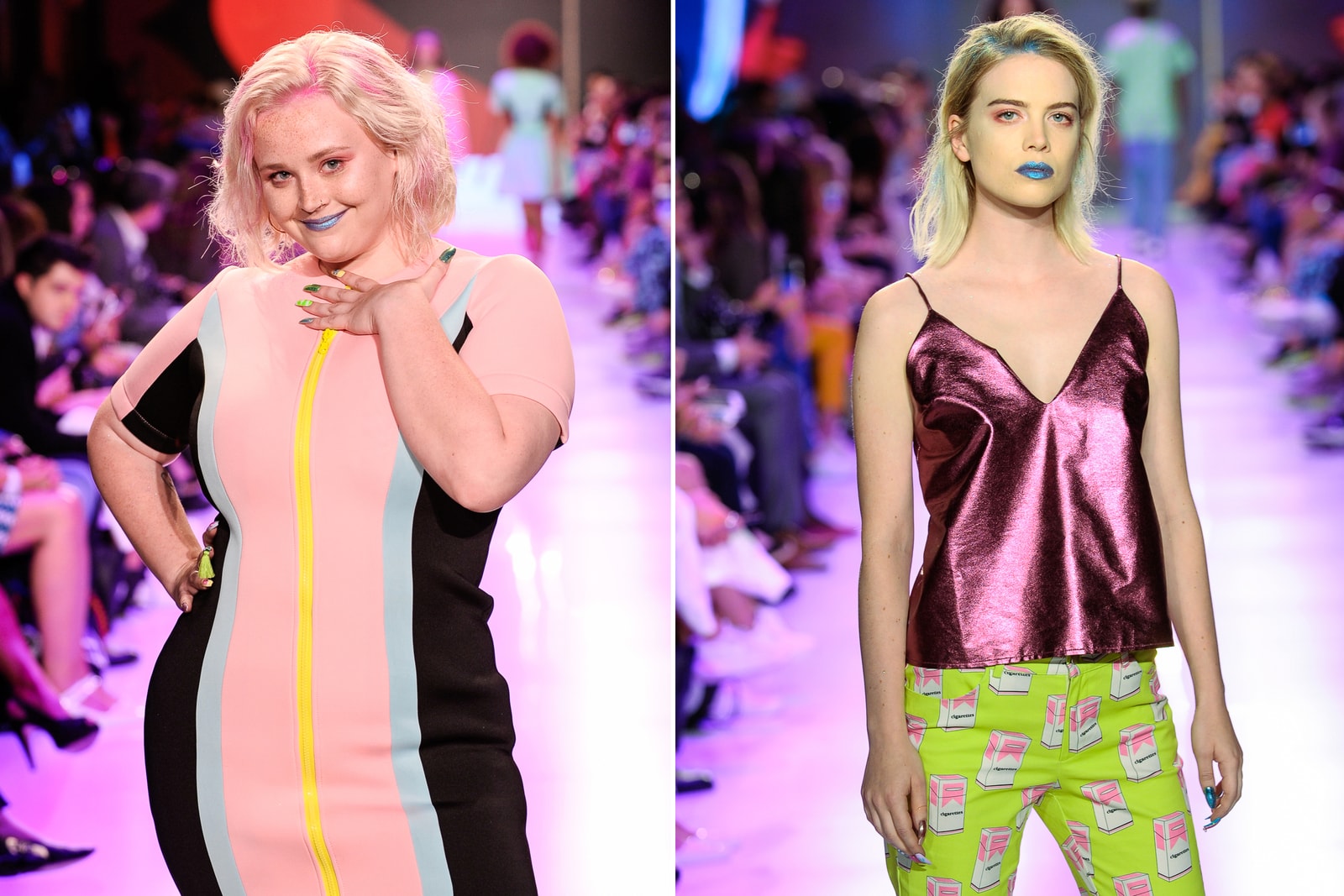 A lot of creatives from Canada often point out that they think you need to "make it" elsewhere before you can command any attention in Canada. Did you find that in your experience, and what do you think of that trend?
I have noticed that and I think it's really sad. Like I was saying before, living in Australia, they are so supportive of local talent in every creative industry and they really put their own first and build up their own local talent. Here, they do to an extent but I've noticed that for many musicians and brands, if you make it elsewhere there's so much more respect and interest in you. We should have the confidence in our local talent that we don't need the validation from somewhere else to make it "legit."
We already talked a bit about the high cost of rent, but what are some other challenges of being designer or retailer in Canada that you don't think are talked about a lot?
A lot of stores here don't support enough Canadian brands, like bigger stores. I just got into Simons which is a big department store, and they do a lot of Canadian brands but that's not the case for everyone. Toronto Fashion Week just came back from a hiatus; it just shows that we need to be supporting local stuff in a bigger way. And also I think consumers supporting is a big thing. Fast fashion is just such a huge industry now; you see a lot of stores on Queen Street closing their doors because although this is a really awesome neighbourhood for shopping, people love the price point of H&M or Zara which are just down the street. There's nothing wrong with that if it's your budget, but it's also really important to put your money where you can see it. People can walk into my store and see my face; this is where your money is going, to people in this space. It's important to put your money where your mouth is and support local stuff!
It's great working with a brand like Nike through Air Society because it gives me a platform to speak on things like this. They are such a big respected brand that it gives me a bit more clout to be able to speak my mind and have that respect from people, because Nike obviously sees me in a certain way. Maybe that's what needs to happen—more collaboration with bigger brands to give people a bit more of a name. Being affiliated with someone else gives a certain sense of familiarity and people are maybe more comfortable buying into newer brands.
Speaking of Nike Air Society, what has that experience been like for you? And what does your working relationship with them look like in the future?
My first pairs of shoes I was obsessed with was a green pair of Nike basketball shoes, so the fact that kid from back then is doing something with Nike is amazing. I love that they are truly supporting local talent, working with local designers and artists. It was really cool to be involved with a company that is so big but they still care about the little guy. They are doing all the footwear for the models in my (Toronto Fashion Week) show and that's been perfect. The collection is called "Teenage Wasteland;" it's basically if some teenagers started a country club in the desert, but post-apocalypse. It's a bit of retro because these kids are really into 80s, but it's also in the future. So it's cool that we have some classic styles like the Cortez but there are also some newer styles like the Vapormax and the Air Max TNs. It just works.
1 of 2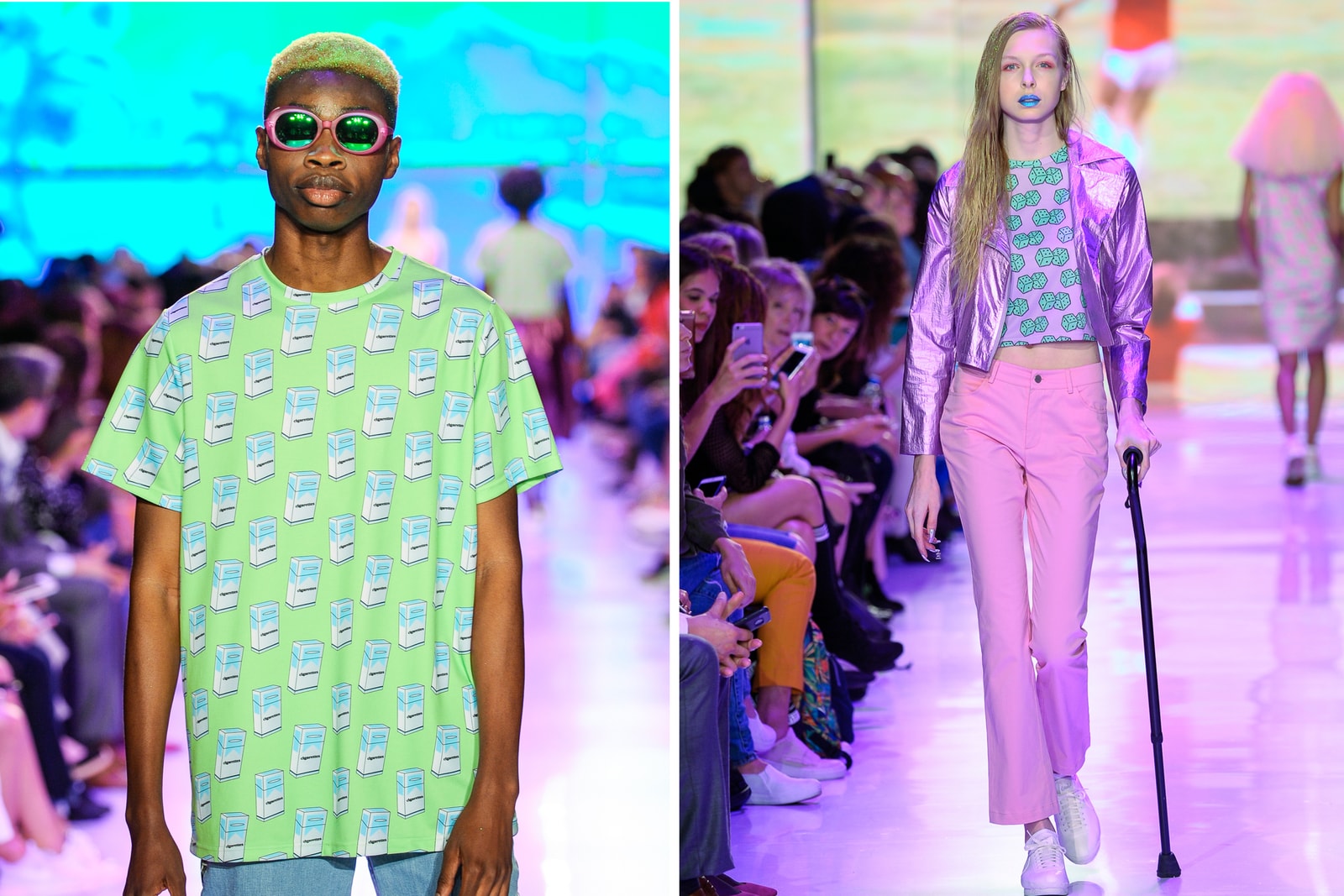 2 of 2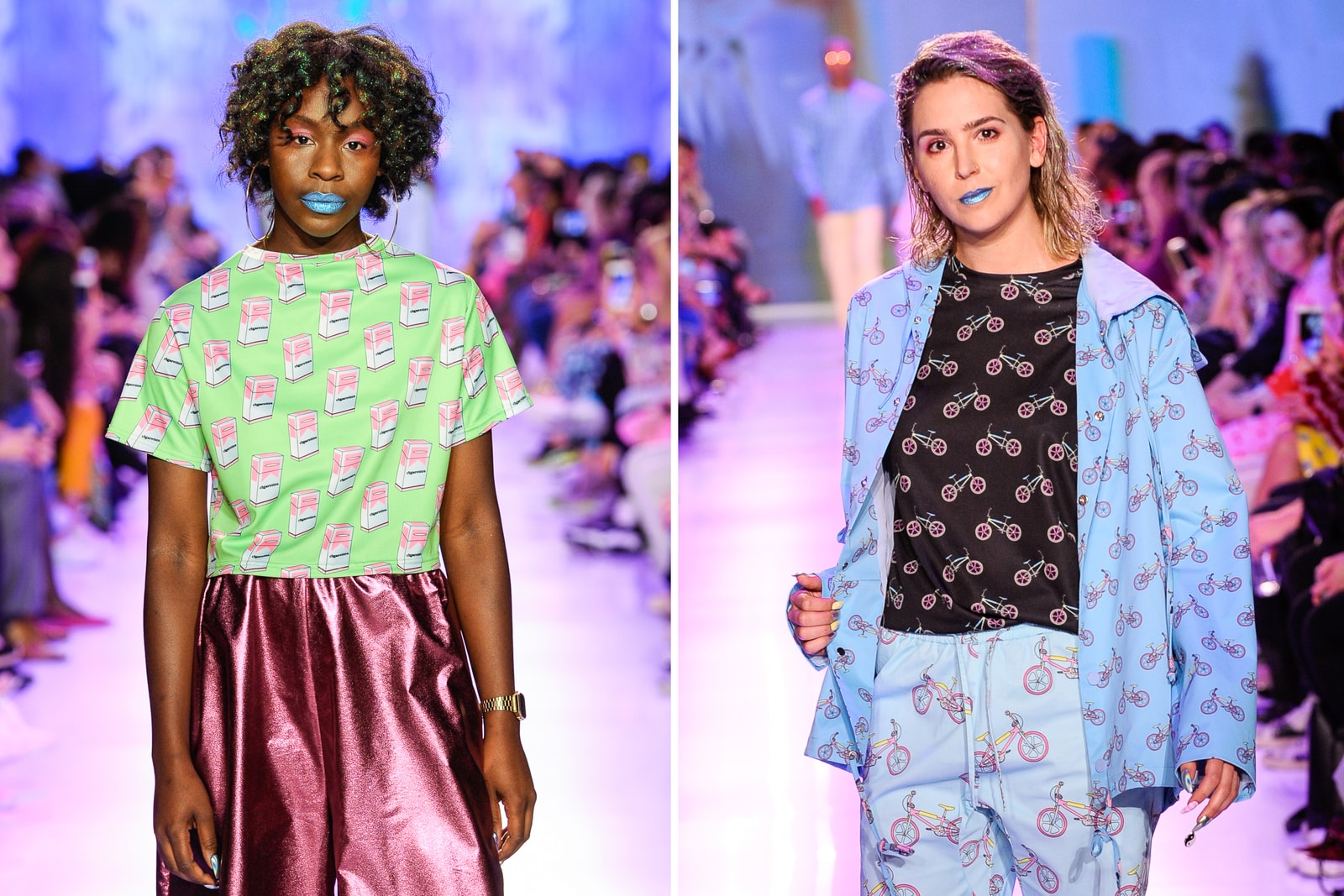 A lot of of your collections are themed. Can you tell us more about the inspiration behind "Teenage Wasteland."
It's based on the kids from Freaks and Geeks moving to the desert post-apocalypse; often my collections are a weird world that I've created based on something else. Sometimes I make my own movies or story, but most often its influenced by pop culture or something happening in the world.
Do you feel like it's sometimes hard to be taken seriously when your designs have such a bold and whimsical element?
It's hard for several reasons because I'm a woman and I work in the fashion industry and I have colourful hair and I dress crazy. People don't realize that I'm a decently smart person that has to work really hard to come up with all this stuff. People think that the fashion industry is very frivolous but it's not at all – we make so much money and we can help the economy in a big way. Everyone wears clothing and it's a part of everyday life. I purposefully make my clothing something fun and that makes people feel good. I'm not one of those designers that takes themselves super seriously and thinks it has to be super technical and architectural. It's hard but I try not to let it get to me because this is something I enjoy doing. I make clothing to make people feel good. I don't want people to have to feel bad about it or think about it too much. Its something I'm proud of.
I purposefully make my clothing something fun and that makes people feel good. I'm not one of those designers that takes themselves super seriously and thinks it has to be super technical and architectural.
It really is fun and meeting you and coming to your store, you can tell this is authentically you. Do you have any advice for young creatives who want to stand out while at the same time be able to appeal to a wide audience?
First of all you have to not have an ego. Sometimes people are not going to like your stuff or they're going to criticize you. You might get negative feedback but that just makes you a better designer and will make the outcome better. When I was in university I was first told my stuff wasn't commercial enough. It was in Vancouver, it wasn't challenging me at all but that was just one teacher's perspective.  She was very focused on training designers that would work at like, lululemon, for instance. That's great but it's not for me so I ended up switching schools.
You just have to be able to build and grow to still have your true aesthetic and be true to yourself, but create something that will appeal to others. I suggest trying to think outside your own head and your own body about what someone else might like. You don't want to go too commercial but still make it special and will reach the people you want to reach. When you make creative work, it's to reach out to certain people and have them enjoy it, and fit it in with their personality and lifestyles.
And also, not everyone has to like your stuff. If you can gave a dedicated group of customers or fans who will continue coming back, that's also amazing. 
Exactly; you have to stay true to your aesthetic and who you are because if you're trying too hard to do something else that isn't you, its really going to come off or eventually you will run out of ideas.
I'm a very creative person but I'm a very logical person. This is a business! I have those two minds when I'm designing to figure out what a customer will like. At the end of the day I want this to be a long-term business for myself so I have to focus on making sales and making money.
1 of 3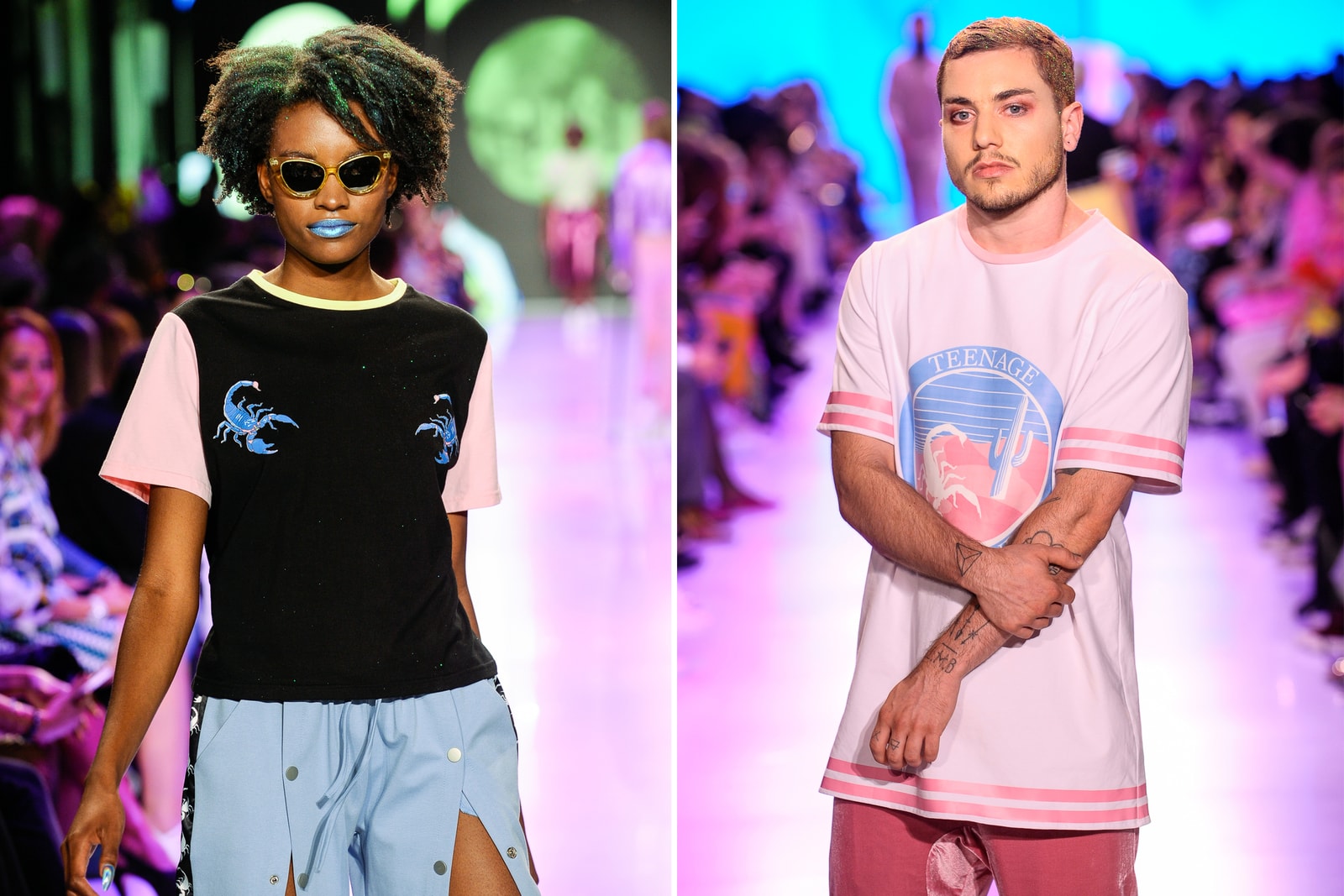 2 of 3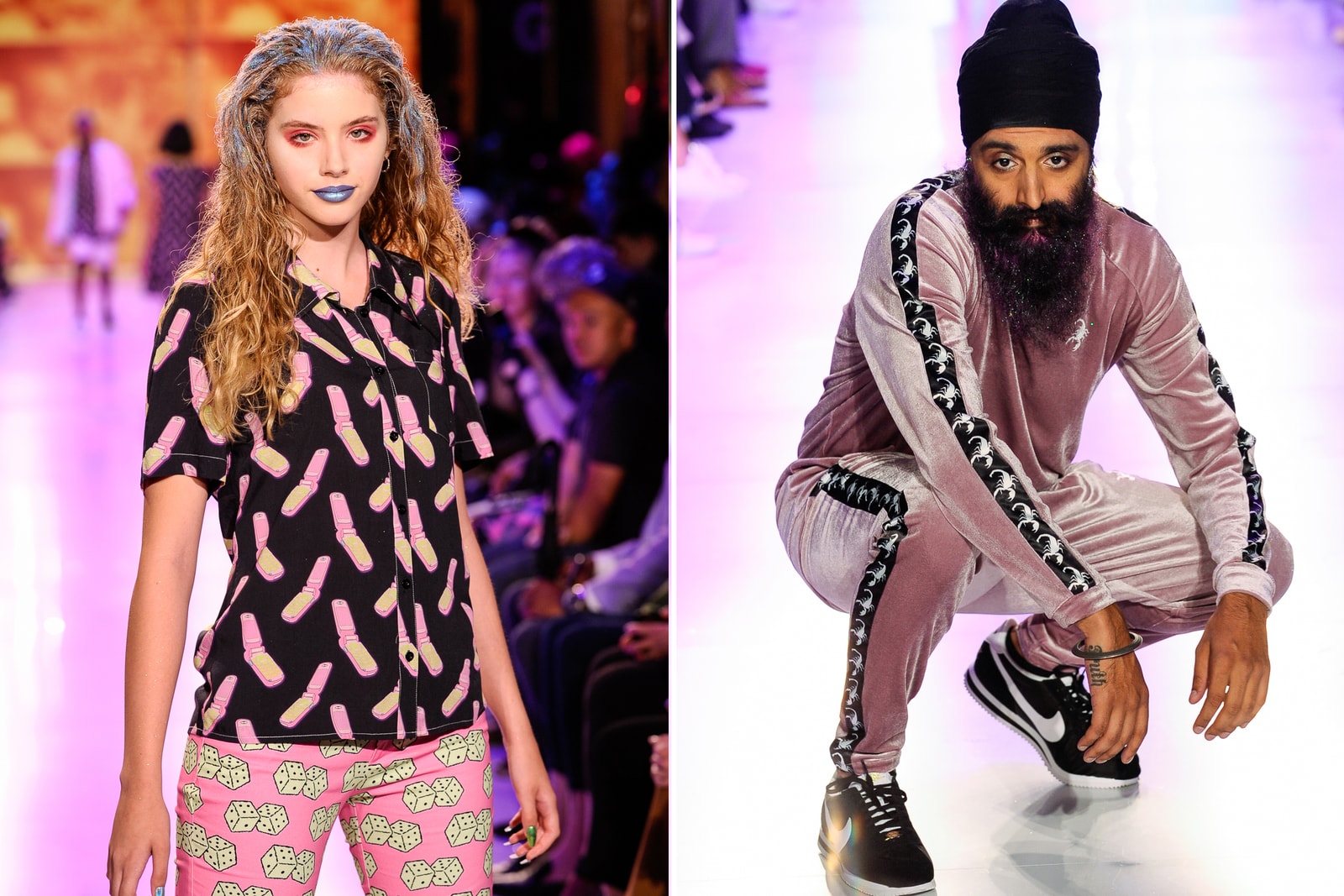 3 of 3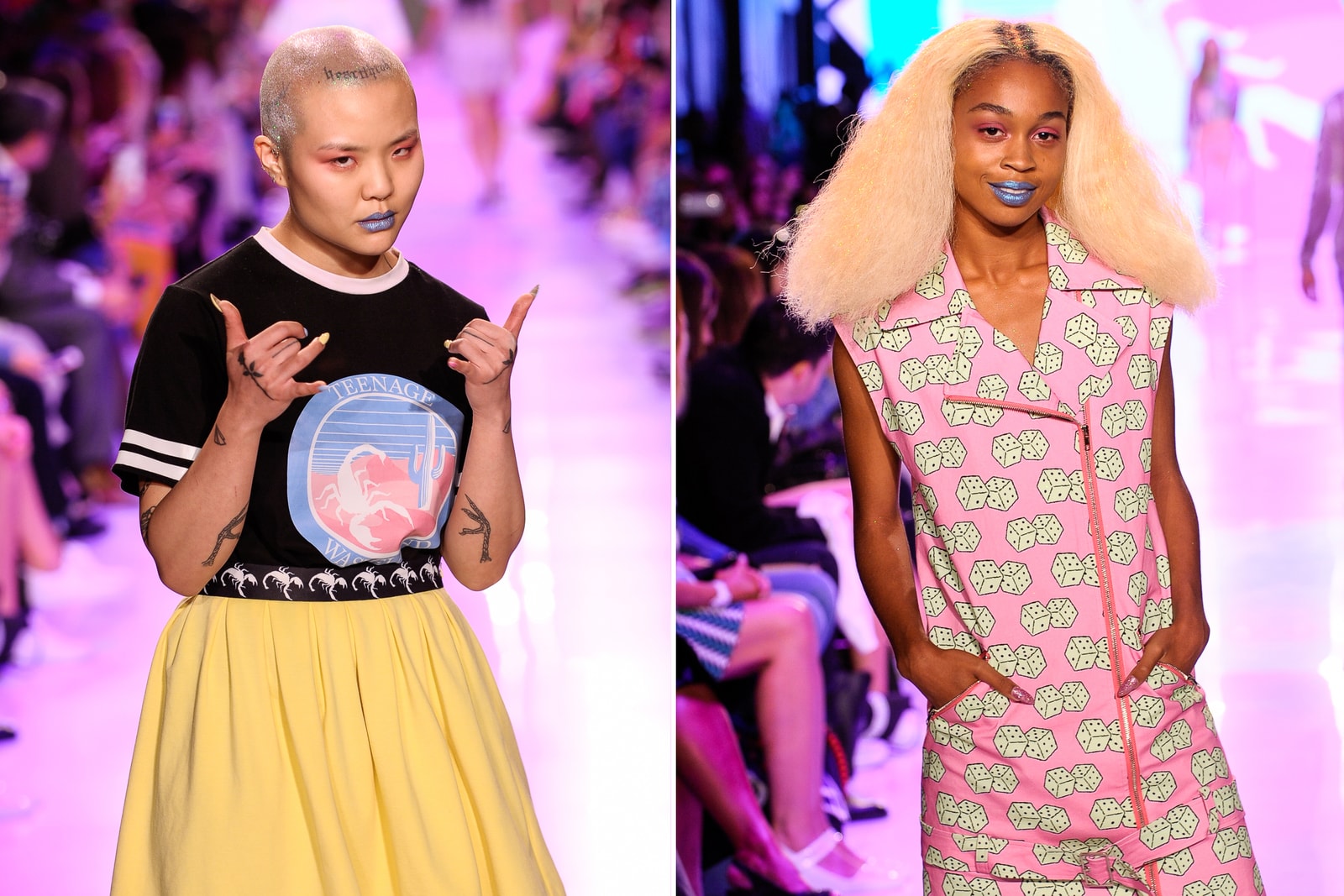 You've been a huge advocate for using "real people" instead of  just professional models. Was that always a priority for you or how did you get to that point?
It was a bit of a process to get to that point. Growing up I was always into fashion but I was never ever a sample size. There was always a contrasting feeling inside me because I was like, "I love these clothes but I'm not like that model who's wearing them." Obviously as I got older I realized that it's just one idea of beauty that the industry feeds us.
In Australia especially there was absolutely no diversity within the agencies. They had maybe one model that was of colour and the rest was Caucasian girls with blue eyes and blonde hair. I really wanted to try and cast diverse models, but that's all they had. When I came here I had a similar experience. And some models who might fit into those conventional sizes, you can tell are healthy girls and they are naturally that certain body type. and they are very confident in their own skin. And then some girls you can tell they are trying really hard to achieve a body type that they probably aren't meant to. I've always been careful about that when choosing models. I also do my sample sizes a little bit bigger than most designers.
There came a turning points when I was just like screw this, why am I adhering to this norm? My second show here I decided to do open casting. And from that I've just done it every time. The notion that you have to be a certain size or have a certain look to be beautiful in clothing is just so out-dated but also so harmful. I don't want to perpetuate it at all. I want to do the opposite. I want to put on the runway what I believe in.
The notion that you have to be a certain size or have a certain look to be beautiful in clothing is just so out-dated but also so harmful. I don't want to perpetuate it at all. I want to do the opposite. I want to put on the runway what I believe in.
All my customers and all the people who live in Toronto are different sizes and different lifestyles so why not show that on the runway? We have some really awesome people on the runway this year. Lots of sizes—5'4" to 6' feet; size 2 to size 22. There's tons of diversity, which is really important to me because somebody has to be the person to make the change and for a while I wrestled with whose shoulders this responsibility falls on.  I figured the designers are the people who make the clothing so if we change the sample sizing then the models will have to change. Now I do my samples in a lot of different sizes.
I want everyone that's in the audience watching my show to say, "Oh wow, they look like me and they look awesome. I could do that." I want to support individuality. The industry is so exclusive and I want to be inclusive. I want everyone to feel like they could wear that stuff or just be involved in the industry in general. And I'm really trying to change the notions around "real people." Because agency models—which is the term I use—are real people too! And everyday people can also be models.
Image Credit

Che Rosales/Toronto Fashion Week, Matt Barnes/Nike Toronto
Share this article