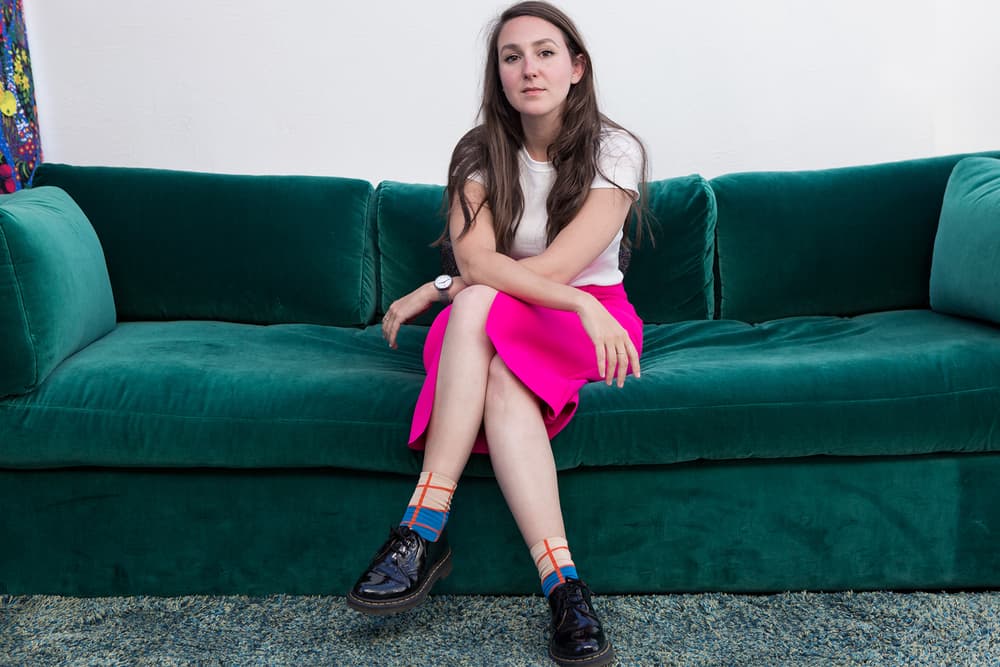 Fashion
Get to Know Paula Maso – Concept Designer at Happy Socks
And preview the new women's line, Hysteria.
Get to Know Paula Maso – Concept Designer at Happy Socks
And preview the new women's line, Hysteria.
Unless you've been living an existence deprived of color and fun, you've probably heard of Happy Socks. The bright and bold Swedish label has been infecting the world with its personal brand of humor from 2008, and it has since gone on to open 26 standalone stores and counting. Today, the brand is stocked in more than 70 countries worldwide.
We recently visited Happy Sock's larger-than-life HQ in Stockholm and whilst there we had the chance to catch up with Paula Maso, the concept designer at the much-loved sock brand. Responsible for dreaming up some of the quirky and eye-catching designs you see across Happy Socks' product range, Paula's love for color and vivid sense of style filters through in every aspect of her life – from the clothes she wears to the socks that she creates. We caught up with the Venezuelan designer ahead of the launch of Happy Socks' first-ever women's-specific line, Hysteria, to chat about life in Stockholm, what exactly a concept designer does and of course, the perks of free socks.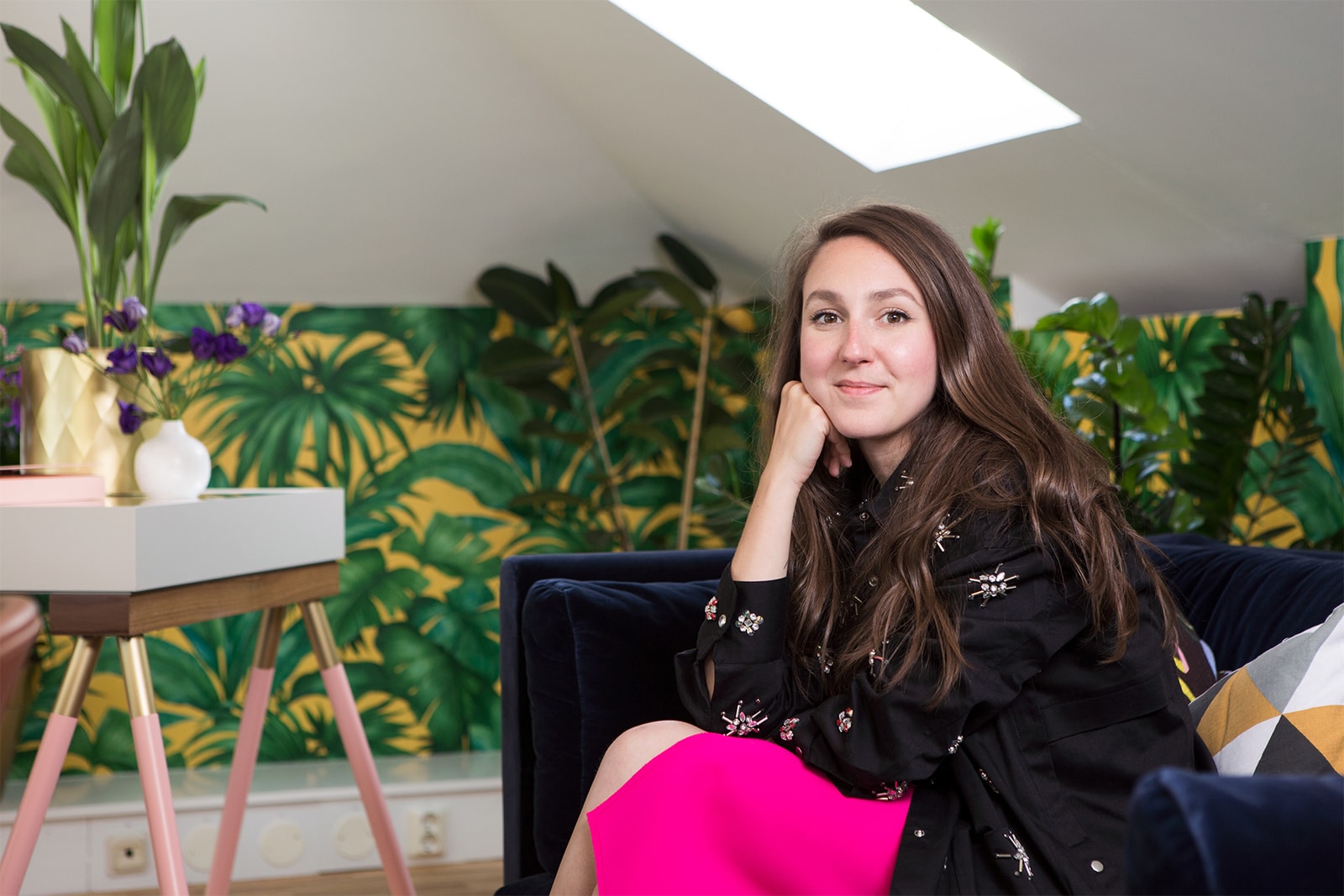 Did you always plan on a career in design?
I've been into design since I was little and then I went to university and studied graphic design. Then I got a Masters in fashion photography, but after getting into fashion photography, I realized it was a limited industry. I still wanted to work within fashion, but to go back more to the graphic side of it. I then explored textile design and now I've been doing textile design in the womenswear industry for the last five years.
Have you always been based here in Stockholm?
I was born in Caracas, Venezuela – that's where I got my Bachelors degree before moving to London and studying at London College of Fashion for two years. After that, I moved to Barcelona where I worked for two years and I briefly ran my own fashion label with my friend who was based in London. I came to Stockholm for love, but I still had the label in London so I was between both cities.
So, your job title at Happy Socks is "concept designer" – what exactly does that mean?
Its a twofold type of role – when we work on collaborations for example, the packaging and gift boxes for those is something I work on creating the concept for. There's a lot of moodboarding and trend forecasting involved, too. For the Hysteria line, I'm the head designer, so I'm basically in charge of the whole visual expression of it as a brand. 
1 of 2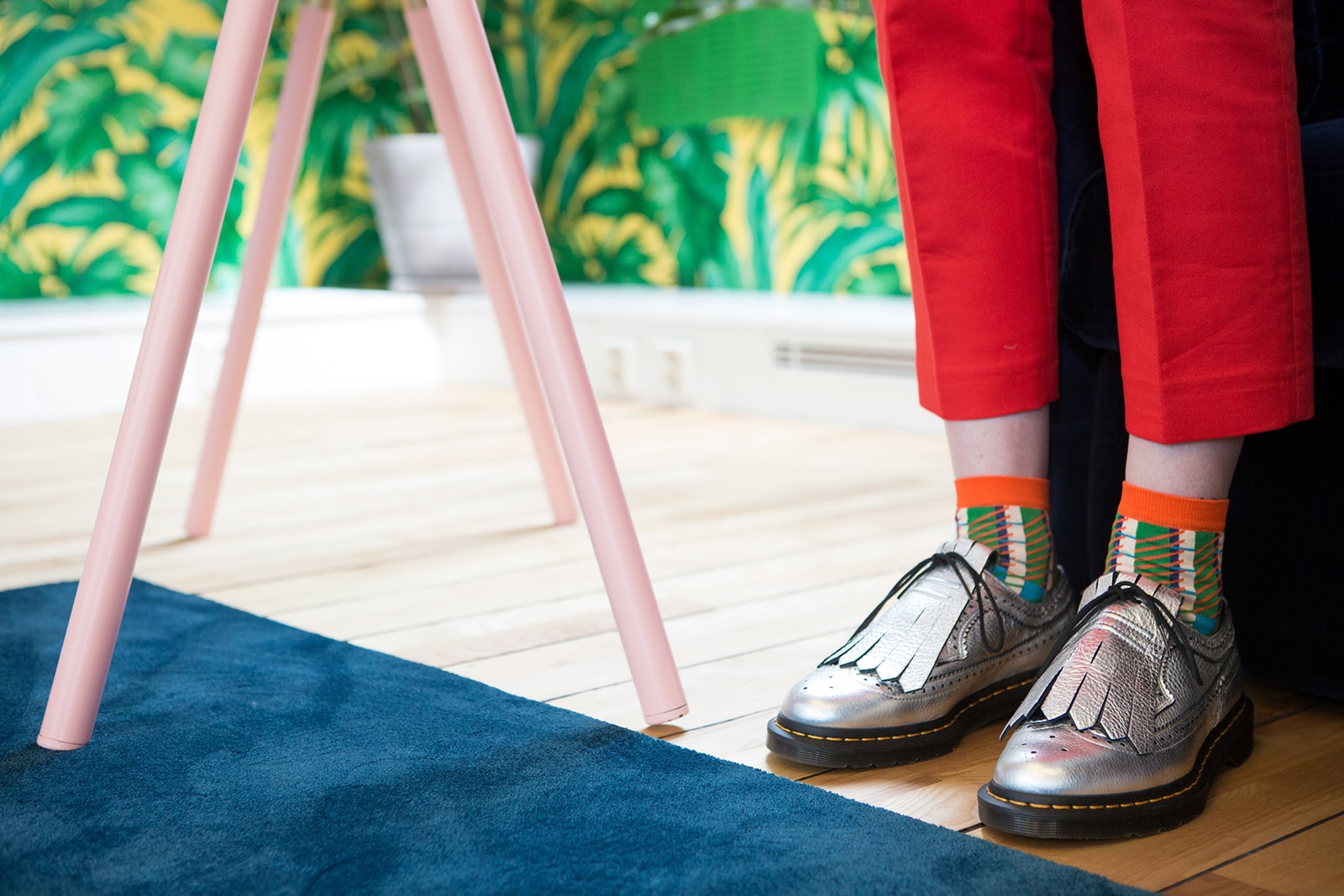 2 of 2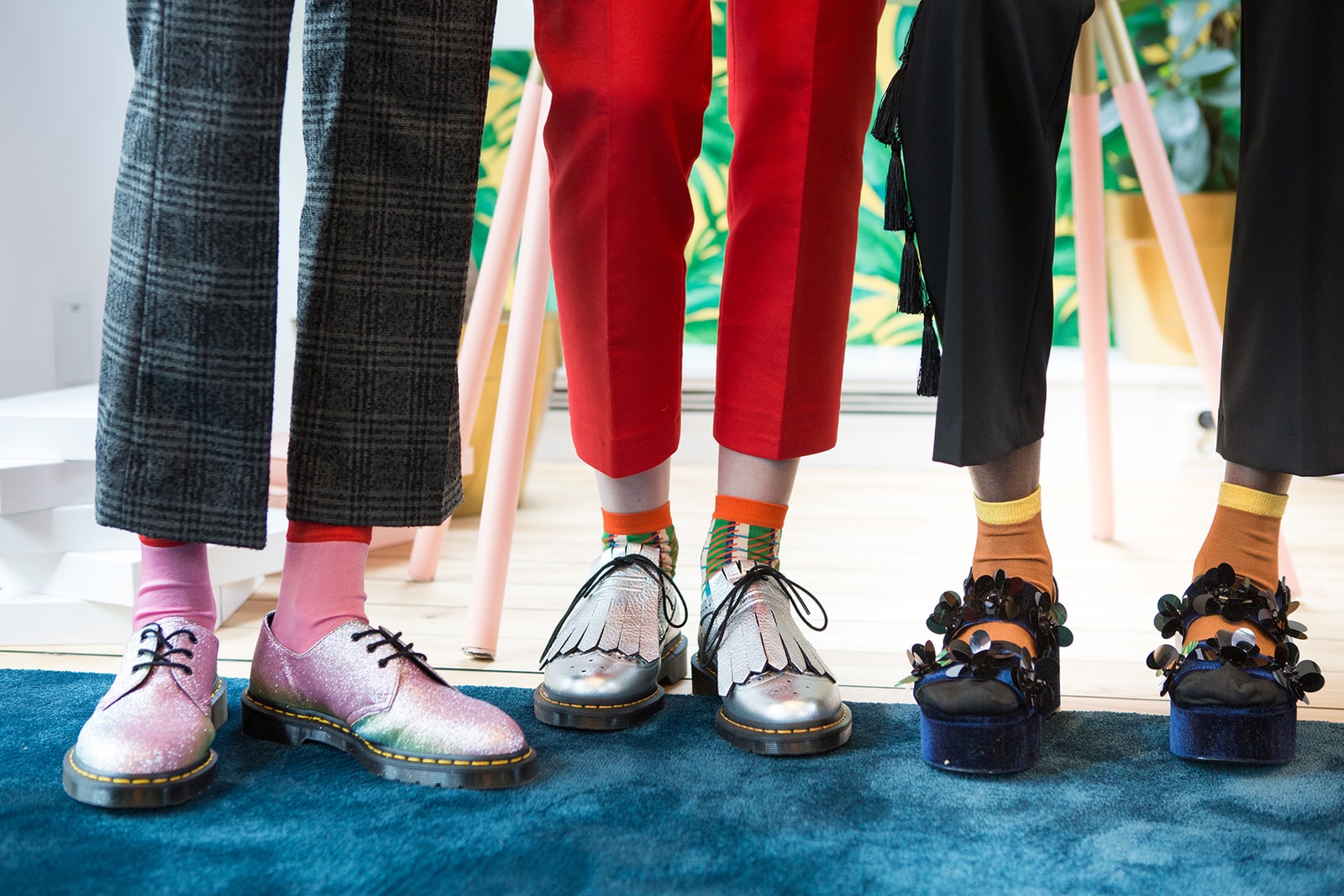 What does a typical day look like for you, if there's such a thing as a typical day?
I'm not a morning person, so I start off easy. I make my rounds in the office and stop to talk to people – my office has become the social hub of the office, there's always people coming in and out and I'm really chatty with everybody. I do a bit of inspiration work in the morning, so I'll go on Pinterest or read blogs or magazines to check out what's out there. I read BoF and some other news sites for a couple of hours and then I always have a to-do list. But when I'm in a period of designing all the time, I'm often out of the office. 
Happy Socks is known for its bright and bold approach to design – how important is that visual identity to you?
I've been a huge fan of Happy Socks since the beginning. I really relate to the brand because I'm also all about color. I think in Sweden, Happy Socks is also a breath of fresh air – everything is very monochrome, very sleek and stylish and Happy Socks has that sort of colorful, light expression that I really like. I think it's important to lift the mood in what's such a dark country at times.
When I came to Sweden, one of the first things I did was message Mikael [the co-founder of Happy Socks] on LinkedIn just saying "I want to design socks for you, how can we make that happen?" and he didn't reply for a really long time. Maybe like, a year and a half after, he replied saying yeah we have a position open, email Viktor (the creative director of Happy Socks) directly. And that's how I got the position. So yeah, I've been super keen on working with Happy Socks since I knew I was coming to Sweden. I think it was quite a natural match and it formed in a very organic way. I'm really invested in the company, not only work-wise, but emotionally. It feels like a nice little family.
I think it's a strong part of the brand DNA of Hysteria – empowerment but not taking things too seriously, enjoying yourself whilst still being strong and independent
Let's talk about Hysteria then -  what's the deal with the name? 
So, the name was kind of a hassle to get to. We had an internal name for it initially – Little Sister. We called it that because it was kind of like a little sibling to Happy Socks. One day we were doing this workshop, an association exercise and it was around words you associate with women and one of the words was "Hysteria," which in a sense can be quite negative and can be a derogatory term for women. But the way we saw it firstly was as an empowering tool to say we're reclaiming the word, owning it and turning it into something positive. I think it's a strong part of the brand DNA of Hysteria – empowerment but not taking things too seriously, enjoying yourself whilst still being strong and independent with an element of self-expression. Also, when something's hysterical, it's the next level of happiness, so it fits in that sense as well. And graphically, it has both the letter "h" and "s" so it still resonates with Happy Socks. Everything just sort of fell into place.
1 of 3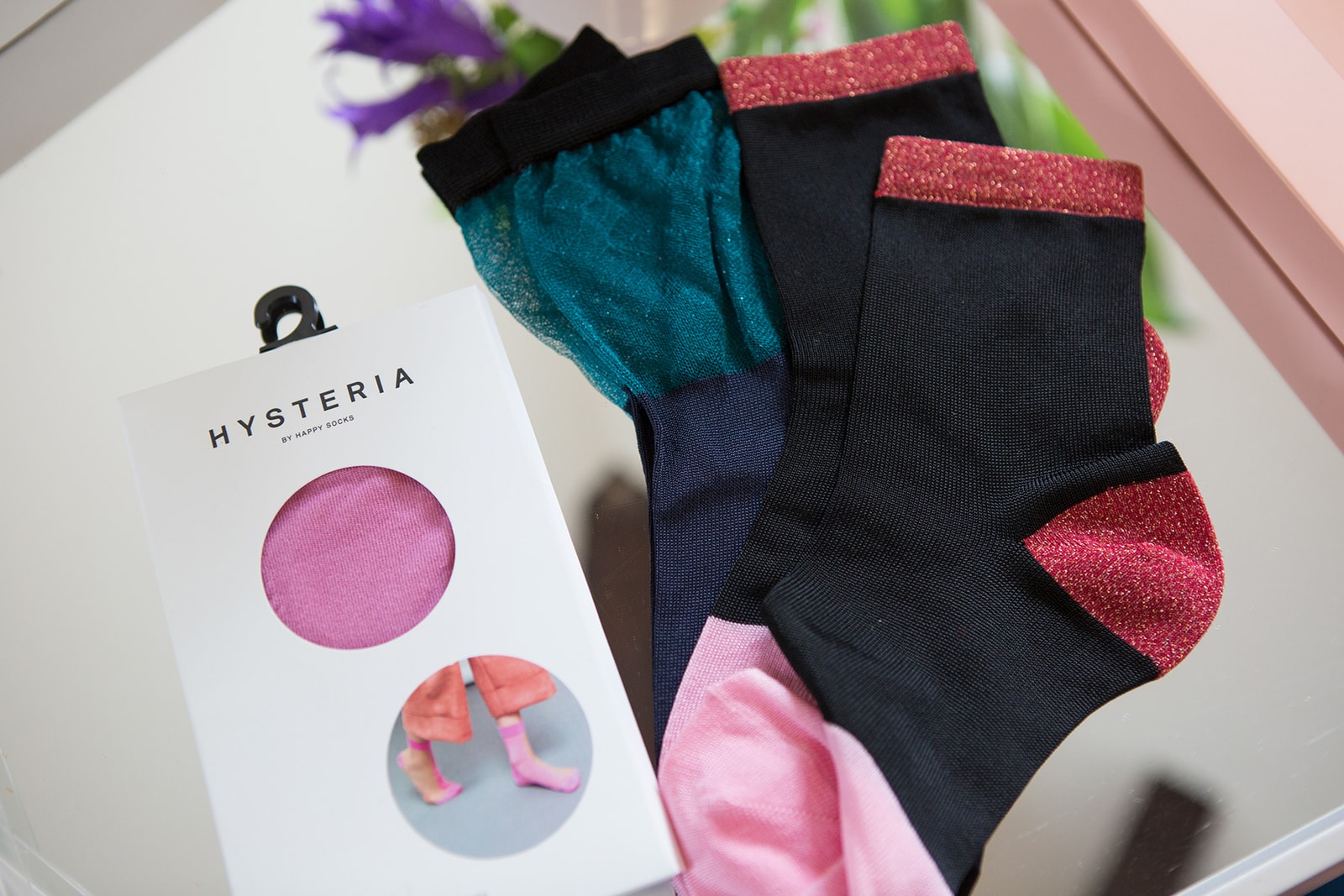 2 of 3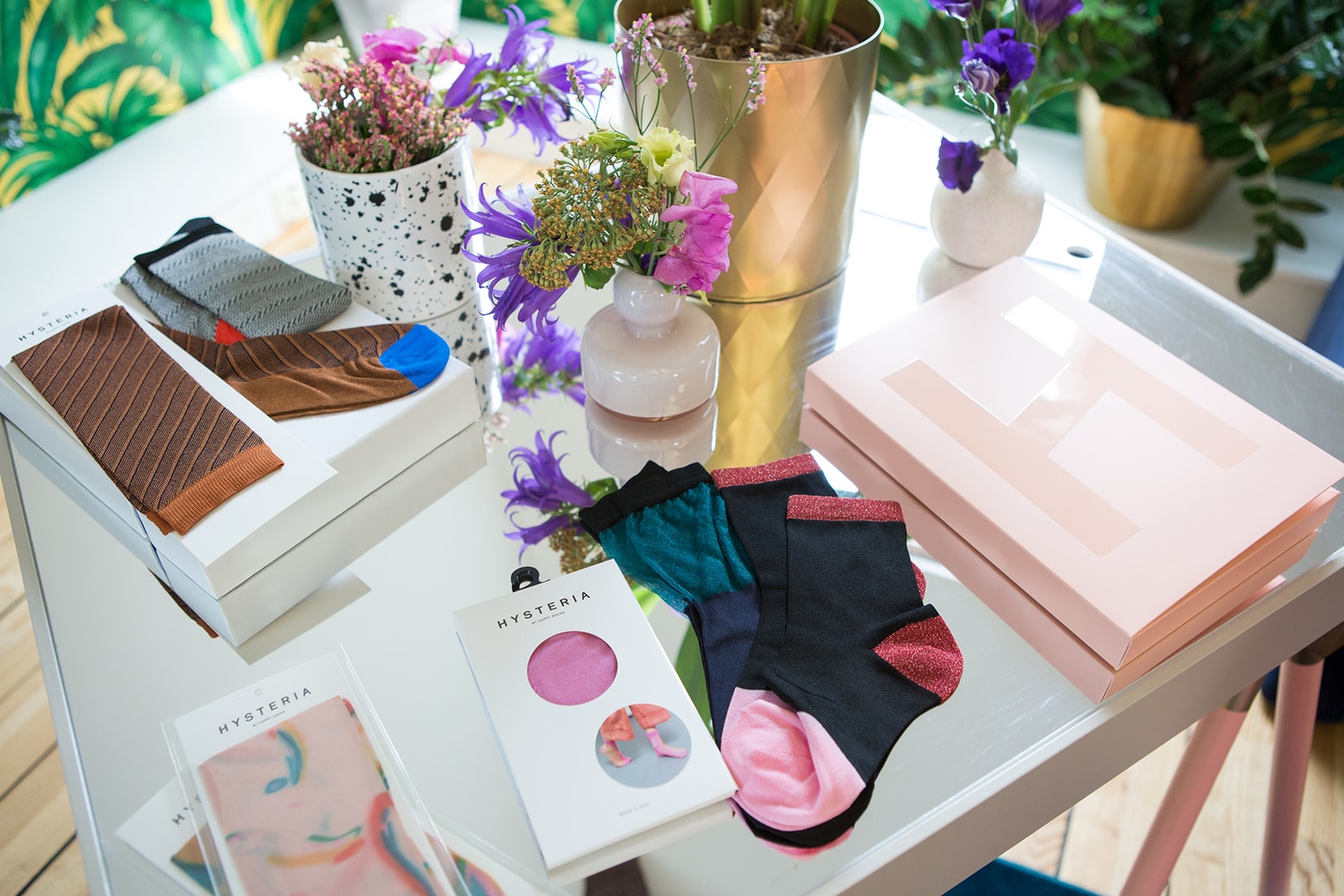 3 of 3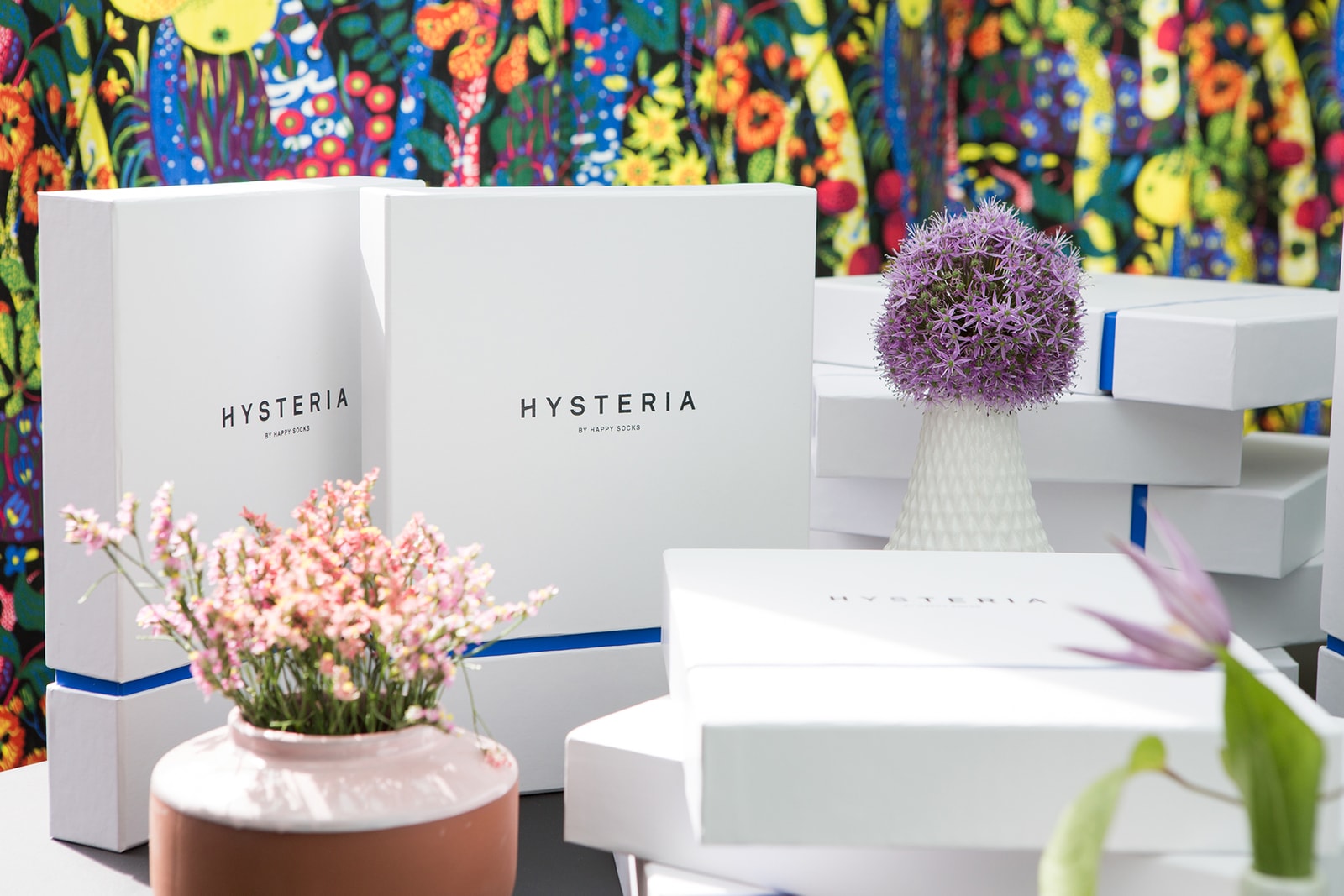 Can you tell us a little more about the pieces in the collection?
We have a few different fits and lengths in the Hysteria collection and this is something we will keep changing season after season. Most of them are ankle socks, we've shortened the heights from the usual Happy Socks style. When designing the collection, I thought about hidden details. Women tend to wear a lot of texture, pattern, so it's important to wear something that will still match your outfit. If you see the collection, there's a lot of for-your-eyes-only details. We still have socks that are heavily patterned, but they're not novelty – they're more of a traditional fashion print and I think that's important. The idea is that they're very wearable whilst still being a conversational piece. They enhance your look if you're having an uninspiring outfit day.
Do you have a favourite Happy Socks design?
It's kind of a cliché, but our "Big Dot" pattern is iconic and I still really love it, we've done so many combinations of colors on it. My favourite sock of all time though, is the "Jumbo Dot" — an oversized red dot on a navy base — I think it's brilliant. In regards to collaborations, the first Billionaire Boys Club collab we did was nice and the one we did with David LaChapelle was too. 
What do you think is the best thing about working at Happy Socks?
Free socks! That's true, they're a good perk. For me, not being from Sweden, this is a very foreign culture to me and Happy Socks has been a sort of oasis. It has quite a unique soul, and I think that soul is both Viktor and Mikael – they both have very distinct personalities which I really admire and respect and they've created a safe but extremely fun environment to work in, where you can literally be whatever you want to be. They encourage people to be different and have their own quirks.
Image Credit

Alberto Romano/Hypebae
Share this article