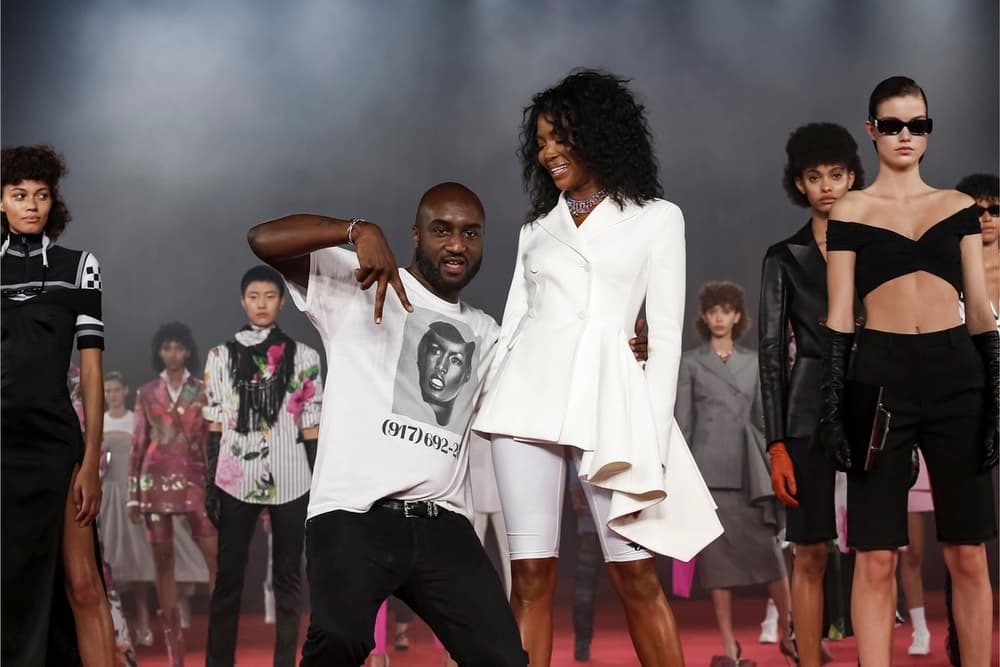 Fashion
Recreate the Best Looks From Off-White™'s Spring/Summer 2018 Show For Under $100 USD
Calling all "NATURAL WOMEN" — with a budget.
Recreate the Best Looks From Off-White™'s Spring/Summer 2018 Show For Under $100 USD
Calling all "NATURAL WOMEN" — with a budget.
Like Virgil Abloh, we've all got to start somewhere. Many are familiar with the humble beginnings of Off-White™'s lead designer which began with him screen-printing T-shirts by hand. Today, as his brand rises into the realm between high fashion and streetwear, its quality and price have followed.
We got the chance to peek backstage at the madness of the show prep and a little-known truth was revealed. Many of the pieces that walk the runway are literally sewn onto models ensuring a perfect fit. Watching in wonder, you come to appreciate how each of the garments were crafted by the talented tailors and staff. It shows that forming each of these looks is a possibility with a strong base.
The buzz from the Spring/Summer 2018 show put us in a creative mood. We rounded up the five top looks from the runway and provide believable dupes that need just a touch of customization to achieve the look. Read on to find out how you make these looks your own.
Denim Button-Up Shirt with Lace Embroidery
Joan Smalls strutted out in a Canadian tuxedo that is to die for. A denim button-up shirt is a standard piece, but its the white patterning on its sleeve that raises it from regular to one-of-a-kind. Using H&M's $12 USD shirt, you can add your own custom designs using stick-on appliqués or whipping out the white thread to recreate the laced patterning.
Camel Tan Blazer with Puffed Sleeves
Kaia Gerber continued her fashion month spree filling in as one of the final looks of the show. She sported a belted pair of light-wash denim jeans with a tan, oversized blazer that was impeccably crafted. To be honest, there's nothing like it on the market which is why creativity is required.
As a former prep school kid, I can tell you a thing or two about J. Crew and the garments they produce. Each of its pieces is formed to be easily tailored for the professional look often required in corporate settings. Turn the $90 USD school boy blazer inside out and you'll find a neat row of exposed thread ready to be cut for alterations. Purchase this item in a size up from normal, and release the threads on the sleeve to reproduce the puffed look. Voilá, you're an atelier.
Sweetheart Neck Crop Top
A solid button-up white shirt is easy enough to find. Retailers like Everlane, Uniqlo and even Acne Studios provide versions of this item for under $25 USD. The pièce de résistance was the bunched white crop top that held a deadly sweetheart neckline. ASOS' $10 USD bardot crop top has just enough extra material on its bottom hem to replicate the bunched effect. Slide the sleeves down and using a safety pin secure hem to the middle for the V-shape.
Midi Trench Coat
Zara's midi trench coat hits the nail right on the head. Though the hue is deeper, the style and tailoring closely matches Virgil's own creation. At $85 USD, this piece is a bargain you can't miss.
Knee-Length Biker Shorts
We barely got beyond the shock of watching Naomi Campbell close the show with her mesmerizing gait. The supermodel legend was dressed in a cream blazer with a cascading flourish on its left side. Paired with the jacket were soft pink biker shorts and cellophane-covered heels. The blazer is a masterpiece that cannot be touched, but after some digging we found the $20 USD Jockey biker shorts that will provide the same fit. The smooth fabric is crafted not to budge despite friction. This allows for you to create the statuesque profile Naomi served.