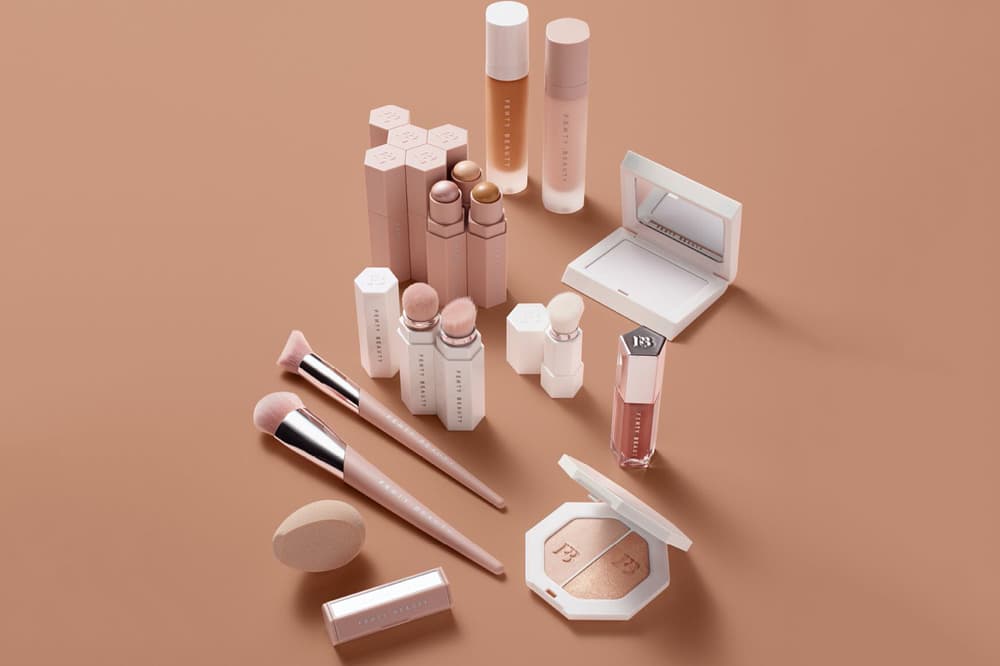 Beauty
Here's Our Full Review on Fenty Beauty After Watching Over 50 YouTube Videos
Does she pass the test?
Here's Our Full Review on Fenty Beauty After Watching Over 50 YouTube Videos
Does she pass the test?
The launch of Fenty Beauty overshadowed much of New York Fashion Week. Despite all the stunts pulled, Rihanna had the media captivated by the brand's visuals. Beauties like Duckie Thot, Paloma Elsesser and Slick Woods posed in the advertisements looking as stunning as ever. On their faces, we would come to find is the Fenty Beauty range which strives to make people look like themselves – but better. 
After the hysteria of NYFW has settled, I buckled in to see what the Internet had to say about the products. When celebrities branch out of their primary career field, usually they use their fame as a crutch to release run-of-the-mill products. Reality giants like Kim Kardashian and her sister Kylie have launched their own products and the feedback has varied from glowing to critical due to the lack of quality, shade range and price.
The truth about these brands can always be discovered on YouTube. According to Racked, over 15 billion beauty-related videos have been uploaded to the platform. Women and men trust individuals referred to as "gurus" to guide them to and away from products that hit the market. Major retailers have since caught on to this trend sponsoring certain individuals to produce videos but the vast majority of the content is honest, raw and believable.
To properly vet Rihanna's new range, I combed through over 50 Fenty Beauty reviews to take the temperature of the beauty community. Instead of the perspective of one, I culled many and was able to find out if the hype is truly deserved. So, here's the truth about Fenty Beauty according to some of YouTube's finest.
The Foundation Is Literally Perfect
Perfect is not a word to be used lightly, but you'd be hard-pressed to find a flaw in the Pro Filt'r Soft Matte Longwear Foundation. Each of its claims were tested and the truth was found — it's one of the best medium coverage foundations on the market. From the soft matte finish to the incredibly long-wear formula, there is no claim that was unfound.
Beginning a launch with 40 shades was a risk, but it was one that had to be taken. YouTuber Nyma Tang reviews the darkest shade of the foundation, 490, a tone that brands often don't even have a contour shade to compare to. Between its finish and large shade range, this buildable foundation can work for everyone from the beginner to the red-carpet professional.
At $34 USD, the Pro Filt'r foundation hits a sweet spot right between drug store and high end. This price point allows for young women and those on a budget to splurge and know that their money is being well-invested. The results of applying one layer of foundation is astounding. The skin instantly becomes smooth with a finish that is matte yet satin-like; creating the illusion that it is actually yours. Video after video, fans and skeptics alike would apply the product and were wowed. Hands down, Rihanna conquered one of the hardest products to create without breaking a sweat.
The Match Stix Takes a Smart Idea One Step Further
Placing products in a tube for easy access is no novel concept. Brands like Anastasia Beverley Hills led the way on creating makeup sticks that can reduce storage space and prevent mess. Kim K borrowed this idea with her own contour and highlight sticks which some complained were too expensive for the amount of product provided.
Rihanna created her own interpretation of the trendy item that was generous in size holding a formula to rival her foundation. The Match Stix, after being warmed on the hand, glides smoothly onto the skin to provide a powder-soft finish that is buildable and crease-proof. YouTube star Karen Yeung shares her thoughts on the variety of Shimmer Stix that are super multi-functional. Just one color can be used for an eyeshadow, lip color and blush, eliminating the need for a heavy makeup bag. The best part is watching people discover that each of the sticks is magnetic. Though a simple detail, this allows for ladies to keep track of their products and keeps things light.
The Killawatt Highlighters Bring the Fun Back into Makeup
Rihanna is known to pull off creative makeup looks that YouTubers often recreate. She's not afraid of a dark lip or a strong contour whether its red carpet or not. Though natural beauty is the focus of this launch, the Killawatt Freestyle Highlighter allow us to experiment and cross the line from normal to editorial. The shimmer that caught everyone's eye was "Trophy Wife" — a 3D hyper-metallic gold pressed with actual glitter. This shade arrives alongside five other, four of which are two-colored duos. Once applied, the product gives off an otherworldly radiance that can blind someone standing too close. Depending on your technique, you can glow gently every day or shine bright like a diamond. The choice is yours. Beauty guru, Raye Boyce shows us how to build up the product from demure to starry bright with a few swipes of the powdered gold.
The Brushes Give Beginners a Great Starting Point
Brushes and tools were released to accompany each of Rih's face products. The precision makeup sponge which mimics the ever-popular Beauty Blender is formed with a flat side for easy application. We also see a full-bodied foundation brush and cheek-hugging highlight brush that work together with the product to provide the right amount of coverage. YouTube veteran and Quay collaborator, Desi Perkins, demonstrates the use of each brush and confirms that each is ideal for the beginner. Whatever your level may be, each brush can still serve a purpose.