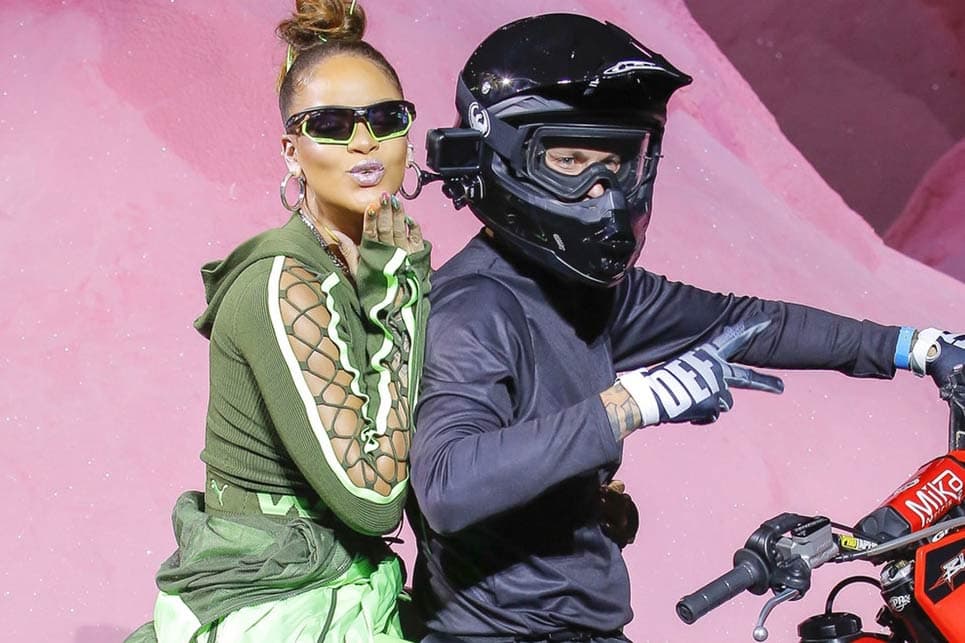 Fashion
How to Copy Looks From Rihanna's Fenty PUMA Spring/Summer 2018 Line on a Budget
Spoiler alert: you can't.
How to Copy Looks From Rihanna's Fenty PUMA Spring/Summer 2018 Line on a Budget
Spoiler alert: you can't.
Let's not fake the funk — while we all love the clothing coming from Rihanna's collaborative Fenty line with PUMA it'll undoubtedly cost a pretty penny. Items like the 2017 spring/summer pastel pink crop top retails for $150 USD. This piece arrives with corresponding tearaway bottoms priced at $230 USD. Before your know it, your outfit is just under $400 USD and you're still shoeless.
Dazed by the spectacle that was her latest presentation, our desire to cop one of everything from the upcoming season resurfaced. While we love the latest wares, not everyone's budgets will allow for all to splurge and not regret it later. With no fear and little faith, we took up the challenge of finding dupes for the top five items in the collection. This includes the neon-trimmed glasses, motocross bodysuit, knee-high boots, riding pants and of course, the badass leather jacket.
In case you haven't guessed already, it wasn't easy. The inspiration behind the Spring/Summer 2018 line is a mix of motocross, punk and French feminine — a theme that only the Bad Gal herself could dream up. For the motocross-inspired pieces we looked to retailers that dominate the arena and were disappointed to find that the gear is not nearly as stylish as RiRi's. Scouring the stock of retailers like Motosport and BTOsports proved to be underwhelming as well. If you actually own a motorcycle and need protective gear then look no further — but you may not look exactly like models that graced the pink runway. A difficult truth to accept but the truth nonetheless.
Motocross bodysuit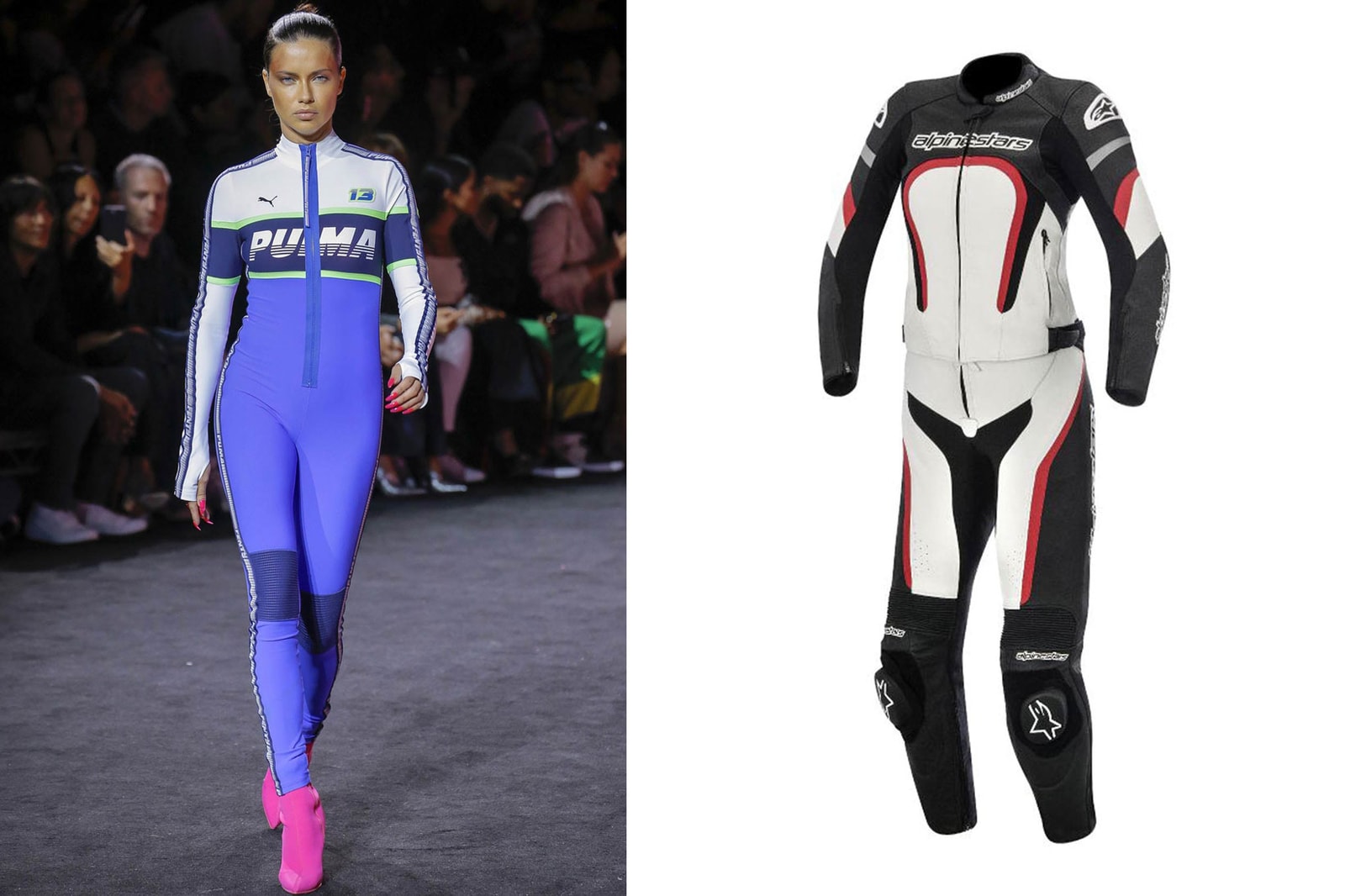 The motocross bodysuit that walked the Fenty x PUMA runway was a cozy girl's dream. It debuted in a blue-purple that drew in the light. What makes this piece unforgettable is the details. From the motocross knee accents to the convenient thumb hole placed in each sleeve. the market hasn't quite seen something like this. Its alternative is the MotoSport Thor Pulse Combo Suit shown above. The piece is durable and heavy but not made for owning the streets.
Leather Riding Pants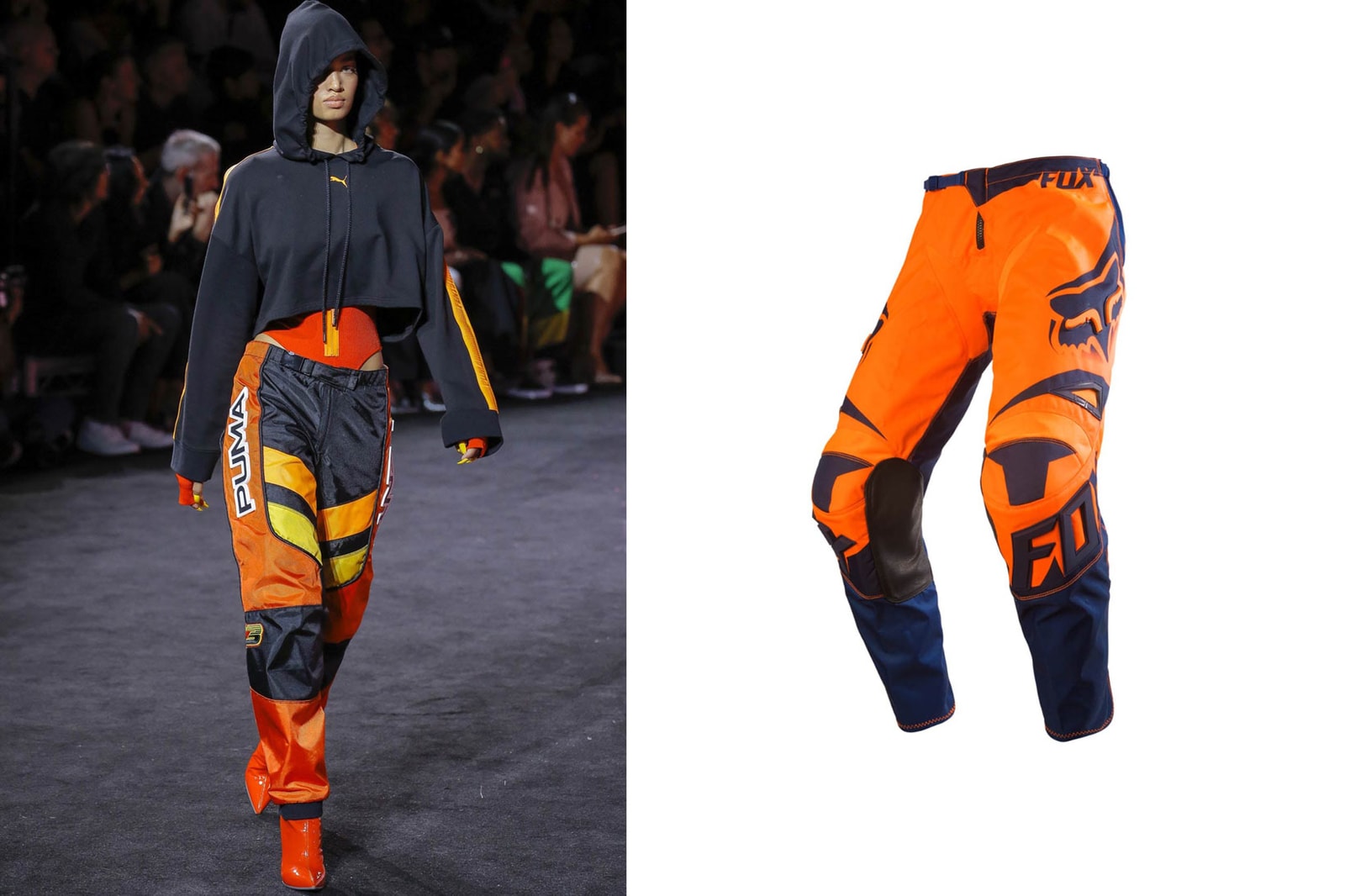 Women's joggers have made a comeback like never before. The Fenty iteration takes the trend one step further with the motocross-inspired design and lycra construction. A belted elastic waistband and baggy hem creates the perfect fit that Rihanna is renown for. At $65 USD, Fox Racing's 180 Racing Pant may seems like a worthy dupe but its polyester form is sure to make for uncomfortable wear. Design-wise it's a respectable replacement but not enough to pull off the Fenty look.
Motocross Jacket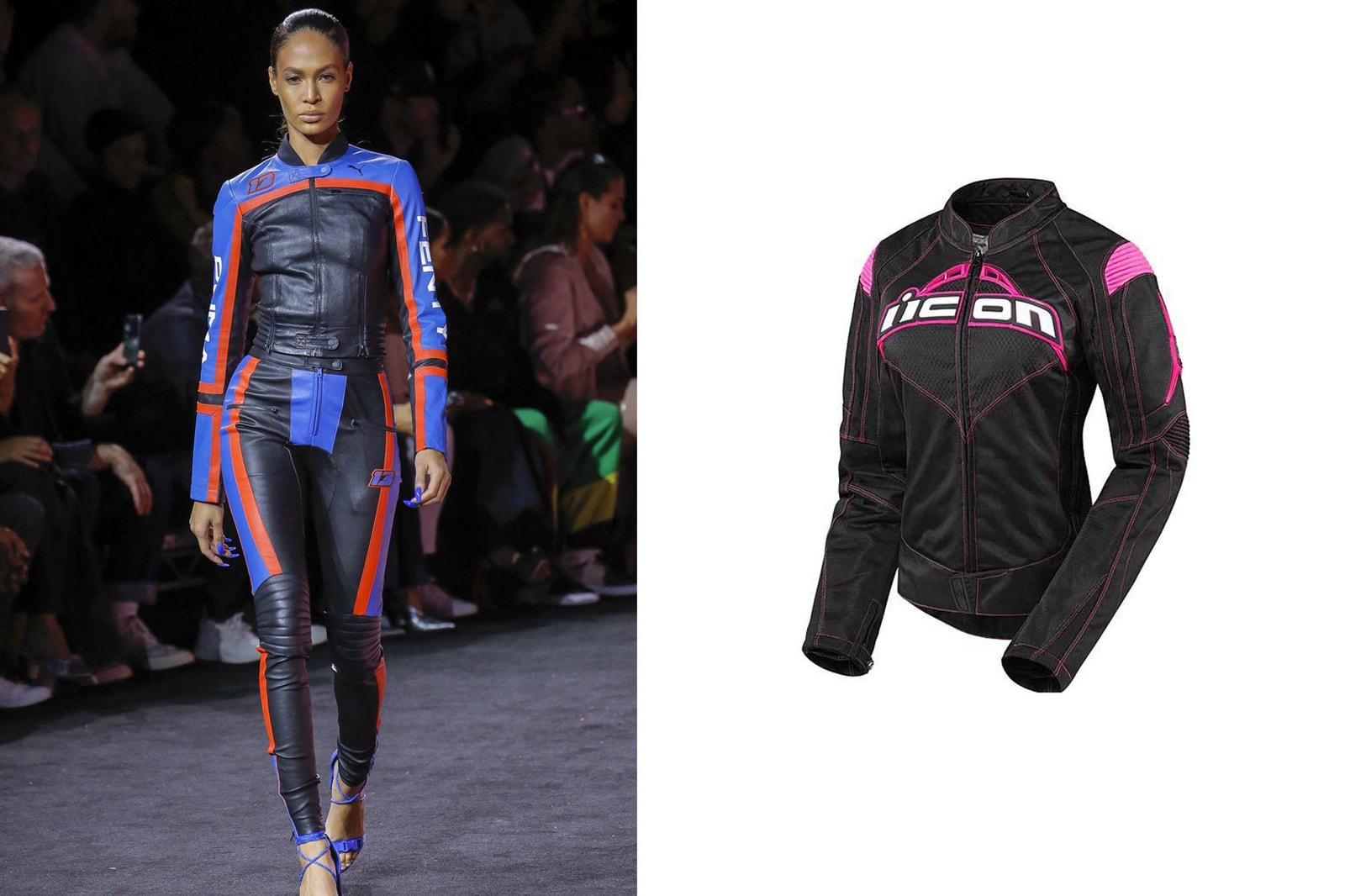 Joan Small strutted out in a leather jacket and pant combo that garnered audible gasps from the show's front row. This look was clearly inspired by the badass biker chicks who never sacrifice style for function. The cropped leather jacket hits Smalls right at the waist for a cinched fit that flatters any figure. The Icon Contra jacket lacks the symmetry and color impact of Rihanna's version. Its fit also misses the mark extending down into the hip area completely concealing any of the body's shape.
Colorblocked Knee-High Boots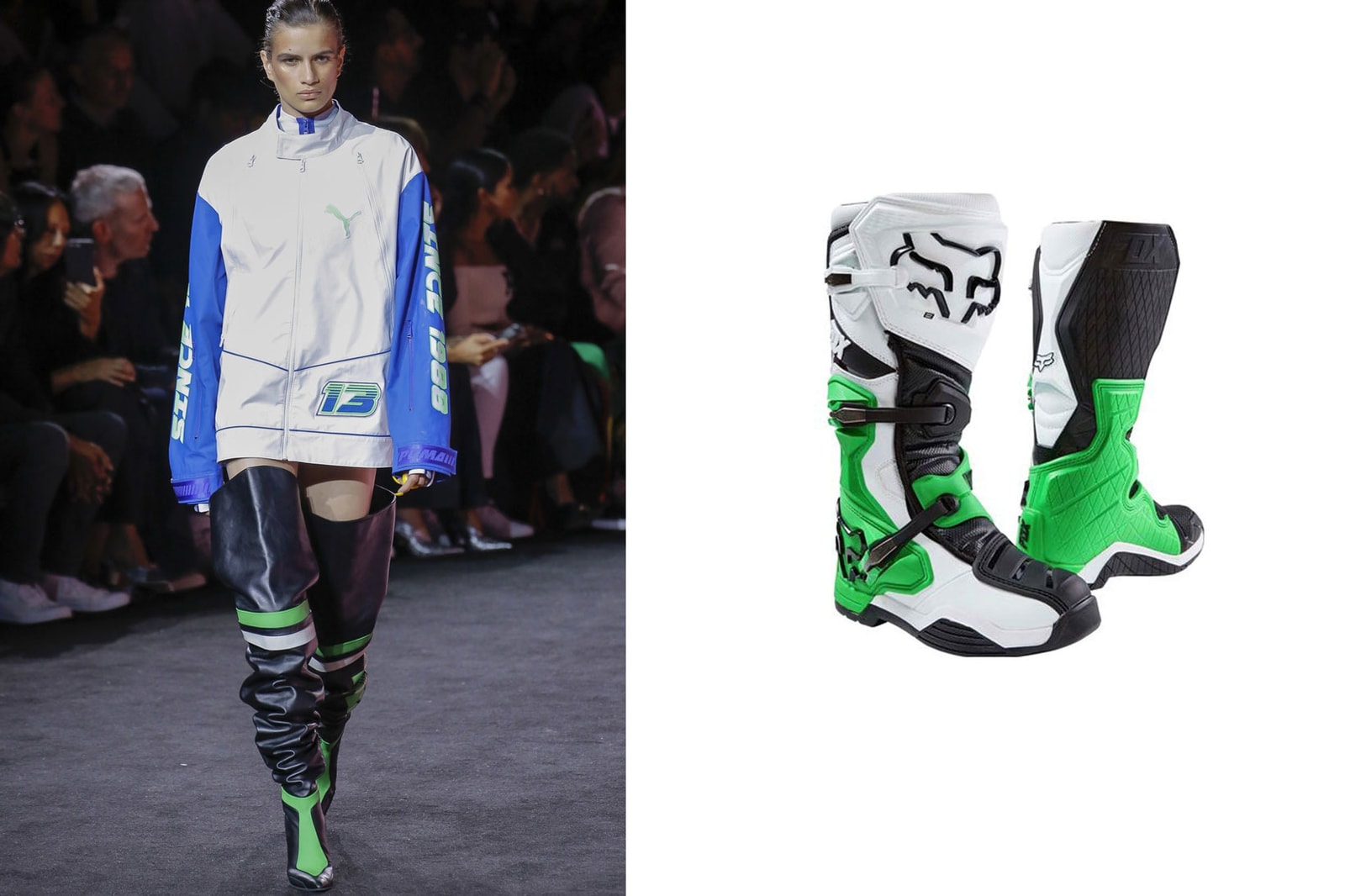 These slouchy knee-high boots seemed to have jumped out of Rihanna's head onto the runway. We know the Bad Gal loves a strong boot silhouette, but this pair is next level. Green and white striped detailing takes the form from standard to superhero and we can't get over it. Fox Racing's Comp boots won't offer you any of the height, style or profile needed to make the girl's swoon.
Neon-trimmed Sunglasses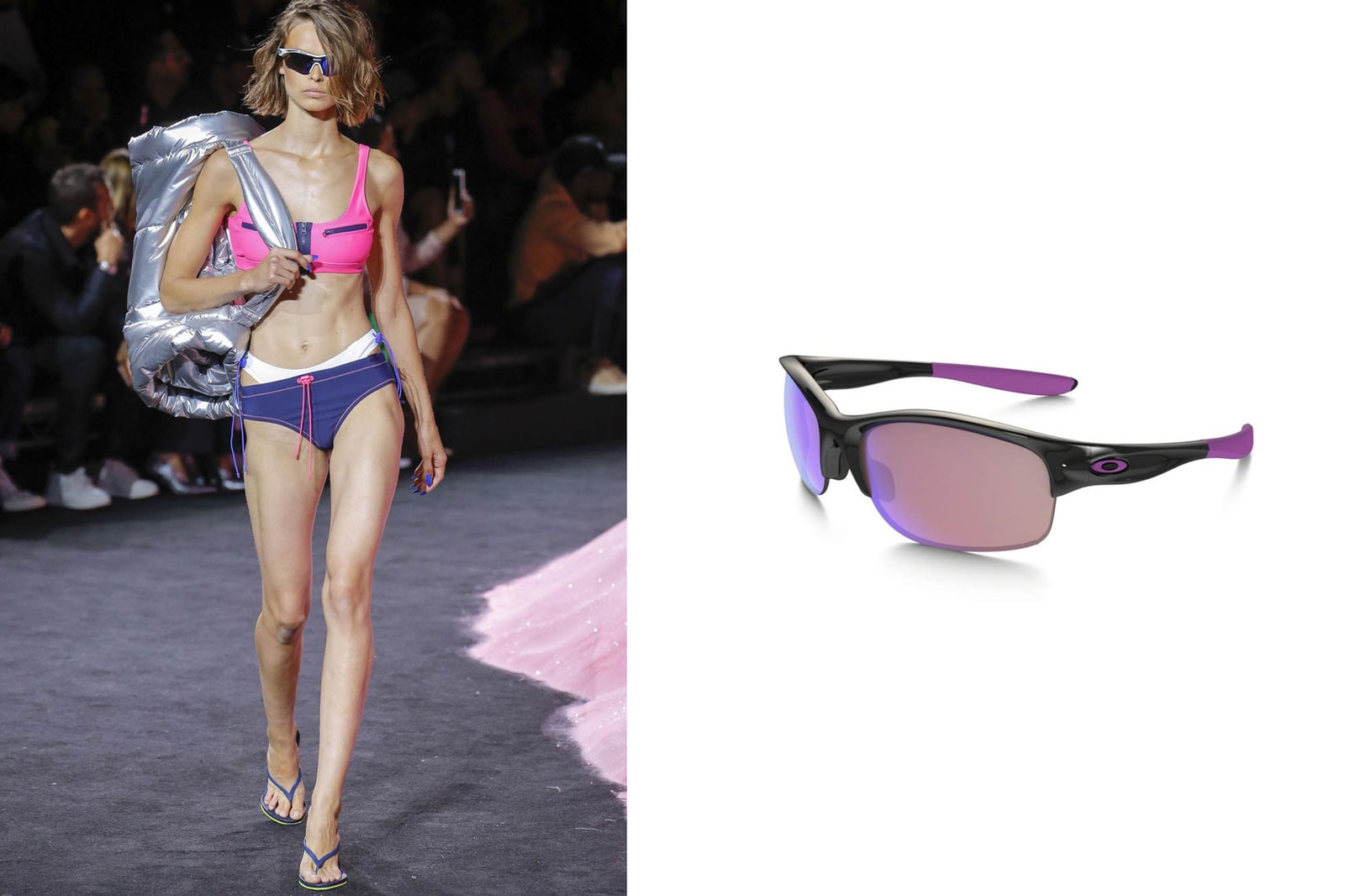 Geometric sunglasses have made a strong comeback as well but of course Rihanna put her own spin on the trend. These futuristic sunnies teeter on the line between sporty and feminine. They strike a sensitive balance that can take you from looking sharp to silly with one misplaced detail. The search for a dupe was a futile one but Oakley's COMMIT sunnies provide an excellent case study. Fenty's silhouette is sleek and minimal yet still stands out. The white trim along the nosebridge — though small — add a level of sophistication that others simply couldn't compare to.
Mark this experience as a cautionary tale. We suffered so you wouldn't have to. We advise you to invest in your favorite pieces from the line to create your own authentic look.  If you missed it, check out these six tips to looking expensive on a budget.
Image Credit

Vogue, Fox Racing, Motosports, Btosports, Oakley
Share this article