6 Black Fashion Brands to Keep an Eye on in 2019: Pyer Moss, OMONDI and More
Diversity and disruption took center stage this year.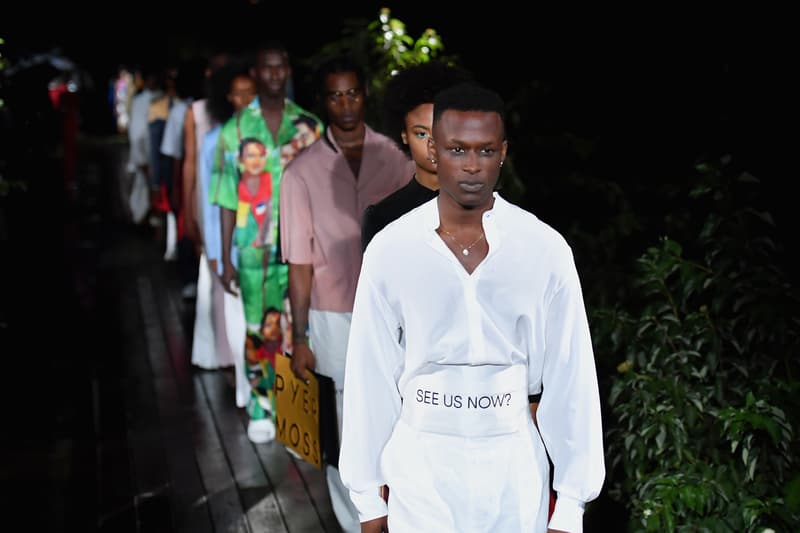 Disruption in the fashion industry typically doesn't happen overnight. Rather than gentle whispers, disruption pushes forth concepts that can be seen as refreshing and full of life. For countless years, black designers have existed within the industry and created pieces that speak to the colorful history of their backgrounds. This year, designers of color took the reigns and pushed forth their agendas which consisted of diverse models and memorable storytelling.
In our latest roundup, we're shedding light on six black designers worth paying attention to in the upcoming year. For these individuals, 2018 was a year filled with high points and significant accolades. A few of our selections include Kerby Jean-Raymond of Pyer Moss, Shanel Campbell of Shanel and Recho Omondi of her namesake label.
Founded in 2013, Pyer Moss is Kerby Jean-Raymond's brainchild named after his mother Vania Moss-Pierre. For his ready-to-wear label, Raymond has looked to his roots and political perspectives for inspiration in the past. This year the Haitian-American designer was introduced to a new audience when he took home the prestigious CFDA/Vogue Fashion Fund prize. Additionally, his 2018 was marked by numerous sneaker collaborations with Reebok. On the later portion of the year, Michelle Obama and Anderson .Paak were seen in his designs.
This past May, Shanel Campbell experienced a breakthrough moment as a designer: Solange Knowles wore pieces from her Parsons graduate collection. The 26-year-old Bronx native with Afro-Caribbean roots is known for centering black women in her work. During the Spring/Summer 2019 season of New York Fashion Week, Campbell debuted her first collection. For the presentation, 18 black women donned her meticulous pieces which were aesthetically unique and striking. This year, her designs were worn by Issa Rae and Tracee Ellis Ross.
LaQuan Smith began his eponymous brand when he was just 21 years old. He notes that his upbringing consisted of learning to sew from his grandmother. In the recent past his pieces have been worn by the likes of Beyoncé, Cardi B and more. This year, Smith released a wildly popular collaboration with ASOS which featured size-inclusive pieces. His work is most known for its intrinsically sexy nature. Without a doubt next year will be a banner year for the Queens, New York native. We're excited to see what he has up his sleeve for 2019.
Kenyan-American designer Recho Omondi's namesake label OMONDI has been on our radar for quite some time. She began making clothes in 2010. What drives forward the brand's DNA is Omondi's background: her hometown Nowhere, Oklahoma, her time studying fashion design at the Savannah College of Art and Design and her summers in Nairobi, Kenya. Her work isn't just aesthetically pleasing and whimsical, it's also an undeniable representation of New York's underground fashion industry. This year, Recho launched The Cutting Room Floor, a sumptuous podcast which explores the business of fashion. Past guests have included Heron Preston and Driely Carter. The fashion label counts Issa Rae and Solange Knowles as fans.
Nigerian-born designer Teni Adeoloa's fashion line Slashed by Tia is filled with Victorian-inspired separates. The label has risen meteorically via Instagram thanks to it being worn by celebrities including Gigi Hadid, SZA and even Dua Lipa. Despite the numerous celeb cosigns, it's a breath of fresh air to see Adeoloa's diverse campaigns which purposely feature black models. Teni has noted that her upbringing paired with her ongoing studies at Parsons led to her striking aesthetic.
In 2012, Grenadian designer Felisha Noel created her first fashion collection. She rebranded in 2015 as Fe Noel and debuted her first New York Fashion Week show with Harlem's Fashion Row. This year, she teamed up again with HFR and two other black female designers to create a sneaker design for LeBron James. Fe Noel's luxury womenswear pieces are stunning and color-heavy. Each garment is a representation of her love for Caribbean culture and effortless elegance.