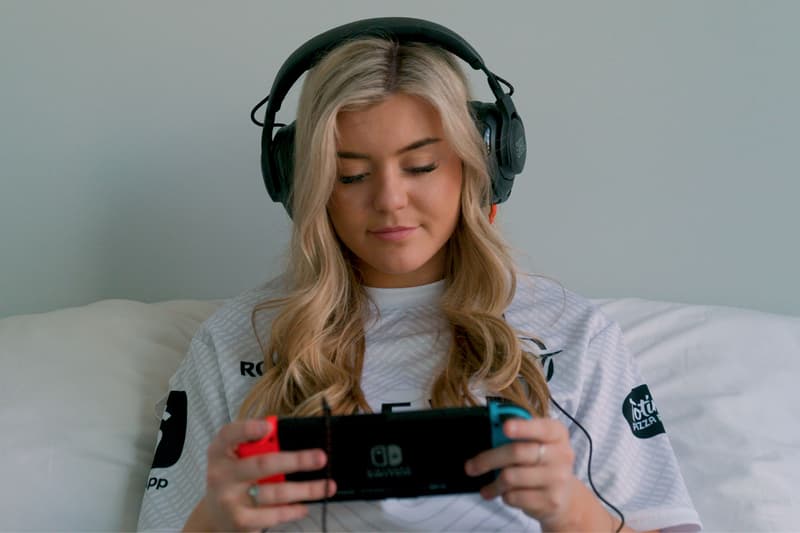 Tech
BrookeAB Talks Sexism in the Video Game Industry, Favorite Streaming Gear and More
A must-read conversation for those looking to start a Twitch channel.
BrookeAB Talks Sexism in the Video Game Industry, Favorite Streaming Gear and More
A must-read conversation for those looking to start a Twitch channel.
The gaming industry has seen massive growth in 2020, with reports estimating the market to surpass $200 billion USD by 2023. Aside from the actual video game titles, streaming on platforms like Twitch and YouTube have also been seeing a steady increase in the number of users. As more and more people are looking into doing livestreams, we caught up with 100 Thieves' BrookeAB to talk about sexism in the industry, her favorite things about gaming, essential peripherals and more.
For those unfamiliar, Brooke is the second female gamer to have ever signed with the Los Angeles-based company following Valkyrae. First joining Twitch in 2018, the content creator's following rapidly grew from 10,000 followers to over 270,000 in a month, catching the attention of numerous names in the gaming world including 100 Thieves' CEO Nadeshot.
With her ever-growing platform, Brooke has also been vocal about issues like sexism and mental health, both of which are something that many women in the gaming sphere have to deal with. "It's important to promote positivity and a sense of kinship because there can be a lot of toxicity towards females," she comments, expressing her love for the community that has led her to meet some of her closest friends including her significant other, Symfuhny.
We spoke to Brooke about everything from mental health to some of the best streaming gear for beginners. Read on for the full interview.
While you're here, check out our conversation with PRIX's Esther Ng on what it's like to enter the gaming world as a woman.
Tell us a little bit about yourself. You grew from having roughly 10,000 followers to over 270,000 in just one month last year. What was that like?
My screen name is BrookeAB and my name is Brooke. I've been streaming for two years now, and I started during my senior year of college. I had been streaming for almost a year when I saw a lot of traction in growth across all my platforms. I still felt pretty new to the gaming community, even though I've played video games my whole life, so livestreaming was something I was very new to.
My new life still feels a bit surreal – one minute I was a college student, studying to become a forensic psychologist and working a minimum-wage job, and now here I am as a professional streamer, member of 100 Thieves and JBL ambassador. As much of a shock as the experience has been, I couldn't be more grateful for all of the opportunities that video games have brought and continue to bring me.
How did you end up signing with 100 Thieves?
I was approached pretty quickly after my channel took off. I have always admired 100 Thieves and the creators they had, so when I was approached by Nadeshot and the team, I was very excited. They not only are a gaming brand but also an entertainment, lifestyle and apparel company, which really drew me in. They have a very strong content creator team with people like CouRage, Valkyrae, Nadeshot and more, so I was honored they felt that I would be a good fit.
What is your favorite thing about the gaming community?
My favorite thing about the gaming community is the relationships that can be made, even when you aren't interacting face-to-face. I met my boyfriend, my roommates and many of my friends through video games. If I hadn't joined the community, I wouldn't know many of my favorite people in the world.
I also think the gaming community is so unique because it offers an escape for people who might not feel accepted with their friends in person, or if they don't feel like they belong to a certain group. I find that many people have found meaningful friendships here when they struggle to have common interests with friends at school or elsewhere.
Although the gender gap is narrowing, gaming is still commonly seen as a male-focused industry. What would you say are the biggest challenges in staying competitive?
While the industry is heavily dominated by males, we are seeing more and more females join, whether it's through viewership, streaming themselves or just being more open about playing video games in general. It's important to promote positivity and a sense of kinship because there can be a lot of toxicity towards females. The bright side is that there are more women starting to stream, winning Esports tournaments and competitions. I think the key to overcoming toxicity in the scene is to call out sexism when you see it. Some things shouldn't be passed off as a "joke" because so many women are dealing with this, not just in video games.
You've also been having important conversations on mental health through your streams. How has the reaction been among your followers, and how do you plan on incorporating these types of discussions into your gaming content?
Mental health has always been very important to me. Not only did I major in psychology in college in the hopes of helping those with mental health struggles, but I am also diagnosed with severe anxiety and depression. It's important for me to be open with my viewers and followers so they realize that they are not alone in their struggles. It's not something people should feel embarrassed or ashamed to talk about. That's why I hope that being open will inspire others to feel the same way and through that, I hope I can help fight the stigma behind mental health.
BrookeAB's Essential Gaming Equipment
Noise-Canceling Headphones
A Comfortable Chair
Blue Light Glasses
High-Quality Keyboard and Mouse
Share this article