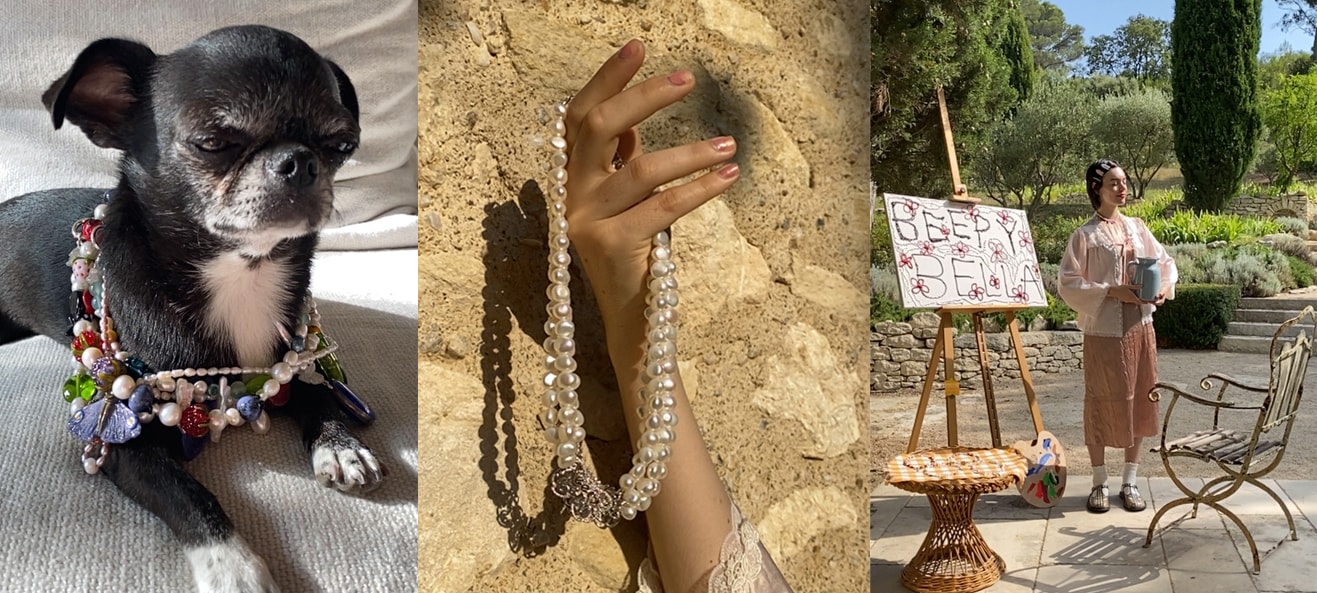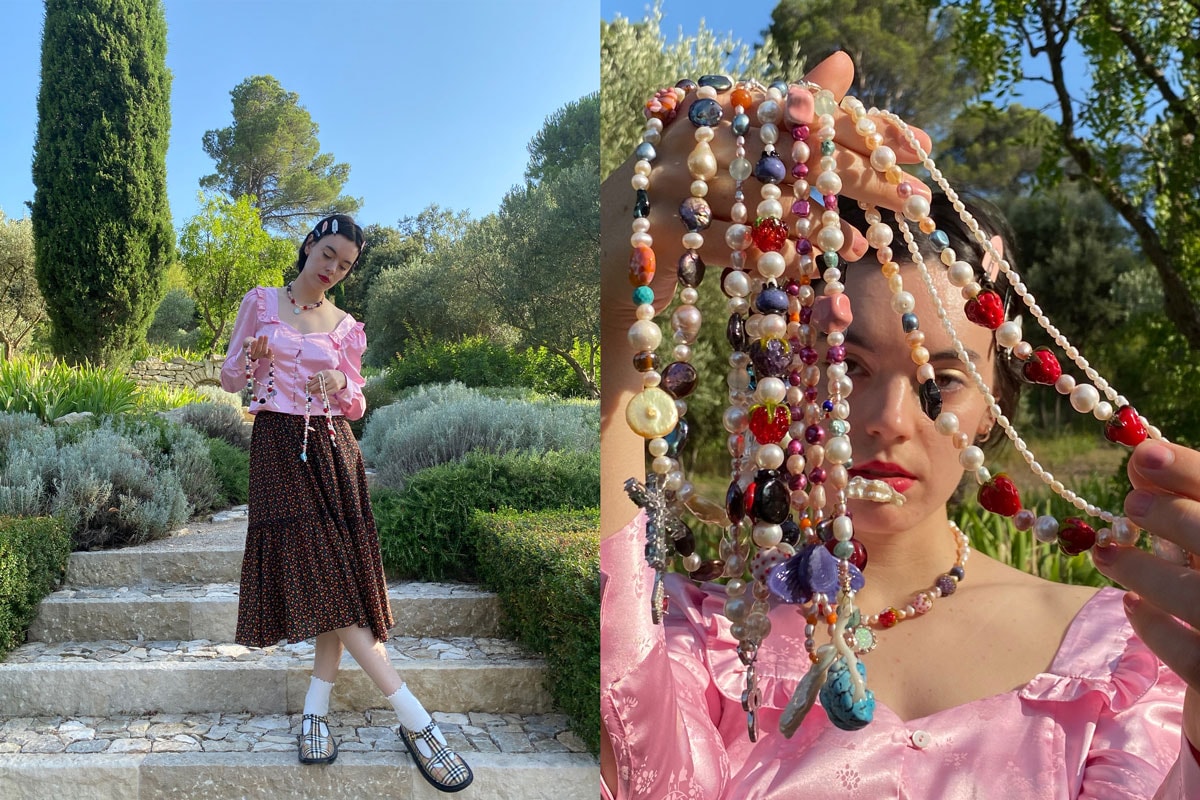 Behind the Atelier: Isabella Lalonde of Beepy Bella on Cultivating A World of Fantasy
The jewelry designer gives us an inside look of her space in the South of France.
Behind the Atelier is a fashion-focused series that examines the unique backstories and design processes behind the fashion industry's most captivating talents. Pulling back the curtain on each designer's creative space and practice, Behind the Atelier will highlight and give an inside look into the industry's most exciting names. 
For the fifth installment of the series, HYPEBAE tapped New York-based designer Isabella Lalonde of Beepy Bella to take us behind the scenes of her atelier, where our team documented her summer workspace in the South of France and showcased her precious, handmade jewels through a photoshoot over FaceTime. In a candid conversation, Isabella revealed how an experimental jewelry course taken at Central Saint Martins inspired her to launch Beepy Bella, how fairy tales and escapism influence her practice as both an artist and designer and how she broke the mold by creating one-of-a-kind pearl jewelry.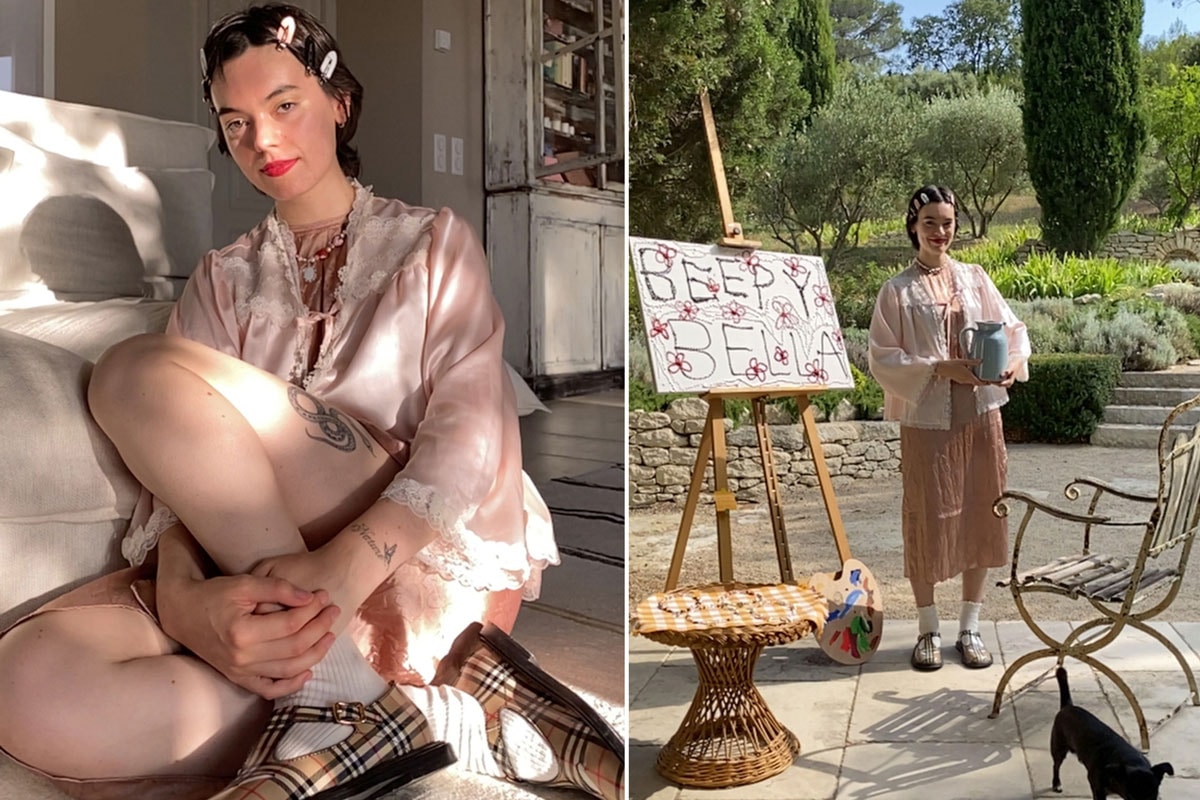 Fantasies, fairy tales and mythical creatures are what childhood dreams are made of. But, how does one preserve their childlike creativity and imagination as they develop into an adult? For Isabella Lalonde, the designer behind Beepy Bella, it means bridging the gap between childhood and adulthood through the creation of a parallel universe brimming with fairies, lush forests and brightly-tinged mushrooms. By harnessing her creative practice to manifest this otherworldly utopia, the New York-based designer has been successful in conceiving a handcrafted jewelry line that combines freshwater pearls cast into glittering hues, rare charms she sources on her travels and ornately-designed glass beads she blows by hand.
As a youth, Isabella spent her childhood growing up in places such as Paris, Switzerland and New York before studying fine arts at Parsons School of Design. During her time there, she developed an affinity for diverse media, themes and subjects, often experimenting with video art, performance art, illustration and painting. Continuing to push the boundaries, Isabella enrolled in a five-day intensive course on jewelry design at Central Saint Martins where her knack for creating unconventional, one-of-a-kind jewelry led her to launch Beepy Bella in 2019. Utilizing her penchant for creating fantasy-fueled pieces that places emphasis on craftsmanship, Isabella's newest collection boasts a bevvy of statement-making pieces like sculptural necklaces and earrings that feature vibrant freshwater pearls, handmade glass beads inspired by the Luna moth and a series of first-ever, Beepy Bella logo necklaces.
With a firm grasp on cultivating experimental jewelry that stems from magical symbolism, fairy tales and escapism, Isabella's mind-bending and fantastical designs serve as proof that you're never too old to embrace your childlike sense of creativity and imagination. 
To get to know the designer, HYPEBAE sat down with Isabella Lalonde to discuss how she brings surrealism as well as escapism into her artistic and design practice, how she perceives fashion as a language and how her unbridled imagination has allowed her to create a world of fantasy with Beepy Bella.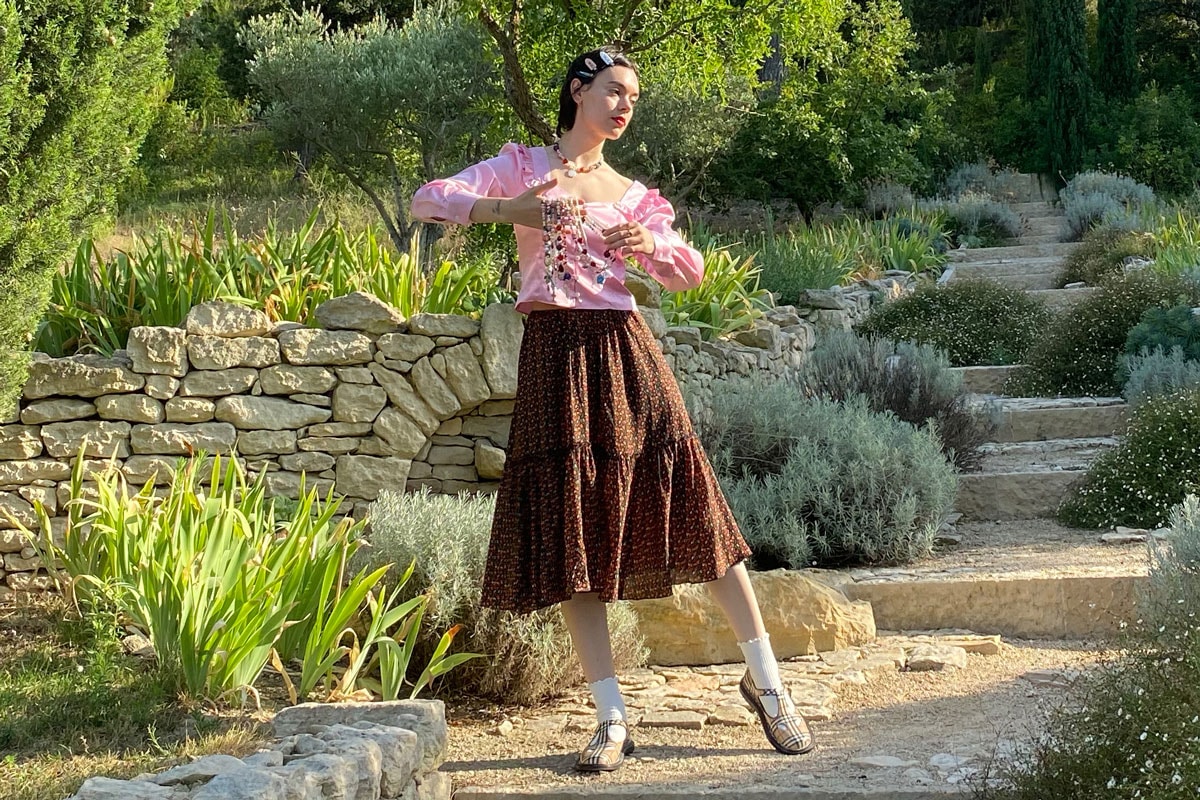 How would you describe what Beepy Bella is and what it represents?
Beepy Bella is a handmade jewelry line created by me, Isabella Lalonde, who is an artist based in New York City. The brand itself represents more of an artist's collective, a utopia of ideas and an unleashing of creativity. It's really important as an artist, which is my background, that I create a brand that has unique products that are all crafted by hand or are made in collaboration with other artists who are working independently on their own various mediums. With my brand, I wanted to create this whole world that involves childhood fantasies of magic, fairies, mushrooms and forests and allow adults to enter back into that world and create this bridge between adulthood and childhood. I'm really interested in the transition of becoming a child and then an adult and the things within society that we typically lose the older we get, which is innately our sense of creativity and imagination.
You have a longstanding fascination and love for ethereal creatures and fairy tales. What inspired you to incorporate and fuel a line based on storytelling and whimsical fantasies?
Fairy tales and escapism are key to me. It's everything that I love and I even created my own fairy tale book earlier during this quarantine. I was able to reuse all of my old photoshoot images and add new graphic layouts, as well as repurpose so much content that had never been made available to the public or seen on social media. I think it's cool that I can bring fairy tales, surrealism and escapism into my practice even more so now, because I think people really respond to that since a lot of designers don't incorporate [these elements] into their own practice. It's a big part of who I am and how I grew up, which is being inspired by old fairy tale book covers.
A really cool point of inspiration for me is also graphic design and it informs all of my practice. It's this 360 degree approach to escapism which ties back into the sense of the escapism I get when I am creating. [When I'm making jewelry], it's more about the experience of creating and designing, and I think escapism also plays into that where I don't necessarily always see my nearby surroundings or even my apartment in New York. When I'm living and existing somewhere, I more so fall into the fantasy of my own utopia and my own dream world and I live within that versus my physical surroundings. I think there's an important balance that I have between my physical being and my internal spiritual being, and I think that escapism is just a form of expressing that.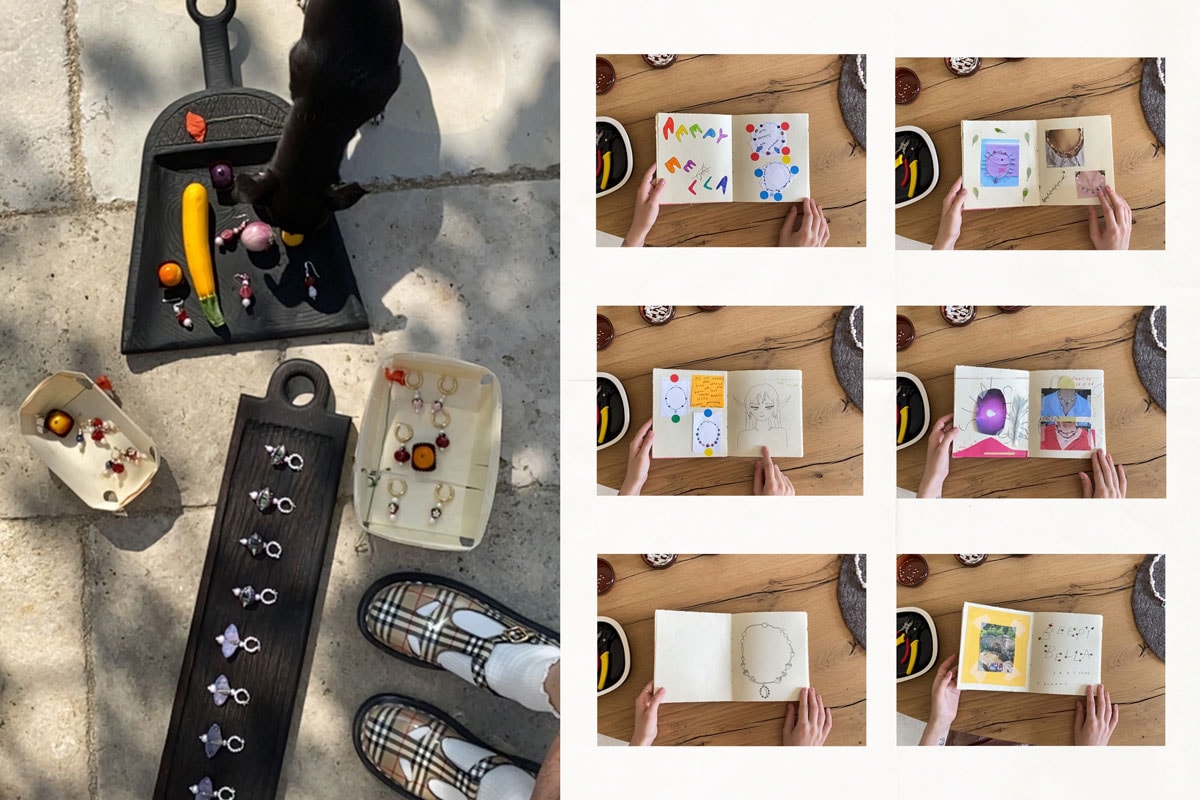 How has your personal style played a role in shaping your identity as an artist and designer?
Fashion has always been a form of self-expression for me rather than a way to buy into trends. Fashion has always been an outlet and a cathartic process of dressing myself in the morning and representing who I am as an artist. The surrealist world and fantasy that lives inside of my head, plus the euphoric and fantastical utopia that I feel like I personally live in, along with my own reality is something I always try to channel within my everyday outfits.
When I was growing up, I was sort of shy. I wasn't the most outgoing or the class clown, but I always stood out because of the things I wore and I feel like that helped me identify who I was more than my words did as a kid. I always felt like people would understand who I was, how fantastical my imagination was and how creative my own art practice was because of the way I dressed. That was the way I was able to communicate with others.
How do you think studying fine arts at Parsons School of Design influenced the way you perceive fashion, design and art as a whole? And what was it like studying jewelry design while attending Central Saint Martins?
I think studying fine arts at Parsons School of Design helped bring this sense of freedom to my craft and to my design process because I come at it from more of an experimental point of view. Rather than viewing jewelry-making as a commercial product, I view it as an art-form that becomes a unique, one-of-a-kind sculpture for your neck, ears or wrist. It's more performative than it is commercial and I always say that I feel like being an artist is my superpower as a designer, because it allows me to explore diverse mediums, diverse subjects and themes that I wouldn't otherwise feel comfortable with if I was a more traditional or conventional designer. Studying at Parsons, really helped cultivate my creativity in many forms and I was initially exposed to jewelry through an experimental jewelry course at Central Saint Martins.
I was working with a lot of different mediums and something I had never thought to do was jewelry, and Parsons didn't offer any jewelry classes at the time. I thought why not go on this solo trip, seek out an adventure and try out jewelry. I ended up loving the class at Central Saint Martins, which was a five-day intensive course and throughout the five days, there were only five projects that we were supposed to make and I ended up making about twenty to twenty-five different jewelry pieces on my own. The course also gave me the ability to create a product that's interactive with the viewer, because I love the sense of having someone else wear a piece of jewelry I made that I ultimately view as art.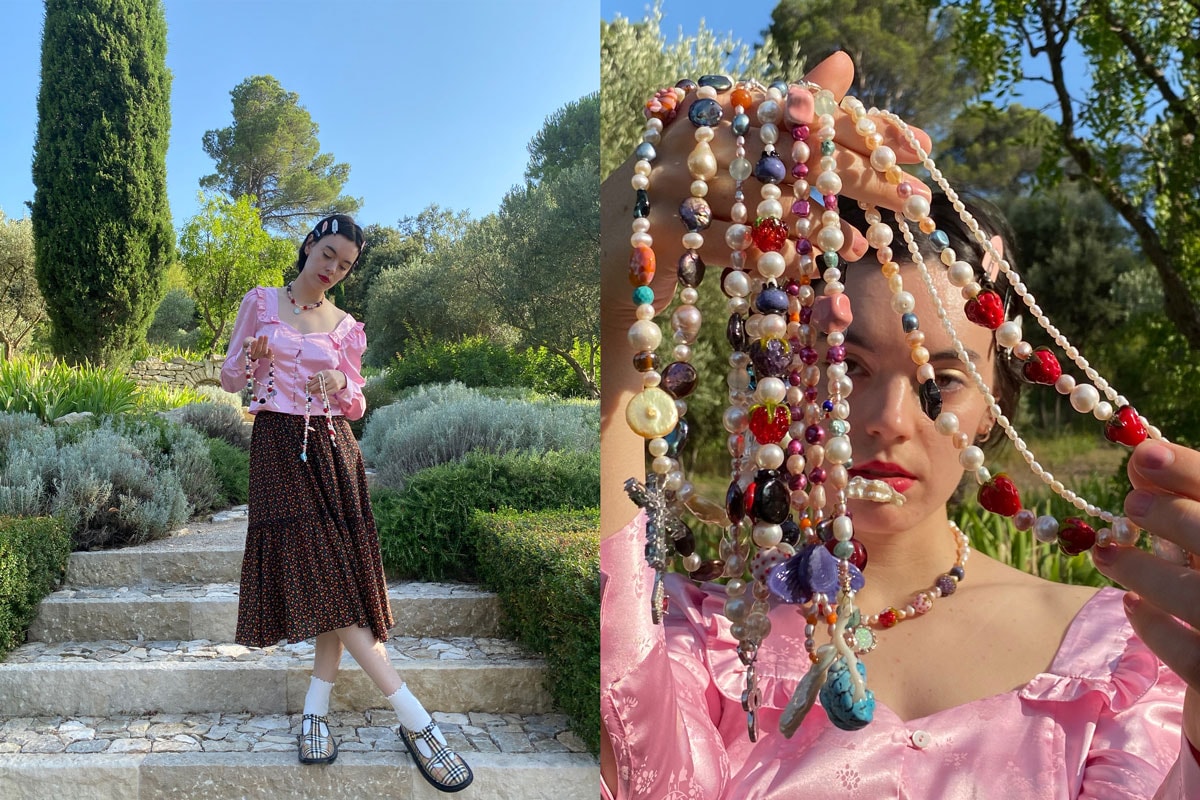 What inspired you to launch Beepy Bella and how did the use of pearls play a role in shaping your brand's identity?
After the course at Central Saint Martins, my mother and my partner both told me that I need to focus on jewelry. Tying back to the way I dress myself and how important personal style is to me as an artist and a form of self-expression, I had purchased this vintage Judith Ripka necklace and it was a pearl necklace which had this huge cross pendant with a purple stone. When I put it on, I felt like it really transformed my outfits into something so much more mysterious than what they would appear to be without that necklace. That made me really think about the power of jewelry and how fashion is this unsaid language, because people understand who you are from what you wear. I love that jewelry can transform any outfit.
After buying this necklace, every time I wore it I felt like it changed every simple outfit into something so much more edgy, serious and beautiful. I wanted to create jewelry that evoked that same emotion, for not only myself but for other people, because in a sense I want them to have an identity from wearing that piece. As an artist and designer that's what I want to do with Beepy Bella, which is to help people find this unheard sense of identity that they wouldn't have come across otherwise and create something really unique that the wearer feels emotionally attached to, cared for and loved. Beepy Bella does that. Pearl necklaces give off this sense of a conventional dresser or an older woman who lives on the Upper East Side. Being able to break that down and make something that's sculptural, one-of-a-kind, art-filled and performative has been exciting for me in the sense that I was able to break that mold and open up pearl necklaces and pearl jewelry for people of all sorts.
How has living in Switzerland, Paris and now, New York influenced you personally as well as the way you approach designing and creating art?
I think the foundation of who I am is the fact that I've lived in all of these different places, experienced different cultures and had to transform my identity over and over again as a child. At a young age, I deep-dove into my creative practice and throughout every single location, I was able to dive into my fantasy, build this sense of self and be able to live through that versus my surroundings. With that being said, I did get really inspired by so many different forms of dressing and fashion through every place I've lived.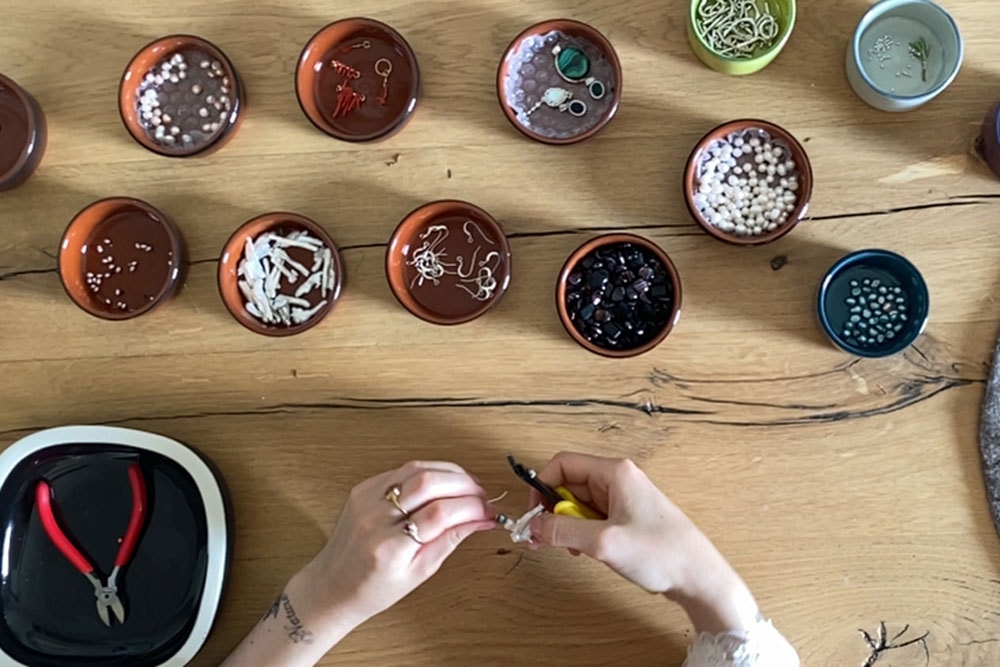 What is your design process like when creating a new piece of jewelry such as a necklace or earrings?
For me, it's a creative process entirely and I get really inspired by vintage beads, specifically glass or porcelain beads because they have this narrative quality to them. One of my favorite beads that I've sourced recently, are these vintage glass bird beads that are made by hand. I love being able to have these kitschy moments that also reference this fairy tale-esque world I've created. I get a lot of inspiration from the beads that I source or make, especially knowing that I am obsessed with fairy tales, mushrooms and magic which helps me narrow in on the specific types of beads that I like. From there, I'll spend hours and hours researching different materials and artists who make their own beads.
In terms of the placement of the beads, that whole process involves a form of synesthesia, where I see or taste colors or I hear textures. It's almost like this mashing of senses and when I make necklaces, that plays a huge part because in a way, I can taste the beads that I place and I can feel the texture of color. It's a very psychedelic, out-of-body experience where I am playing with form, shape, color and texture and can taste, smell and feel all of these things which inform one another. I kind of mix everything into a "soup" and have this unleashing of creative freedom where I'm able to build out a sculpture that feels as though I'm not looking at it with my eyes. My process has this interesting surrealist experience to it, which I find to be really cathartic, because it also reflects into my personal experience, my upbringing and my viewpoints on life. I think my jewelry pieces are autobiographical in a way and that's why they can all be so unique, because they're like poems, diary entries or paintings and they reflect my life in a way.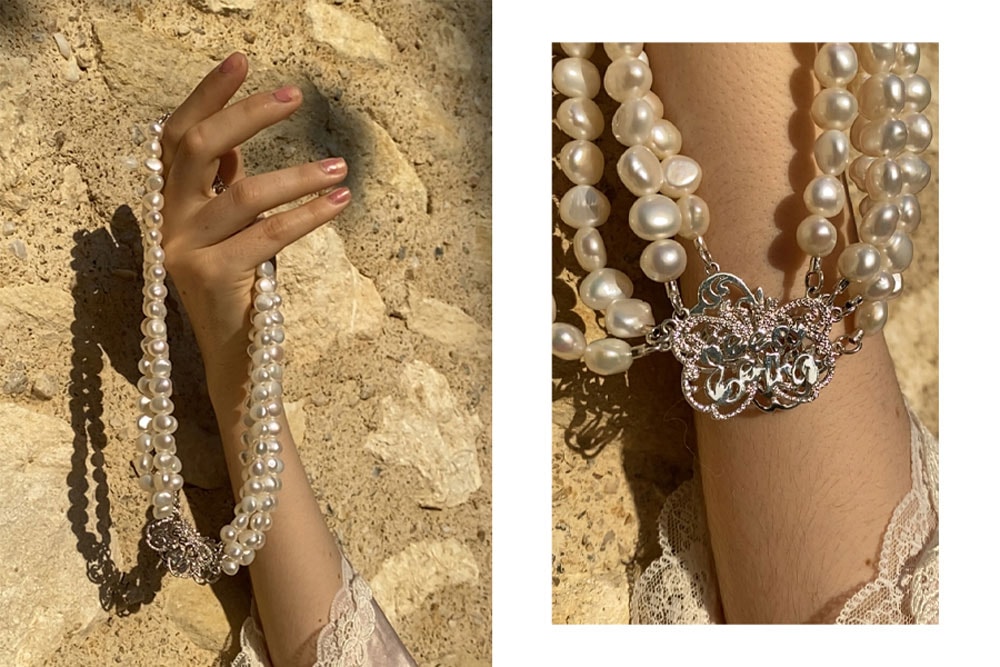 How did you learn the technique of glass-blowing and at one point, did you decide to integrate the technique into your own brand?
Because of my artistic practice before jewelry-making, I've always been really keen on mediums and materials. I got into glass-blowing because I was making jewelry and I wanted to understand how to make glass beads. I actually took a one-day intensive course at UrbanGlass in Brooklyn where we had two to three projects that were assigned to us to make. I ended up making twenty-five different beads that had nothing to do with the projects but I was just experimenting and melting entire tubes of glass onto each other and making these gigantic beads.
The process of glass-making is very fun and when glass melts, it's almost a honey-like consistency — you can melt it onto each other and you can play with the temperature. It's almost like this form of wizardry because it's such a magical feeling. Something that I really loved and wanted to carry with me throughout my entire jewelry design was the importance of glass, because I think it's such a beautiful medium that is so underrated. And even if I don't make my own glass beads, I always source from independent artists who have their own glass practice. I love working with other artists who have been perfecting their craft for many years.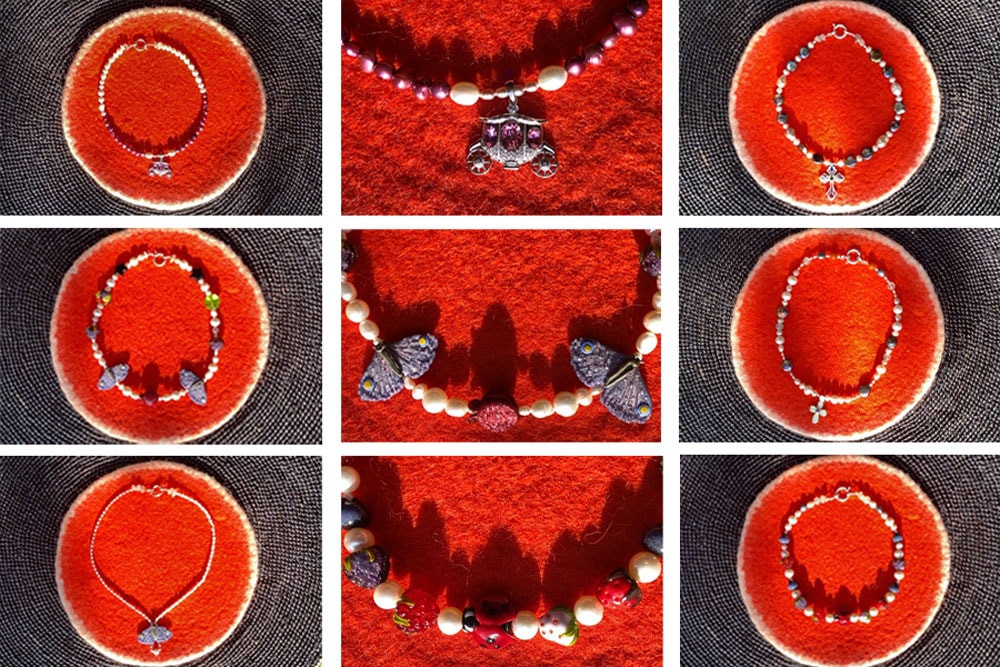 What is your design philosophy like when setting out to create a new series of jewelry and how do you determine what pieces or key themes you'll focus on?
Not having seasonal collections is something that I consciously decided to do, because I think it's more sustainable. I think it's easier to make pieces when I feel like making them and it's a very organic process for me. I do have collections, but I look at them more as series. Each piece I make is one-of-a-kind and unique and each piece informs one another. It's all about experimentation and I think it's an important aspect of my process to showcase within my work. When I drop collections, they are more like a series of paintings or a series of sculptures that all relate to each other, but each have something different and unique to say. It's this sense of building out a world or a mini-world within my grander Beepy Bella world, and they all exist within the same fantasy. They just represent different chapters of a book.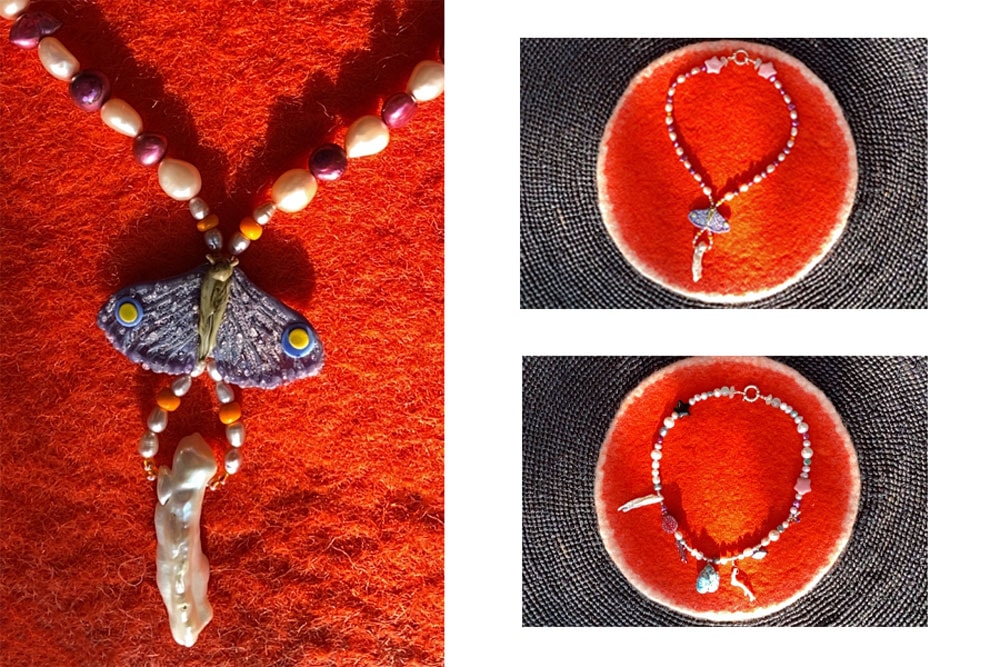 Walk me through the inspiration behind your latest collection and some of the elements you wanted to bring to life.
A lot of the beads that I am using now were really inspired by my surroundings in the South of France. For example, there are a million moths in the South of France, so every night I would have to turn off all the lights because the moths would go towards it. To me, moths are so beautiful and one of my favorites is the Luna moth. It has this beautiful lime-green color and it looks like it came from the moon. I think moths are so special because in a way, they're like fairies to me, their wings are beautiful and monochrome and they're not as appreciated as butterflies. Moths are the underdog of that whole realm and something I like to look for is the overlooked or the under-appreciated and bring it into existence by making it into something that is unique, sought-after and desirable.
I think I do that with my beads as much as I do it with my whole design process and image-making for social media. I love kitschy images and my love for these niche things always helps inform my bead placement and my design process. The new logo necklaces [I designed] were really interesting to me because I wanted to create something that directly relates back to my sense of community and my brand. It's a good example of wanting to be "part of the club" in a sense because you can buy into this necklace and feel like you are a part of Beepy Bella. I think it's a great way to spread my brand message.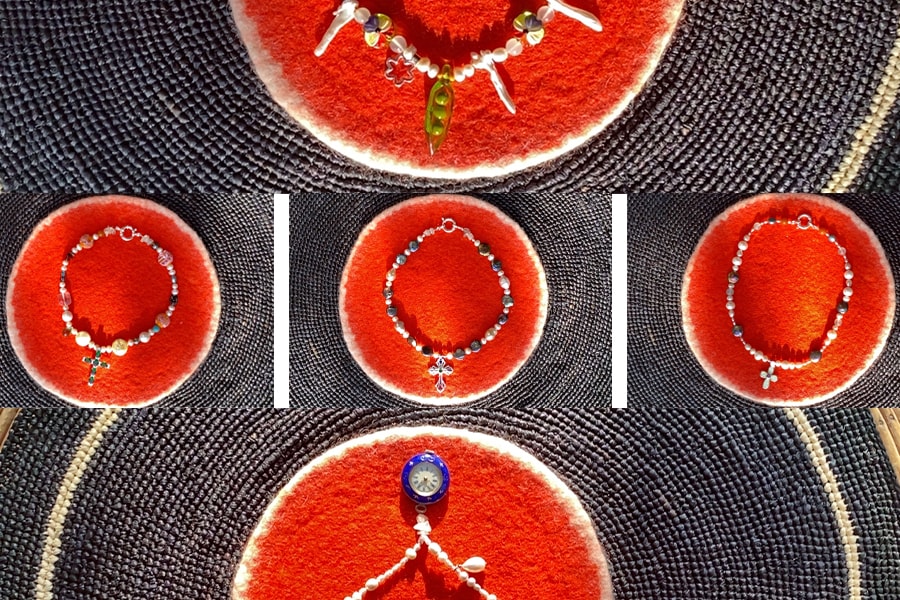 How have you been able to foster a sense of community between you, the artists and innovators that support and are a part of the Beepy Bella world?
I think it's a blessing to be able to have a community and it's not something that I had when I was growing up or when I wasn't on Instagram as much. I think social media has been a big part of community building for me and it's been exciting to bring other people into my world. I also think it's important to have other perspectives on fantasy and on utopia, because it helps inform one another and brings out this sense of world building that is much grander than something you can do on your own. I feel very grateful that people respond to my sense of fantasy, fairytales and magic and want to bring their own sense of meaning to that.
When I was younger, I got some great advice from a family friend who is an artist and he treats everyone like they're exactly the same. For me, I treat my top customer with as much value as I treat an Instagram follower that just happened to follow me today. I'm so grateful for anyone that just takes a glance at my designs because it means that they saw what I'm doing and in a way, they're responding to it, and that's something I don't take lightly. I really value it and I think that's why I want to continue to grow. I feel like people respond to what I'm doing because it comes from a really humble place where I want to relate with everyone, I want to hear everyone's conversations and I want everyone to feel loved when they come across Beepy Bella, no matter for how long they do. That's the sense of community I like to build and, as an artist and someone who lives within the fashion industry, I want to create a space that is warm, inclusive and has a general sense of love that is given to anyone.