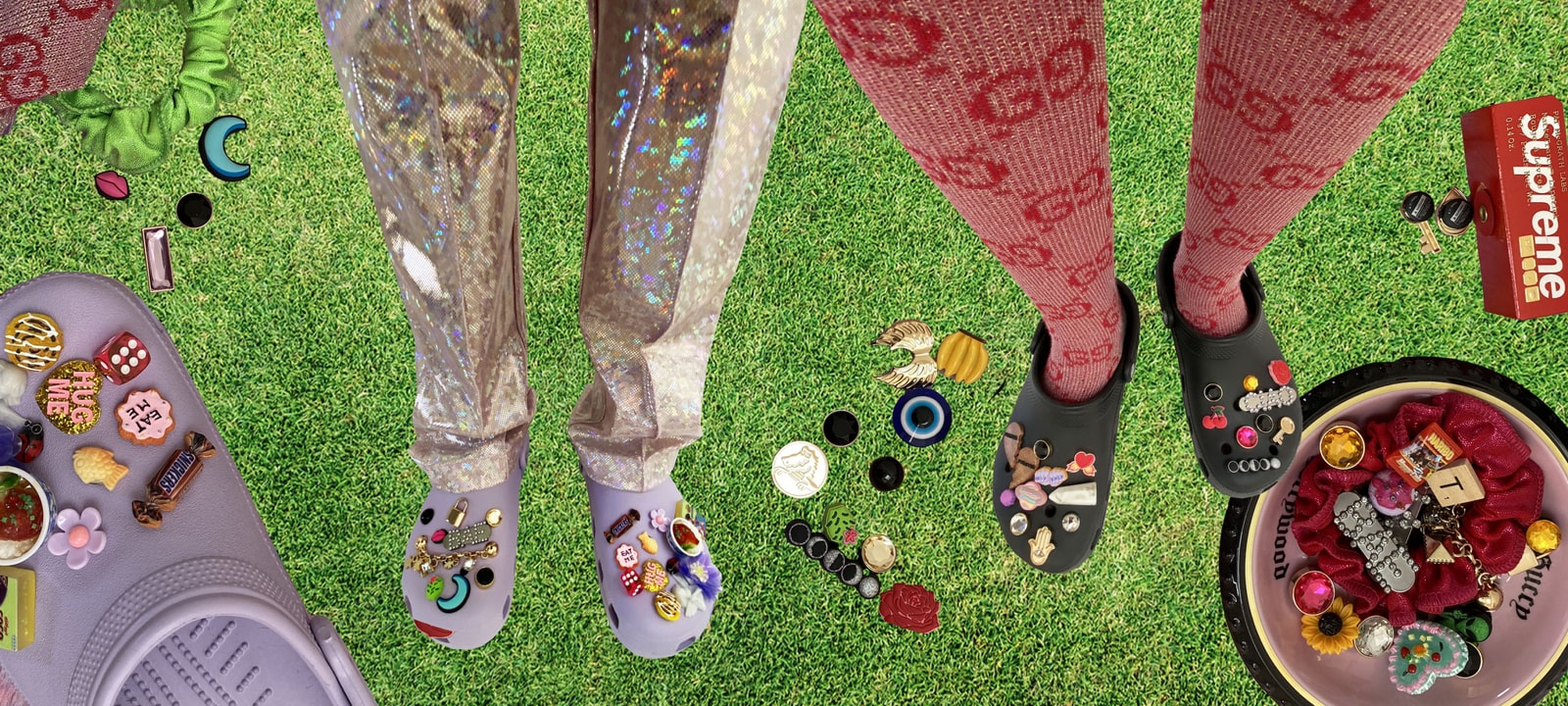 How Crocs Became the Ultimate Shoe for Self-Expression
Whether you love or hate them, Crocs are everywhere right now. The rubber shoes are iconic (whether you want to admit it or not), and will become a key staple in our post-pandemic footwear rotation.
Justin Bieber, Post Malone, Christopher Kane, Pleasures, Liberty, Chinatown Market. At first glance, these names may seem to have zero correlation, but after a closer look, they all have one thing in common: Crocs. In 2017, Christopher Kane debuted his collaboration with the footwear label, dressing the shoes with crystal-inspired Jibbitz and a marble-like design, and since, the collaborations have increased rapidly. "Nowadays there are so many designer collaborations, it's very important to me that my partnerships stand out and mean something," said Christopher Kane about the partnership.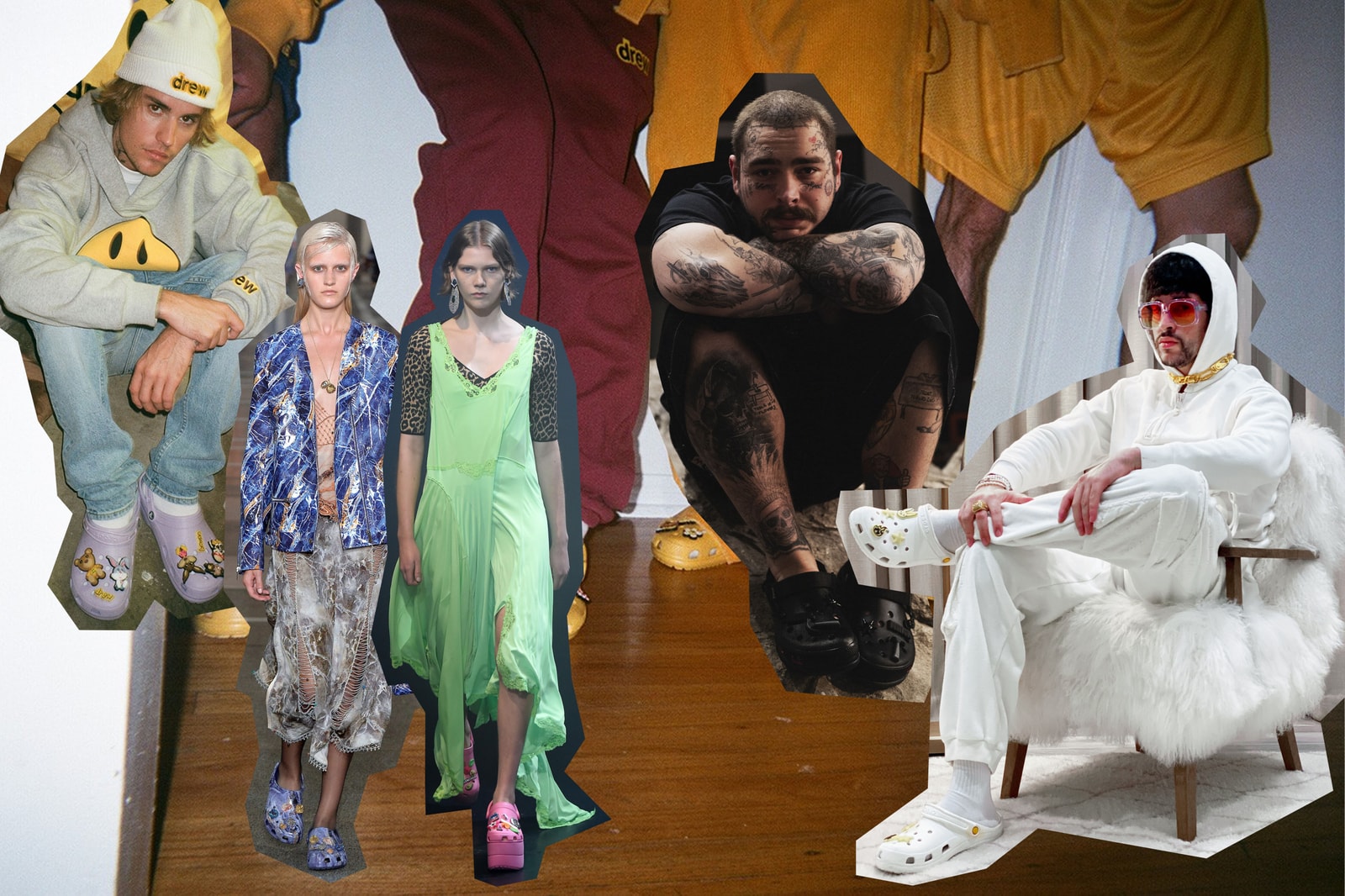 In the same year, Balenciaga also debuted its own take on the shoe for its Spring/Summer 2018 collection, adding an exaggerated platform to the shoe. "It's a very innovative shoe. It's light, it's a one-piece foam mould and to me these kind of techniques and working with these kind of materials is very Balenciaga," said Demna Gvasalia, the label's creative director.
Crocs was founded in 2001, and the iconic clog silhouette released in 2002. In 2006, the company went public with the most successful IPO in footwear history at the time. The same year, Crocs Inc. also purchased Jibbitz, an accessories manufacturer that creates accessories that snap into the holes in the Croc shoes, for $10 million. Now, in 2021, we're seeing Crocs all over the world, and Jibbitz being used as the ultimate customization tool.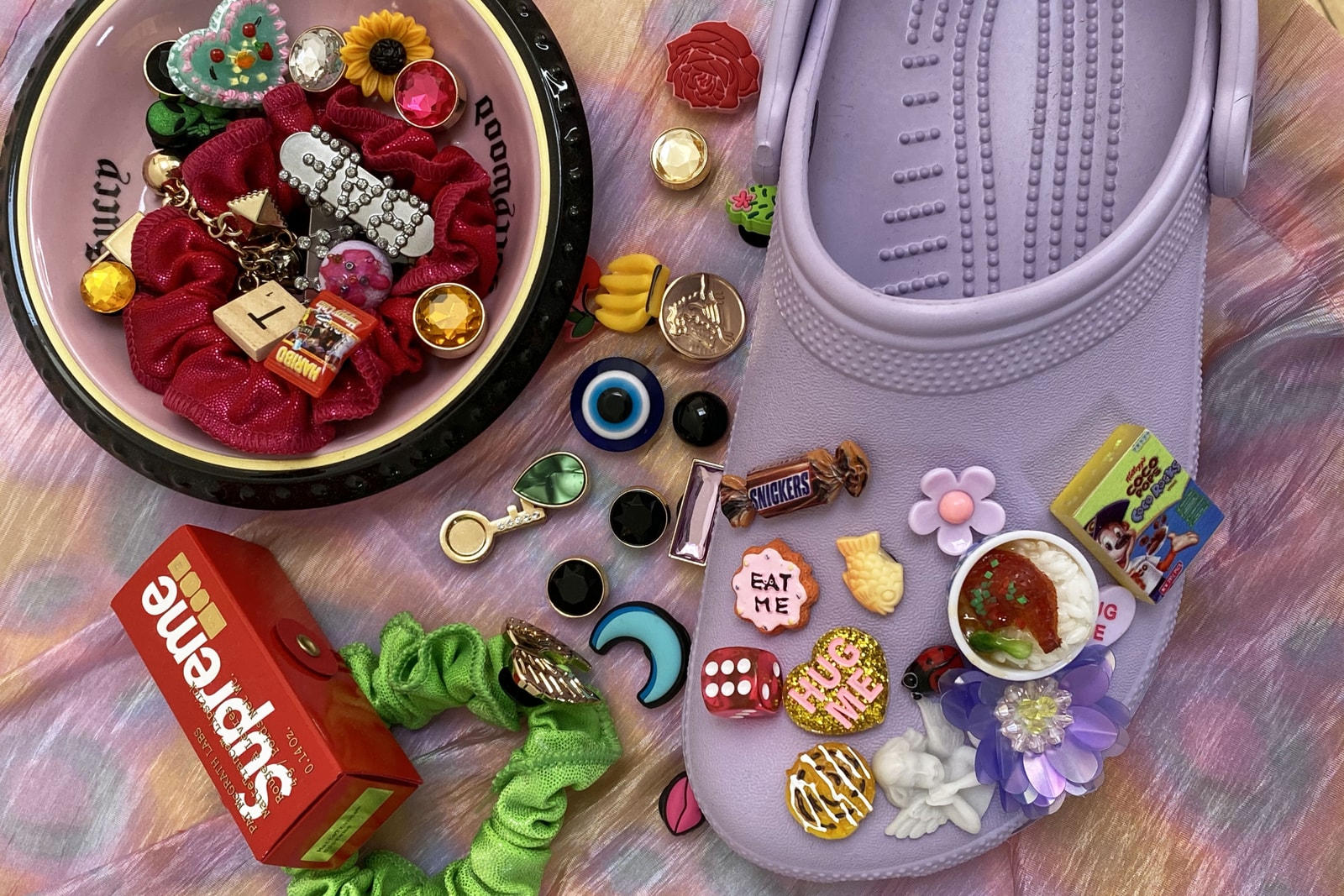 UK-based creator Blackcurrant Pop has opened the door to a whole new world of Croc charms, creating her own versions of Jibbitz featuring everything from a bowl of ramen to bags of Haribo sweets, cakes and more. "I took the leap and left my design job at the end of 2018, moved back to my roots in Wales and pursued Blackcurrant Pop as my main career (whilst working part time as a baker and waitress). I think you have to be brave. If there's something you really want to do or something you want to change then you need to go for it and at least say you gave it a try," explains Beth, the creator behind the label. And her business has worked – Beth currently amasses nearly 80K followers on Instagram, among them is fashion-lover Tina Rose Lawless, who shares her bold and eclectic style via Instagram, and frequently wears Crocs customized by pieces from Blackcurrant Pop.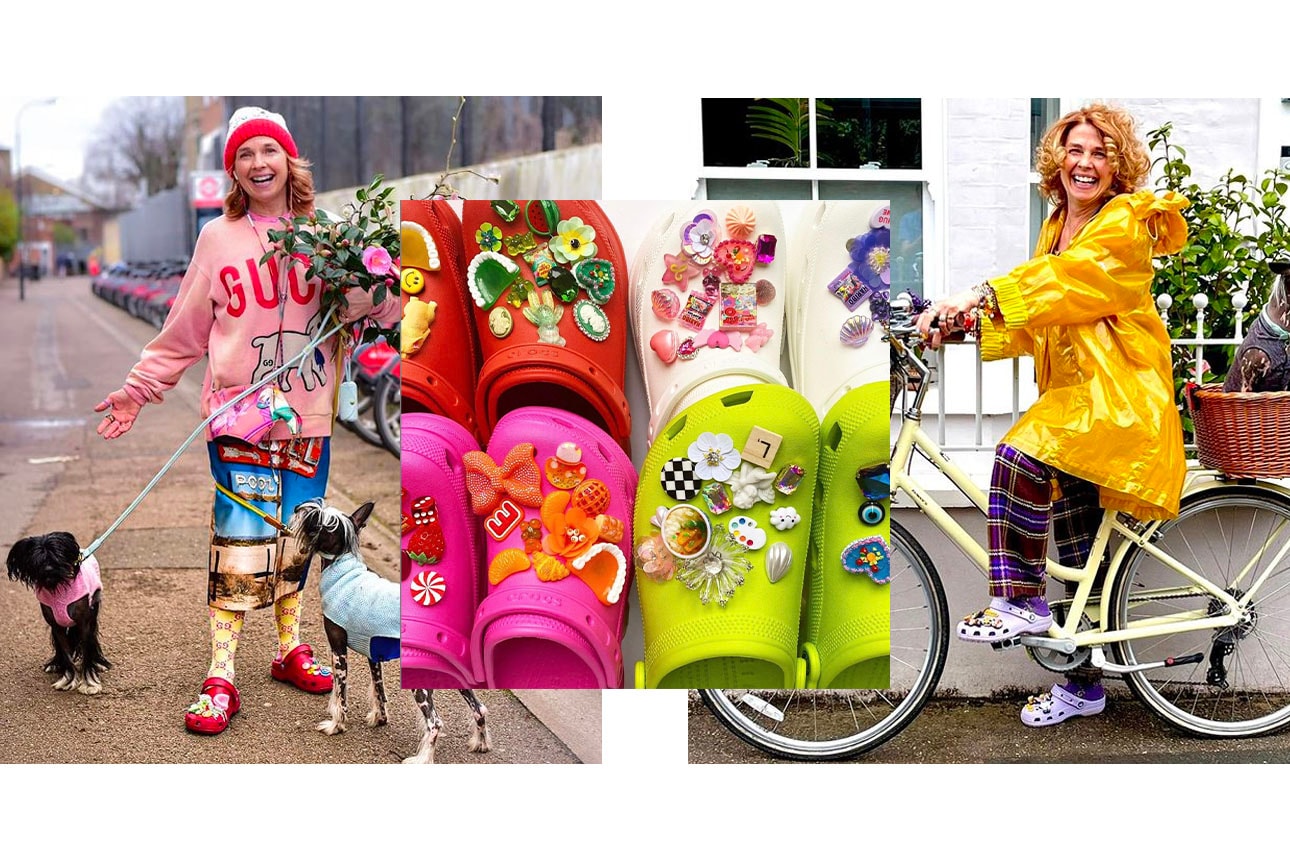 "I just love my crocs and I'm always pimping them up for my followers, friends and family. They are so great to wear when I'm standing all day at my job at Dover Street Market London, too," says Tina. A quick scroll through her Instagram, and you'll find everything from white platform Crocs to tie-dye clogs – all sporting eye-catching Jibbitz and other charms. "I have six children and always pimped their Crocs up too (when they were younger). They come in such amazing colours now, and even platforms! And I adore Blackcurrant Pop gems, especially the teeth!"
In a post-pandemic society, we value comfort as well as style, and Crocs have become the ultimate tool for self-expression. Whether you want to keep it plain and simple in a pair of classic black clogs, or go all out in bright pink platform shoes, you'll be able to find a Croc for you. And when it comes to charms and Jibbitz, the options are endless.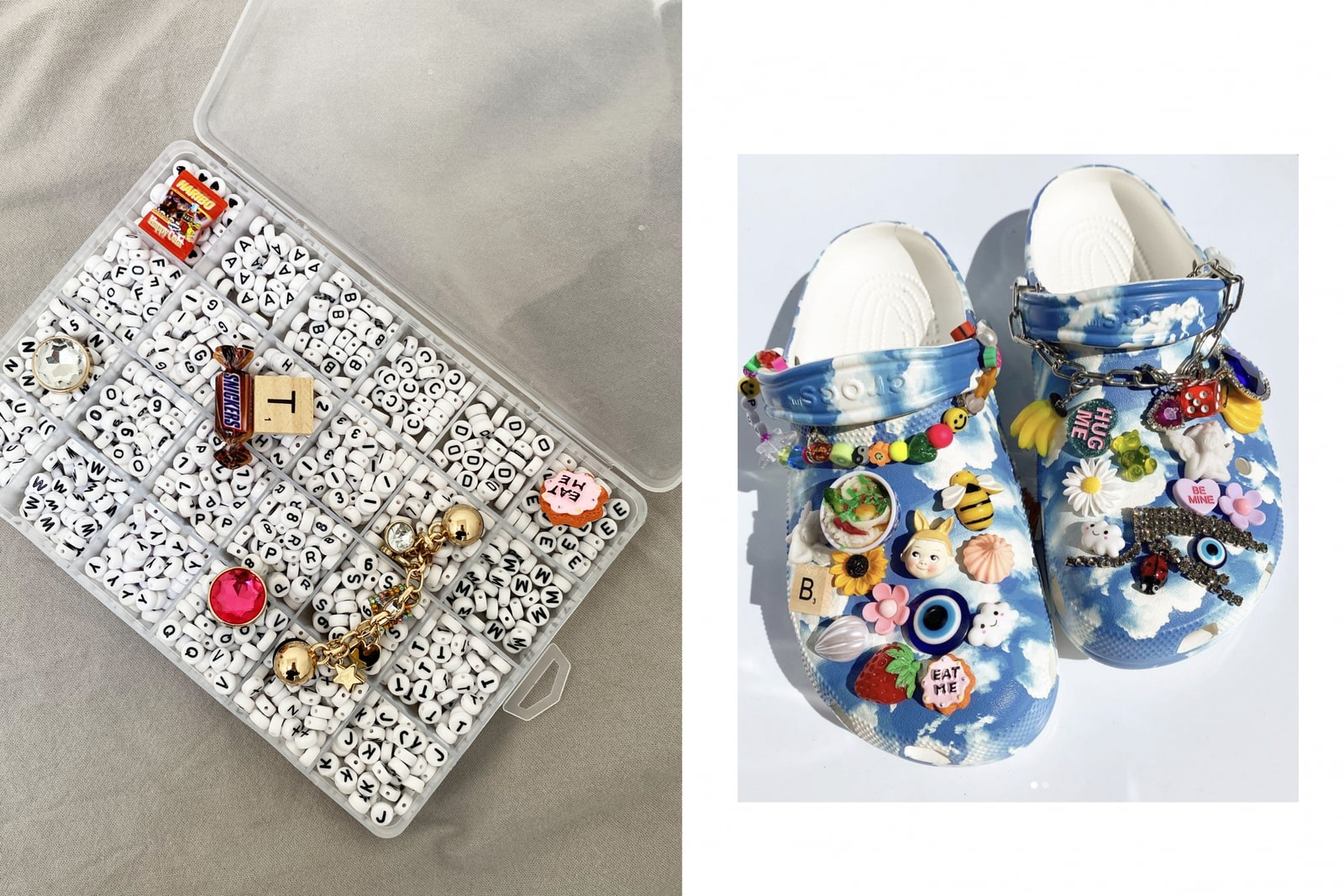 One thing is for sure, and that is that Crocs aren't going anywhere. Expect bigger and better collaborations, more creatives like Blackcurrant Pop using the shoes as a tool, and your favorite style icons wearing a pair. Justin Bieber, Emma Chamberlain, Miley Cyrus, Bad Bunny and Post Malone are just some of the names already sporting the rubber shoe, and we guarantee you'll be seeing more. It's a Croc revolution, baby.