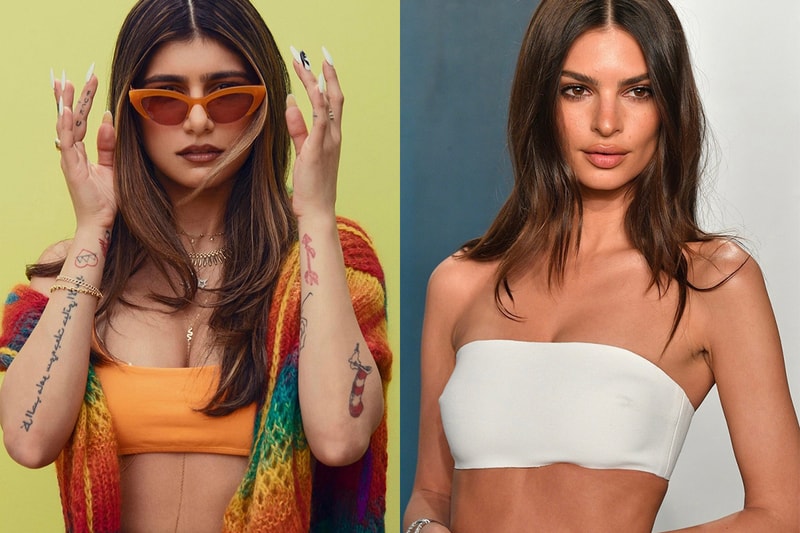 Sex & Dating
Emily Ratajkowski and Mia Khalifa Dragged for Views on Age Gap Dating
On the latest episode of 'High Low with Emrata'
Emily Ratajkowski and Mia Khalifa Dragged for Views on Age Gap Dating
On the latest episode of 'High Low with Emrata'
On the latest episode of High Low with Emrata, host Emily Ratajkowski and guest, former sex worker Mia Khalifa, discuss the problem with age gap dating.
In the past few weeks, age gap dating has been trending not only with celebrity couples like Billie Eilish and Jesse Rutherford, but IRL too. Most opted for victim blaming in the case of Eilish and Rutherford and referred to her as naive. In her recurring interview with Vanity Fair, Eilish discussed the relationship: "I managed to get my way to a point in my life where I not only was known by a person that I thought was the hottest f-cking f-cker alive but [I] pulled his ass. Are you kidding me?" Although she's proud of her "win," stars like Ratajkowski and Khalifa hold values that view this as impossible.
"Any guy who goes after a girl significantly younger than them is severely lacking in their life and I mean that confidence-wise," Khalifa told Ratajkowski. "They are falling short in so many places and that is the only place they can turn to feel like they have something on the scale of power." "Ultimately, it's predatory," Ratajkowski agreed. "Because you're manipulating someone who is not aware of what they're giving you. And it's unfair."
Fans immediately flooded the Instagram promo with their opinions. Some were misogynistic and others were clearly predators. But one, in particular, questioned how reductive Khalifa and Ratajkowski's perspective was. Agreeing that men can be predatory, the user elaborated that claiming all age gap relationships violate a power dynamic means that women like Eilish are naive or stupid. Because after all, a woman has a right to deem what's best for her.
What do you think? Is it dense to think that a young, yet mature woman can know what she's getting into when dating an older man? Or is it underlying manipulation?
For more on High Low with Emrata, check out this article on her interview with Julia Fox.
View this post on Instagram
---
Share this article