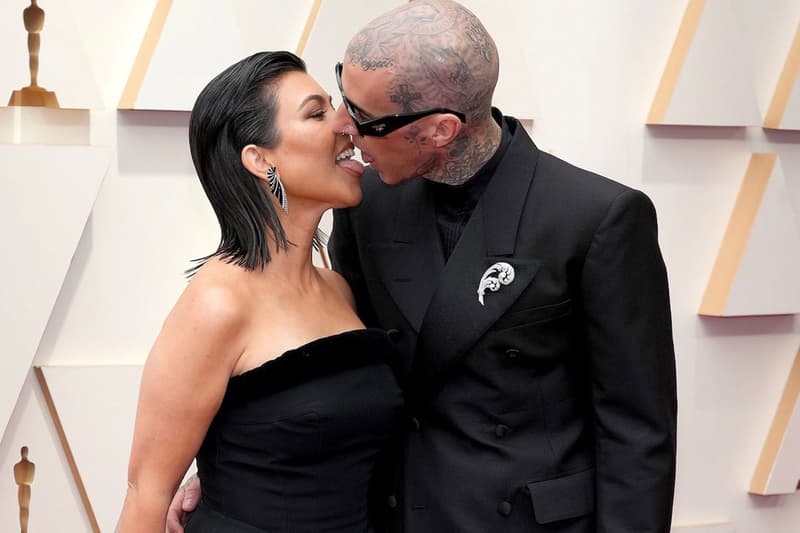 Entertainment
Kim Kardashian's Fans Want Kourtney and Travis Barker Removed From the Show
With a request to revisit *that* fight scene.
Kim Kardashian's Fans Want Kourtney and Travis Barker Removed From the Show
With a request to revisit *that* fight scene.
Kourtney Kardashian and Travis Barker have quickly become the rockstar "It" couple which fans ate up considering the chaos they endured via Kardashian's ex-boyfriend and baby daddy, Scott Disick. Between tongue kisses and elite fits, the world fell in love. But it seems the reign might be coming to an end.
In a recent tweet, Kim Kardashian asked her followers, "What do you guys wanna see for Season 3 of The Kardashians?" Fans immediately flooded the thread with hilarious storylines and anecdotes that could bring the monotone show to life. Other fans expressed concern over how "over scripted" the show seems this season.
What do you guys wanna see for season 3 of The Kardashians? Do you guys like family stuff? Work stuff? Kids stuff? BTS of shoots? Family pranks?

— Kim Kardashian (@KimKardashian) November 24, 2022
On an unexpected note, a fan replied, "Scott. We want more Scott and less Kravis. Please, for the love of God. Less Kravis. If I hear one more whispered 'yeah baby' or see another make-out scene I'm gonna k-ll myself I swear to God." Suspecting this was an isolated event, we carried on. However, fans continued to flood the thread with their thoughts on KRAVIS. "I'm sorry but same, I'm happy for her tho," said another fan.
I mean to be honest I want more of this sis! lol ?? because it hits home is literally my siblings and I! ???? pic.twitter.com/BFkjQ0QONm

— FΞЯИIΞ ✨ (@fernie_705) November 24, 2022
"I literally never skipped through KUWTK. I have skipped every Kourtney and Travis scene. It makes me so unbelievably uncomfortable," shared another. Apparently, many find the couple to be "cringe." What did they suggest you may be wondering? Real tea. In particular, tea such as Travis Scott's failed attempt to rebrand as a father figure post-Astroworld, or maybe even his cheating.
What do you think? Are you over KRAVIS? Or here for the love?
View this post on Instagram
---
Share this article