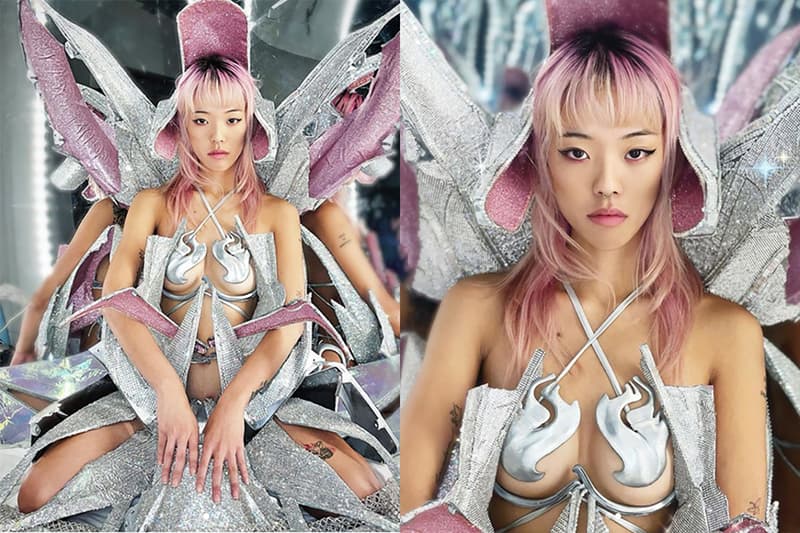 Art
How Nusi Quero's 3D-Printed Corsets Celebrate the Feminine Body
Loved by Chloe Bailey and Kylie Jenner, his wearable art is going viral.
How Nusi Quero's 3D-Printed Corsets Celebrate the Feminine Body
Loved by Chloe Bailey and Kylie Jenner, his wearable art is going viral.
Nusi Quero is a Los Angeles-based, multidisciplinary artist best known for his 3D-printed corsets. During the pandemic, Quero pivoted his passions from architecture towards 3D-printed designs. His work challenges many norms across fashion and art. but ultimately, he stands in his belief that his designs are not fashion — they are works of art.
Quero's art is currently a celebrity stylist favorite, with his pieces having worn by the likes of Chloe Bailey and Kylie Jenner. Despite this, he rejects the norms of the mainstream, explaining that industries like fashion are quick to deem something as last season and not "in" right now — he refuses to subject his work to such standards. Quero's creativity is an intuitive practice that he enjoys expanding upon. He makes it clear that he could care less about technicalities, like what materials are popular or how long it takes to create something. It's about adorning women with artwork and watching them transform into the most powerful beings. In short, his art is a celebration of the feminine body and a collective favorite: sex.
We sat down with Quero to gain a deeper understanding of his muse and practice that counters everything the fashion industry usually stands for. Here's an inside look at what fuels the artist.
View this post on Instagram
In one of your Instagram captions, you shared that the current state of the intimate wear industry — including lingerie and fetish wear — was particularly boring to you due to repetition and lack of innovation. What creation of yours do you feel emulate the change you are creating within the industry?
I think that almost the majority of my physically realized wearable works speak to this motive. Some maybe indirectly. I noticed this phenomenon that occurs when people try on or wear the work — they are imbued with a sense of power or courage, often willing to bear more skin or be slightly squeezed than they would normally. Some of the pieces restrict certain movements and encourage posture. All of these effects I believe are similar to the experience of lingerie or boudoir. … I try to serve the inquiry of "Is there a world where this isn't taboo? Can we serve the enigma of sexual expression in places outside the bedroom, or photo spreads posted in fear of removal for being 'indecent?'" The more pieces that I make, the more the answer seems to be "Yes." That's very exciting, I think.
If you had the ability to make an immediate, yet long-lasting change within the industry, what would the ideal future of lingerie look like for you and the women you create for?
I would never prescribe aesthetics to anyone besides myself, but I am passionate about encouraging everyone else in design, art or synthesis to push it harder, evolve and change our realities into a more exciting place rather than slightly modify some existing idea that wasn't theirs. … Every single piece that I make, I workshop with friends or have models to try to learn more about the desires and ideals between wearer and object, or wearer and system, and how to make them feel more powerful, expressive and comfortable.
You make a lot of references to helping women channel their inner goddess. More specifically, you try to make work that is worthy of this sensual, yet "hyper beautiful" and "shamanic sexy" goddess who is able to make even the most untameable bow at their feet. What inspired the creation of this muse? Is she a creation of your mind or inspired by a person?
Like all things in my realm, the inspiration was emergent. … She is indeed a creation that fuels my other creations. She has been very helpful, I think, and perhaps speaks through the nested visions and dreams that many women I have collaborated with thus far. I think she is probably inspired by many powerful women, no one in particular, but perhaps somewhere deep in my mind. I don't really ask why or reach into the past for answers — like I mentioned, I think of my work as "emergent." I accept and adapt to the ideas and visions that appear to me, trust in them, listen to them and find their relevance to the broader narrative of my work as I work on them, rather than attempt to execute pre-conceived ideas. It is a manifesto writing itself.
When did your appreciation for her develop?
It was, I think, a specific digital artwork that I made that conjured her — this kind of like brooding golden empress character, with ornate, almost jewelry pieces grafted into her skin. After making it, I think this narrative kind of self-assembled in my head, and my will to sort of "serve" her. It was sometime in 2019.
In your interview with Expo156, you shared that materials are not a part of the creative process you tend to obsess over. You've used materials that give your work an "opulent, yet janky" feel. It's about how they come together and sometimes that means a toy car part, bungee cords and springs will do just the trick. Is there a certain material you've worked with that you feel unlocked a creative idea or led to a breakthrough of sorts?
Oh my goodness, yes! Almost every material I encounter unlocks something. For instance, two weeks ago, I was at the hardware store getting some replacement Dremel blades, which I use to carve up and refine my 3D-printed works, and I encountered so many small treasures that I purchased with the intent you mentioned. Bungee cords, wire hardware, even metal clips for hanging decorative plates on the wall. That very evening, I worked them into a look I was doing. I will include some pictures of it. I live for this sort of unlocking experience.
I loved seeing Chloe Bailey in your designs, especially because Bailey's current artistic journey is all about coming into her authentic self, whether it intimidates the world or not — which is similar to your vision. Was the piece commissioned for her? 
It was created as my own design, and her stylist has pulled from me multiple times. I love seeing the work on her. She is so powerful and rocks it immaculately. I hope we can work on a custom look together sometime.
View this post on Instagram
Lastly, is there a piece of yours or photo of your work that you feel best communicate your vision?
I truly don't. I feel like every new piece serves it better and better. It's very exciting. I hope everyone else is excited too. I've devoted my entire life to this body of work, I hope it comes through in the experience of wearing it, or beholding it.
---
This interview has been edited and condensed for clarity.
Share this article