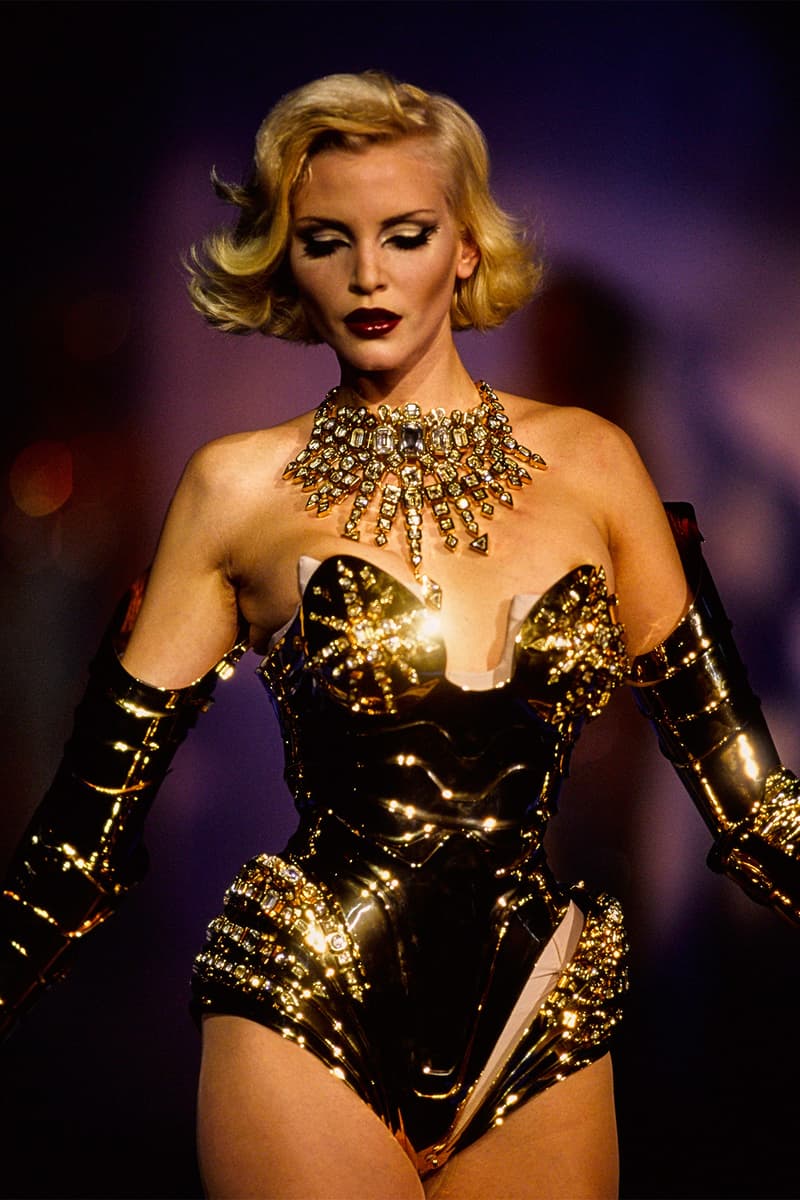 A Look Back at Thierry Mugler's Most Provocative and Fetishistic Designs
Reflecting on the legacy of the late fashion designer.
Fashion
A Look Back at Thierry Mugler's Most Provocative and Fetishistic Designs
Reflecting on the legacy of the late fashion designer.
A star in the world of provocative haute couture, the late Manfred Thierry Mugler led the industry for over 50 years. His strongest inspirations ranged from futurism to elegance to fetish wear. By the 1990s, the designer had already begun building what would become his iconic fashion house. His sexiest pieces have an over-the-top, fetishistic and sometimes architectural feel. Mugler's memorable '90s runway moments led him into experimenting with a number of creative projects, but ultimately, sculpted looks that scream sex appeal were his signature.
In honor of the fashion visionary, revisit some of his most iconic designs below.
Fashion shows as performance pieces
Mugler's fashion shows were performance pieces. Every aspect of each show had the most immense attention to detail, from the music selection to the models' movements and expressions. With experience in several art forms, the multidisciplinary artist was able to curate captivating shows using fashion, movement, music and more.
Have you ever met a woman and just thought, "Wow, she looks expensive"? Mugler's model selection was impeccable in that regard. He had a way of casting models that exuded sex appeal and elegance, no matter what they were wearing.
"His fashion shows were more than a show, they were grand performances, mixing fashion, with theatre and dance, we will miss his look and his audacity," French President Emmanuel Macron shared with The Telegraph after Mugler's death in January, 2022.
The Fall/Winter 1995 show
If there's a fashion show that foreshadowed Mugler's costume design era, it would be FW95. It's also the perfect example of the designer's defining qualities: hyper-femininity and fetishistic feels. Ironically, this collection is also a BDSM fan favorite for its intense, sultry black looks. As Vogue wrote at the time in a review, Mugler had a rather "liberal use of fetishistic latex." Even the models that wore other looks like golden bodysuits channeled domme-like energy. Notably, the show also featured iconic performances by artists like James Brown who sang "Sex Machine."
Mugler's model selection in the '90s was an important aspect of his shows. His models always gave off the sultriest and diva-like energy. However, while the designer dedicated a majority of his fashion career to designing clothes for women, some critics did not approve of his appreciation for hyper-femininity. In 2017, he sat down with Numeró and responded to critiques that called his work degrading. "It was the complete opposite! You know sometimes it's better not to try to understand human bulls-t … I was absolutely gobsmacked," Mugler said.
Fetishistic and hyper-feminine elements
Mugler pulled elements from fetish wear such as latex and its architectural look and build. He wanted to give his designs broad shoulders while cinching the waist to portray hyper-femininity. Some pieces were all black and heavy with latex, while others showcased feathers and more showgirl-like qualities. He didn't just stick with creating corsets, instead he was creative and built what appeared to be armors of hyper-femininity.
Some dresses were so tightly sculpted that the models who wore them could only tiptoe, not walk. To some, that may sound preposterous, but think of the stance such a tight dress gives. It's almost as if these dresses were meant to exude elegance and nothing else. They were not meant to be walked in. Simply stare at the queen in her elegance and go. Cardi B's arrival at the "Thierry Mugler: Couturissime" exhibit was a perfect example of how tightly sculpted his work was. It was her first appearance since the birth of her child, and she served straight sex appeal in Mugler's design. The power of haute couture.
Mugler's transition into costume design in the 2000s
During his time away from his fashion house in the early 2000s, Mugler transitioned into several industries. He focused more on costume wear and assisted fellow icons like Beyoncé on her I Am… world tour. In the music video for "Sweet Dreams," Beyoncé is seen wearing Mugler's costume design as well.
"I was very touched that she asked me," Mugler told Vogue, "because she could have asked younger people. But she recognized that I was pretty much at the origin of this moment now about superheroes, the structured silhouette and the extreme silhouette, and she wanted that."
Mugler eventually returned to the fashion industry years later and created even more iconic fashion moments, like Kim Kardashian's wet dress for the 2019 Met Gala themed "Camp: Notes on Fashion." The skin-tight dress took eight months to make, and was Mugler's first design for his fashion house in 20 years. It served drama and was meant to emulate the image of a woman coming out of the ocean slowly and sensually. This dress is another example of elegance that restricts movement, as Kim K shared she couldn't actually sit down in this dress. The celebrity joked during a red carpet interview, "Anna, if I'm mingling all night and not sitting down, you know why."
Mugler's presence in the fashion industry is one that will most likely never subside. His pieces were so dynamic and provocative that it's quite literally impossible to leave him out of any discussions surrounding fetishistic fashion and overall elegance.
Share this article