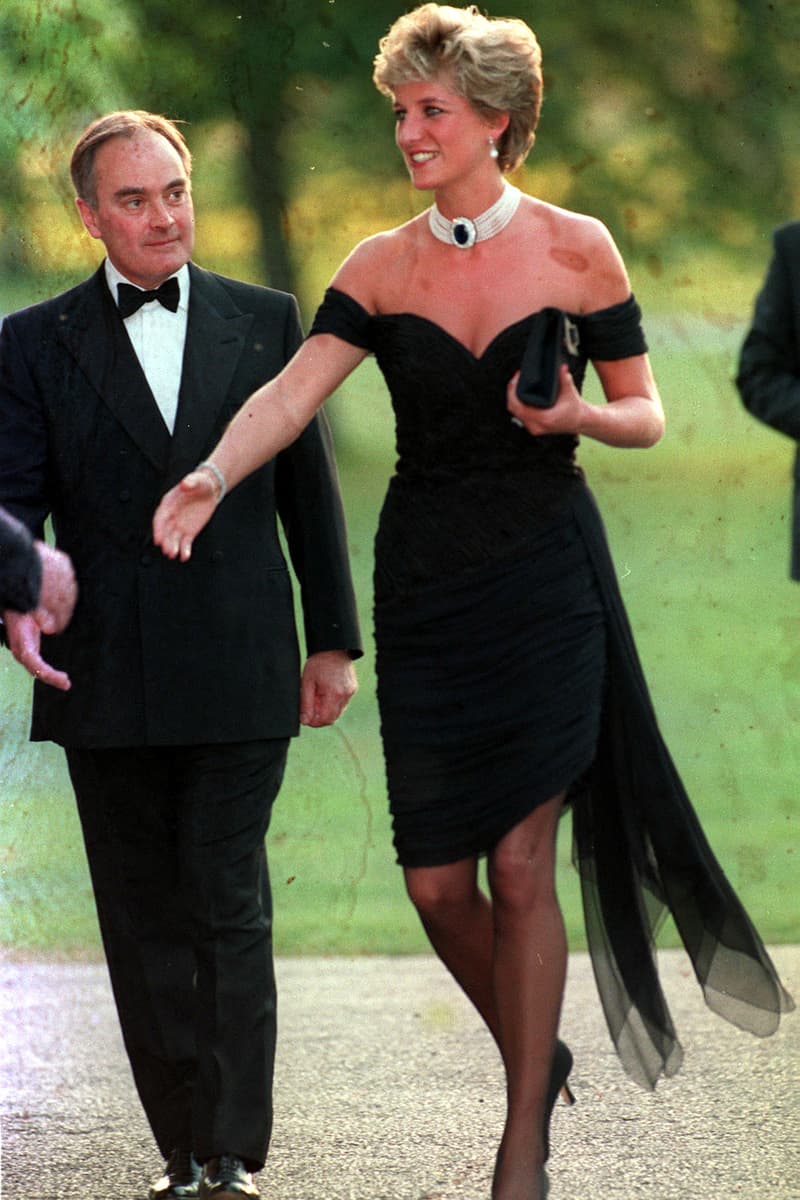 Princess Diana's Revenge Dress and the Relationship Advice It Taught Us
The little black dress that made the world pause.
Sex & Dating
Princess Diana's Revenge Dress and the Relationship Advice It Taught Us
The little black dress that made the world pause.
Princess Diana's "f-ck you dress," also known as the "revenge" or "vengeance" dress, is one of the most iconic breakup stories in fashion history. It's a story riddled with infidelity, designer clothing and per usual, an obsessive mistress.
Princess Diana was always one of the more daring members of the Royal entourage. Dating as far back as  1981 when she wore a dress that was considered extremely risque for both the time period and her role within the family. Not to mention, she ended up dating Prince Charles after his failed quest with her sister.
It's important to keep in mind that as a member of the Royal Court there are an extensive number of fashion rules one must follow. Members must abide by rules like the appropriate length of skirt, natural tone nail polish and of course, pantyhose anytime legs are exposed. Princess Diana had a bold disregard for certain rules which was seen not only through outfits, but in her philanthropy, as well. The public loved her bold approach and surprisingly, so did the woman having an affair with her husband — but we'll get to that later.
Infidelity
Diana knew her husband, Prince Charles was entertaining another woman. And she knew exactly who it was. The woman in question was Camilla Bowles. Diana learned of the affair on one of the most important days of her relationship with Prince Charles — their wedding. Right before the ceremony, she discovered an engraved necklace that was meant for her and when she confronted the Prince she was told that "a certain amount of time would always be put aside for Camilla."
In 1993, a few years into their marriage, a phone call transcript was leaked that outed the affair. The situation was called "Camillagate" and it explained in full detail, just how much the relationship meant to both of them. It wasn't a one time mistake, it was an ongoing affair. One that was passionate and so undeniable, even Diana had qualms about her marriage measuring up. In her 1995 interview with Martin Bashir she shared the infamous quote: "Well, there were three of us in the marriage, so it was a bit crowded."
Diana confronted Bowles years before Camillagate went public and boldly told her "I do know what's going on. Don't treat me like an idiot." But Bowles was more concerned that Diana could have any man in the world — especially since they all wanted her. Diana was daring, down-to-Earth and in a position of royalty. The world loved her and Bowles hoped this was enough to keep Diana distracted. But it was not.
The Princess of Wales had no intention of divorcing Charles and that was evident by her trying to work things out not only with him, but with his mistress, too. But the leaked phone call transcription outed just how messy the affair was and left the Royal family exposed.
Diana and Charles eventually separated until they made their divorce official in 1996. But before the divorce was made official, Diana made sure the world met the new her.
The f-ck you dress.
In 1994, Princess Diana attended a gala at the Serpentine Gallery in London's Hyde Park. That same evening, a documentary was released where Prince Charles publicly confirmed for the first time that he was, in fact, unfaithful. But never did he utter the words, instead, when the interviewer asked if he was unfaithful he replied: "Yes… Until it became irretrievably broken down, us both having tried."
Diana was supposed to wear a Valentino dress to the gala, but in bad form, the brand prematurely shared a press release about the dress she would don that evening. To completely switch it up, she went with the daring dress by Greek designer Christina Stambolian that she already had for three years. Stambolian shared that she never wore it because "she thought it was too daring," for a member of the royal court to wear. It was expensive and provocative, which didn't match the royal narrative she once had to obsess over. So it sat in her possession until (what would become) the perfect moment.
Upon arrival at the gala, Diana popped out of her town car in an off-the-shoulder little black dress with a sweetheart neckline. She paired the cocktail dress with an extravagant choker, black heels and the only aspect of her outfit that met royal protocol: stockings. For her manicure, she chose red nail polish, adding a more daring personal detail. Her tight dress fell above the knee and featured a long piece of sheer fabric that fell to her side and suavely followed her every move.
She appeared confident, unmoved and like her life was already moving on. It was us, the public, who was stuck in the past. "It was the first time people had been introduced to the new Diana, the one who didn't need the royal family, especially Prince Charles," fashion journalist and stylist Alex Longmore shared about the fashion history moment. "It's her smile, her confidence and her shoulders that make these photos so memorable."
Her appearance at this event shifted the headlines from discussing Prince Charles' discretions and put the spotlight on her. Failing to give the Prince any more attention or playtime when it came to her. To make matters even messier, Camilla Bowles and Prince Charles got married in 2005, and Bowles continues to try her hand at recreating Diana's iconic fashion moments — emphasis on tried.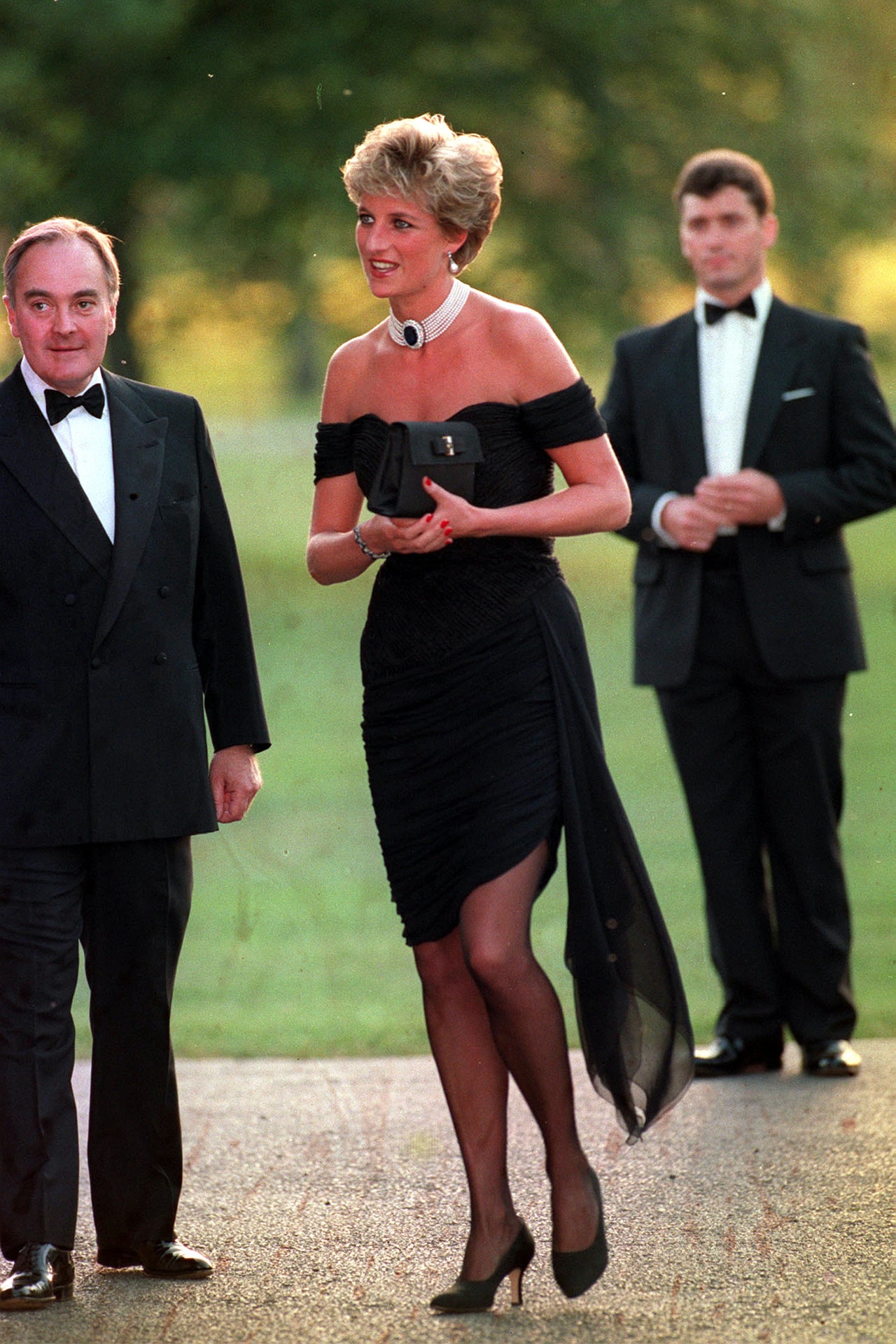 Takeaway
Some people claimed that Princess Diana was feigning disinterest the day she wore the revenge dress considering her last-minute change of mind. But what the world wasn't keen on yet, was that Princess Diana knew of her husband's affair before she even said "I do." The public announcement of adultery was not a life-changing ordeal, hence her ability to pop out in her finest the same day.
Now if she was feigning disinterest, I imagine it felt something like the trending TikTok interview where a reporter asks Rihanna what she does on those days she doesn't feel quite like herself and replies "I pretend." Whether that was the case here or not, our most important takeaways are one, never give a breakup or a toxic partner the power to ruin your life no matter how powerful they are. And two, in the case that life-altering relationship drama does take place, keep that little black dress on standby to remind the world you still got it.
Share this article