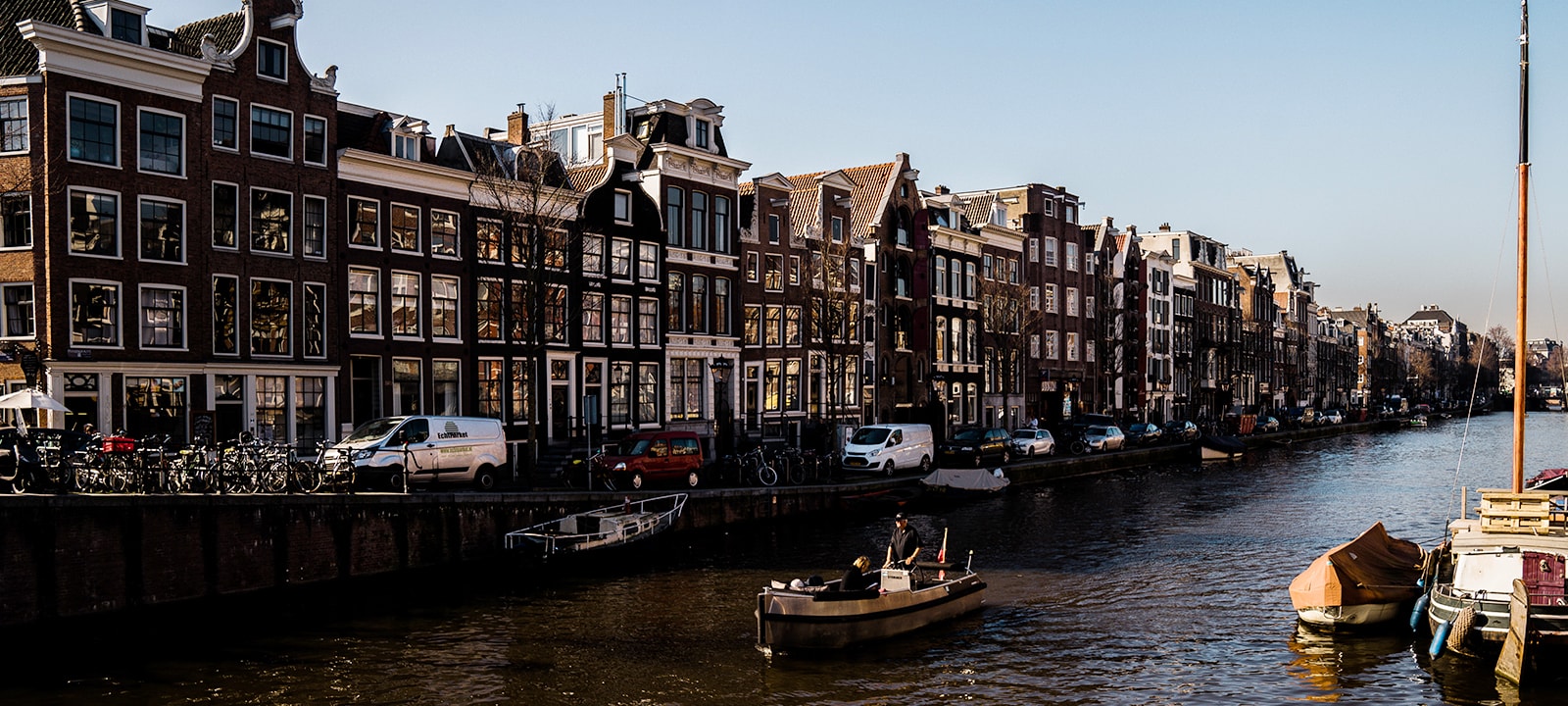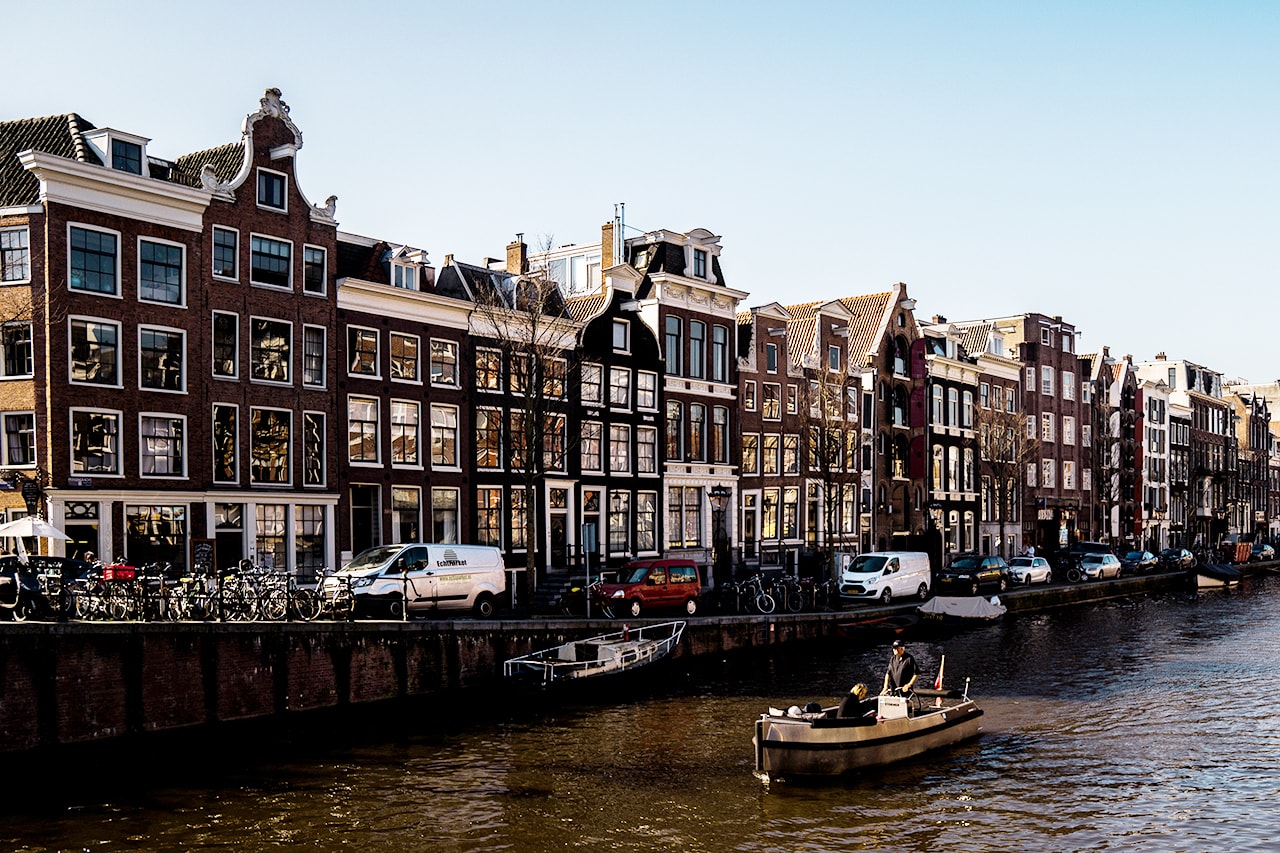 The Best Places to Visit in Amsterdam According to Locals
Here's how to experience the Dutch capital as a fashion and design-savvy traveler.
As soon as you step out of the Amsterdam Centraal station, the city becomes a living painting. Steady streams of bicycles appear right before your eyes as you make your way to the nearest canal, while the rippling waters reflect a picturesque imagery of houses joined by a storied history. Beyond these first impressions, however, the Dutch capital has so much to offer in terms of art and design as well as fashion, making it one of the most interesting cities in the world to visit especially for those who are style- or culture-obsessed.
With King's Day (or Koningsdag, a national holiday in the Netherlands that falls on April 27) fast-approaching, we've asked some of the most stylish locals of Amsterdam to share their favorite spots of the city with us. From well-known attractions to hidden gems, continue reading for recommendations by fashion writer and consultant Stephanie Broek, Maha Amsterdam co-owner Saskia van Hofwegen, Girl on Kicks' Sanne Poeze, as well as the team behind Daily Paper.
Check out some of our other city guides while you're at it.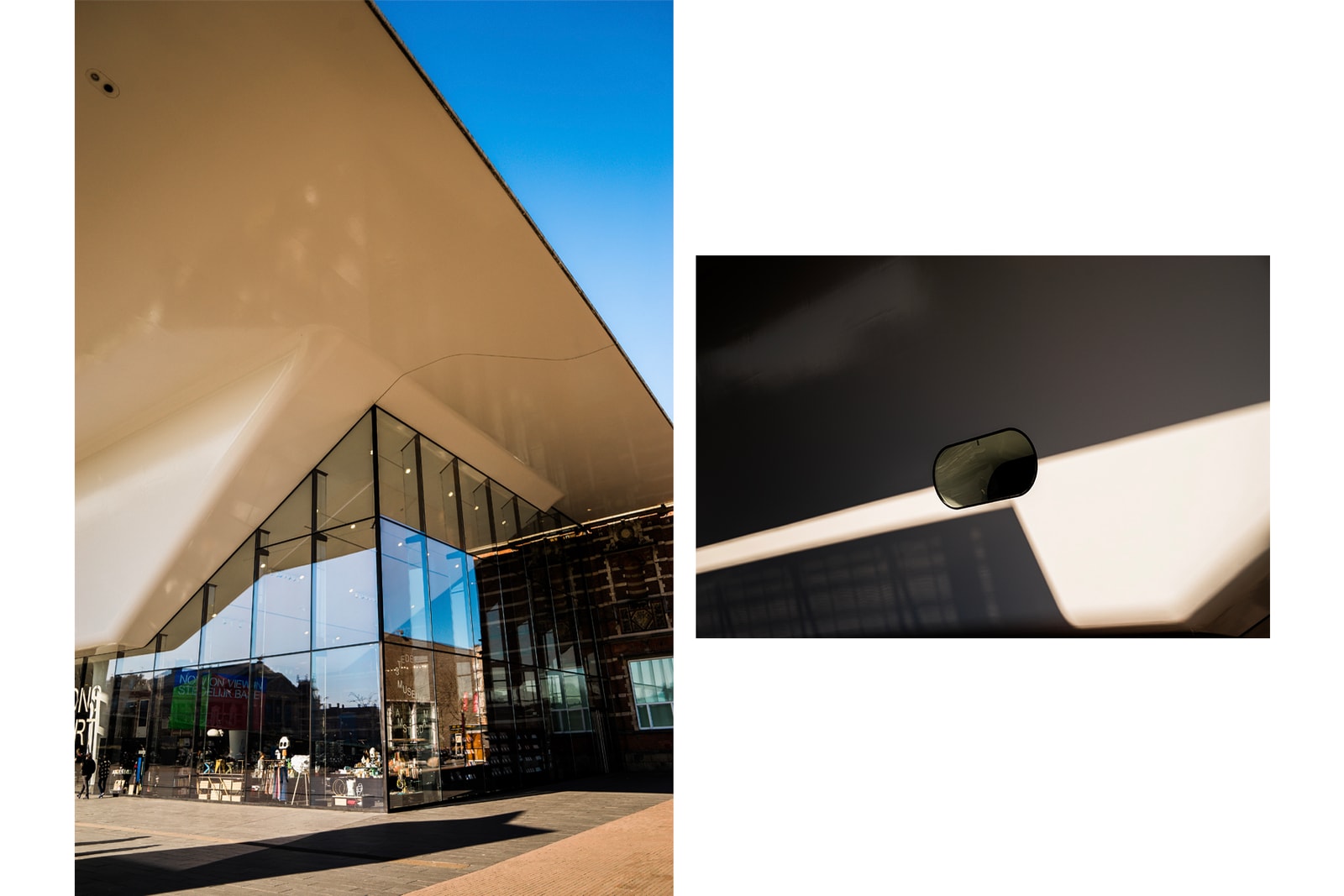 "One of the places where I get most of my inspiration from are museums. My absolute favorite in Amsterdam is the Stedelijk Museum. This contemporary art museum houses some pieces from Mondriaan, Yayoi Kusama, Yves Klein, Willem de Kooning, Karel Appel, Jeff Koons and Roy Lichtenstein, as well as some design furniture in their permanent collection. They also do amazing temporary expositions." - Sanne Poeze
Address: Museumplein 10, 1071 DJ Amsterdam
"The EYE Filmmuseum in Amsterdam is dedicated to cinematography. The building is opposite the Central Station, and is located on the north bank of the IJ, in the district Overhoeks. The building is designed by Austrian architects
Roman Delugan and Elke Delugan-Meissl
and was opened in early 2012." –
Daily Paper team
Address:
 IJpromenade 1, 1031 KT Amsterdam
"Foam is a photography museum found on the Keizersgracht. The museum presents changing exhibitions and all kinds of photographic genres are shown, including historical photographs, art photographs, news photos and fashion photographs." - 
Daily Paper team
Address: 
Keizersgracht 609, 1017 DS Amsterdam
Spend an afternoon immersed in the vast collection of art books at MENDO. A favorite of the Daily Paper co-founders, the bookstore carries a curated selection of publications with topics ranging from fashion and photography, to architecture and travel.
Address: 
Berenstraat 11, 1016 GG Amsterdam
"I'm currently renovating my apartment and I'm much more into
furniture
than fashion at the moment. My favorite
interior design
store is Mobilia, which is located in a beautiful three-story building in the Utrechtsestraat. I'm saving up for the silver, limited-edition Vitra Panton chairs that I spotted during my last visit." –
Stephanie Broek
Address:
Utrechtsestraat 62/64, 1017 VR Amsterdam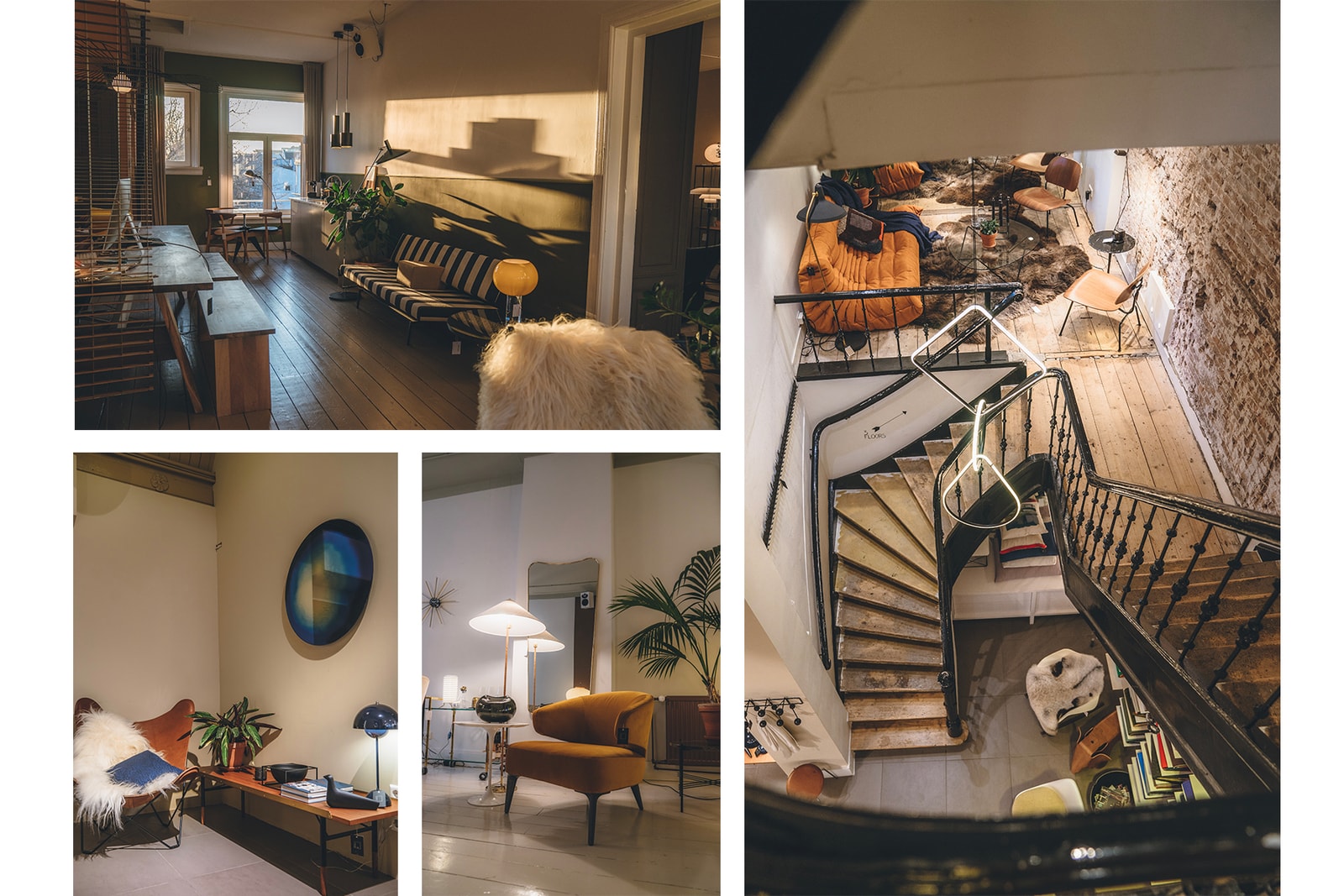 "De School is a restaurant and 24-hour club in Amsterdam. Formerly a technical school, this restaurant also features an exhibition space and concert venue. I am planning on signing up for a ceramics class by one of the creatives that has an atelier at De School." –
Stephanie Broek
Address:
Jan van Breemenstraat 1, 1056 AB Amsterdam
"If I need my health fix or I'm just in the mood for a refreshing juice, I always stop by JuiceBrothers, the best cold-pressed juicery of Amsterdam. I always take the Dragons Breath and the occasional shot — sometimes necessary in a busy day's work or making up for my guilty pleasures." –
Saskia van Hofwegen
Address:
Gustav Mahlerlaan 24, 1082 MC Amsterdam
"Branie is Dutch for bravado with a bit of cheekiness. The bar-restaurant focuses on Southeast Asian kitchen, with the best bartender of Amsterdam, and probably the cheekiest one. I recommend getting the Pandancotta for dessert — it is a delicious pandan-flavored panna cotta (duh), which is Boomerang-worthy." –
Saskia van Hofwegen
Address:
Ten Katestraat 26IV, 1053 CG Amsterdam
"I think I was Italian in a previous life, because my love for pasta and pizza is real. One of my favorite places in Amsterdam to grab some good pasta is the Spaghetteria. It's a relatively easy concept where they have a menu of six different pastas to choose from, which they change every week. You can't make a reservation and it's usually quite busy, but the wait for a table isn't too long." - 
Sanne Poeze
Address:
Jan Hanzenstraat 32, 1053 SR Amsterdam
"MOAK has the best pancakes in town. You may find a signature Daily Paper pancake called The Infamous here as well." –
Daily Paper team
Address:
Jodenbreestraat 144, 1011 NS Amsterdam
"An amazing Vietnamese bistro with the most authentic flavors and the best hip-hop playlists on. They have the funniest
Instagram page
that posts some crazy, cult references. They also throw the most fun parties every now and then." –
Saskia van Hofwegen
Address:
Lange Leidsedwarsstraat 57, 1017 NH Amsterdam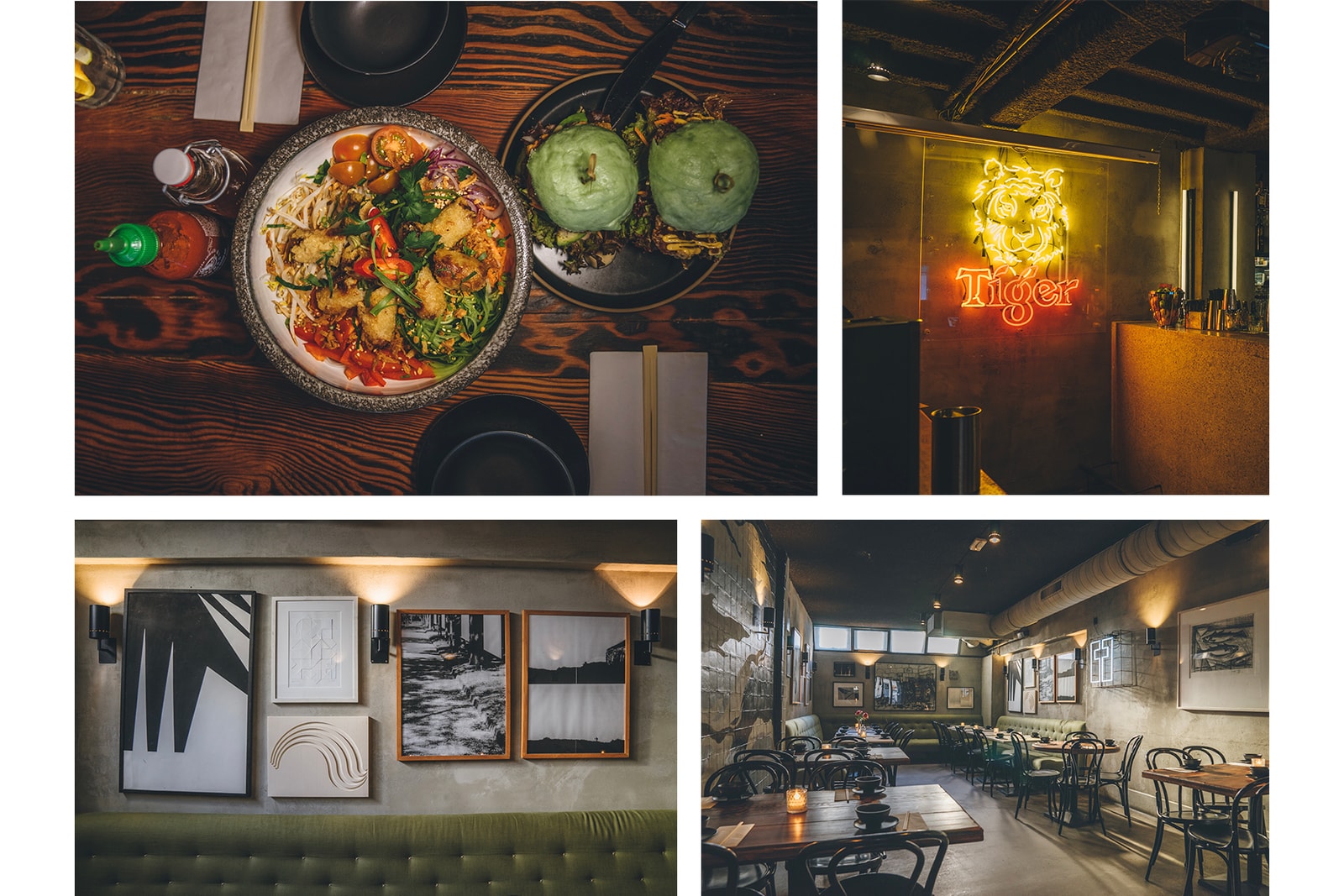 The restaurant name is pretty self-explanatory — Vegan Junk Food Bar is the place to go if you're craving vegan options of comfort food. Its plant-based menu is filled with mouthwatering dishes, such as the famous, deep-fried Dutch bar snack bitterballen, truffle fries and a selection of meatless gourmet burgers.
Address:
Reguliersdwarsstraat 57, 1017 BK Amsterdam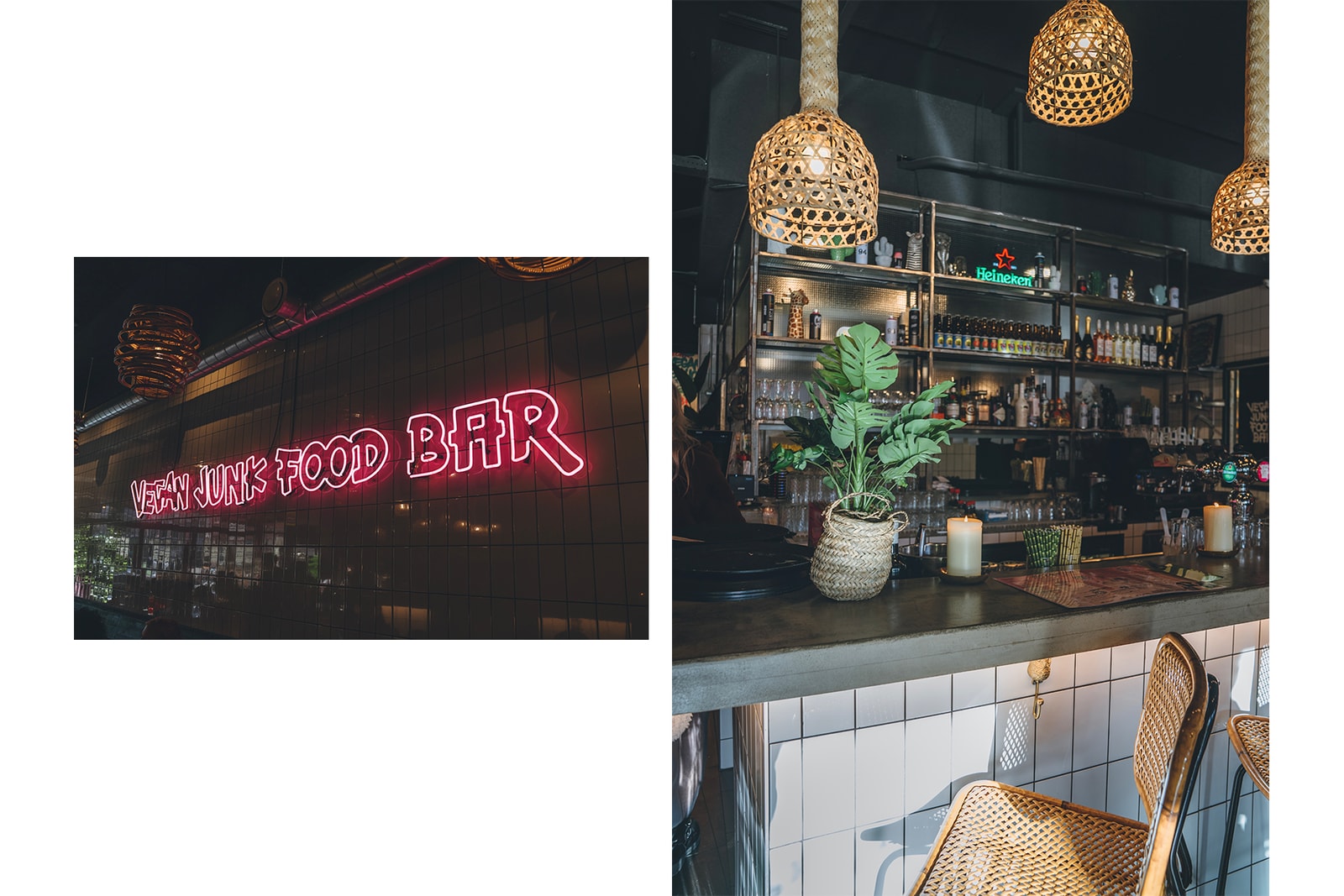 "This is my go-to
coffee spot
. I discovered it when it has just opened. It has the prettiest interior (by that I mean
BE@RBRICKs
, a
Chinatown Market
basketball, a
have a good time
doormat, marble, terrazzo table tops and a big, minimalistic couch made out of old army fabric.
They have recently started doing lunch as well. Their TOKI toast with yuzu aioli, avocado, hot pickled carrots and togarashi is amazing. Their selection of cakes and sweets is also bomb. My personal favorites are the coconut banana cake and the kouign-amann.
I love to plan my meetings here on the weekdays (good excuse to eat that banana cake) or to hang out and read a magazine while I sip on a good latte on the weekends." –
Sanne Poeze
Address:
Binnen Dommersstraat 15, 1013 HK Amsterdam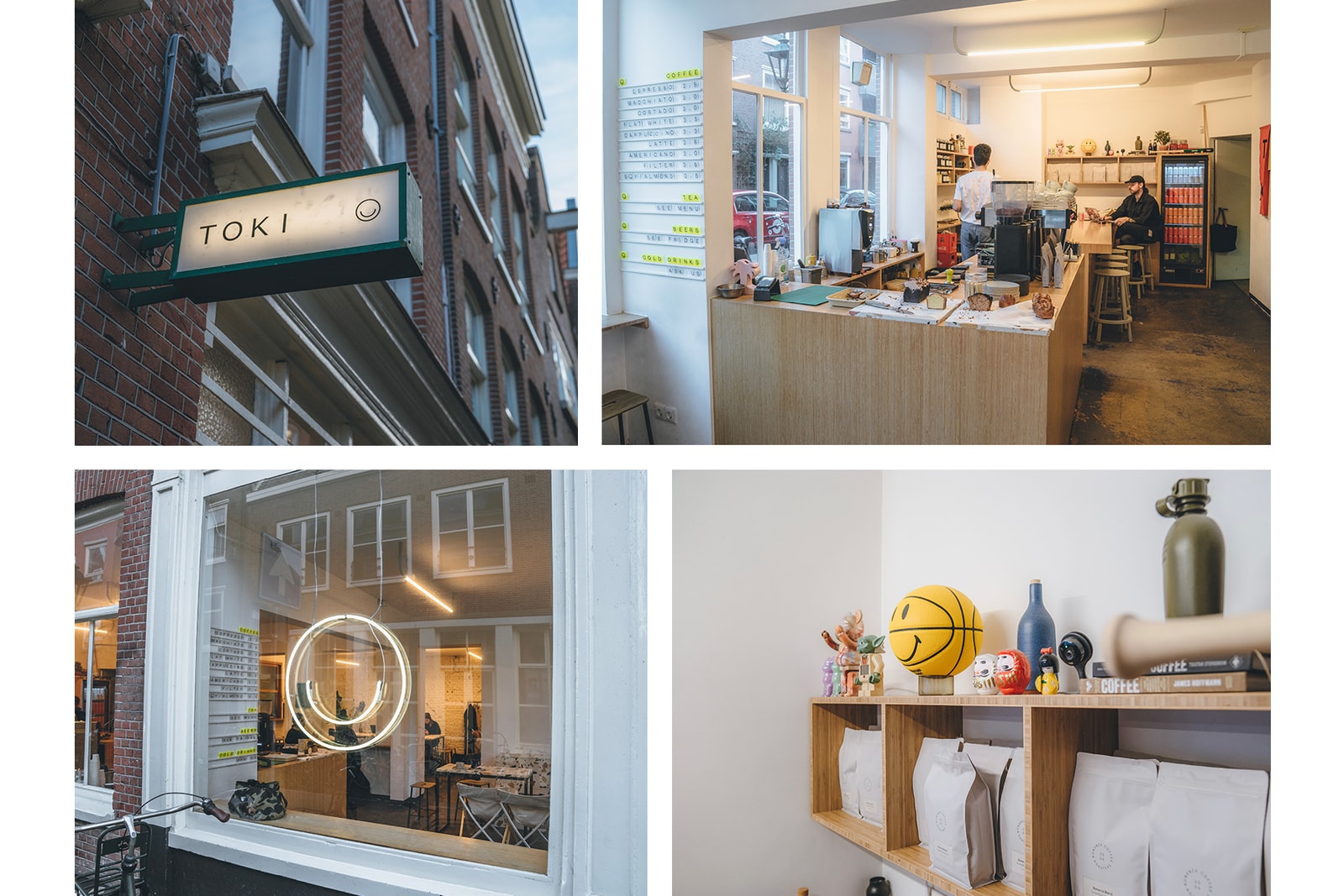 "Not only does it have the best selection of footwear and clothing for us gals in town, but Maha is also owned by the most amazing couple. They started this store a little over three years ago and have quickly worked their way up into being one of the best female sneaker destinations in the world. They sell brands like
Nike
,
adidas
,
Reebok
,
Converse
,
Opening Ceremony
, Être Cécile,
Stussy
,
The North Face
and much more." –
Sanne Poeze
Address:
Vijzelstraat 129, 1017 HJ Amsterdam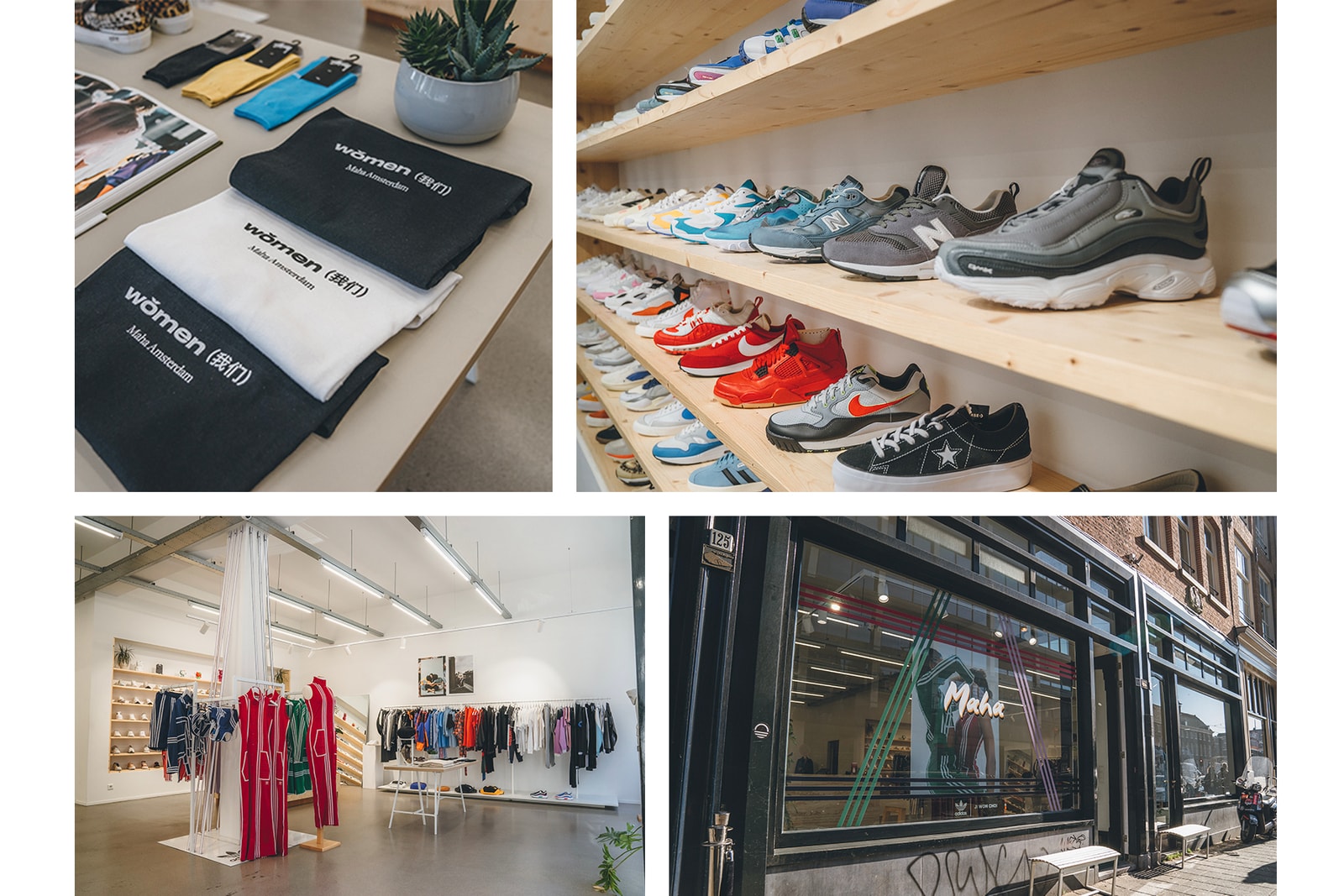 "MOISE is a concept store in De Pijp that stocks
Jacquemus
,
Acne Studios
, Kassl and Totême among other brands. They have also recently started selling menswear." –
Stephanie Broek
Address:
Ceintuurbaan 111, 1072 EZ Amsterdam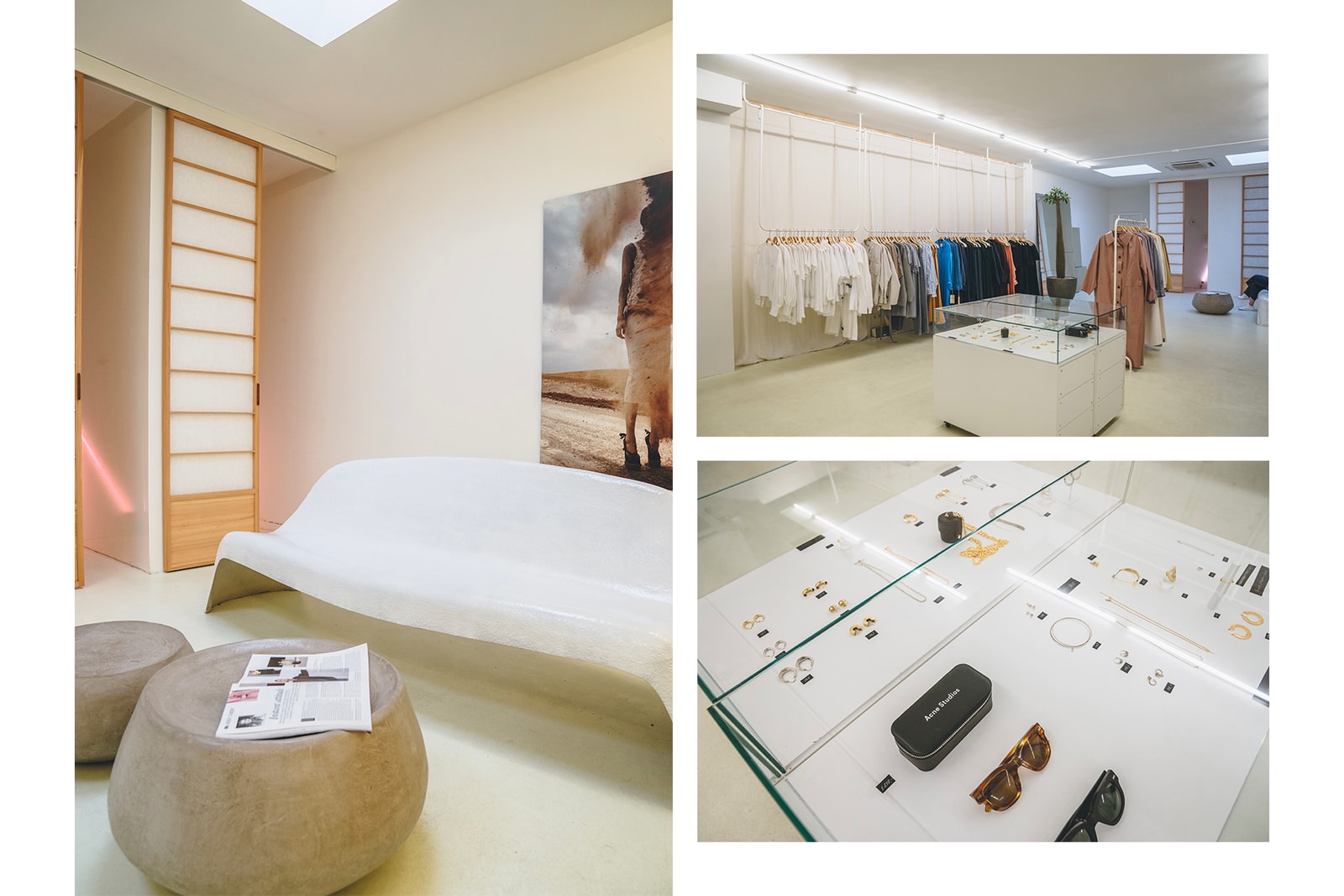 With over 130 years of history, Waterlooplein Markt is the oldest market to exist in Amsterdam today. It is opened every Monday to Saturday and boasts about 300 different stalls. From vintage jewelry and clothing, to used cameras and second-hand books, you can always expect to discover some unique treasures here.
Address:
Waterlooplein 2, 1011 NZ Amsterdam
For a taste of Amsterdam's local fashion scene, check out the flagship store of homegrown label Daily Paper. Originally launched as a menswear line in 2010, the brand has expanded over the past few years with the introduction of its womenswear offering in 2017. Fusing African and Dutch cultures, Daily Paper's well-tailored designs are wearable for the everyday, with an eclectic use of prints and materials that add a bit of interest and personality to any outfit. The shop also houses a sleek barbershop and a sneaker section.
Address:
Bilderdijkstraat 131, 1053 KN, Amsterdam
Located on the historic Museumplein, the Conservatorium Hotel is within walking distance of some of the must-visit attractions in Amsterdam, including Stedelijk as well as
Rijksmuseum
, the Dutch national museum dedicated to arts and history. Designed by Milan-based architect
Piero Lissoni
, the interiors of the luxury hotel are simply stunning. The Instagrammable suites perfectly exemplify the beauty of Dutch style and design, with the minimalist bathrooms being our favorite feature of the guest rooms.
Address:
Van Baerlestraat 27, 1071 AN Amsterdam