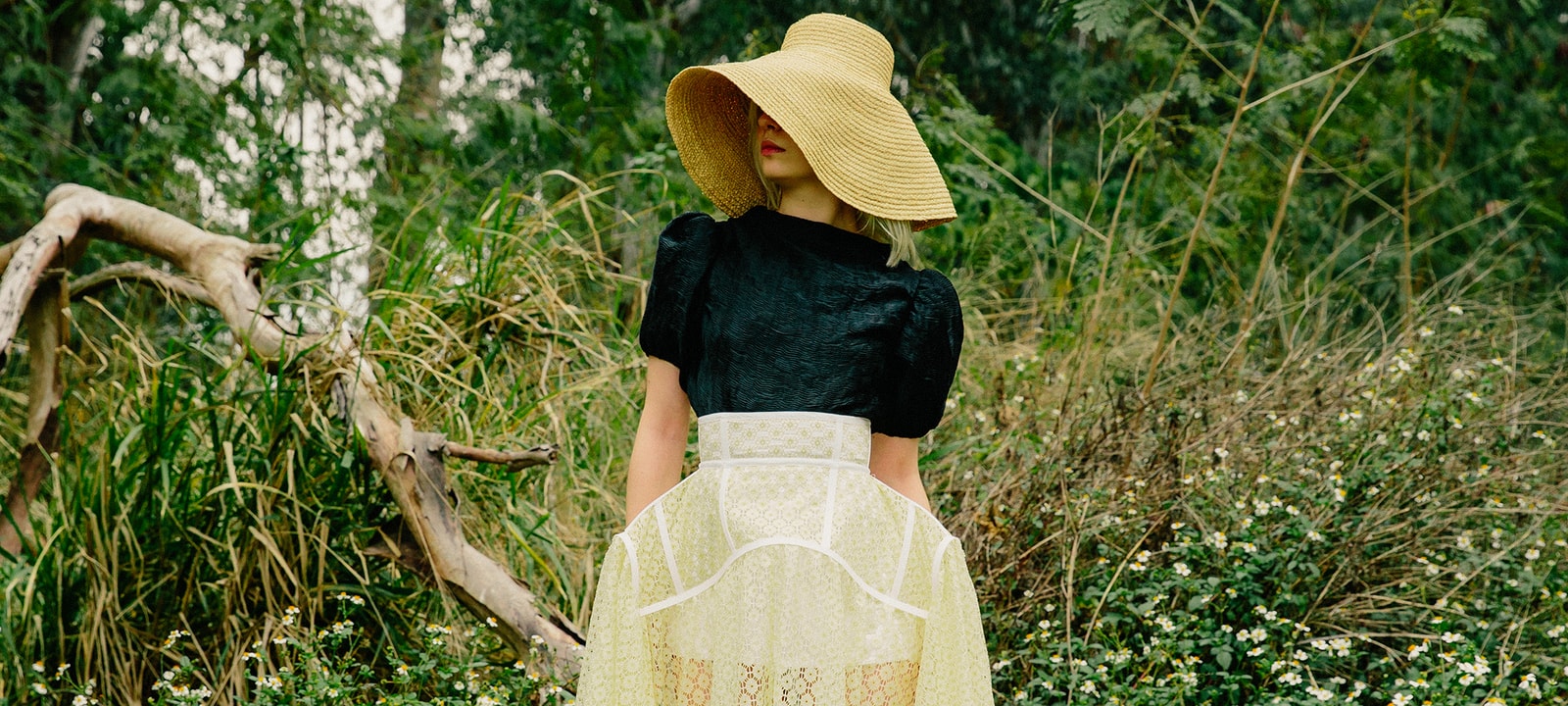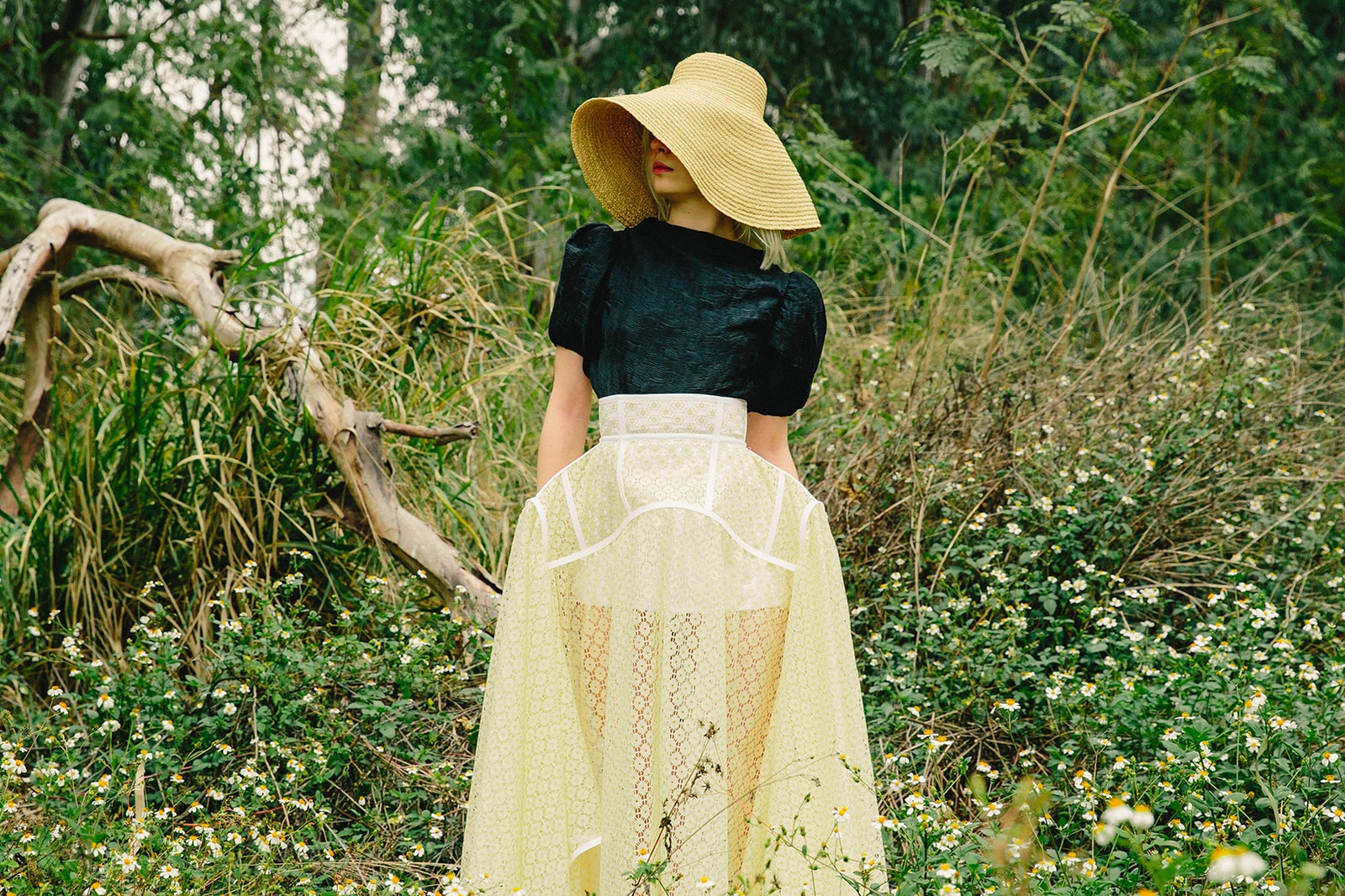 What Fashion's Puff Sleeve Trend Represents for Women and Femininity Today
As seen recently from designers such as Molly Goddard and Cecilie Bahnsen.
Everything these days is pretty complicated. Life is complicated. The world is complicated. Your relationship status is probably complicated. Hell, even the puffed sleeve and its associated romantic, girly aesthetic that's been all over catwalks and Instagram feeds are complicated. But while we gripe about most things that are complicated, the complexity of the puff sleeve and what it represents for women and femininity today is something to celebrate.
Why? "I think there's a real return to femininity. Women now feel empowered to look as feminine as they want," Elizabeth von der Goltz, global buyer at Net-a-Porter says. "You don't have to be wearing a suit. Power dressing can be interpreted in a completely feminine way and it's not a weakness, it's a strength."
To really understand the way puff sleeves and its associations with young girls' birthday parties and whimsical girlishness play into ideas of femininity, it helps to dig out the Madonna-whore complex, a patriarchal trope first identified by psychoanalyst Sigmund Freud. This phrase basically boils down to the idea that some men are only able to see women as either saintly Madonnas whom they can love but not desire, or debased prostitutes whom they desire but are too disgusted by to love.
No movie better explores the concept of the uneasy Madonna-whore binary than The Virgin Suicides, a novel written by Jeffrey Eugenides in 1993 that was then adapted for the screen by Sofia Coppola in 1999. The story centers around the lives of five adolescent Lisbon sisters growing up in a conservative Catholic household in suburban Michigan during the '70s. The story is entirely narrated by a group of transfixed neighborhood boys who watch the girls as objects of desire, and who struggle to understand the girls' interiority.
The youngest sister is the first to go. Cecilia wears a knee-length vintage wedding dress cut to her knee so as to fit her 13-year-old frame, but as we learn from the boys, she also wears underwear that she's dyed black. They know this because they admit to looking under her skirt every time she rides a bicycle.
Cecilia's first attempt to take her life shows her in a bathtub of pinkish colored bathwater holding onto a picture of the Virgin Mary. On her second attempt, Cecilia jumps out of the window at the party her parents throw for her to cheer her up. When Cecilia is speared by the cast-iron fence in front of the house, she had just gotten her period.
The boys spend the entire course of the book pondering Cecilia's difficult relationship with adolescence. Her clothes offer clues. The pure and virginal Madonna dressed all in white, versus the whore underneath with its potential for base sexuality (as hinted by the arrival of her period) that's being covered in subversive black fabric.
If Cecilia is an example of the Madonna trope and its problems, Lux, the 14-year-old sister and ultimate erotic fantasy to the neighborhood boys, is the representation of the whore. An unsettling first scene shows Lux's bathroom cupboards overflowing with tampons, suggesting an over-eagerness to embrace adolescence and adulthood.
Lux's innocence catches the attention of school heartthrob Trip Fontaine, eliciting a prom invite. Lux and her sisters are shown walking down the stairs on prom night in white flowing shifts with puffed sleeves – visions of innocent, girlish chastity. Lux, however, wears white underwear with the word "Trip" written on it in black marker. Lux and Trip end up sleeping together on the football field at the end of the night after which he abandons her asleep on the field to walk home on his own. Used and discarded by Trip, Lux is tipped over the edge, and we learn through the neighborhood boys that she begins having sex with strangers on the roof of her house, as if she has no other option but to fully embrace the whore category in which she's now been trapped.
Everybody surrounding the girls in the narrative is acutely unable to balance their sexuality with femininity as they transition from girlhood to womanhood. While the Lisbon parents box their children into the chaste category by literally imprisoning them in the house, away from temptations, men like Trip lust over the untouchable Lux until he sleeps with her. Fantasy broken, he discards her. Where Cecilia takes her own life and maintains her purity, Lux takes it to the opposite extreme, embarking on a deranged sex fest. They can only claim autonomy by taking their own lives, thus removing themselves from the control of others.
Jump to our post-Me Too present day, the conversation has powered beyond the perniciousness of sexual assault and harassment. Attention around the movement has raised awareness about femininity as a complex identity to be crafted and controlled by women themselves, no longer dictated to them by powerful men or one-dimensional social dogma. It is in this climate that the puff sleeve and its accompanying chaste feminine attitude has been reclaimed.
Take a look at the binary-scrapping pink tulle dress that Villanelle, the stylish and psychopathic assassin, wears in thriller series Killing Eve, 19 years after The Virgin Suicides screened. Or even the award-winning costumes worn by the March sisters in Greta Gerwig's adaptation of Little Women, where traditional silhouettes sit comfortably alongside the complex interiority and cleverness of Jo March. The costumes serve to add layers of complexity to women. Villains can like tulle. Long dresses and modesty can't cover up independent questioning minds.
Likewise, ready-to-wear has made a similar transition. "Ruffles, sculptural sleeves and bubble hems all adorned the SS20 runway," says von der Goltz. "But it was these traditional shapes done in unexpected ways with fabrics like silk, taffeta and tulle that gives them fresh appeal." Designers like Cecilie Bahnsen, Molly Goddard and Batsheva Hay have been reworking elements of the traditional modest dress, removing the silhouette from traditional notions of femininity, exaggerating or underplaying elements to reclaim the aesthetic for the modern woman.
Oversized, voluminous shapes have been key to making each piece an attention-commanding one. Once-subtle fabrics have undergone colorful, sparkly overhauls like those at Batsheva. Where fitted waists used to constrict, modern materials have been developed to give a fitted shape but with stretch, ensuring liberty of movement at the same time. "Ruffles, puff sleeves, frills and peplum trims all lay a part in creating iconic dress shapes that make a woman feel feminine, beautiful and playful," says von der Goltz. "Additionally, in contrast to all the wearability and minimalism this season, women still like to make an entrance. A puff sleeve on a simple top or a dress can mostly do so without breaking the bank."
Where the Lisbon girls once had only two dichotomies, the present movement toward girlish romanticism complicates the binaries, mixing them up and gives women the power to decide what romantic femininity means to them.
The fervor with which this aesthetic has been embraced and the popularity of the designers for whom this sensibility is signature, is testament to its success. The girlish, feminine iteration of the puff sleeve is now a symbol of fashion-savvy, with its own tribe of devotees. "There's an appetite for women to wear something people will recognize; it's an elegant way to embrace a brand's signature DNA without having to wear its logo," von der Goltz says. "Wearing these styles is a way of being a part of something and showing that you're in the know about the latest brands and trends in a discreet and distinct way."
In a way it's thanks to the traditional gendered limitations put onto romantic, girlish femininity that makes its revival such a powerful statement of female strength. Coming to terms with our true self is completely okay. Accepting it as part of who we are and choosing to put on a princess dress — be it one of tulle, frills or puffed sleeves — is testament to how the evermore complex conversations that we, as a society, are having about power and gender in a post-Me Too era can translate itself into clothing and designs, and become a daily showcase of strength and self-liberation.