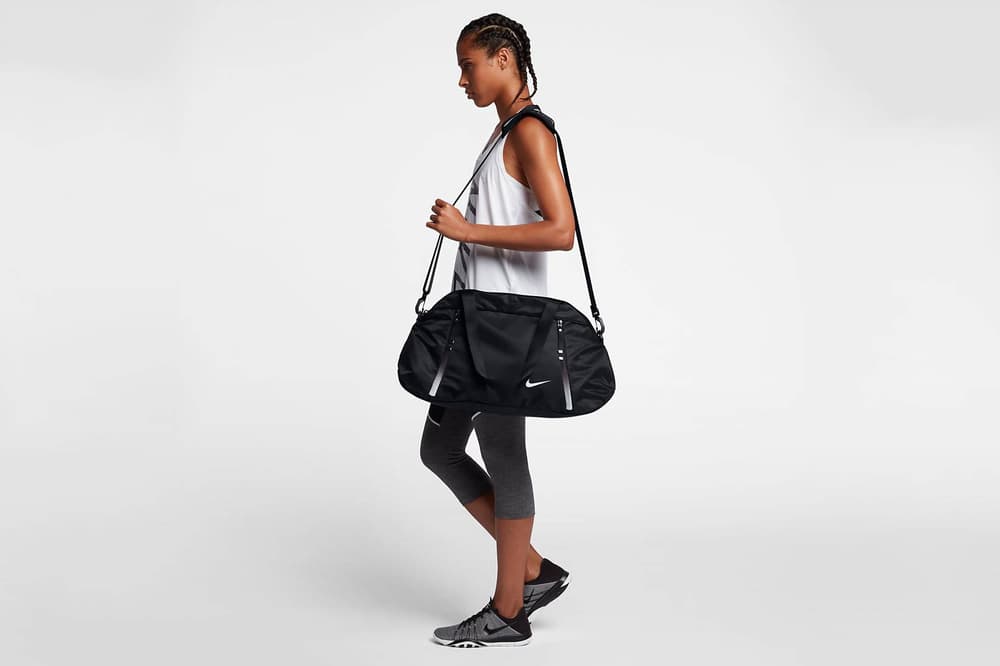 Fashion
Peep 6 Streetwear Bags That'll Make You Want to Hit the Gym This Year
Tackle your 2018 resolution in style.
Peep 6 Streetwear Bags That'll Make You Want to Hit the Gym This Year
Tackle your 2018 resolution in style.
Getting in shape is the most popular new year resolution for a reason. It gives you a few months to achieve that summer body and pushes you to get out of the house even in the cold. Whatever your workout of choice is, you'll need to carry a few things with you to stay hydrated and properly supplied. If you're looking for a new activity to try out, take a peek at LOVE Magazine's advent series that surveys sports of all kinds.
In your adventures to the gym, yoga studio or boxing ring, you'll need a bag to carry water, a change of clothes and any other tools that'll help you on your journey to fitness. We've rounded up six bags from our favorite brands to give you extra motivation to maintain your commitment to health.
A-Cold-Wall* Transparent Plastic Tote
ACW's transparent plastic tote is a practical option for the less organized ladies. Its large, see-through pouch allows for you to easily locate those pairs of earrings or jumping rope that is buried underneath a sweater. The brand's logo is stamped on a patch pocket that can store keys and headbands. Head to SSENSE to shop the $250 USD bag.
Gucci Print Leather Drawstring Backpack
Gucci knows how to keep a cozy girl happy. The Italian label has brought the drawstring backpack from street to luxury covering the bag in premium leather. The brand's vintage logo rests atop a pink base that will stand out in any gym locker room. No need to search for your belongings in a sea of black bags — this one will surely stand out. Invest in this luxe pack that retails for $1,980 USD at Farfetch.
Moncler Kilia Backpack
Sometimes you need an extra layer of protection from the winter cold. Moncler's padded Kilia backpack provides storage and a barrier for your temperature-sensitive belongings. Throw a smoothie or post-workout snacks in this tote to save them for later without worry of it freezing. Farfetch has this soft pink item stocked for $720 USD.
Nike Gym Club Training Duffel Bag
You can't go wrong with a Nike Training product. This branch of the sportswear giant focuses on producing top-quality items for both amateur and professional athletes to use for years on end. Its Gym Club Duffel bag is equipped with a water-repellent fabric and spacious main compartment for all your daily needs. Pick up the shoulder tote from Nike now where it's available for $35 USD.
Stussy Stock Nylon Ripstop Tote
Traveling from school or work with a bag full of clothes can seem like a drag. Stussy's nylon ripstop tote allows you to the compress these items and makes it easier to carry with you throughout the day. The bag has two straps options to add variety, and its solid black base ensure it'll never get dirty. Stussy's classic logo is perched right below the handles in white for contrast. Add this bag to your gym rotation for $40 USD.
Y-3 Branded Backpack
Y-3 is renowned for its futuristic athletic gear that pushes sportwear style to the limit. Its branded backpack arrives as a part of its latest winter collection. The roomy sac is covered in its logo graphics with designer Yohji Yamamoto's signature completing the picture. A convenient side zip allows for fast access to any accessories wearers may need on the go. The black bag can be found at Farfetch where it retails for $220 USD.