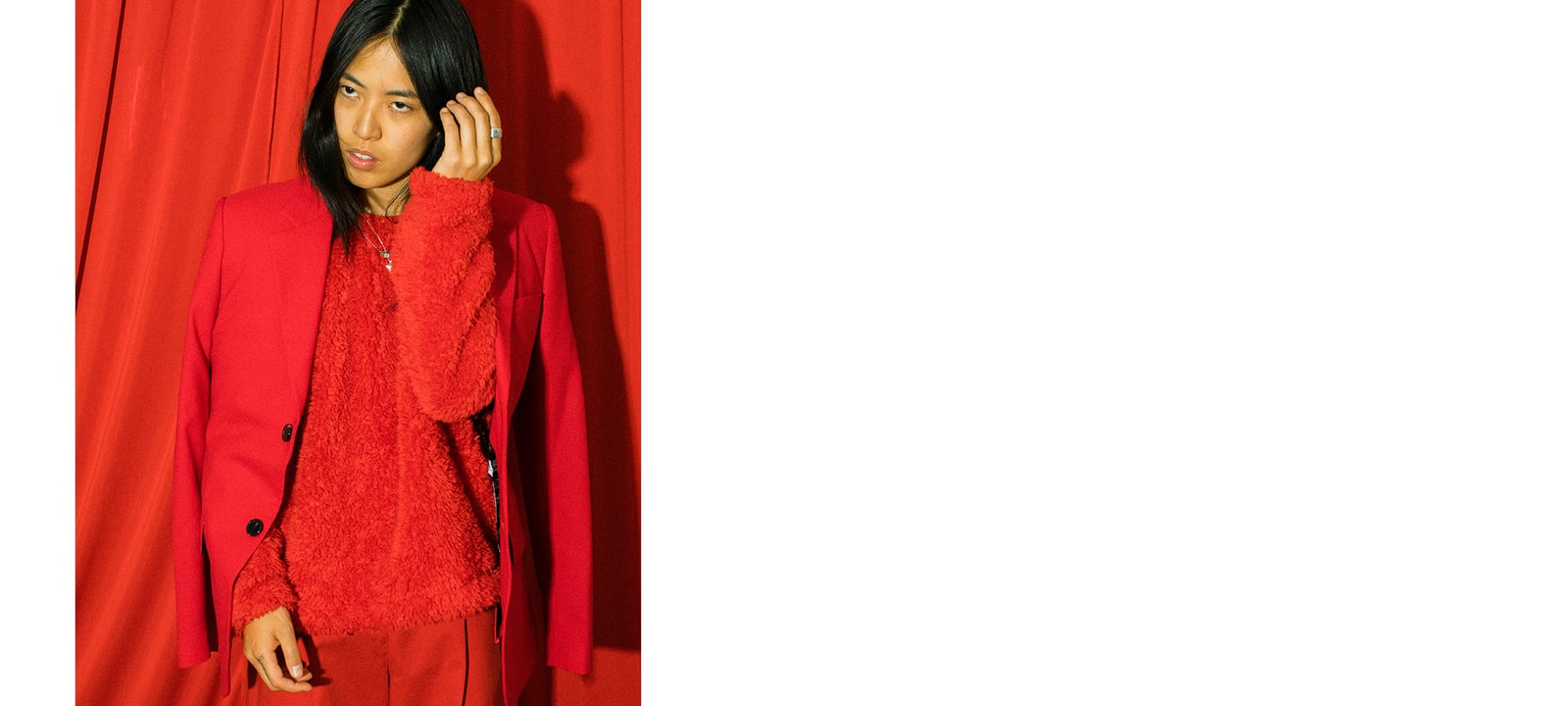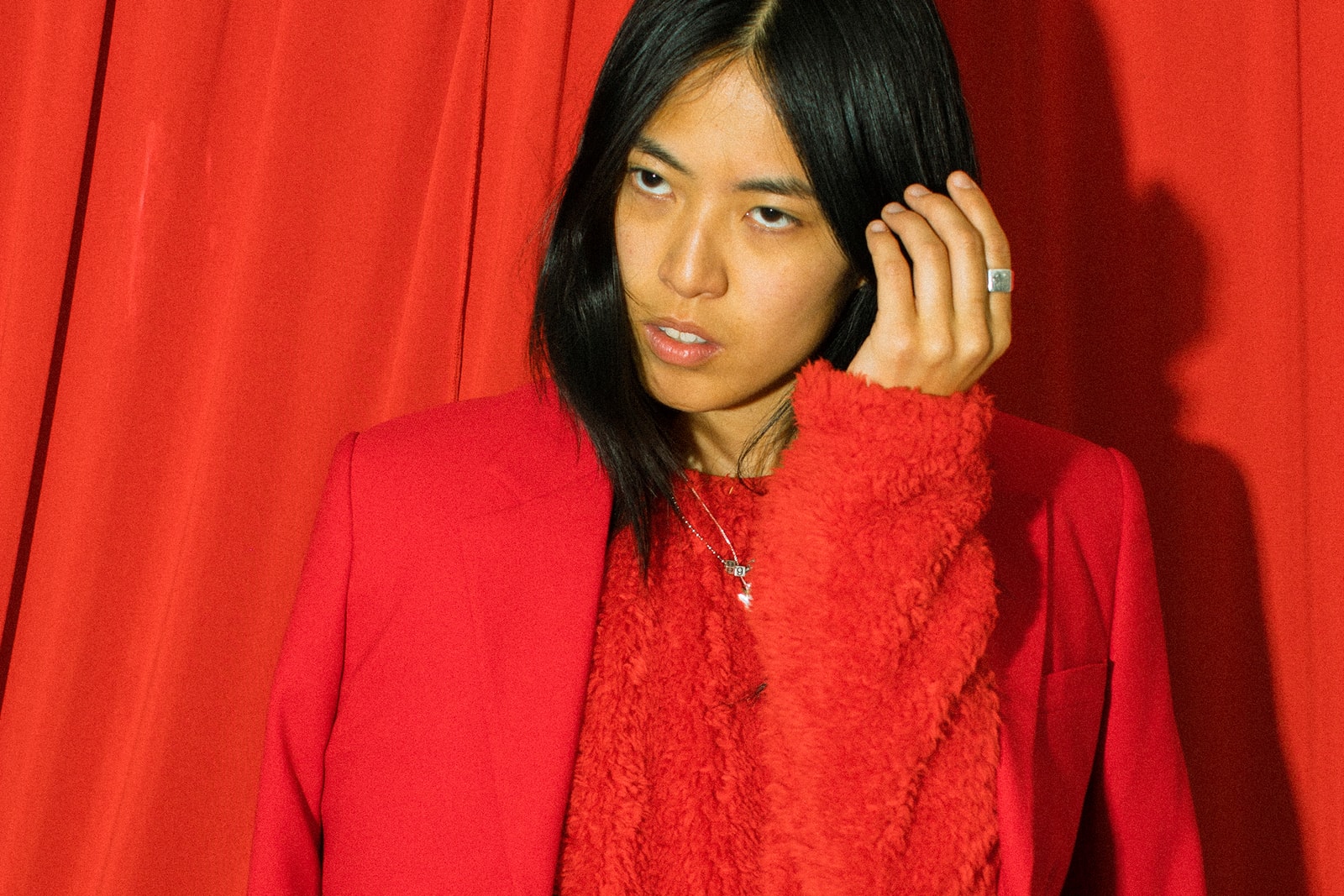 Angel and Devil: A Dialogue With Artist Deb Never
Suited up in Raf Simons & Dries Van Noten, she tells us what we can expect from her new music.
If you've been paying close attention to the LA music scene, you'll probably have heard of or have already seen Deb Never play live by now. Formerly a session guitarist, the artist counts WEDIDIT members D33J and Shlohmo, as well as A$AP Nast as some of her mentors — she's featured on D33J's track "Nothing Left" last year — and is known for her dreamy, beautifully sad songs accompanied by lo-fi visuals.
For those who've been enjoying the artist's demos on SoundCloud for the past two years, you can rest assured that more new music is on its way. Having joined WEDIDIT herself a while back, Deb is currently gearing up for the release of her next single "Ugly" and an EP slated to drop this summer. Most recently, she was on tour with Tommy Genesis, during which we managed to catch up with her right before her Vancouver performance.
Suited up in Raf Simons, Dries Van Noten and Carhartt WIP, Deb Never plays "Angel and Devil" in our latest editorial while she speaks candidly about her touring experience, upcoming projects and the urge to make music in our interview. Read on for our full conversation.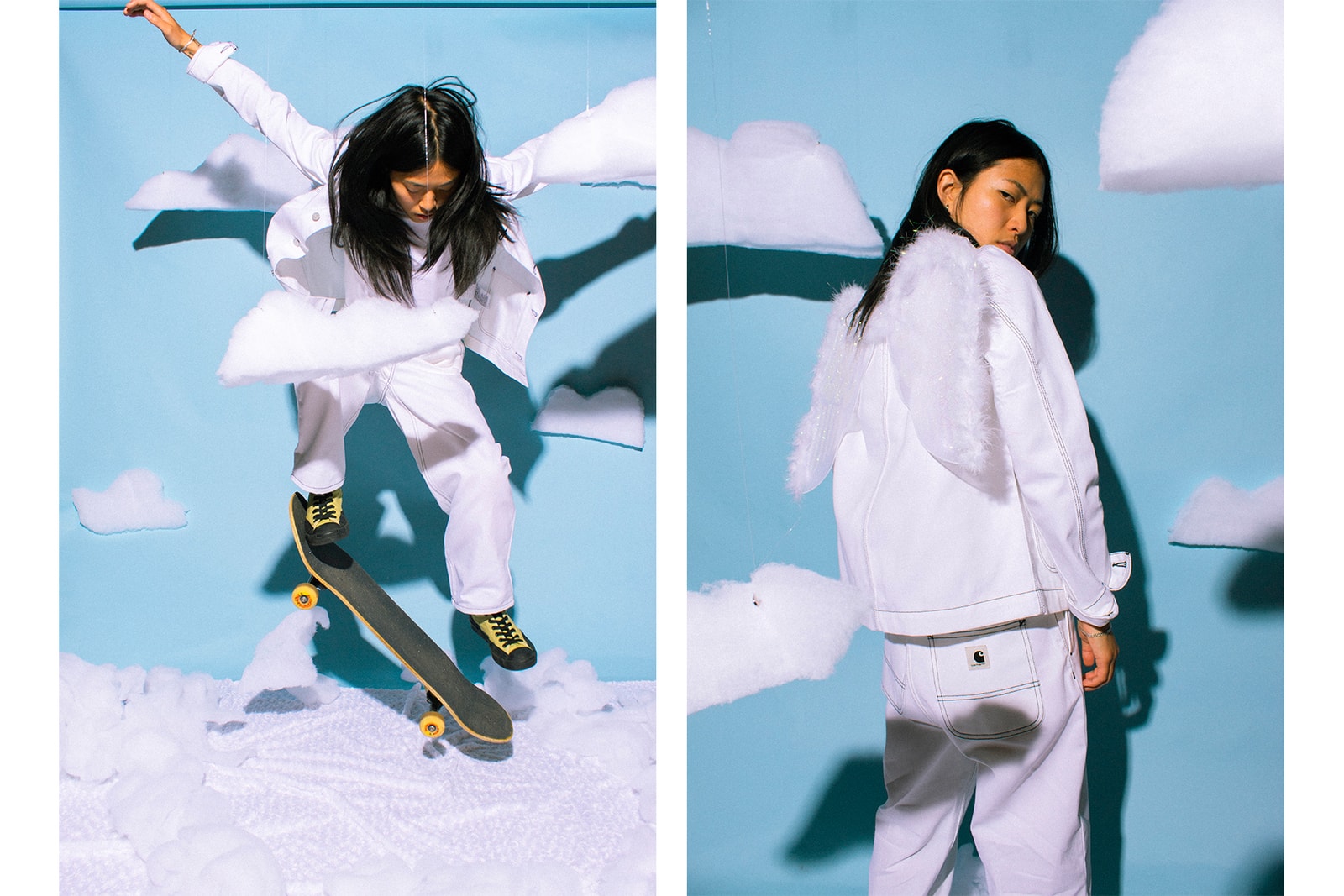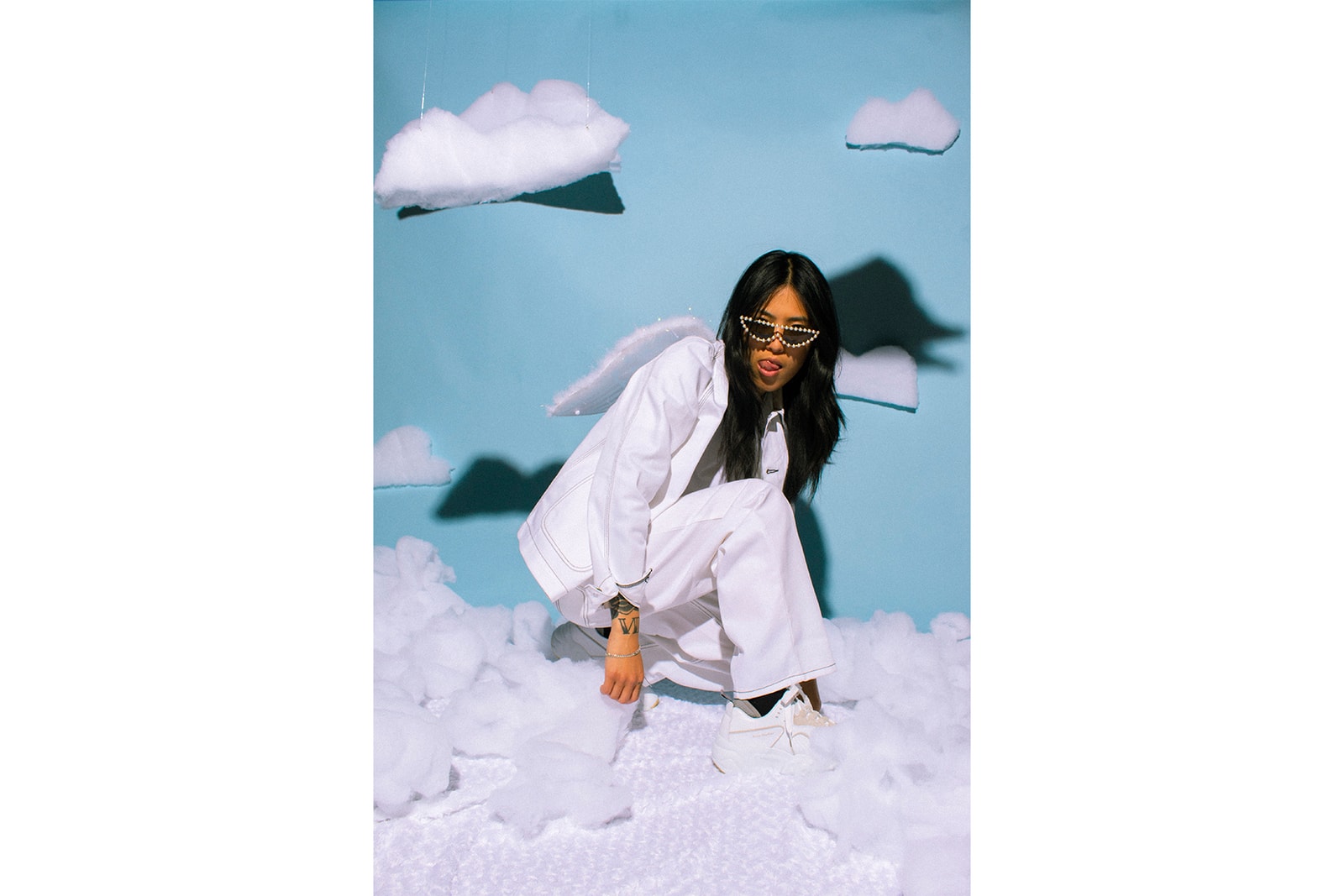 Carhartt WIP jacket and pants, Filippa K T-shirt, Acne Studios sneakers (all from Gravitypope Tailored Goods). Gucci sunglasses (Nordstrom).
Tell us a little bit about yourself.
I'm Deb Never. I make music and I live in LA, but I hate the sun.
Since when has music become such a huge part of your life? Did you teach yourself everything in the beginning?
Music has always been a part of my life. My mom would tell me when I was in diapers, before I could even walk or talk, if a song was playing I'd hoist against a table to dance and sing. And yes, I taught myself everything. Music was just an obsession that became my life.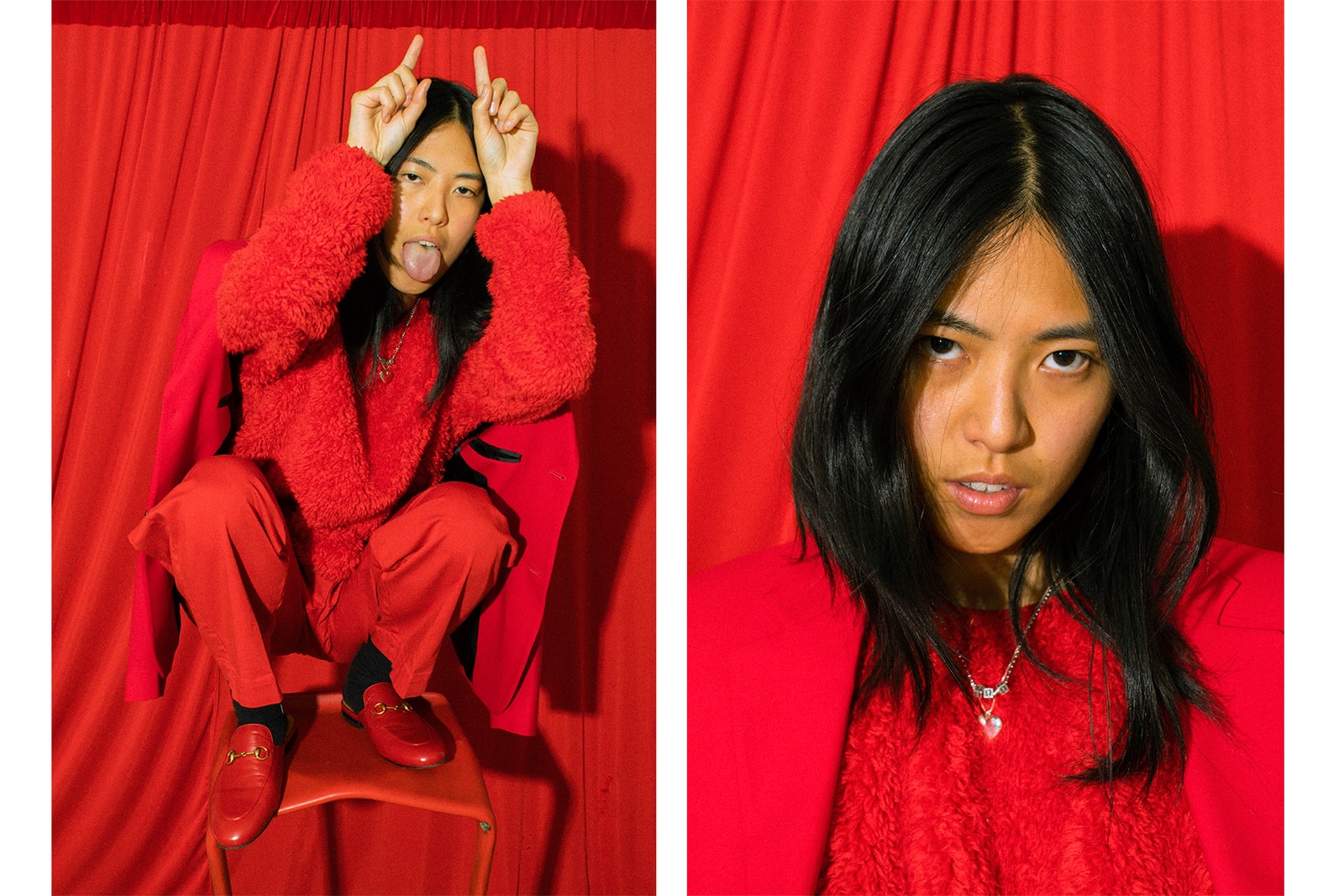 You Must Create top and pants (Gravitypope Tailored Goods), Raf Simons blazer (Nordstrom), Gucci shoes (Mine & Yours), Wolf Circus necklace.
How would you describe your creative process? And where do you tend to draw inspiration from?
I don't have a set creative process. It's pretty erratic, but most times I guess I would use my guitar to write. I draw inspiration from my life and past sh*t or how I'm feeling right then and there.
Why is creating music important for you?
Creating music is important to me because it's a platform that represents my "other side." As clichéd as this sounds, it's my escape. It's my way of experimenting and getting out my thoughts that I don't have the guts to say out loud myself, because I'm generally outwardly happy. That's probably why my music tends to be sad. It's just how I secretly feel.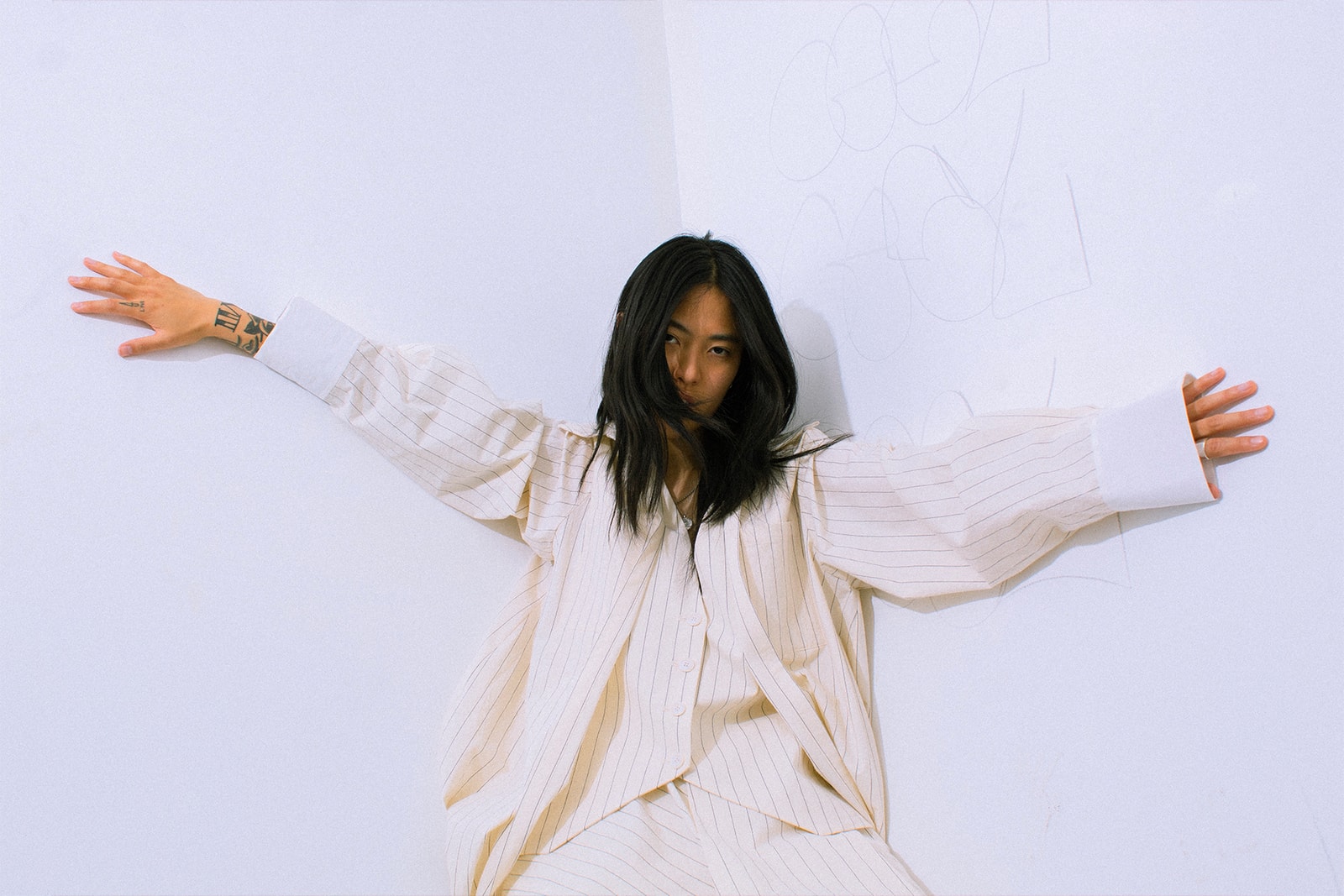 Dawei shirt and skirt (Secret Location).
Which of your songs feel the most personal to you?
A song that's not even out yet. It's still in my voice note, haha.
Apart from music, what are some of your biggest passions?
Other passions I have are mostly in film or videos. I wanted to go to school for film because I loved how music and visuals complement each other. I've always been attracted to visual representation of emotion and story telling.
You're recently on tour with Tommy Genesis. How did you feel about this whole touring experience?
It's been tight. This was my first tour so it's been an eye-opening experience. Tommy is a f*cking angel sent from heaven, so is Amrit and the whole team. God really is wild.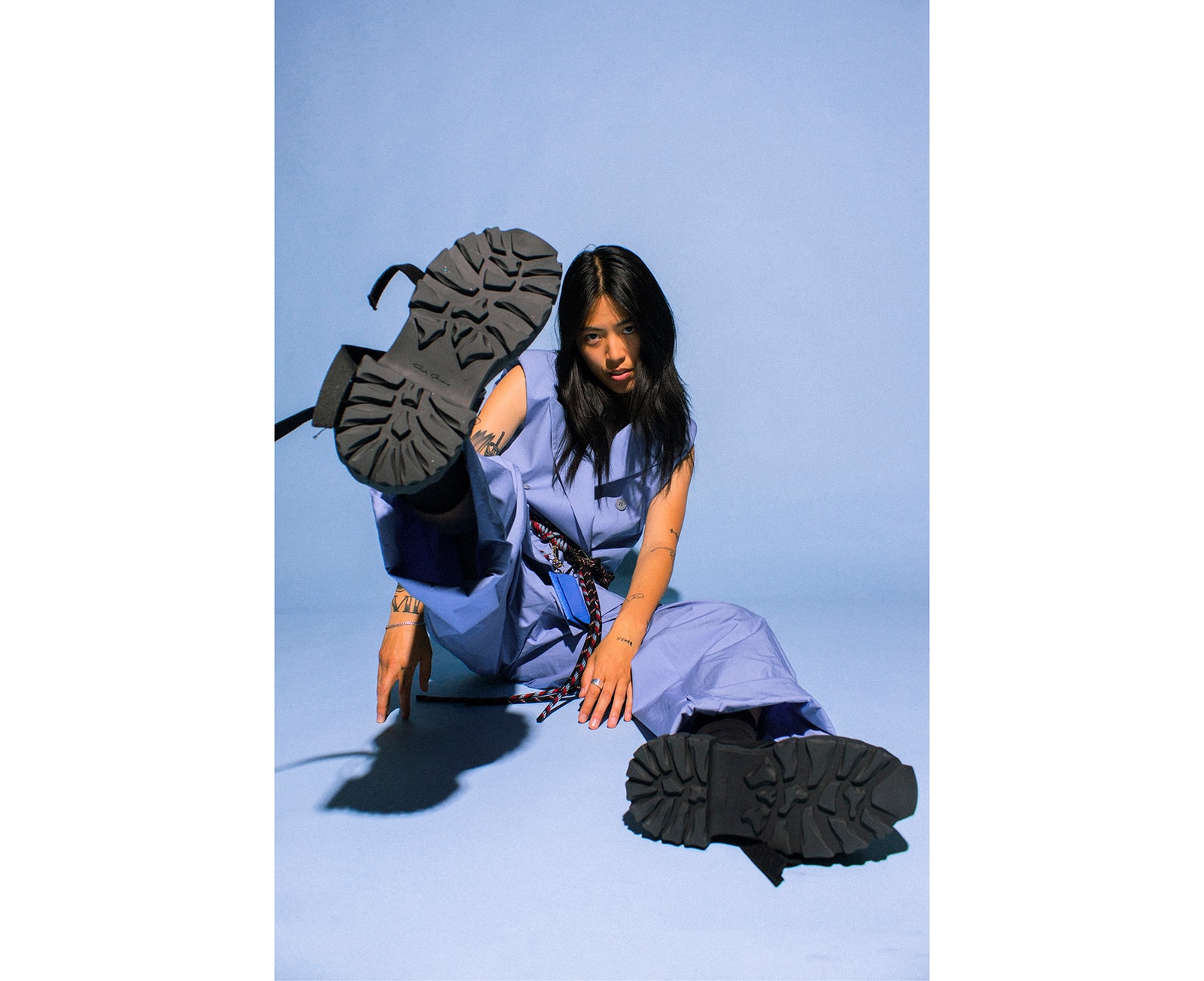 Dries Van Noten top, pants and belt, Rick Owens shoes (all from Bacci's).
Who are some mentors that have helped you get to where you currently are musically?
D33J, A$AP Nast and Shlohmo to name a few, but honestly everyone I've worked with has helped me grow and learn different aspects of music and what I want. Sorry if I couldn't name everyone here, but you know who you are.
What are some projects you'll be working on for the rest of 2019?
I've just finished an EP that will be coming out this summer, but for the rest of the year I'll be focusing on just making more music and rolling it out for all your sad little ears. That's my plan.
What can you share with us about your upcoming single?
This next single is called "Ugly." It's about a toxic, co-dependent relationship where there's no more love but there's still the need for comfort. I feel like everyone has been in this type of relationship because it's easy to fall into. Then suddenly being unhappy but comfortable becomes normal. I suppose you could call it an ugly relationship.