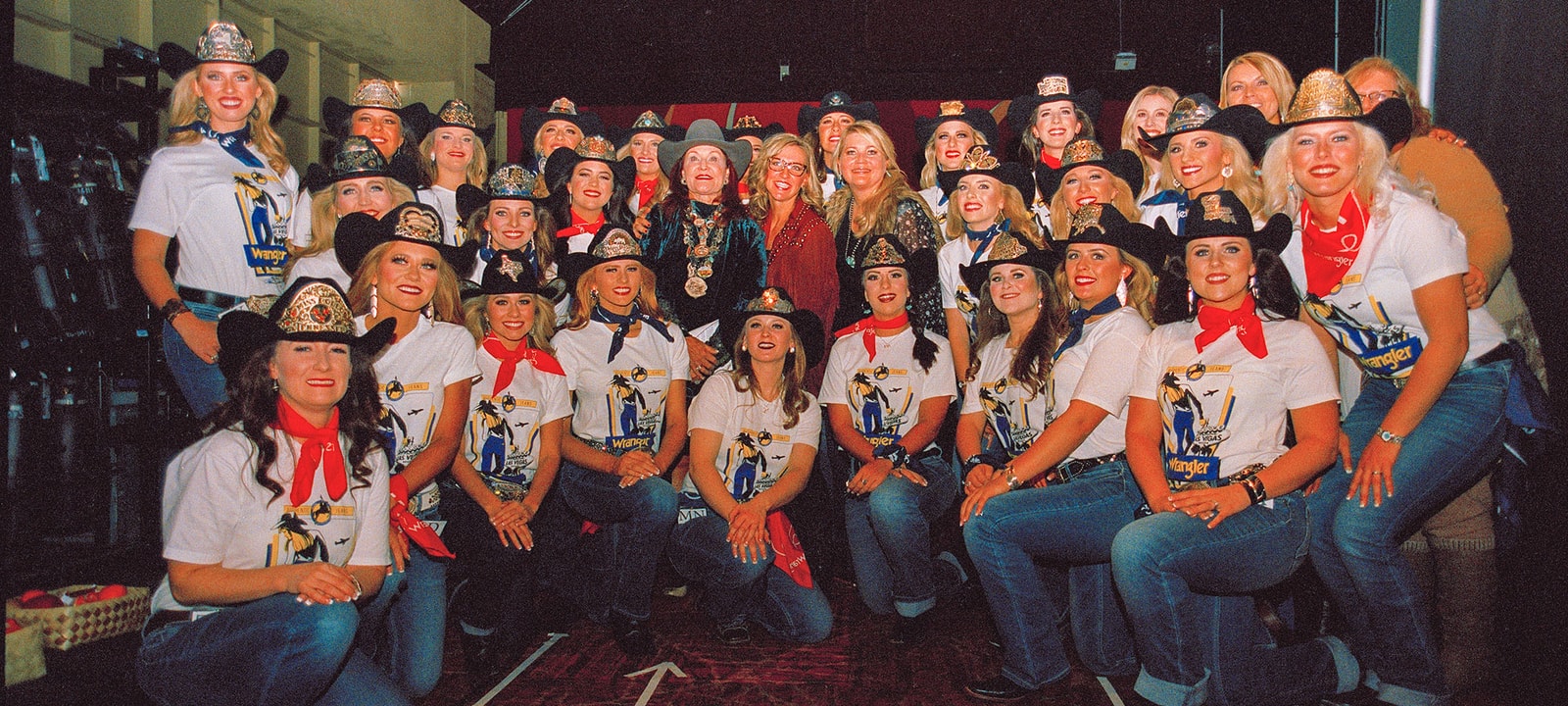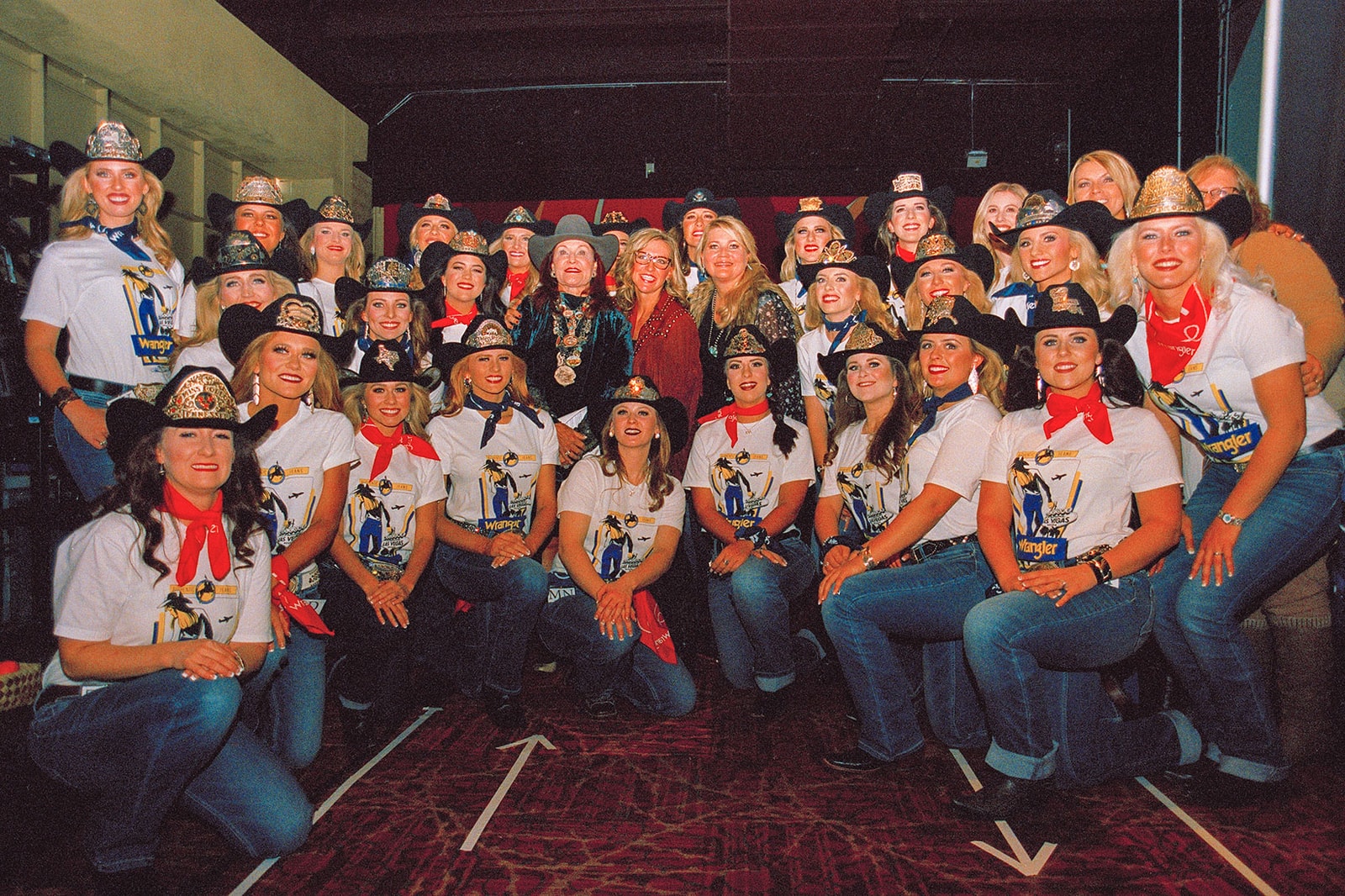 The Reality Behind America's Miss Rodeo Pageant
Here's what the contest tells us about diversity — or lack thereof — in American pageants.
Each year women from across the United States travel to Las Vegas, Nevada to compete in the Miss Rodeo America pageant. It's an annual competition tailored to the Western woman, held in conjunction with the Wrangler National Finals Rodeo (WNFR). As someone who has always been fascinated by Western style – for example, I have a large collection of vintage bandanas – I am wildly intrigued when an invite to the event's 2019 fashion show finds its way into my inbox. After all, it's been a big year for the so-called "yeehaw agenda" in which gallon hats and chaps have taken over mainstream culture thanks to the efforts of pop icons like Lil Nas X and Kacey Musgraves.
Scrolling through the list of contestants prior to arriving in Vegas, I notice that all of them are white – a fact that Sophia Wilson, the black photographer who tags along to shoot the story, says made her feel "worried" about what she might experience. Unsurprisingly, the connection between beauty pageants and racism is not at all an unexpected one. In fact, a 2016 story by the now-defunct outlet Racked revealed that "Miss America pageants were controversial for decades for many reasons, not the least of which was the fact that they did not allow contestants who were not white to compete, and had other racist overtones."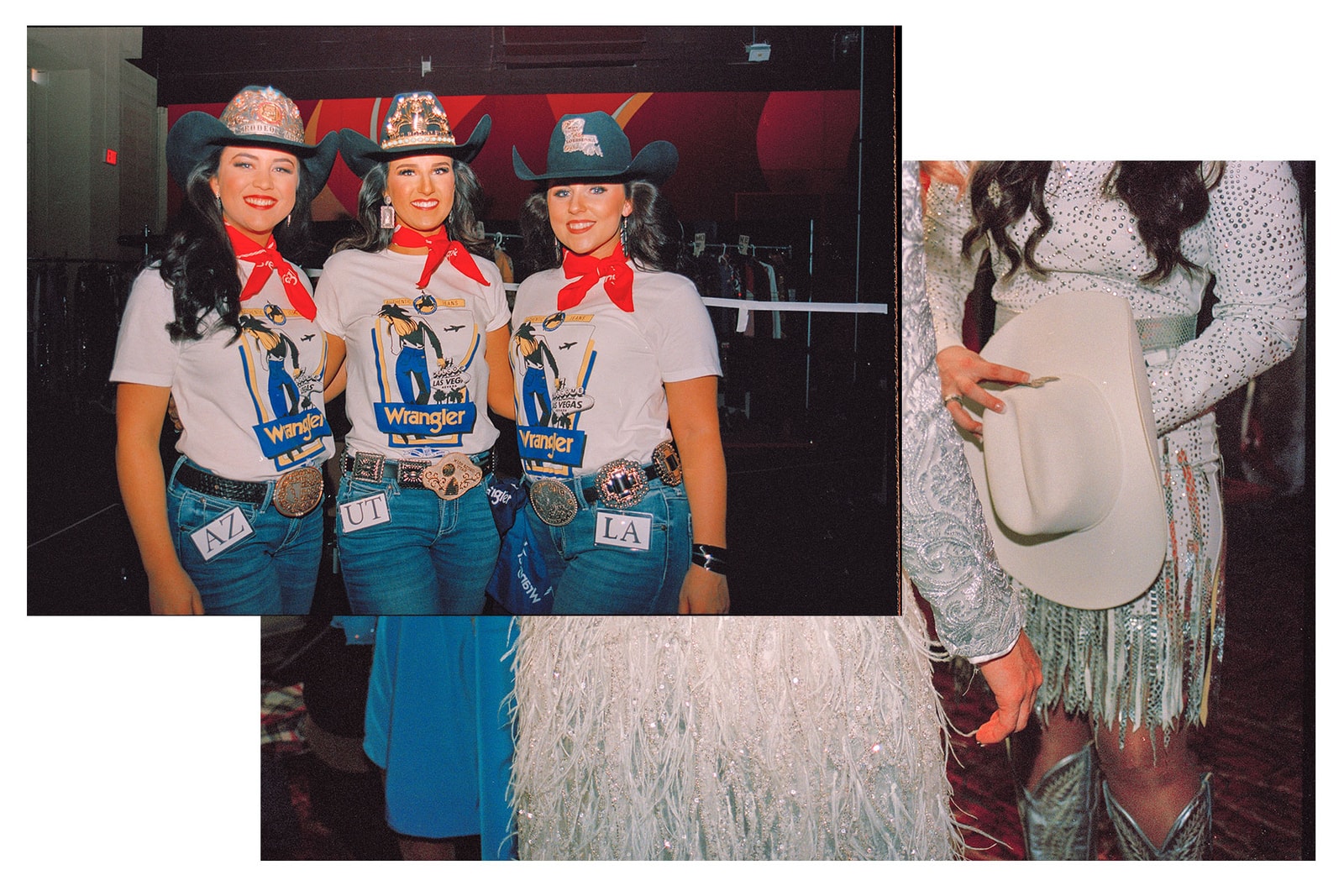 "We're going to be just as happy for the girl that wins as we would have if it would have been ourselves," expresses Miss Rodeo Louisiana, Cheyenne Benoit, backstage minutes before the Miss Rodeo America 2020 fashion show begins. Dressed in a Wrangler T-shirt and a massive cowboy hat, she sports a Western-style belt with jeans and cowboy boots with a red bandana tied around her neck. Her hair is in wispy waves while she rocks a pair of big metal feather earrings.
"This group of girls is very special. It's unlike any of the other ones. We are all pretty much on the same page. Nobody is going to be upset if they don't win. Everybody is picking out bobby pins and helping with wardrobe malfunctions. It's different than a beauty pageant." Unlike other beauty pageants that are commonly portrayed in the media as being surface-level or combative, Rodeo Queens are "helpful" and "thankful" for each other, according to the contestant.
Moments later, she and the other 27 contestants, who were all wearing the same thing, posed for a photo together and did a collective group cheer. With faces full of makeup (think: lots of cover-up, big lashes, and bright red lipstick), the women seemed spirited and affectionate towards each other. This is a sentiment I wasn't expecting to witness when I boarded a plane to Las Vegas.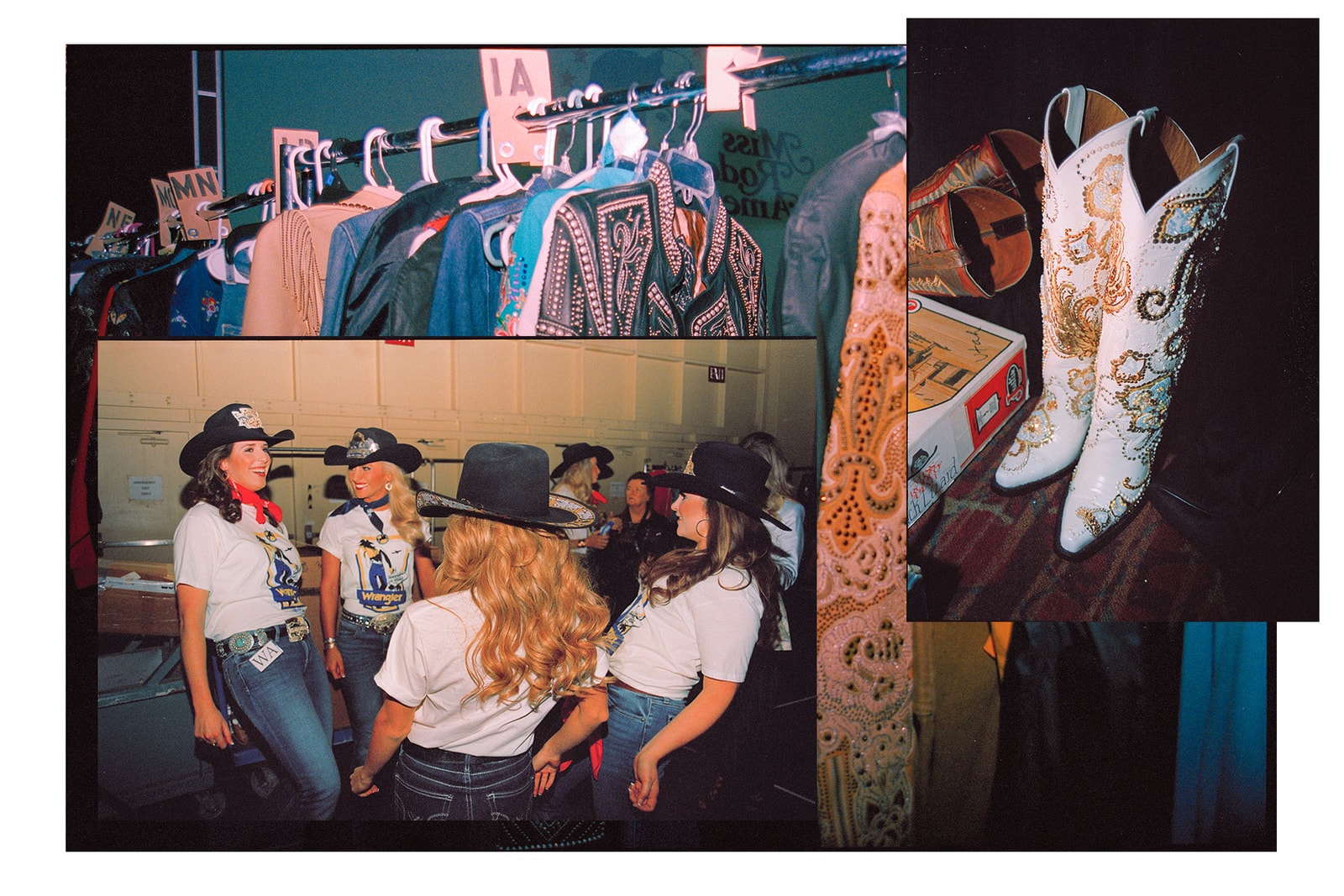 Chock full of competitive games and Western-inspired fashion, Miss Rodeo America "offers young women the opportunity to garner one of the richest experiences of their lives, while at the same time create solid foundations for their future endeavors," according to the press release. In addition to fostering "lifelong friendships", the winner receives a whopping $20,000 USD in scholarship funds. And although the larger event has taken place since 1959, given the impact all things Western has been having on the media lately, it now feels more timely than ever.
"Our pageant's different from most pageants because our main challenge is riding horses," Jennifer Fisk, Miss Rodeo Nevada explained. During Miss Rodeo America, reigning Rodeo Queens from different states are judged on traditional pageant circuit characteristics like appearance and personality, but also wild cards including horsemanship.
Filing into our seats after snapping some photos backstage before the show, the lights went dim and a film came onto the large screen before us. Lil Nas X and Billy Ray Cyrus' hit song, "Old Town Road" blasted on the speakers and a short clip of black cowboys played out on the screen. Watching as Miss Rodeo America 2019, Taylor McNair, rode a horse into the desert on an imaginary quest to get to Vegas for the 2020 event, the audience roared as she eventually rode into the room on a real live horse.
After that, the contestants were announced while there were also some awards and speeches. Participating in various runway moments with different segments devoted to outfits by corporate sponsors including Wrangler and other Western-style fashion brands including Boot Barn, Double D Ranchwear, and Kippy's, the women modeled the outfits in small groups on the stage, moving their bodies cheekily to different country tunes. The crowd cheered them on while sitting at round tables, munching on salad and meat.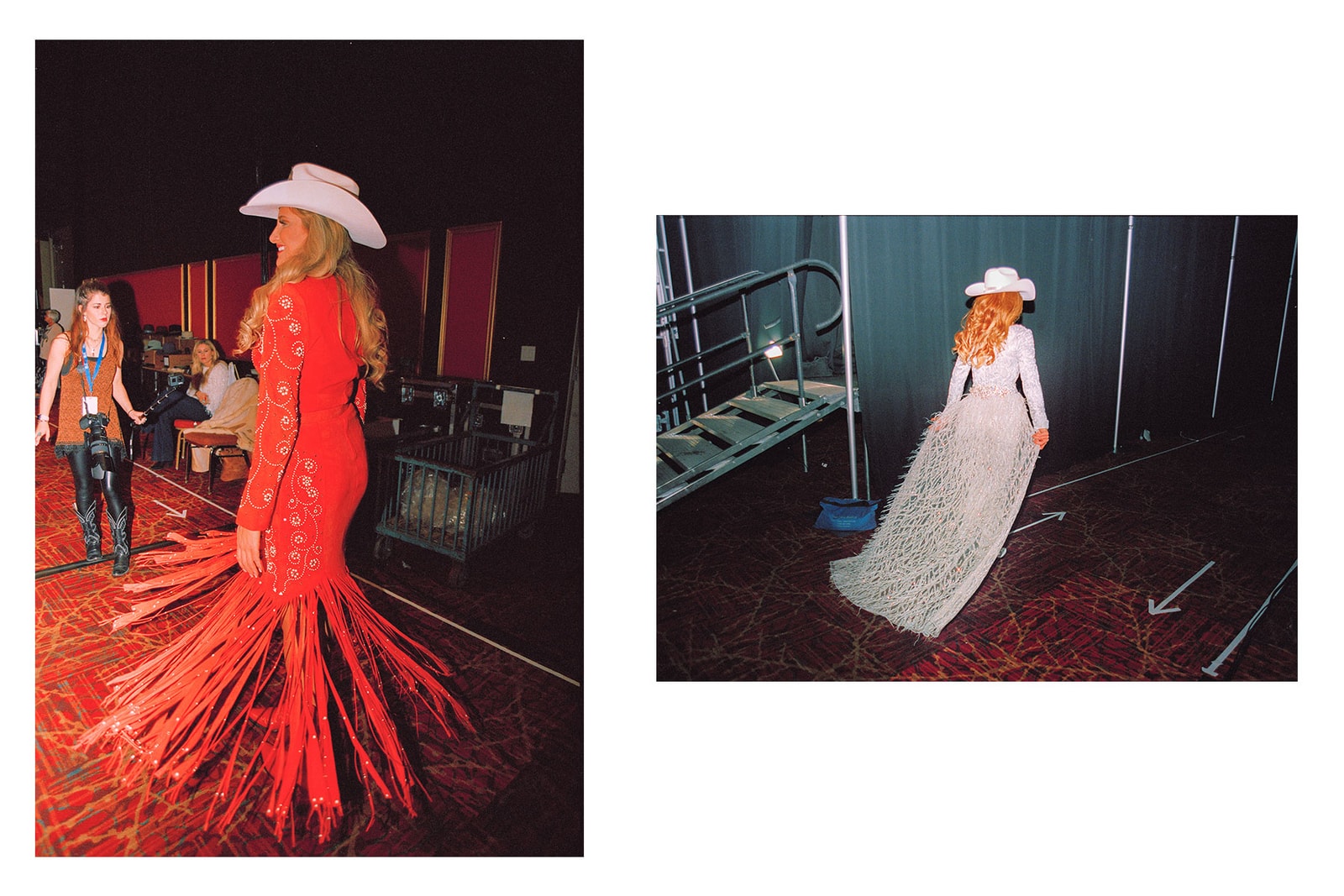 The biggest fashion moment occurred towards the end when each contestant modeled an original look they created with a designer made especially for the pageant. From dresses with studs and silver snakeskin fringe to brocaded pantsuits with sheer, feathery trains, the outfits did not disappoint. There were cowboy boots of every color, floral and paisley embroidered shirtings, Western-style belts with metal buckles, and lots of glitzy jewelry. Pure glamor.
"We love to be poised, beautiful and elegant," said Jennifer Fisk, Miss Rodeo Nevada, backstage minutes before the custom look moment. "I think just having clothes that you look great in that are trendy and up to date with what's going on as far as fashion trends go is really important to have in the rodeo world and civilian world." For her, the fashion show was a "fun" opportunity to "dress to impress" and gave each contestant a chance to exercise their creativity – her special look, a navy blue floral lace romper with bell sleeves and big bell bottoms, was specifically inspired by something Kacey Musgraves wore at a Texas performance in March.
When I ask pageant director Jeana Linton about what Miss Rodeo represents, she says, "It is the ideal young lady who represents our Western way of life and the future of rodeo." According to her, the crowned contestant is not only beautiful but is also intelligent, well-spoken and can teach people of all ages about the rodeo lifestyle – something she says is not just about wearing a cowboy hat and cowboy boots. "It embodies what our Western culture comes from and her heritage is really from, and it's really from your heart… It's about having good values and morals and being kind to everyone and welcoming."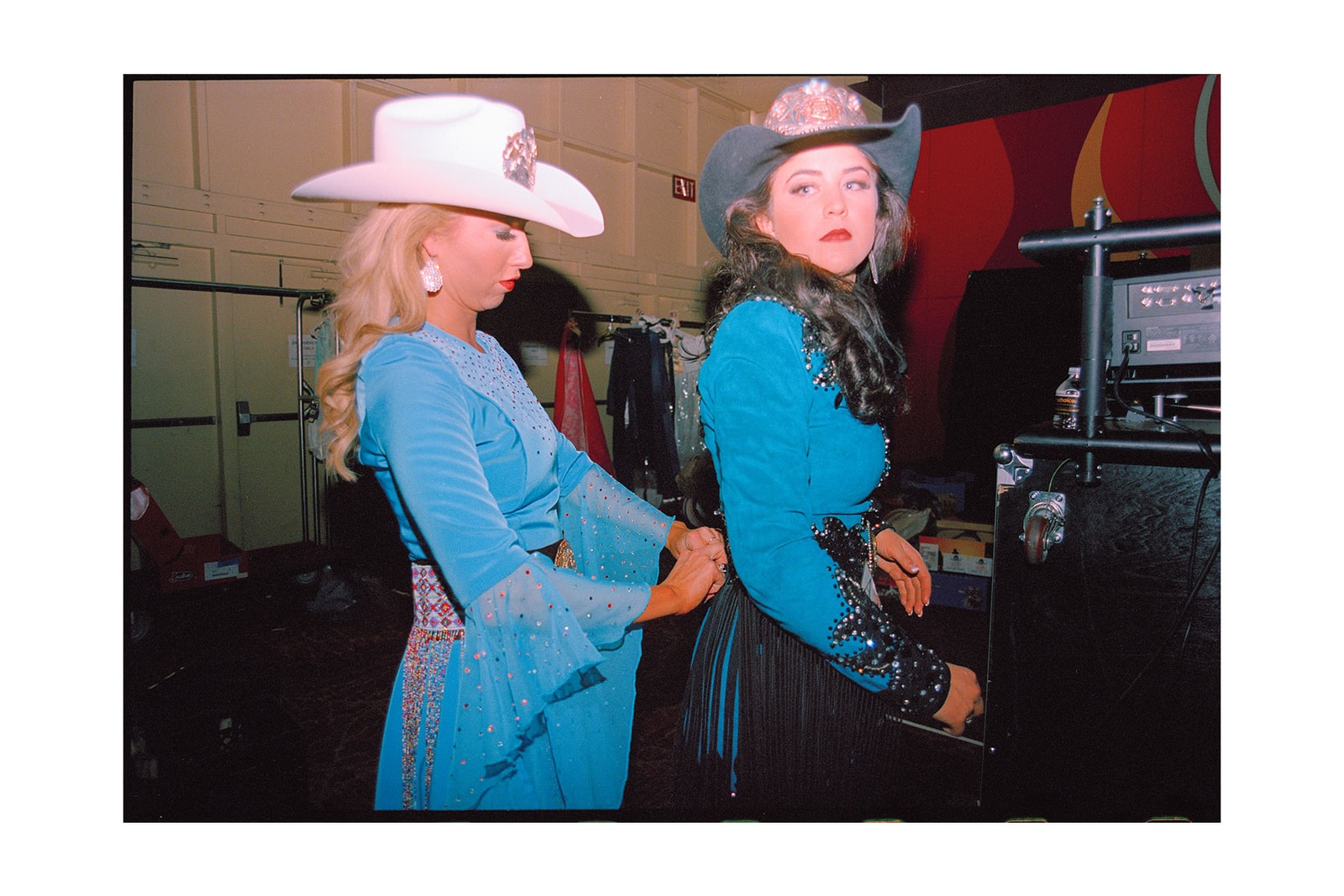 Still, given that this year is the first time Miss USA, Miss America, Miss Teen USA, and Miss Universe are all black women, the fact that all the women in the group were white seemed pretty precarious. "We are focused on finding contestants from all cities and ages and within our age range," Linton said, explaining that they're not doing anything to increase diversity. "We aren't specific on where they come from or their backgrounds. We just want more contestants. We want more young women out there representing rodeo and promoting that Western way of life."
The lack of diversity was noticeable from the crowd to the contestants. There's also the fact that American western culture is closely tied to the colonization of indigenous people and land while styles that are now part of the wardrobe of rodeo queens that were rocked on the runway (i.e. fringe, feathers, and so on) were originally stolen from brown people.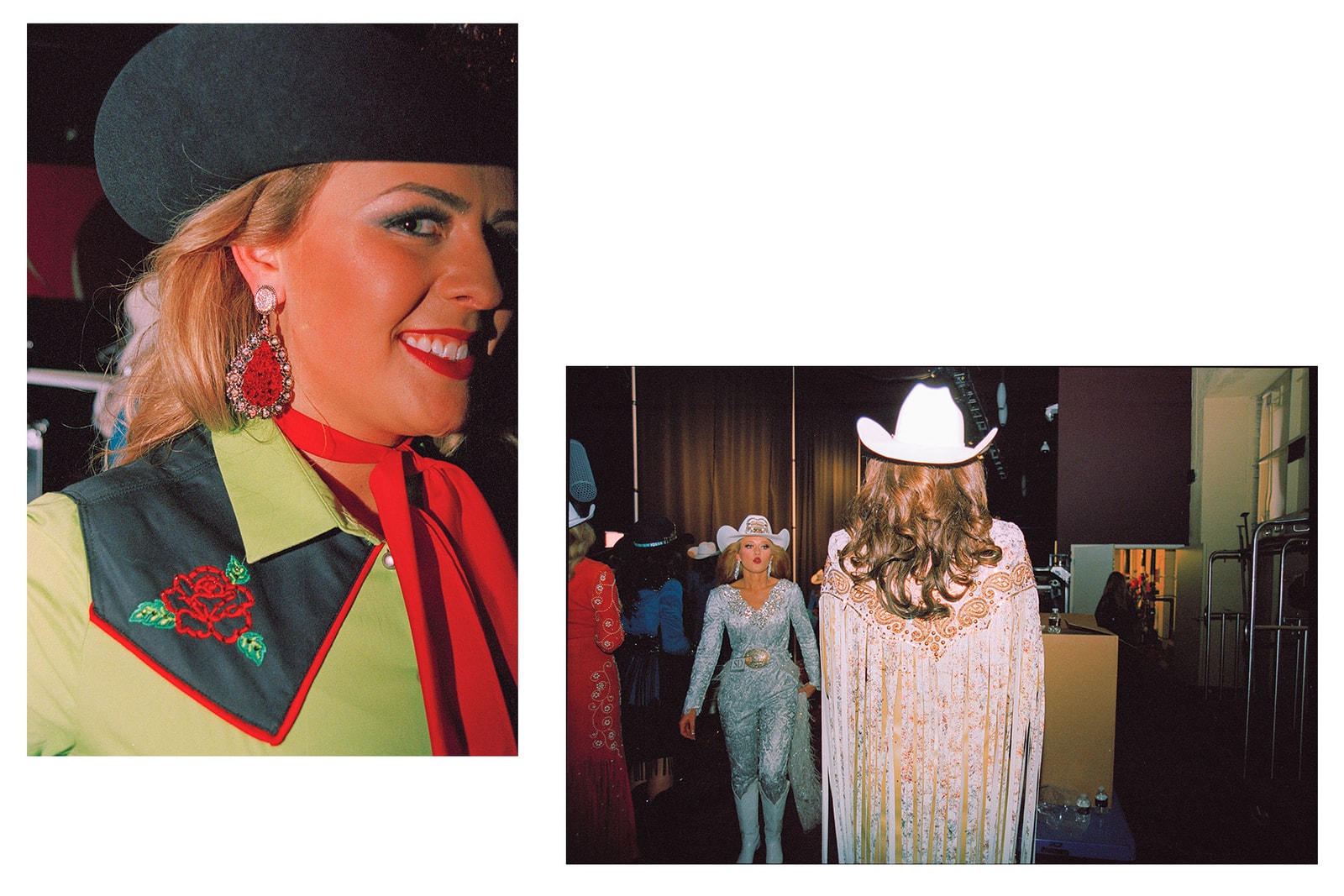 "I love to see Post Malone rock his cowboy hats and his amazing Western wear," expressed Madison Wagner, Miss Rodeo California. "We're seeing a lot more Western items coming to the forefront and I love to see that because we have a lot to offer in the Western world. We've got friends and rhinestones and all this fun, just sitting here waiting for it to hit the fashion world… So as more people get involved and I think they're gonna find, you know, a bit of themselves, a bit of their own personality and put their own spin on it."
With mainstream culture currently celebrating Western aesthetics from fashion to music, if the rodeo community truly wants to celebrate the spirit of belonging and empowerment, it'll need to come to terms with its own limited definition of who gets a seat at the table. While American pageants have a history of being white-washed, especially with the fall of brands such as Victoria's Secret, it's time other movements take a cue from inclusive brands like Fenty and Chromat and move beyond traditional beauty archetypes.