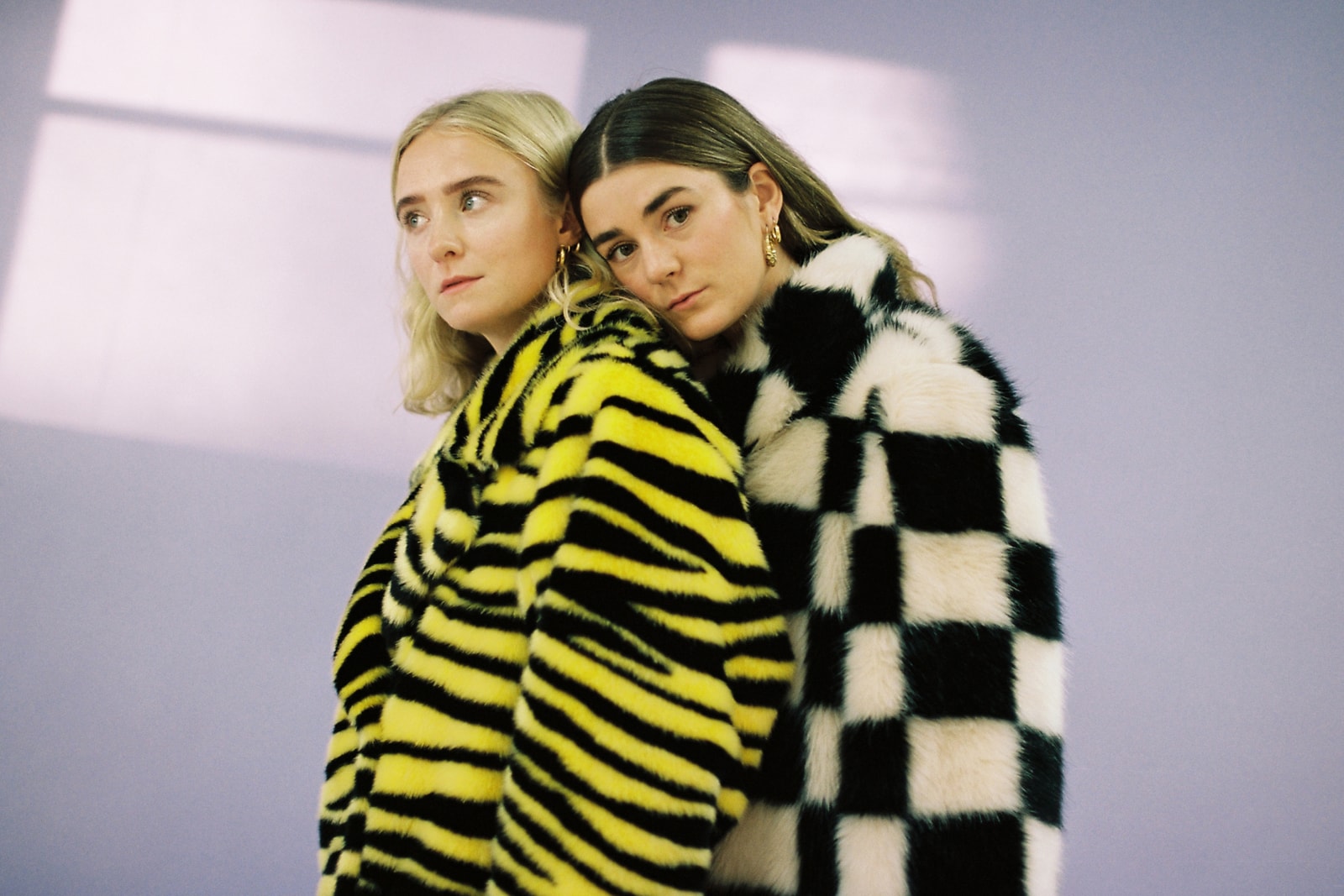 Meet Hobnob Journal, Fashion's Most Exciting Duo
A tale of fashion and friendship
If you look up the term "Friendship Goals" in the dictionary, I'm pretty sure that the definition is Hobnob Journal. The Swedish creative duo has managed to build a website that covers everything from current trends and their own in-house editorials, to conversations between friends and deeper think pieces, and they're only just getting started. Consisting of Linn Eklund and Fanny Ekstrand, Hobnob Journal is eclectic, charming and perhaps one of the most exciting places for fashion content.
Of course, I had to catch up with the duo and learn all about their background in fashion, their favorite pieces and if they would pick Prada over Chanel. Keep reading to enter the world of Hobnob. Trust me, you won't regret it.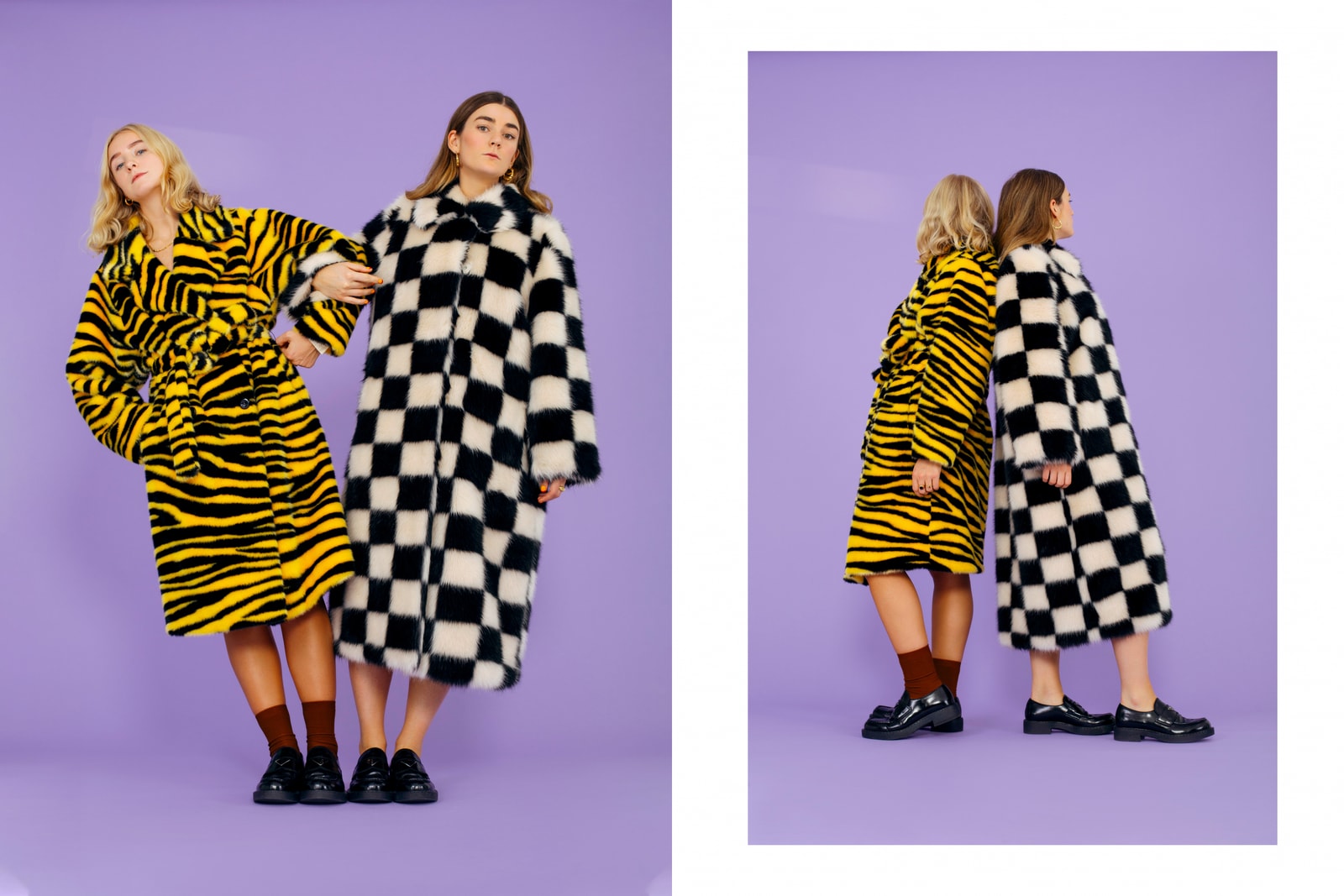 How did you meet?
We met via mutual friends many years ago but didn't really become close at all. A few years later we both worked at Stella McCartney but didn't starting to hang out then either. Then, two years ago, when the Spring/Summer fashion week season was coming up neither of us had anyone to go to the shows with, so we asked one another if we should share a hotel room and go to the shows together. It was the best fashion week season ever.
How did Hobnob come about? And where did the name come from?
After that first fashion week season we started hanging out like crazy. Fanny's boyfriend didn't see her at all. That same fall we started having all these ideas about what we could do together as a duo and were just about to start pitching it to different magazines and titles when we were like, wait, why should we give other all these (in our not so humble opinion very) great ideas? That just did not make sense. We had already been on that side of the industry before, with lots of long decision leads and hierarchies and it wasn't very creative at all. So, we started Hobnob. Oh yes, the reason it's called Hobnob is actually not because of how delicious the cookies are (which they really are btw) but because of the old English meaning of Hobnob: socializing over a drink. Which is how we love to talk about fashion and culture.
Where did your interest in fashion start?
Both of our fashion interests come from our mothers who are both very stylish. But what we both love about fashion and what really got us into it as kids is how it makes you feel. Clothes aren't just something you put on, it's a direct expression of who you are, what you feel and also the time we are in. We are both really into fashion history of course – the politics that comes with it.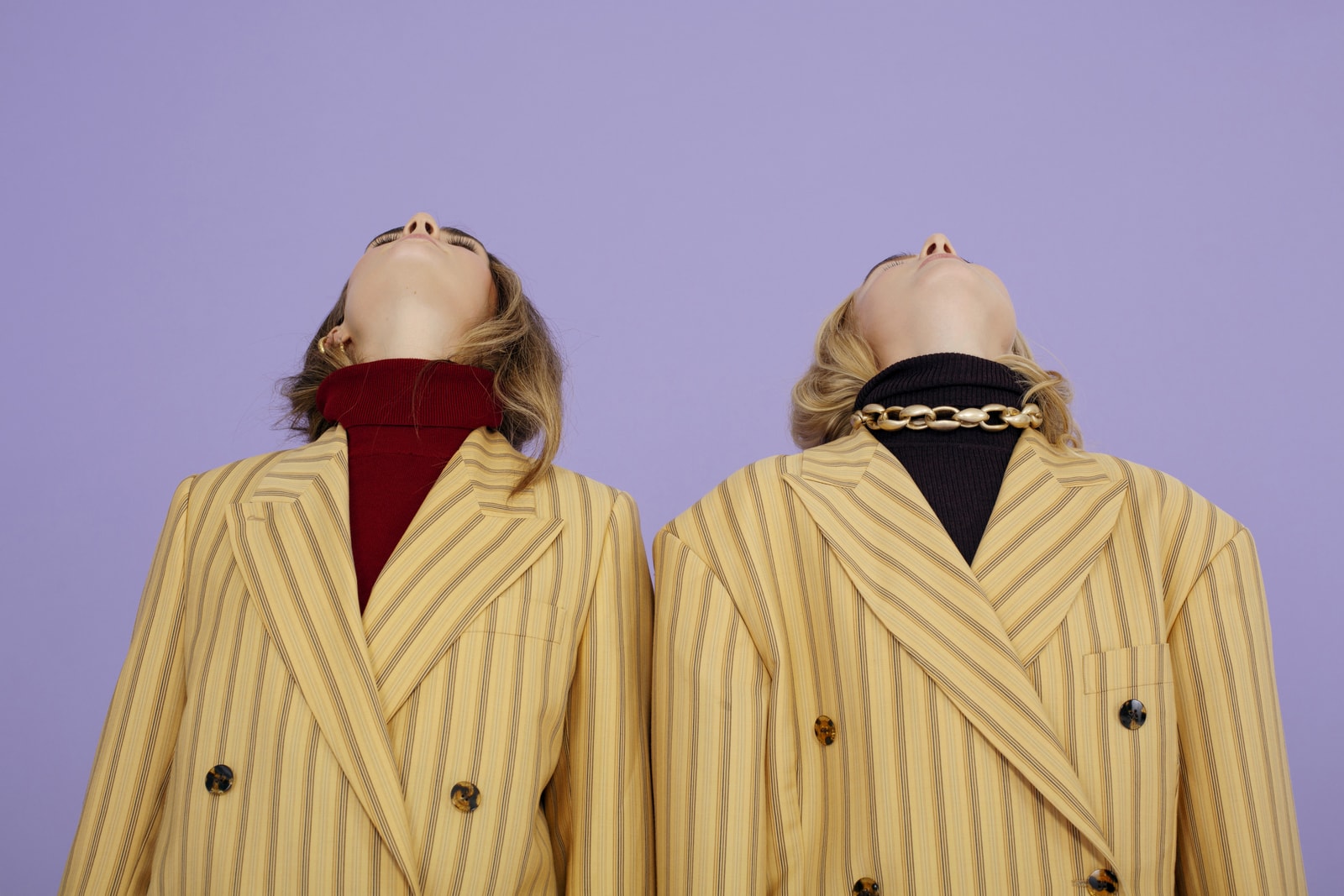 What was your first big purchase?
Fanny: My first big purchase was a pair of dark wine colored Prada platform sandals. I bought them in the Prada store on the top of hill on Capri after a few glasses of Aperol Spritz. I did not have the money but when I woke up the next day and just figured, well I am gonna have to use the hell out of these shoes.
Linn: I had been working all summer a few years back. All the money I earned, I saved on a closed bank account. Then, in the end of summer, I saw this fury pink (now old) Céline bag on the website and just thought to myself, this is the one if I ever saw the one. Fortunately, that week my mom was in Nice and when she passed the Céline store by accident she ended up finding it. So, she bought it for me. I still love it so much and will never sell it.
Is there a particular collection or brand that has played a big role in developing your love for fashion?
Prada has always been a huge inspiration to the both of us. The way Miuccia expresses femininity at the same time as infallible boldness and cool has shaped us and we always look back to old Prada collections. Then of course, Phoebe Philo did the same with Céline but in a completely different way. Still with that unapologetic power and cool, though.
What are some of your favourite brands right now? Of all time?
Prada, Jil Sander, Dries van Noten, Loewe to mention a few. And of course, Céline back in the days when there was still a little " ́" to the E. Also the new Bottega Veneta. When it comes to basics, Swedish label ARKET has the best selection ever!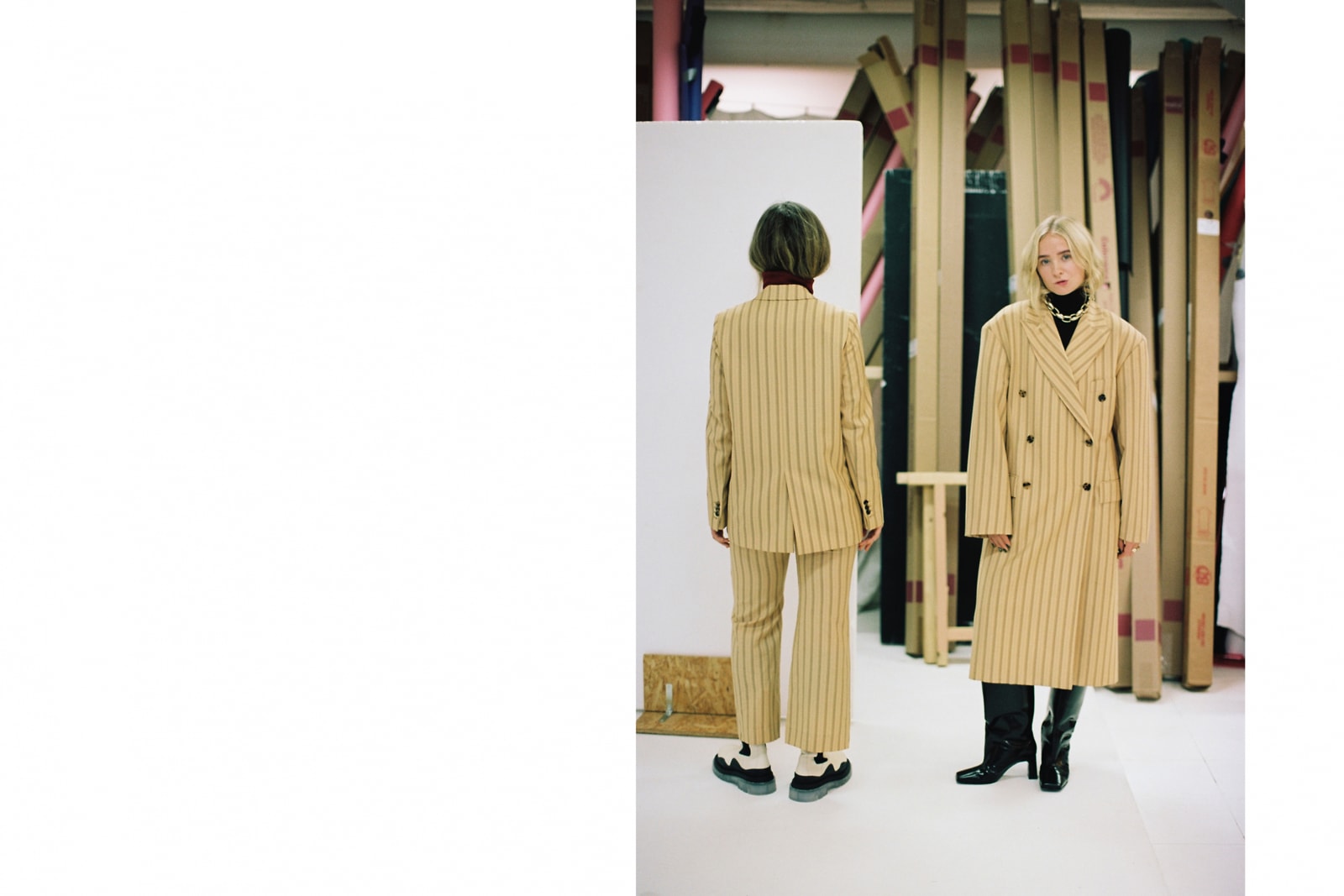 What is the best thing you've ever bought?
Fanny: I bought a canvas Prada bag with tiny palm trees two years ago. It is from the Spring 17 collection and I could not afford it while it was in store. The summer after I found it on eBay and my luck was just done. I love it just as much today.
Linn: My best purchases are always the weirdest ones. I bought this amazing show piece from Loewe this summer on the sale, it's a yellow Marie Antoinette-inspired skirt that is just incredible. It was still crazy expensive, so my mom thought I was out of my mind when I bought it, as she couldn't imagine how I would wear that kind of piece in my every day life. But, I have proven her wrong. My original plan was to wear it to Fanny's wedding, but as COVID-19 came they had to postpone it to next year – but I have lost count on my fingers how many times I've worn it to work and everyday occasions. I love to dress up, no matter what.
What are your thoughts on those regarding fashion as fake and superficial?
Fashion is and always has been smart. Too many (men) have devalued our fashion interest over the years and tried to make us feel small for liking something as superficial as clothes. We'd like to see them argue with history about the impact the fashion industry has had on the world, with creators like Vivienne Westwood, Yves Saint Laurent and Martin Margiela.
When getting dressed in the morning, what goes through your heads?
The first thing that goes through our heads are, how much time do we got? We love changing clothes and experimenting but time is always the enemy.
How would you describe your styles?
In our wardrobes, the stand-out pieces are the most important ones. Our signature style is vintage men's suits, heavy shoes and funny jackets. We don't take ourselves too seriously and would never want our style to be, either.
In what way is fashion a part of your identity? How do you use clothes to express yourselves?
We love talking about fashion and our style as an extension to our personalities and the way we feel. That is why we could never find a uniform that would work to every occasion like some people do (although they seem to be saving an awful lot of time with it). Like if we go vintage shopping, we can find pieces for each other and be like "this is so you right now". Some say it's only clothes but please, tell us one thing that can build your mood like a really good outfit?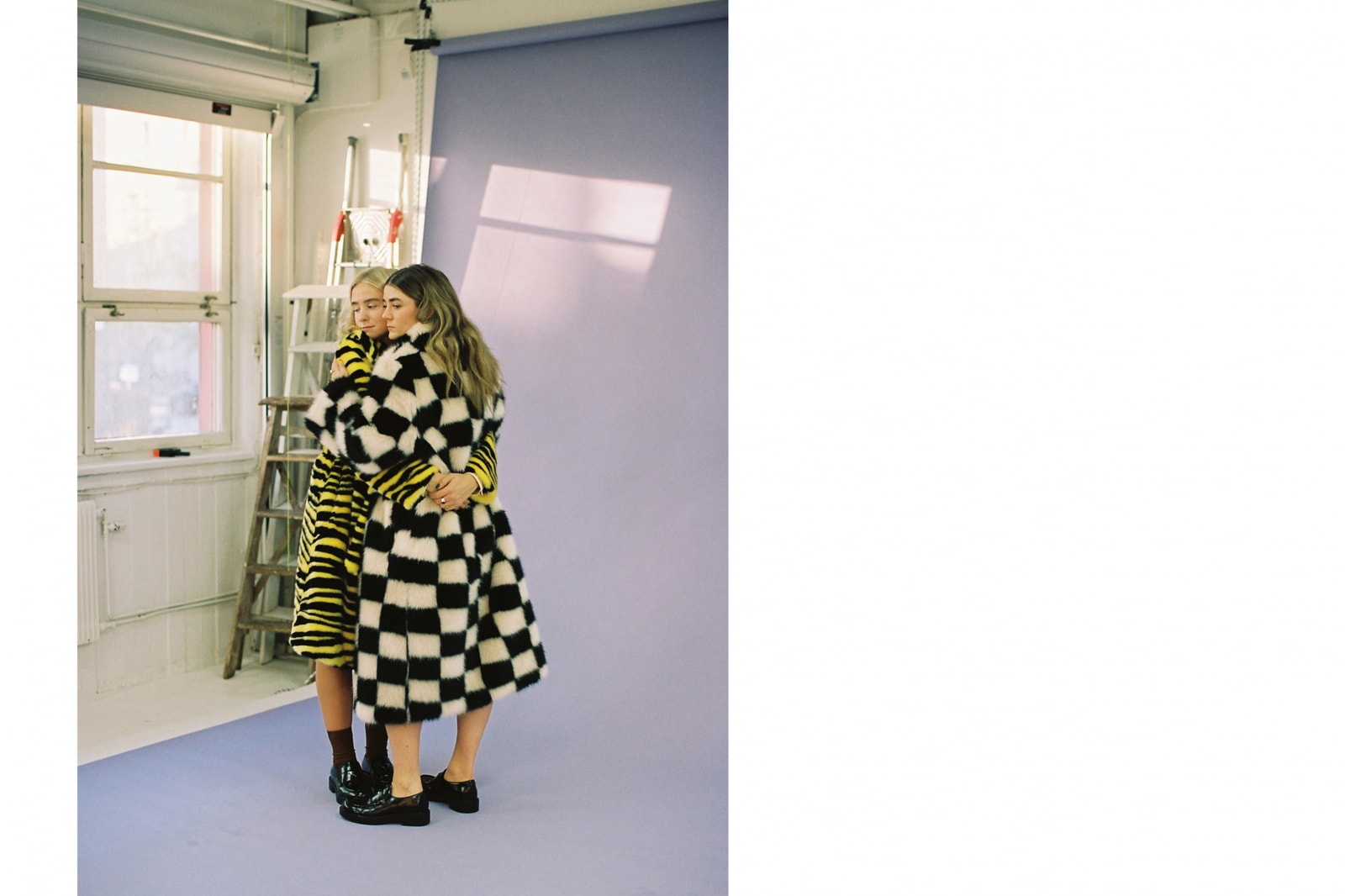 What is it like working as a creative duo?
Challenging and elaborative on so many levels. To have a person that is almost in your head all the time is so cool and we really push each other to develop and think new all the time. But it can also be consuming on our private relationship which is why it's so important to hang out not talking about business at all. We are pretty good at that, too.
Where do you get inspiration from? What are some of your favourite projects you've worked on?
We did a campaign with a Swedish actress, Hedda Stiernstedt for Cartier earlier this fall which was a very exciting project. We really got to bring Swedish and French culture together in the loveliest combination. We always try to work with what we've got and during the pandemic that has been even more important to us. We find inspiration in history, in pop culture and in art. And through each other, of course.
What advice would you give to young creatives looking to get into the fashion industry?
Work hard and hungry, be kind to yourselves and others and dare to have integrity.