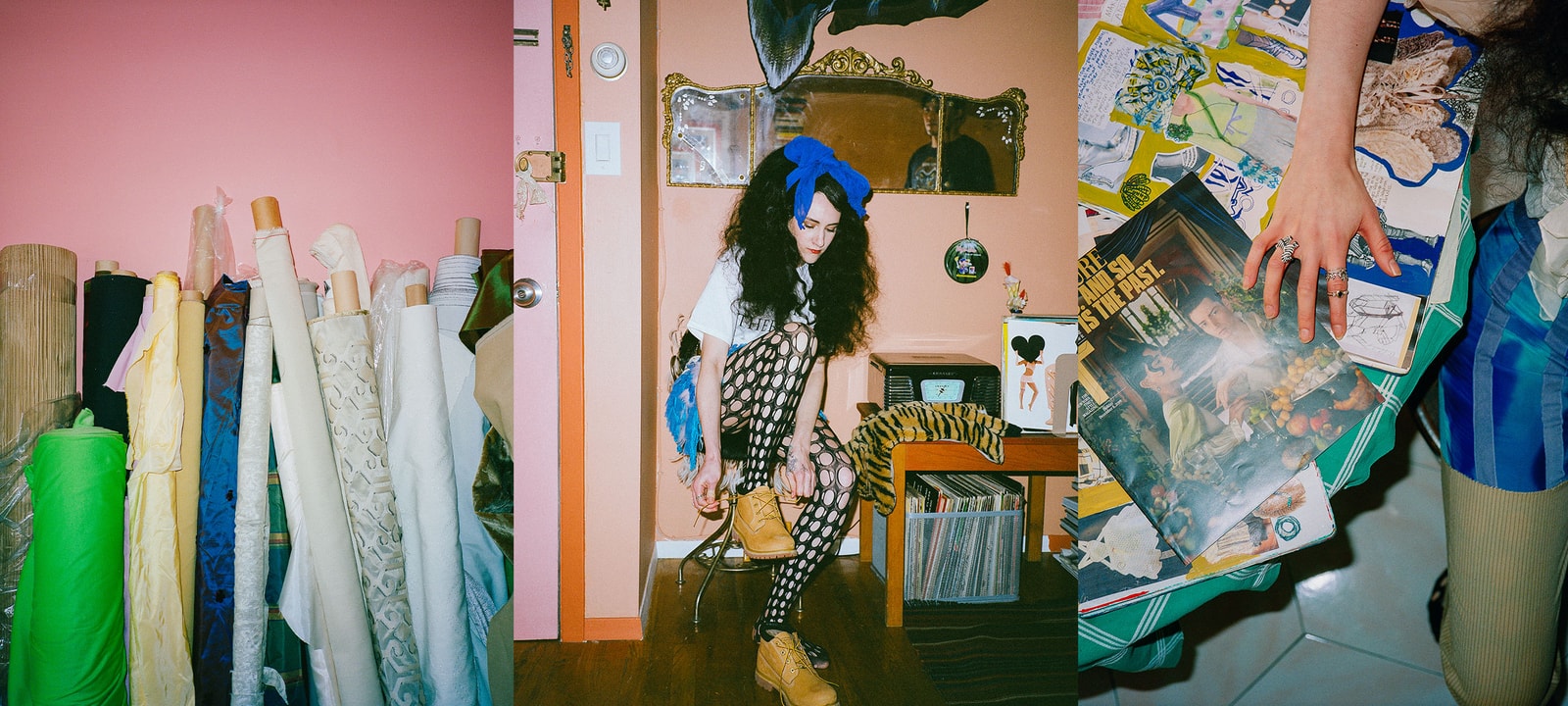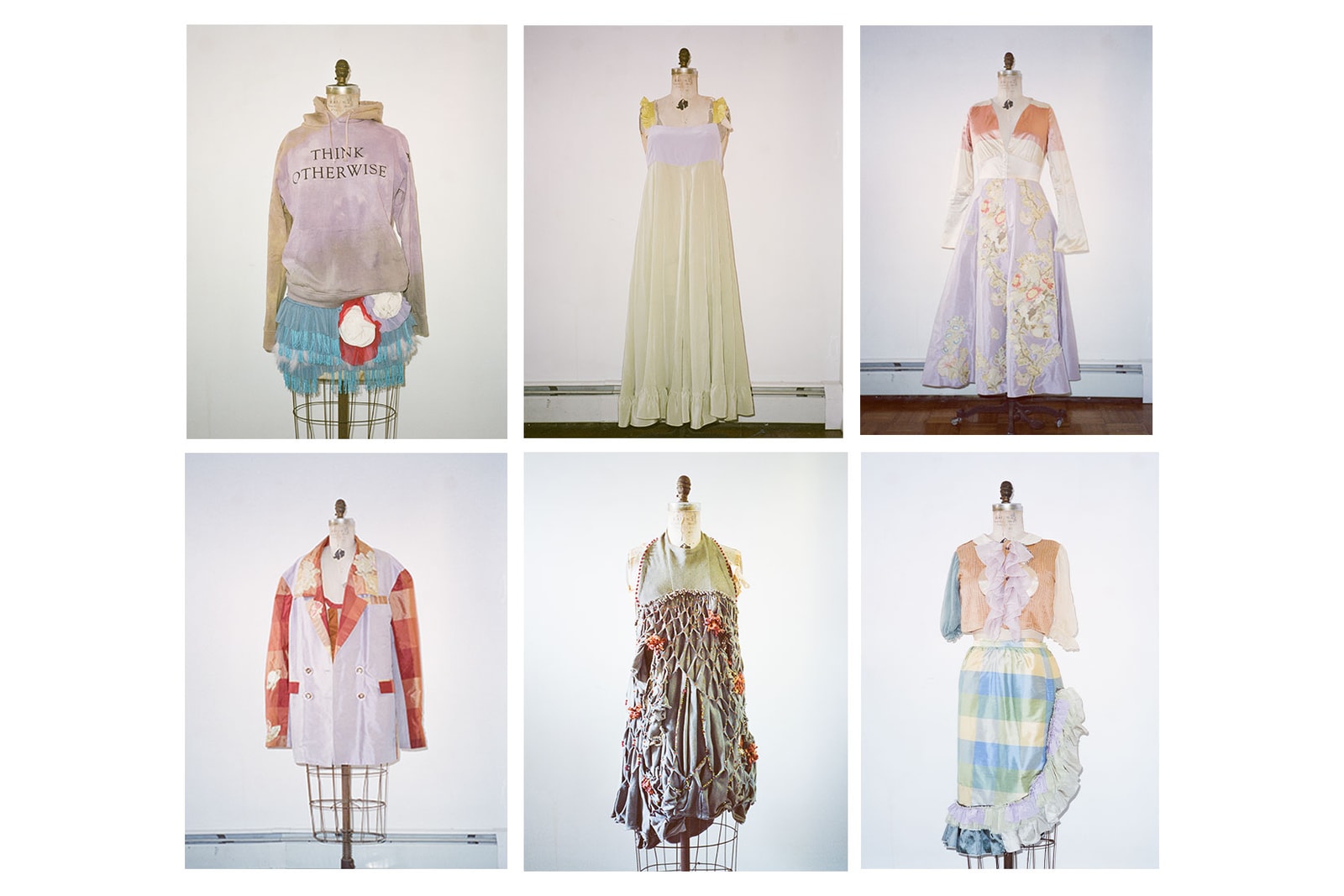 Behind the Atelier: How Raffaella Hanley of Lou Dallas Is Promoting A New Era of Individuality
The sustainable fashion designer gives us an inside look at her Brooklyn home and design space.
Behind the Atelier is a fashion-focused series that examines the unique backstories and design processes behind the fashion industry's most captivating talents. Pulling back the curtain on each designer's creative space and practice, Behind the Atelier will highlight and give an inside look into the industry's most exciting names. 
For the third installment of the series, HYPEBAE sat down with New York-based designer, founder and owner of Lou Dallas, to give us an inside look at her Brooklyn home and design space. In a candid conversation with Raffaella Hanley, she revealed how Jean-Paul Gaultier's costumes for the film, The Fifth Element, inspired her love of fashion, the process behind her fantastical and emotionally-driven collections and how she is using fashion to spotlight ongoing issues and conversations surrounding sustainability.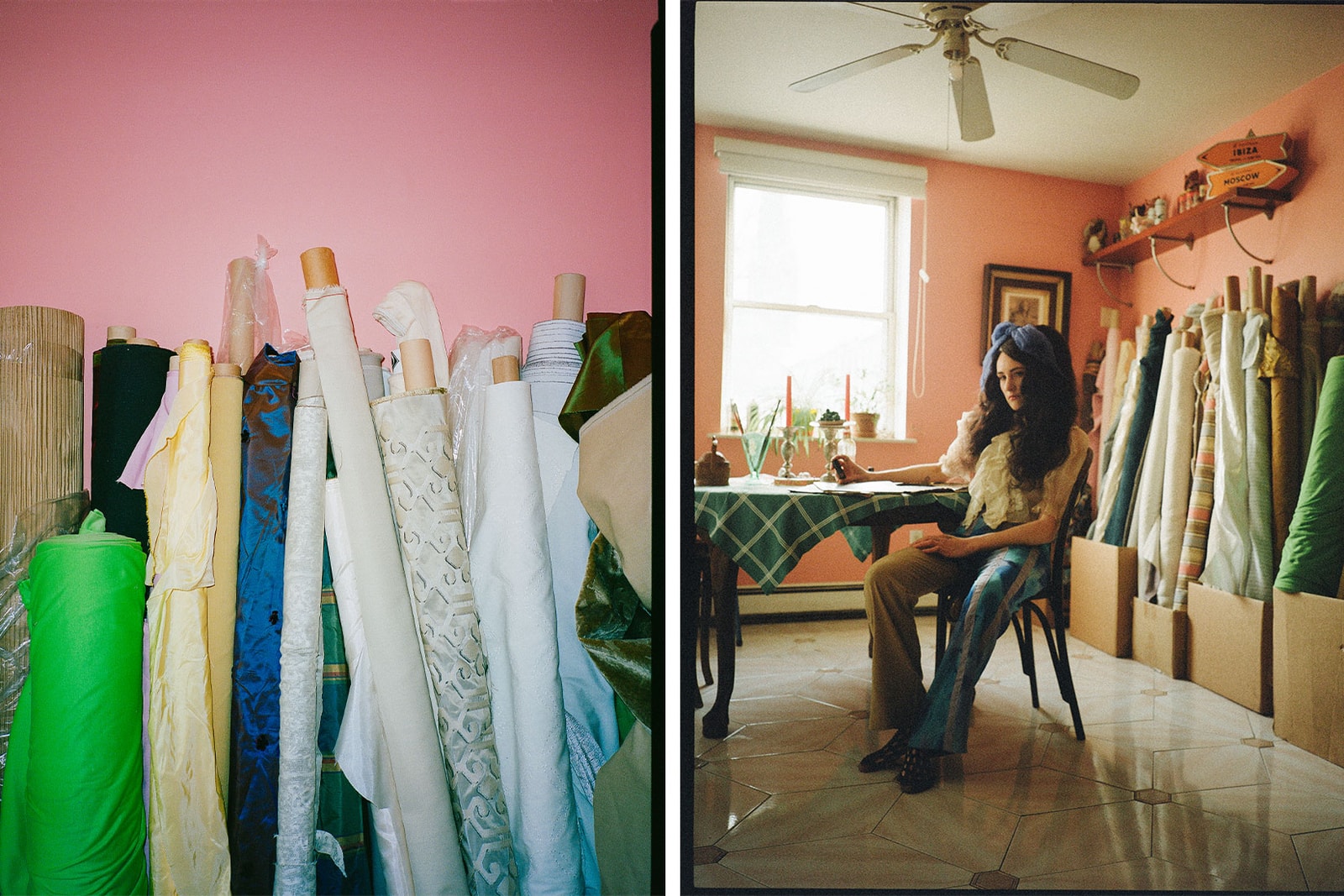 Imagine a world where mass-produced fashion was no longer a societal normative and fabrics and garments that were once cast to the wayside were combined to form new, purposeful and meaningful creations. This evolved progression of design aims to shift the course of the fashion industry by breathing new life into disregarded clothes, while promoting a newfound sense of individuality through singular one-time pieces that would eliminate the added strain currently being inflicted on our ecosystem. Plunging into the myriad world of deadstock textiles, upholstered fabrics and utilizing techniques like upcycling and hand-dying, designer and founder of Lou Dallas, Raffaella Hanley is creating sustainable, homespun-style clothes that bridge the gap between fantasy and reality.
Operating out of her Brooklyn-based apartment that doubles as the brand's design space, Raffaella's unbridled imagination can be seen the moment you step inside — from the painted walls dripping in bubblegum pink to a sea of deadstock upholstery fabric bolts and stacks of rare-edition fashion magazines that date back to the early '90s. As a self-taught designer, Raffaella has been able to harness her non-traditional learnings while studying painting at RISD, developing a mature sense for designing knitwear and draping fabrics that eventually led her to launch Lou Dallas. Utilizing her penchant for crafting whimsical pieces like ostrich leather jackets with upcycled Swarovski crystal buttons along with upcycled trousers, color-blocked slip dresses and her signature "Think Otherwise" tees, she has cultivated a fantasy-driven world that has attracted the likes of downtown cool kids, conscious consumers and rising Euphoria star Hunter Schafer.
While much can be said on the future of the fashion industry, Raffaella's commitment to sustainability and her ability to conceive spellbinding designs with deadstock materials sends a clear message to luxury brands and consumers on ways we can alter, and ultimately, overhaul the fashion system.
To get to know the designer, HYPEBAE sat down with Raffaella Hanley to discuss her distinct design ethos, her stance on using fashion to discuss ongoing issues surrounding sustainability and how her "Think Otherwise" T-shirts and hoodies have become an integral part of the brand's DNA.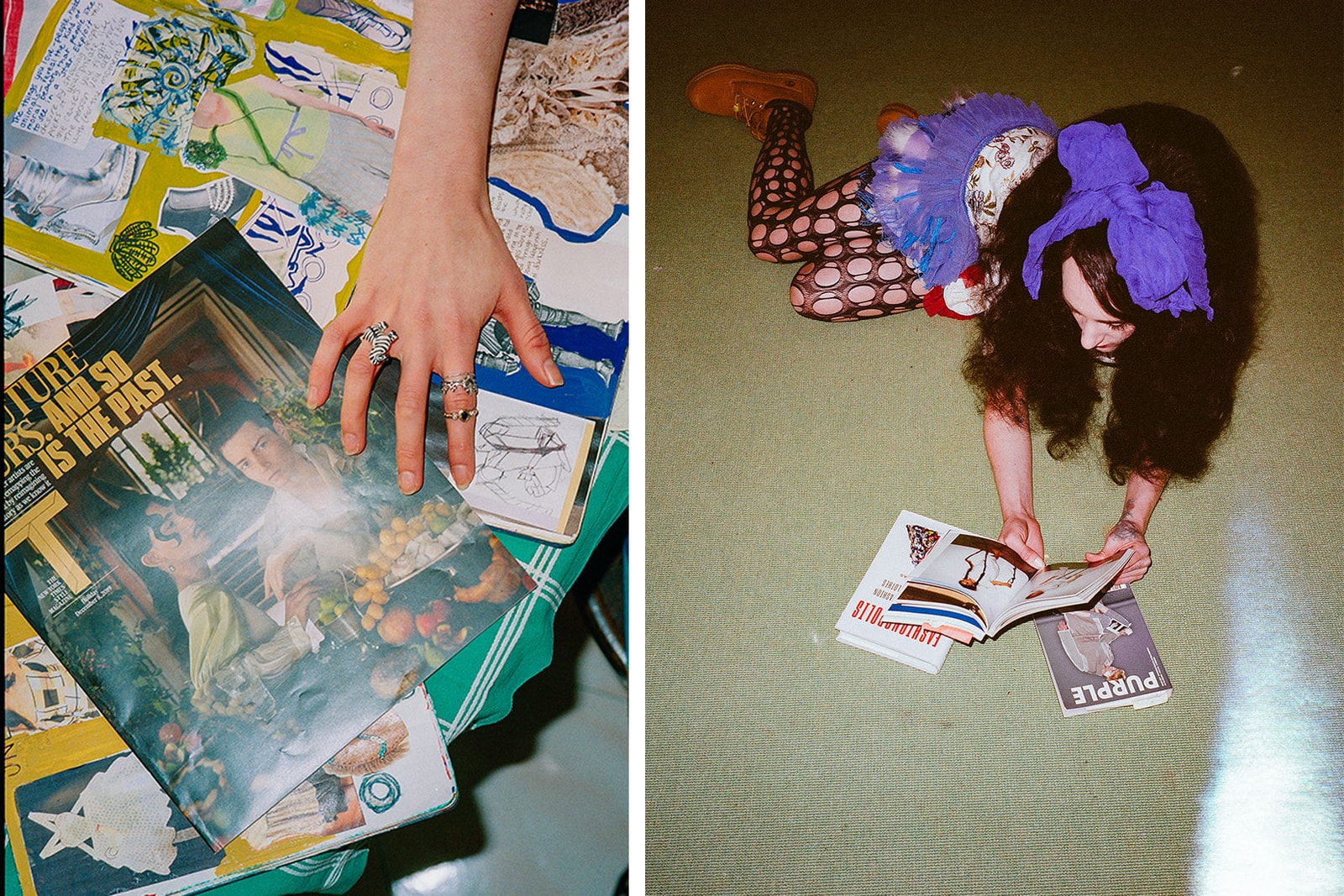 What is your design process like when creating a new collection or collaboration?
I became interested in fashion when I first saw the film The Fifth Element when I was 12 years old and I loved Jean-Paul Gaultier's costumes — really just everything about the world that was created in the film. So after that [starting in] the fourth grade and up until high school, I ended up taking costume design classes and was able to develop some sense of draping and sewing skills. Clothes have always been an interest of mine that I've pursued, but when I went to RISD you had to pick a major and and I decided to pick painting and took a pause from designing.
When I left RISD, I actually found clothing to be more appealing because the school has its own indoctrination on how you should make art and I felt free making clothing because there was no indoctrination or weird teaching that might cloud what I would want to do. I just felt like it actually made a lot of sense to try and make clothes after school.
What was your experience studying at RISD? Did you find that any of the courses you took as a painting major, influenced or changed the way you perceive fashion and design as a whole? 
[Even though] I was a painting major, the school offered machine knitting courses that I took. But aside from that, I think RISD was great for thrifting. There was this amazing thrift store called Savers and you could get so much crazy clothing. But [more than anything], I appreciated the thrifting culture at RISD.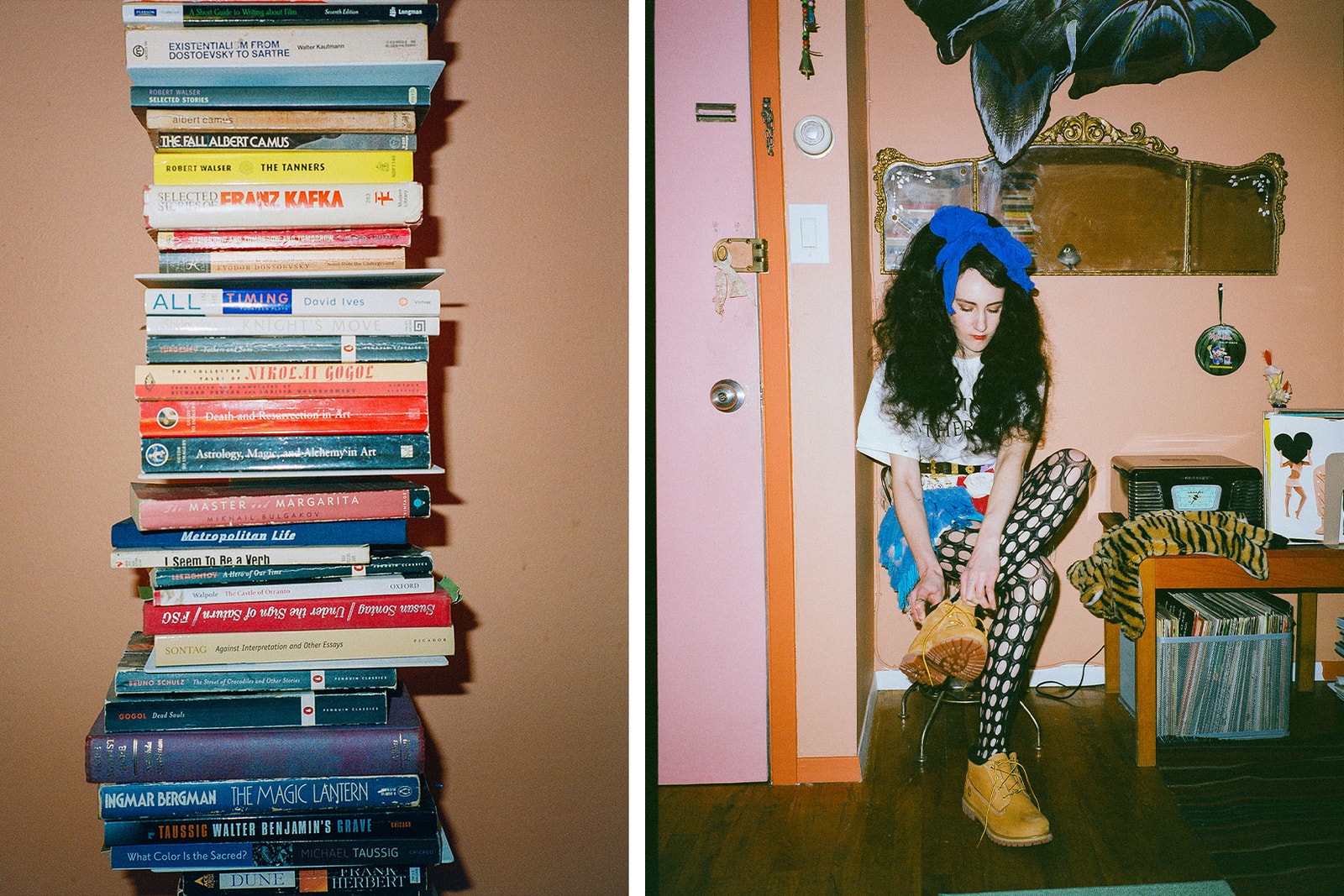 For those who may not know you, how would you describe your approach to design and/or aesthetic? 
I love making mood boards, I'll usually start there. I also like collecting quotes from books I like, along with movie stills, Internet searches, book scans and photos I've taken. Then I focus on a narrative from what story I want to tell, to the emotion I'm looking to connect with. From there, I wing the rest of the process and react as the clothing is being made.
How did you first learn about the technique of upcycling? And at what point, did you decide to integrate the technique into your own brand?
While in the painting department, I started to only want to use materials I already had because it felt extremely wasteful, like buying new canvases, and it made me feel that because I have artistic training I should use already existing materials. I found the process to be more inspiring because you can reinvent or bring new life to already existing materials. For me, that's always been a part of my practices, scavenging for materials that interest me and working with them.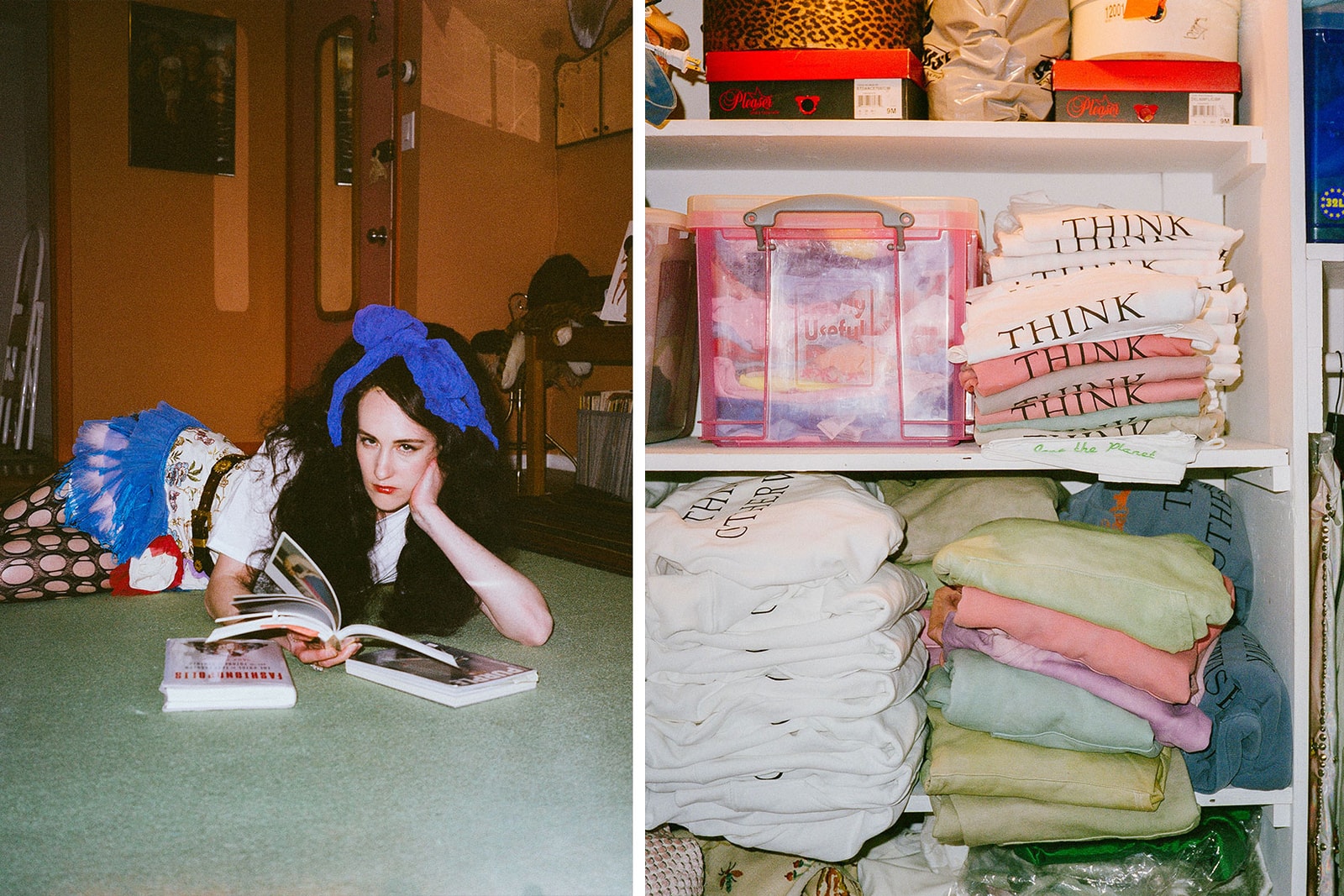 Were there any key initiatives right off the bat that you knew you wanted to focus on for your brand, such as sustainability, upcycling and utilizing deadstock interior fabrics? 
I've always cared about the environment and I don't like using chemicals. Without even thinking about it, I approached my line in a sustainable manner because I've always lived consciously, even with my lifestyle, because I care about the climate. I also like the challenge of figuring out what to do with materials that people want to throw away. My whole goal was to bring an aesthetic to that and make sure that the collections I was making had its own definable aesthetic that, in my mind, was fashion.
How does hand-dying play an important role in your design process? And where did you learn that technique? 
I got introduced to hand dying by Nile Cmylo who I collaborated with on a dress for the Met Gala and I've been winging it ever since. I use the facilities at the Textile Art Center and do my dying there. It's really fun, it's just me boiling water, adding the pigment and dipping the fabric in. It can be a lot though, since the fabric will become so heavy from the water and you have to wash and wring out all the excess dye. So I always have to remember not to do too much at once.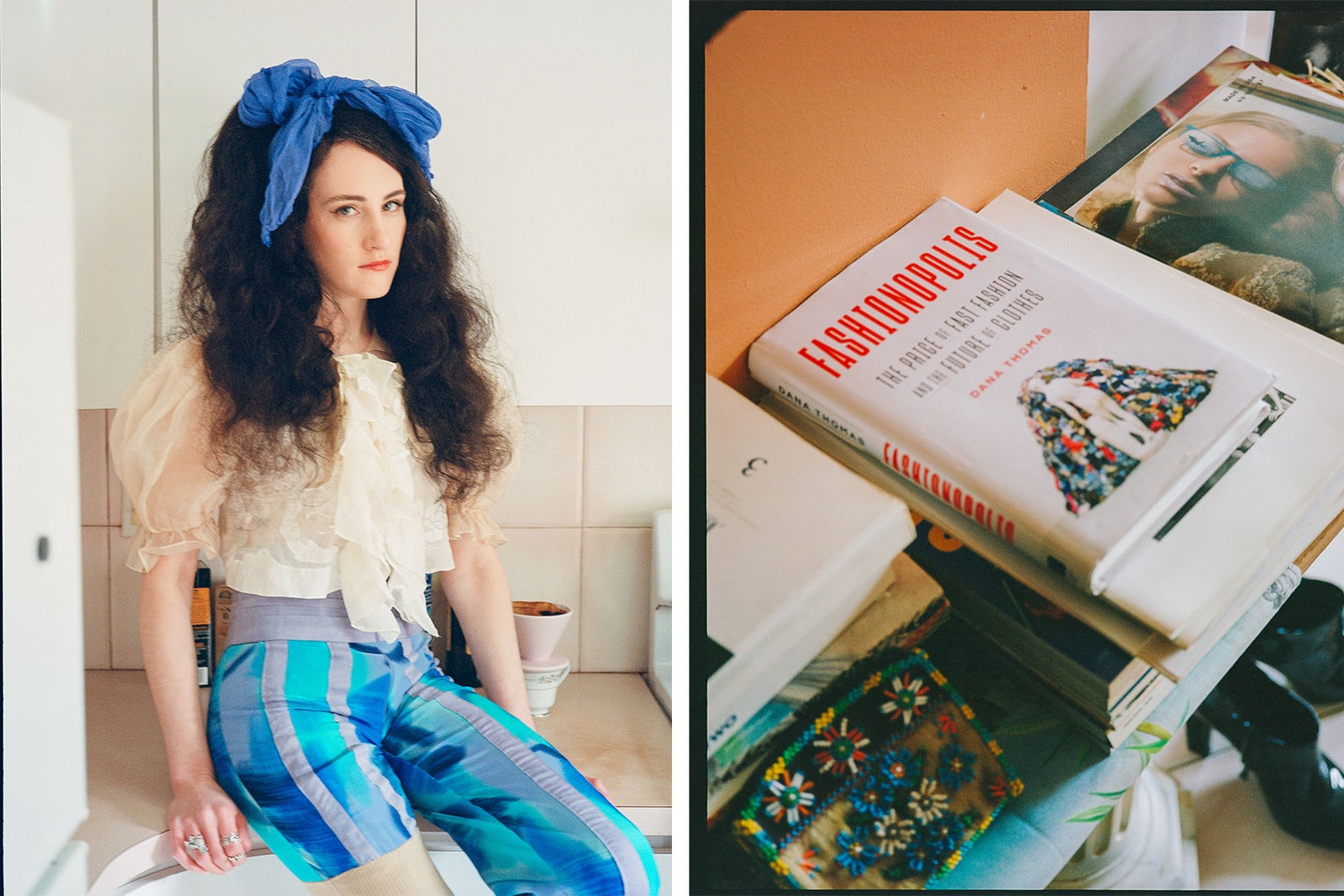 Each season, you've been successful in weaving a dose of fantasy and whimsy into your collections. Walk me through the inspiration behind Spring/Summer 2020 and how your "Think Otherwise" T-shirts have become an integral part of the brand's DNA. 
The "Think Otherwise" slogan is very central to the brand. It's about going against the system and thinking outside of the box. I am a sucker for the idea of "true romance" but I think the romantic elements in the clothes are always done with a twist. The fantasy is raw at the edges with an ambiguous ending. I think my clothes are classified as whimsical because I use ruffles and color. I don't think in reality they are that sweet.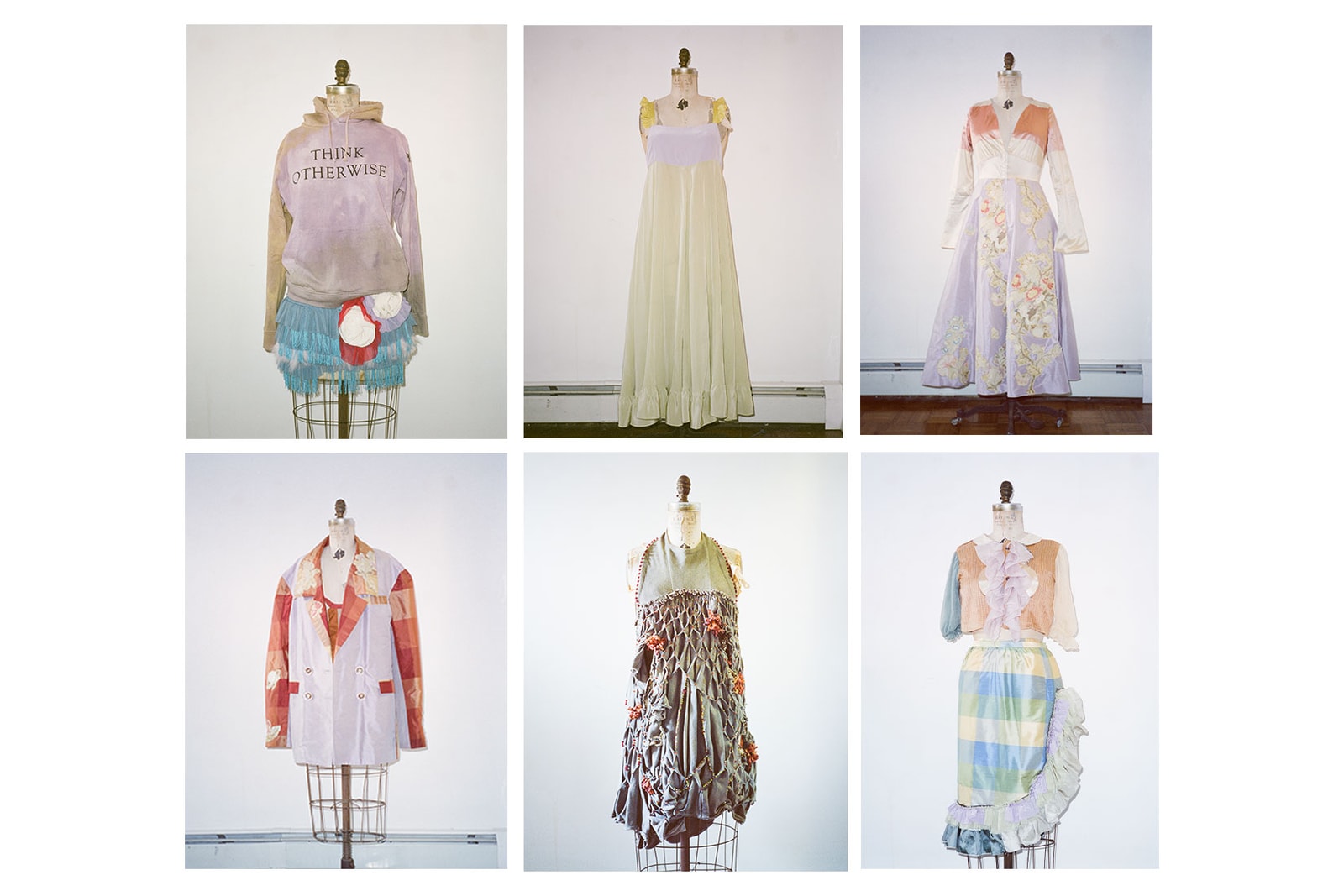 How do you use fashion to spotlight ongoing issues and conversations surrounding sustainability? 
By keeping up with current climate politics, reading books and articles. I put my politics into the clothes, especially through the "Think Otherwise" tees and hoodies. I'm working with T-shirts that are made of 50% organic cotton and 50% hemp. Farmers have to use a lot of pesticides and insecticides to grow cotton, which is extremely toxic to the environment and to the farmer's health. I personally don't believe in supporting such a harmful process and am only working with organic cotton. I believe in making educated decisions and that's how I keep my business eco-friendly. I love upcycling materials because that's the future of the industry. We have already made enough clothes, it's all about how we re-animate them into a wonderful aesthetic.