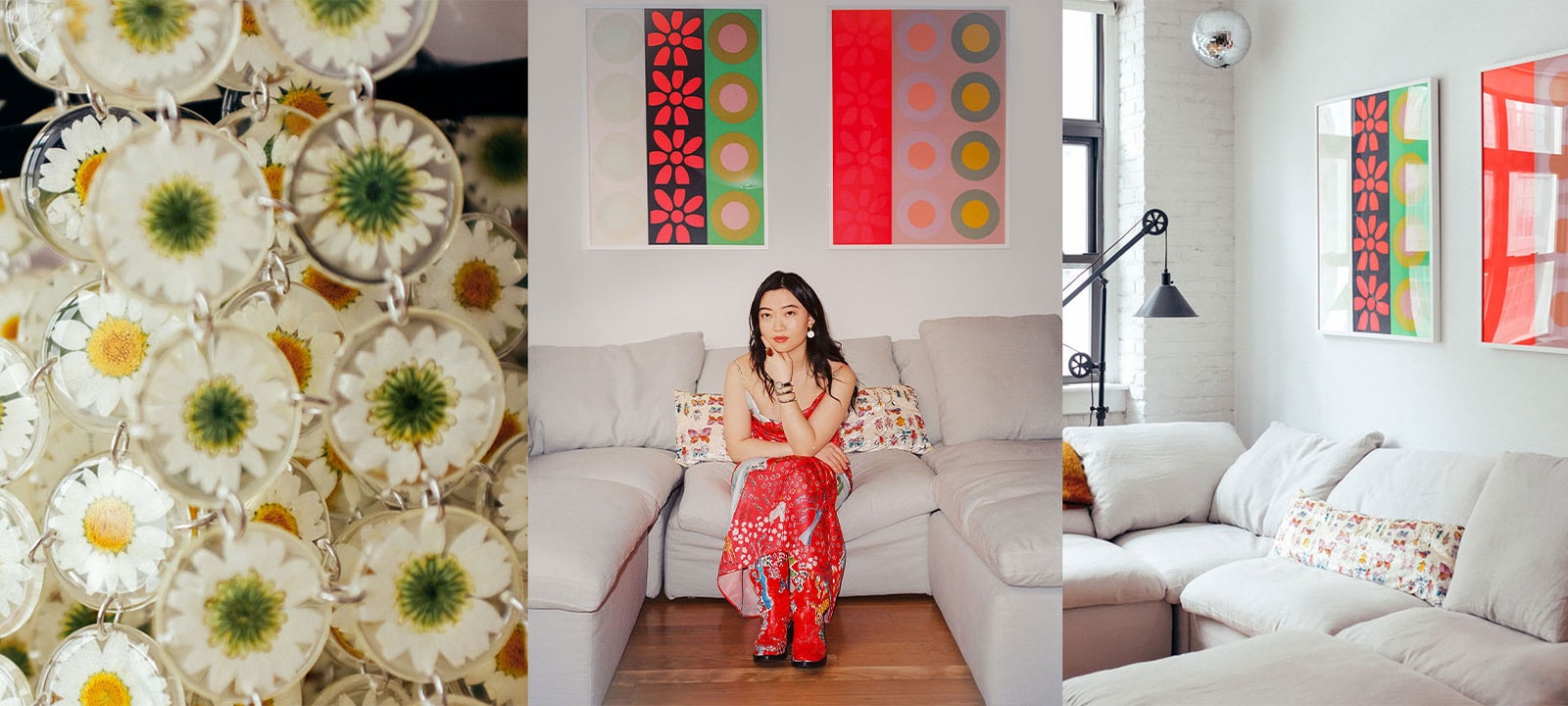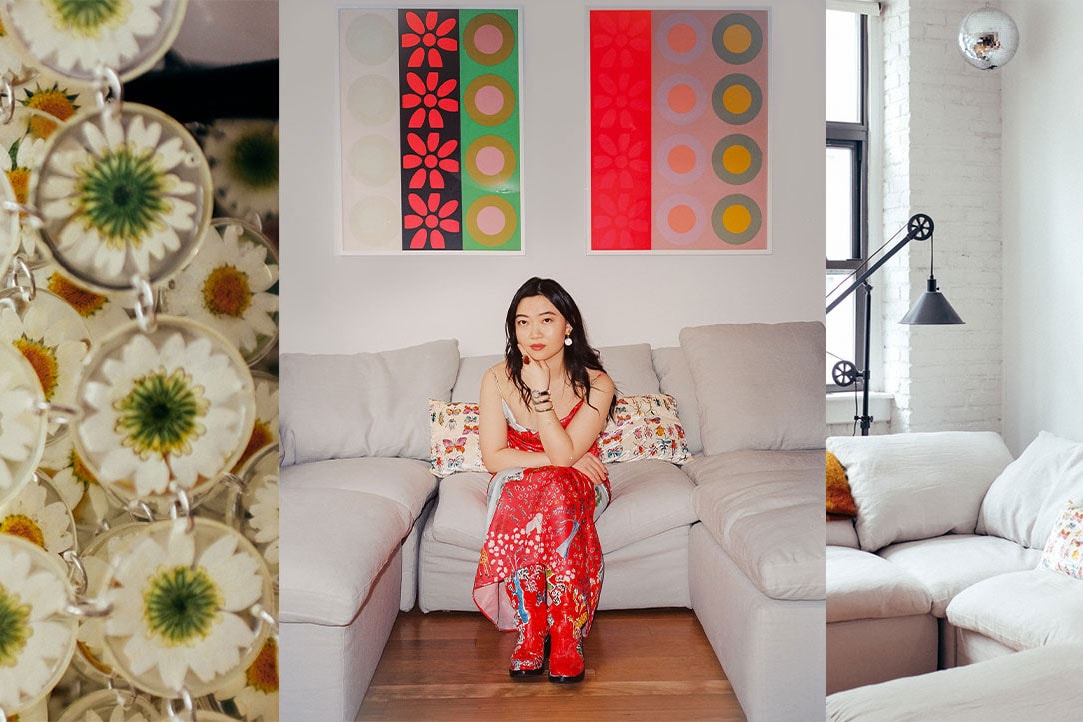 Behind the Atelier: How Designer Olivia Cheng of Dauphinette Turned Her Love of Nature Into a Higher Art Form
The sustainable fashion designer gives us an inside look at her Brooklyn home and design space.
Behind the Atelier is a fashion-focused series that examines the unique backstories and design processes behind the fashion industry's most captivating talents. Pulling back the curtain on each designer's creative space and practice, Behind the Atelier will highlight and give an inside look into the industry's most exciting names. 
For the sixth installment of the series, HYPEBAE sat down with New York-based designer, founder and owner of Dauphinette, to give us an inside look at her Brooklyn home and design space. In a candid conversation with Olivia Cheng, she revealed how outerwear inspired her love of fashion, the intimate process behind her romantic Fall/Winter 2021 collection, how the use of real botanicals as well as handmade prints have played a powerful role in shaping the brand's identity and the opening of Dauphinette's first-ever brick-and-mortar store.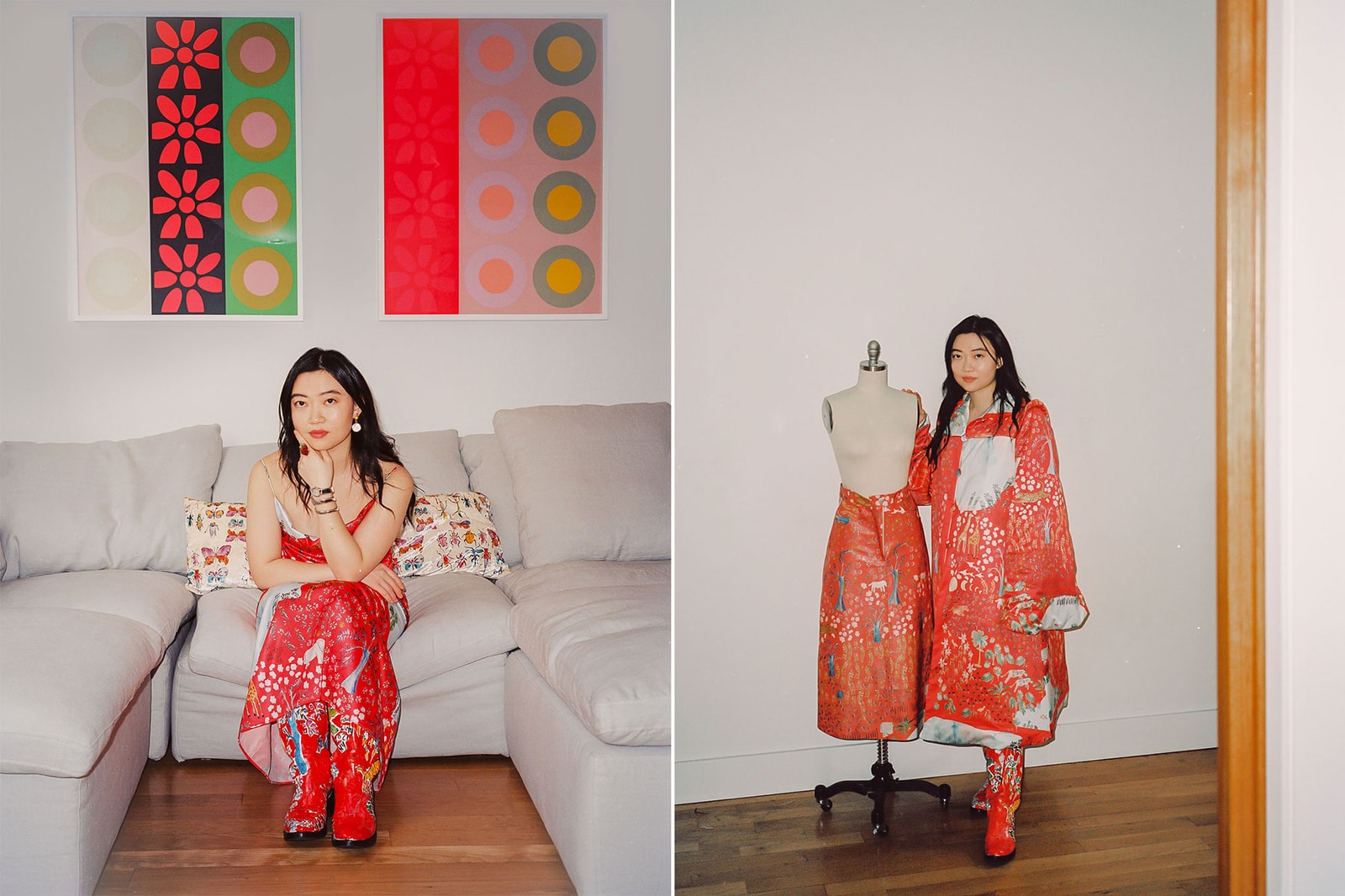 In the whimsical world of Dauphinette lies an alternate universe brimming with resplendent floral creations, fanciful accessories that resemble heirloom keepsakes and delectable garments fashioned from sustainably-sourced materials. The driving force behind the visionary, environmentally-minded brand is Olivia Cheng, a self-taught designer imbuing her color-driven stance, painterly prints she creates by hand and deep-rooted love for nature into her dreamy line.
At just 19 years old and with only $2,000 USD, Olivia turned her dream of having her own fashion brand into a reality when she officially launched Dauphinette in 2018 and started her lifelong goal of becoming a New York fashion designer. Beginning her design career by modifying vintage outerwear along with repurposing materials like leather and fur she often collected during her trips to Paris or far-flung regions. Her inaugural FW18 collection featured one-of-a-kind pieces, vintage leather coats and handbags that had been adorned with her hand-painted, koi fish patterns and Andy Warhol-esque florals, playful feather trimmings in brightly-tinged hues and custom embellishments. Three years later, Dauphinette's playful ethos and dedication to the environment still remain at the crux of the brand. But since the designer's first entry into fashion, she has continued to up the stakes by designing and developing her own ready-to-wear collections, luxe handbags in fashion-forward shapes and colors and has expanded her range of cult-favorite jewelry by faceting new pieces for fall with precious and semi-precious stones in a variety of cuts and styles.
Approaching her love of materials in a newfound way, the rising design talent took risks for her new FW21 collection by unveiling a series of futuristic outerwear and reinterpreting, signature silhouettes that were swathed in ultra-luxurious, eco-conscious fabrics such as silk, velvet, organza, suede and exquisite chain mail (which is made by artisans she employs around the world who encase and preserve real flowers as well as edible foods like strawberries in resin). This season, there was no shortage of standout pieces. Amongst the awe-inducing collection was a dramatic, black velvet coat bedecked with an array of resin-encased flowers, a quilted jacket crafted from recycled PVC and enhanced with a smattering of pressed botanicals, a must-have floral, chain mail dress (not to mention chain mail tops made from real strawberries) a print-heavy coat devised with space age-inspired design elements and a seafoam velvet cape garnished with wispy, dreamy flowers.
With a penchant for creating statement-making wardrobe staples, imaginative handbags and art-driven accessories that are equal parts cool and classic, Dauphinette has caught the eye of fashion editors, downtown darlings and devout patrons on social media, all in search of fashionable finds that possess a dose of whimsy and fantasy.
To get to know the designer, HYPEBAE sat down with Olivia Cheng to discuss the inspiration behind her FW21 collection titled "Natasha's Fever Dream," how the use of original, hand-crafted prints and real flowers are an integral part of the brand's DNA and the process of opening the first-ever Dauphinette store in New York.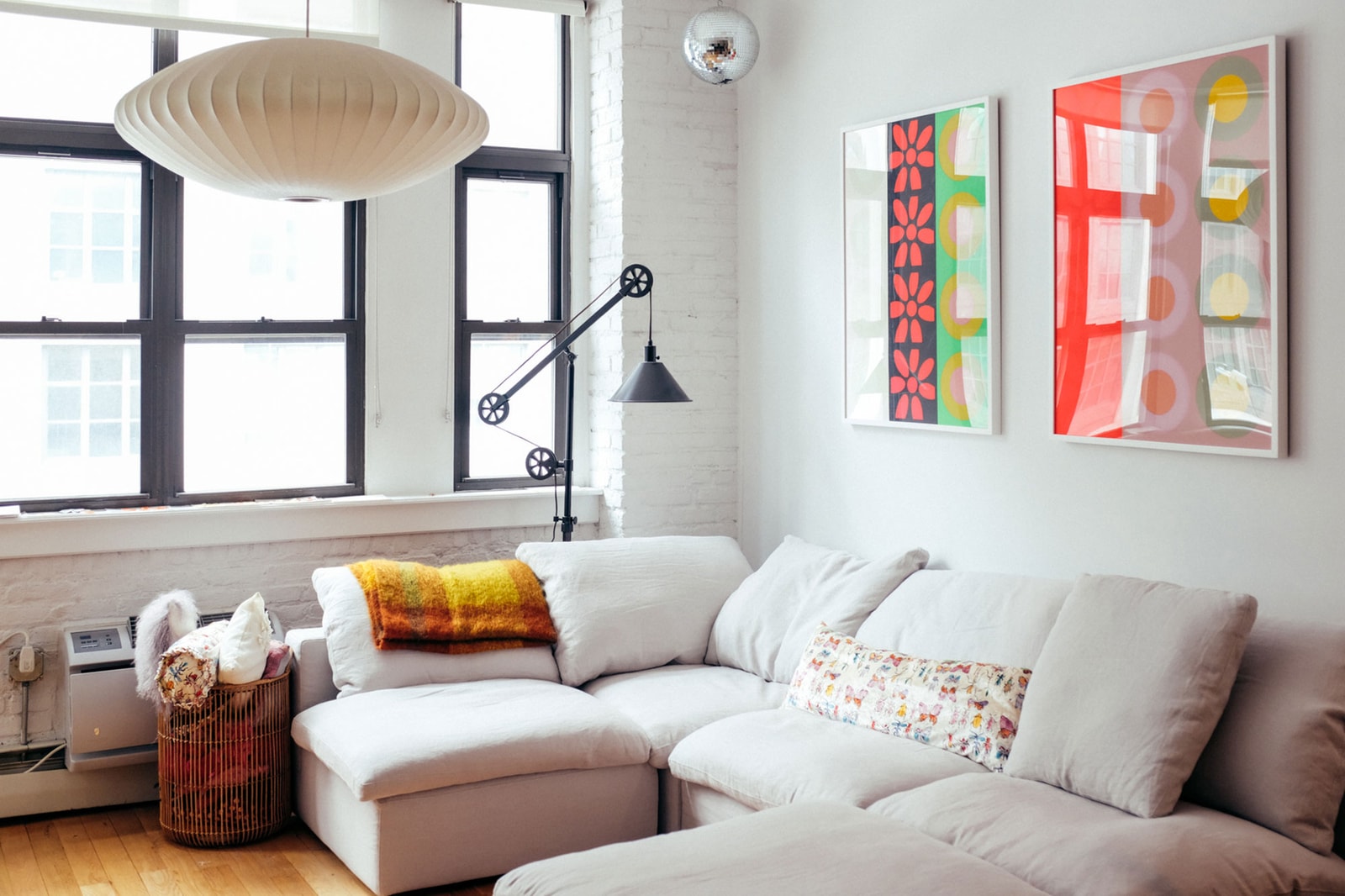 Originally, Dauphinette started out using found pieces like leather jackets or coats you would paint. What led you to make a shift and focus on creating ready-to-wear garments?
When I started Dauphinette, I always wanted to have a full ready-to-wear collection. I just wasn't personally ready for it when I launched [my line]. To give some context, I didn't have a formal design training and quite, frankly I didn't have the budget to do much more than work with found pieces. But I knew that I could take the skills I already had, which was a really devoted focus and study towards vintage, different types of applications along with the use of botanical materials, and historical painting styles to take these fun pieces and turn them into something notable. Because upcycling isn't new and it wasn't new [when I launched my brand], but I knew that I could start with a perspective and build my brand from there.
How has your heritage and upbringing influenced the way you perceive fashion or approach designing?
My relationship with my mom has definitely played a prominent role [in terms of how I view fashion]. Her and I were always very interested in antiquing together and you can see the influence especially in the bespoke pieces I create along with the found objects and one-off pieces. I also think a lot of times, especially with an Asian American upbringing or a Chinese American upbringing, communication is something that a lot of Chinese American families struggle with. For my mom and I, coats were oftentimes a better way to communicate, even when we weren't getting along very well. It provided a safe territory for my mom and I to talk about and share things that we both loved.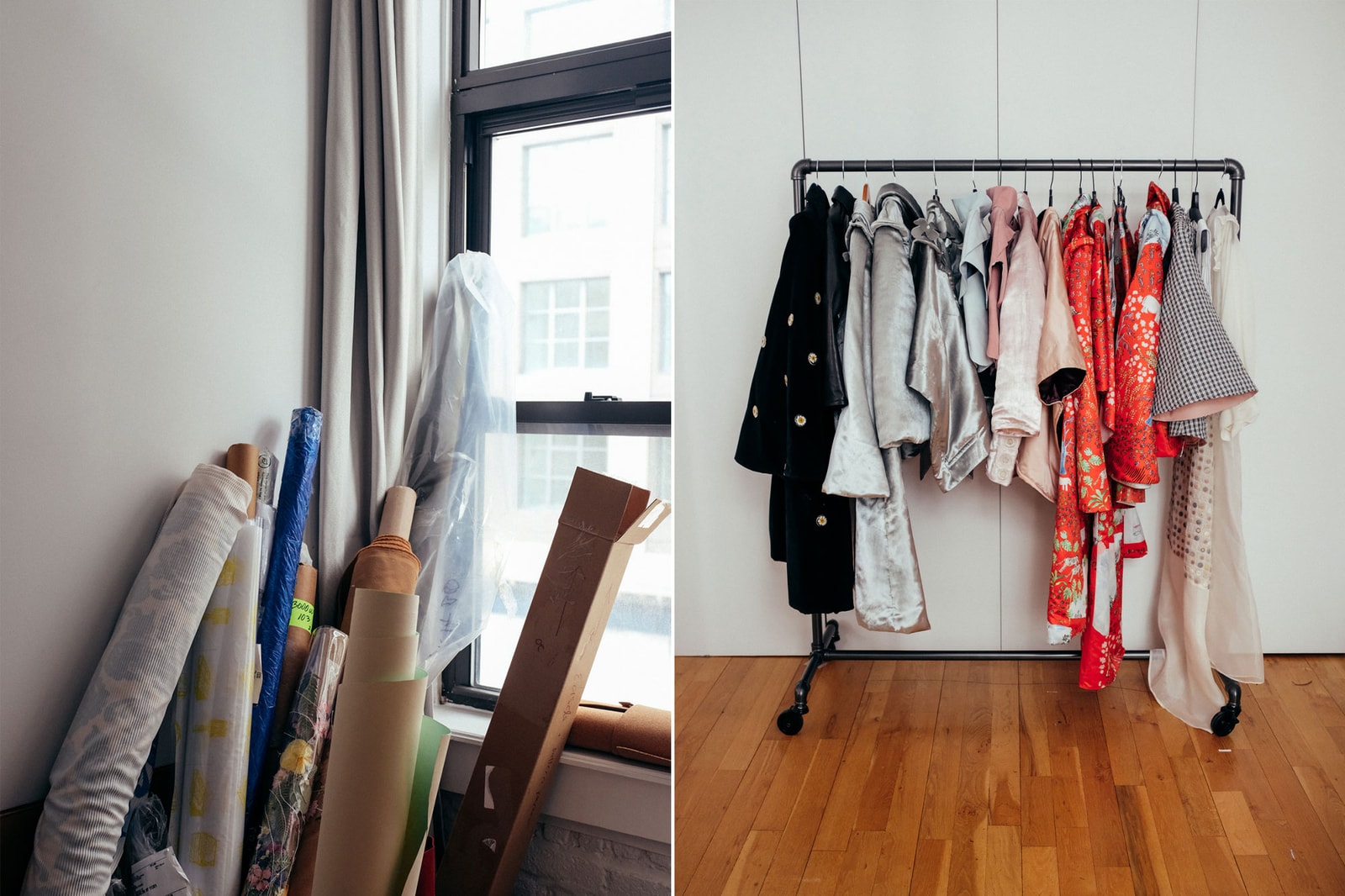 What led you to focus your line on the development and creation of luxury outerwear?
I'm obsessed with outerwear. I think it's the world's best accessory because despite it being the largest thing you could put on your body, [outerwear] is probably much more similar to accessories. I've also realized that I do really well with small objects. But with outerwear it feels so substantial and yet, you can give it detail in a very similar way to how you might design jewelry or a small handbag. It's something you can put so little thought into when you put it on and yet, it can really make a large impact in terms of how you view yourself when you're outside of the safety of your home, office or places you frequent when you're on the street. Outerwear really shows the world how you would like to be depicted without needing to say anything.
When did you start experimenting with prints and how did you realize you had a passion for it?
I used to oil paint [when I was younger] and I always felt drawn to colors and I felt like colors were always stabilizing for me. I think colors give us a better way to live and many of the things I draw and paint are seen as appetizing in some way, even if I'm not creating food stuff, which I do work with. But, anything that makes you question that primal instinct to be drawn to specific colors as well as specific colors together and why certain things feel edible or delicious, even when they are so explicitly not has always interested me.
I really love making my own prints. Generally, when I'm in the process of making a print, rather than just a picture or painting, I focus primarily on the components [of the print]. For example, a flower that may be a little too simplistic to stand alone, but in a drawing the flower might be wonderful repeated over and over, along with a ton of other [design elements]. So, I'll allow myself to simplify and not really overthink the process because you also want to be able to leave the room no matter how involved the print you're making is.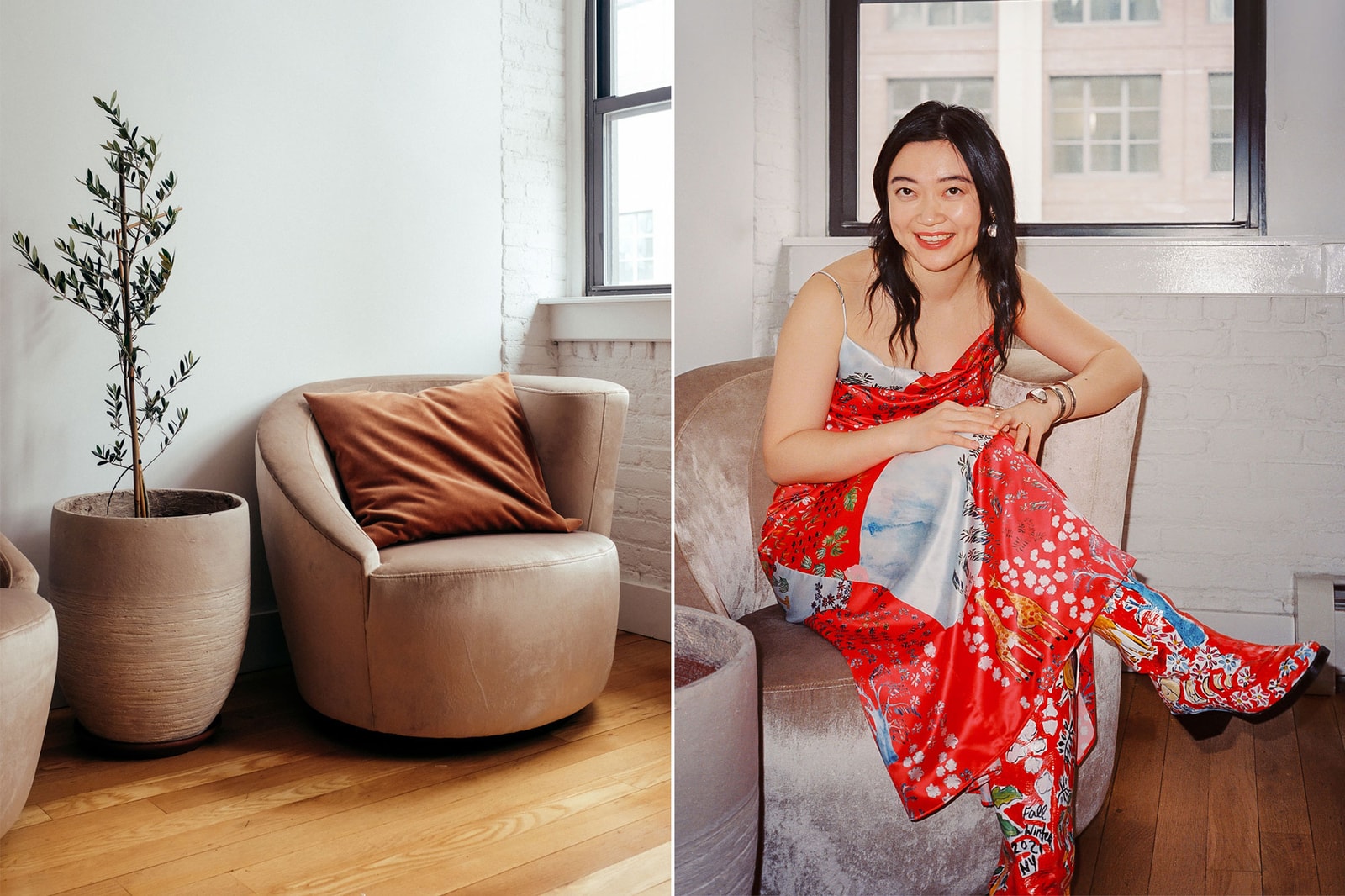 How have the use of real botanicals played a role in shaping your brand's identity?
Flowers have been absolutely essential in shaping my brand's identity. I really wanted to find a way to use real botanicals because I think there's a reason that flowers never fail us especially, in both our homes and our gardens. Out in the world as well as in fashion and art, people love flowers. I thought it would be magical to use real botanicals rather than our flawed humanistic representation of flowers. I feel extremely lucky to have good artists and partners around the world where we can source these special items like the sanctuary in Thailand that I work with to get orchids and butterfly wings.
For the business, [botanicals] have given a really accessible entry point and those happen to be some of the most striking pieces. I feel fortunate as a fashion brand to be able to offer such a wide assortment of pieces and run the gamut of flowers and be able to share them as well as offer an accessible fashion line that is not a diffusion line or a "lite" version of the real thing. I also wanted to create a cultural conversation around preservation and the way that we interact with nature and how we bring nature into our lives. I feel lucky to work with these botanicals every day. I think it was one of the first things that helped my brand resonate with people and I hope it continues to do so.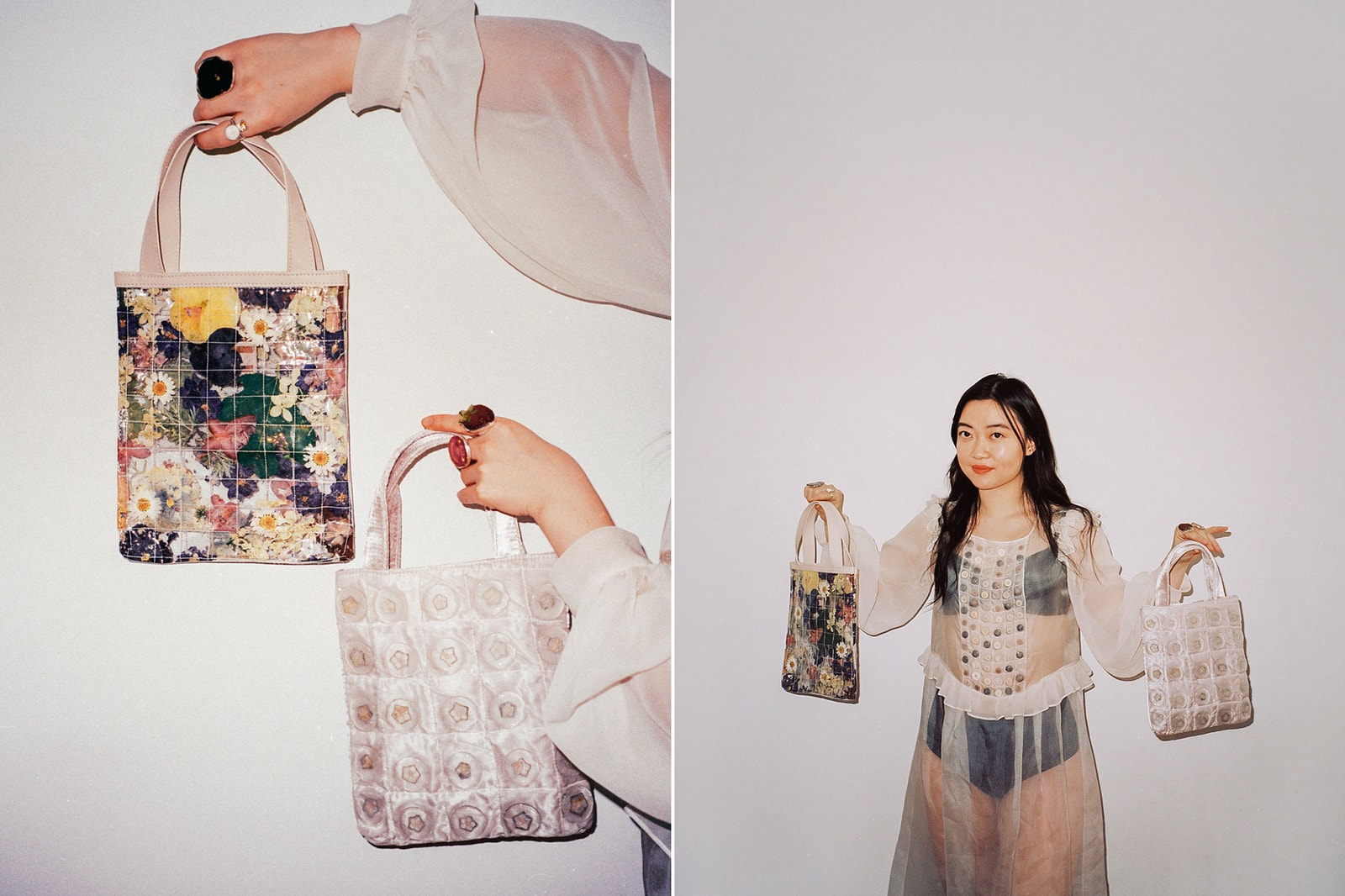 What is your design and creative process like when creating a new collection, garment or jewelry?
Usually I start with a new notebook and I give myself a fresh sketchbook and a fresh slate. I just start drawing random things, I genuinely don't care if they're terrible because I feel like a lot of times it's like walking into a forest. You have to get past some of that initial burly growth at the edge of the forest to really get to the core of why you're there. I just start walking the path and I form a vague idea of the types of colors and things that I like at the moment. I always know the season I'm designing for, but outside of that I feel like there's no hard or fast rules. Sometimes it's more emotional and other times it's more visual.
As far as jewelry goes, it was quite a challenge to get to the point where the jewelry I was making felt effective, illuminating and elevating to the botanicals that I was involving it in. This season it just felt right. It felt like I had finally found the balance by bringing in new materials and I worked with a ton of precious and semiprecious stones. I paired a strawberry with citrine and tomatoes with onyx. It was such a fun time to explore color theory and bring together different types of elements, whether that is a stone that is clearly faceted or made into a princess cut. To put all these things into orbit with each other I just wanted to wait for the right time and the right idea. I felt like this was a good introduction.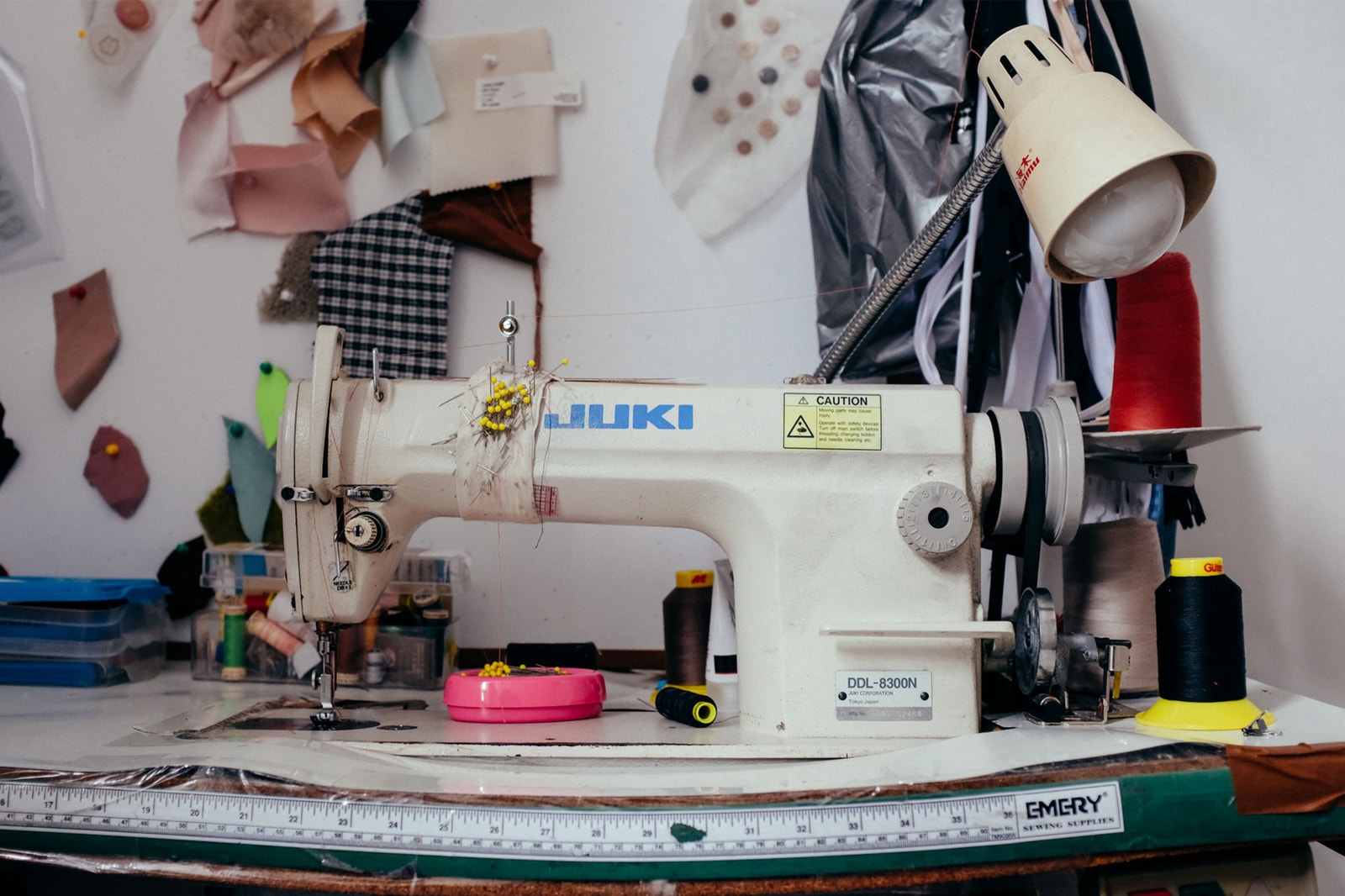 Walk me through the inspiration behind your Fall/Winter 2021 collection.
I have this toy, but I would call her more of a life partner than a toy. Her name is Natasha and she's a little velvet rabbit that I've had since the day I was born. She was not always velvet, she was a normal baby toy that my mom covered in this gold and red '90s velvet shirt. I feel like Natasha is a trendy animal, now that a lot of people are buying those luxury stuffed animals, but she has been around forever. She's the OG and she's been with me through everything and she was a very appropriate figure to draw inspiration from for FW21. So I named the collection "Natasha's Fever Dream."
The idea is, what do the things we surround ourselves with do when we're not there? I don't think it's a novel concept, but it's really interesting to suppose that the things we give meaning to, because of our attachment to them, carry an amount of meaning. For me it's an exploration of the cynical part of myself combined with this very romantic part of myself that wants to believe all of this flowery stuff that I put into the world.
The prints in your FW21 collection feel extremely personal. What was the inspiration behind the red printed coats, dress, top and skirt?
The red top and dress were designed and patterned twelve hours before the [lookbook] shoot. Because I spent so much time on the outerwear, I made this print that took me so long mostly because my old computer didn't give me enough RAM to handle so many digital pieces. I literally do everything myself for the print. I had been picturing it as this long coat and then finally the extra fabric came back from my factory to my studio and I was like "You know what? This needs to be a top on a dress". The development of it was super rushed whereas everything else in the collection was planned for months. We stayed up late until 1:00 AM and we made it.
I think they're some of the strongest pieces in the collection because they are so sporadic. It's like when you're getting dressed for a special occasion or an event in your life and you have a big plan for how you're going to do things and then, you suddenly figure out that all you needed to do was take it upon yourself and craft something that you would wear every day. I was so enamored with this print that I felt so happy to just make it as a really great fitting slip dress and a really beautiful dreamy shirt. For the puffers, I was drawn to something a bit space agey. I love the idea of a big sleeve pushing the silhouette forward. It was futuristic and so comfortable because it was swabbed in this silk. Comfort is something that's so proprietary for people right now. It's such a huge focus and if I can deliver that in my collection I absolutely will.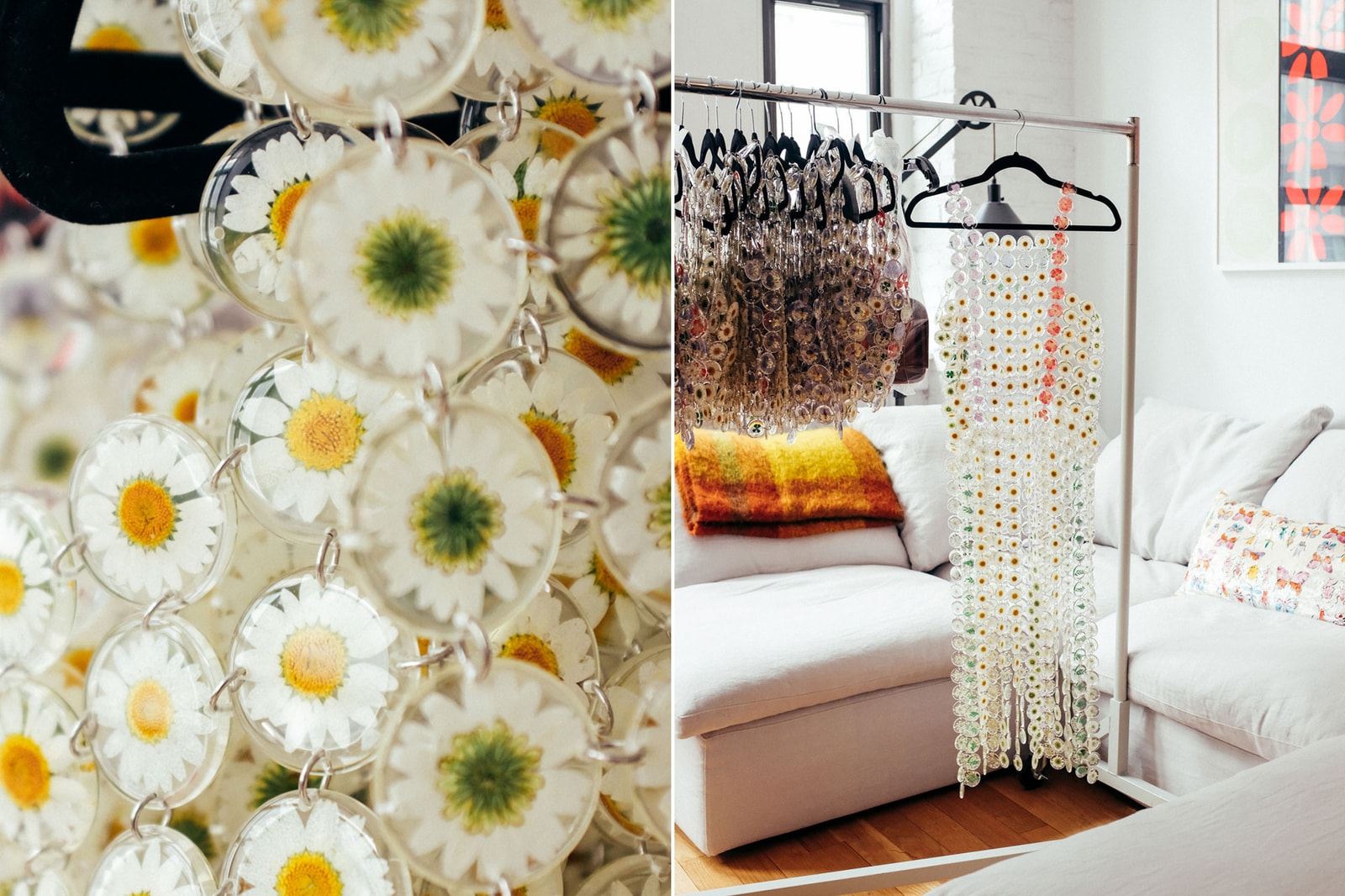 You're officially opening the first-ever Dauphinette store. What led you to create and launch your first retail space?
I woke up one morning last November, took a look around my studio and just knew that it was time. I booked a few appointments to see spaces and came across this incredible dream on the corner of Bedford and Morton Street. The interior needed love, but it was a corner space in the West Village that was absolutely and soaked with sunlight. There's a Brazilian restaurant on the same block with a cluster of wooden plantains hanging in the window. I remember walking past those plantains three years ago and thinking what a dream it would be to someday have a store there. I signed the lease the next day.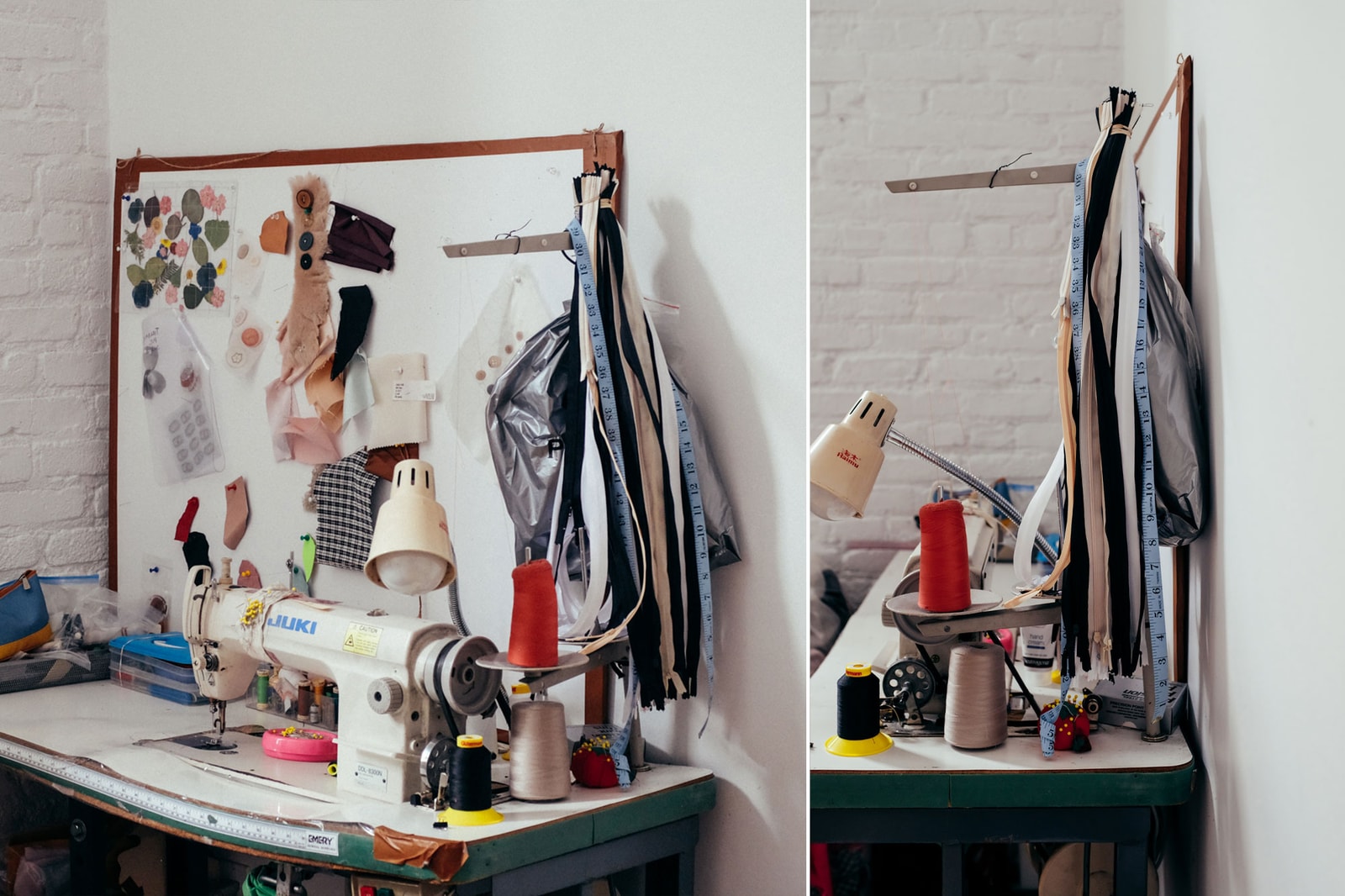 What was the process like in terms of conceptualizing what the decor as well as the interior and exterior would look like for the store?
I actually only worked with a contractor and designed the space myself without an architect or decorator. I knew I didn't want anything too thematic. I wanted to create something intimate yet airy, exuberant and energized, and ultimately a whimsical, aesthetically mesmerizing storm of the nearly-impossible. I wanted to highlight the more discerning features of Dauphinette and still leave plenty of room for evolution. It's quite a small space, so beyond the romantic aspects I needed to be practical about planning space for everything from our ready-to-wear collection to jewelry to home objects.
The space didn't come with any floor plans, but since I'm extremely nerdy I made my own. I rendered all of the furnishings and decorations that I was interested in at-scale and got to work playing around with various layouts, Sims-style. I picked the places I wanted to invest like the green house that I built out of pressed flower-filled panels, a chandelier bursting with anthuriums that I had custom-built in Italy and then I picked places to save. Our checkout counter is a vintage find I got for under $300 at a thrift shop downtown. I say this about most things but it feels like a dance, some places you lean in and some places you spin out.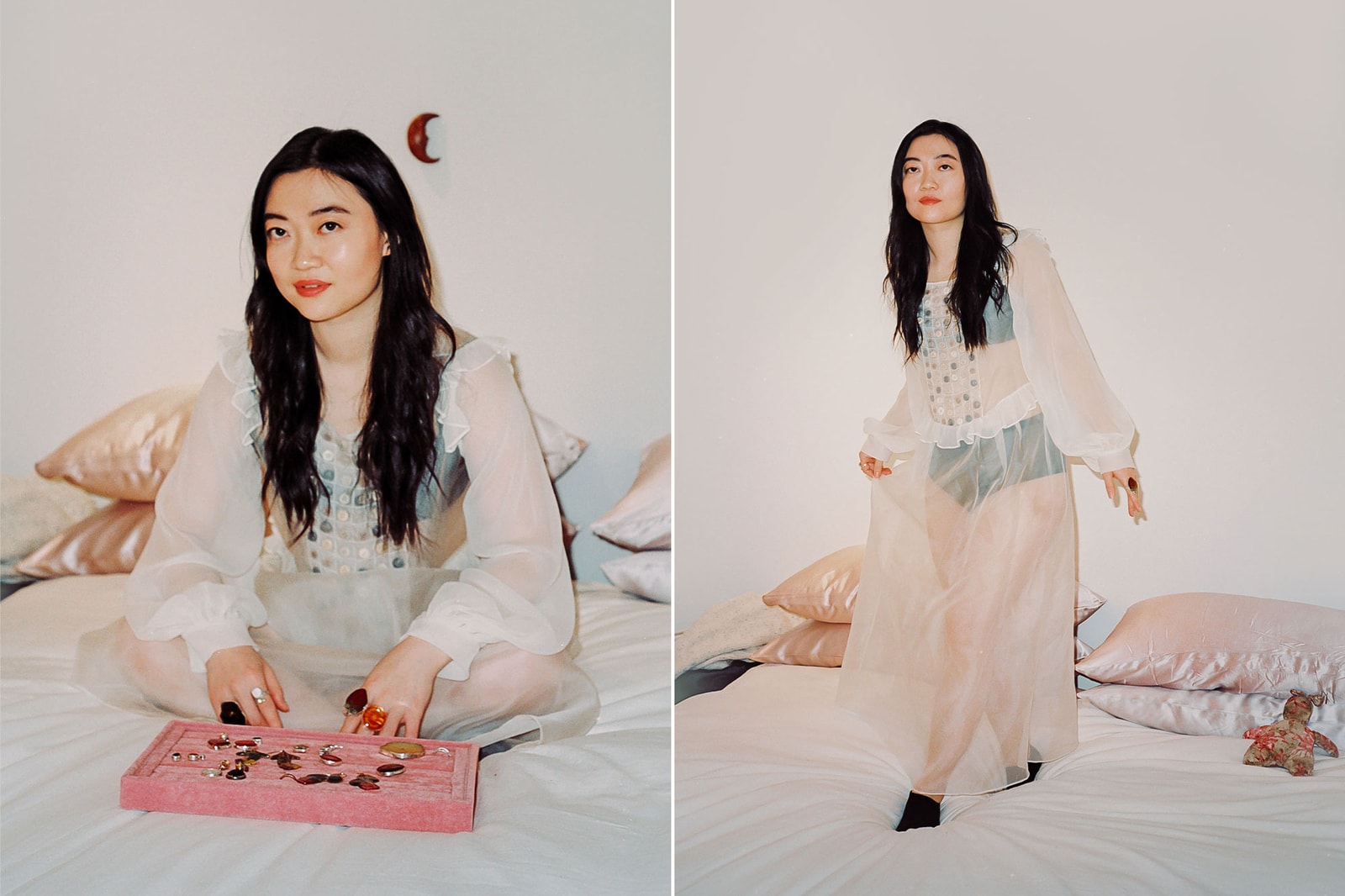 How do you see your brand evolving in the future and what do you hope to achieve in the next handful of years?
Well first of all, I hope I can stay in business. I started my brand with $2,000 USD when I was 19 years old. The chances of me succeeding were pretty close to zero. Right now, I feel very lucky to be here in this position and be able to have a community that has put some of their faith into what Dauphinette can become. I try not to look too far ahead because it scares me. I'm excited to see what I can do in terms of brick and mortar. I'm very considerate about the growth of my brand and I don't want anything to feel non-organic. I own 100% of this company and I plan to for the foreseeable future. I don't want to make decisions that feel non-organic.
When you are running a small business sometimes you have to lean bigger. Sometimes you have to lean smaller. And, I think when there's other people making specific types of business decisions for you or pressuring you to lean in a certain direction, you as the founder and owner, who didn't come from a ton [of money] and who is willing to fight when things are bad for your business, need to be receptive and a good listener.
The Dauphinette flagship store is located at 60 Bedford Street, New York, NY 10014 and is open everyday from 11A.M. to 7P.M.