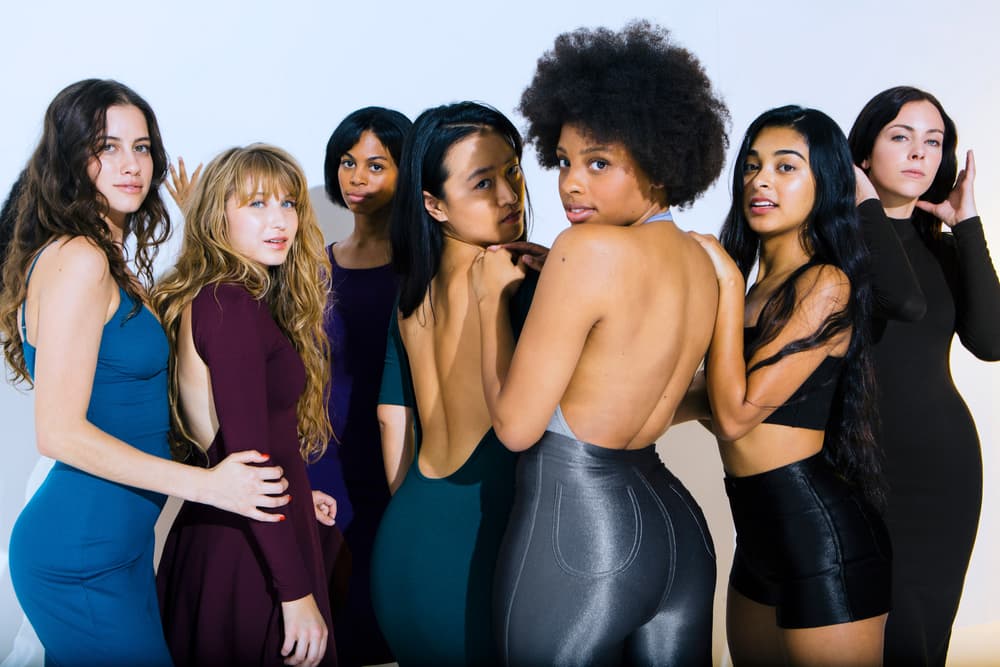 1 of 2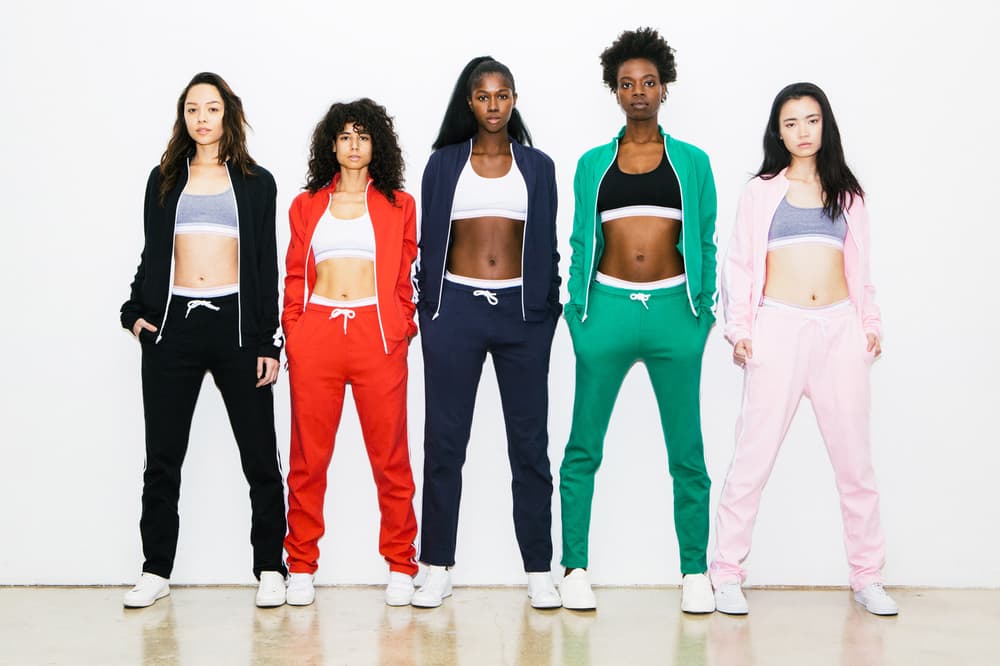 2 of 2
Fashion
American Apparel's All-Female Branding Team Is Redirecting the Male Gaze & Embracing Beauty in All Forms
Read our interview with the brand's new Head of Marketing.
American Apparel's All-Female Branding Team Is Redirecting the Male Gaze & Embracing Beauty in All Forms
Read our interview with the brand's new Head of Marketing.
American Apparel is reintroducing itself to an audience that is more informed and empowered than ever. Its former reputation of producing fodder for the male gaze was eradicated with the removal of founder Dov Charney. Now under the Gildan umbrella, the brand has relaunched as a more conscious and accepting label that hopes to participate in the progress of the fashion industry.
To lead this change, the company is now helmed by an all-female executive team that plans to disrupt the basics market, and to open its arms to young millennials and Generation Z. Women like its Public Relations Manager, Sojin Oh, are working to shake its previous stigma and usher in a new era of diversity and inclusivity.
To learn more about what's to come for AA, we spoke with its Head of Marketing, Sabina Weber. Read our illuminating interview below.
Can you tell us more about the creative direction of American Apparel's new "Back to the Basics" campaign?
It's really an overall brand strategy around the imagery and tone that launched with the "Back To Basics" campaign and will be a persistent approach for now. Key tenants of the approach include: 1. Strong diversity, we accept all shapes, sizes, colors and 2. Being sexy and not sexualized. This is critical. Women and men should feel empowered to own their sexuality. Being sexual is powerful. It is a choice. Being sexualized is not. And that may be a subtle difference to some but it's not when you really think about it. Being sexualized implies a lack of control and a lack of choice. Now, we empower our models to express their sexuality in an empowered and appropriate way. How people perceive it we cannot control. But you can see from the directness of the gaze, the poses and just the overall vibe compared to the past imagery that they are in control. It feels positive rather than "uncomfortable."
Here are some of the ways we're restructuring our visual messagee:
We want to create a platform for dialogue and acceptance of choice.


We pose our men in the same way we pose our women.

We only use real people. Every person you see model for us we find via our own network of friends, via our open models calls. Gender and age irrelevant.


Each person we feature has a story. They are featured because they are interesting in some way. They represent our real customers.

Most of the marketing team is now made up of strong, opinionated women.

The brand is going back to its "Fashion basics, Ethically Made, Quality" DNA. AA has always been a destination for fashionable and timeless basics. Basics that allow for creating your own styles, your own creative self expression.
With an all-female branding team, what do you hope to achieve in terms of reestablishing the brand? How do you plan on shifting the brand's current public perception aside from imagery?
With the support of Gildan, we assembled a small but agile team to lead the relaunching of the brand and the business in the consumer space. We have amazing women on that team across marketing, e-commerce, product and merchandising who have been passionate about the new direction for AA.
But to answer your question: shifting public perception takes time. It requires consistency, honesty, a strong brand story, compelling imagery and engaging our customers honestly and from a clear point of view. Most importantly, you need a good quality product that stands out in a very competitive landscape. It's also important to remember that we also need to speak to people who may have never heard of the brand. So with them it's important to make a good first impression.
Also, this brand, even though we sell basics is not for everyone. We have a strong brand with a definite opinion. We do stand for something and every person who worked on the relaunch believes in those things: diversity, equality, freedom of expression, empowerment, positive sexuality, celebrating all shapes, sizes and colors. If you are a shopper that takes offence at seeing side-boob and a nice booty, you are probably not going to buy our product. And lastly, we need to acknowledge the mistakes of the past and focus on the lessons. People really love this brand and have been incredibly supportive and happy to have us back. We want to do right by them and continually listen and evolve.
Women and men should feel empowered to own their sexuality. Being sexual is powerful. It is a choice. Being sexualized is not.
As American Apparel begins to embrace bodies and shapes of all kinds, do you believe this will shift its core customer?
American Apparel has always embraced real girls and real bodies. It's historically been one of the first to show un-retouched images with stretch marks and natural body anomalies. What we are doing now is just highlighting that more and extending the range of people that we photograph.
Our models now are generally over 21 and we have shifted the dynamic of the relationship of the people in the images with the photographer. Our photographers are now a mix of male and female. The girls and guys look right at the camera and feel empowered to be sexy and strong. Also we are showing a broader range of real bodies to really embrace the fact that all women and men should feel good about who they are. What makes you beautiful is that you are interesting and that you are passionate about something. Those are the criteria for the models that we hire and it is those qualities that come through in the photographs.
In addition to showing a more diverse range of bodies, we have also extended our sizes. We offer both XXS and XL/2XL now in some of our key pieces and have adjusted the sizing (which tended to run small) to be more inclusive. This opens up our fit to a broader range of women and men.
I don't think our core customer will change. They are customers who are looking for basic pieces that they can dress up or down, make scandalous or wear them demure. You can wear us in a casual way or style with Gucci and go high-end. Our customer is really one who understands that our basics are lasting and effortless. They are quality staples that are the foundation of their style and personal expression. Completely judgement free.
Do you plan on aligning the brand with influencers and models that are outspoken about issues in the industry such as body positivity?
We already are. We are featuring a wide range of real people and I guess you could call them "influencers," but there is a distinction. Many brands have to pay a lot of money to have people post images wearing their product. We don't. People are picking up on the fact that this brand does really stand for something. We have people reaching out to us. They are just real people who love the brand and have a point of view that we align with. It's amazing how many women and men get where we are coming from now and how much they want to work with us. If you take a look you will see images that can be challenging to some cultural assumptions of what is "beautiful."
We really feel that there is a need to show that women and men who do not fall into specific defined categories to be seen and shown to the world in a positive way. It's exhausting living up to these empty ideals. Let's show people who have added value to the world and are struggling, fearless and honest and real and completely beautiful in their own way.
We want to build a supportive place where you are welcome to have a different opinion, express yourself, be seen and heard. We're creating an evolution of thought: That choosing to dress provocatively or to be different does not mean permission to be exploited, judged or harassed. That we can all support each other.
With the brand solely selling via the online shop, how do you plan on using social media to reengage with your customers?
Social media is our primary channel and we are lucky to have a strong following. AA uses social media to be part of and enable the cultural discourse on topics that matter to our consumer base. We'd like to continue to be a brand that promotes provocative discourse on many topics. We are creating a variety of content and playing a lot with different ideas to see what resonates.
It's really about finding interesting people who contribute so that it feels like a dialogue rather than a monologue with the people who love the brand. A place of discovery. We closely monitor our social conversation and we literally try to answer every single DM ourselves. And most importantly we have to constantly check in with ourselves to make sure we are being true to the brand and to what we stand for. When your actions match your words you have a truth. And I think that truthfulness does resonate. The marketing team in LA is really small. We do not use an agency and literally shoot and design every asset and everything in-house with a team of eight people. It feels organic, a little DIY and very authentic.
Share this article