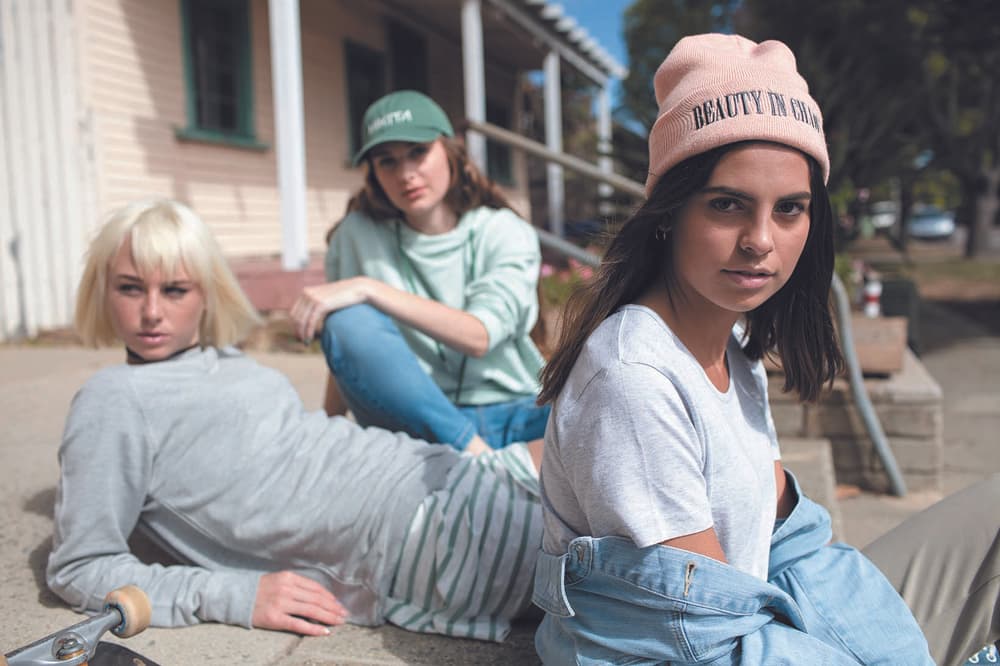 Fashion
Here Are 10 Skate Brands That Are Killing It in the Womenswear Game
Hit the skatepark in style.
Here Are 10 Skate Brands That Are Killing It in the Womenswear Game
Hit the skatepark in style.
It's no secret that skateboarding has always been a boy's club but in 2018, women's skateboarding is set to be even more popular than ever. With iconic stalwarts on the scene like Lacey Baker, who placed first in the prestigious SLS Super Crown World Championship in 2016 and 2017, collectives like The Skate Kitchen and pros like Lizzie Armanto and Nora Vasconcellos continuing to break the concrete ceiling skating is, finally, becoming a more welcoming place for women.
Whether you regularly work on trying to perfect those nollies and noseslides or are more interested in the culture and style around skateboarding, we've compiled a list of our favorite brands that really cater to female consumers and their needs. Read on to find out more about heritage and newbie labels that made our list.
Shawn Stussy launches his eponymous surf brand way back in the '80s, although he has now resigned from the company. Like many low-key skate brand, the initial run comprised mostly of minimal, everyday pieces like T-shirts but now Stussy boasts one of the most diverse garment lineups for ladies. For summer 2018, this includes a quality track set, an all-over logo print shirt and one-piece and a retro bowling shirt-inspired dress. Fans of the more essential pieces won't feel left out – there are plenty of T-shirts, hoodies and long-sleeve tops emblazoned with the signature Stussy scrawl available too.
Vans is obviously a no-brainer when it comes to this list. It's probably one of the single best-known skate brands worldwide but is one of the few that's been providing functional and fashion-forward shoes and apparel for women for quite some time. Not only are Vans' classic tees, sweatshirts and sneakers universally-loved and appealing to all genders, the storied brand has also worked on a stellar range of collaborations with the likes of Lazy Oaf, Naked and Mademe x X-Girl that really break the boundaries when it comes to skate-inspired pieces for women.
You may recognize the name Brujas – and for good reason too. The skate crew hailing from the Bronx has received a lot of recognition as a community of WOC skateboarders but they're so much more than that – for one, they're more of a gender-neutral organization. Beyond shredding on the streets of NYC, Brujas is using its platform to empower and give a voice to those in more marginalized groups in society and has also created a pastel-toned line of tees, sweatpants and hoodies emblazoned with its logo, so you can feel like part of the crew even if you're not in NY.
Having been around for nearly four decades, Volcom has progressed from a California boardsports brand to a global force to be reckoned with. The ladies selection is stronger than most and ventures far further than just its tasteful, retro-inspired tees – there are also slick camis, trend-led dresses and denim essentials. Volcom also recently teamed up with Georgia-May Jagger for a co-designed capsule collection inspired and designed by the British model. Of course, the brand is still rooted in its love of sports, and much like its motto is "true to this," offering up a range of swimwear and practical surfwear in stylish prints so you're sure to look just as cool whether you're in water or on dry land.
Dickies is renowned for its functional, hardwearing workwear, which is something it's been producing for over 90 years. Although it still caters for the workwear industry, in more recent years the brand has also adapted its classic pieces to have a fashion-forward appeal. Whilst skater boys have been wearing Dickies' durable chino pants for quite some time, it's women's line is full of surprisingly on-trend pieces too. Between logo T-shirts and long-sleeve tops to chino pants, shorts and our personal fave – coveralls – not only will Dickies' apparel add a good dose of street cred to your look, it will last through all the gnarly hits you take too.
Wasted is more than just a brand – it's an entire skate community. The Paris-based collective comprises of a team as well as a physical store in the 2nd arrondissement and alongside producing its own skate decks and other hardware, Wasted offers a huge line of well-designed apparel and accessories for both men and women. The ultra-cool offering consists of everything from crop top and skirt sets to oversized graphic hoodies, long-sleeve tops, dresses and socks – all designed around a seasonal theme.
Shepard Fairey's Obey is fairly well known both within the skater-sphere and outside it. Launched as an extension of his art in 2001, the clothing line has grown from visual T-shirts and sweatshirts to a full apparel line. For women, this includes a variety of everyday tees, classic crew-neck sweaters and a nice selection of outerwear. Accessories aren't lacking either, you can expect to find everything from beanies to casual bags and even jewelry in Obey's offering.
This graphic-heavy brand is widely-known for its "screaming hand" emblem that's been plastered upon its tees, hoodies and skate decks for years. While this key image is also seen on its ladies offering, Santa Cruz has pared-back the ultra-vivid graphics in favour of a more fashion-forward and versatile approach. Think long-sleeve tees with delicate roses embroidered on the arms, classic hoodies and blush pink T-shirts with the iconic logo emblazoned on the back.
Carhartt WIP has long been a favorite when it comes to classic, reliable American workwear but it wasn't until 2000 that the label extended it's offering into womenswear. Since then, it's continued to push out durable yet stylish pieces for girls. Think high-quality sweatshirts and outerwear, classic logo T-shirts and denim essentials. The key pieces each season, however, have to be the dungarees and coveralls that have fast become a timeless, go-to piece for women worldwide.
Nikita is one of the few OG women's skate brands – in fact, it was created by girls, for girls as a response to the disappointing lack of skate-inspired streetwear for female consumers in the late '90s. Fast-forward a few decades later and not only is Nikita still producing comfortable and practical pieces for women who skate, it's also created a global community of Girls Who Ride, on the streets, mountains and everywhere in between. As an added bonus, Nikita also champions female creatives when it comes to the content it produces, so it's a real win-win situation.
Share this article