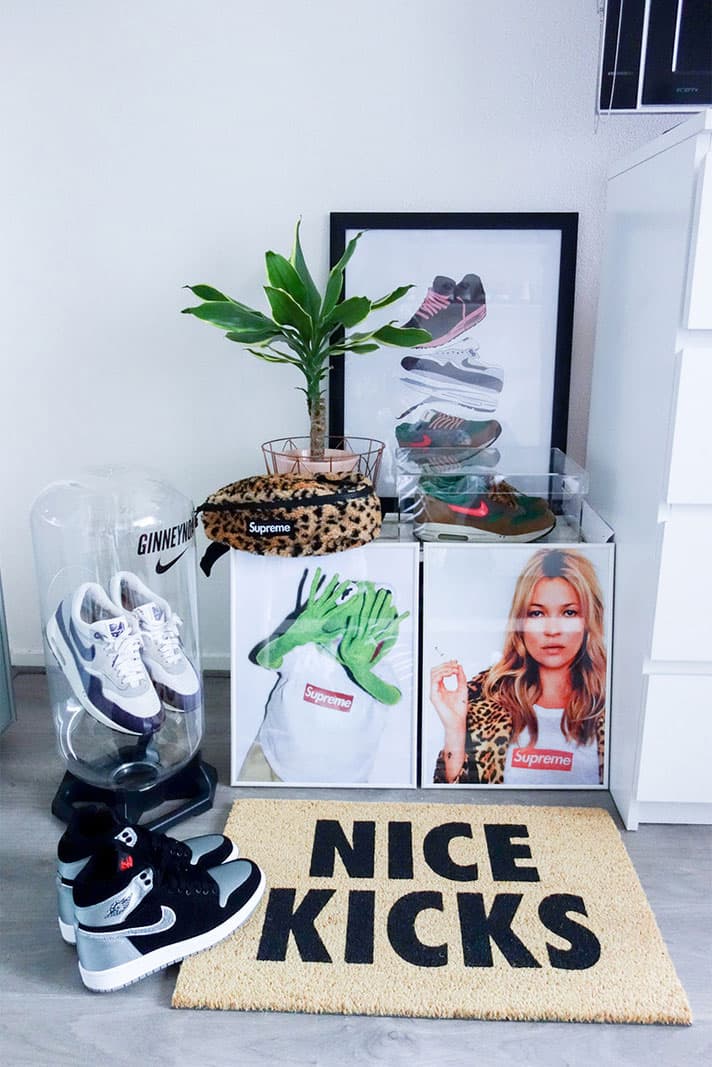 A 3-Step Guide to Marie Kondo's KonMari Method for Sneakerheads
Organize your precious kicks in a way that sparks joy.
Art & Design
A 3-Step Guide to Marie Kondo's KonMari Method for Sneakerheads
Organize your precious kicks in a way that sparks joy.
Marie Kondo's KonMari method has taken the world by storm. Her best-selling book, The Life-Changing Magic of Tidying Up, is an instruction manual that details the path to organizing the home and evoking a sense of peace overall. The KonMari method involves categorizing your belongings, putting them all in one place, sorting through the items and finally keeping items that spark joy. Visual learners can now watch the process in action on Netflix Originals' Tidying Up With Marie Kondo. In the first season we meet a sneakerhead who has collected over 150 pairs of shoes, some of which he has never worn. His abundance of shoes is something that many sneaker fanatics are familiar with. The rows of bulky boxes can quickly become clutter without the shoe lover noticing.
In order to get your kicks in order we've created an easy-to-follow guide to organizing your sneakers. Before you go out and buy racks and clear boxes to store them in sort through your inventory to make sure it's in the best shape possible.
Sort by type then by brand/occasion
To begin your organizing process it's important that you place every single shoe you own in one place. Once that is done we recommend sorting all of the pairs by type. Running shoes, casual sneakers, boots/rain footwear and sandals should all have a separate pile. For aesthetics, you may choose to further sort your sneaker inventory by brand to keep similar designs together. Visibility is a key aspect of Kondo's method which suggests that being able to see everything you own will help you make better shopping decisions and make getting dressed easier overall. With each pair of shoes, try them on to make sure they still fit and check to see if there is any damage that needs to repaired. This is also a great time to break out cleaning materials to get the winter grime off of your soles. Shoes that you choose not to keep should either be donated or thrown out depending on condition. The KonMari Method includes thanking these items for their service and thoughtfully discarding them. Remember, it's not about the size of your sneaker collection it's more about the memories attached to a select few.
Keep your weekly rotation in a special place
We all have those shoes that we wear year-round no matter what. Whether it's your Nike Air Force 1s or Converse's Chuck Taylors, these sneakers need a designated place where they can rest. Choose five to seven pairs that are in your weekly rotation and set them up in a convenient area that will encourage you to place them back after wearing. Avoid boxes and choose to place them items on a shelf or rack so they can be easily seen. Seeing your weekly selection daily will help you better tailor outfits for the week and can also help you get creative with your footwear choices.
Face the truth about your grails
Do your deadstock shoes really spark joy? The urge to hold on to your super-rare Instapumps is understandable but when is the last time you actually wore them? Sorting through your holy grail shoes requires a lot of patience and resilience. Before you begin we recommend choosing a number of pairs you plan to keep. Anywhere from 10 to 15 is acceptable for those who get lucky with rare finds. Be sure you have a space that you can store these shoes in that is climate-controlled and clean. As you did with your general stock, pick up each pair to make sure they still fit and are in wearable condition. For the pairs you're ready to part ways with, list them on StockX, GOAT or Heroine to find them a lucky home with another cozy girl.
---
Share this article