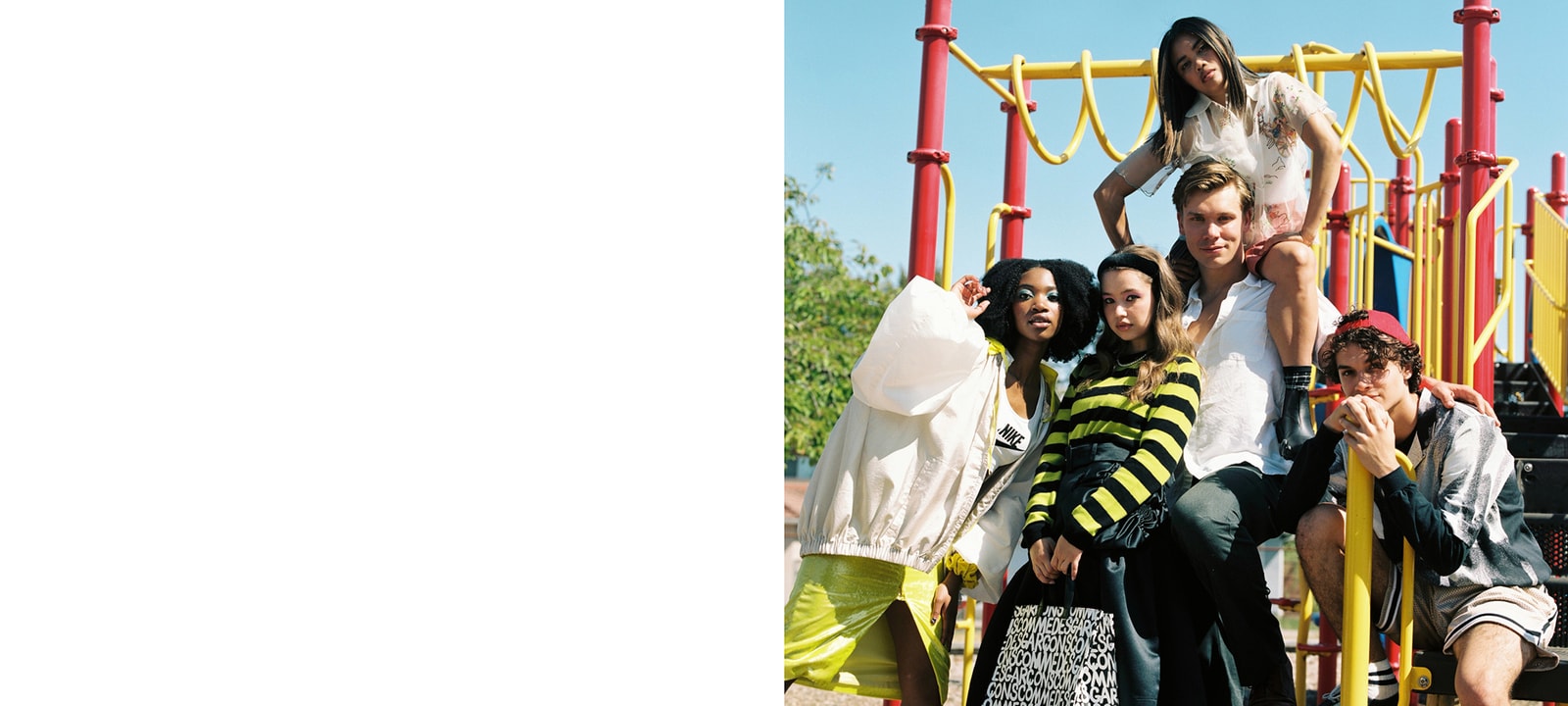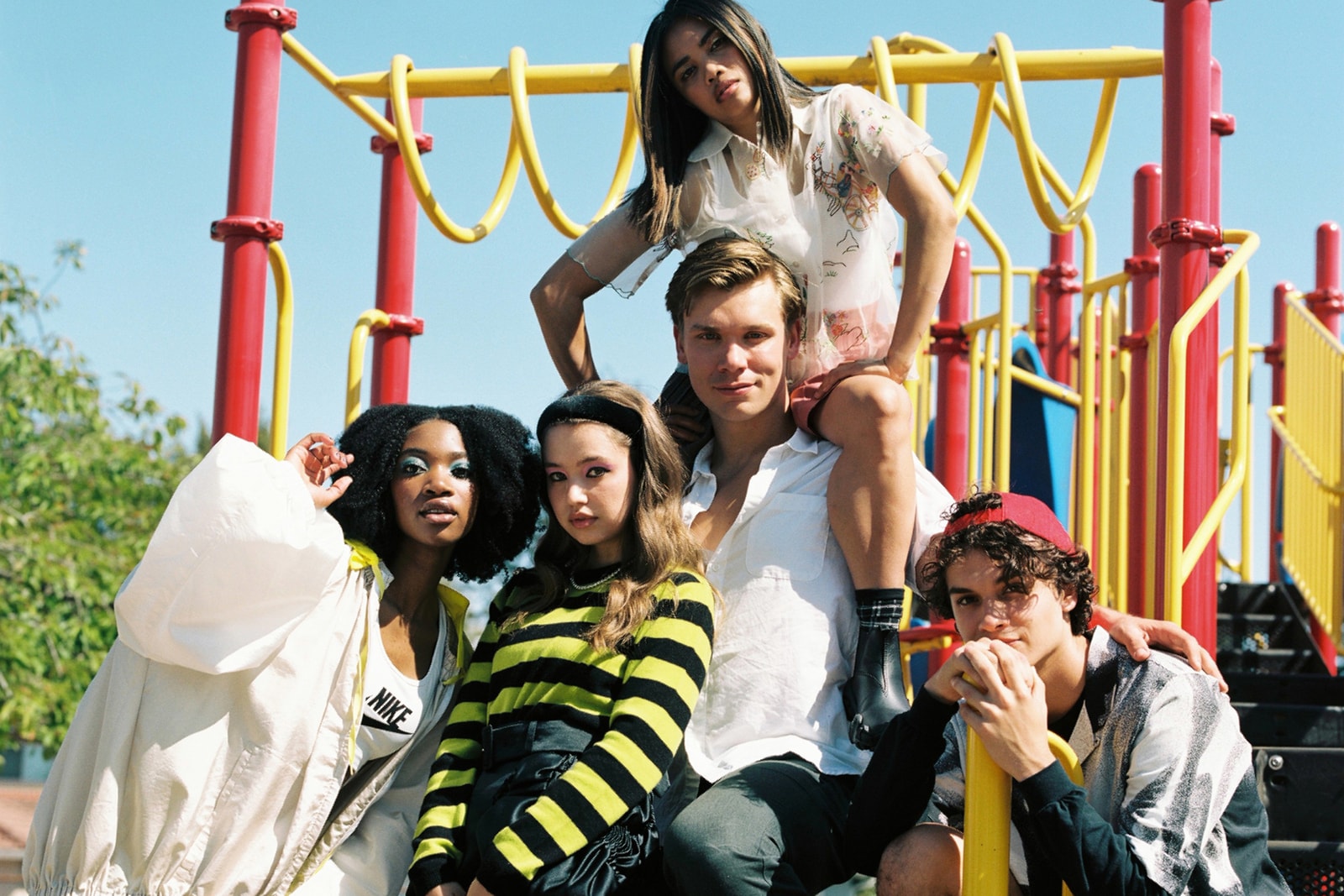 What Is the 'Recess' Live-Action Fan Film All About?
Meet the director and the cast of the new short film inspired by the cult-classic '90s Disney cartoon.
If you've ever wondered what happens to the Recess Gang after they graduate from elementary school, you may be able to find some hints in a new fan-made, live-action short film.
Over the past year, millennials have found themselves reliving their childhood in the theater thanks to a number of big-budget remakes of '90s Disney movies. Everyone has their own favorite, and for Vancouver-based filmmaker Jerome Yoo, the one Disney title that he's been longing to see a remake of is Recess — a show that he still rewatches every now and then as an adult.
So, having assembled his own gang of writers and cinematographers, and after casting the perfect TJ (Benjamin Wadsworth) and Spinelli (Louriza Tronco), Yoo decided to create a live-action short inspired by the cult-classic cartoon. Featuring a high school setting and with a breakup between Mikey and Ashley A as the premise, the film titled Third Street sees the familiar characters having new adventures together outside of the playground.
Watch the film below, and read on for our interview with the director and members of the cast including Tronco, Sean Depner, Emilija Baranac and Kelcey Mawema to learn more about the passion project.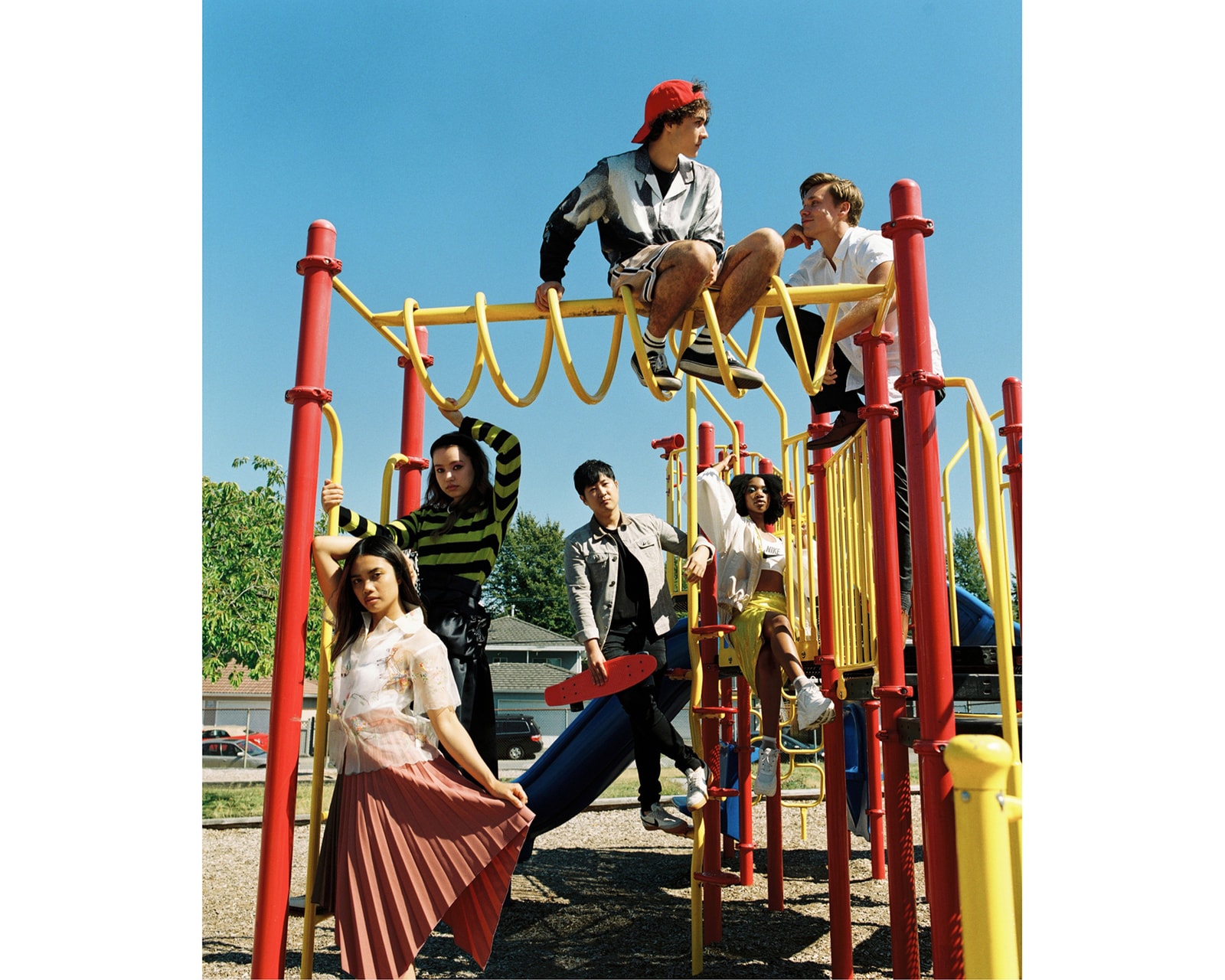 How did this project initially come about? What made you decide to reimagine Recess with a short film?
Jerome: As a huge fan, I felt like I had a healthy angle and mindset to bring the story to life. Growing up, Recess always held a special place in my heart. Something about TJ and the Gang's adventures inspired the mischievous and curious side of me as a kid. I remember as a six-year-old, the other kids would play Power Rangers or Pokemon. I would re-enact Recess on the playground with my crew — me being Korean TJ, of course.
When the show finished, I hoped it would one day make a comeback as a live-action series, which never happened. Then I think a strange combination of me binge-watching Recess episodes, feeling uninspired by my own scripts, then finding the right collaborators in Zlatina Pacheva and Kent Donguines is what pushed the passion project forward. Coming-of-age stories speak to me, especially that weird, scary stage of transitioning from kid to adult beyond high school. That's why I wanted to reimagine the Recess gang in a high school setting, where I could see an opportunity to tackle current issues through the lens of diverse, timeless characters.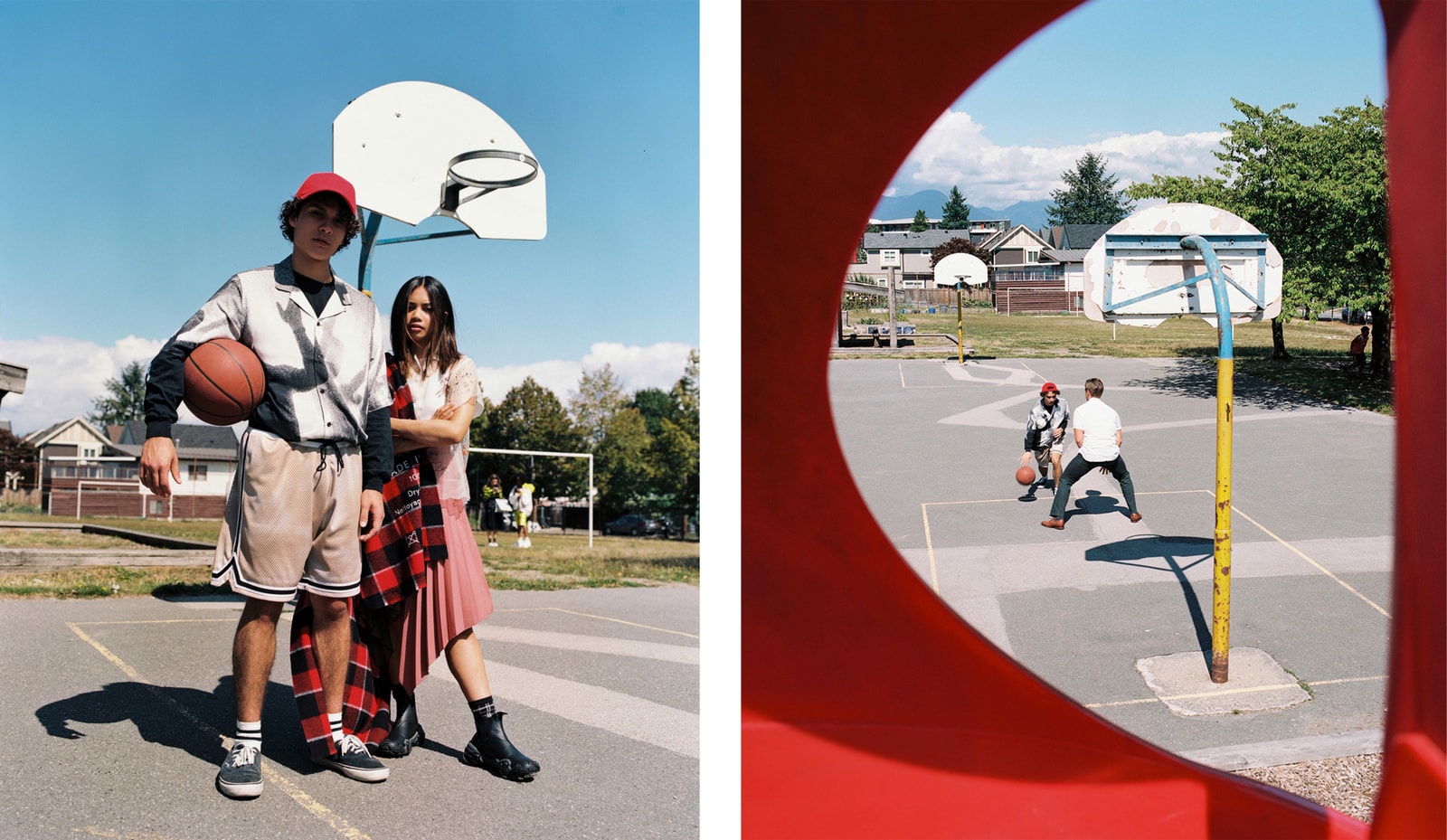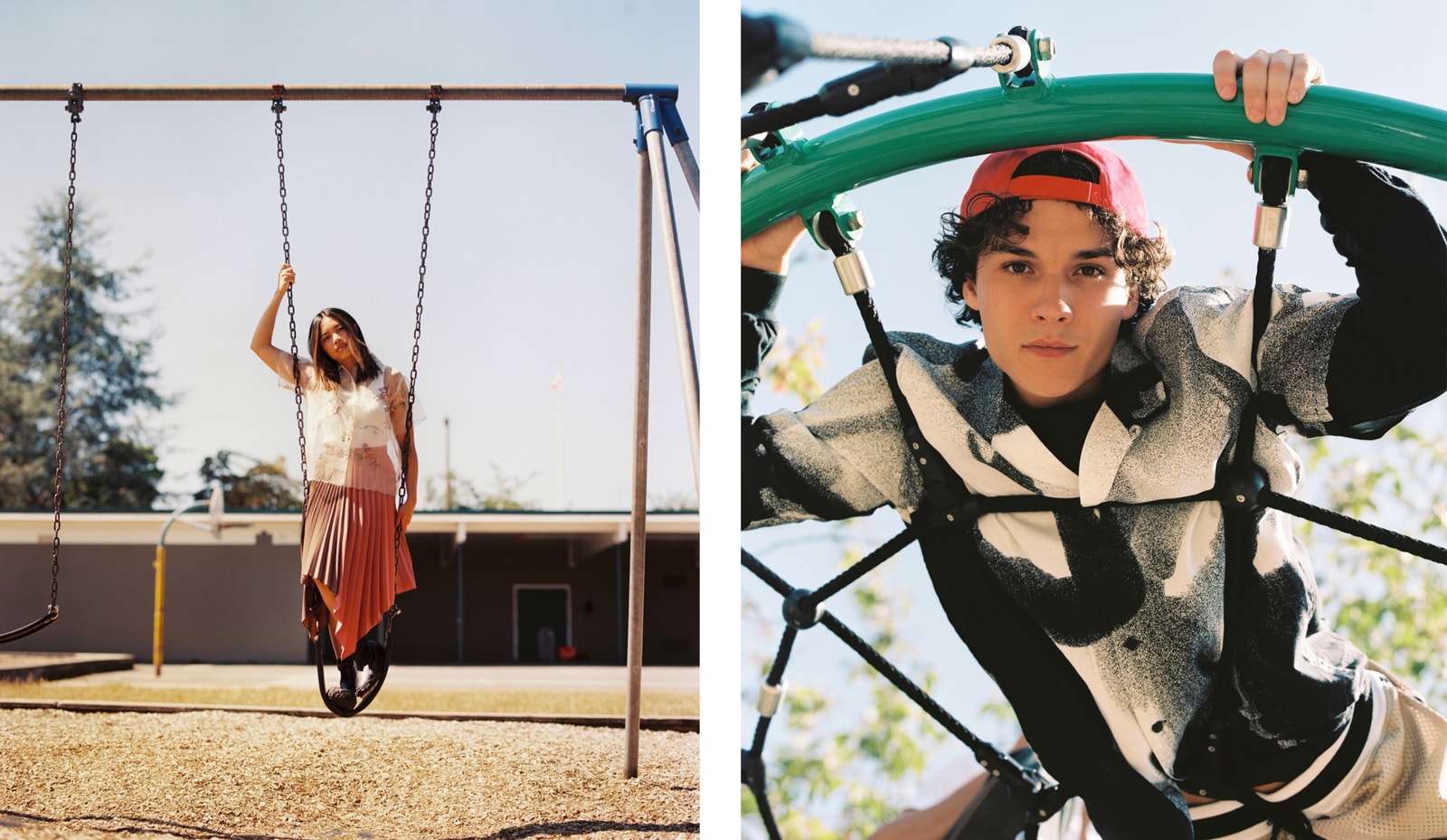 Louriza wears BODE shirt, Acne Studios skirt, scarf and boots (Nordstrom). Benjamin wears Balenciaga hat, ksubi shirt, John Elliott shorts (Nordstrom) and his own shoes.
When writing the script alongside Zlatina Pacheva, did you draw inspiration from any of your own high school experiences?
Jerome: Absolutely. Brainstorming for the film, Zlatina and I went wild sharing all our crazy stories like awkward first romances, school gang rivalries and spooky haunted classrooms. I actually knew she'd be the perfect writing partner to tackle a live-action Recess script with as she's familiar with the show, and has a wonderful sensibility for quirky dialogue. In other words, way more talented than me! She's the best.
Our compass for story and tone was to retain the playfulness of the original cartoon. Once we felt that foundation was in place to anchor the world, we attempted to layer it with a more sinister problem lurking underneath the surface. I look forward to seeing fans discover all the easter eggs we implemented.
In what ways have the characters evolved or grown up in the Recess-inspired world in your film? What kind of new lessons will they learn?
Jerome: It was important to me to keep the essence of the original characters, while re-interpreting what their high school lives might be like. We thought it would be funny if Mikey kept his artistic soul, but became fit and more handsome than he knows. Same with Randall played by Adam DiMarco. He fixed his posture, but everyone still hates him as he still reigns as the school's slimy snitch. Obviously we didn't have the time or resources to explore the characters further, but I would love to dive deeper into coming-of-age complexities and themes like love, identity, bullying, drugs, Internet culture and all the weird, colorful crevices of what the modern high school experience entails.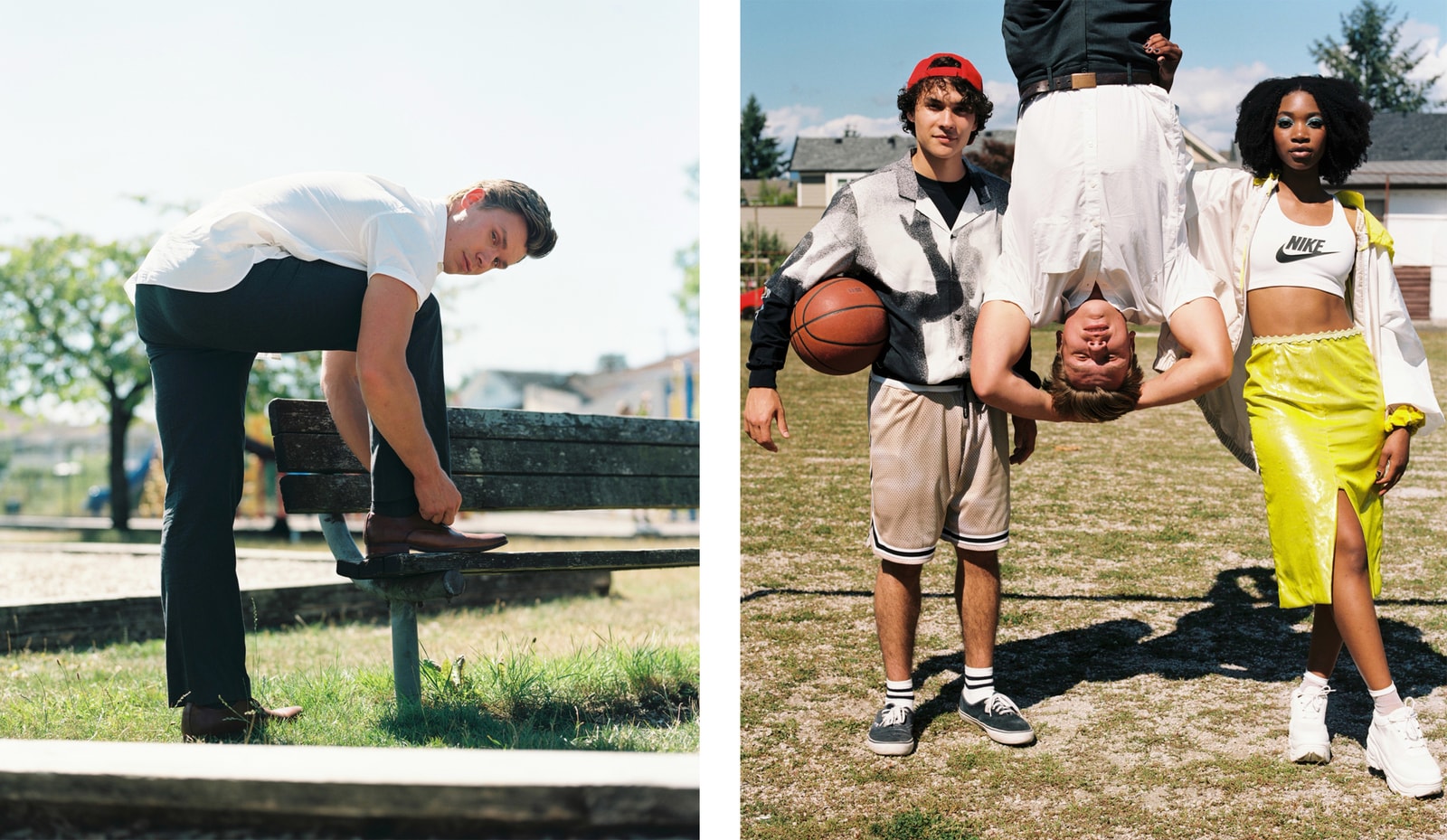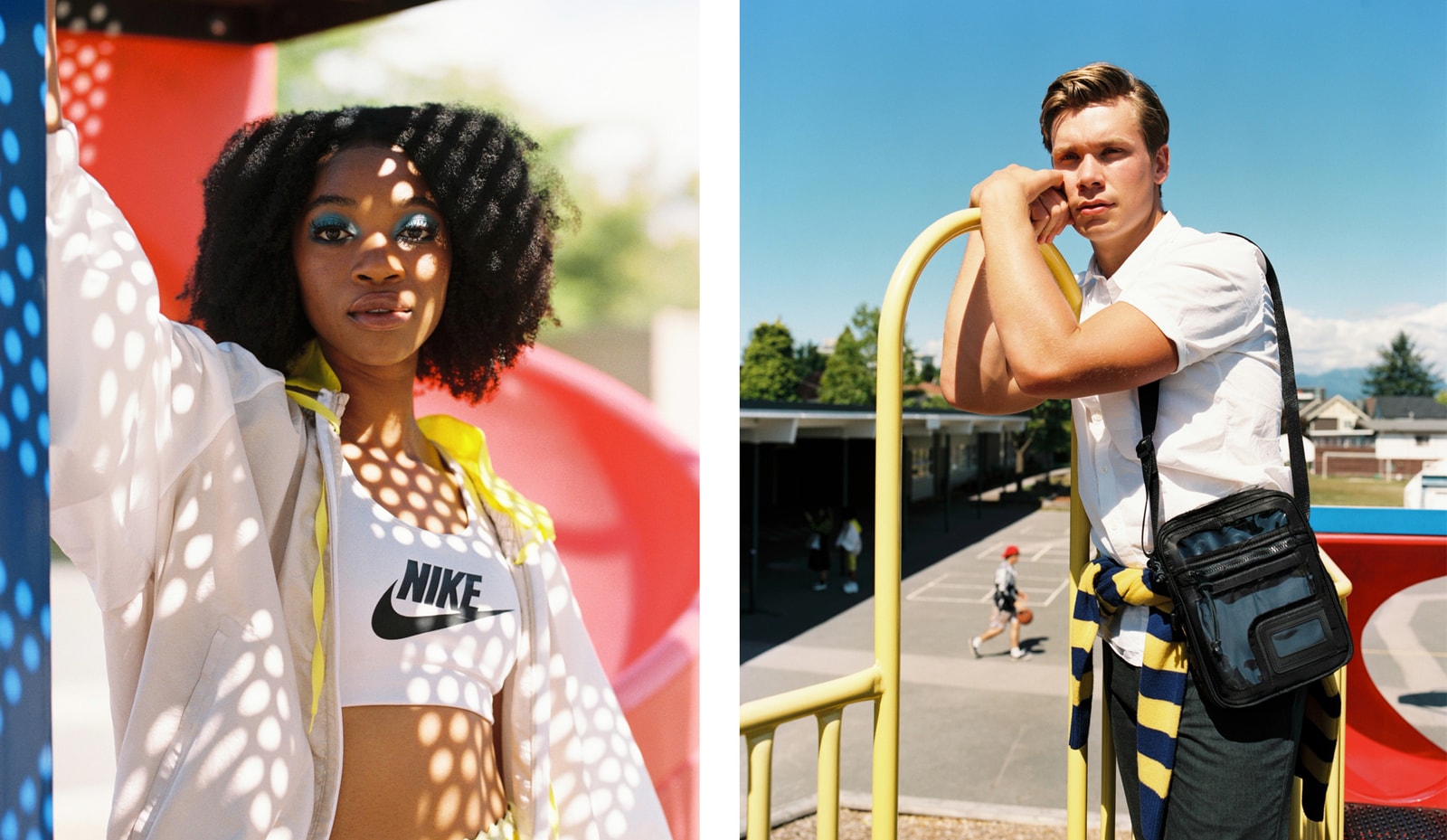 Sean wears Muji shirt (stylist's own), Loewe sweater, Maison Margiela bag (Nordstrom) and his own pants and shoes. Kelsey wears Nike sports bra (stylist's own), Tibi jacket, SJYP skirt (Nordstrom) and her own shoes.
What were the biggest challenges of bringing this film to life?
Jerome: It's always a challenge to shoot a quality film when you're working with no budget. It was especially difficult to lock locations in Vancouver as it's constantly busy with network or studio productions who has the cashflow. Biggest challenge was the story. As Recess is a big show with iconic characters, attempting to adapt and pace out a story arc, while establishing a modern voice for a large ensemble cast within a 10-minute film definitely made me reach for Advil at times.
Despite the challenges, the team and I had way too much fun jamming on this little film. Big shoutout to the entire team who helped bring the film to life, notably the ever so talented Jeremy Cox (Director of Photography), Tammy Joe (Costume Designer), David Tomiak (Colorist) and Alexander Farah (Editor) who went above and beyond for me.
Did you intend to create this film for '90s kids? Do you think teens today could relate to the characters as well?
Jerome: The film was definitely created to cater nostalgia for all the '90s kids that grew up on Recess like myself. It was truly a labor of love for everyone involved. Honestly, I think the coolest part of this process was realizing just how diverse and global the Recess fanbase actually is. Since word got out that a fan film was in the making, I've received supportive messages from fans all over the world, and hearing about their excitement to see Recess come to life makes all the hard work worthwhile. This was for them after all. We even heard from a few original VAs and celebrities which was dope.
I believe Recess is timeless (at least until SAL 3000 takes over), and there are lessons in it's subtext, which resonate with me even now as an adult. P.S. I ship Gus and Cornchip Girl.
Did you grow up with the original Recess cartoon? What do you think make it such a cult-classic show?
Sean: Oh yeah, it was a favourite of mine. I mean, I basically was Mikey when I was nine years old, this big, blonde, chubby kid who was always singing so I was always into it. I think what made it resonate with kids back in the day was it felt very relatable. The adventures in Recess didn't really happen in real life for me, but the show felt like being what a nine-year-old felt like. I remember dodging the grouchy playground chaperone, and I think every kid tried to swing over the top. I most certainly recall one recess where come hell or high water, my friends and I were gonna dig our way to China. Whether you resonated with one of the core characters or not, I feel like if you were in public school at the time, you saw your life reflected back at you from the lens of a nine-year-old, and that's a pretty special thing when you're a kid.
Louriza: I sure did. I would watch it right after school. I think I would watch an episode of Arthur and then Recess. I think what was so special about it is that it was about a group of kids that everyone could relate to. It was about a group of unlikely friends that just seemed to complement each other.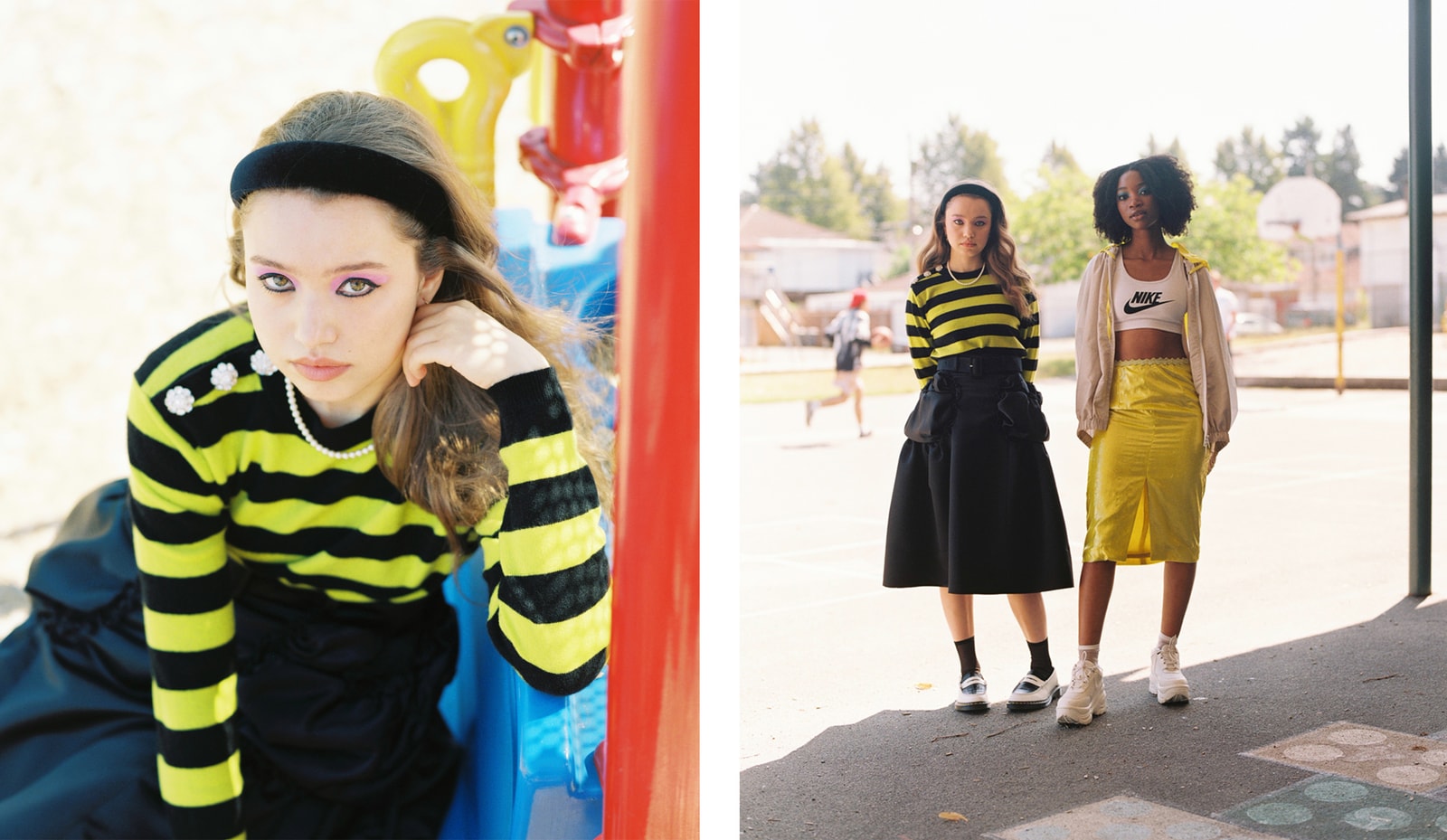 Emilija wears GANNI sweater, Simone Rocha skirt (Nordstrom) and Stussy x Dr. Martens loafers (stylist's own).
Kelcey: Yes! Recess was one of my favorite cartoons growing up. It was just such a relatable show. Everyone, kid or teen, could see bits of themselves in the characters.
Emilija: I didn't watch Recess nearly enough to consider it a cult-classic for myself, however, I can definitely see why it's considered so. I think the characters are so distinct and unique that it's easy for kids in elementary or middle school to relate. Everyone had a Randall or a Spinelli in their class, so I think it was cool as a kid to find ways to associate your life to it. The show did a great job of dealing with a subject matter that was true to the school experience, but still managing to send different messages that were important for kids to hear and learn as they grew up.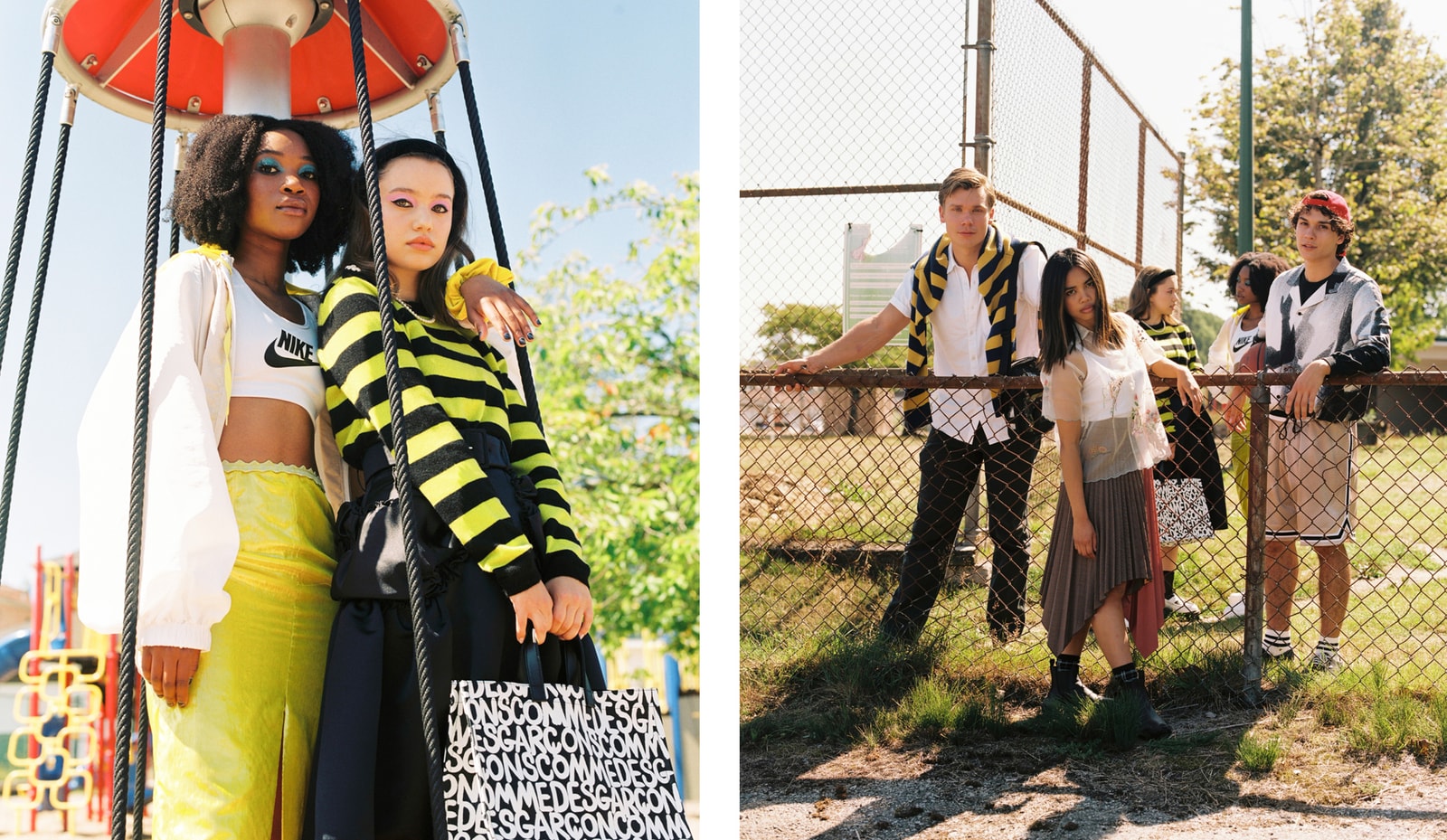 Emilija wears COMME des GARÇONS bag (Nordstrom).
What do you like the most about the character you play in this short film?
Sean: Mikey is all heart. He was always my favorite character, the one I related to the most, and it is just so wonderful to play someone so open and sensitive. Walking around as Mikey actually put me in a good mood all day because Mikey just sees the joy in everything. It's infectious.
Louriza: I like that Spinelli doesn't take any nonsense from anybody. She's her own person and that's the only way she knows how to roll in life, by being herself.
Kelcey: Well not to point out the obvious, but she looks like me. I didn't see a lot of Black representation through the shows I watched as a kid, so I immediately connected with Ashley B. Plus, she's got spunk and a keen eye for fashion. Everyone loves a character with a little spunk, and fashion taste.
Emilija: I love the color green, so I was stoked that Ashley T's colour is green. I also love how all the Ashley's linked up. I think if there were several Emilijas at my school I'd do the exact same thing and start a group called "The Emilijas." Being a part of bringing The Ashleys to life was so exciting.