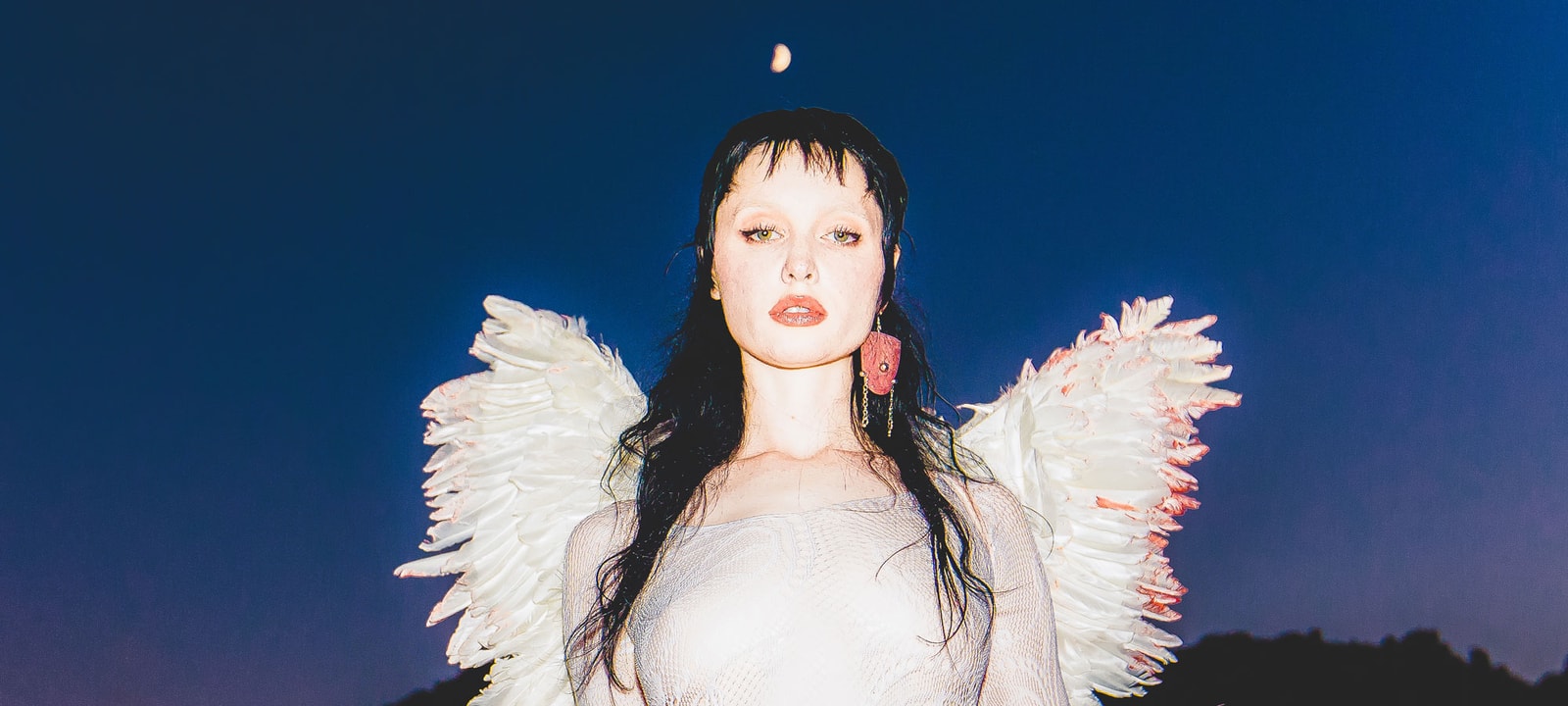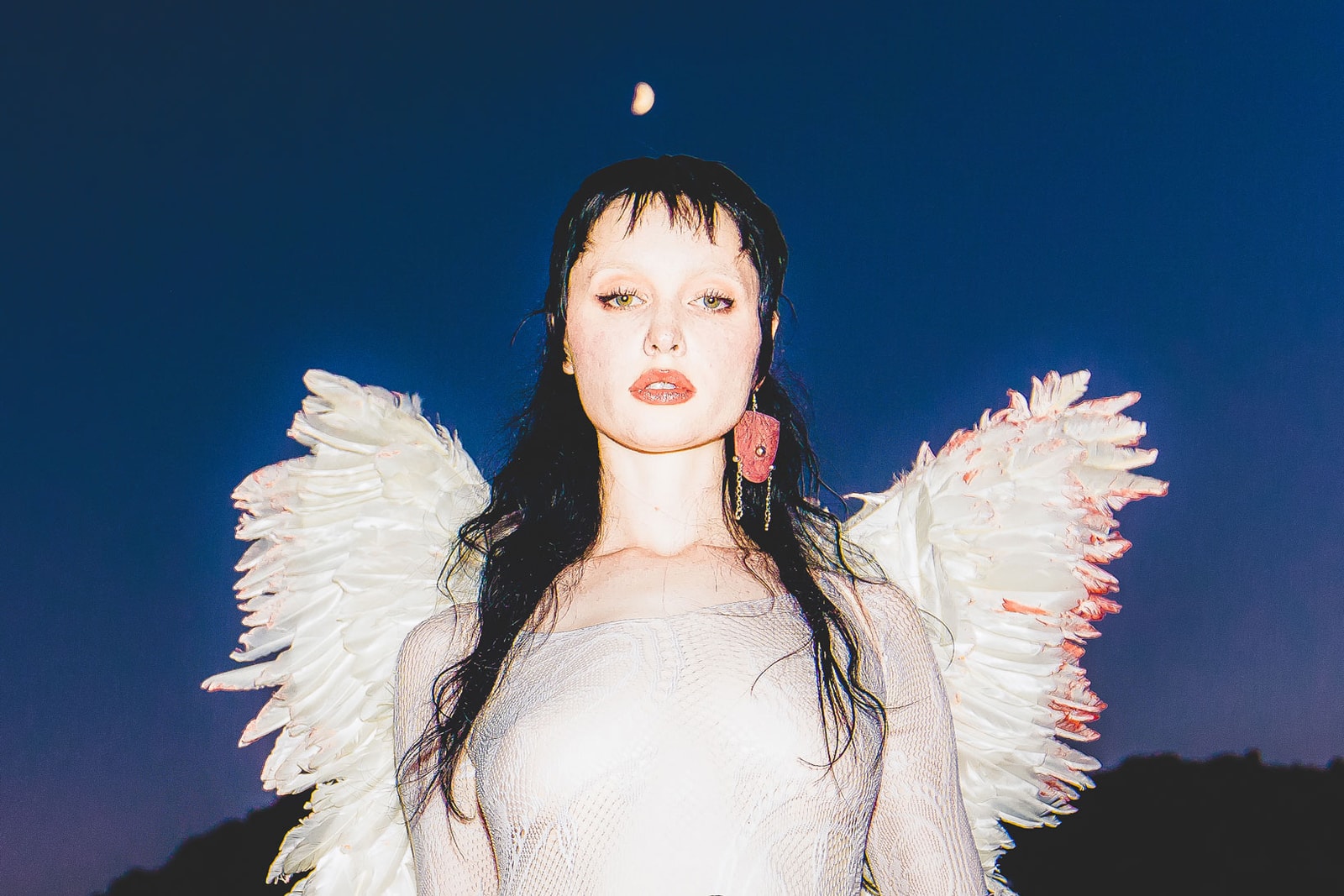 BAEwatch: Dana Dentata
The genre-defying artist exorcises her demons with upcoming album 'Pantychrist.'
Weaving together metal, performance art and horrorcore à la Three 6 Mafia, Dana Dentata transcends the confines of genre and the laziness of stereotypes. The artist, who considers her alliterative moniker an alter ego, recently became the first female solo act to sign to Roadrunner Records, home to testosterone-fueled acts including Korn and Slipknot. Following the debut of her performance video "The Resurrection of Dana Dentata," she's now getting ready to drop a new album, Pantychrist, set to release sometime in 2021.
For Dana, who grew up in Etobicoke — "the backdoor of Toronto, Canada" – Pantychrist is far more than a musical endeavor. To her, the album represents a personal and artistic transformation, guided by six months of spiritual breakthroughs and trauma therapy. Dana Dentata has moved on from the demon-loving, blood-splattered persona she once was (in case you didn't know, "Dentata" refers to the myth of the toothed vagina, which stems from Japanese folklore) and is beginning to embrace angels and white light.
In fact, Dana describes her upcoming album as "pro-christ." If that seems odd considering her typically gory visuals and hard-edged appeal, she simply doesn't care. "If some people don't get it, that's fine. Fuck dumbing myself down or minimizing myself," she says of her critics. Indeed, Dana's latest single, "DO U LIKE ME NOW," goes where few dare to. "Too drunk to say no / It must have been a dream," she snarls, continuing, "I stick needles in my mouth / Do you like me now?"
For the latest installment of BAEwatch, HYPEBAE speaks to Dana Dentata about Pantychrist, navigating the male-dominated music industry and the dawn of her new era.
Your aesthetics and visual presentation are incredibly striking. Growing up, was artistic expression always important to you?
Yes, it definitely was. I could've gone to the high school across the street [from where I lived], but you had to wear a uniform everyday. So I went to the school that took me an hour on the bus because I was like, "I'm gonna wear what I want." Ever since I was little I was really into Britney Spears, Spice Girls and all of that. I would get my girlfriends together and we would put on little synchronized dances for bingo night…that was grade three or four.
You were scouted as a model at age 15 and then worked as a stripper. How did you transition into music?
Music was what I always wanted to do. I always wanted to sing, I always wanted to dance and I always wanted to perform. I was really tall and skinny — everyone would say, "you're a model, you're a model," and I would say, "modeling is stupid." And then my mom passed away when I was 14 and everyone just pushed me into modeling. It was something to do, I guess. I lived in Milan at 16 by myself, all kinds of crazy shit. I just thought it was stupid — you're not really allowed to talk, and I have so much to say. You're a walking coat-hanger. Eventually with stripping, I just felt safe. I felt comfortable [at the club]; I had been waitressing there already, so I knew everyone. That club, I still consider one of my homes — I've lived in that bitch. [Stripping] was survival for me to pursue my dreams.
How much crossover would you say there is between your artistic persona and your off-stage identity?
This alter ego, Dana Dentata, has been someone that I don't really understand who just takes over. I'd never learnt the mechanics of [Dana Dentata], and I just let [her] run wild. But over the past six months of my life, with healing and mental health and growing and changing and evolving, I [realized I] have always wanted to be more like Dana Dentata — the real me — and I feel like I'm becoming her now. It's been so beautiful.
Do you think that alter ego has always been present, ever since you started your first band Dentata?
Yeah. I didn't even know about the alter ego [at first]; I just was so excited to be in a girl band. I never really thought about what was happening to me, or inside my brain. I never had a moment where I was like, "I am Dana Dentata." People just started calling me that…it kind of just [happened] itself.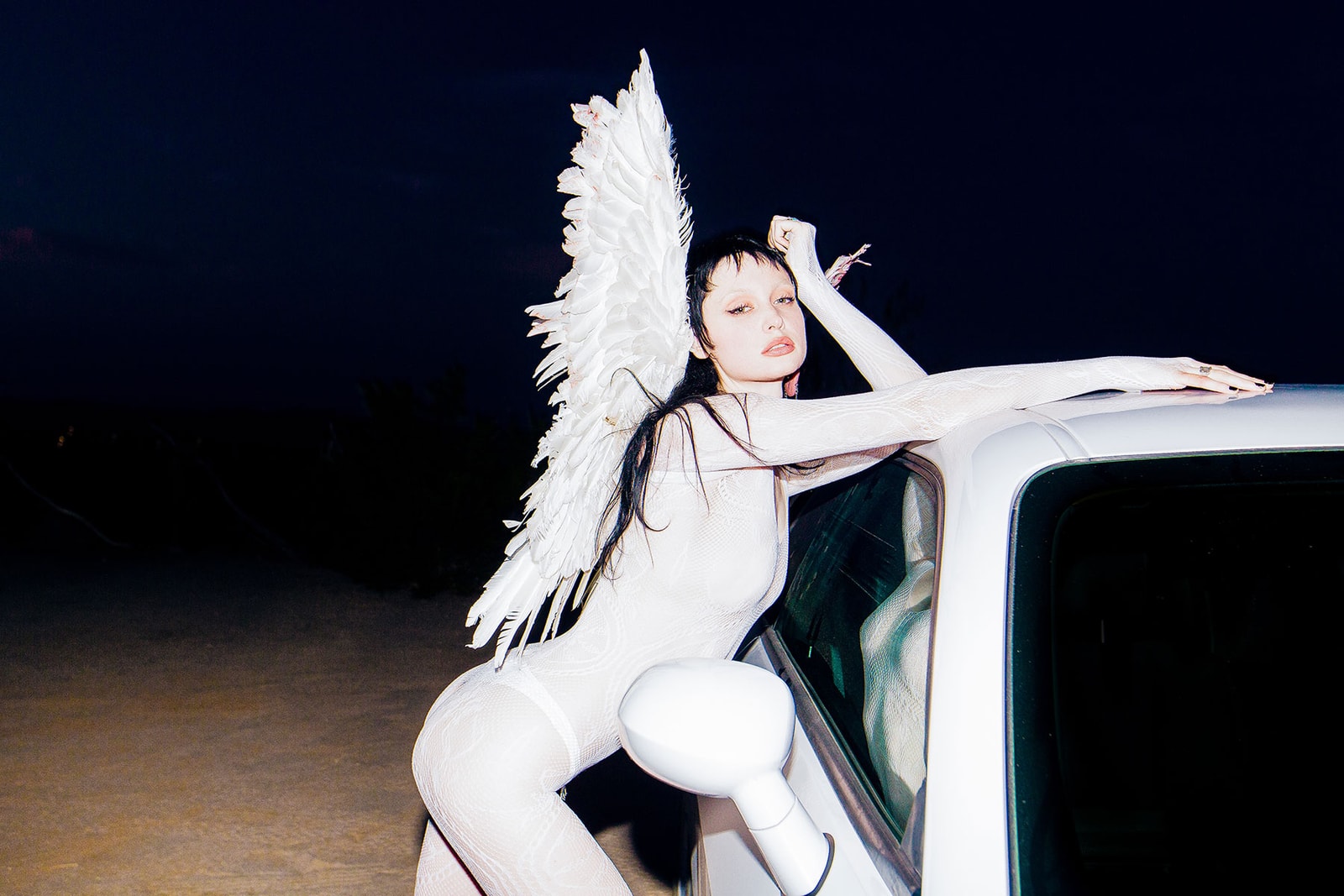 How would you describe your musical evolution, from Dentata to your solo work as Dana Dentata?
Climbing Mount Everest while random men have their dicks out the whole time. That's how I would sum up the last 10 years. It's been such a journey of men trying to sexually assault me or have their ego pleased by banging everything that walks. Besides that, it's having to overcome the male ego. By that I mean the amount of men that told me — there have been women too, but I've primarily worked around men — "this is how you're going to sound, this is what you're going to say, you should do that, you shouldn't say that, that's too much, you suck at rapping, you need to tone it down." Those dicks too.
You also recently signed with Roadrunner Records, which is heavily male dominated. Can you speak more about that decision, as well as how you navigate the music industry as a female artist?
I met with a lot of labels…I always wanted to partner with someone. It's interesting that everyone's talking about how important it is to be independent right now. I get that, and that's cool, but what about when you're completely abandoned by your family and have to strip and stuff to survive? It's like, yeah it's so cute to say "everyone stay independent" when mommy and daddy are paying your rent. You know what else is really cool? Eating food and surviving.
I support being independent, but I'm a one woman show and I need a team, I need family, I need my mental support. I was stripping for six months, going to LA working my ass off on music and doing that cycle. It'd be so badass if I kept [being independent], but not everyone has that ability and I don't think it should be looked down on.
[Roadrunner has] been around for 30 years. I just turned 30 this year and I'm the first solo female to ever sign to that label with an album deal. My version of feminism is not being PC, not doing the typical thing, and I felt like going with [Roadrunner] would be a shift. No matter what, I made that shift in a place that hasn't been shifted in so long. It's fucking history. I'm trying to do iconic shit that lasts forever…me being able to infiltrate such a masculine, misogynist world of music is a major accomplishment for me.
In past interviews, you've touched on grappling with trauma and coming out of an abusive relationship. Would you say music serves a cathartic purpose for you?
Yeah, it's been my only form of relief for a long time because [until recently,] I've never had therapy or really any care for the amount of trauma I went through. Music has been the driving force of my expression and relief.
You've also said that you're inspired by concepts such as fragile masculinity and misogyny. Would you characterize your work as political?
I would. Even when I'm saying aggressive, nasty shit, there's a purpose and intention behind it.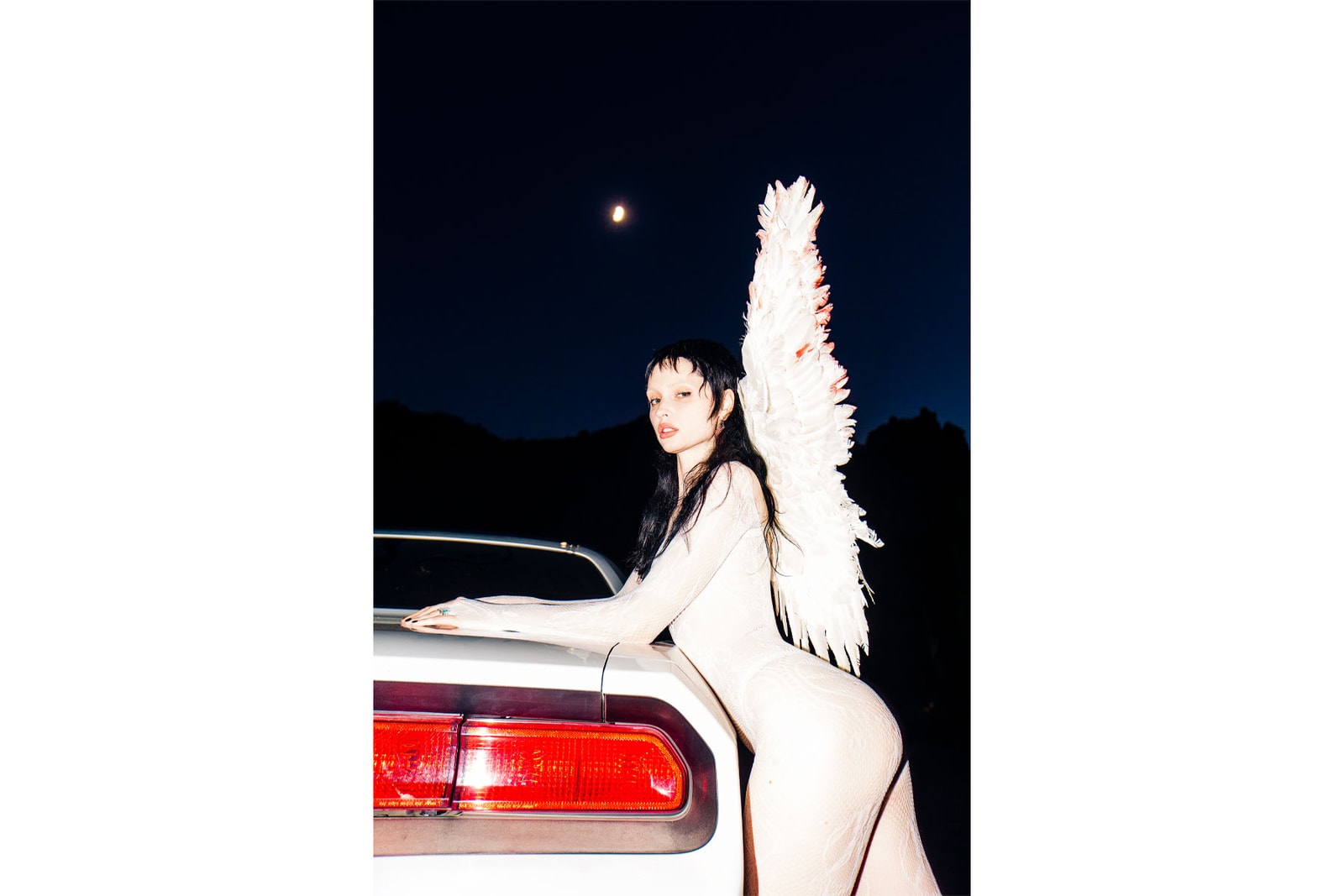 What can we expect from your upcoming album, Pantychrist?
I set that title over a year ago with the intention of this album happening. A lot of my art is so dark…I've been fighting so much evil and so many scary things have happened. I've had negative people around me; I've been in physical danger. My mental health has been horrible, and I just wanted the next thing I did to have positive manifestations in it. I had high hopes that if I did that, maybe I would find peace and happiness and safety. Over the last six months, I've had spiritual breakthroughs and therapy breakthroughs…I really needed to go through that and heal my trauma in order for this album to take shape. The album has become so meaningful to me because it sounds like it's the word "antichrist," but its not antichrist at all, it's pro-christ — it's about me looking towards the light, letting go of all the darkness, embracing angels, embracing a higher power and white light, and purity and healing of the womb. Pantychrist to me really means healing of the womb.
Would you say you're entering a new era, both musically and visually?
Yeah. ["The Resurrection of Dana Dentata"] video was kind of like, I wanted to kill the demon and show you what I've been working on with my mental health. I have no idea what the next thing is going to look like, but it's not going to look what I've been doing before. There are no more demons and darkness. I'm letting myself evolve as a real person right now. I don't know where it's taking me, but I'm going there and I'm so ready. I think I sound more evolved, too. I've been in vocal trauma empowerment coaching with this amazing woman. You store your trauma in your vocal cords and it fucks up your chakras. My breathing is a total mess. I've really put work into healing and giving that attention.
Are there any dream artists you'd like to collaborate with in the future?
It would be really cool to meet and work with Courtney Love and Brody Dalle from The Distillers. Her and Courtney were like, the only badass bitches playing guitar and singing when I was 15. They were the reason I would pick up a guitar. Working with either of them or just meeting them, I would definitely cry. There's something maternal about them.
What advice would you give other nontraditional female artists starting out in the music industry?
Protect your mind, protect your body, protect your vagina, protect your spirit, protect your soul, because they're all vampire demon monsters. Just know yourself; know what you want and know your worth before you go out seeking anyone's validation or opinions. Anytime I ever tried to change something for someone…it never got me anywhere. The most fulfilled, beautiful things that have taken me anywhere were me not listening to anyone. Just always, always, always listen to you. Stick to your gut.