Behind the Atelier: MINDBLOWN on Forging Individual Freedom Through Conscious-Made Fashion
The New York-based design duo offers us an inside-look into their design studio and artistic process.
Behind the Atelier is a fashion-focused series that examines the unique backstories and design processes behind the fashion industry's most captivating talents. Pulling back the curtain on each designer's creative space and practice, Behind the Atelier provides an inside look into the industry's most exciting names.

For the 12th installment of the series, Hypebae spoke with Millicent Dunstan and Ben Lucas Jones, the ingenious designers and founders behind the New York-based streetwear brand MINDBLOWN. In an intimate conversation, the formidable duo discussed how their innovative clothing fosters and encourages individual freedom, the reasoning behind taking an ethically-aware stance on facilitating conscious fashion, and ways in which the MINDBLOWN multiverse stems from a divergent form of fashion existence.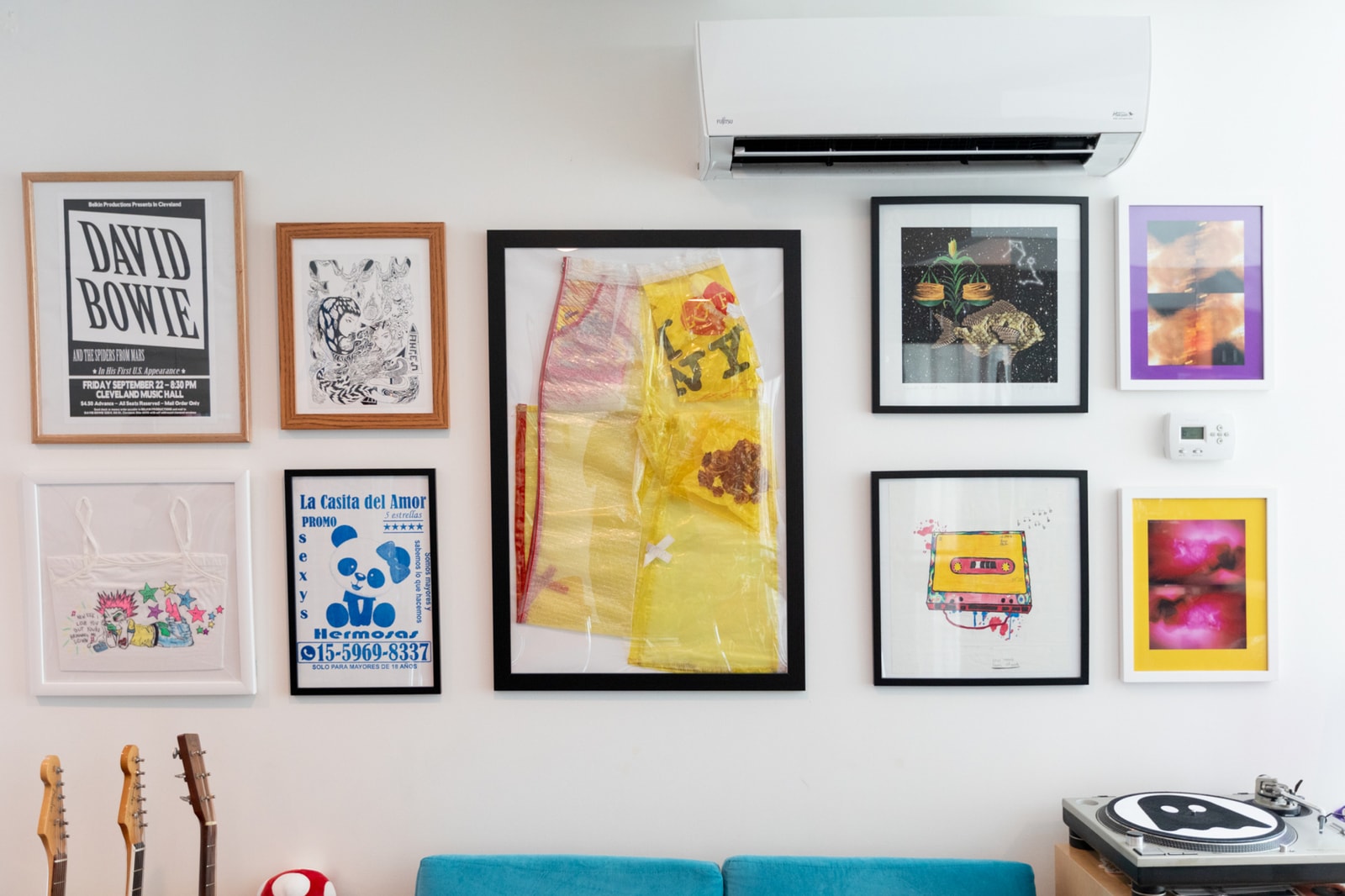 In the fall of 2016, an assemblage between Millicent Dunstan and Ben Lucas Jones was formed under the kaleidoscopic gaze of fashion and uninhibited artistic-expression. Ben, who had recently moved from Australia to New York, was working at the Carhartt WIP Store NYC for a month when Millicent entered the brand's flagship in search of a job that he soon hired her for. During this period of serendipitous events, the artistic duo bonded over their unwavering passion for alternative music, a shared ethos of unabashed individuality, and a rejection of societal norms — thus paving the way for the birth of MINDBLOWN in 2019.
Fueled by predecessors that defined the punk lifestyle, the sustainability-focused streetwear brand has ignited an anti-fashion, fashion movement founded on the principles of individual freedom and upholding the true origins of slow fashion. Embedding their creations with a devout sense of ethical awareness, the community-oriented brand aims to inspire and welcome all individuals to participate in a conscious wave of expressionistic-dressing that opposes anti-establishment views.
Adopting DIY techniques such as upcycling thrifted finds, reinventing discarded materials and transforming deadstock fabrics into custom, wearable garments — that remain rooted in alternative ideologies — the virtuosos behind MINDBLOWN have architected a neoteric fashion structure. One, that spreads positivity with joyous, electric colors and playful, unorthodox designs like signature patchwork-pants stitched with hand-sourced materials and emblazoned with radical graphics along with one-of-a-kind baby tees that poetically blend prints, patterns and shapes.
To get to the know the designers, Hypebae sat down with Millicent Dunstan and Ben Lucas Jones to discuss how their designs serve as commentary on the state of the industry, why breaking the rules in unprecedented ways remains at the brand's core, and how creating accessible handmade garments through an anti-conservatism lens has positioned MINDBLOWN at the forefront of a fashion rebellion sparked by artistic freedom to be one's self.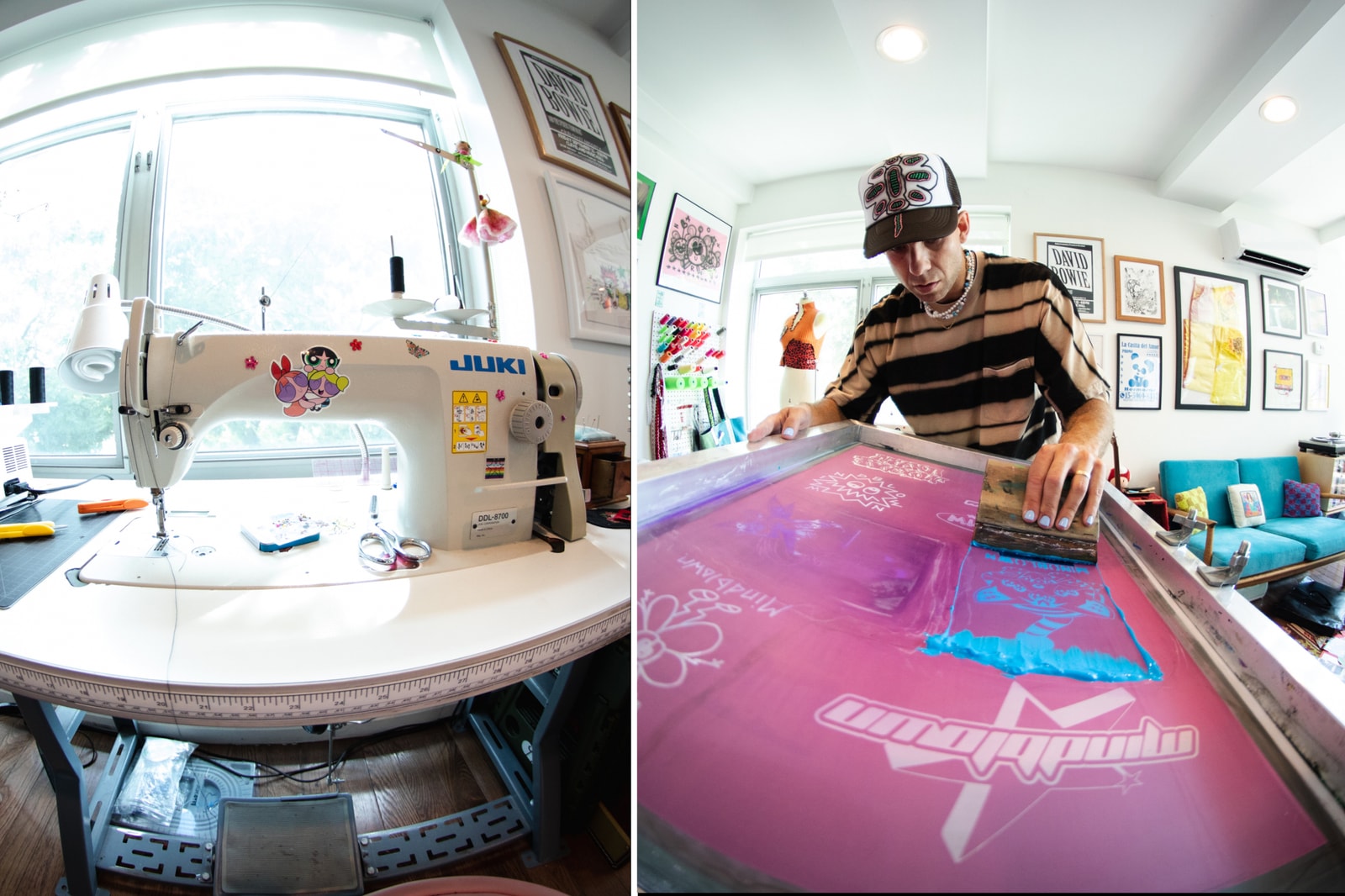 Where did you grow up?
Millicent Dunstan: I was born in Greenwich Village, NY, but I grew up in Dumbo, Brooklyn. When I was around 6 years old, I moved to Pittsburgh, Pennsylvania until I was twelve because of my dad's job at the time. When my dad had joined the state department, my family moved overseas and I spent my middle school years in El Salvador. A lot of my early childhood or early teen years were spent moving around, and I ended up going to boarding school because I was sick of moving, and that was an interesting experience.
Ben Lucas Jones:
I was born in Tasmania which is a tiny island off of the coast of Australia. My original creative inspiration was music and I was always into music as a young kid. At the age of 3, I remember banging on pots and pans like they were drums, and playing songs before I could even really talk properly. When I was seven or so, I had a full drum kit and I was rehearsing with my sister because she played the guitar. Her and I were putting on shows on our front lawn for our neighbors, and that's where a lot of my creative energy came from at the start. Then from around the ages of 9 until I was 19, I got into skateboarding and was skateboarding all the time. When I was 20, I moved to Melbourne and I lived there for eight years.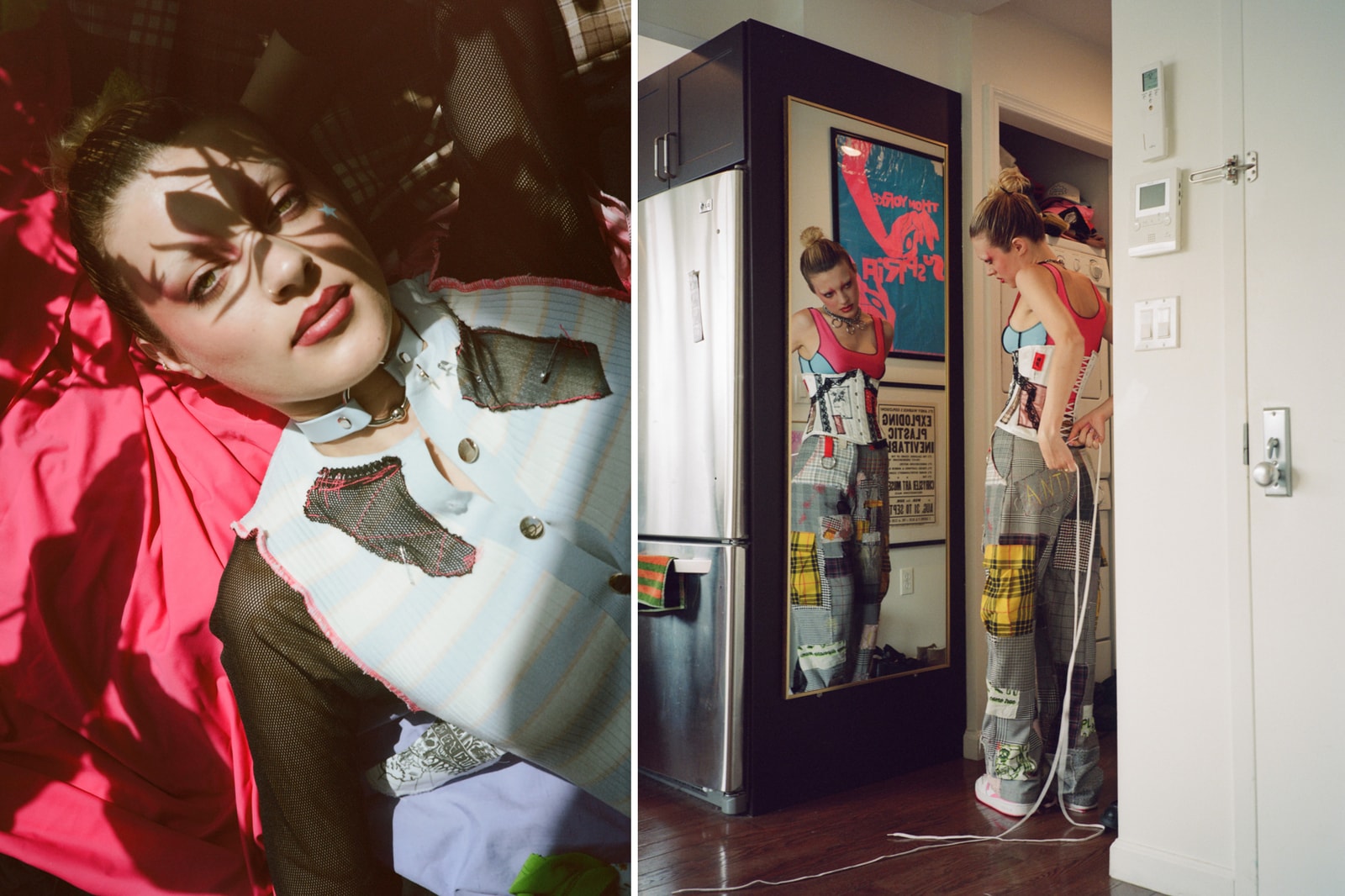 When did you become aware that you had an interest in fashion?
MD: I knew I loved fashion when I was in first grade because I was always drawing and I was obsessed with what I was wearing. My mom was really strict so she would make me wear certain things, and I was really angry about it. At 7 or 8 years old, I remember I wanted to wear these chunky platform boots with chains all over them because all of the cool girls in my school had them, but my mom didn't think they were appropriate. During boarding school, I knew I wanted to pursue what I felt in my heart was right for me. Luckily, I had an art teacher who helped me a lot, and I was so adamant about wanting to pursue art and fashion that I actually ended up creating a fashion class with [my teacher] — which had never happened before.
BLJ:
I was always into fashion and I was very particular about what I wore. I think at a young age, I was so immersed in fashion because of my mom who was a dressmaker. There were always sewing machines everywhere because she ran her own business making wedding dresses by hand, and watching her sew it all together and build clothing from scratch had such an influence on me — it was part of the way that I lived my life. The way I expressed myself was through music and skateboarding and because I'm such a visual person, I was always into drawing and painting on my desks or notebooks at school. Having parents that separated at a young age, I was a lot freer than most kids and could do or express myself as I pleased.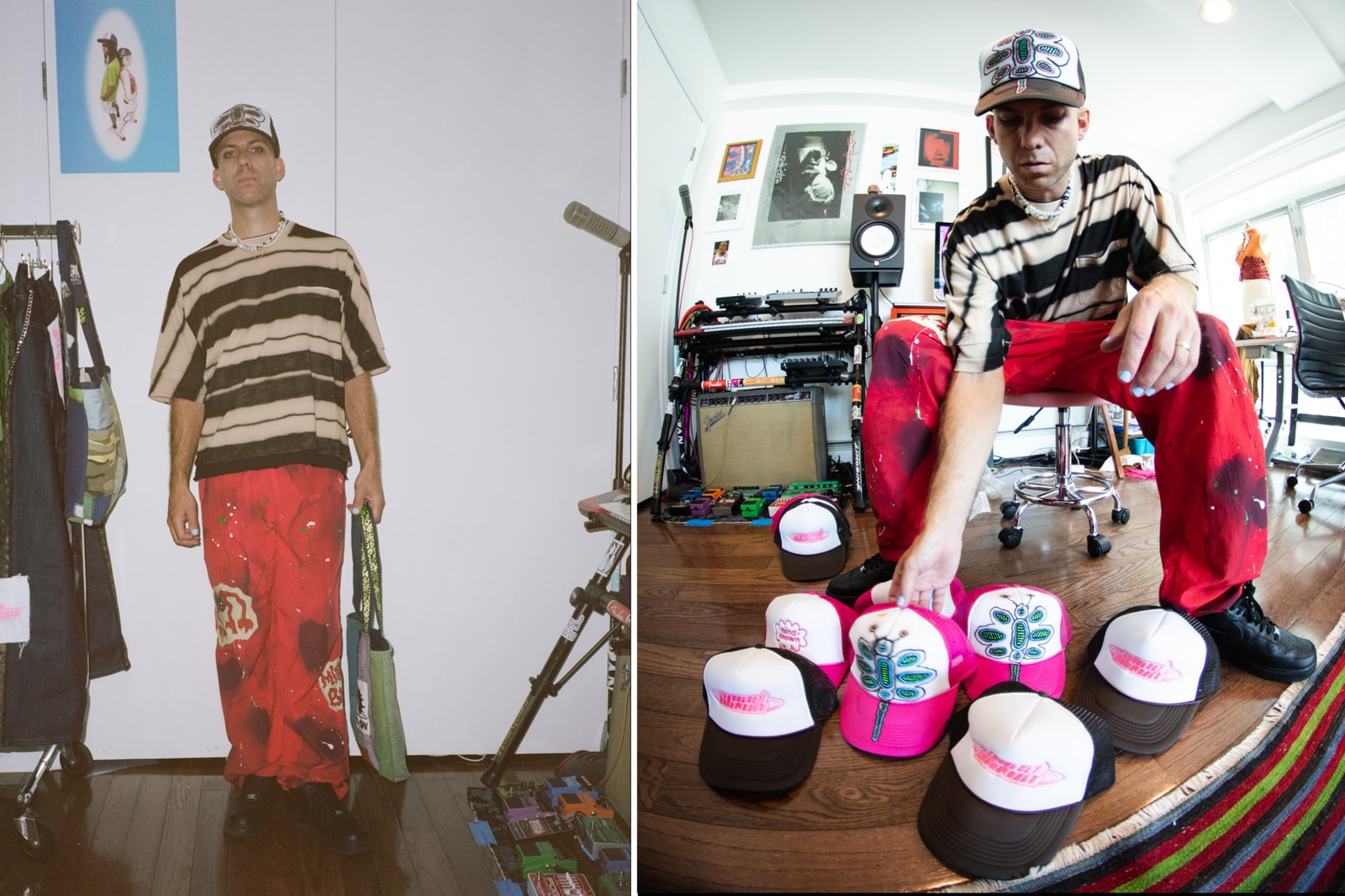 What is the core ethos and design approach behind MINDBLOWN?
MD: Our brand is very streetwear focused, and now streetwear is the dominant fashion or style for a lot of people in today's culture. When I look at high-end brands or even couture brands that are doing streetwear to stay relevant, [Ben and I] participate in streetwear culture, but not in a way that's super mass produced. I feel like I'm exhausted with our society because in general, I have a lot of climate anxiety, which most people do. I feel like, especially in the United States, people are unaware of these impacts and for some people, it's a choice.
A lot of times, I refer back to
Vivienne Westwood
. She's very climate conscious and I feel like that was one thing I realized during my thesis at Parsons, was that punk or punk beliefs, and the climate crisis could go hand in hand. Being climate-aware and having this punk mentality is badass and cool, and that way of operating has been my biggest inspiration.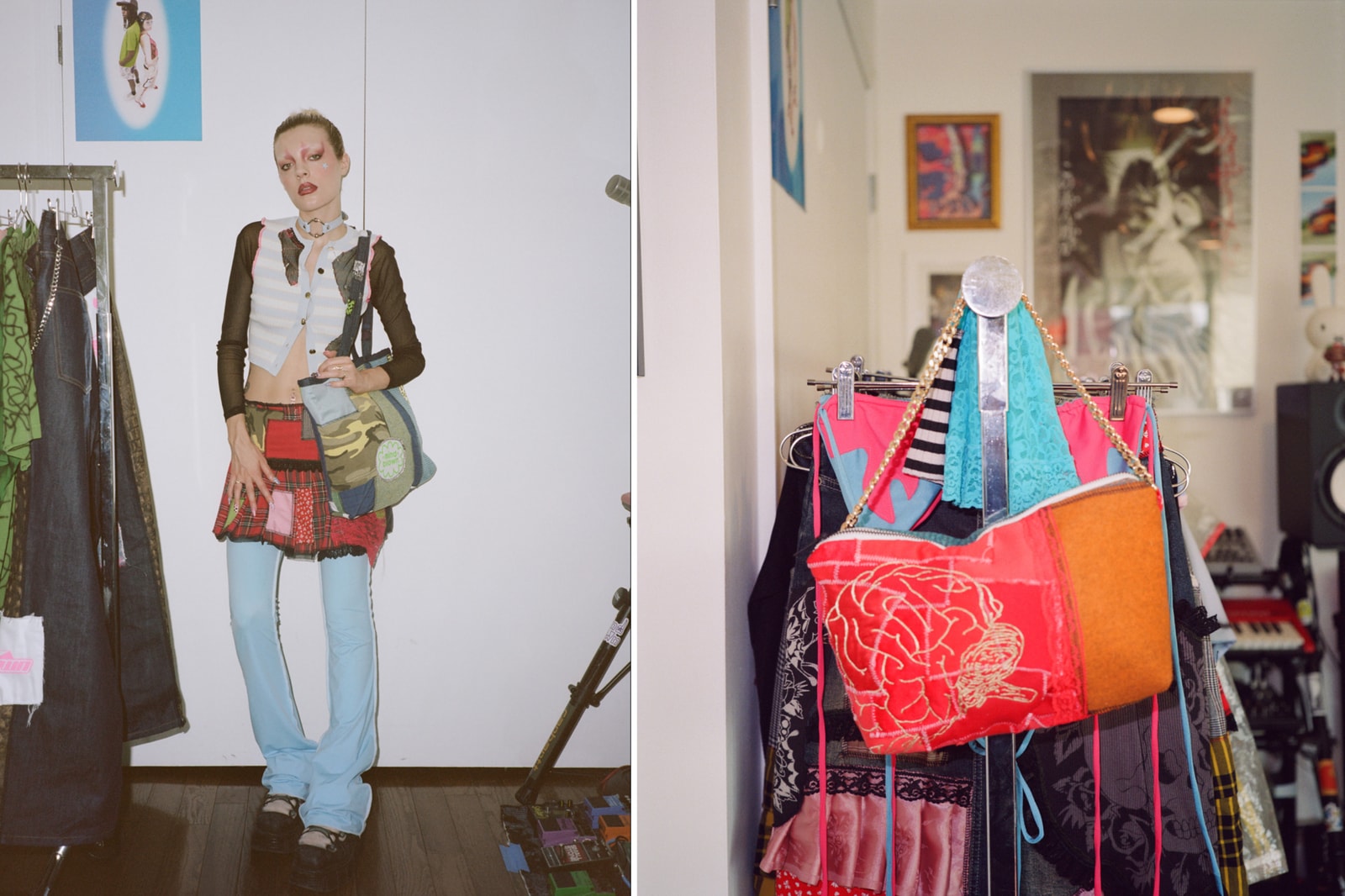 Why is promoting positivity and opposing industry norms vital to your design and creative process?
MD: I really want to create a positive message in the end, because it's not inspiring to be negative. I just want to create clothing that's fun and wearable, but also sustainable. Our pieces are special because they're handmade and one-of-a-kind, and it's not going to fall apart in three months. Maybe as a consumer you can feel inspired by that, and in the future that could inspire you to purchase items that are special as well as consciously-made because exploring fashion is an experience everyone should participate in.
BLJ:
For me, our designs are meant to challenge [the fashion industry] which is what the brand stands for and that's what we're fighting for. At the core of it, we're driven by a punk aesthetic and mentality. How can we be fully sustainable with our designs? How can we create pieces that no one else is producing and how can what we create be as hard as possible?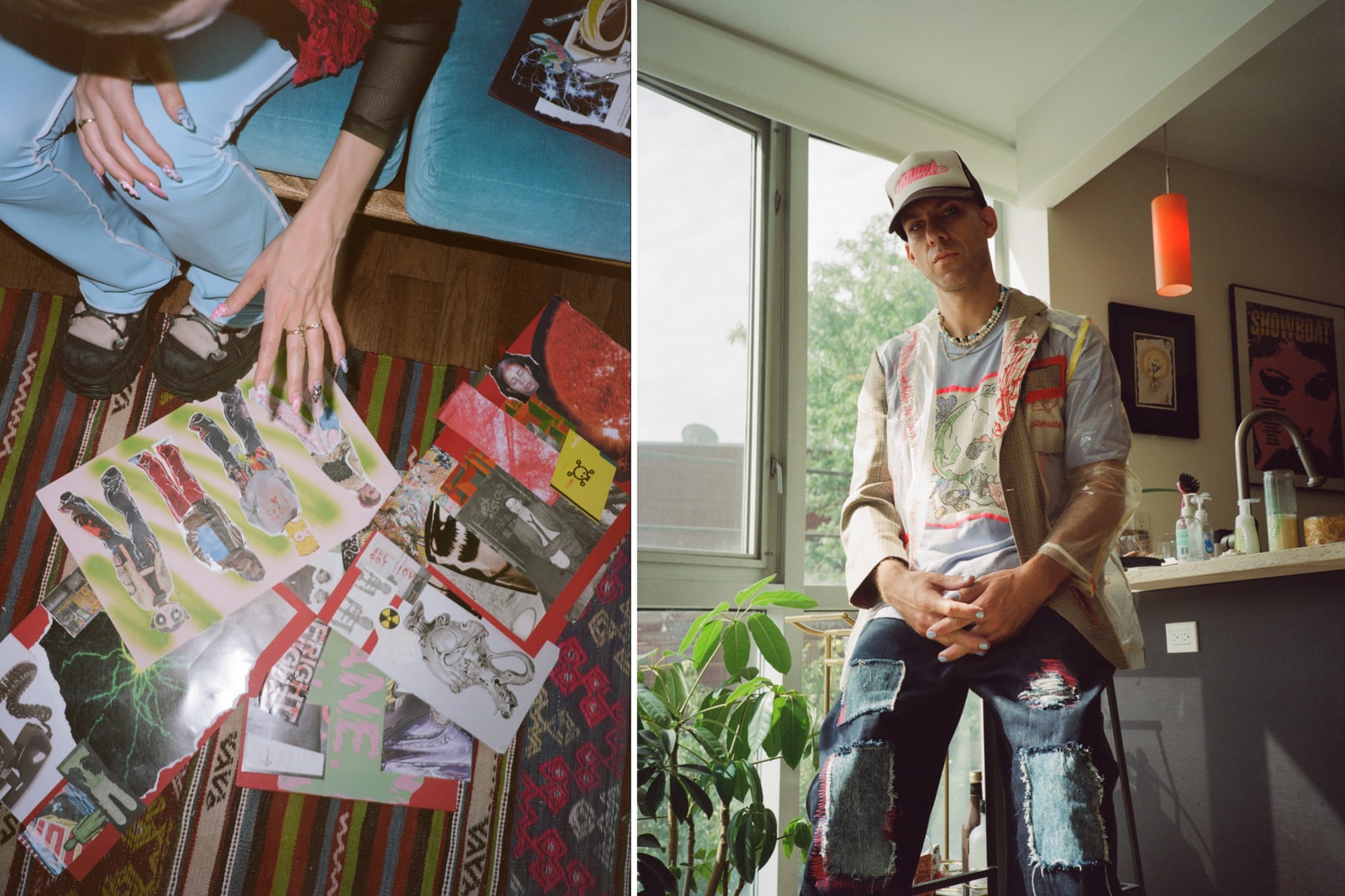 How do your unorthodox designs challenge and make statements on the current state of fashion?
BLJ: When Millie and I were first starting out, we were dabbling in anti-establishment and obviously there's a lot of history in fashion — which is something Millie has a huge passion for and has studied it. It wasn't until we started creating our own designs, and figuring [out the process] that it became fuel for our brand. We're constantly discovering new things every day by growing naturally and throwing ourselves into the deep end by staying open-minded. I never studied fashion. I studied graphic design and I viewed clothing as a canvas to make graphics.
MD:
Ben and I create clothes for people who identify with this anti-fashion, fashion movement, and not only that, but people who identify with subcultural fashion. We're conscious of what we're producing and are making a statement about the industry. If anything, we are trying to challenge the system in our own way. At its core, punk culture is anti-establishment, and at the core of our brand, we're trying to be anti-corporate in the same sense. I've always identified with that kind of mentality. From an aesthetic stance, I've always liked the idea of DIY which is about finding and transforming [materials or garments]. Today, DIY is so oversaturated because of TikTok. It's an untraditional approach because I went to fashion school and I was trained to do things a certain way — which is very strict and so is the industry. The idea of being anti-establishment and anti-conservative is very inspiring to me because of my formal background.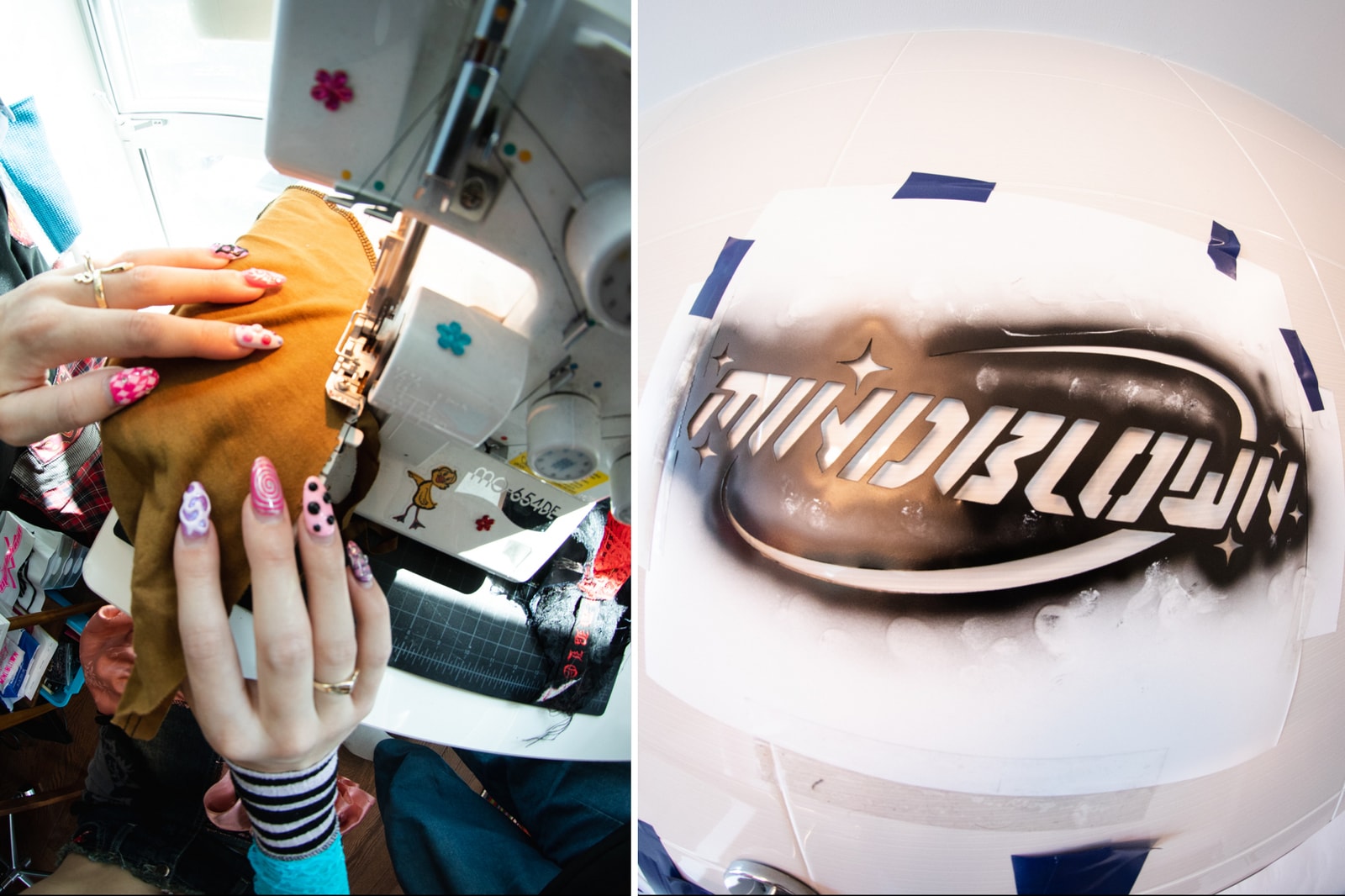 Walk me through your design process and the different roles and responsibilities each of you take on.
BLJ: We're super connected in the process like a guitar or bass player would be in a band and we really improvise off of each other, and trust each other. Millie will throw me in the deep end and create a certain type of patchwork or the construction of a crazy garment, and I'll feed off of that by trying to figure out what's going to take this garment to the next level or elevate the garment and make it come alive.
MD:
Ben has become more focused on creating graphics for our garments that we're creating in size runs, and developing that part of the brand. I'll work on one-of-a-kind pieces and develop them. But within those two channels, we're both discussing our ideas the entire time because we influence each other and are always checking in to see what works. To have someone to collaborate with and not be alone in the process really does help because Ben will throw out different ways I can alter whatever I'm working on, and it makes those designs so much stronger. We're always in communication with each other and because we also have designated jobs or responsibilities within the brand — we are able to be more productive and maximize our skills.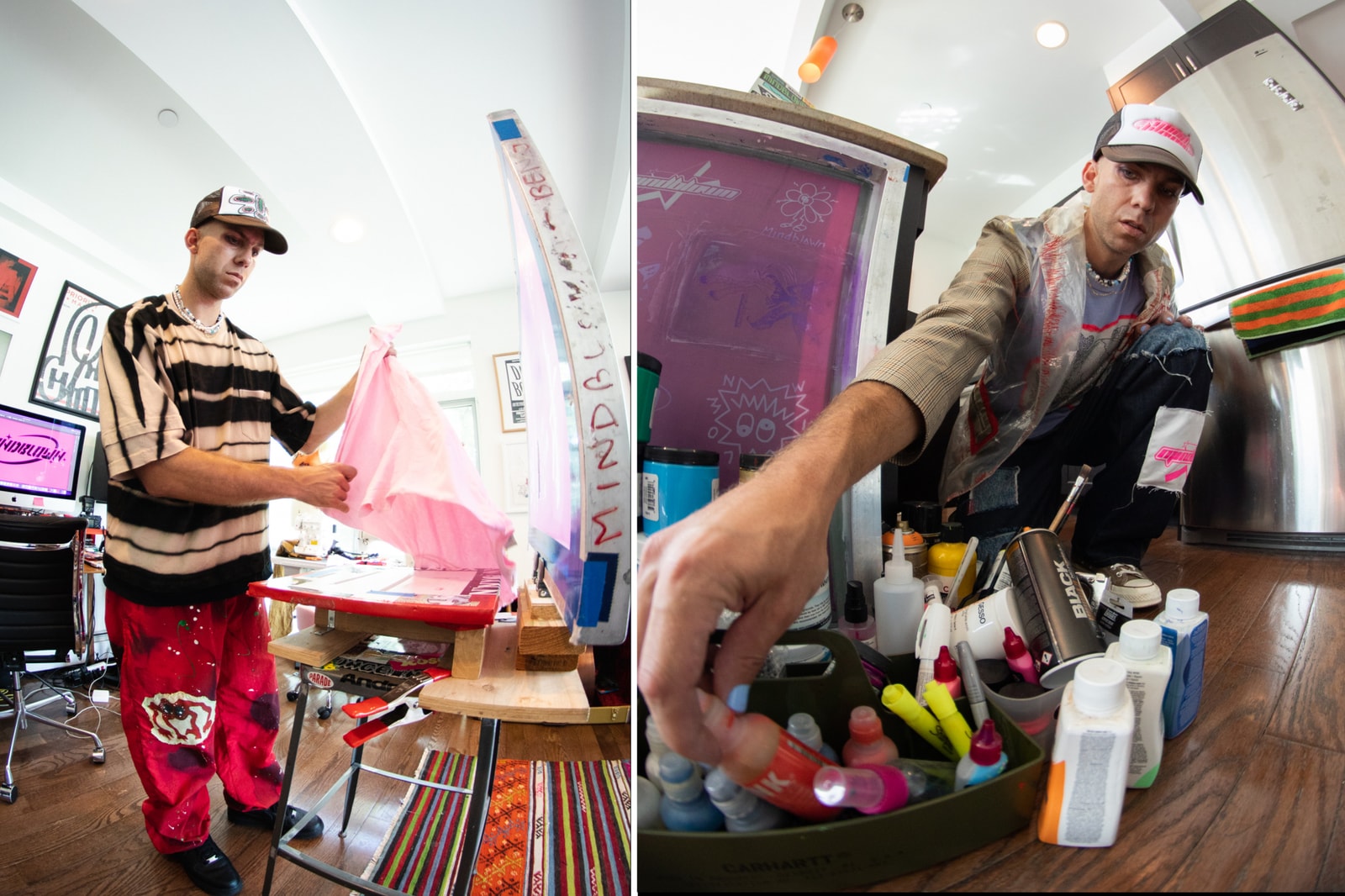 What are the accomplishments and key learnings throughout the progression of MINDBLOWN that you're most proud of?
BLJ: My favorite garments or accomplishments have been our signature hoodies, patchwork pants and Millie's baby tees. I think they're so amazing because we never really planned on creating those types of pieces, and they've become a big part of our brand. Those designs are a direct reflection of what we've been aiming for without realizing or fighting for it. One of the biggest things I've learned is how to be as open as possible, trust your intuition and have faith in what we're trying to achieve. Sometimes as a designer it's easy to put yourself down or shy away from those challenges. But, the best way to go about it is to continue fighting and going off of the deep end.
MD:
Ben and I were talking about this and laughing about having a brand because at the time it seemed so silly. But we've just kept at it and we've always called our brand our baby. We didn't want to start out taking it so seriously and have it become something we hate. We wanted to have fun, enjoy the process and let the brand grow organically. We're only gonna push further ahead and we're only gonna make it bigger. The fact that we've actually developed systems that aren't easy to build and work as a team to push through these challenges makes me excited for the future, and just continuing to grow our community of New York artists we collaborate with. I think that people are starting to really resonate with our brand, and that's the most inspiring thing to see as a designer because you want to put those designs out into the world so that people can connect with them.