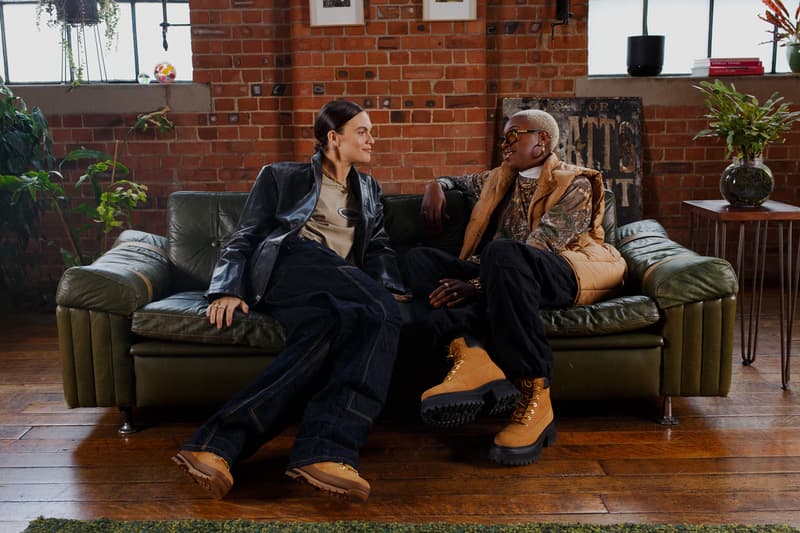 Fashion
Veneda Carter is Stepping into a New Creative Era and Plans To Make It Bolder Than Ever
Find out more in her new interview with fellow stylist Coco Mell.
Veneda Carter is Stepping into a New Creative Era and Plans To Make It Bolder Than Ever
Find out more in her new interview with fellow stylist Coco Mell.
Veneda Carter's recent collaboration with Timberland sent waves across the fashion scene when it premiered earlier this month. Infusing a '90s aesthetic with the brand's classic 6-inch boot, the Danish creative designed two new silhouettes that encapsulate her striking style whilst speaking to the fashion-conscious wearer.
Best known for her successful career styling the likes of Ye and Kim Kardashian, Carter has redefined fashion trends with an overflowing library of haute hip-hop inspirations. Her knack for bringing classic items to the modern day has only been achieved with an alternative and globally enriched perspective, as exemplified in her Timberland collaboration. Continuing to break the mold with her personal style, the stylist-cum-designer is now applying her creative vision to jewelry design where she plans to craft an array of statement, encrusted pieces.
In her latest interview with fashion stylist to the stars Coco Mell, Carter reflects on how she's stepping into her boldest self and where she hopes it will take her on the next leg of her creative journey. Read on for our full Q&A with Veneda Carter.
Coco Mell: What does being bold entail?
Veneda Carter: It means doing something in life that makes me happy, waking up to something that makes me feel great and inspires me to create. For many years, I did something that wasn't fulfilling so just being able to love what I do and be around people that I love is so powerful in itself.
Is that styling for you?
Styling but also being creative in my way, a way where I still learn and feel challenged, but also sharing my energy, my creativity, and then seeing people appreciate that. That itself is just like being bold in a loud way, in the right way I feel.
How do you think being boldly individual lends itself to unique creativity?
I learned to be verbal later on in my career, you probably know yourself it's hard sometimes to express or put into words what's going on in your head. It's easier to show via references or photos. But I've gotten better at it and I think that through the work that I create – my styling, the projects I work on – you can tell who I am. I always like to challenge myself and explore new ideas and new concepts, but looking overall at all my work, it kind of represents the same thing which I like. You can tell by my portfolio that there is one individual behind it.
In what ways do you bring this to your day-to-day life?
Being able to be me and express myself through clothes is a big part of my life and a part of what I do. Wearing clothes that express what I am and what I represent as a person. I'm very visual so how I present myself really is in the clothes. The way you carry yourself really expresses a lot of who you are.
Tell us a bit about some of the fashion icons who have inspired your striking style choices?
A lot of people inspire me, but the era I'm really influenced by is the '90s, especially American hip-hop culture. Obviously, I'm a big fan of DMX – he wore Timbs all the time.
What does the Timberland Boot represent to you?
Timberland, as a brand, is authentic and timeless, especially the 6-Inch Boot which is very recognizable and a lot of people are familiar with. Timberland represents a lot of what I am and my work. It's really important for me to be simple but to have a futuristic touch. Timberland is that in many ways.
How did your collaboration with Timberland come about?
I've always been into Timberland; I especially love its vintage boots and the one-of-a-kind styles. I've spent days researching the limited edition pairs that no one else has. I messaged them once, but never heard back! Then, a few months later I was in touch with them, one conversation led to another and here we are today with a new collaboration. The styles take a new, futuristic spin on the classic 6-inch boots. I wanted to put my personal spin on their icon so we designed the tall lace boot with a stiletto heel and the 6-inch patent leather boot. I'm obsessed with them, my baby even has her own 6-inch patent leather boot – the only one made in baby size!
How would you incorporate the boot into your everyday style?
The boot is very versatile, you can wear it dressed up or dressed down with a sweatsuit, so I feel like it really goes with everything in some way. I don't feel limited when I wear it, which is rare.
I love the fact you can wear it in summer and winter. It's across all the seasons.
It's funny you say that because in New York, it's a very popular boot and you see people wear it there all year long. I mean, I would wear it all year! In LA, people are like, "Oh you wear a boot?"
Tell me more about this new jewelry line of yours, I've seen it all over social media.
I launched my line a few months ago and it's been great but pretty overwhelming. I've always been really into jewelry and I wanted to make pieces but it was never the right time.
What was the design process?
I already have a lot of information from years of traveling but I want to keep getting better. So, I research a lot, go to the library, work with a designer to bounce off ideas and they take that and put it into reality. The signature design is something that you could wear everyday but is also a statement piece. Even though I use the color stone, the design itself is so timeless and simple but it has something really organic and futuristic, which I feel like is a big part of my style, so I wanted to incorporate that into jewelry somehow. I feel like I really got it to where I want it to be and I want to keep elevating.
Tell us a bit about motherhood and how your understanding of the word "bold" has changed?
I feel like a superhero after becoming a mom. After giving birth, you're capable of anything, and I do feel like a superwoman. A lot of people say you can't do things once you become a mother and your time is limited and everything stops and it's so not true. My success has really gone to the top since becoming a mother. I feel more powerful than ever, and my creativity has soared because of it.
Shop the Euro Hiker and boat shoes that Veneda Carter wears in the gallery above on Timberland's website. You can also explore her two-part creative collaboration online.
---
Share this article