Behind the Atelier: Jacques Agbobly on Creating Community through Black Queer Joy
The Brooklyn-based designer gives us a look into their design studio and new collection.
Behind the Atelier is a fashion-focused series that examines the unique backstories and design processes behind the fashion industry's most captivating talents. Pulling back the curtain on each designer's creative space and practice, Behind the Atelier will highlight and give an inside look into the industry's most exciting names. 
For the tenth installment of the series, Hypebae spoke with New York-based designer, CFDA/Vogue Fashion Fund nominee and founder of Black Boy Knits, Jacques Agbobly. In a candid conversation with the rising design talent, Jacques walked us through their design and creative influences as a first-generation Togolese immigrant, ways they are able to cultivate community and joy through custom, handmade knitwear and new, soon-to-be released garments as well as how knitwear is merely just the beginning for the expansion and evolution of the Black Boy Knits universe.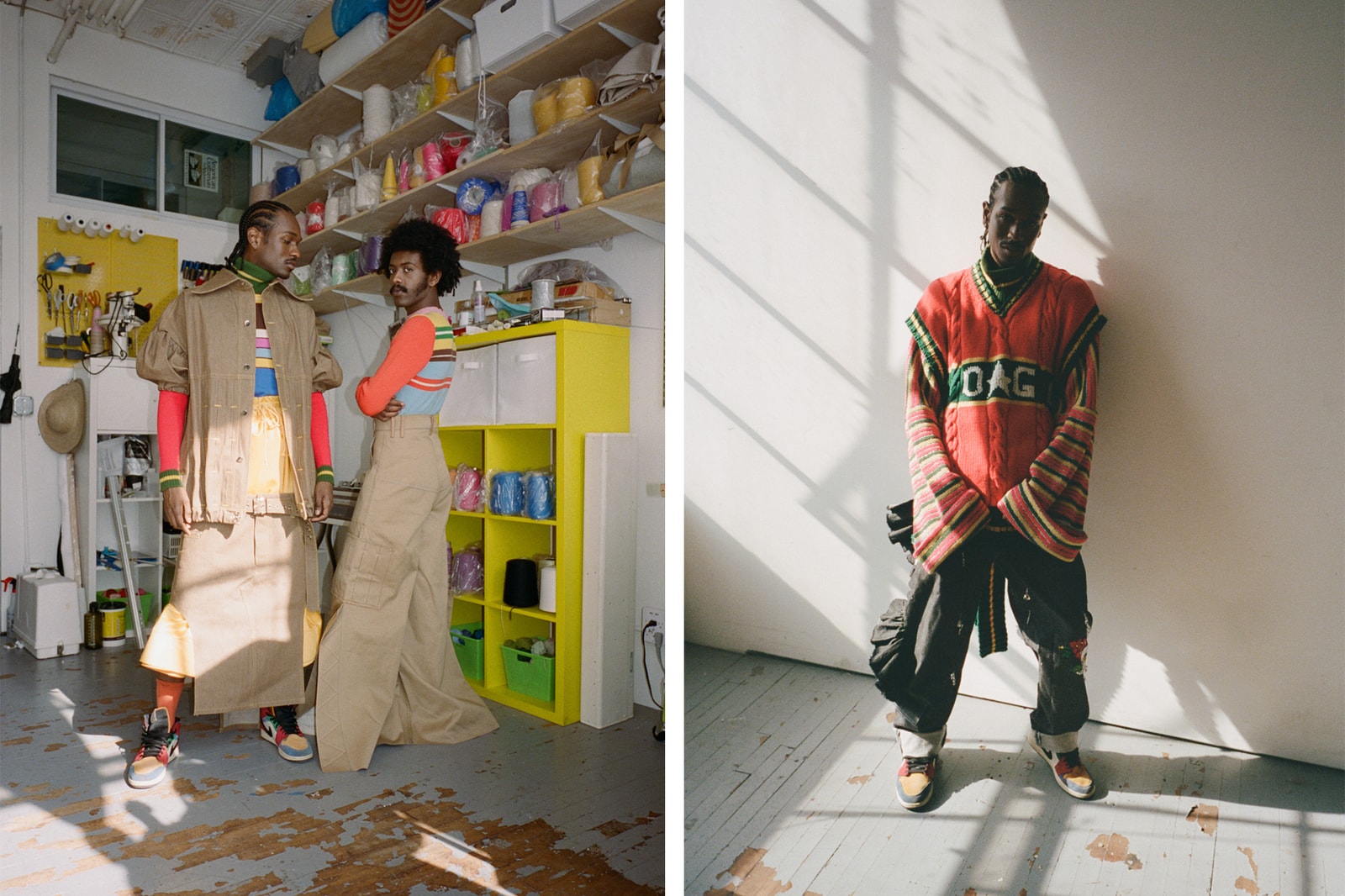 Originally born in Togo, Africa, the dynamic artist vividly remembers watching tailors and seamstresses cut traditional African fabrics and patterns from inside their childhood home at an early age. Becoming enamored with beautiful woven textiles, patterns in rich hues and the process of personalizing a garment for the wearer — it's no surprise that the designer would later translate these beloved memories and cultural references that pay tribute to their heritage in order to fuel the creation of knitwear.
At the height of the pandemic, Jacques Agbobly officially launched Black Boy Knits with a three-piece offering of made-to-order knits that were fully customizable in size, color and style, allowing each wearer to feel unique and seen in their BBK knit. Imbued with bright bursts of colors, innovative uses of materials and timeless silhouettes that subvert the norm, Jacque's highly-skilled hand and unmatched design sensibility caught the attention of the CFDA — they are now a finalist for this year's Vogue Fashion Fund in addition to being accepted into the knitwear program at Central Saint Martins.
With an array of vibrantly-rich colors, threads and textiles, one can't help but approach Jacque's garments with exuberance and cheerfulness as the groundbreaking knitwear designer invites clients to wear their clothes with confidence and a sense of unrefined ease. In a market limited by gendered sizing, these designs are masterfully executed to transcend traditional silhouettes, allowing the wearer to present themselves in new forms that suit and represent their most authentic selves.
The handmade work harmoniously melds African archetypes and queer identities, proving that self-expression does not exist in a vacuum, but rather exists as a celebration of our collective experiences. As Black Boy Knits steadily gains visibility in the fashion industry, it's clear that the brand's core ethos and design methodology will continue to remain strong through Jacque's mission to celebrate queer joy in all forms, and varieties.
To get to know the designer, Hypebae sat down with Jacques Agbobly to talk about how they inspire Black joy through their designs, how gender norms are challenged through their garments and how these influences will live on with the future plans of Black Boy Knits.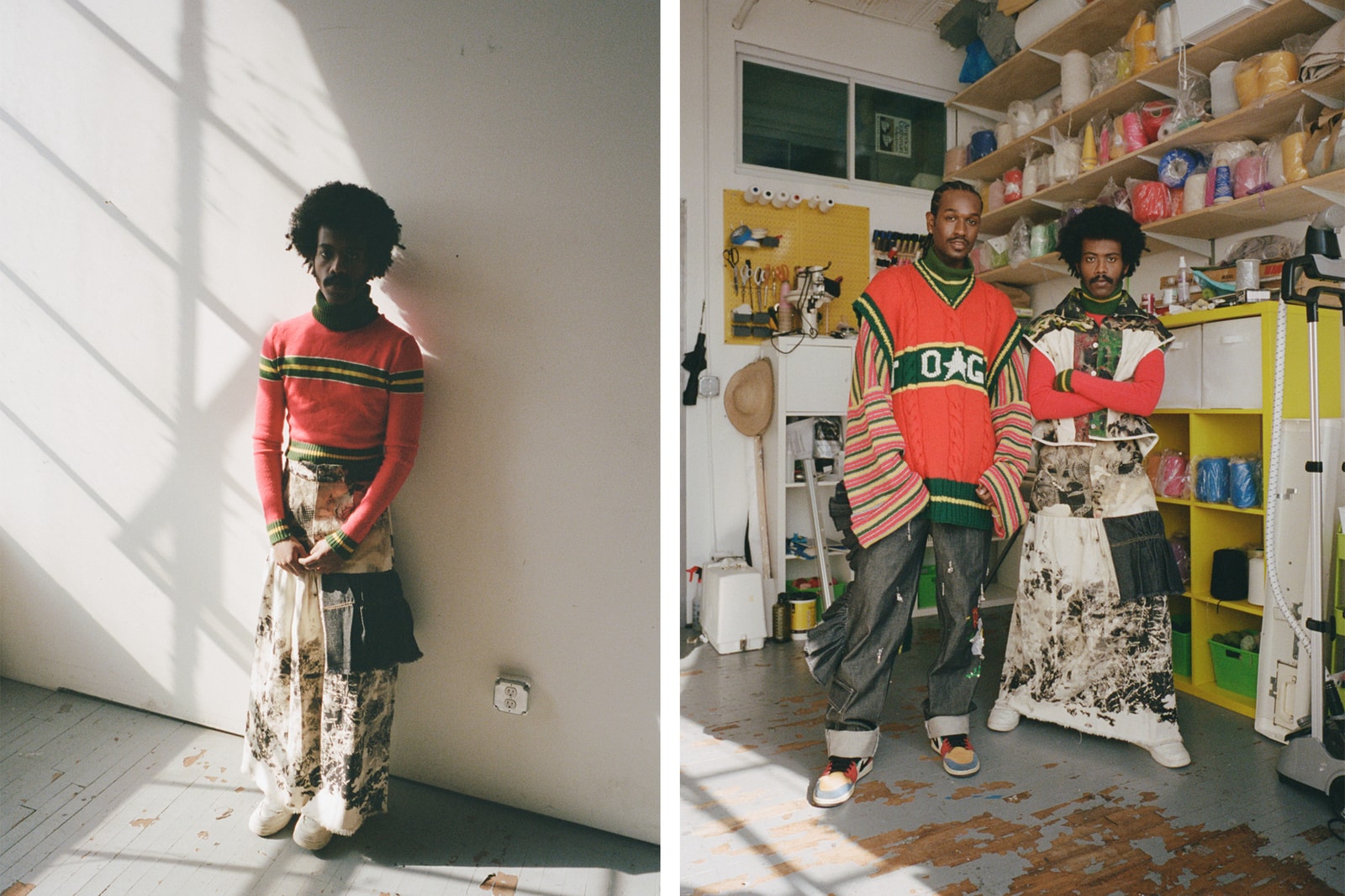 Where did you grow up? 
I was born and partially raised in Togo, Africa before immigrating to the Westside of Chicago with my family in 2007, at the age of nine. 
How has your upbringing influenced the way you approach creativity and fashion as a whole?
I grew up in Togo, and most of my early childhood memories were the intimate moments I was able to share with my grandmother where she rented part of her house to tailors and seamstresses to afford rent. I think as a kid, especially a young queer kid who grew up very sheltered, those times are some of my favorites. I used to spend so much time hiding under the cutting tables watching the tailors just create the most unique pieces. They were always bright, color-printed African textiles and I think that was one of those moments where I truly fell in love with fashion. 
It was not until I was older that I realized it wasn't the clothing itself that drew me towards fashion, but the excitement that radiated off of clients when they tried on their custom pieces. As a child I was encouraged to hop through different mediums like dance, musical theater and fine arts, but never felt as though I could connect with people the way I best wanted to. I always found myself going back to that memory of witnessing magic happen in those workrooms which drew me to finally start designing. I look at clothing as a medium that connects us the most. You get to really see how people are feeling through what they wear, especially in a place like New York City.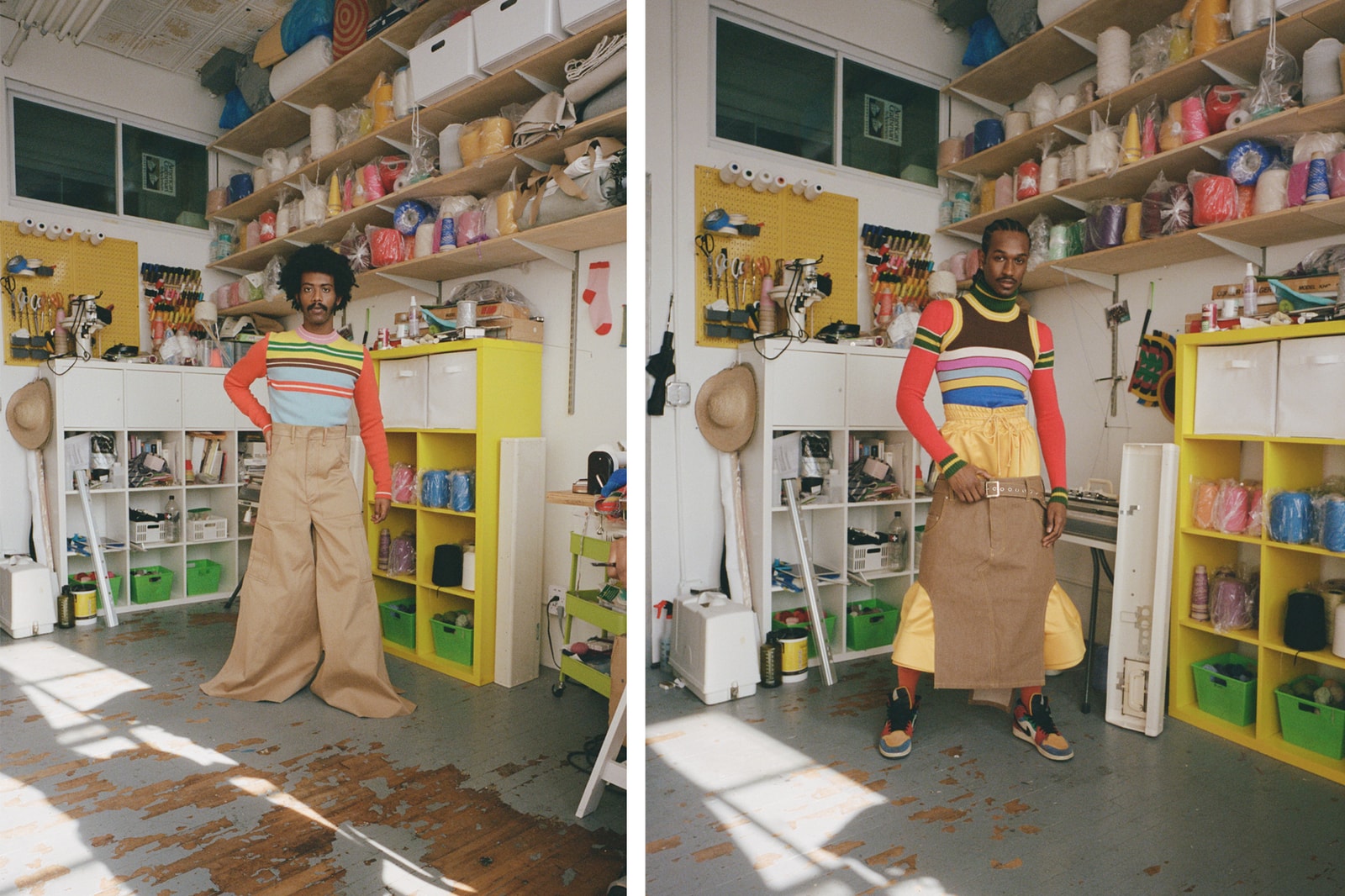 What was your experience like while studying at The New School? 
My experience at Parsons was a roller coaster. As a first generation college student being in spaces with students who had more access to the industry than I did, it often felt as though I was racing alongside people who were already at the finish line. I had a strong community back in Chicago and when I moved to New York, I had to learn the importance of what it means to depend on myself. I did not have any financial aid from family members so I was always working multiple jobs in order to support my education and survive. I was not taking care of my mental or physical health and that ultimately ended with me feeling burnt out towards the end of my senior year. A big part of the reason I survived was because of the strong BIPOC community I cultivated while there.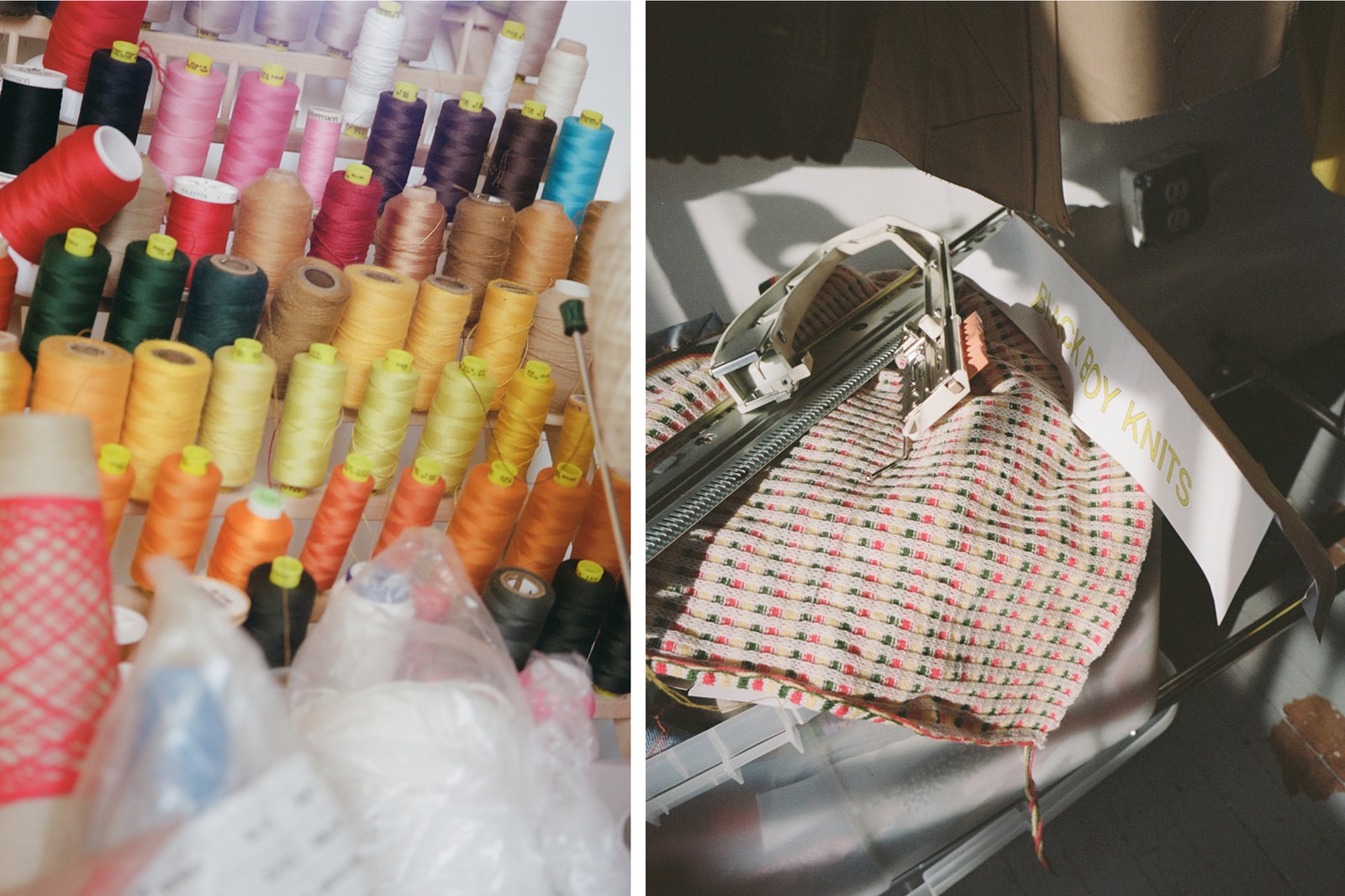 What inspired you to launch and pursue creating one-of-a-kind knitwear? 
I hate to sound like a broken record, but I think the pandemic put so much into perspective for many of us. Witnessing the amount of violence that occurred towards Black bodies while being stuck indoors was a breaking point for many of us. While violence has existed forever, many of us got to a place where we were desensitized to what was happening around us. The fashion industry specifically has never been a space that was inclusive to Black workers and consumers. Seeing the performative activism from so many brands during that time, just showed so many of us of the lack of diversity in terms of race, gender and body within the industry. I witnessed so many designers of color feeling unwanted in fashion spaces and it made me want to focus on gaining the necessary business skills to develop a brand in a sustainable and ethical environment.
Seeing all of those disgusting moments happen back to back, I wanted to bring in some joy not only to myself as a Black designer, but to other Black consumers in the industry that needed some joy. I wanted to bring an element back into fashion where people felt empowered to be themselves and show up in something that just emphasized the parts of them that society has shunned for so long. While nothing in the world felt sane during the pandemic, I've always felt in control and empowered through knitting and I wanted to start sharing it with the world.
How does your brand focus on celebrating community and paying homage to history through custom print and patterns you make by hand? 
I want my brand and everything that I do in the future to be a love letter to all of the ancestors who came before me. I know that so many sacrifices were made for me to be here and I think that's what keeps me grounded in my work. I try to always tell a story with whatever I make. I look at family photos, listen to family stories and look at my own immigrant community for inspiration. 
I wouldn't be able to accomplish a lot without the community that I have around to uplift and help me when I'm feeling uninspired. At the forefront of everything that I do, I want to make sure that my community has access to me and my work and is able to partake in BBK's celebration, because this wouldn't exist without them. 
As a designer who focuses on Black, queer and immigrant narratives, how do you make sure those narratives come through in your knitwear and designs as a whole?
I migrated to the United States at a very early age, and that was always something I grappled with because I wasn't able to fully immerse myself in my culture the way I would've back home. The word I always go back to is "community" and solely because it was often at the forefront of everything I achieved. Being a Black knitwear designer meant that I had to find different ways to tell a story through colors and shapes because I wanted it to be a representation of my identities and those who helped me get where I am today. It's really easy for us to isolate ourselves into identity boxes and think we are by ourselves in them, but I learned quickly that I'm not alone in my struggles. My designs are for the ones who believe they're alone, and I think hopefully, it can help someone see that no matter, there's someone out there who is going through similar situations.
I see certain similarities within my own queerness and although I wasn't part of the events that took place back then, those memories are rooted in my own history and have such a big impact on the way I see myself in my work. Knitwear is such a malleable medium and the possibilities are endless which in turn makes this such a great surface for building upon narratives through texture and color.
What was the inspiration and meaning behind your latest collection? 
The aim of the collection is to highlight Black joy through the use of bright colors and playful silhouettes while simultaneously paying homage to some of the archetypes and dress practices rooted in the Black identity from a global perspective.
The first look in the collection combines two archetypes found in West African culture and Black American culture: The Nigerian Aunty and Sagging. I wanted to bring together two worlds that are often looked at as existing on two different spectrums. The Nigerian Aunty archetype often is looked at as an embodiment of wealth while sagging is considered to represent something that is low-class often by non-black folks. The resulting silhouette aims to subvert the boundaries of masculinity within the Black community. While doing the finalized touches on the first look, the two models highlight westernized ideas of dressing and I combined them for a seamless look. This eventually inspired me to expand on my work further and create the second and third look.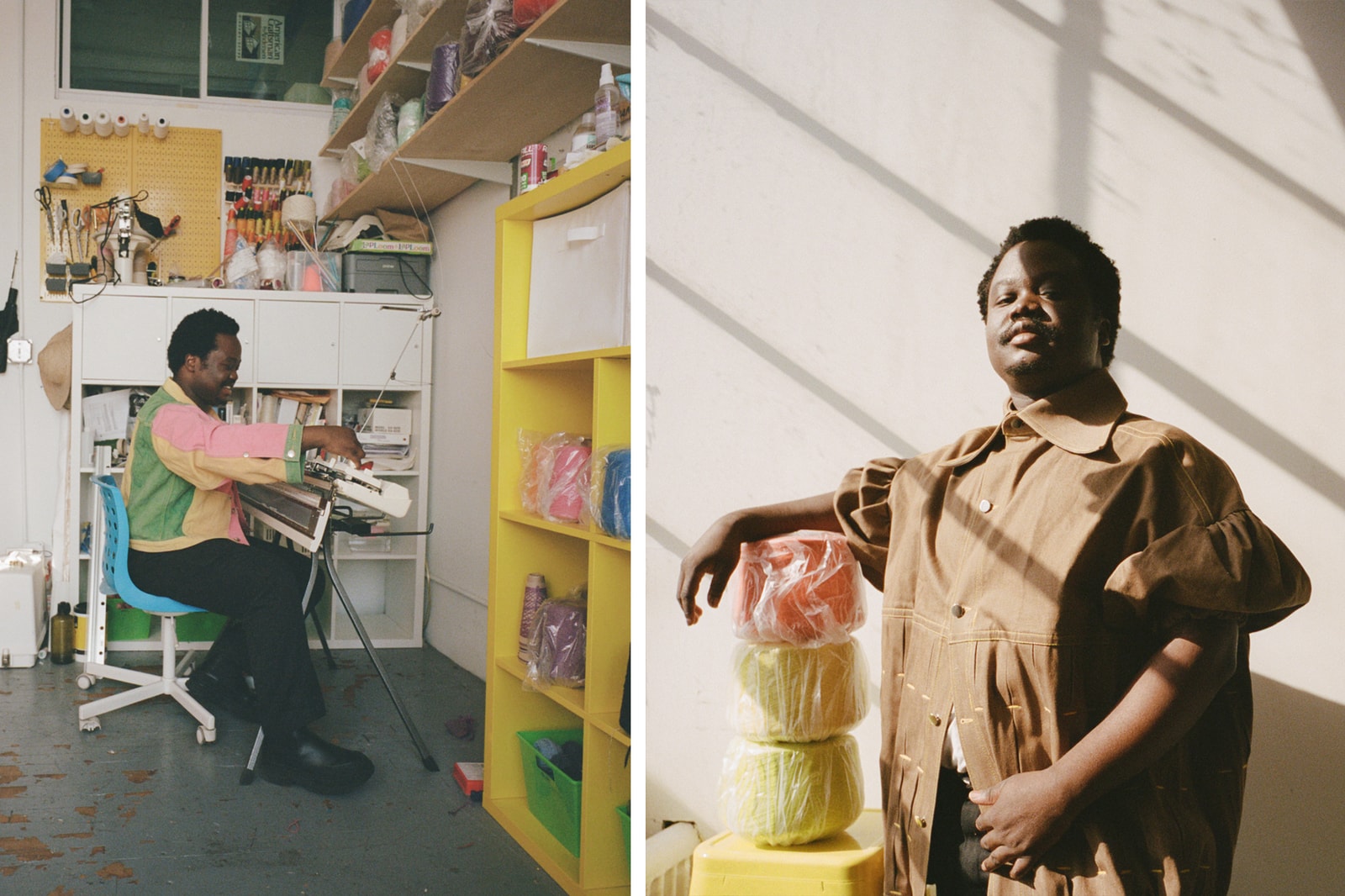 How does your brand transcend the traditional confines of gender through introducing non-binary silhouettes that appeal to any and all types of people? 
I think my brand wants to see silhouettes existing outside of the binary and instead focus on custom clothing that gives both me and my clients the freedom to create a look that's fit specific to them. All bodies are different, and while clothing for so long has been gendered, I still see all of them existing outside of the binary. BBK's identity is always to encourage the individual to celebrate whatever they want to wear regardless of their gender and/or body. To even check myself as being a part of the issue, is making sure that I question the language that surrounds sizing in the fashion industry. My brand is using gendered sizing, and in the future I want to be able to create my own sizing chart that doesn't follow the rules that's been set in stone by the industry.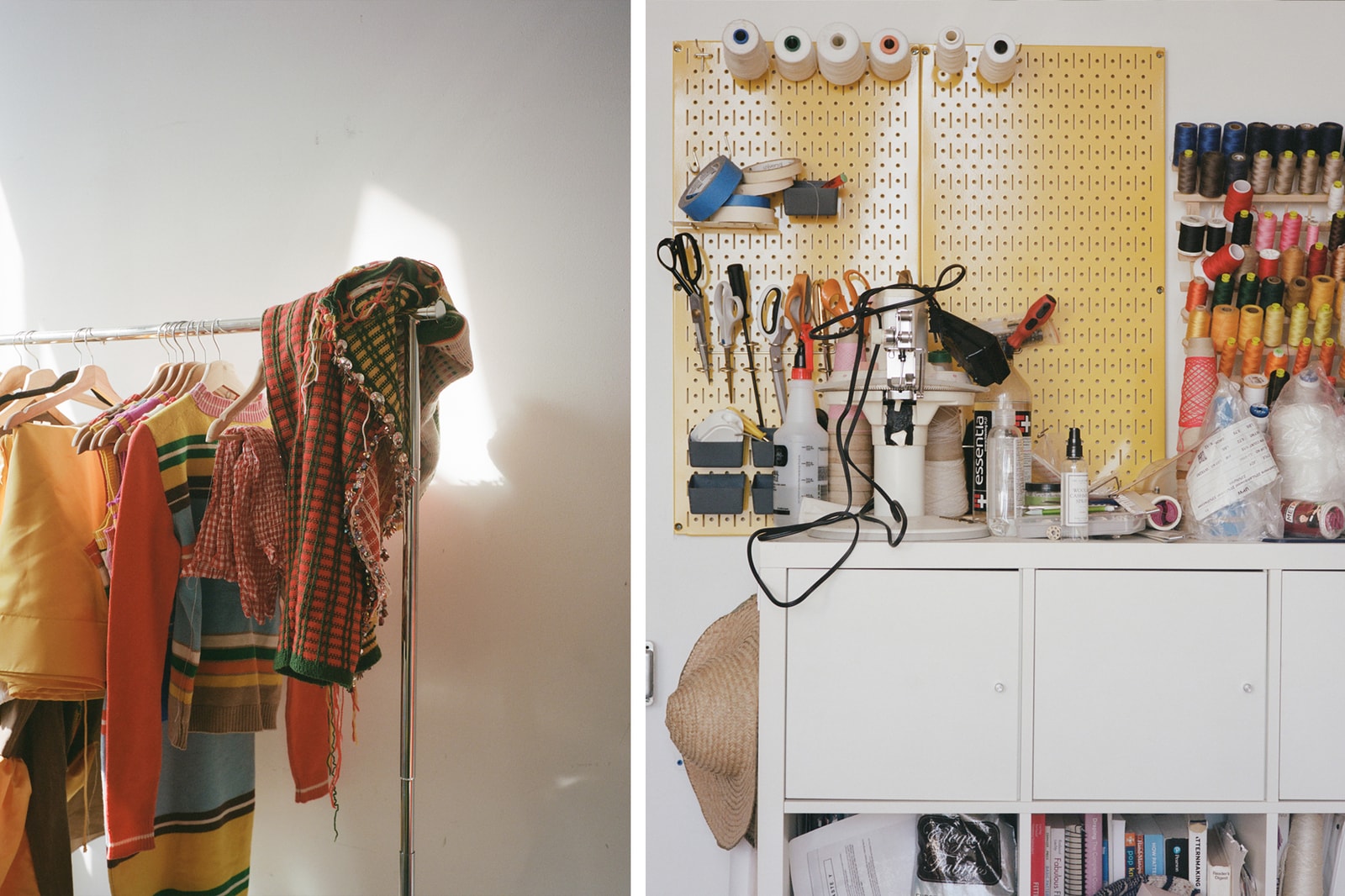 How would you describe your design aesthetic and ethos to people who are unfamiliar with your brand?
I would say my design aesthetic is just fun and colorful. For me fashion is still a collaborative process so I'm always ready and willing to advise a client on something that would possibly be best suited for their wardrobe needs. The fun part of knitwear is being able to bounce ideas off of a client and get them excited about the finished product. Clothing is meant to make you feel something and for me the best way to do that is to make sure I create something that people can always have fun in and show up as their best self.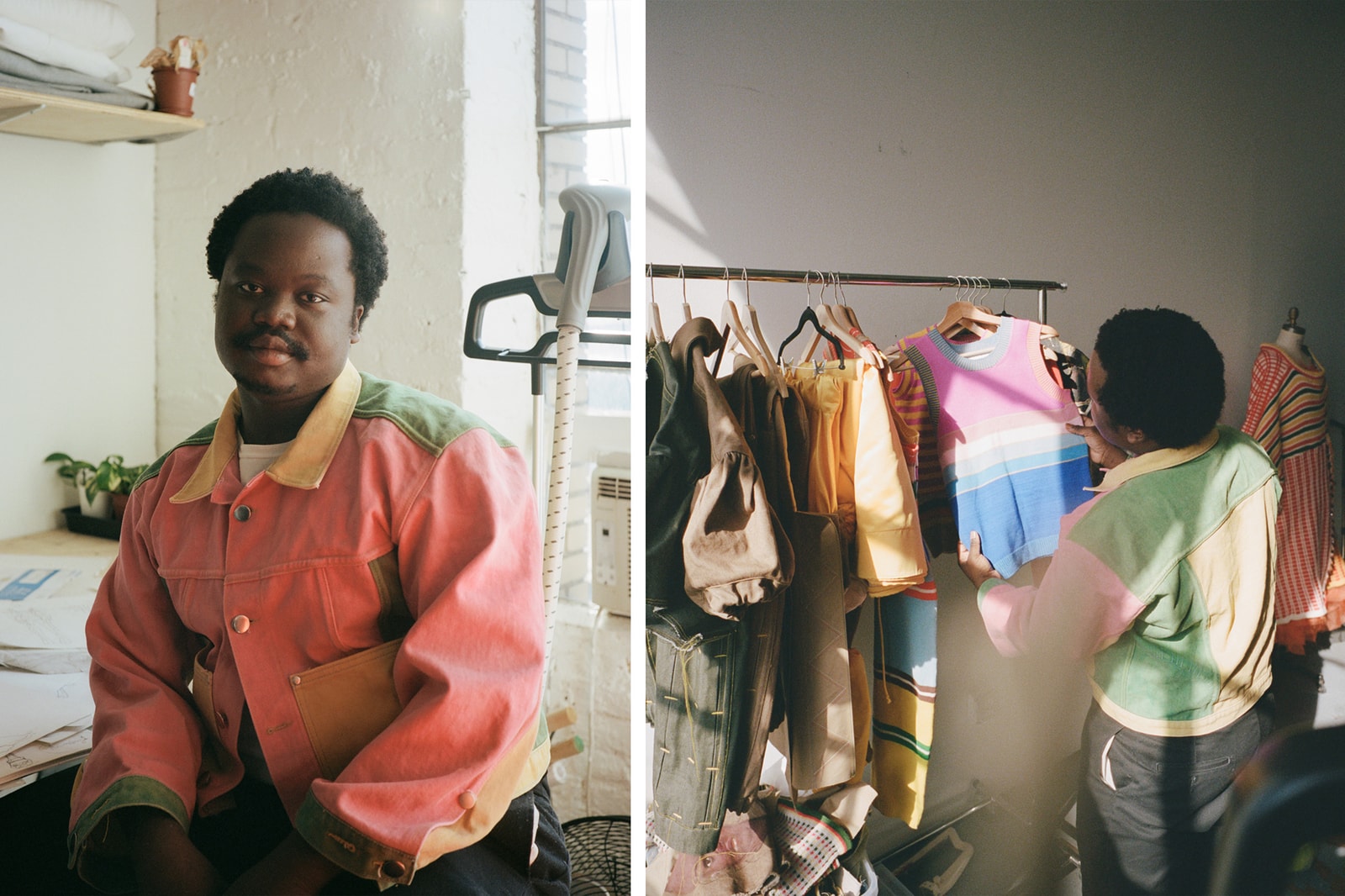 What is your design process like when creating a new collection or garment?
The design process for each project is always unique, but  I always begin with the materials. I would often have ideas in my head of what kind of materials I want to use/experiment with and then think of the silhouette. I respond to colors and materials the most so it's what I often start with. This process can sometimes involve me going to the library, watching a film or even walking around the city and seeing a color or material that I respond to. I try to mimic or replicate the texture through a process of experimentation with the mediums that are accessible to me.
How does your affinity for materials and rich textiles play into your design process?
It's often what I gravitate to first. There's instances where I become so fixated on a particular material and build multiple projects around it. I would say though that sometimes I find myself romanticizing or stuck in the material and color experimentation phase of a project which can become unhealthy when you're working on a deadline, but I think as an artist. Overall, it's important to indulge and enjoy the process so you don't get burnt out. There's always room to iterate and come up with various ideas when you're working with materials.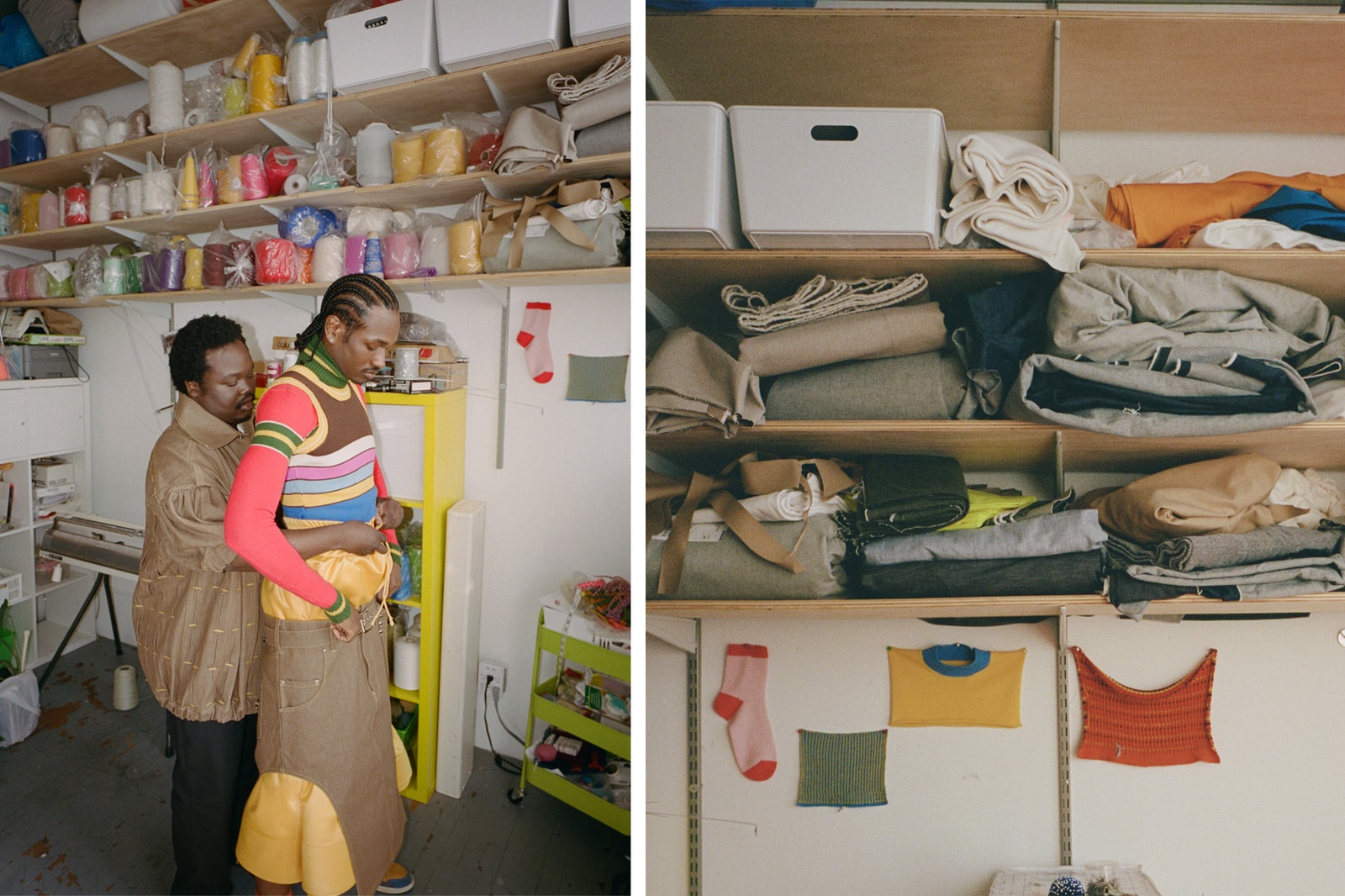 How do your designs push beyond the traditional confines of how gender can revolutionize fashion? 
I think the best way to answer this question will be to really look at our current times. Fashion has always been a way for everyone to express their identities and our gender is often one of the first things people assume when they see someone, especially if you don't fit certain people's versions of gender expression. We are finally now starting to move beyond those binary thoughts and really seeing how people are using fashion as a tool to subvert expectations and realities. I also don't want for any designer who is queer and/or nonbinary to become the poster child for revolutionizing gender expression in fashion. Folks express themselves every day, whether its through a queer-owned brand or a cool piece they found at a thrift store. My work itself is a mixture of all of my different identities and as someone who is still figuring it out. It's important that I create a space for the people who consume my work to feel that they are able to exist and see themselves in any shape or form. Whether that is through the silhouette or color choices.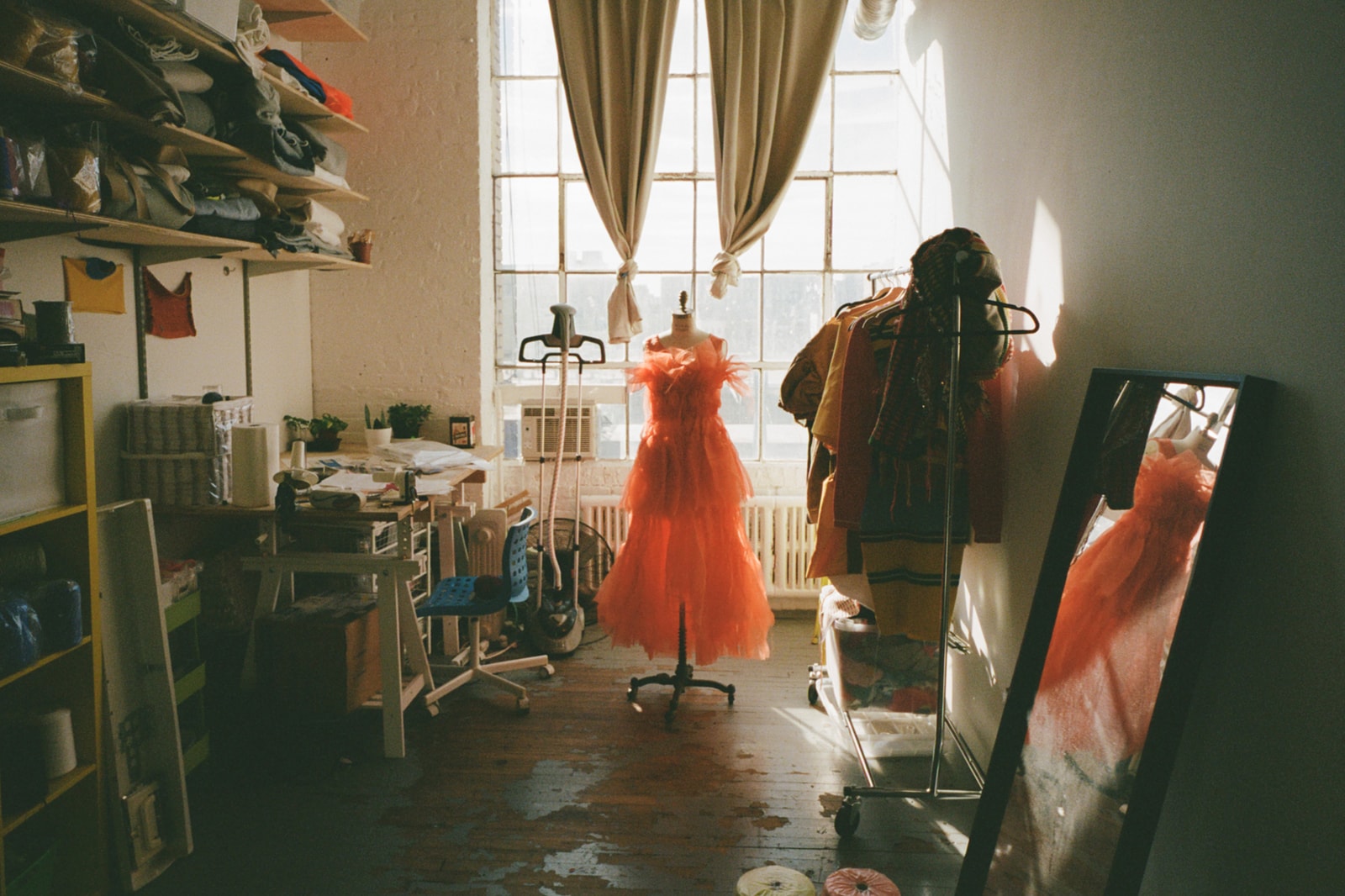 How does history and family traditions play a role in your design process?
With the new collection, I am interested in looking back at all of my projects as a whole and bringing back the brand's core elements in order to establish house codes. There's a lot of structural shifts that are happening that I cannot discuss in detail as I am waiting to confirm some things. However, I will say that I am expanding beyond knitwear. Knitwear is the foundation of the brand and will always be a big player in every project moving forward, however I think in order to continue to expand and highlight the multiplicity and complexities that lie within identity as a whole, I want to expand the kinds of materials I am offering to my clients. 
This is a continuation of "Collection 001: Afropolitan" which looks at the African identity on a global scale. So, really thinking about Africans who exist outside of the direct continent, and thinking about how their dress practices shift culture to culture. That includes looking at a lot of historical dress practices that have helped shape what we view as the West African identity.
I'm looking at everything from family history to thinking about the drinks and snacks I grew up eating in Togo. I want to be able to arrive at something that you can visually see and remind you of what you grew up either eating or drinking and can take you back to some happy times in your life.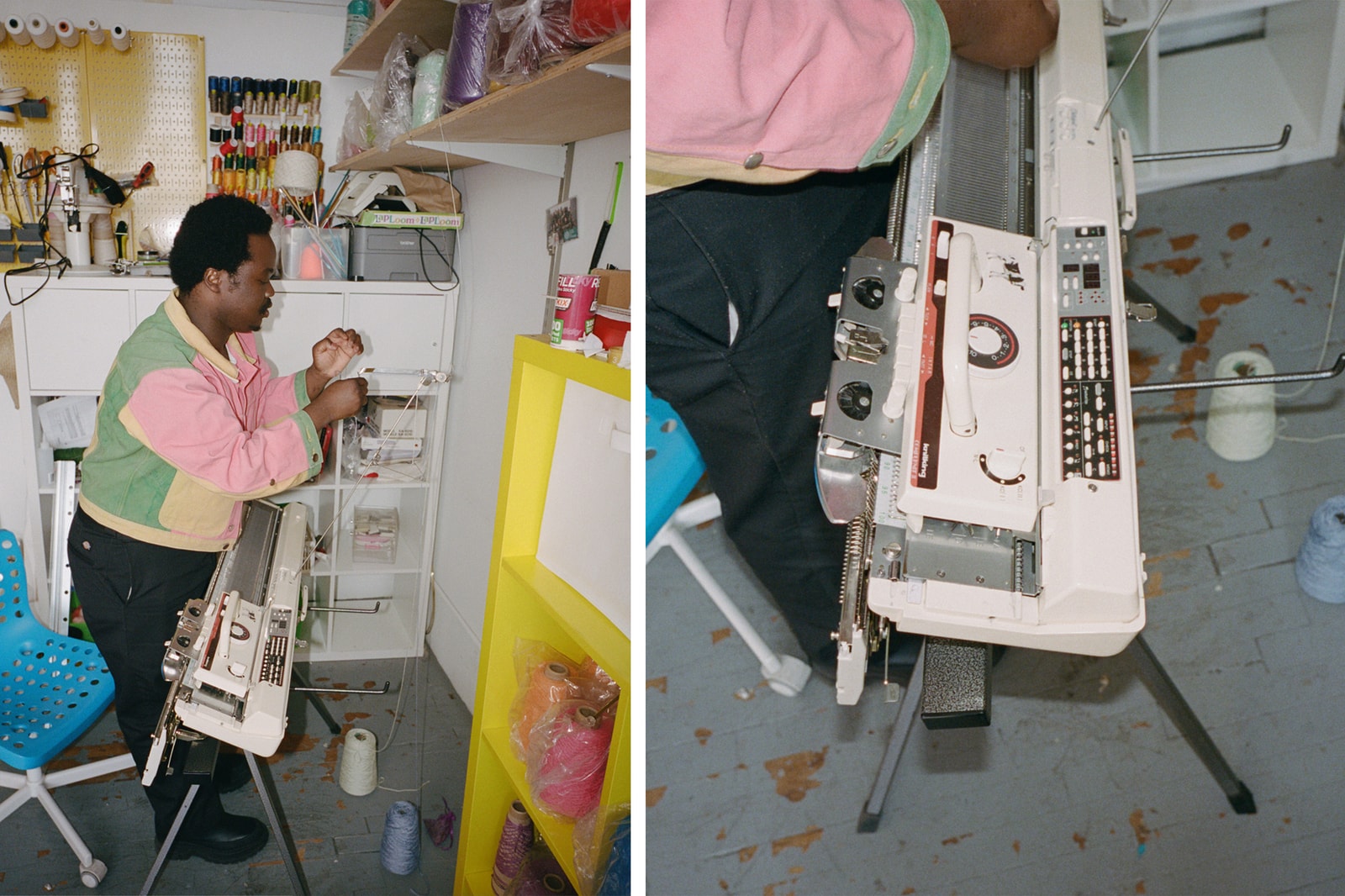 How have you been able to foster and cultivate a sense of community with your brand?
The response to BBK has been so great and I feel like we were able to create a mini community. I can't tell you how happy I get whenever people actually wear their outfits and tag me in it. That's not a feeling I think I will ever get used to. So many of my friends or people who follow me have also sent me photos of people that they see wearing my clothes and it makes me so happy to see how my work resonates with so many people. Deciding to go into my own brand right outside of school was challenging but rewarding and I am so excited to see how things continue to evolve in the future. 
What inspired you to branch out of knitwear and create a series of captivating denim silhouettes? 
Denim and knitwear have their own complex, yet important history. I view denim as such a huge part of Black American culture and I think because of that, it's something that is often overlooked and not seen as a "staple" or as "timeless" as other pieces. My brand focuses on highlighting Black narratives, and Black folks have influenced and contributed so much to the culture. Leaving denim out of the brand isn't realistic.