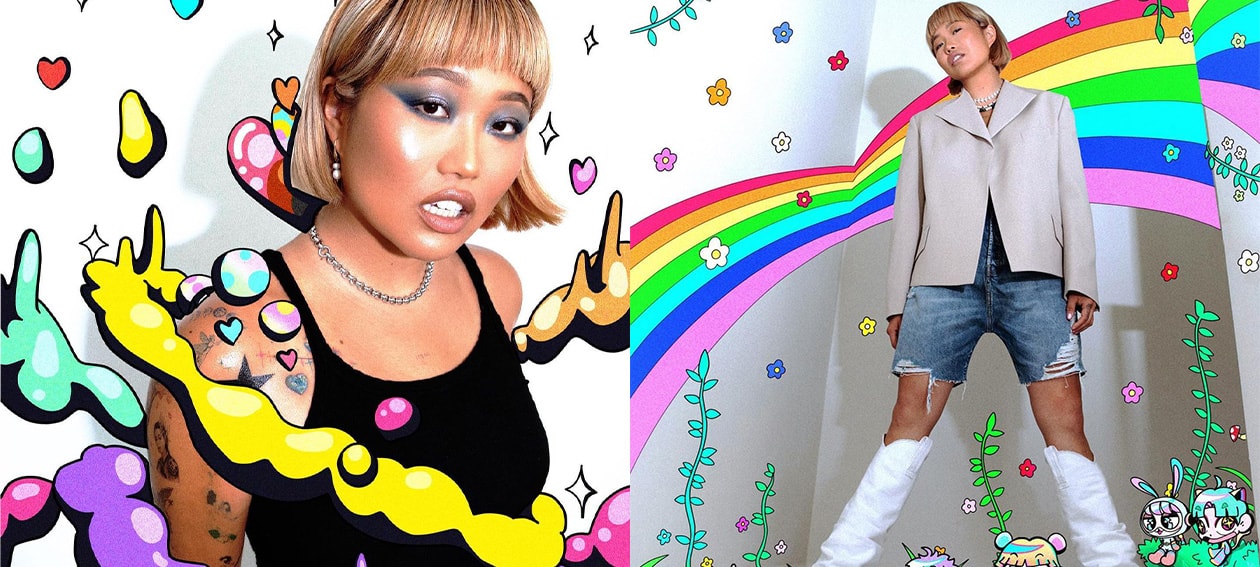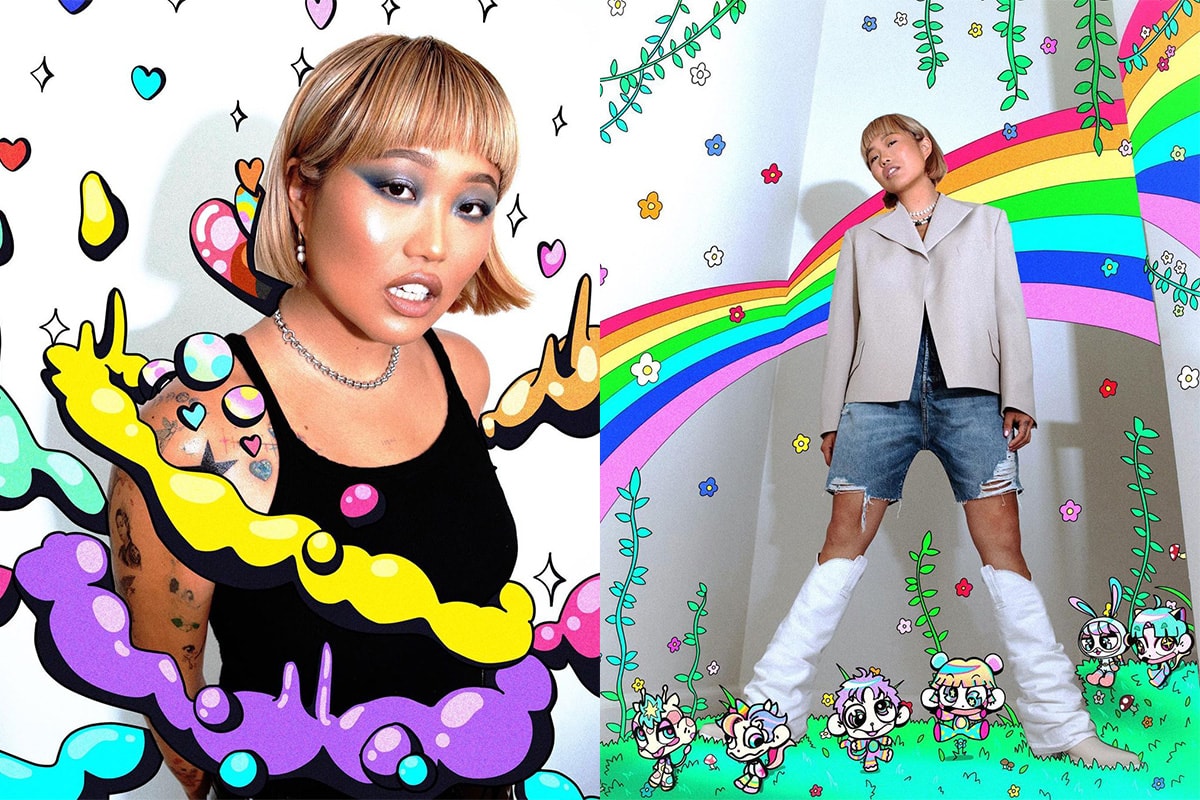 Beyond the Interface: PLAY! POP! GO!'s Amber Park on Making the Digital World Her Playground
Web3's 'Kawaii' hero shares her lifetime obsession with Hello Kitty, the need to queer the metaverse and everything in between.
Beyond the Interface is a fashion-tech series that explores the vibrant spectrum of next-gen designers and artists. The series provides an inside look into the industry's most promising names and explores the radical shifts challenging all creative practices. For the ninth installment, Hypebae speaks with Amber Park, a Korean-American multi-hyphenate artist, director and founder of PLAY! POP! GO!, an IP-driven project starring original characters and a unique gamified approach to brand storytelling.
PLAY! POP! GO! is many things: it's a brand, a digital platform, a safe space and a mindset. This comes as no surprise, considering it's the brainchild of multi-hyphenate artist Amber Park, renowned for her production and direction of visuals for some of the biggest names in the music industry, as well as her pioneering work in the digital space, seamlessly blending fashion and gaming. But above all, this IP-driven project serves as a playground where everyone can rediscover the thrill of youth and reconnect with their inner child.
Appealing to both the young and the young-at-heart, this dynamic universe pays homage to nostalgic classics like Club Penguin, Habbo Hotel and Pokemon Go, while infusing it with a modern, imaginative twist. Embracing high-end streetwear, art pieces and immersive installations, PLAY! POP! GO! creates an adventure-filled, colorful world that leaves a lasting impression. There's no doubt why major celebrities, including BLACKPINK'sJennie Kim, have already embraced this eponymous fashion line.
The brand's latest endeavor, PLAY3, is set to revolutionize the concept of brand loyalty programs. Leveraging Web3 technology, it immerses users in a community-driven digital gaming experience that seamlessly blends fashion, social interaction and gamified storytelling. This opens up a boundless multiverse of social gaming possibilities, featuring live streaming, interactive chat and direct-to-consumer shopping.
Amber Park clearly stands as a true creative paragon, defining the aesthetic of her generation, revolutionizing the visual arts space and empowering fellow female Asian creatives along the way. Thus, her new collection "THE KIDZ LOVE TO PLAY" provided the perfect opportunity to delve into Park's vision of queering the Metaverse, her affection for Club Penguin's "Puffles," why we should let our inner children come out day-to-day and everything in between.
Scroll down below to read our interview with Amber Park.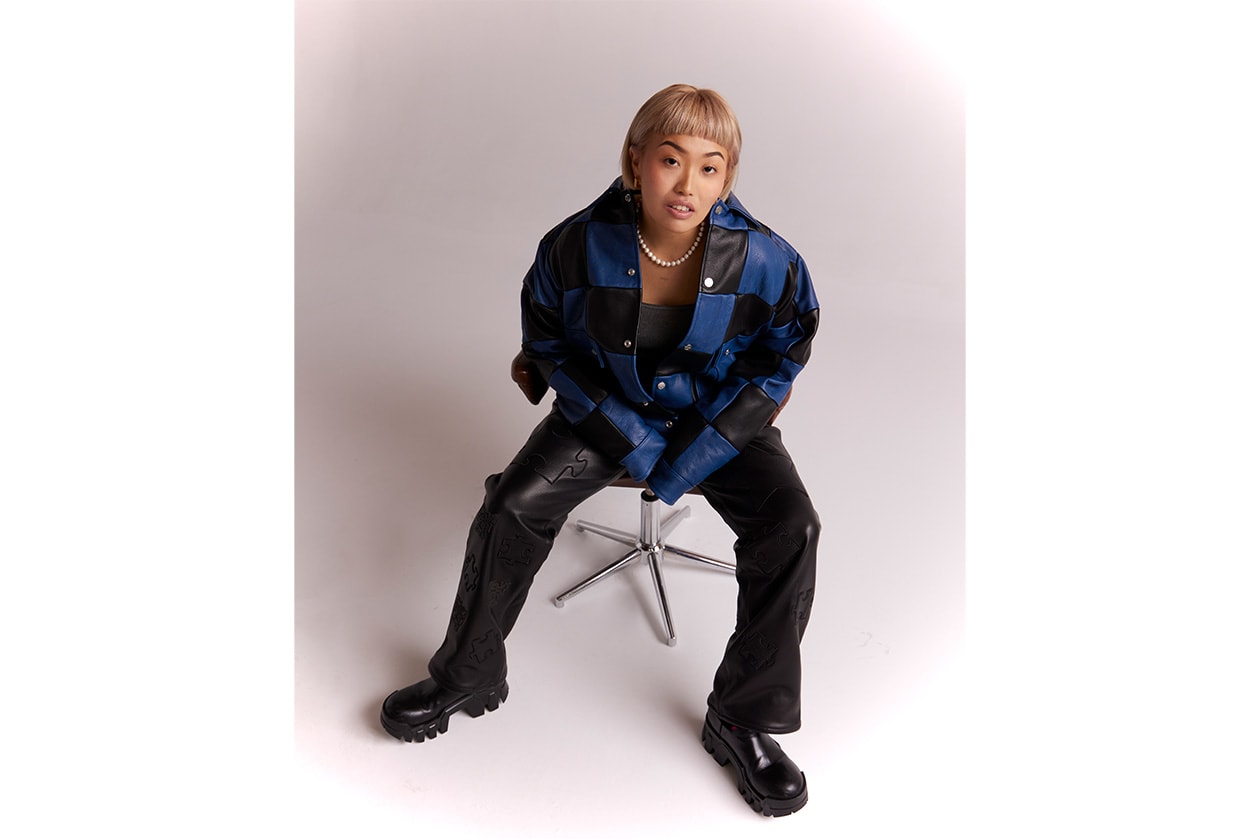 Could you please introduce yourself and give us an overview of your career? What experiences or achievements sparked your interest in Web3?
Hello world. I am Amber, a free-thinker and dreamer who sees the world in vibrant colors. My career unexpectedly began at the age of 17 through social media when I used it as an outlet for my love of art and music. It propelled me into a world and industry I could never have imagined before. Web3 feels like a full-circle moment, allowing me to express myself and tell stories in a digital revolution.
Growing up, I felt unseen and unheard, not fitting into the pop culture or environments around me. Despite my bold and colorful work, I am introverted and shy. Throughout my career, I've worn many hats, from graphic designer to visual artist, art director, creative director and director, working on incredible projects with artists like Camila Cabello, Katy Perry, Madison Beer, Lil Yachty and Lil Nas X. Now, as part of the next generation of multi-hyphenate creative thinkers, I consider myself a storyteller, especially with my childhood dream project, PLAY! POP! GO!, where I'm building my own IP playground.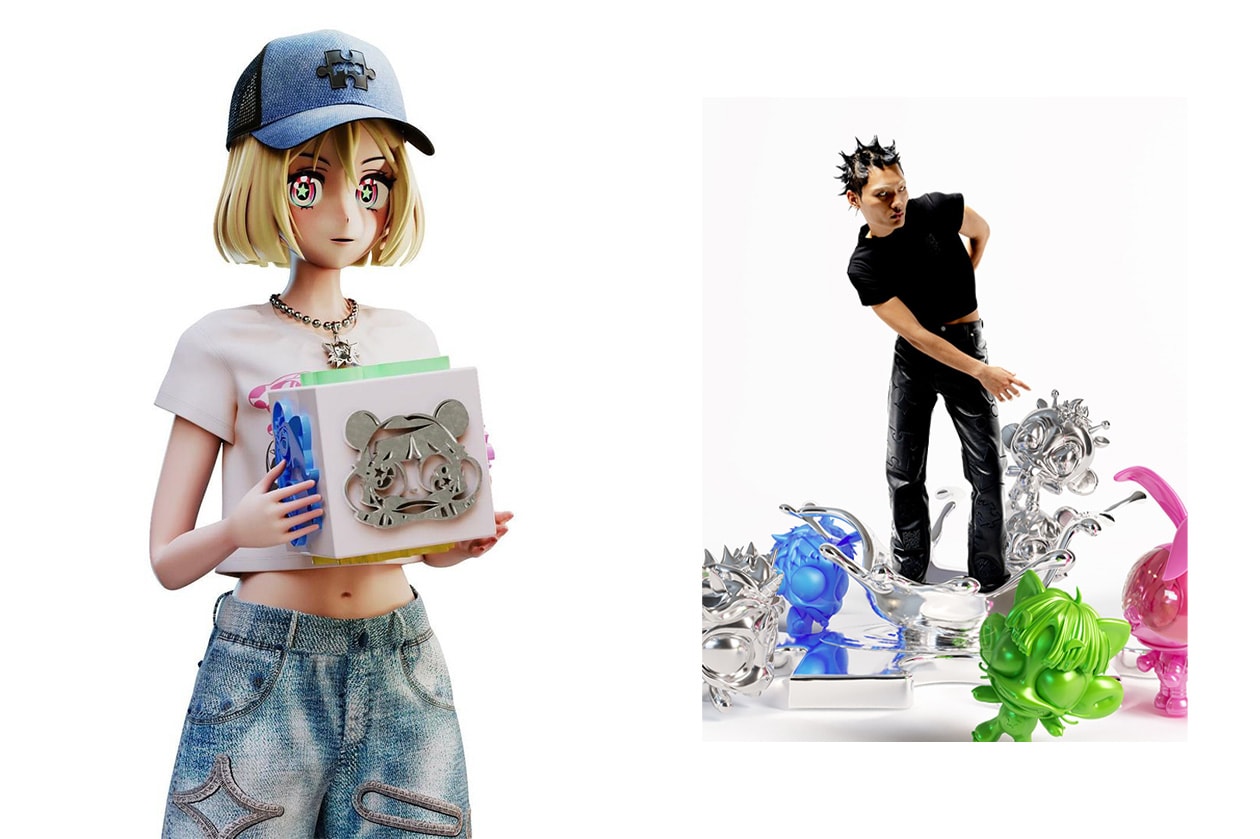 My interest in Web3 was sparked by a desire to tell my own story and share it with the world. Web3, the next evolution of internet culture and digital expression, empowered by blockchain technology, enables us to create immersive, user-driven experiences and connect like-minded individuals more seamlessly. NFTs are just one element of Web3, not the entirety of it. Web3 has limitless potential and as a Gen Z storyteller, I believe it allows us to own our experiences and transactions in the digital age.
As a creative director, I see parallels between creating "Alternate realities" or "Stories" to engage audiences and the alternate version of metaphysical realities enabled by emerging technologies. I love the ability to dream, get lost and connect instantly, all facilitated by these new technologies.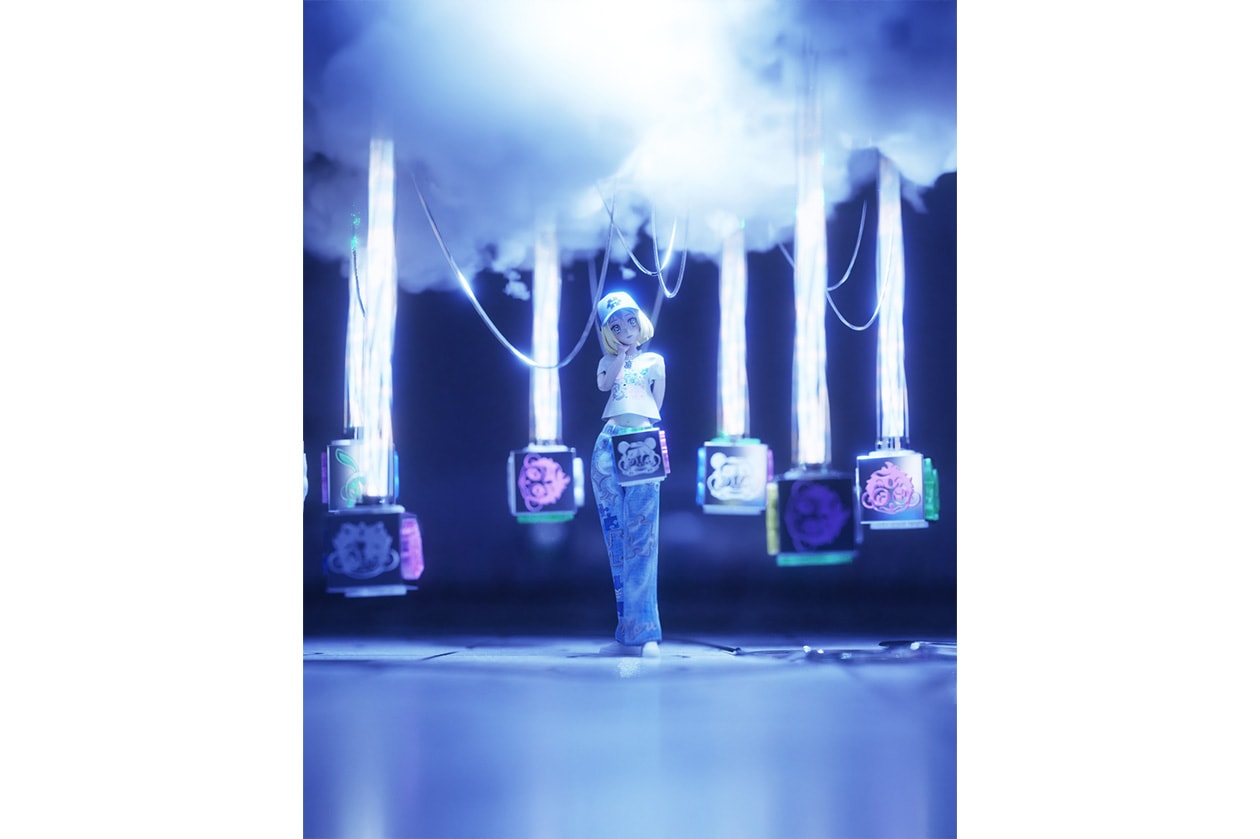 I'm excited to hear about your latest summer capsule collection, "The Kidz Love To Play." Can you tell us more about it and why you decided to blend streetwear with digital culture?
With "The Kidz Love To Play," I wanted the collection to capture the energy of our story and where this dream began. This capsule release offers a sneak peek into what's to follow, as our main collection is set to launch later this year. Our graphics are centered around our kawaii mascots, "The Dreamerz." The pieces are intentionally accessible and versatile, capturing the essence of youth and vibrant color, which will always be the throughline for our collections. Growing up, Nigo and what he created with A Bathing Ape, as well as how he created it, was a huge inspiration. Hello Kitty and the world of Sanrio were similarly inspiring. One way to think of the brand is if BAPE and Hello Kitty were being built today, this is how they would be built, leaning into digital culture and emerging technologies.
Our physical clothing items, which we call PLAYWEAR, are designed to offer a gamified approach to the shopping experience. PLAYWEAR reimagines how consumers can interact with fashion, allowing people to express themselves physically and virtually via digital twin items that come with each piece of clothing. We decided to blend streetwear with digital because we recognize the need for people to express their individuality in this increasingly digital landscape we're all living in today.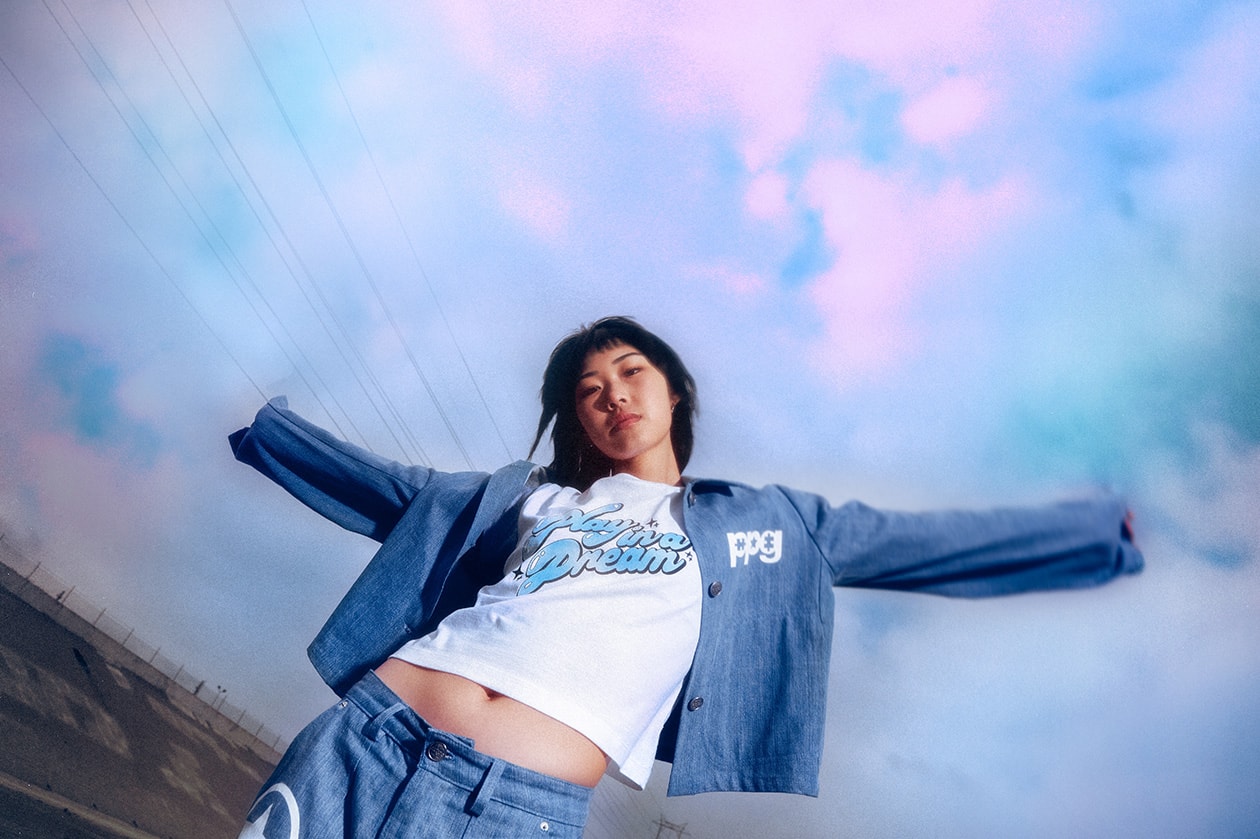 PLAY3, the brand's digital gaming universe, has been buzzing with exciting updates. Do you have a personal favorite?
If you know me well, you know that I am a giant life troll. I love the element of surprise and doing things that people would never expect from me. With that being said, something I'm eagerly looking forward to in PLAY3 will take place this year, but I cannot reveal it just yet. Nonetheless, it truly is a celebration of all the things we are building. Each day presents a new blank page and I am sincerely thankful for the incredible team I work with. While these discussions often focus on myself and the founder's perspective, I want to take this moment to genuinely express my gratitude to my team and recognize the incredible energy they bring to push the boundaries of what we are building.
We have an outstanding development and tech partner, Insomnia Labs, who share my passion for making mainstream user-friendly access a reality. They lead the way in creating user experiences and ensuring easy education and accessibility to blockchain technology. I want to give recognition to Clare, JR and Joel, who form the core of our internal team for PLAY! POP! GO! Additionally, I am incredibly thankful to all our project partners who believe in me as a creator and provide endless advisory support and resources. Despite our diverse backgrounds, we are united by the common goal of pushing boundaries.
The ecosystem and culture we are cultivating with PLAY3 empower our community of free-thinkers to come together, be themselves and find a true sense of belonging.
PLAY3 draws inspiration from nostalgic platforms like Club Penguin, Habbo Hotel and Pokemon Go. Did you have a favorite game during your childhood? Are there any elements from those games that influenced PLAY3's design? (I'm still obsessed with Club Penguin's Puffles).
During my childhood, I was a huge Pokemon nerd. I would eagerly play all the new releases, completing them and then saving up money to buy the cheat book from Gamestop. This allowed me to play again and strive to surpass the guide's instructions. Club Penguin was another obsession of mine and I probably spent an excessive amount of time customizing my igloo and playing with my Puffle. The Dojo in Club Penguin was a favorite spot where I would meet up with friends on the Iceberg, creating countless memories during disco floor parties and playing the pizza game. Besides these, I was also captivated by games like Zoo Tycoon and Rollercoaster Tycoon.
I adored games that offered a sense of fantasy, competition and adventure, but what truly captured my imagination was their customization and creativity features that allowed me to create and shape my own virtual worlds. These games were more than just entertainment; they provided an outlet for me to express myself and find my own voice and identity during a time when making friends was challenging and I often retreated into my own thoughts.
Turning to PLAY3's gameplay design, we draw significant inspiration from these nostalgic elements while placing a strong emphasis on creating a user-driven and user-friendly experience. The principles of accessibility and inclusivity are of utmost importance to me, particularly in the digital realm. Additionally, my passion for creating adorable things heavily influences everything I do. For PLAY3, my vision is to make it incredibly user-friendly and immersive, as if you are stepping into our amusement park and taking full control of your experience.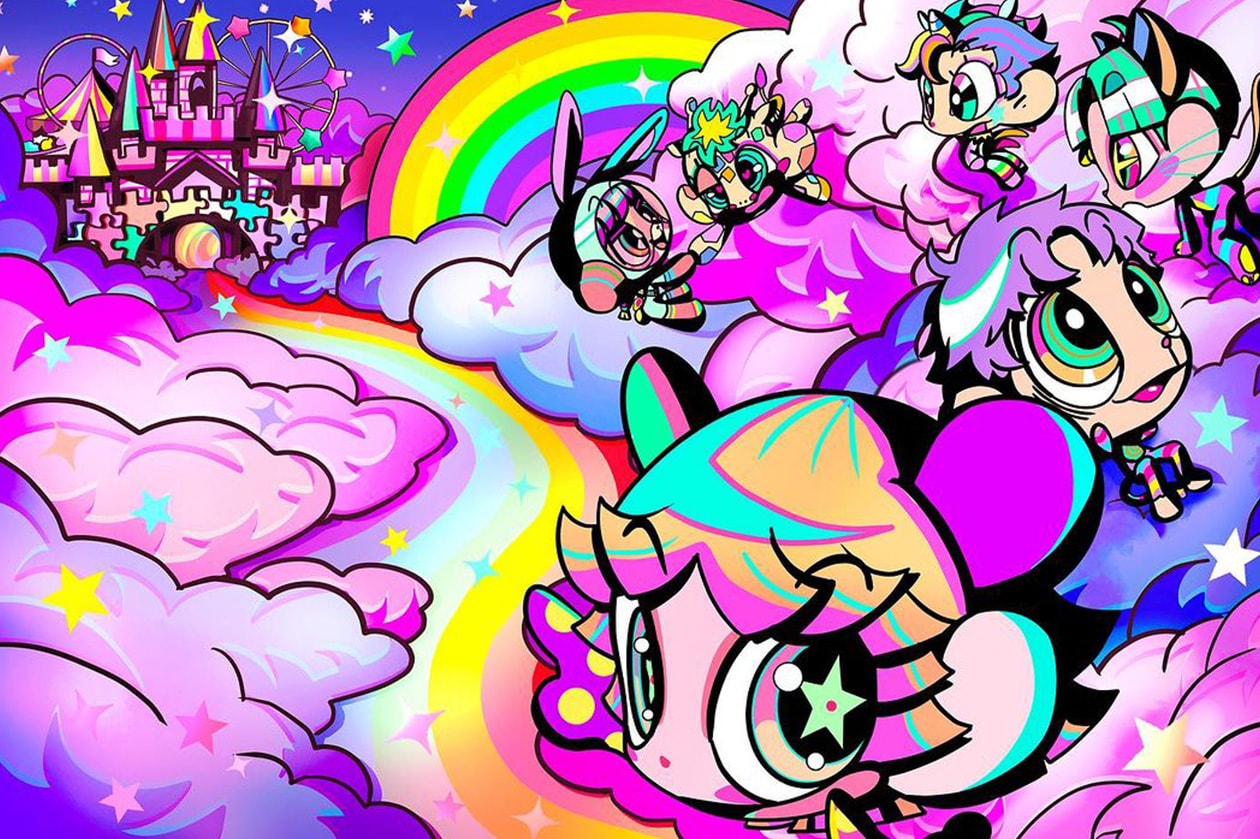 It's very reassuring to see PLAY3 KIDZ avatars representing non-binary characters, promoting inclusivity. Why is it about time for the predominantly male-dominated landscape of Web3 to embrace Queer representation? How are you actively working towards this with PLAY! POP! GO!?
As a kid playing Super Mario or Club Penguin, I never considered the gender of the characters or avatars I created. My decisions were based on an unconscious empathetic connection and how I identified with them. Even with Hello Kitty, the concept of gender never crossed my mind. However, when designing PLAY3 KIDZ avatars, I carefully considered the idea of "Gender." In building a world of fantasy and imagination, I felt it was essential to make the avatars non-binary. My goal was to avoid typical social norms and create a space of freedom, diversity and inclusivity for dreaming and playing. I wanted people to see themselves in these characters and can customize them based on their own identities within our digital ecosystem. Empowering individuals to shape their experiences without conforming to predefined categories is a key aspect of PLAY! POP! GO!
While Web3 is a futuristic industry of tech and innovation, it suffers from over-saturation and, in many ways, social backwardness. Predominantly, blue-chip founders are men and most Web3 influencers and creators are also male. VC-backed startups, projects and communities are overwhelmingly led by male founders. This lack of diversity and social disparity in a field that should be pushing innovation is concerning. To address this, we must amplify voices, provide access to resources and spotlight underrepresented creators.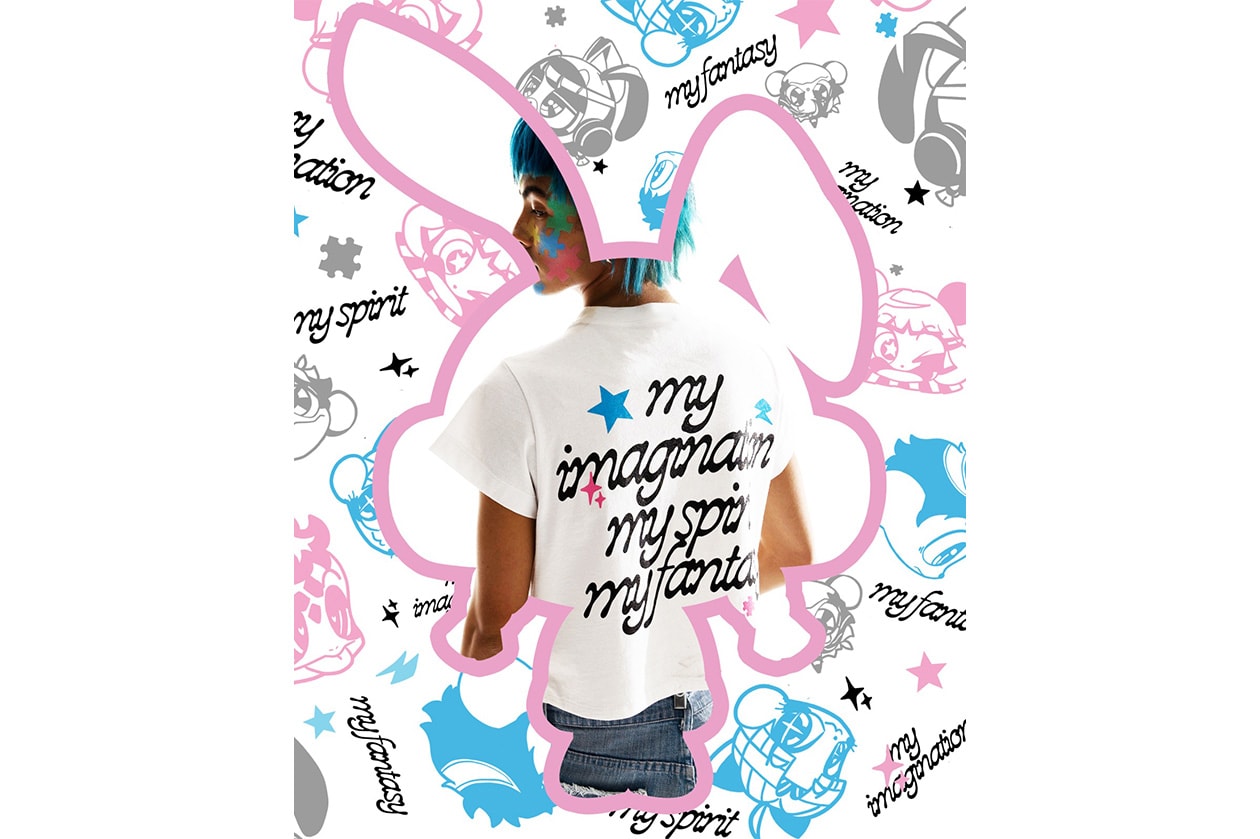 As a creator with a platform, especially in the new age of Web3, I've become aware of how people like me historically weren't meant to exist in these spaces. While I used to be private about my identity to avoid overshadowing my talent and work, I now understand the importance of raising my voice and embracing who I am. I identify as Gen Z, a Korean-American woman and as Queer. In art, pop culture and fashion, Queer individuals often showcase exceptional taste.
PLAY! POP! GO! draws heavily from my personal experiences with childhood trauma and the feeling of not belonging anywhere. My mission is to change that for my generation and the next. When I say "The world is our playground," I mean that playing transcends identity; it's about spirit and action. The playground represents a childhood epicenter where kids of different backgrounds come together to connect and play based on shared interests and actions. It serves as a metaphorical space of fantasy—a blank slate where imagination empowers unique experiences. This nostalgic and liberating environment encourages authentic self-expression. With PLAY! POP! GO! I aim to create a sense of love and belonging, showing people that being true to oneself is the greatest superpower. We are all our own superheroes and everyone deserves to be seen, heard and loved.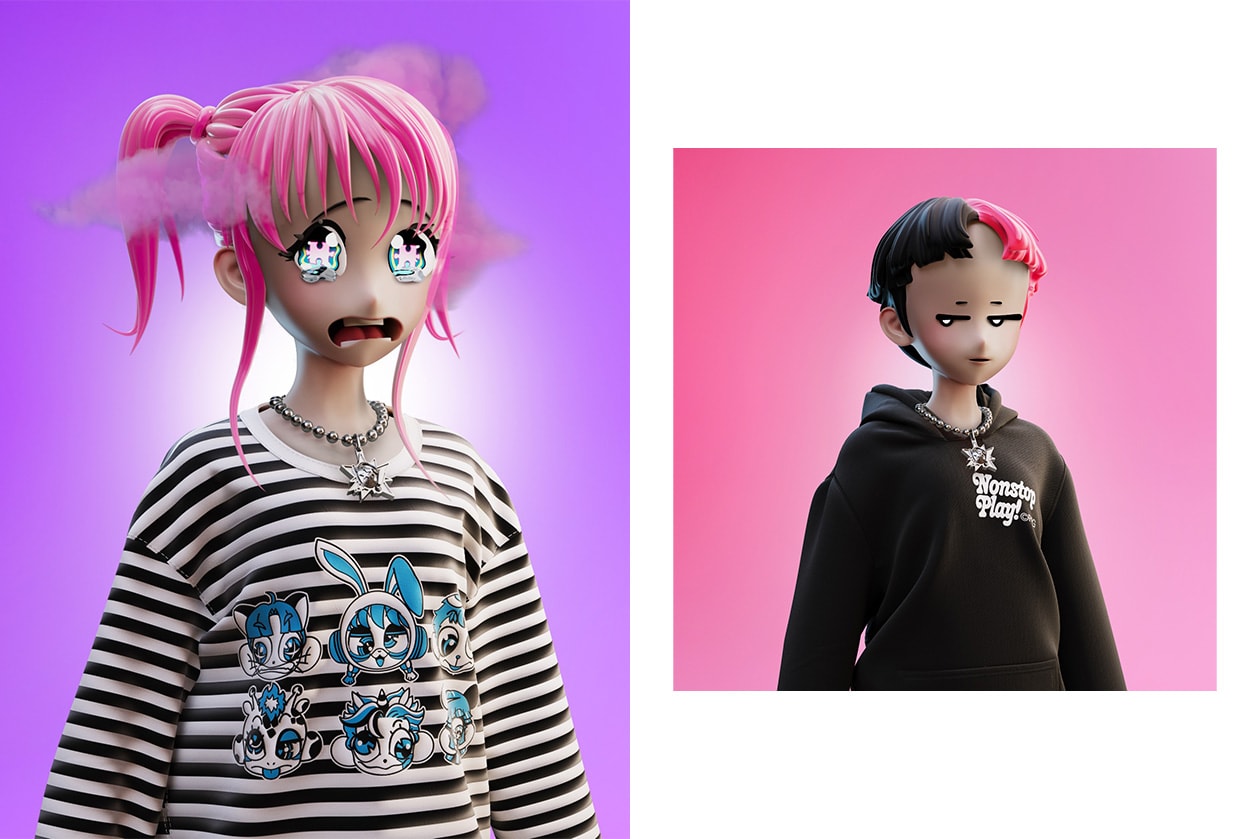 I'm curious, does your digital twin reflect your real-life persona or are there intentional differences to explore new aspects of your identity?
Personally, I think I'm always subconsciously looking for ways to combine elements of Hello Kitty with the creativity of Yayoi Kusama. It's like my dream to have animated emoji hearts flying around me in real life all the time—I'd be infinitely happy. But on a more serious note, I feel that my digital twin currently reflects who I am in real life. I feel grounded in my own identity at this moment. However, some days, that feeling can change. With my digital twin, I have the freedom to express how I'm feeling in this digital reality, capturing different aspects of my identity at the tips of my fingers.
With your experience creating visuals for artists like Lil Nas X, Katy Perry and Camila Cabello, can we expect to see elements of these music and creative pursuits integrated into your digital universe in the future?
Music plays a crucial role in the visual experience, storytelling and collaboration within the PLAY! POP! GO! Ecosystem. While I can't reveal all the details just yet, numerous puzzle pieces come together to add vibrant colors to the bigger picture. I always strive to think outside the box and aim to showcase how art, culture, lifestyle, fashion and music can all be celebrated and seamlessly come together in harmony within our digital universe.
PLAY! POP! GO! aims to bring joy and fun through its kawaii, innovative and colorful approach. How do you personally reconnect with your inner child when you feel disconnected from her and how does that influence your vision for your brand?
I came across this really powerful sentence the other day: "We are all born with love, then the world teaches us fear. Then we spend our whole lives trying to find love." I am not sure exactly who should be cited here, but it really resonated with me, especially when I think of my own journey. I believe there is this child—a younger self—that is always a part of us, representing a sense of innocence, untouched sensibility to dream and a deep desire to play. Throughout our lives, from childhood to adulthood, we all seek love and a sense of belonging. We are all dreamers and it is essential to find that spirit and, more importantly, to embrace self-love unapologetically.
The ultimate sense of love and belonging needs to start within ourselves before we can authentically share it with others. I truly believe that learning to love ourselves—the child within—enables us to see the world with more patience and empathy, leading us to act from a place of love, compassion and respect. For me, it took a long time to truly learn how to love myself, but through that journey, I now see the world in a different light. It is filled with color, hope, adventure and endless possibilities. Fear and uncertainty no longer hold me back.
The vision for my brand is to share this perspective with others. I want to encourage people to live from a place of love, seeing themselves as the main character of their own movie. Embracing an open-minded attitude and making life fun, like a burst of creativity and exploration, allows us to reconnect with the curious, playful kid within ourselves—always seeking to learn and play.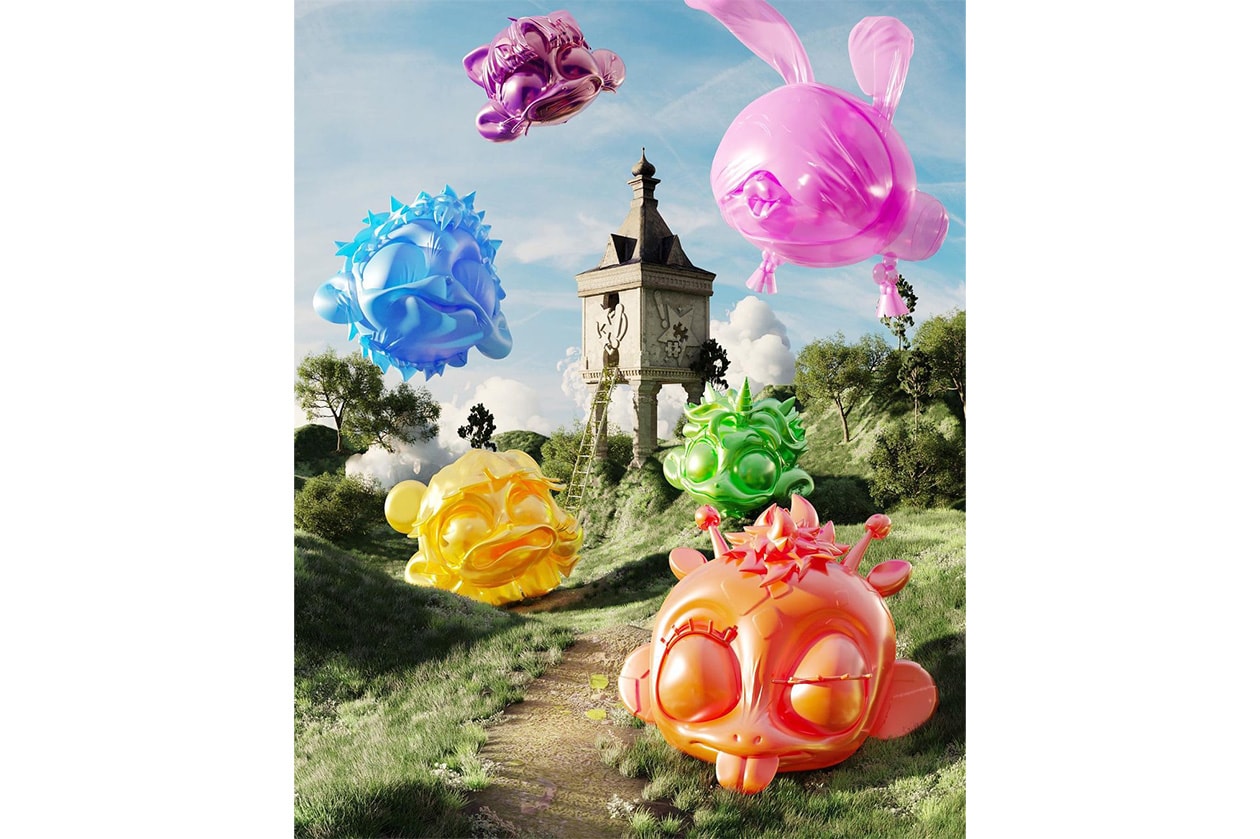 A bit random, but do you have any favorite anime, manga or hanguk aeni?
Studio Ghibli will always profoundly influence my life. When I watched Spirited Away for the first time as a kid, it was the first film that made me cry while also feeling a sense of bliss. To this day, it remains one of my favorite films. I see so much of myself in Chihiro subconsciously—misunderstood, experiencing fear, but overcoming it with unwavering persistence, imagination and unapologetically sticking to your truth to fight against all odds and the unknown to save the ones you love. The incredible soundtrack, colors and visual landscapes make Studio Ghibli films timeless and magical. I also love Howl's Moving Castle,My Neighbor Totoro, Ponyo and essentially all Ghibli films. Additionally, I'm a huge fan of classics like Neon Genesis Evangelion, Grave of the Fireflies and Doraemon.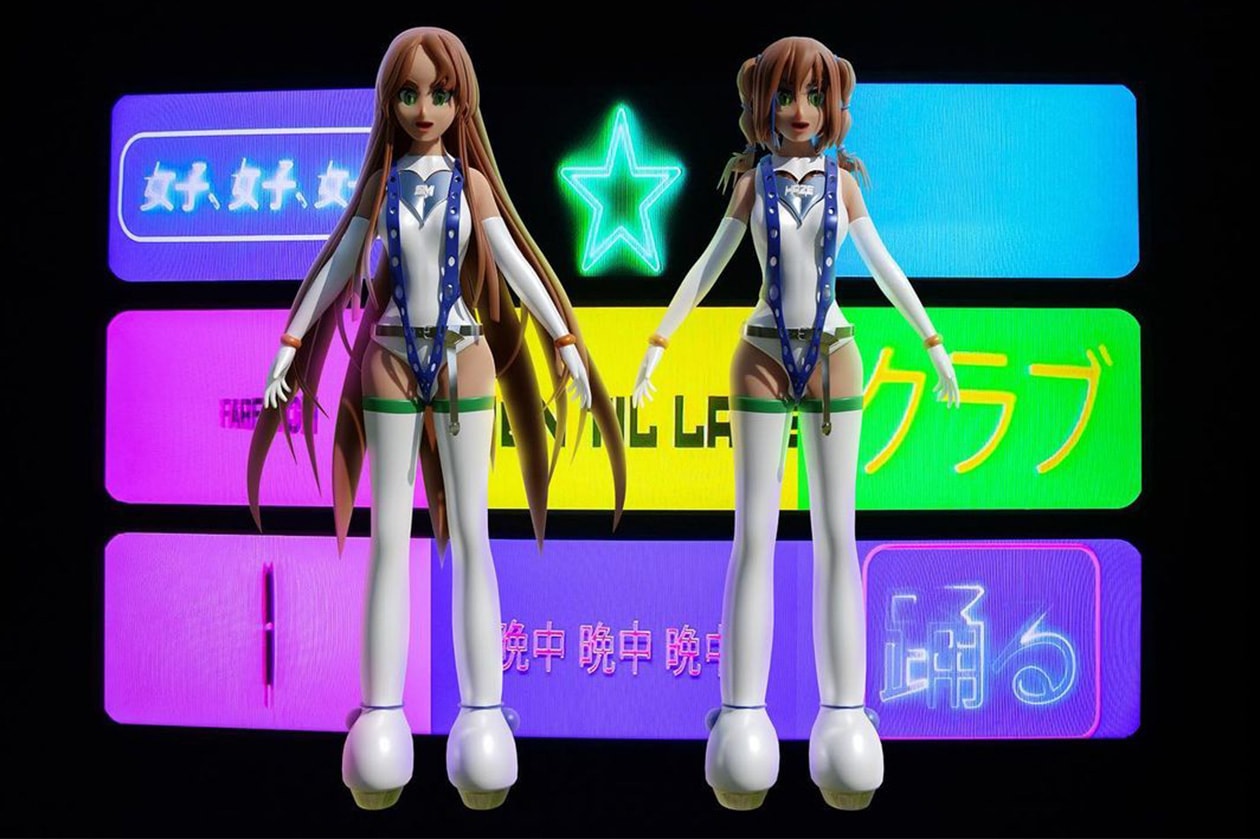 Finally, what's the ultimate dream for PLAY! POP! GO!?
Our ultimate dream is to build not just a virtual amusement park, but a physical one as well. A place where everyone can come together to play, filled with exciting rides like roller coasters and our own version of "It's a Small World," delectable food and snacks, immersive experiences, merchandise and characters in costumes waving to greet you—a next-generation happiest place on earth. We want to bring the playground to life, where people can create magic and joy through their own imaginations.
Additionally, we envision PLAY! POP! GO! becoming an epic musical animated superhero franchise movie. The entire IP of the project, from the Dreamerz to the PLAY3 KIDZ, is based on an original movie/show concept that I have developed.
Above all, our ultimate goal is for the name PLAY! POP! GO! to be synonymous with LOVE. We want every individual, whether a kid or an adult, to instinctively associate our brand with love and acceptance. We want everyone to know that they are truly loved and that our brand is for them. You are accepted. You are seen. You are heard. And we want to inspire everyone to embrace their true selves because being themselves is their greatest superpower. When people see our brand, we hope they are inspired to build their own version of PLAY! POP! GO!, where love, creativity and self-expression thrive.