How DI PETSA Found Her Modern-Day Venuses
The Greek designer welcomes us into her London studio to discuss her SS24 collection.
Behind the Atelier is a fashion-focused series that examines the unique backstories and design processes behind the fashion industry's most captivating talents. Pulling back the curtain on each designer's creative space and practice, Behind the Atelier provides an inside look into the industry's most exciting names.
For the 17th installment of the series, Hypebae spoke with Greek designer and founder of the London-based brand DI PETSA, Dimitra Petsa. In a candid conversation, Dimitra read her latest poem to us and then proceeded to explain how her Spring/Summer 2024 collection weaves a tale of love, her connection to the divine, and her quest to offer contemporary depictions of the female archetype, or "Venuses."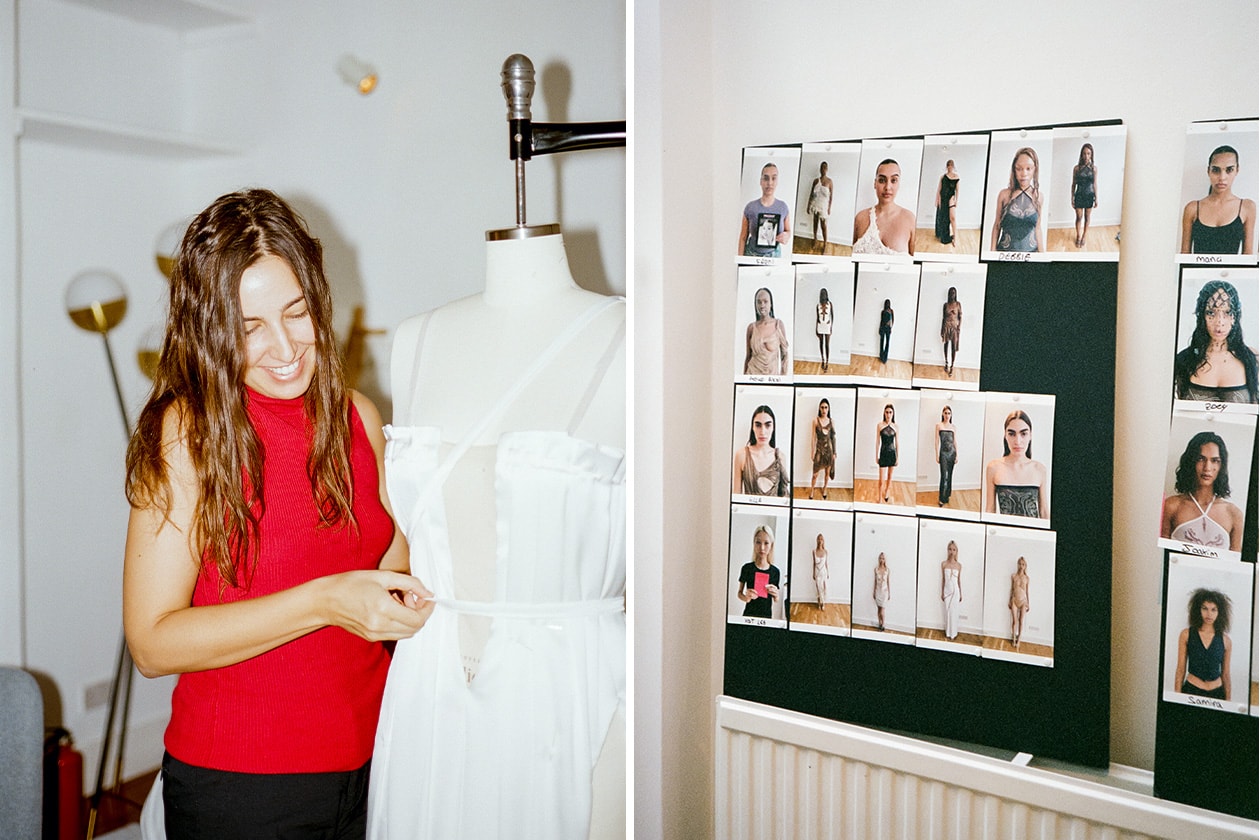 On a drizzly afternoon, just days before the opening of London Fashion Week, we had the opportunity to meet the beautiful mind and vision behind DI PETSA, Dimitra Petsa herself. As the Founder and Creative Director, Dimitra was fully immersed in preparations within a two-floor house in West London, specially rented for the final show preparations. Welcoming us as we entered was a sign that read, "DI PETSA Casting," offering a glimpse into the backstage hustle and bustle of the upcoming show.
Originally from Athens and now based in London, Dimitra has gained recognition for her designs that transform wearers into Greek goddesses with wet-like ensembles, with a focus on crafting garments that empower the feminine archetype through an almost-celestial energy. By day, she's a designer; by night, a poet. This duality infuses an ethereal quality into her designs, both revealing and concealing the power of sacred femininity. Her signature "Wetness Collection" was born during Dimitra's time at Central Saint Martins, an original technique she continues to explore as she delves deeper into the feminine experience and challenges stereotypes every season.
Inside what used to be a traditional living room layout, the open kitchen now showcases jewelry, while vases hold sage and corals from the Mediterranean sea. Delicate garments adorn the racks, and a passionate team buzzes with excitement, adding the final touches to the lineup. Models come and go, hair stylists work their magic, and mood boards and casting boards scatter throughout the space. Amid this bustling atmosphere, Dimitra maintains the peace and serenity that her clothes exude, meticulously inspecting every detail in room after room.
Much like the underlying theme of this season's collection, Dimitra carries a profound sense of love in everything she does. Ethereal beauty emanates from the fragmented drapery, the sea moss-like knitted dresses, the raw healing crystals, the glass beads, and the golden bells. Spring/Summer 2024 continues to explore "the breaking and healing" of the self, this time through the lens of self-love and divine beauty. Titled "Reflections of Venus," the collection delves into the experiences of loss and growth, drawing inspiration from the mythology of Aphrodite and the archetype of Venus, the erotic woman.
Dimitra shows us around and introduces us to her team. We capture her portrait while she puts the finishing touches on one of her signature dresses and shares a moment with one of her muses and friends, Nassia Matsa. Afterwards, she takes the time to chat with us, walking us through her SS24 collection, discussing her upcoming sophomore poetry collection, how she found her modern-day Venuses for the show (a process she likens to falling in love), her collaboration with SWAROVSKI, and her deepening understanding and embodiment of the femme experience.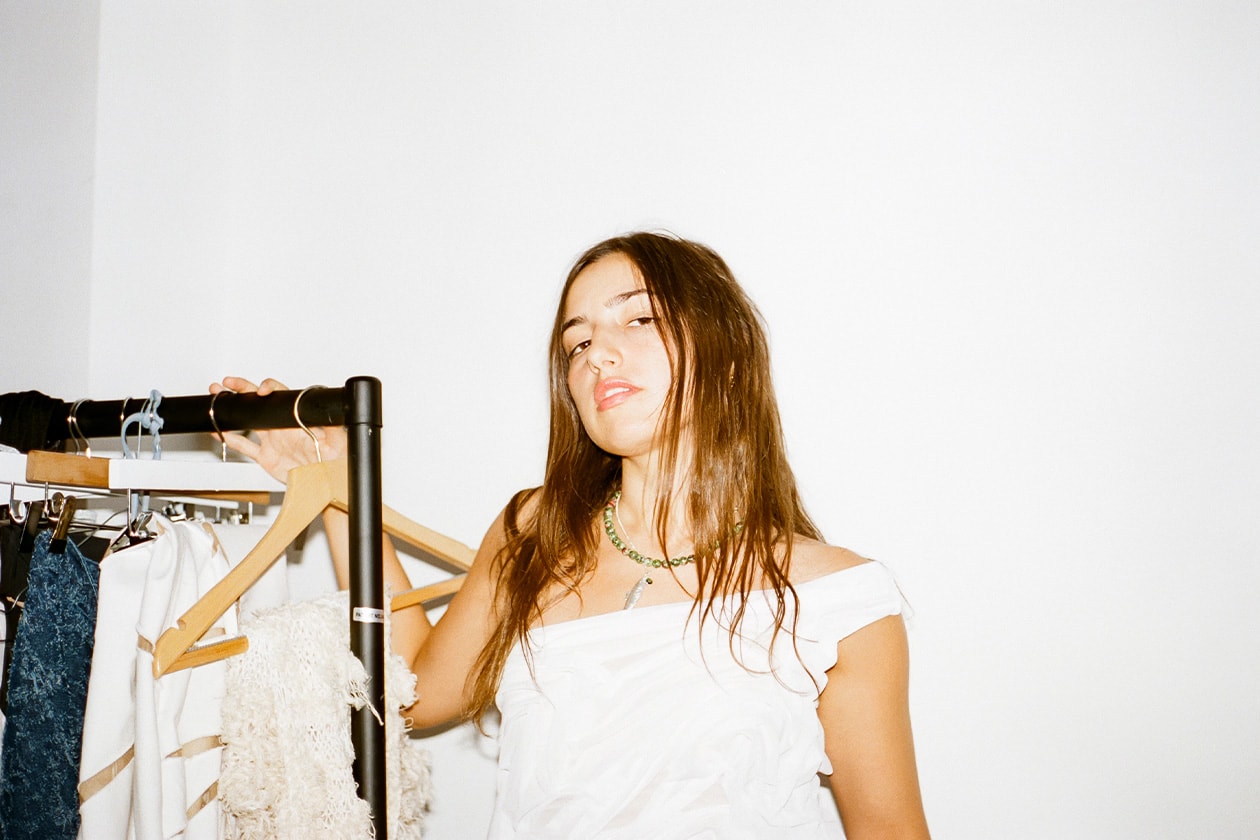 Performance plays a key role in shaping both the inception and delivery of your work. We would like to learn a bit more about the origins of your love for this medium and whether there are any female performance artists with whom you hold a special connection.
I feel very inspired by female performers, such as Pipilotti Rist and her beautiful video performances. Ana Mendieta is another key influence for me, as her life resonates with my artistic vision. The connection feels direct because she, too, aimed to connect with nature and explore the dichotomy between the body and nature. How do you separate the two? It's a question that fascinates me.
For me, performance art started as a means to explore intimacy. I view performance and fashion as the two most intimate forms of art. Fashion is unique because you wear it, and it becomes a part of you in a way that no other artwork can achieve—it becomes your skin. Performance, on the other hand, allows you to transform into something else. It's not merely something to observe; it's an experience where you become a part of the art, especially when you're the one performing. My approach to designing is rooted in the idea that those who wear my garments become performers themselves.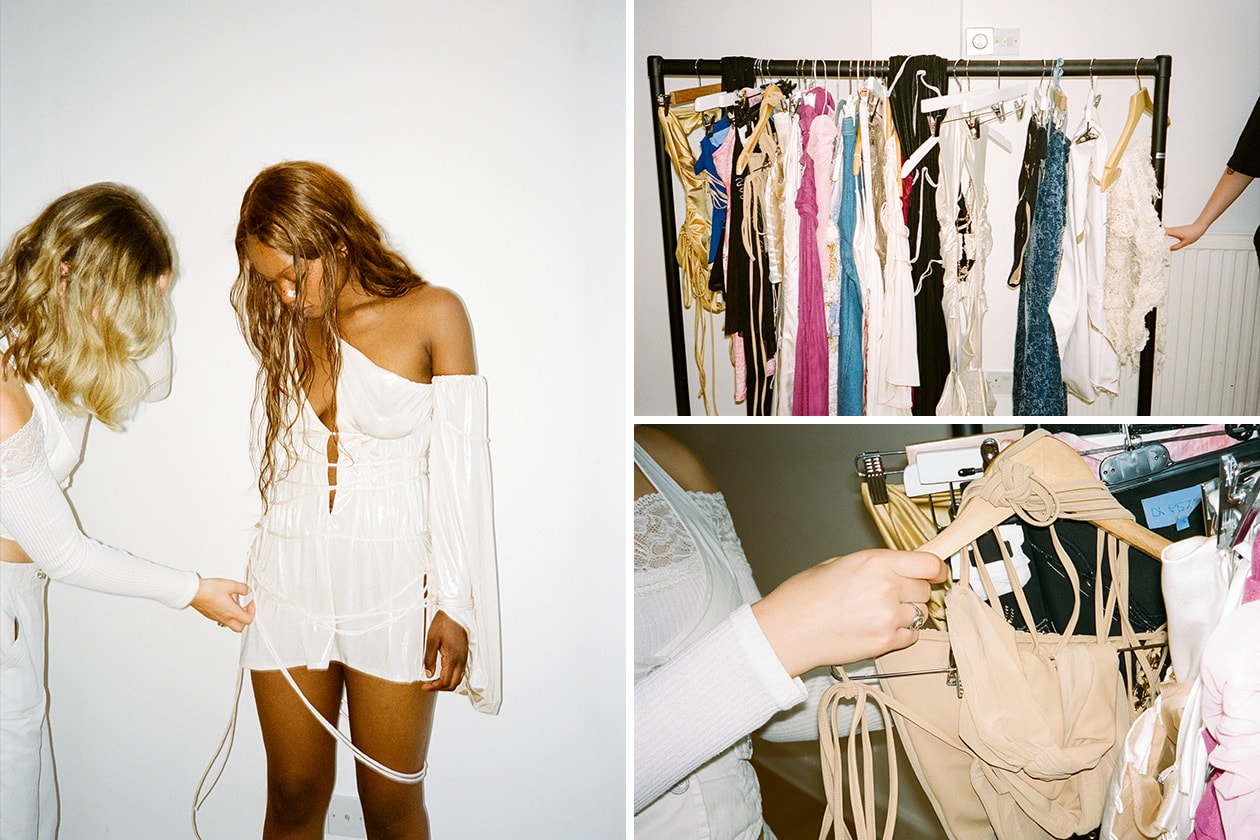 Greece conjures images of water, a fundamental element at the core of your brand's identity. We admire how your connection to your homeland permeates your work. Could you share why maintaining this connection remains important, even though you are based in the UK?
I often find myself drawing upon Greek references as a source of inspiration. For instance, this season's concept revolves around the theme of love, particularly unconditional love, and how adults seek it. My approach to visualizing this idea was to establish a parallel with the birth of Venus. This choice resonated with me because Greek mythology has always been an integral part of our culture, and growing up by the sea only deepened my connection to it.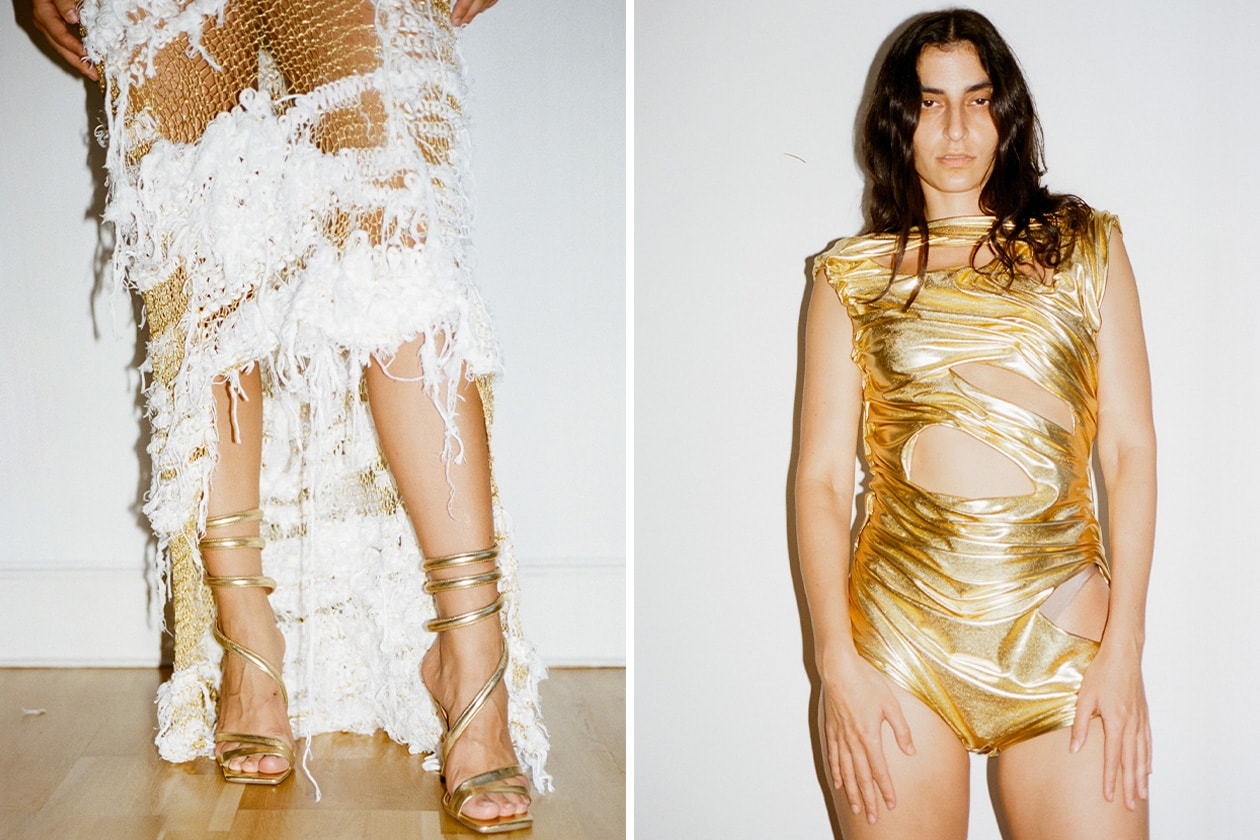 Do you have a favourite Greek myth… or tragedy?
There are so many different aspects to explore in mythology, and they are all quite different, but one of my favorites is Medea. It's a very raw story. However, what personally interests me is delving into mythology from a research perspective. The way we currently understand myths, gods, and especially the female goddesses is largely through the lens of the twelve-god system as interpreted by Western culture in Greek mythology.
In reality, there is so much more depth to these stories. For example, let's take Aphrodite, or Venus, whom we're working with this season. In contemporary society, she is often highly sexualized, but her origins run much deeper. She is an ancient goddess with roots in the female archetype, similar to where the Virgin Mary's roots lie. There's a profound richness to these myths, and they are subject to reinterpretation over time. It's fascinating to follow a thread and trace it back to its origins.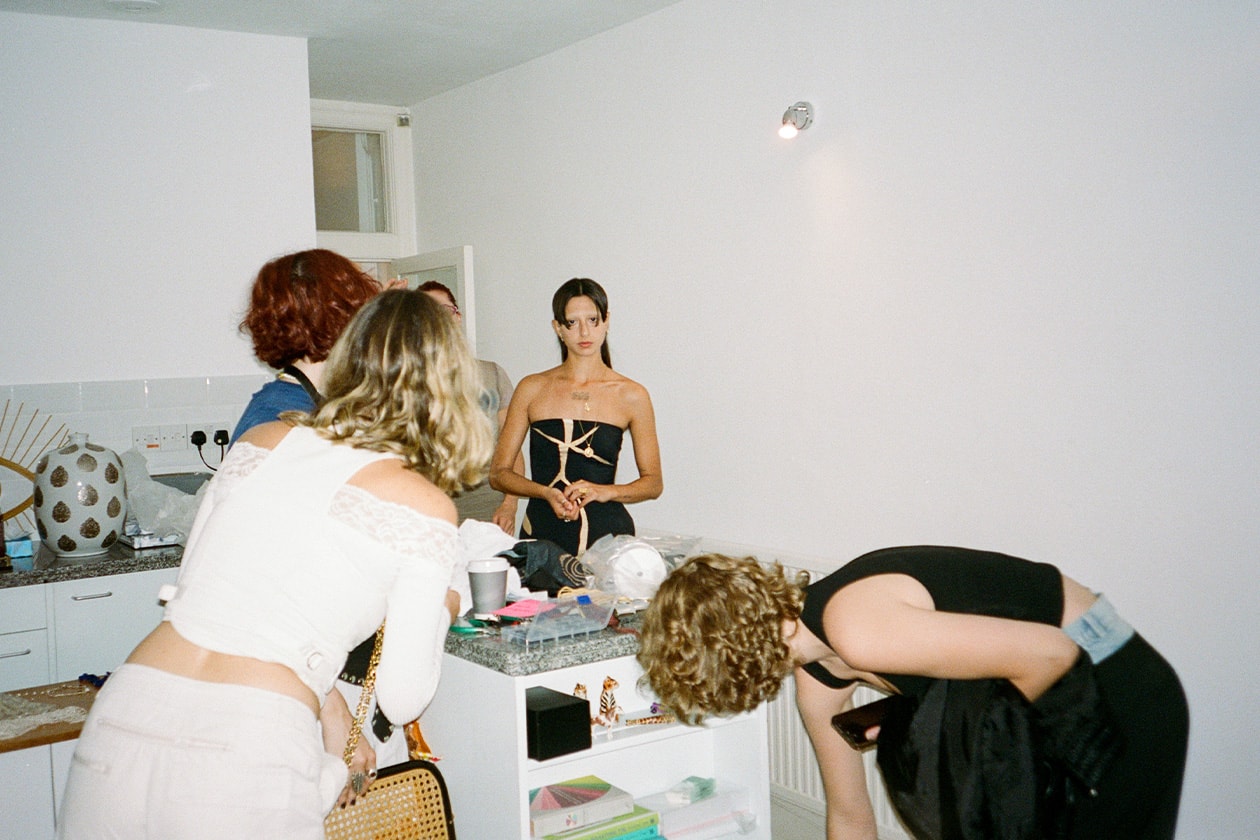 And speaking of Venus, could you tell us about the collection's title, "Reflections of Venus"?
The concept of reflection is closely tied to how we perceive beauty. Particularly with women, I believe a touch of narcissism can be important. Beauty, in my view, is a profound and multi-faceted aspect of our existence. It goes beyond merely looking attractive to attract others or feeling beautiful for oneself. True beauty is a deep quality that connects not only with your outward appearance but also with your soul.
There's more depth to it than meets the eye. When you take the time to dress up, and you see yourself as beautiful, that's when life takes on greater meaning. In the grand scheme of things, nature itself is beautiful, and you are an integral part of it. You possess your own beauty, and this is a truth that runs deep within us.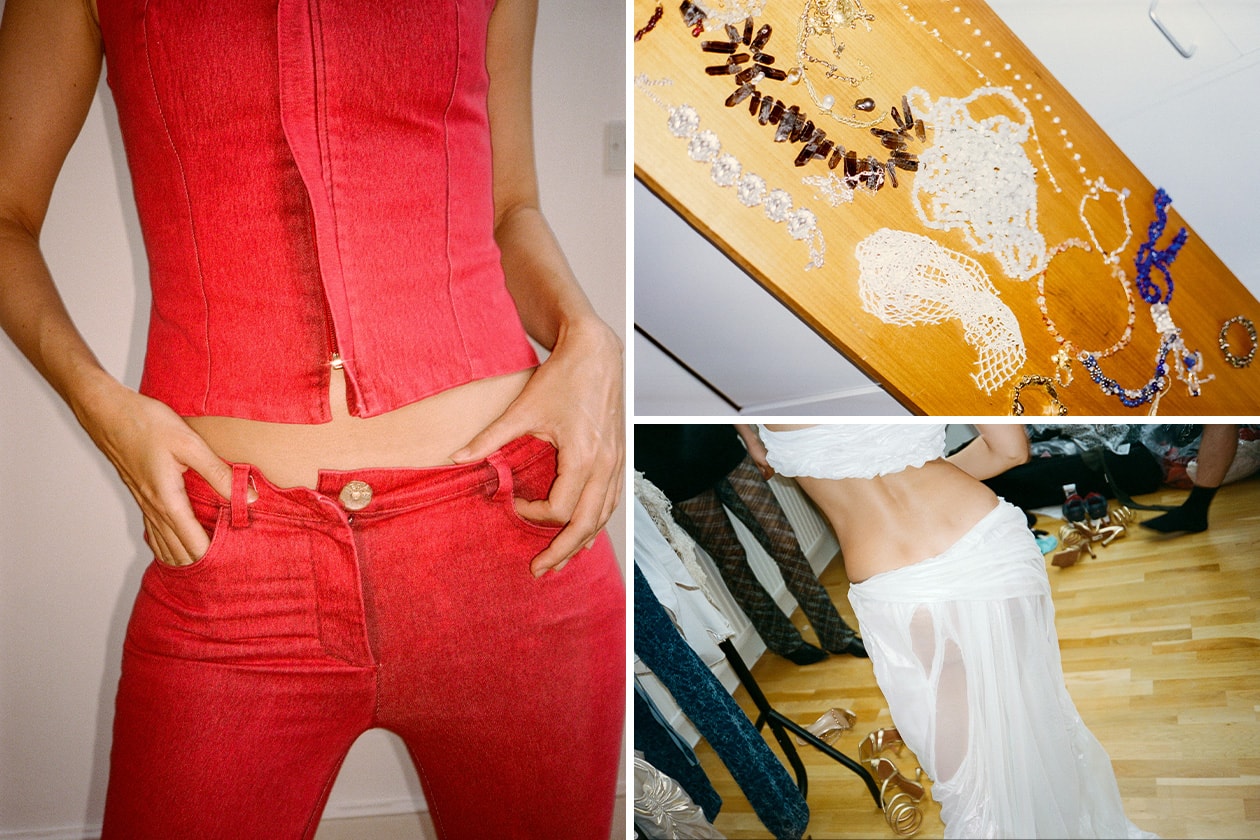 What do you love most about showing in London?
What I truly love about London is the energy of its people. It feels very liberating and open-minded here. I've found that I can express my most unconventional ideas through performances, and there's a welcoming atmosphere for that. What's truly amazing about London is the diverse community it attracts, including a wealth of models and artists. Many musicians and other creatives converge here, making it a hub of cultural diversity, which I greatly appreciate. I also studied at Central Saint Martins around 10 years ago, so the city holds a special place in my heart.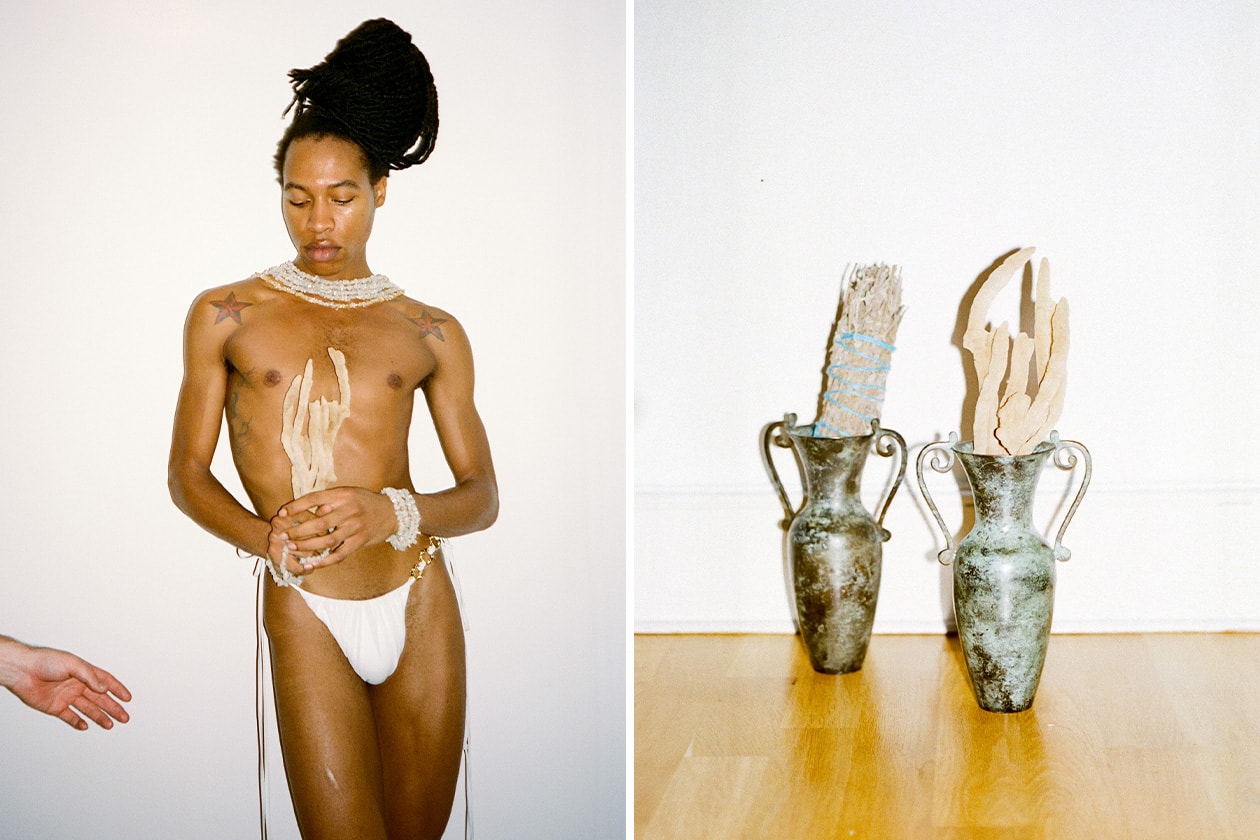 The way you've opened up a long-overdue conversations about the female body and body fluids is very inspiring. With every season, how does this topic evolve?
I believe body fluids and the concept of fluidity in our experiences are foundational aspects. However, with each passing season, I find myself exploring different themes. In a way, I feel like I've moved away from the explicit use of body fluids as a means of communication; it was very direct. Currently, I'm in a phase where I'm delving into the exploration of female archetypes and our bodies in general, seeking a more subtle and nuanced approach.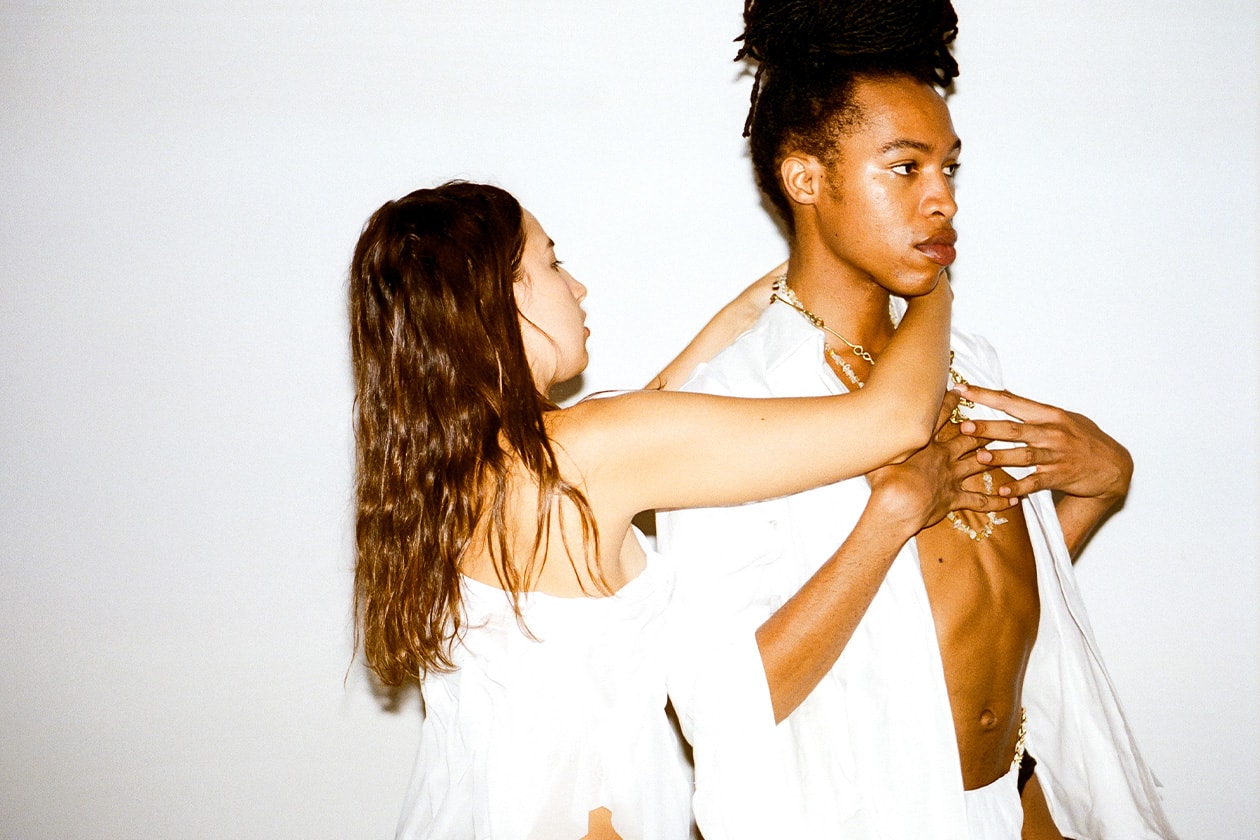 How do you feel about Spring/Summer 2024?
I'm genuinely excited about it. Right now, I'm in the process of getting my friends involved in the show again, both as performers and participants. I'll also be performing in the show myself. So, it's a bit of a balancing act. On one hand, I need to finalize the entire vision for the show, but I also need to prepare emotionally and mentally for my performance. It's been a bit challenging because I've pulled a muscle in my neck, so I'm spending a lot of time stretching to ensure I can perform at my best.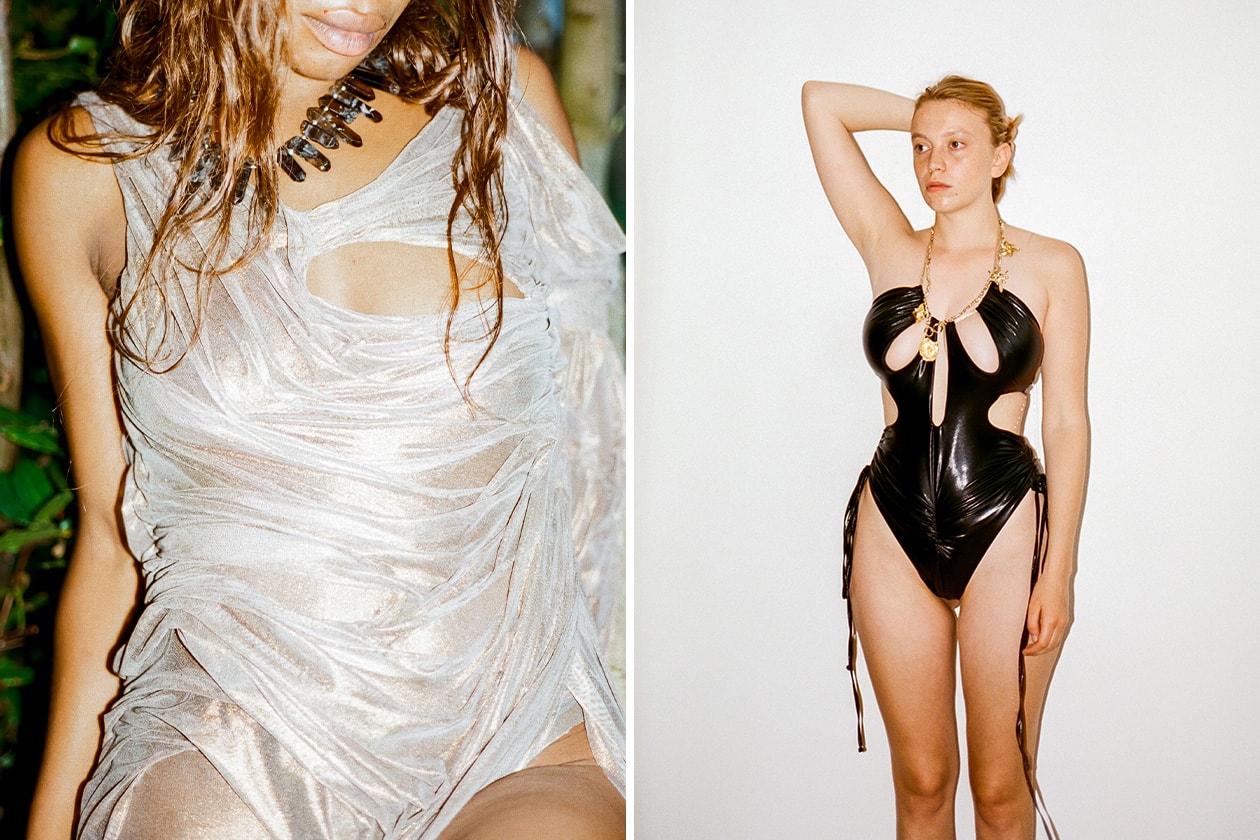 How do you physically and mentally prepare to be vulnerable in front of an audience?
It's indeed a process that requires a lot of vulnerability, and I believe this may be one of the most vulnerable performances I've ever undertaken. To truly understand it, you need to be present and feel it.
At the beginning of the performance, we will include a poem I wrote based on my own experiences. Since I'll also be performing, my preparation usually involves some meditation and physical movement. When you spend your days sitting and sewing, it's easy to become stiff and uncomfortable. Perhaps that's why many designers prefer not to participate in their own shows; it can be quite challenging. So, I prepare myself to fully embody my own work when the time comes.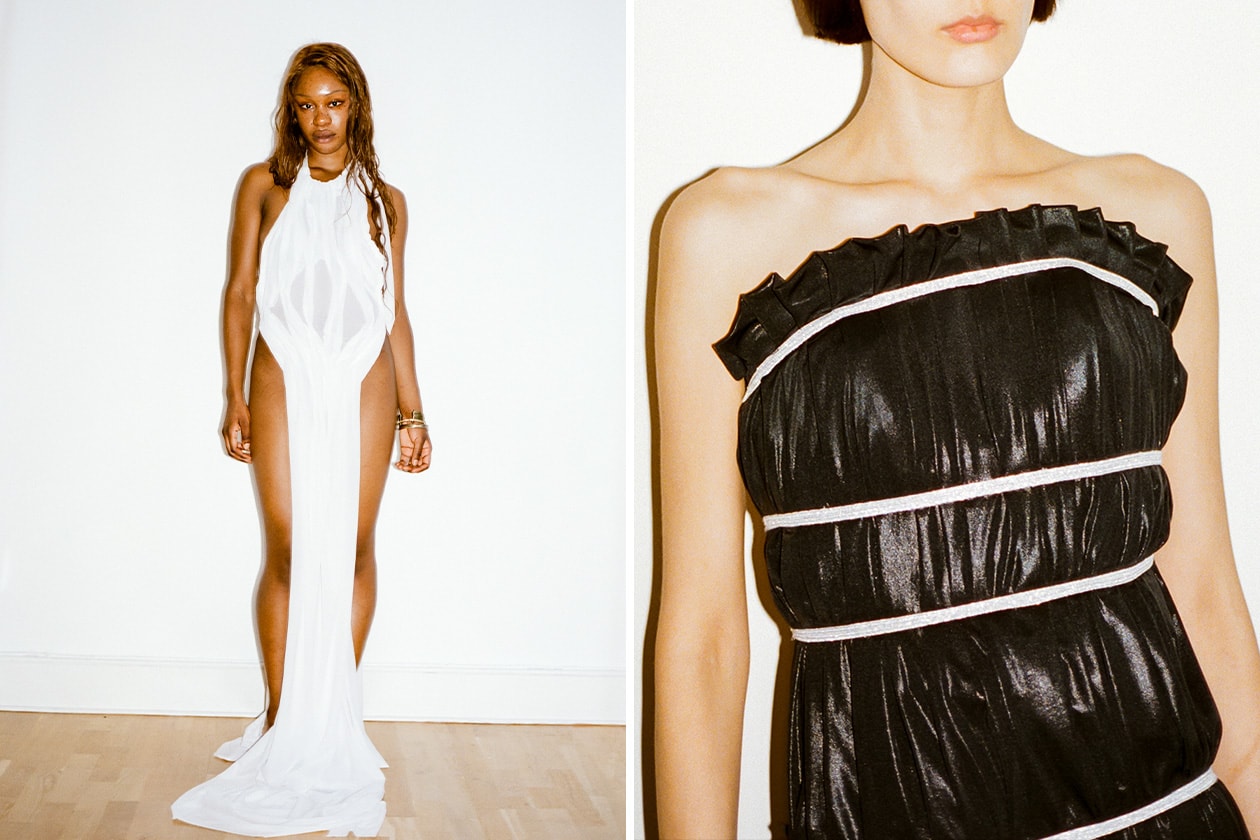 Have you experimented with any new materials this season?
We're introducing a new knitwear collection, and if you've had a chance to see it, you'll notice some pieces crafted from discarded cotton materials from factories, which I transformed into yarn. This is an original technique that I've developed for fabric to look like sea moss. In addition, we've collaborated with Swarovski for this collection. We've created a wet look that features Swarovski crystals, giving the impression of glistening raindrops.
This season, we've also ventured into creating a lot of new jewelry pieces. You'll notice that everything has a fragmented quality, resembling drapery that's been broken and then creatively tied together. This concept symbolizes the idea of breaking and healing, a gesture of trying to pull oneself together.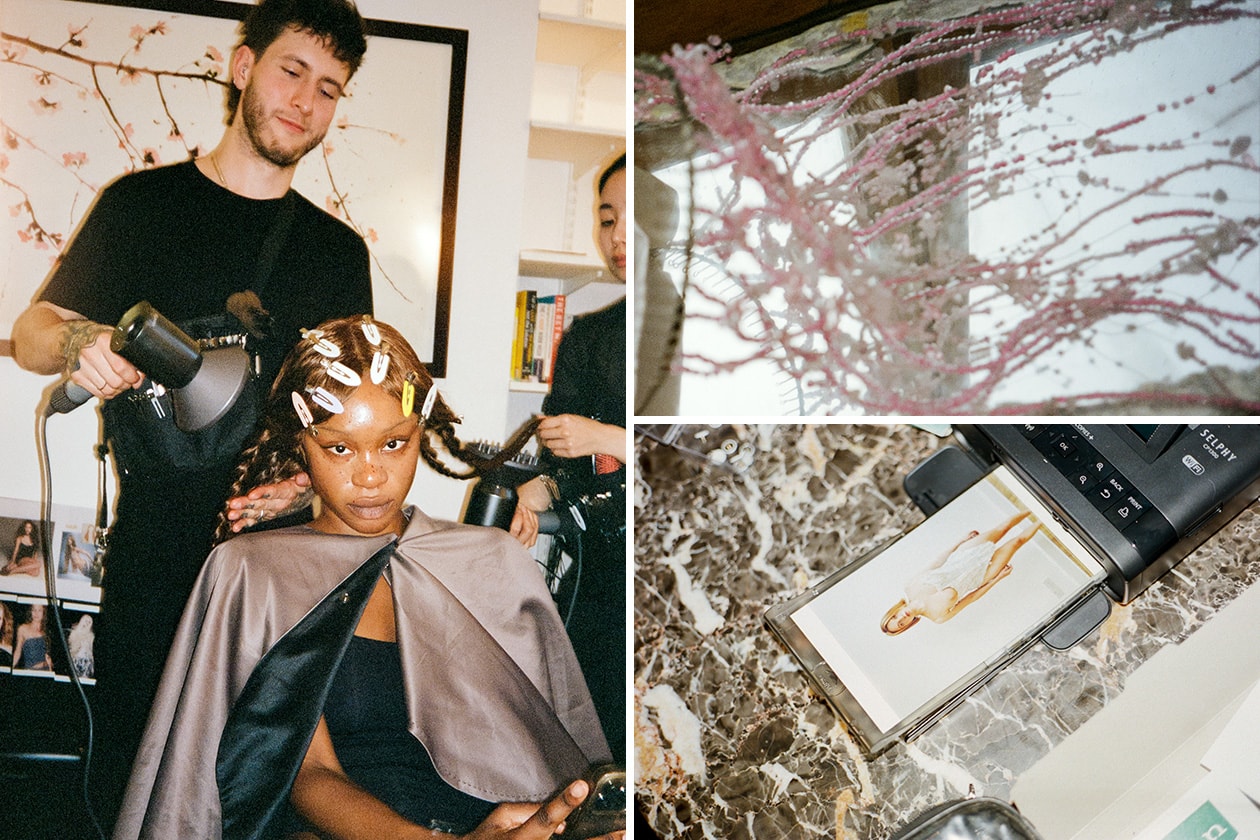 Have you incorporated any specific crystals into this collection?
Citrine is a significant one for us this time around. It holds special importance. Clear quartz is a staple for us in every season due to its cleansing properties, and it resonates with the water element, which is essential to me. We're also incorporating Smoky Quartz, drawing parallels to Venus and Aphrodite. Additionally, we've created a unique clay piece—a pregnant belly sculpture that doubles as a jug. It's both functional and artistic, capable of pouring wine, and we plan to feature it on the catwalk. It's quite exciting.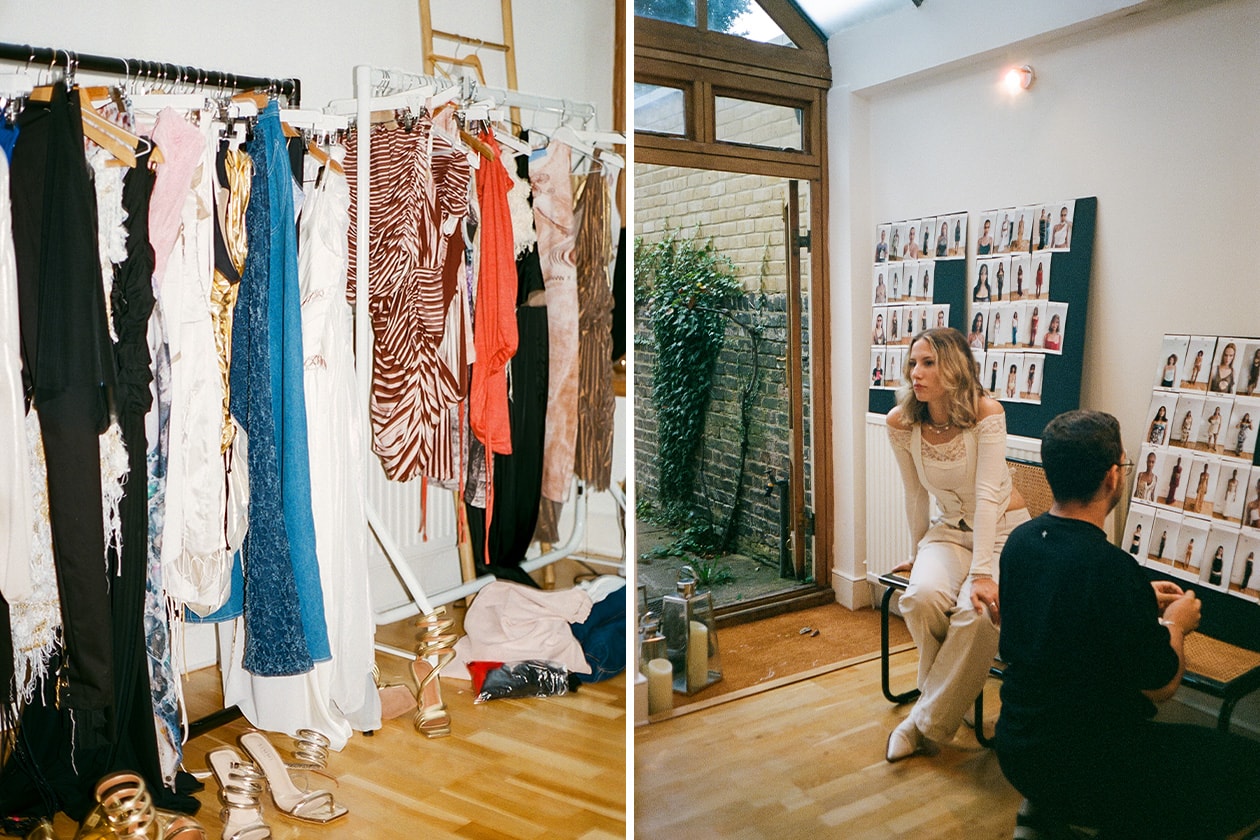 We're interested in learning what attracts you to a model and what factors influence your selection for the runway.
It might sound somewhat abstract, but it essentially comes down to the energy. Especially for this season, I was seeking confidence and a sense of love. It's about how a model embodies the clothes—you just feel it. I've been reflecting on this, and I find it to be one of the truly fascinating aspects of the fashion world. During castings, you encounter numerous individuals, many of whom are essentially strangers. Yet, you somehow find yourself forming a connection with them. To cast someone, you need that intuitive sense that says, "Wow, there's something unique about you." It's about forging a personal connection. Of course, it also needs to align with the overall concept. So, in a way, I'm in search of reflections of Venus—my own Venuses, you could say.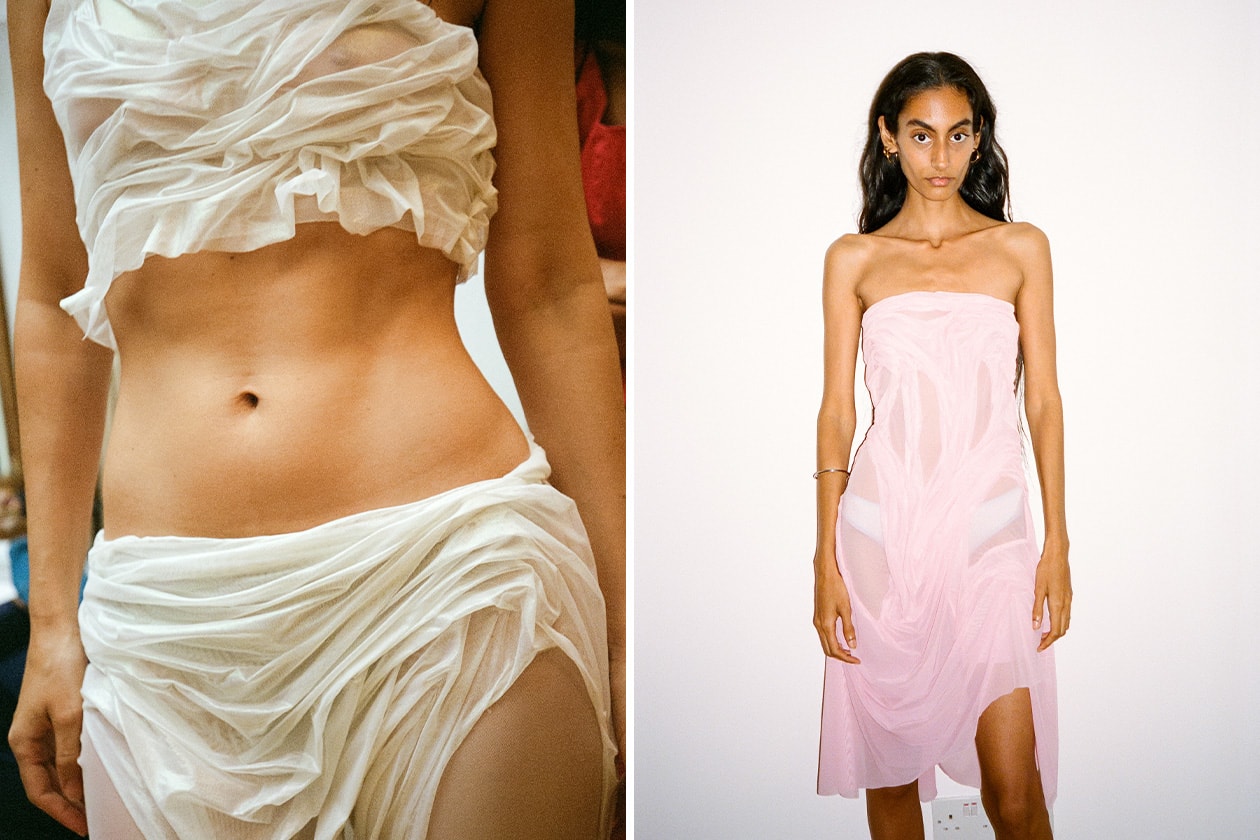 We can imagine the week leading up to your show must be incredibly hectic. Often, such times can lead to unusual or recurring dreams. Do you experience this as well? Have you had any weird dreams lately?
In my case, it's always about babies. Always, without fail, every season before my shows, I have these wild dreams involving babies. Sometimes I dream that I've given birth to a baby, but I can't find it anywhere. Other times, I dream of having a small baby that's slipping through my fingers. It's a recurring theme. I think part of it is because I see each season as giving birth to a new creation, almost like it's my baby in a literal sense.
However, I also believe these dreams reflect a deeper anxiety. When you have something so precious, small, and vulnerable, like a newborn, it can be overwhelming. For me, I'm deeply involved in every aspect of my shows. I'm not just the creative director; I'm also hands-on with styling, music selection, and even designing, to some extent. It feels like everything rests on my shoulders to a certain extent.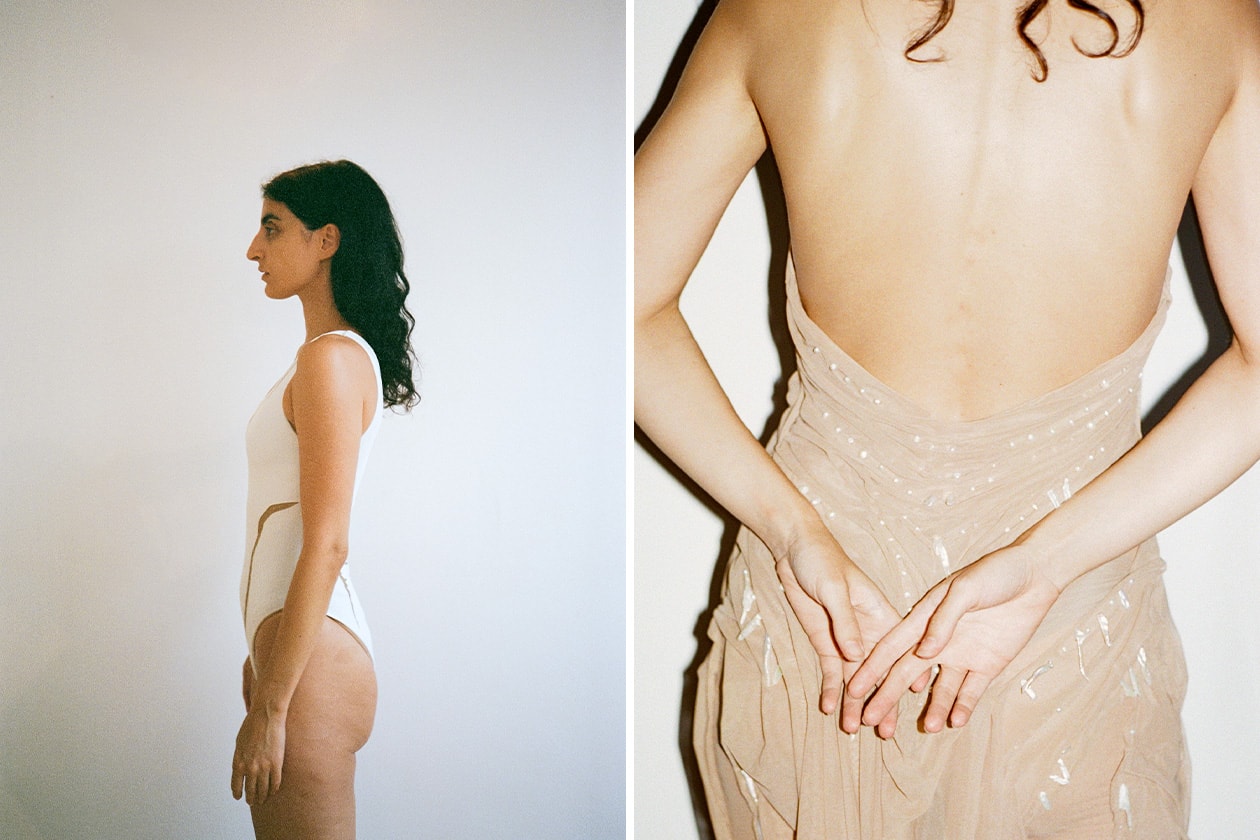 Lastly, what are your upcoming plans for both yourself and the brand?
Well, the immediate focus is on my Fall/Winter 2024 collection. I'm currently in the design phase, mainly conceptualizing in my mind. Additionally, I'm contemplating the release of another book of poetry. You might recall my previous poetry book that delved into the topic of bodily fluids. This time, I have a wealth of new work that I'd like to compile into a new collection, hopefully within this year.